Chattanooga is one of the most beautiful places to visit in Tennessee and one of the best things to do is take one of the many day trips from Chattanooga.
Are you planning your trip to Chattanooga last minute?
Best Hotels in Chattanooga:
Top Tours in Chattanooga:
🚗 Looking for the best way to get around TN? Click here to check rental car rates for Tennessee!
This guide offers many incredible Chattanooga day trips, including natural areas, waterfalls, hiking trails, and historical monuments. Some of the day trips even take you across the Tennessee state line into Alabama and North Carolina!
Did we miss any amazing day or weekend trips from Chattanooga? Let us know your tips and favorite destinations in the comments!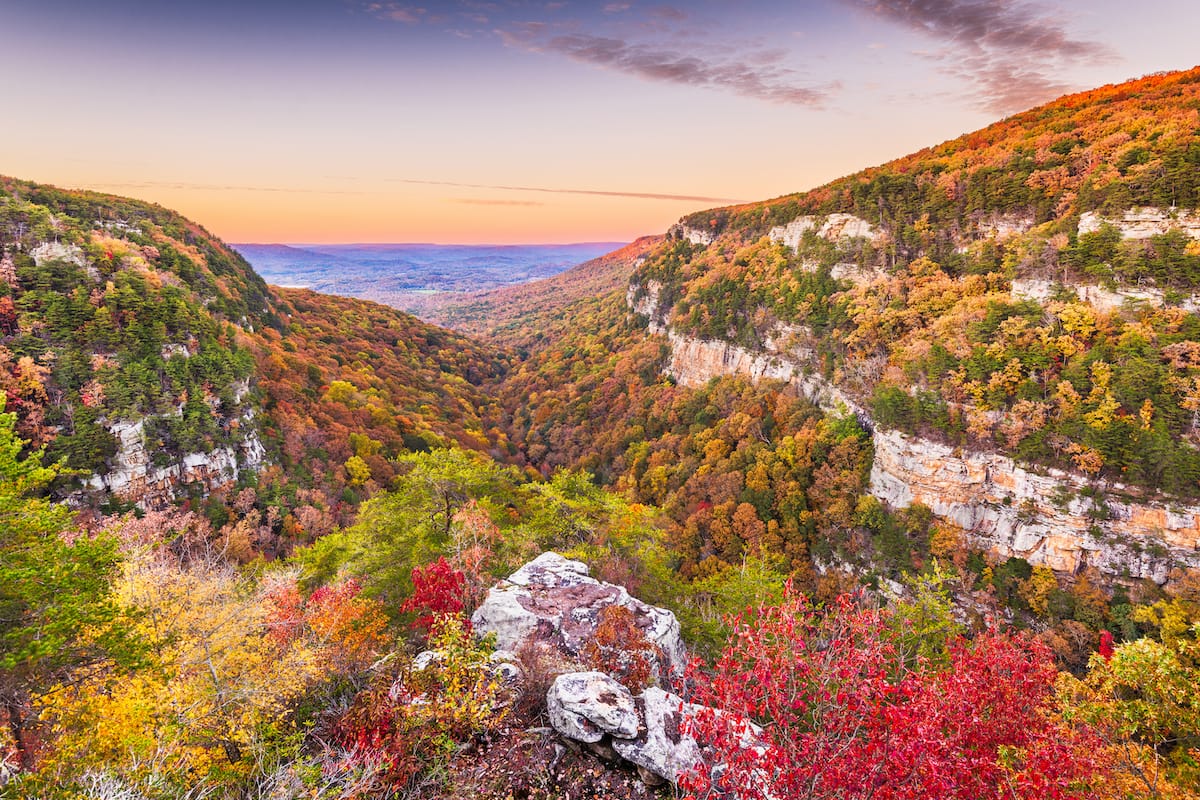 Best Day Trips from Chattanooga
Great Smoky Mountains National Park
State: Tennessee and North Carolina
Distance from Chattanooga: 107 miles (1 hour, 54 minutes)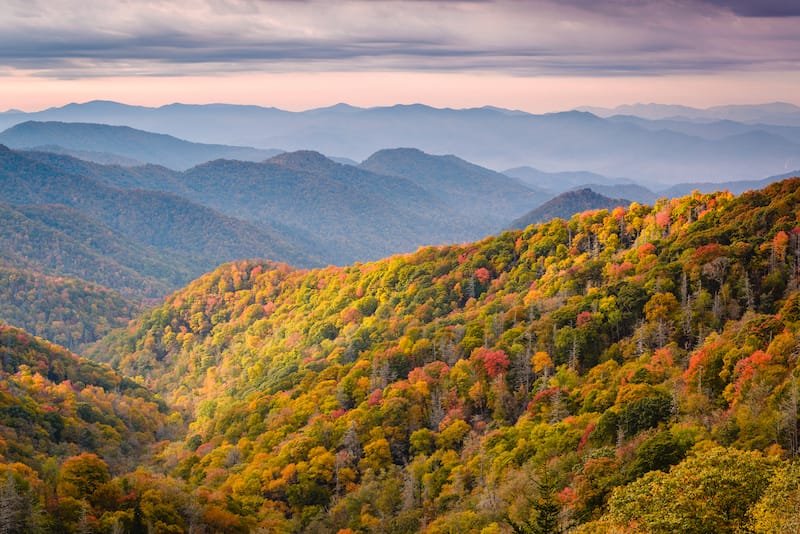 Great Smoky Mountains National Park, the United States' most visited national park, is a true heaven on earth for outdoor lovers.
Your first stop should be Sugarlands Visitor Center to see plenty of natural history exhibits, check out gift shops, get information about ranger-led program dates, and access trail maps.
Fontana Lake is one of the treasures of the Tennessee national park that offers many types of water-based recreation, such as kayaking, canoeing, angling, stand-up paddleboarding, and lakeshore camping.
Get ready to marvel at the hypnotic scenery of Laurel, Abrams, Meigs, and Rainbow Falls, wildflower explosions in spring and summer seasons, and vibrant fall foliage during leaf-peeping season.
If you still have time, go hiking along the stunning Appalachian Trail to take in the astonishing mountain views. For a one-of-a-kind experience, try auto touring on Cades Cove Loop Road!
Additionally, you can cruise along Upper Tremont Road to visit historic buildings or wildlife watching. On Roaring Fork Motor Nature Trail, you will have a chance to check out old log cabins, grist mills, rushing streams, etc.
Prentice Cooper State Forest
State: Tennessee
Distance from Chattanooga: 18 miles (35 minutes)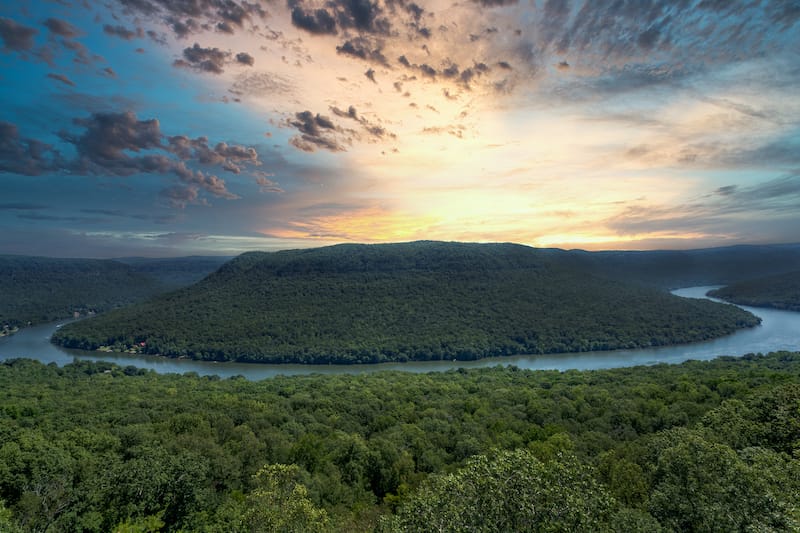 Nestled on the scenic Tennessee River Gorge and only 10 miles west of Chattanooga, Prentice Cooper State Forest offers you to discover a pristine corner of Tennessee's untouched natural beauty.
Spanning over 25,000 acres of land, the designated forest is home to over 35 miles of ridgetop trails in two loops, including the 12-mile Pot Point Loop and the shorter 10-mile Mullens Cove Loop.
Prentice Cooper features the perfect conditions for outdoor enthusiasts to try mountain biking, hiking, hunting, horseback riding, camping, climbing, and trail running.
Here, you can also find two designated campgrounds and a few backcountry camping sites to spend the night under a (hopefully) starry sky if you want to turn your Chattanooga day trip into an overnight.
If you are after spectacular panoramic scenery, then Prentice Cooper has your back with its three breathtaking vistas at Mullens Cove Overlook, Snooper's Rock, and Raccoon Mountain Overlook.
Adventurous hikers can take to the moderate Edward's Point Trail, Cumberland Trail, and Signal Point to Suck Creek Road, requiring special skills and extra energy, but trust me, the final views are well worth the effort!
Dollywood
State: Tennessee
Distance from Chattanooga: 146 miles (2 hours, 23 minutes)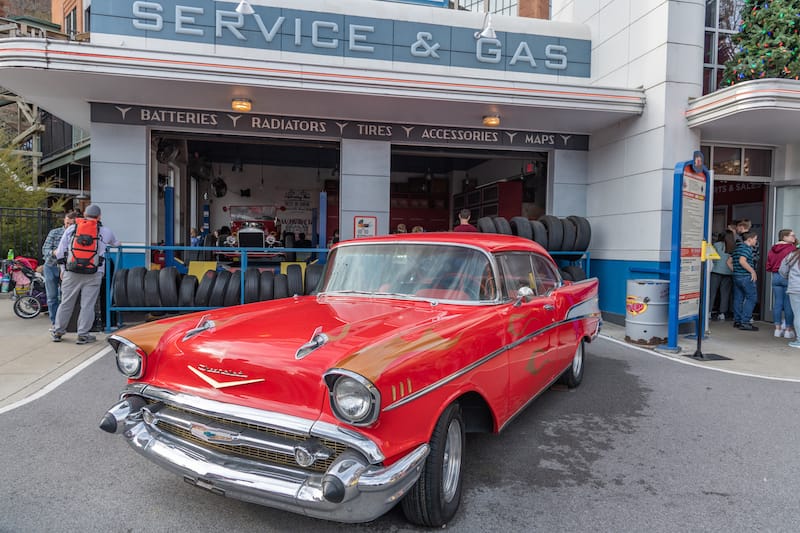 If you are into thrill rides and family adventure, then Dollywood is the place to be! Adrenaline junkies will feel at home while enjoying Barnstormer, Blazing Fury, Drop Line®, etc.
In case you are not a thrill seeker and don't love theme park rides, then you can visit Chasing Rainbows Museum, detailing Dolly's life, or get the true feeling of Dolly's childhood home at Dolly's Tennessee Mountain Home.
Plan your next trip during one of the stunning festivals held in the park, such as Harvest Festival, Spring Mix, Festival of Nations, Smoky Mountain Christmas, or Barbecue & Bluegrass.
Let the kids loose at Lil' Pilots Playground at Owens Farm, Firehouse Fun Yard at Wilderness Pass, and head to catching one of many amazing performances in the park, including Little Engine Playhouse, Kingdom Heirs Gospel Quartet, or My People Show (features Dolly Parton's family members).
Make sure to check out Christmas Valley before leaving to bring home a unique piece of the park with you.
Chickamauga Battlefield
State: Tennessee
Distance from Chattanooga: 9 miles (17 minutes)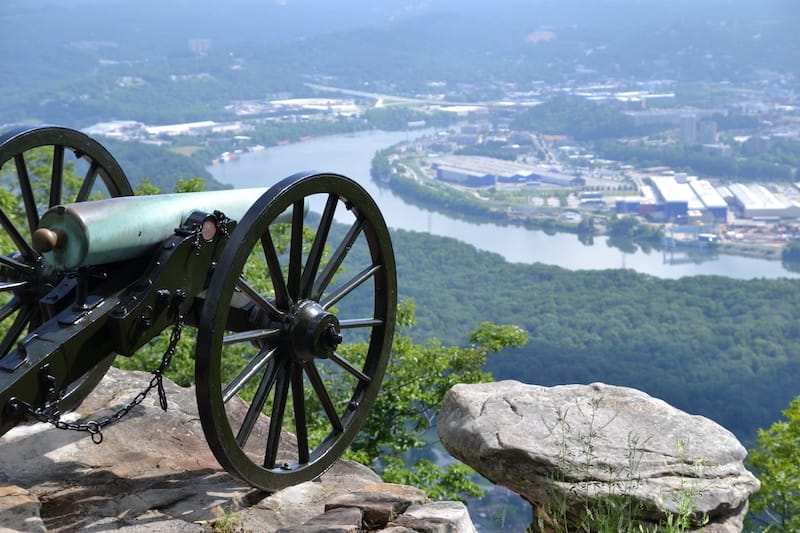 History buffs can explore the role of Chattanooga during the Civil War by heading to Chickamauga Battlefield, the US's oldest and largest military park.
Spanning over 10,000 acres of land, Chickamauga is home to many historic monuments nestled deep within the battlefield and over 50 miles of hiking trails which will take you through old military roads that were present at the time of the battles.
For some educational battlefield talks, take part in Car Caravan Tours or Walking Tours of Point Park and join a park ranger who will share stories of the past and get you acquainted with those areas that played a crucial role during the war.
Highlights of the Battlefield are the Visitor Center, Reed's Bridge, Brotherton Farm, Snodgrass Hill, the Gordon-Lee Mansion, the Tunnel Hill Heritage Center, and Clisby Austin House.
This military park is also a popular destination for cyclists, who will enjoy riding through lush forests, meadows, and along stunning creeks.
Ooltewah
State: Tennessee
Distance from Chattanooga: 18 miles (22 minutes)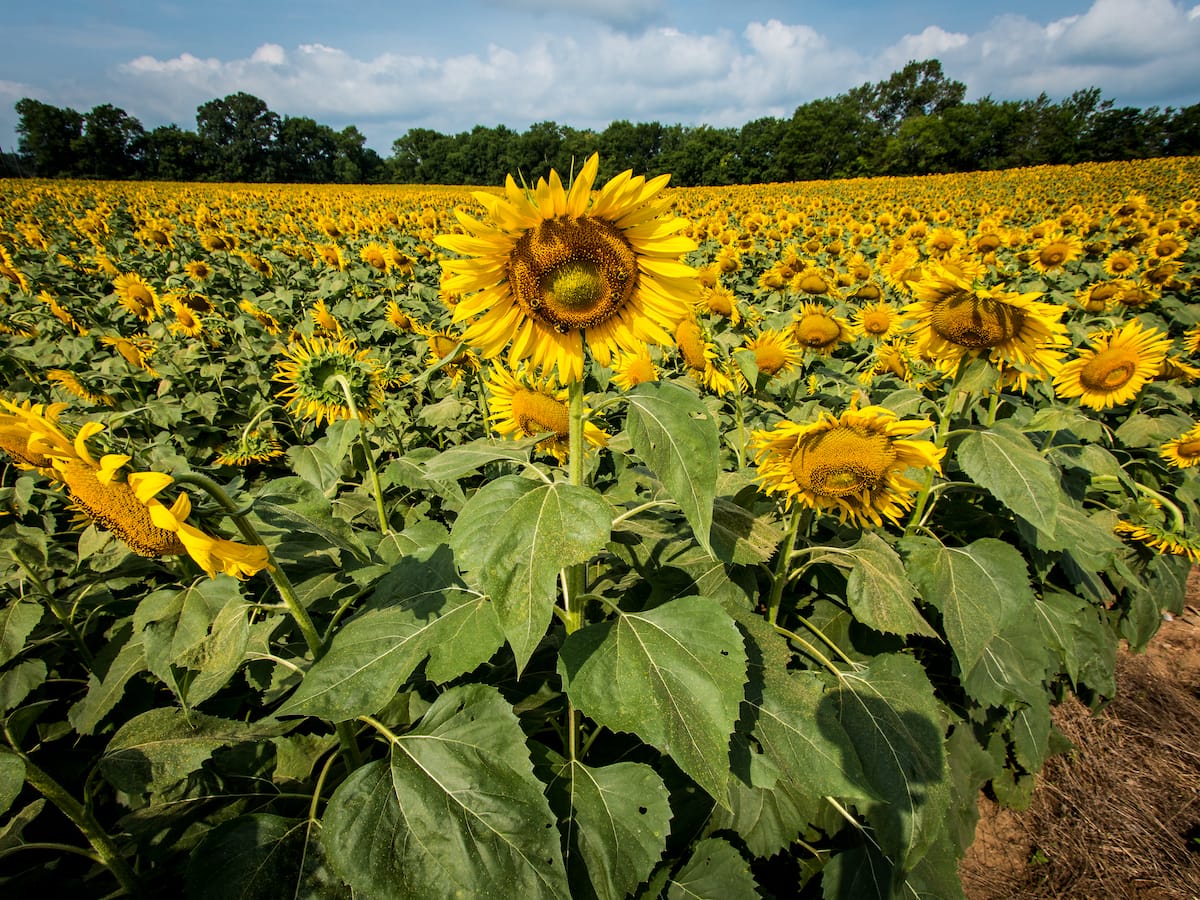 Ooltewah is a census-designated place located half an hour north of Chattanooga.
Breathe in the fresh air and dig deep into the life of the Cherokee in Red Clay State Historic Park, where you can explore the Cherokee government's last seat through various replicas of the 1830s structures in an interpretive center.
Your kids will not want to leave the Imagination Center and Pavilion, which features bars, swings, slides, etc. If you are in the mood for wine, visit the Georgia Winery, Chattanooga Valley's oldest winery, to taste the area's signature wines.
Adventurers can head to White Oak Mountain to bike, run, or hike 18 miles of scenic, well-marked trails that range from family-friendly ones to more challenging options.
To honor and celebrate US veterans, visit Veterans Memorial Park, where you can find military installations, plaques, monuments, etc.
Round off your day enjoying some local dining options as well as shopping and entertainment in locals' favorite- Cambridge Square.
Chatsworth
State: Georgia
Distance from Chattanooga: 49 miles (44 minutes)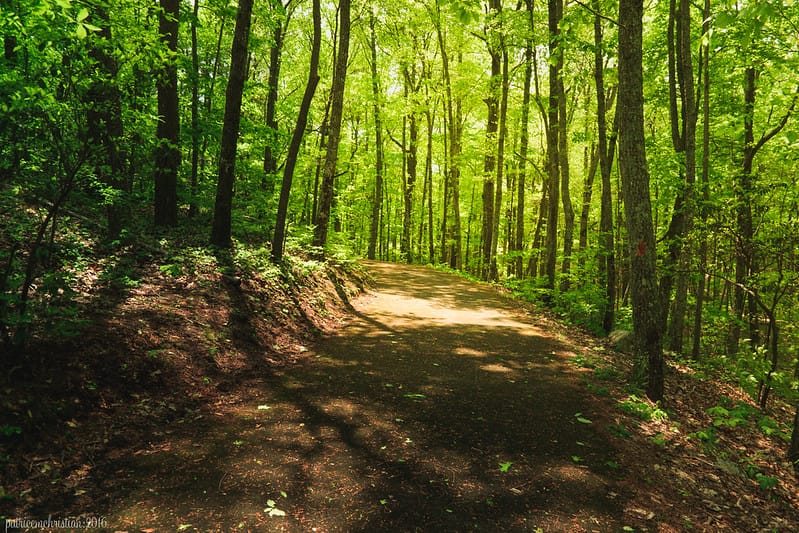 Chatsworth is a small charming town that offers scenic beauty and every amenity you will find in a big city (well, almost).
The city is packed with unspoiled wilderness, which you can discover at Fort Mountain State Park, nestled at the southwestern end of the Cohutta Mountains.
For some epic hiking opportunities, your next stop should be Cohutta Wilderness, home to 94 miles of off-the-beaten scenic hiking trails, where seasoned hikers can hike the 6-mile Emery Creek Trail winding through lush forests, creeks, waterfalls, and rugged paths.
Make sure not to miss the CCC fire tower near the summit, which showcases a piece of local history and is established to provide lookouts for destructive forest fires.
When hungry, head to Dalton to try Mexican food or Saucey Bones BBQ and Big V to enjoy scrumptious barbeque and hamburgers and finish off your meal at the Crave of Chatsworth with a cup of delicious frozen yogurt.
Cloudland Canyon State Park
State: Georgia
Distance from Chattanooga: 26 miles (30 minutes)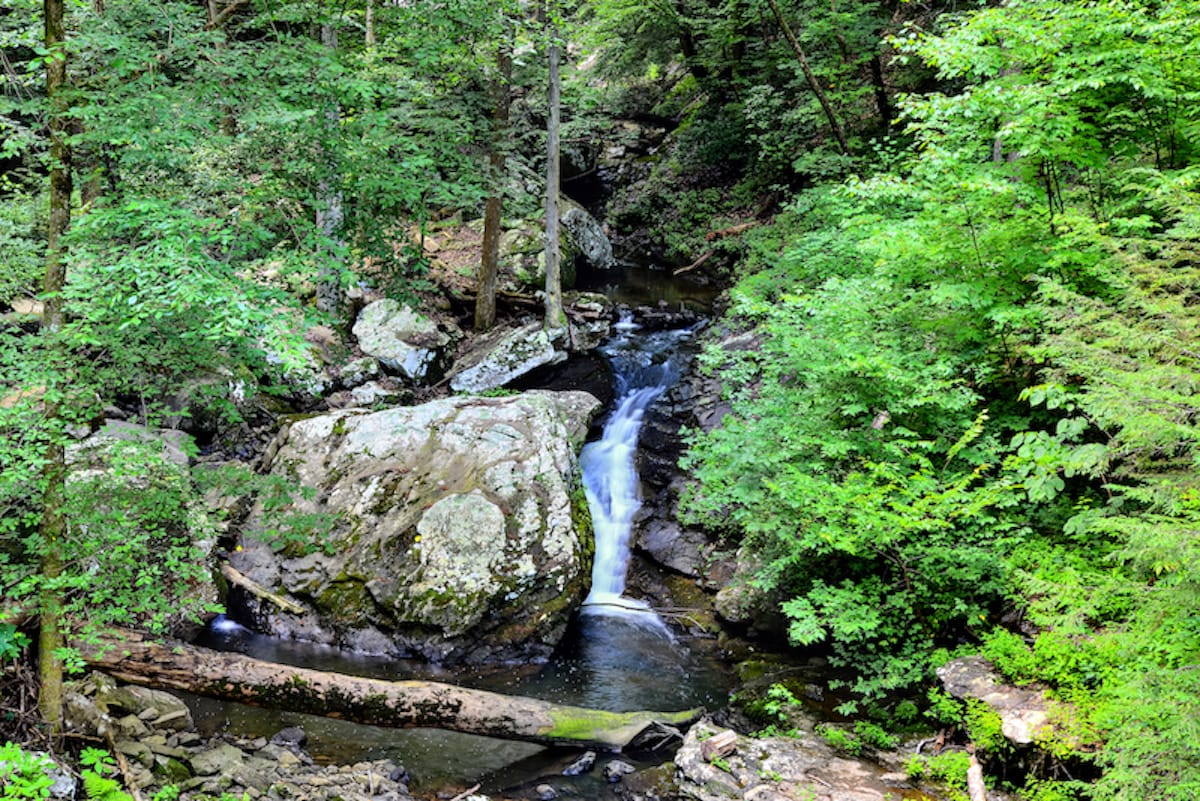 Reconnect with nature in Cloudland Canyon State Park, an otherworldly place that looks like it has come straight out of a Disney movie.
The state park features 64 miles of hiking, 30 miles of biking, and 16 miles of equestrian trails.
For getting an overview of the park, hike Overlook Trail… it will reward you with mesmerizing views of 1000 ft. deep Cloudland Canyon or 5-mile West Rim Trail that will lead you to explore the Canyon's rims and depths.
Visitors can also find an 18-hole disc course, go fishing at the fishing pond on the Meadowlands Trail, picnicking, watch for rich wildlife, and even go camping if you're looking for a weekend getaway from Chattanooga as opposed to a mere day trip.
The 2-mile Waterfall Trail will allow you to marvel at two spectacular waterfalls: Cherokee Falls and Hemlock Falls.
Just note that the latter features 600 stairs, so it is definitely not for novices, but the final views are well worth the effort!
Nickajack Lake
State: Tennessee
Distance from Chattanooga: 19 miles (20 minutes)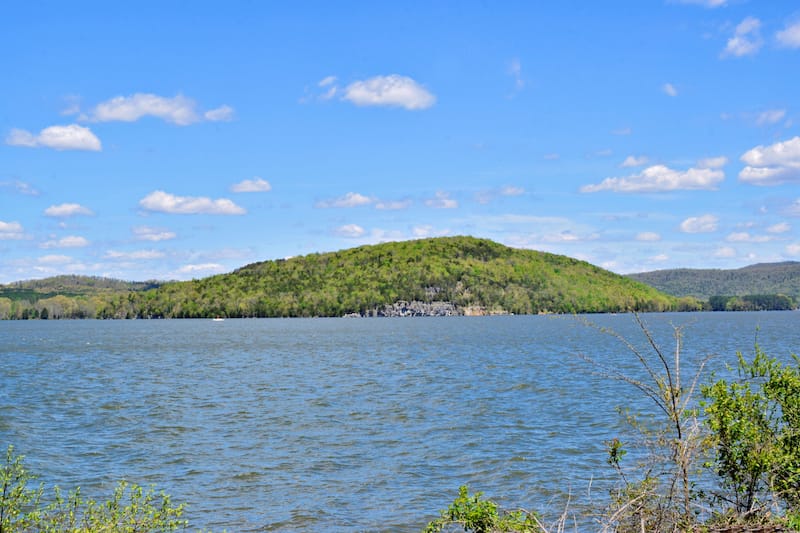 Built in 1967, Nickajack Lake is a huge reservoir on the Tennessee River that now serves as the 6th step in the TVA reservoir and locks system transporting barges along the River.
The reservoir beckons you to enjoy fishing, waterskiing, paddling, lakeshore camping, bird watching, boating and offers you to take in the breathtaking scenery of the Tennessee River Gorge.
Visit from late April to early October to appreciate the show of thousands of roosting gray bats (nearby partially flooded Nickajack Cave's endangered inhabitants), filling the dusk sky with a hint of darkness for a bucket list experience.
If you visit during the winter season, be ready to see American Coots, Ring-billed Gulls, Bald Eagles, geese, ducks, etc.
Even though it does not feature a well-marked trail system, you can still find good parking, restrooms, TVA camping options, and picnic grounds.
McMinnville
State: Tennessee
Distance from Chattanooga: 73 miles (1 hour, 16 minutes)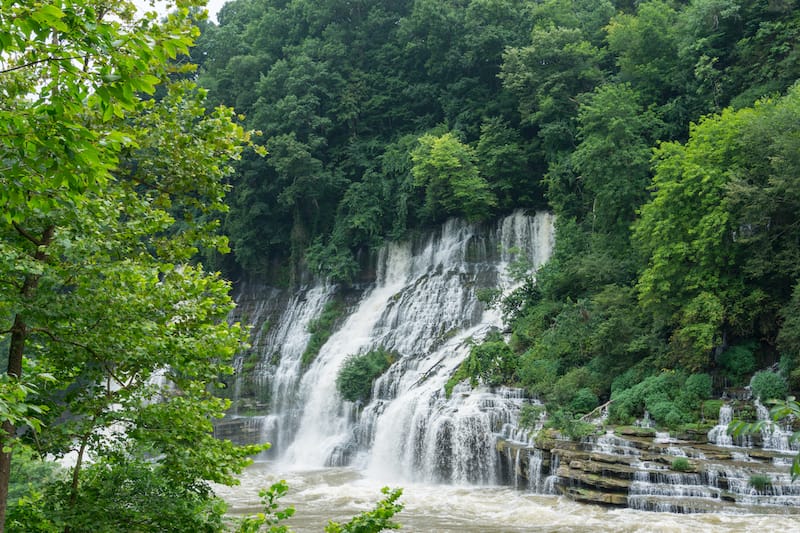 Nestled in the heart of Tennessee, McMinnville is a great day trip from Chattanooga that offers plenty of activities for the whole family.
Visit Cumberland Caverns to witness Tennessee's largest show cave home to 32 miles of passageways, stunning underground rock formations, sparkling pools, and breathtaking underground waterfalls.
If you're interested in digging into some local history, head to McMinnville's oldest residence, The Black House, built in 1825, or Falcon Rest, Tennessee's Premier Victorian Mansion, for a haunted experience.
Music lovers can enjoy live music in the magical 333 ft. underground Blues Underground cave.
Rock Island State Park is another must-visit destination for outdoor enthusiasts where you can enjoy hiking, boating, swimming, picnicking, camping, and even fishing in the famous Blue Hole.
Unwind and reconnect with yourself at Isha Institute of Inner Sciences, where a customized yoga program called Isha Yoga will reduce anxiety, while their signature program, called Inner Engineering, will help you achieve higher levels of consciousness.
Cherokee
State: North Carolina
Distance from Chattanooga: 148 miles (2 hours, 52 minutes)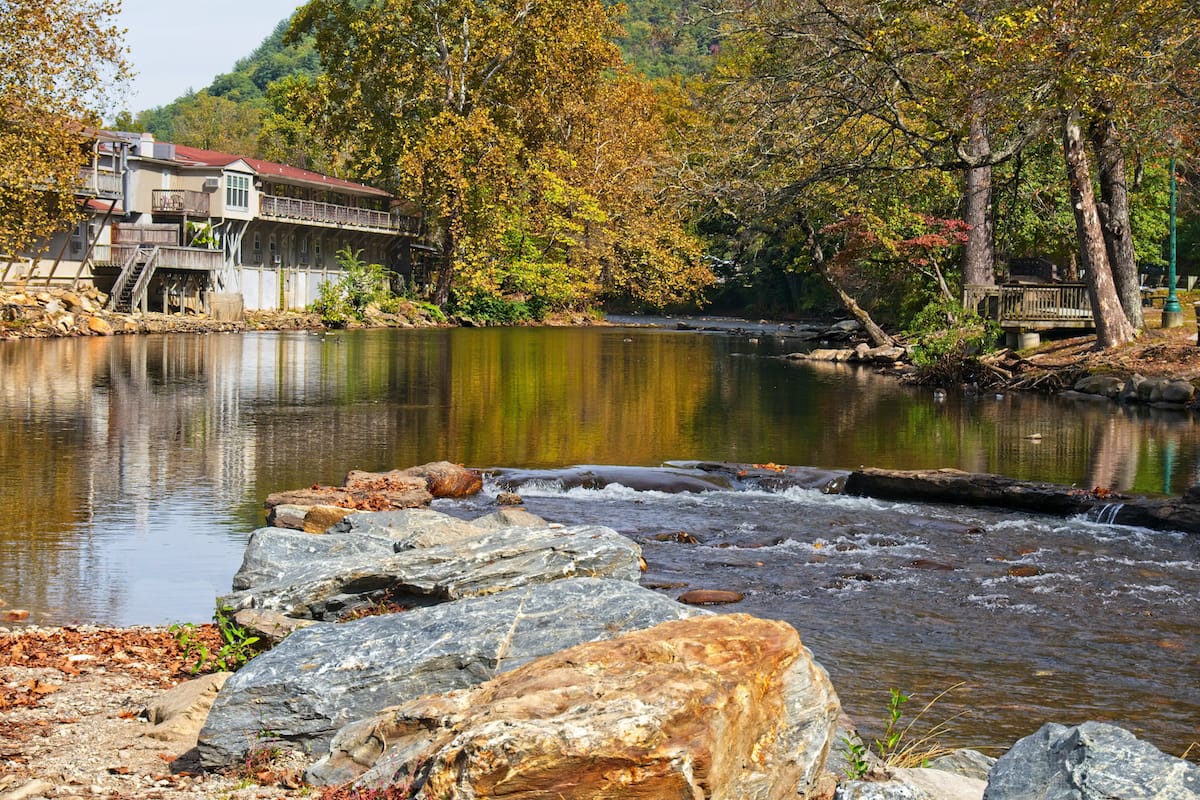 Outdoorsy fun and historical attractions await you in charming Cherokee, one of NC's cutest towns.
Delve deep into the history of Cherokee people in the Museum of Cherokee Indians or step back in time and learn about the Cherokee story of struggle and triumph while enjoying "Unto These Hills" drama.
Pop over to Qualla Arts & Crafts Mutual to pick up a unique artwork or two for your loved ones made by Native artisans.
Cherokee also offers spectacular natural scenery where you can admire the stunning Mingo Falls and Soco Falls at the Cherokee Reservation, visit splendid Great Smoky Mountains National Park in the city's "backyard," or cruise the Blue Ridge Parkway for breathtaking vistas.
Feel like a local by attending events organized throughout the year, such as cultural festivals, fishing tournaments, celebrations, art shows, bike races, etc.
Sewanee
State: Tennessee
Distance from Chattanooga: 52 miles (55 minutes)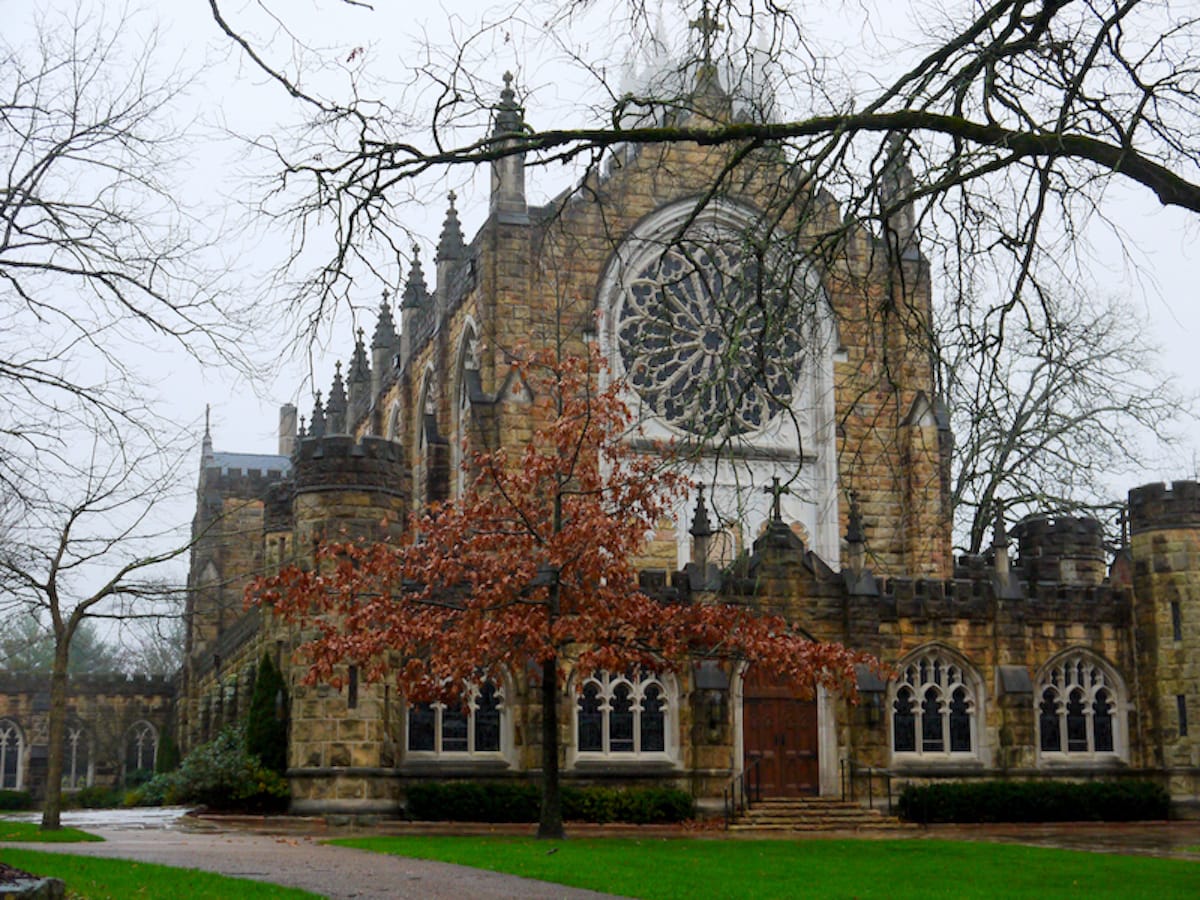 Home to the University of the South, Sewanee is a lovely city immersed in plenty of cultural and natural attractions.
Appreciate Sewanee's natural beauty by visiting gorgeous Foster Falls and hiking Mountain Goat Trail and the 12-mile Fiery Gizzard Trail for unforgettable adventures.
Make sure to check out the remarkable campus for one-of-a-kind Hogwarts vibes, as you will find yourself exploring 19th-century Gothic-style architecture surrounded by old-growth trees.
The Domain, 13,000 acres of land home to abundant outdoor recreation, is another campus highlight where you can hike the 25 ft high Natural Bridge or the 20-mile scenic Perimeter Trail.
Enjoy great food and free concerts on Friday Nights at Angel Park, or check out eclectic shops in downtown Sewanee.
For some handmade art, head to the Sewanee Village shops, the centerpiece of which is the old Lemon Fair that features Sewanee Angel-themed items, jewelry, toys, bath and body products, etc.
Savage Gulf State Natural Area
State: Tennessee
Distance from Chattanooga: 53 miles (54 minutes)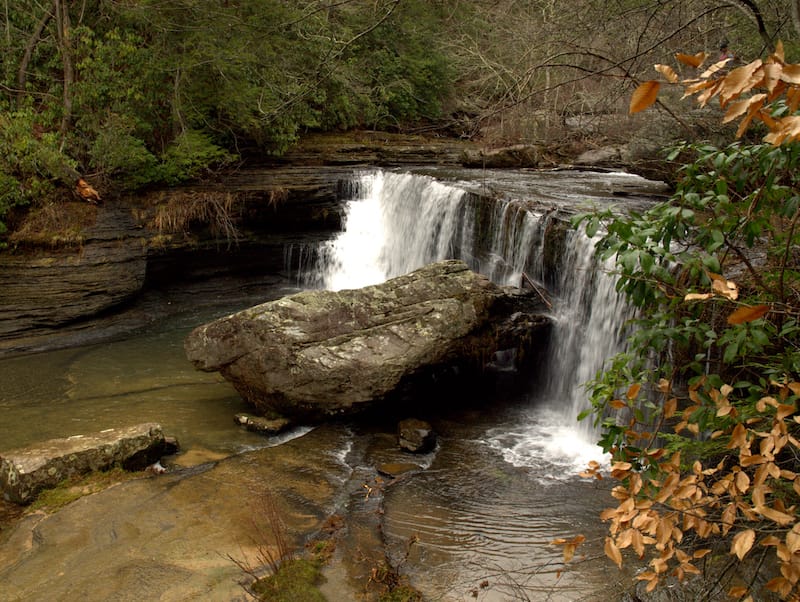 Visiting Savage Gulf State Natural Area is an escape into another world and it's one of the best places to visit in Tennessee!
More than 15,000 acres of nature preserve is home to mesmerizing natural beauty, marvelous streams, sandstone rock features, old-growth forest, 50 miles of hiking trails, four parking areas, and offers a great spot for picnicking and overnight backcountry camping.
The park's focal point is the Stone Door, a 100 ft. crack that provides a spectacular overlook along the gulf's edge.
Get ready to marvel at the breathtaking beauty of Greeter Falls, Savage Falls, and a few others dropping over limestone ledges on Collins River and Ranger Creek. Big Creek, Collins River, and Savage Creeks fall 800 feet over five miles to form the namesake "Gulfs," which make Savage Gulf one of Tennessee's most geographically astonishing destinations.
Please keep your eyes peeled for heavy rain as it may cause devastating flash floods.
Mentone
State: Alabama
Distance from Chattanooga: 47 miles (46 minutes)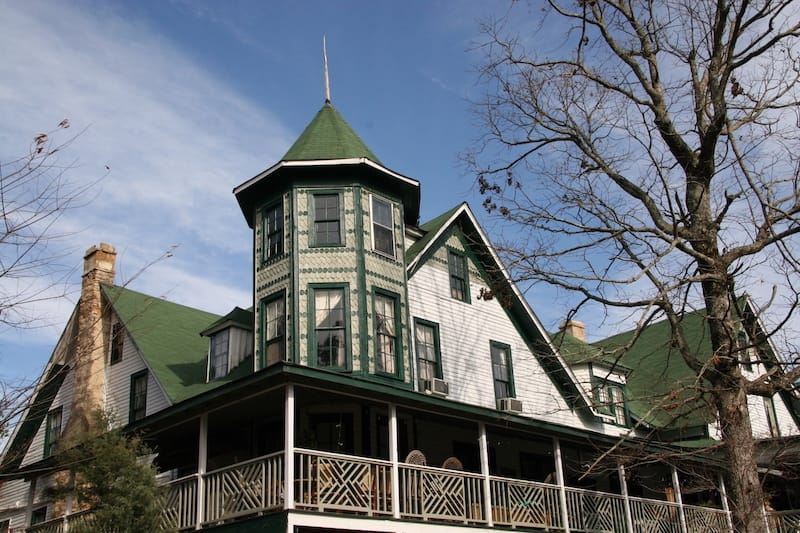 If you want to escape the city's hustle and bustle, then the charming mountain town of Mentone is the place to go.
For some vintage picks, pop over to Log Cabin Village, where the Gourdie Shop offers eclectic gifts and signature Gourdies, while Miracle Pottery will get you acquainted with unique pottery art.
Adventure seekers can visit nearby DeSoto State Park for ample hiking opportunities and to admire the gorgeous DeSoto Falls, one of the area's largest waterfalls.
You can also rent a canoe or kayak or go horseback riding and ride a Shady Grove Dude Ranch horse to get to DeSoto Falls.
If you want to be a witness to amazing scenery where vibrant sunset colors reflect over towering mountains, then go to Brow Park, which also offers picnic tables.
You can mark your Mentone trip as complete after trying award-winning fried catfish filets at Green Leaf Grill or mouth-watering homemade strawberry purée at Wildflower Café.
Hiwassee River
State: Tennessee, North Carolina, Georgia
Distance from Chattanooga: varies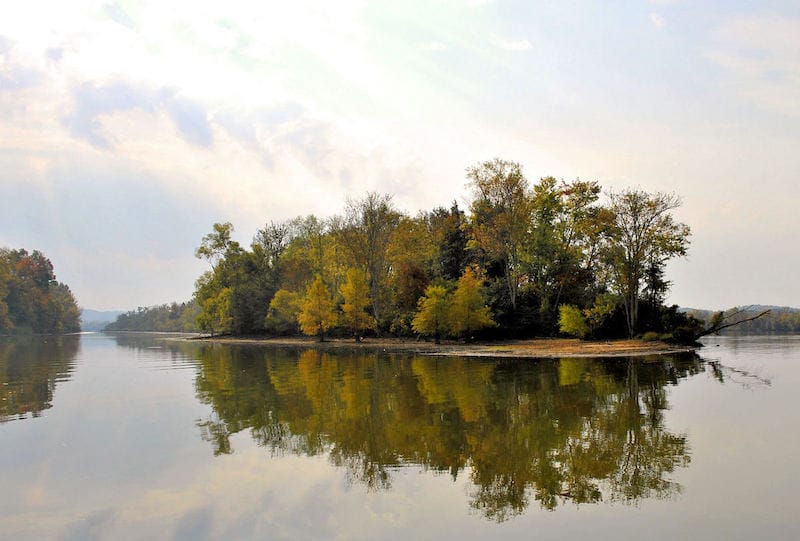 Nestled in Cherokee National Forest, the Hiwassee River is a great day trip option for water enthusiasts.
Enjoy the vibrant scenery while boating, kayaking, canoeing, whitewater rafting, fishing in the river or hiking, picnicking, and camping alongside the river in nearby pristine woodlands.
The 5.5-mile whitewater area features Class I and II rapids, thus making it suitable even for novice paddlers.
If you forgot to bring your water sports gear with you, you can still rent some at nearby Hiwassee Outfitters or Webb Brothers, which offers duckies, tubes, kayaks, rafts, boats, etc.
Fishing enthusiasts can check out Southeastern Anglers for fly fishing adventures. After spending a day in the water, it is time for a memorable 4-hour train ride on the Hiwassee Loop Train that is run by the Tennessee Valley Railroad and promises scenic views along the way.
Ocoee
State: Tennessee
Distance from Chattanooga: 42 miles (43 minutes)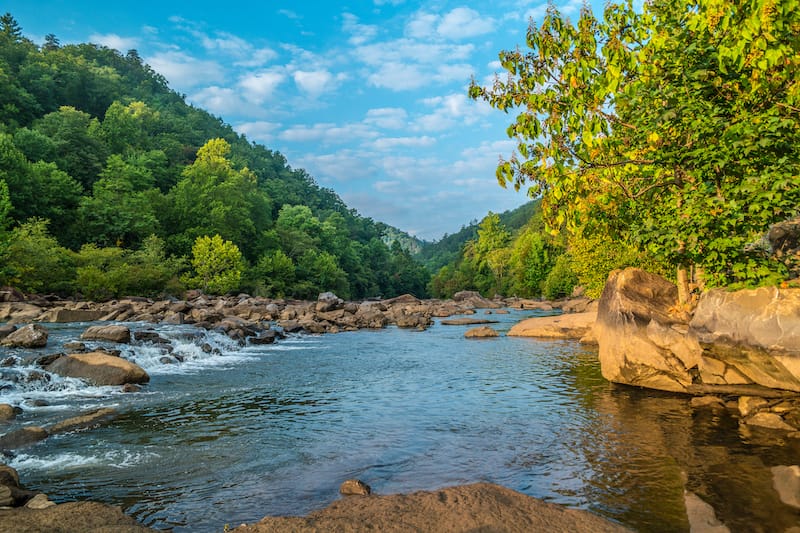 One of the best day trips from Chattanooga is another family-friendly destination that guarantees thrilling adventures and wonderful lifetime memories!
Reconnect with nature and spend quality time with family in the River Maze in Ocoee where you'll find u-pick pumpkins (ideal for fall!), mazes, hayrides, historical interpretations, exciting farm-based activities, educational events, etc.
Cherokee Rafting and High Country Adventures are other must-visit spots for adrenaline junkies to enjoy rafting on the Ocoee River's (US's #1 whitewater destination) 10 mile Class III, IV, V rapids.
For taking in the stunning vistas of Tennessee, Ocoee River, and surrounding wildlife from above, head to Ocoee Zipz, where a one-mile zipline will provide heart-pounding emotions.
Lace-up your hiking boots and cycling shoes for unforgettable adventures in nearby Red Clay State Park, featuring miles of the scenic hiking trails, or go for mountain biking tours with Mountain Bike Resort.
Best Places to Stay in Chattanooga
If you truly embarked on these places as Chattanooga day trips, you may need a place to crash in the city if you're not a local! Here are some of the top-rated lodging options in Chattanooga:
Did we miss out on any of the best places to visit near Chattanooga? Let us know your top picks for day trips from Chattanooga in the comments. Thanks!
More Eastern Tennessee Travel Guides
Pin this Chattanooga Day Trips Guide