One thing North Carolina has no shortage of is places to visit! These are some of the best small towns in North Carolina – from coastal towns to those situated in the dense forests of the western part of the state.
We have chosen North Carolina small towns (and some smaller cities) throughout the state that have a variety to offer visitors.
Did we miss any cute towns in NC or any of your favorite places to visit in North Carolina? Let us know in the comments if so! Thanks!
Best Small Towns in North Carolina
Blowing Rock
Known as "Crown of the Blue Ridge" and home to just over 1,000 residents, Blowing Rock is one of the best small towns to visit in North Carolina.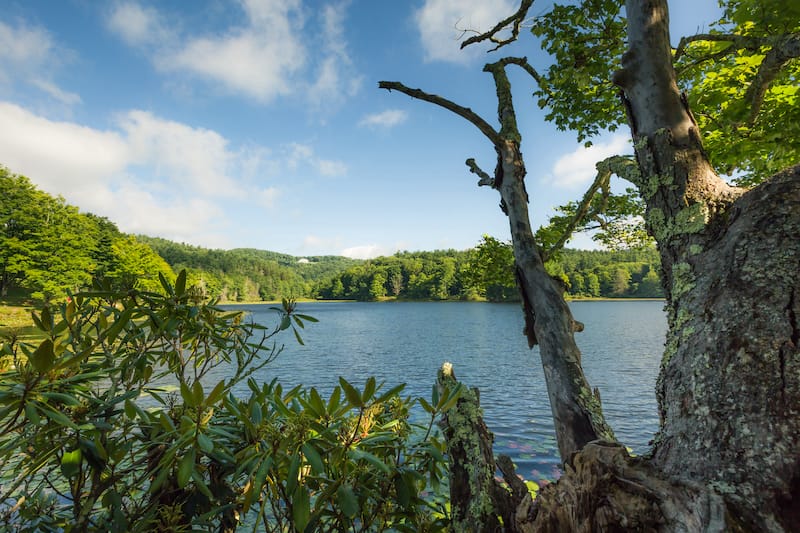 For a good reason, the "Blowing Rock" is at the top of many people's list of things to do in Blowing Rock. It's relaxing to gaze at the mountains from a place that is "North Carolina's Oldest Travel Attraction".
Another popular thing to do is walking through the downtown of the town. You can find many cozy shops on Main Street, the Martin House, and next to Memorial Park.
Antiques, outdoor gear, home furnishings, and children's toys are all available. Many say that the coffee here is great too, so don't miss on it either! Be sure to stop by Bald Guy Brew Blowing Rock (in The Martin House) and Camp Coffee Roasters when there!
Edenton
Edenton is the second Colonial capital located in the Inner Banks of North Carolina. Recently, the town has become a popular retirement location and a heritage tourism destination.
The town offers its visitors the most preserved Colonial Courthouse in America, the 1886 Roanoke River Lighthouse, bay cruises, historic trolley tours, paddling on Edenton Bay, free boat slips, and a quaint downtown near the waterfront, and the list goes on and on!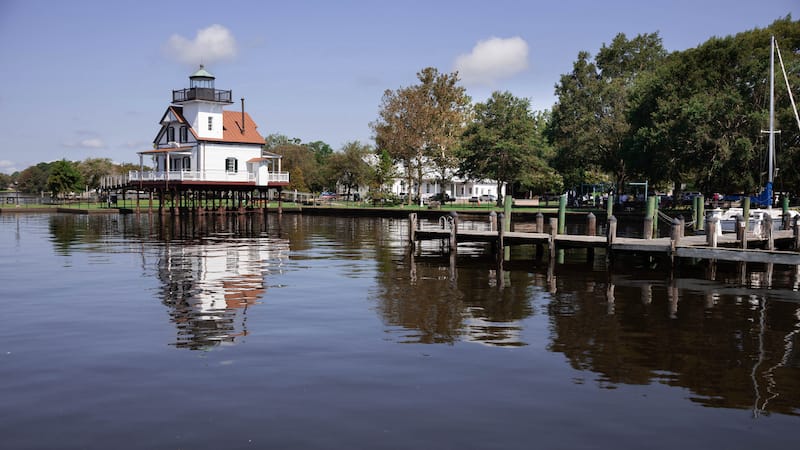 There are also some special events like the Christmas Candlelight Tour, the Peanut Festival, and the Pilgrimage Tour, all of which are unique and definitely worth visiting when you're in Edenton.
Mount Airy
Mount Airy, also called Mayberry, is nestled in the foothills of the Blue Ridge Mountains, on the Ararat and Yadkin Rivers. It offers a huge number of outdoor activities, one of which is Pilot Mountain State Park, with miles of trails, camping, and canoeing available.
The town is best known for being the birthplace and boyhood home of actor Andy Griffith. So, you may want to enjoy the museum named after him and check out the hundreds of items that cover Griffith's life and career!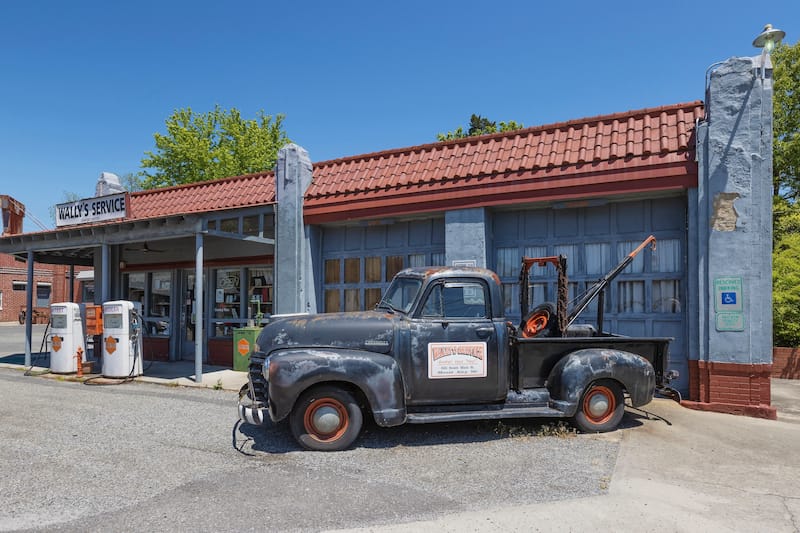 If you want to develop a view of what life looked like in Mt. Airy from the 1700s to the present day, then add the Mount Airy Museum Of Regional History to your bucket list when visiting this NC town.
Banner Elk
Banner Elk is located near Boone in the Blue Ridge Mountains of the North Carolina High Country. It is the kind of place that combines the charm of a small town with larger city conveniences.
The town offers great outdoors, an abundance of theaters and arts, family attractions like Grandfather Mountain, wineries, breweries, winter sports, etc.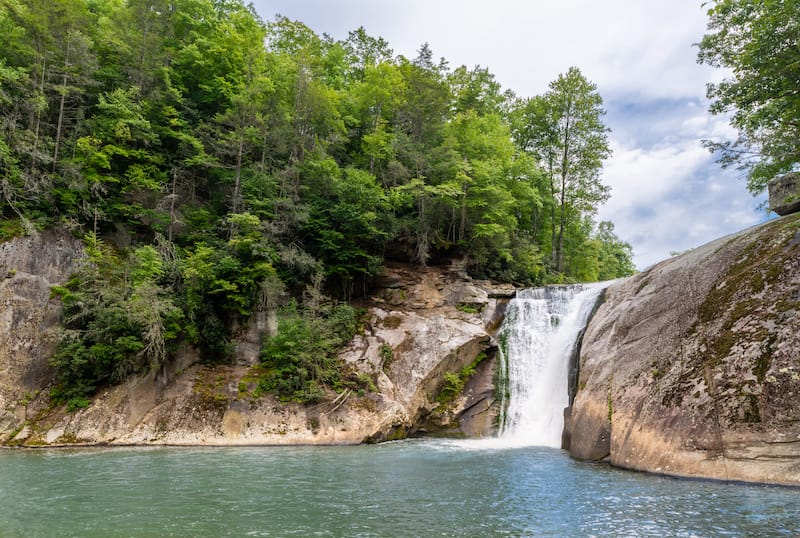 In the winter, take advantage of the two largest ski resorts in the South, Sugar Mountain Resort and Beech Mountain Resort, which are only 10 minutes away from Banner Elk. Both resorts offer exciting skiing and snowboarding terrain along with the most up-to-date rental equipment.
If interested, also check out Wilderness Run Alpine Coaster, which is North Carolina's first alpine roller coaster and just opened this past winter!
Lexington
For discovering remarkable and memorable things, Lexington is a great place to spend time in. The town is also known as the "Barbeque Capital of the World". It is located in Davidson County in the Piedmont region.
Aside from indulging in some delicious Carolina BBQ, typical tourists can also enjoy shopping downtown, trying out wines, exploring arts, and amazing outdoors.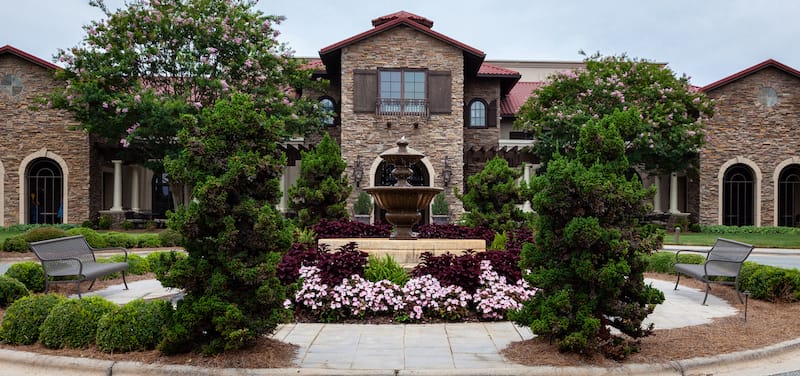 The Daniel Boone Canoe Trail, a 22-mile stretch of the Yadkin River with access points and historical markers, is a great choice for enjoying outdoor recreation in Lexington.
Visit the 110-acre Boone's Cave Park that provides miles of hiking trails and where (further downstream) the Yadkin river flows into High Rock Lake.
The lake, which spans 15,000 acres, is the second-largest in North Carolina and is popular for boating, paddleboarding, swimming, and fishing, particularly for largemouth bass.
Boone
The town is located in the Blue Ridge Mountains of western North Carolina. Boone was named after famous American pioneer and explorer Daniel Boone, and it has hosted an outdoor amphitheater drama, "Horn in the West", every summer since 1952 (with the exception of 2020).
It depicts the British settlement of the region during the American Revolutionary War and features the contributions of its namesake.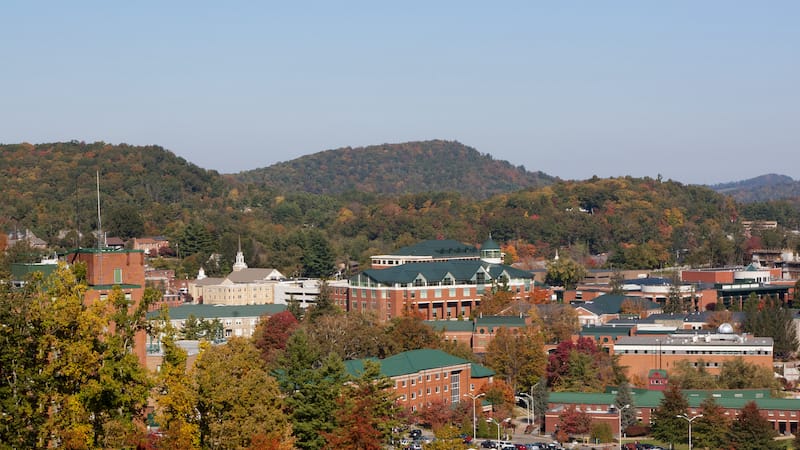 One of the best attractions near the town is Grandfather Mountain. A scenic drive takes the visitors to the wheelchair-accessible Mile High Swinging Bridge, thousands of feet above the Carolina Piedmont region.
A world-class nature museum, interpretive programs, and awesome trails lead to amazing adventures in Grandfather Mountain State Park.
Southport
Owner of the title of America's happiest seaside town, Southport is a very historic and picturesque city.
A trip to this historic maritime town gives you a chance to get back in time when pirates and privateers, antebellum Southern belles, and blockade runners ruled the seas.
Southport has been a popular destination for seafarers since the early 1500s, and it still is one of the most famous small towns in North Carolina today.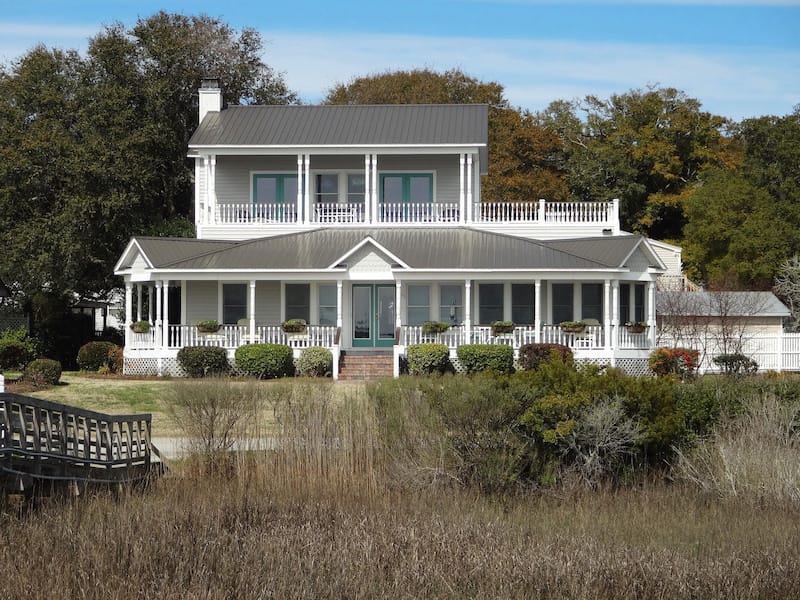 Aside from being a great place for movie buffs (several movies have been filmed there), Southport has a lot of historical activities available for visitors, suitable for all age groups and types of travelers. A visit to the Fort Johnston-Southport Museum and Visitors' Center is a good place to start!
The North Carolina Maritime Museum in Southport is a must for those interested in the area's maritime past. Here, you can learn about the natural and cultural history of the Lower Cape Fear area. You're also not too far from some of the most beautiful NC lighthouses.
Bryson City
Bryson City is located on the southern edge of Great Smoky Mountains National Park, one of the best places to visit in Tennessee and North Carolina. It is a not too touristy town of 1,300 people and has more stop signs than stoplights!
It is a walkable town with independent bookstores, working artisans' arts and crafts galleries, a bike shop, two fly fishing shops, a historical museum, a fly fishing museum, an excursion train, two breweries, and a pleasantly unexpected variety of restaurants.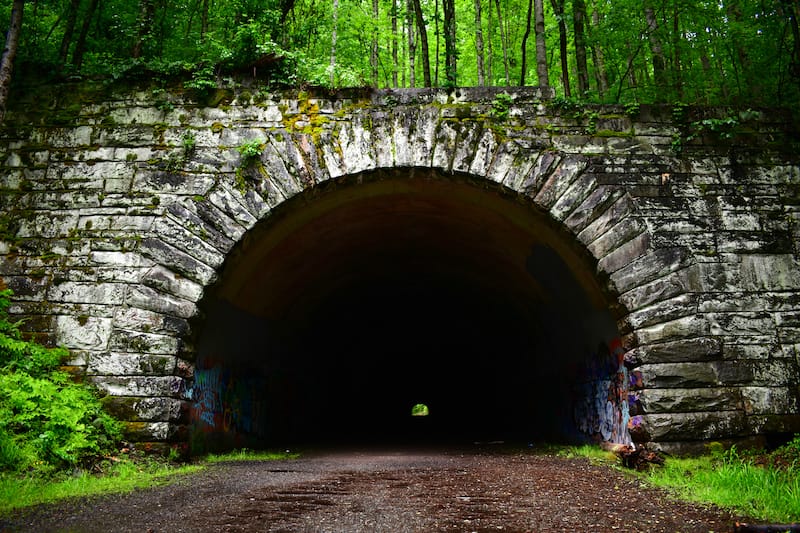 Around the Tuckasegee River, visitors usually enjoy some music and sweet treats, drop a fishing line, or explore by kayak or paddleboard. When in the area, you can check the Visitor Center for more detailed suggestions on where to go and what to do.
Morganton
The small city of Morganton is located on the Catawba River in the Blue Ridge Mountains' foothills. It is regarded as "Nature's Playground" because it is surrounded by beautiful rural scenery, natural resources, and numerous recreational opportunities.
History enthusiasts will enjoy The History Museum of Burke Country. It displays objects that date back thousands of years, all the way back to when Native Americans lived and hunted in this region. A visit here is for sure a good way to begin your Morganton explorations.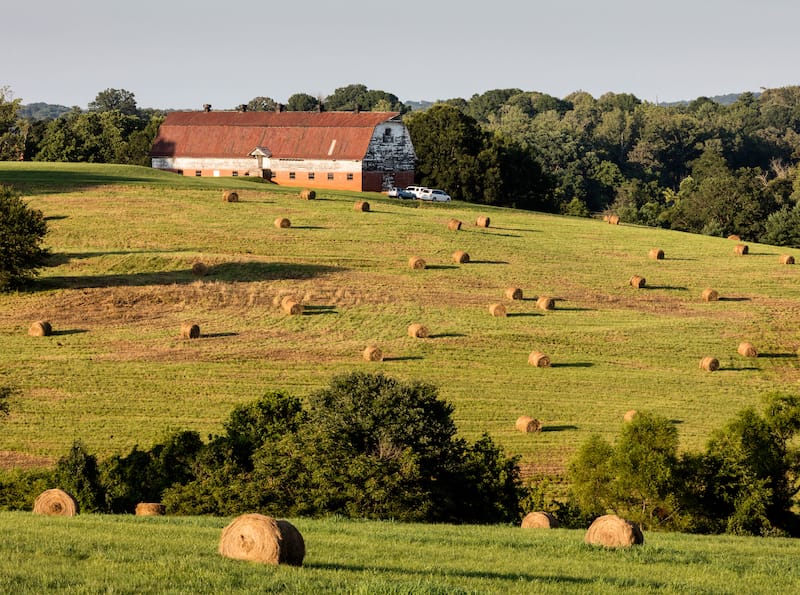 If you're a wine lover, definitely visit Silver Fork Winery. You can tour their vineyards, taste the wines in their tasting room, while also taking in some fresh mountain air. It truly is one of the best weekend getaways in North Carolina!
Southern Pines
Southern Pines is known for its equestrian activities and large horse farms. The Walthour-Moss Foundation, an unspoiled preserve of almost 4,000 acres with miles of riding trails, is located in the heart of Southern Pines' "Horse Country."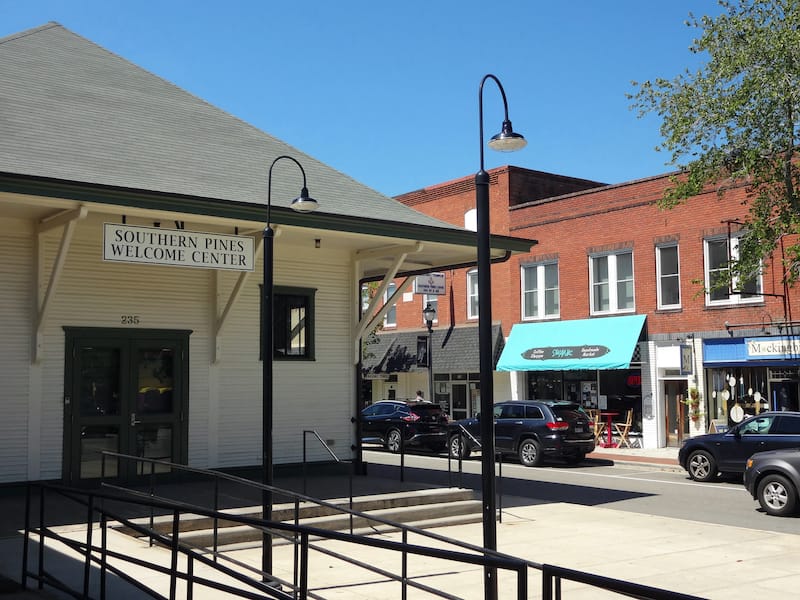 The downtown is a shopping district, full of great restaurants, boutiques, and coffee shops run by locals. Visitors are welcome to explore the Weymouth Center and grounds, as well as other historic sites.
If interested in checking out one of North Carolina's pre-eminent arts theaters, Sunrise Theater (located in the center of downtown), is the perfect place to stop by.
Brevard
Brevard is a stunning tourist and cultural center in western North Carolina, situated at the entrance to the Pisgah National Forest. The mild climate, natural beauty, and cultural activities attract many visitors to this town.
There is plenty of things to do in Brevard all year, but there are a few exciting events that take place downtown throughout the year, such as The White Squirrel Festival, Halloweenfest, and the Twilight Tour.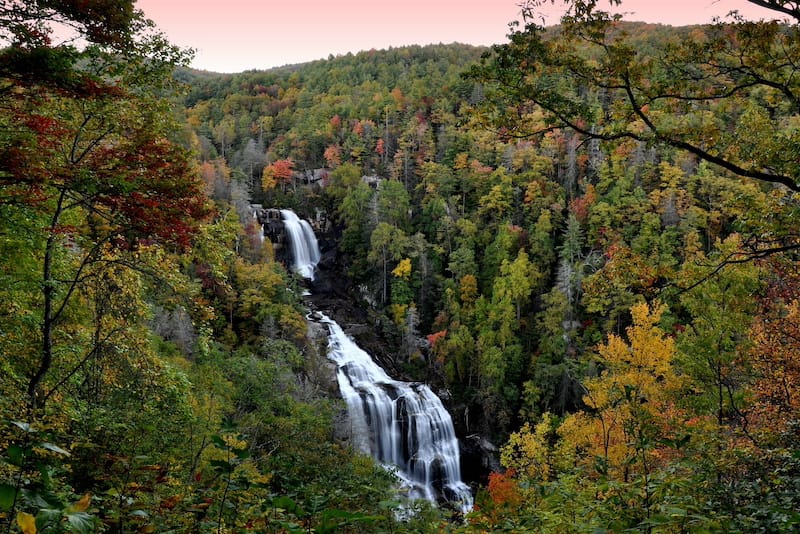 Don't miss out on Brevard's nature when in the area as well, especially if you like North Carolina's waterfalls. Start with exploring the Pisgah National Forest, much of which is a temperate rain forest with 90+ inches of rain a year, and 250 waterfalls.
Looking Glass Falls and the summer favorite, Sliding Rock, are the most visited waterfalls (and are also great waterfalls to visit near Asheville).
Beaufort
Titled "America's Coolest Small Town", Beaufort was established in 1713 and is the fourth oldest town in North Carolina.
To take in some history, head to the two-acre Beaufort Historic Site spot on Turner Street that features six authentically restored buildings.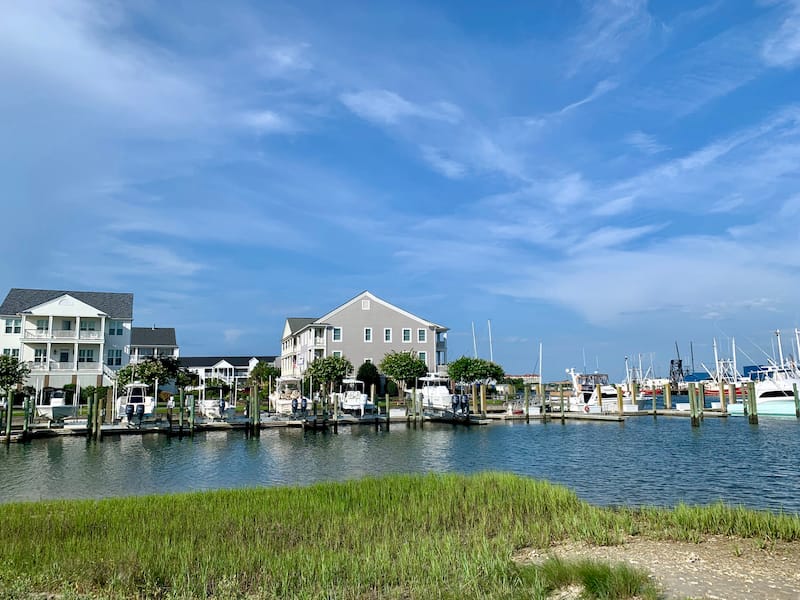 Another awesome place to visit here is the North Carolina Maritime Museum, which is one of three state Maritime Museums, the others being in Hatteras and Southport. All are dedicated to preserving, collecting, and interpreting coastal life and history.
This museum houses the official archives for objects recovered from the remains of Blackbeard's flagship, the Queen Anne's Revenge, which was discovered in Beaufort Inlet in 1996.
Davidson
North Carolina's Davidson is a great NC small town to visit for those that want a charming atmosphere in a small, college town in the state.
Tourists here are welcome to explore the cute downtown along with exclusive shops and restaurants when strolling along the flower-lined sidewalks.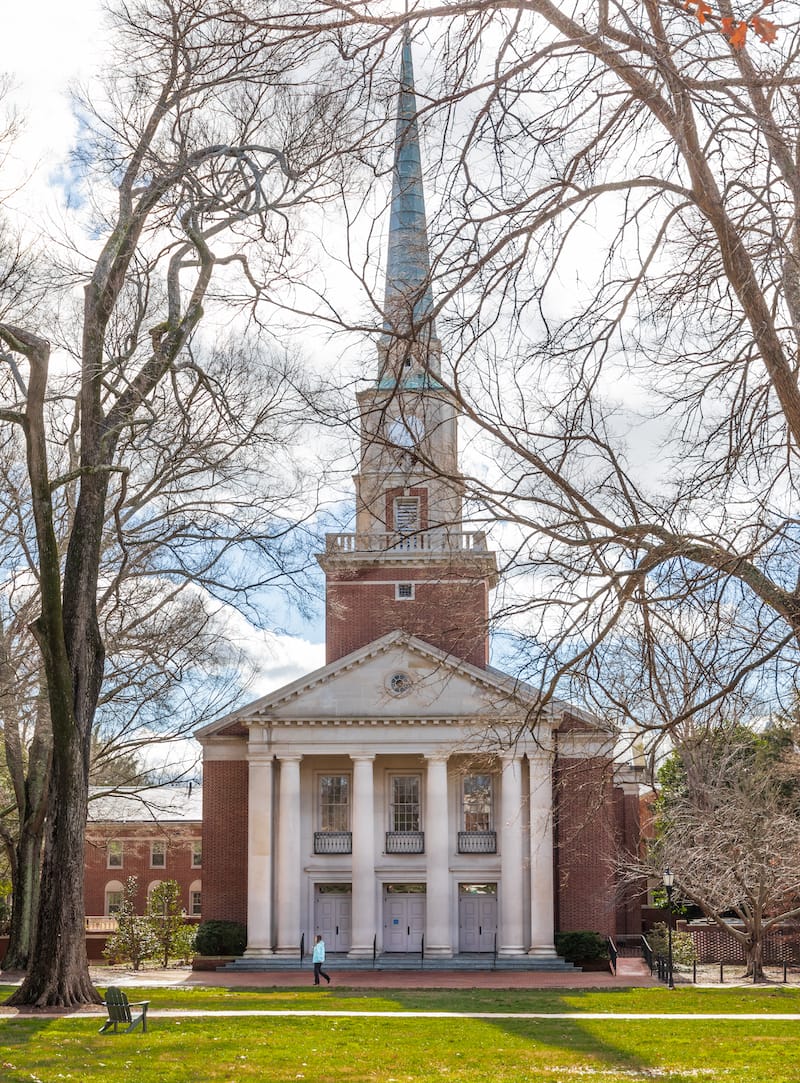 If you're more interested in nature, spend your day at Lake Norman. The area offers a lot of recreational opportunities like renting a boat, paddle boarding, fishing for bass or catfish, and sailing on Queen's Landing Dinner Cruise.
As an alternative, enjoy the local culture by getting to a show by the Davidson Community Players, attend an amazing performance by the Charlotte Ballet, or take in all the pleasure from the beautiful sounds of the Charlotte Symphony.
You're so close to Charlotte so you can take advantage of the nighttime and cultural activities there, as well.
Bath
Bath, the oldest town in North Carolina, celebrated its 300 anniversary in 2005. It was the first port of entry, located on the Pamlico River, where trade in naval stores, furs, and tobacco had developed since the establishment of the town.
This small but very historic country has some very stunning views of the Pamlico River and Bath Creek.
The historical story of the town incorporates not only its beautiful history, like the establishment of St. Thomas Episcopal Church in 1734 but also creepy stuff like the home of a pirate named Edward Teach or "Blackbeard".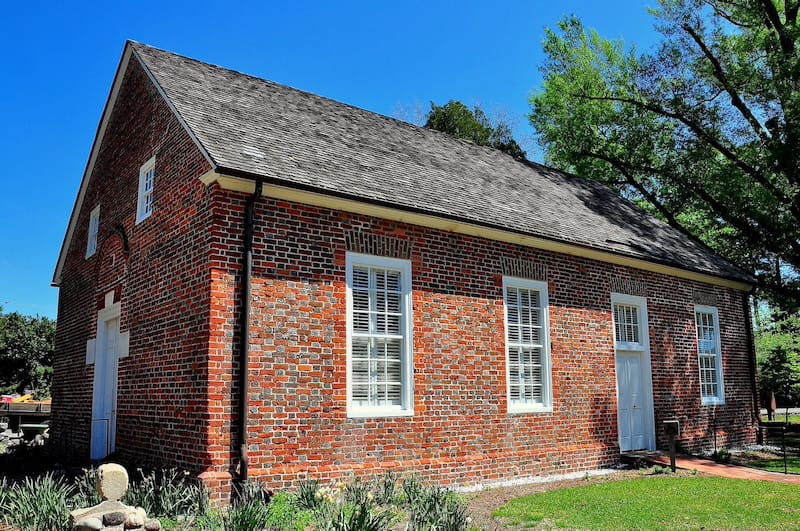 You won't find a lot of activities here as the town has not changed too much during the last 300 years. Nevertheless, visitors come here during the summertime, mainly to experience its rich history.
Hillsborough
Featuring more than 100 homes, buildings, and churches from the 18th and 19th centuries, Hillsborough is known as another small town with a rich history.
Every May, barbecue lovers flock to town for Hog Day, and the downtown comes alive with arts and entertainment on Friday evenings during Last Fridays celebrations.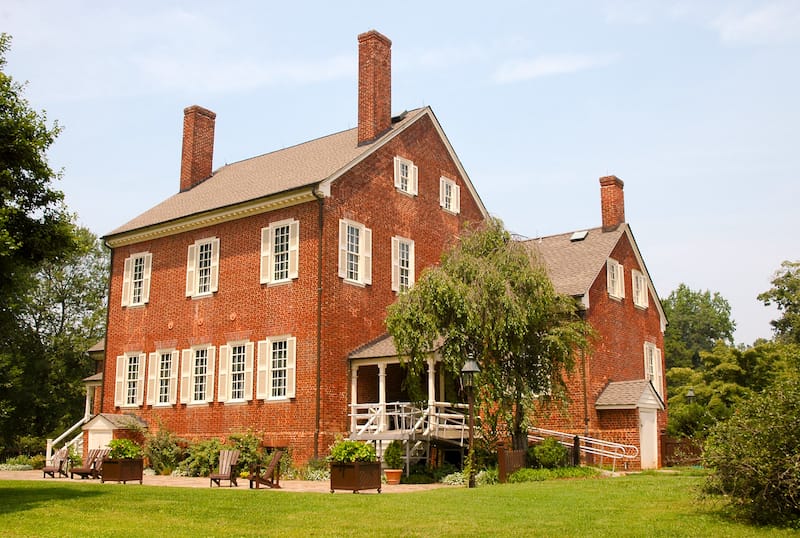 Visitors also love the greenways of the area and the Riverwalk, which hosts a number of annual festivals and events like the Handmade Parade and Tarwheels & Hillsborough Half Marathon road races.
Apart from the fun activities in the center of the town, Hillsborough is also home to the Occoneechee Mountain State Natural Area and numerous other trails.
Manteo
Even though Manteo may appear as a traditional coastal town in North Carolina, the region is in fact quite rich both in fun attractions and in local history. It is also close to some of the best beaches in NC.
No matter if you choose to be there for a day or for a week, historical attractions like the Roanoke Island Festival Park, the Island Farm, and the Elizabethan Gardens will make you feel like you're going back in time.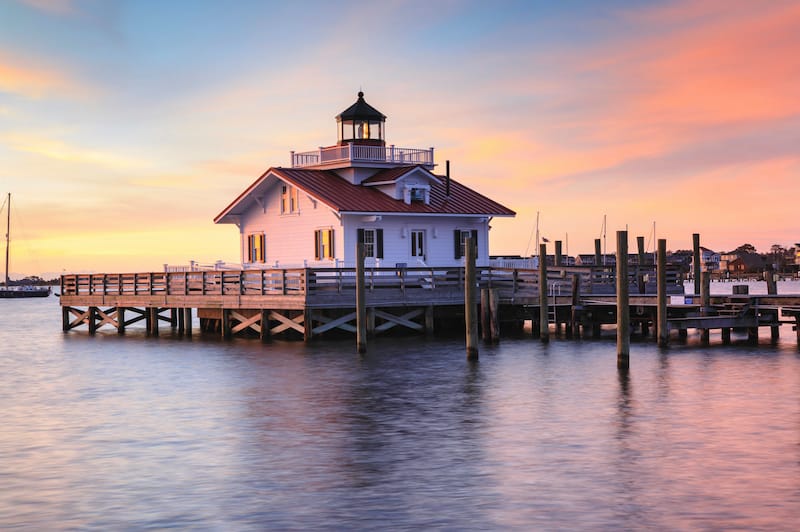 When downtown, it is recommended to check out The Pioneer Theater, located alongside streets and claiming to be America's oldest single-screen, family-owned Tudor-style cinema. It is budget-friendly and is open all year round.
Manteo is a great base for visiting the Outer Banks and Roanoke Island (one of NCʻs most underrated islands) and other cute towns along the way!
Pinehurst
Pinehurst is located in Moore County, North Carolina. A significant portion of the central village, including the resort complexes, was designated as a National Historic Landmark District for its landscape design and importance in American golf history.
To experience the feel of the town, take the carriage rides and explore the historic homes and charming streets of the village. For that, you'll need to contact the Carriage Tours of Pinehurst Village, Inc.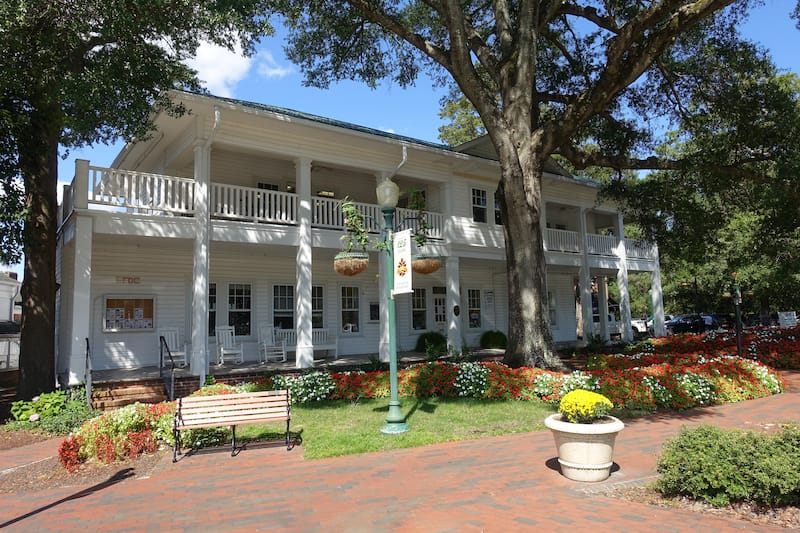 As a historical site, the Tufts Archives is one of the best places to visit in Pinehurst. It exhibits rich heritage and various artifacts from the founders of the village.
Saluda
This one is yet another tiny town full of impressive galleries, shops, and restaurants. Pearson's Falls and the Green River Gorge are located nearby. Over the years, Saluda gained a reputation as a relaxing mountain resort town that provided health benefits to the tourists.
The town's one-street downtown hasn't changed much since its foundation and most buildings of Main Street have been added to the National Register of Historic Places.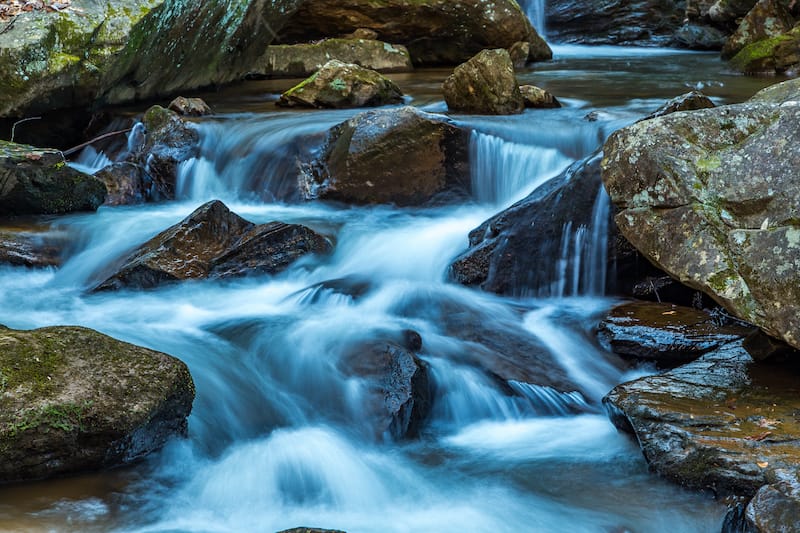 A must-see of the area is Heartwood Gallery, featuring 100% American crafts to the public for more than 30 years. Also, if you happen to be there in May, don't miss the highly recommended Saluda Arts Festival!
Hendersonville
Hendersonville is located in Western North Carolina, 22 miles south of Asheville and in the heart of the Blue Ridge Mountains
The town's Crest of the Blue Ridge American Viticultural Area features 16 craft beer makers, (including Sierra Nevada) as well as wineries and cideries.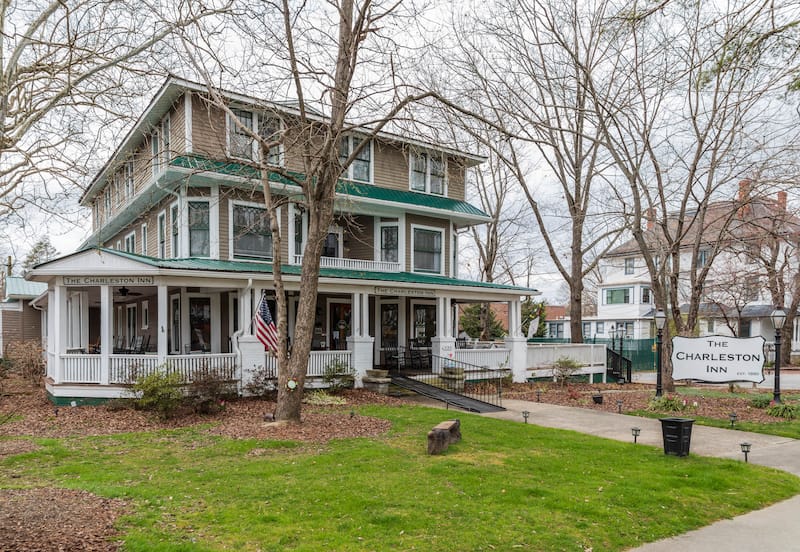 Throughout the year, Hendersonville's downtown area hosts a variety of events, including the NC Apple Festival taking place at the Labor Day weekend, as well as art exhibits, an antique fair, parades, and car shows.
New Bern
Prominent for its cultural diversity, New Bern is the second oldest European settlement town and the first Colonial capital located in the Inner Banks of North Carolina. It's a small Inner Banks town located around 40 miles north of Emerald Isle.
Besides priding itself on beautiful nature and history, the town is also close to the beautiful NC Crystal Coast. It is technically classified as a city these days but still exudes that small-town feel and comfort.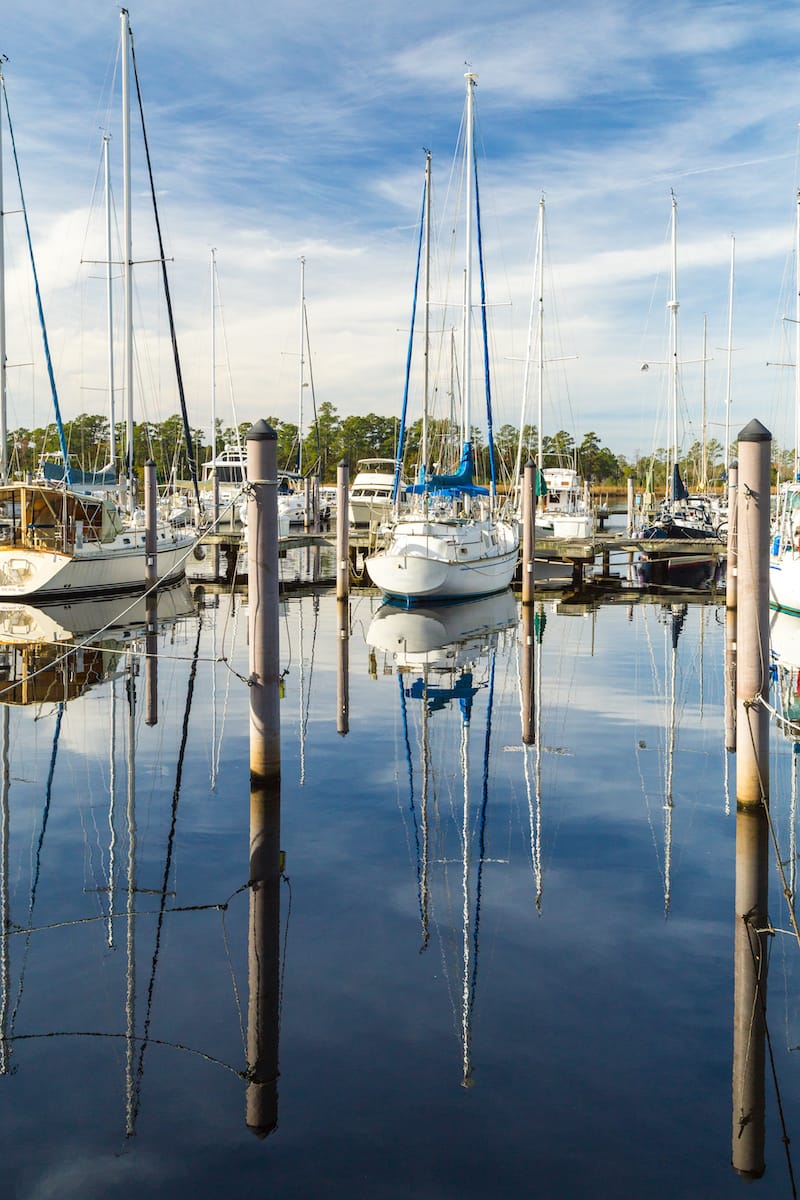 Visitors are warmly welcomed to the Tryon Palace, which served as the first capital of independent and post-Revolutionary War North Carolina. Here you can see many historic buildings and nearly 16-acres of fine gardens.
Also, all the Pepsi fans can learn more about Pepsi-Cola Corporation, which was originally founded there and is one of the best things to do in New Bern!
What are the best small towns in North Carolina that we missed on the list? Let us know in the comments! Thanks!
More North Carolina Travel Resources
Pin this North Carolina Small Towns Guide