The nature of North Carolina is unbeatable. And the many North Carolina waterfalls that exist there prove this!
You can find so many natural features across the state but there is truly something special about the waterfalls in North Carolina.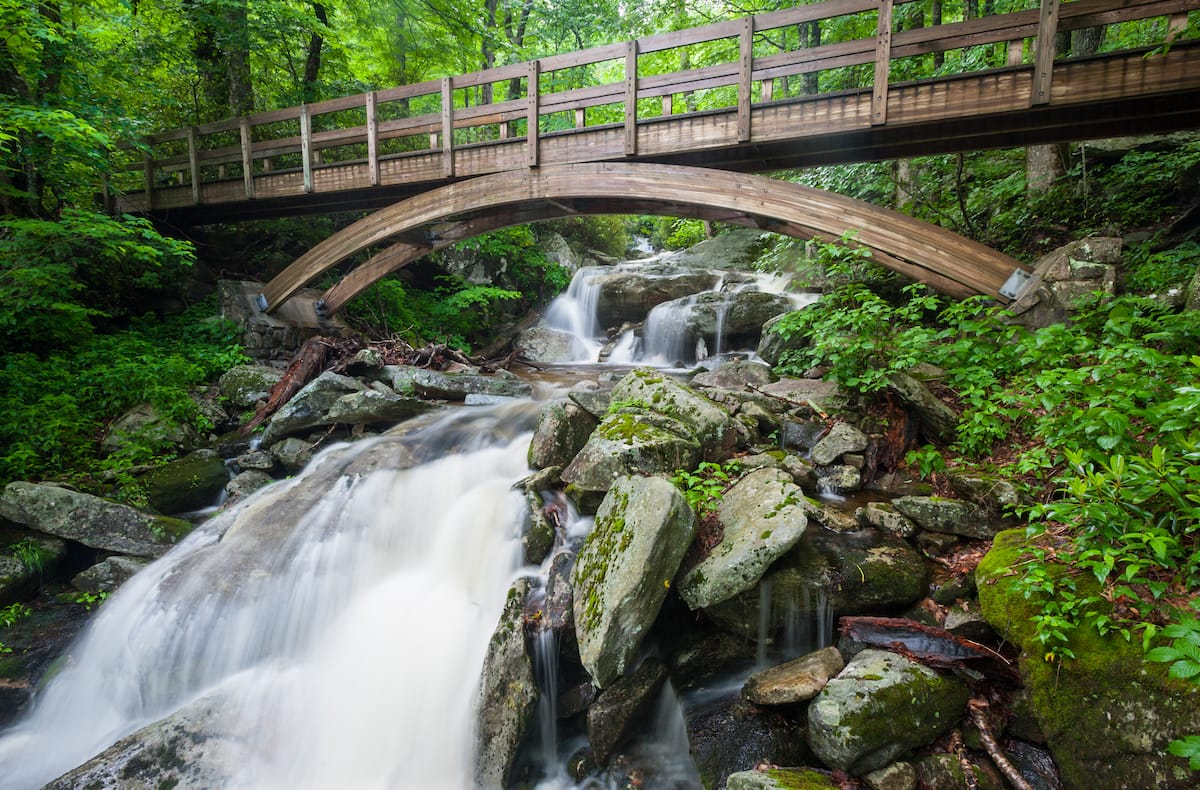 This guide will detail the best waterfalls in North Carolina (including top NC waterfall hikes) and reasons to put each of them on your bucket list!
Did we miss any amazing waterfall hikes in North Carolina? Or waterfalls in general? Let us know in the comments!
Best North Carolina Waterfalls
1. Skinny Dip Falls
Just off the Blue Ridge Parkway near Asheville is the beautiful Skinny Dip Falls! Enjoy the lovely cascading waterfalls on the crystal-clear river, with complete and utter tranquility surrounding you.
This waterfall is located near Brevard, North Carolina, with few people taking part in the hike, so prepare to experience the beauty and serenity of the nature around you and the amazing hike, in peace, with little to no crowds!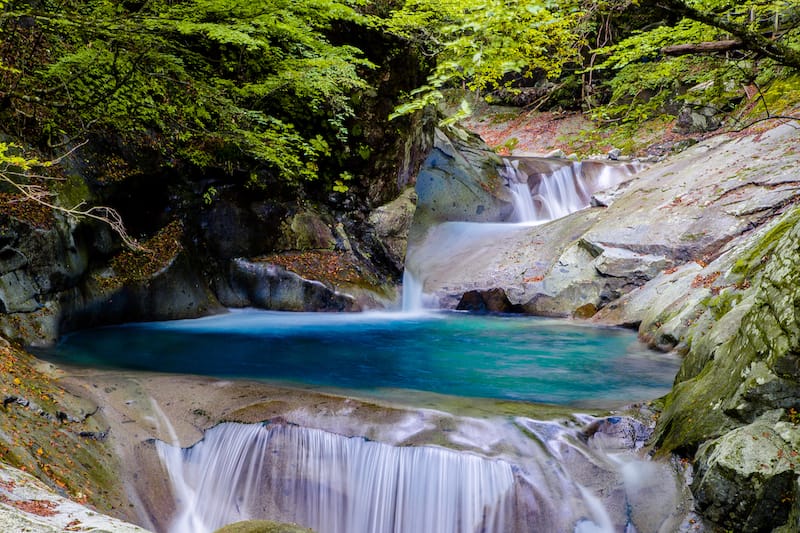 The hike to the Skinny Dip Falls starts from the Looking Glass overlook, then crosses into the parkway, and then ducks into a forest trail.
After that, the hike passes through an interesting and twisted tree, which is often called the "Dragon Tree" (which is also considered to be a Native American trail tree).
2. High Shoals Falls
Often considered to be the most popular hiking trail in the South Mountains State Park, High Shoals Falls, is definitely a challenge for those who love hiking!
At the end of the hike, you'll find an 80-foot waterfall in an all-woodland habitat. Although crowds may increase during the weekend, the hiking trail isn't usually packed during the weekdays.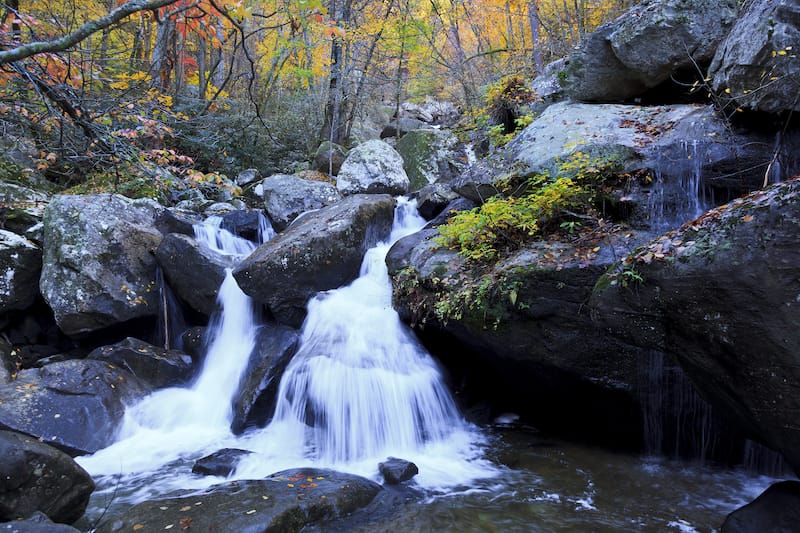 The trail is a two-and-a-half-mile loop trail near Casar, North Carolina, and is usually considered moderately difficult, so, if you happen to be a hiking novice, this trail might not be right for you.
One other factor to consider would be the duration of the trail before going, which is about an hour and sixteen minutes.
3. Graveyard Fields
Its name may be peculiar, but we promise you won't be hiking through any graveyards! All hikes come with their own unique, scenic views, and the Graveyard Fields trail is no exception!
It highlights the beauty of the valley and the surrounding incredible mountains, including the Black Balsam Knob.
It is one of the first-ever hikes on the Blue Ridge Parkway, which opened about a decade ago.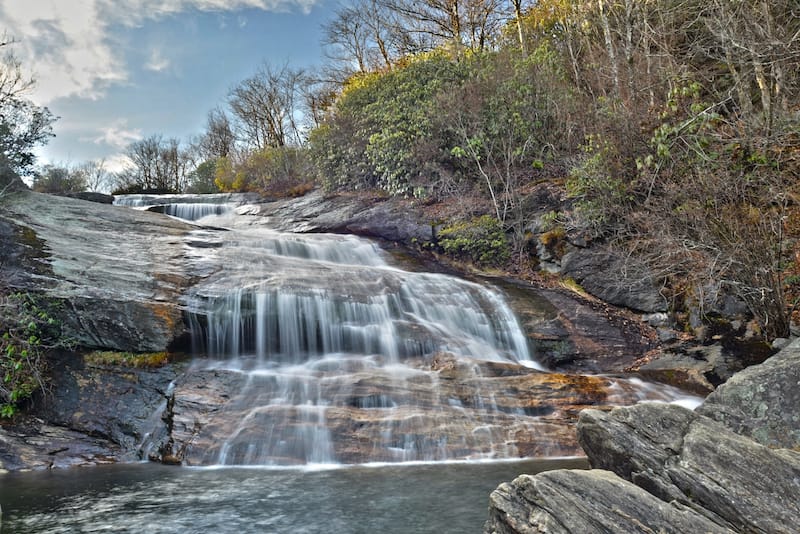 It's a must-hike for anyone looking for a real outdoor adventure, as its ruggedness attracts all nature lovers and lures them in for an experience of a lifetime.
It is just over three miles, roundtrip, and has all sorts of twists and turns!
4. Dry Falls
Most waterfalls can seem a tad dangerous, and standing near them is not always a good idea.
However, Dry Falls is perfect for those who like to stand behind the waterfalls they have hiked to and really enjoy the scenery.
The location of this waterfall is just outside of the Highlands and is a relatively short and easy trail.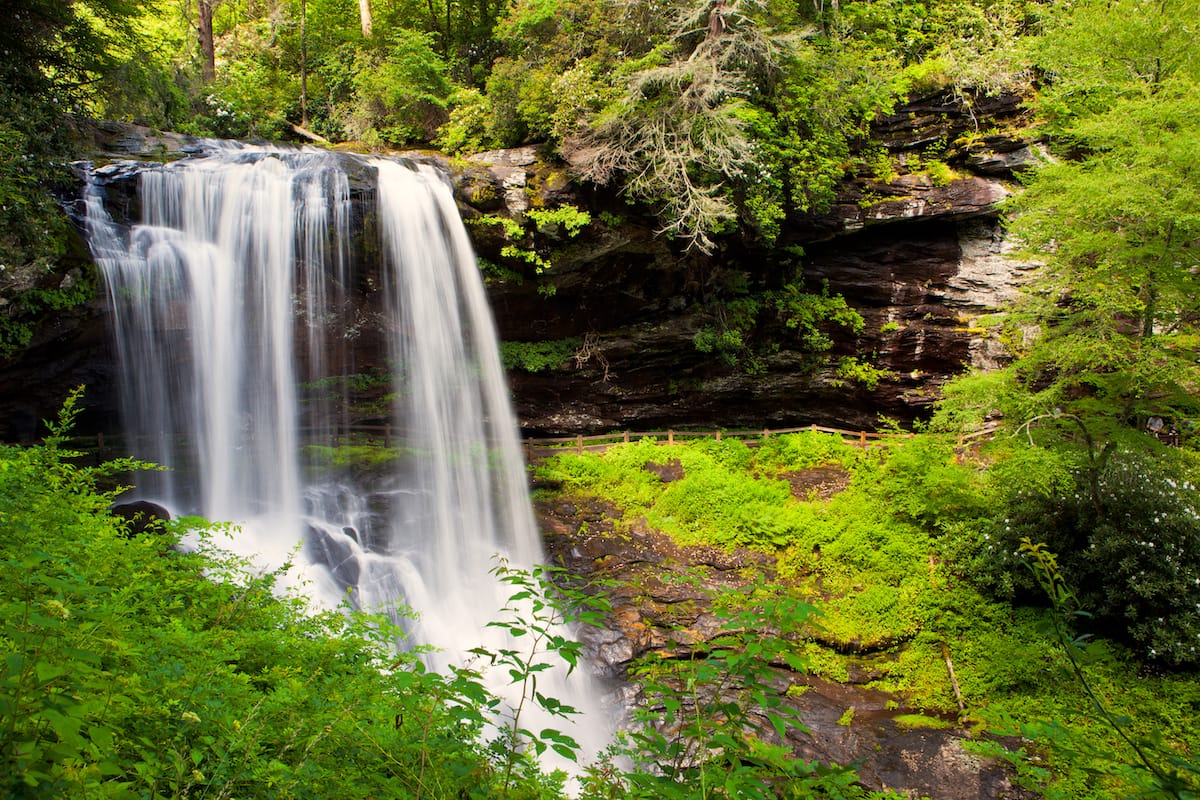 It is 75 feet tall and is in the Nantahala National Forest.
The name 'Dry Falls' comes from the fact that you can walk behind the cliff and stay dry. However, during rain spells, this may not always be the case, as, naturally, you probably won't be able to stay completely dry.
The best part of this experience would definitely have to be when you're climbing down the stairs, and have the amazing view from the front, perfect for taking memorable pictures!
5. Catawba Falls
Catawba Falls is located just east of Asheville, and is the ideal waterfall to hike to in North Carolina if you are the type of person who likes a good fairytale-like experience!
From its shady and mossy forest valley… to the series of waterfalls on the Catawba River, this trail is a real treat for the romantics in the hiking community!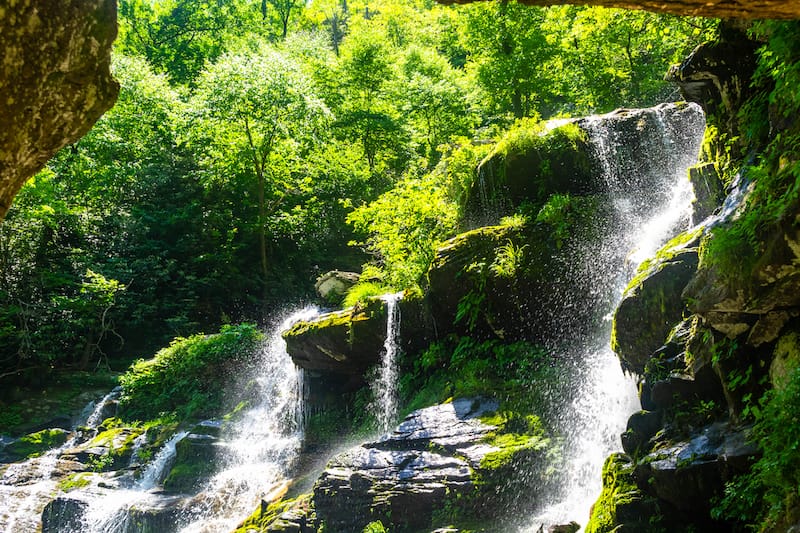 If you are a new hiker, this trail is probably not the best option, as it is about 2-and-a-half miles long, roundtrip, and could be too difficult for someone who isn't used to hiking for a long period of time.
The trail itself is near Old Fort, on I-40.
6. Widow's Creek Falls
Widow's Creek Falls is one of four waterfalls located in Stone Mountain State Park, and, of the four, Widow's Creek Falls is undoubtedly the most beautiful!
It's not only absolutely incredible with its scenic views and fun hike on the trail to the waterfall itself, but it is also an ideal spot during the summer for picnicking!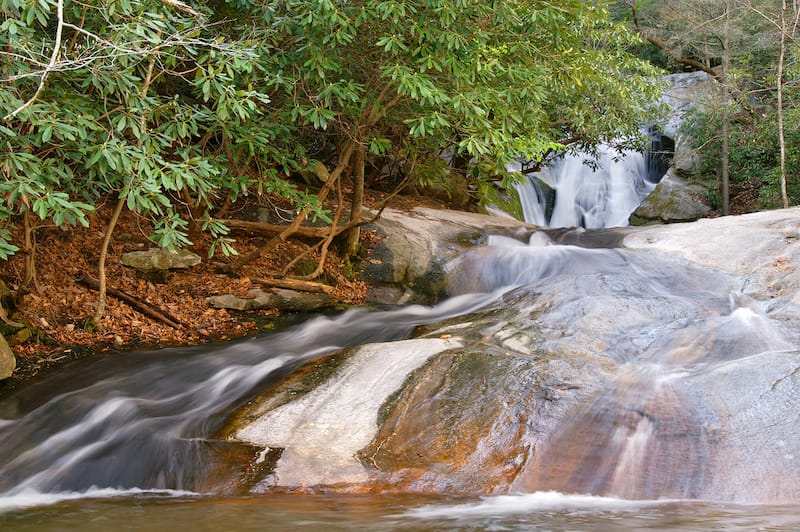 Widow's Creek Falls is perfect for couples and families too! The hike is more like a short walk (a few hundred feet), and leads to an utterly stunning, 25-foot waterfall at the end!
The easiest way to reach Widow's Creek Falls is from the Visitor's Center side of Stone Mountain State Park.
7. Tom's Creek Falls
More for the novices of hiking and families with children, Tom's Creek Falls is an impeccable waterfall for hikers of all ages to enjoy.
The trail itself is not too difficult and is short enough (about 120 feet) that even if children are tired on the way back, parents won't be too worn out carrying them back.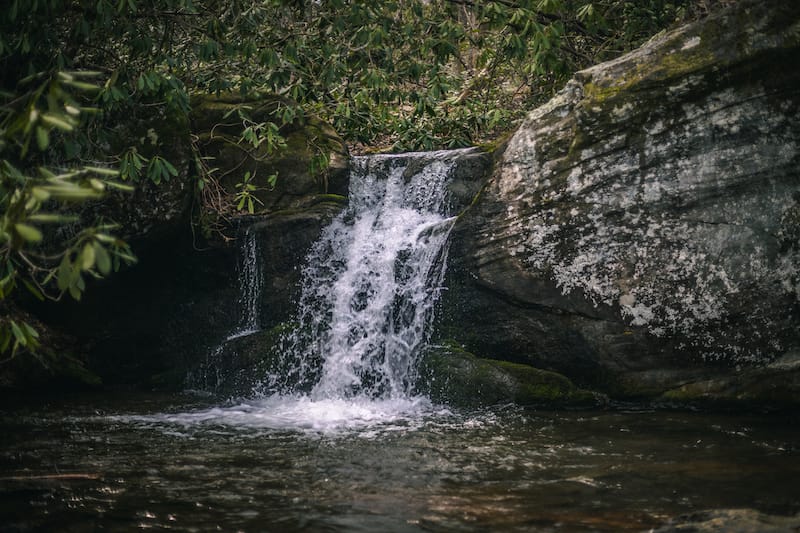 There is the lush cove hardwood forest, which adds to the entire experience!
Below the sixty-foot waterfall, there is a pool which is at the base, again, making it ideal for families to go to, with a reward at the end the kids will absolutely love!
8. Hickory Nut Falls
Hickory Nut Falls – one of the tallest, located east of the Mississippi River.
The waterfall is a whopping four hundred and four feet tall, and is even featured in the film, "The Last of Mohicans."
If you are in Chimney Rock, this absolutely beautiful waterfall is definitely a must-see! It's a moderate hike, about 1.4 miles roundtrip.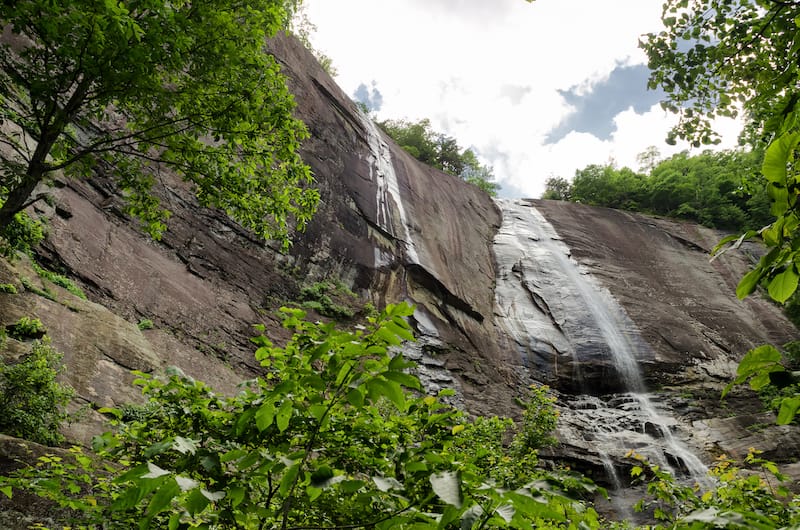 The average hiker can hike up the trail in about forty-five minutes, easily. It's nothing too crazy or advanced.
Hickory Nut Falls is also one of those waterfalls which you can visit at any time of the year, as each season comes with its lore and beauty, and the scenery during each season is absolutely impeccable and one-of-a-kind!
9. Glen Burney Falls
In order to get to Glen Burney Falls, travel deep into the New Years Creek Gorge, just a few blocks away from downtown Bowling Rock.
This trail is pretty adequate and not so difficult for those who are average hikers and don't mind a long hike.
The duration of the hike is about an hour and forty-five minutes, including twenty minutes for the occasional break.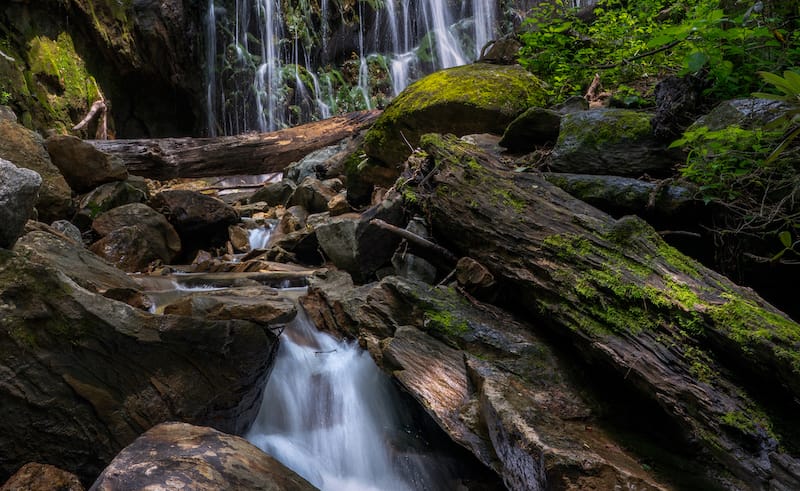 You do have to be careful during the hike, however much there are necessary precautions in place. The trail passes through three waterfalls, allowing easy access.
Several people have gotten seriously injured, falling from the top of the waterfalls, so make sure to always be extra careful, especially if the bedrock is wet.
10. Otter Falls
Take an easy, 1.2-mile hike to the wonderful Otter Falls!
This trail starts from a trailhead parking at 825 Skyland Drive and descends two hundred and thirty feet to Valley Creek, to Otter Falls.
Once at Skyland Drive, you will see four different colored trails, marked with red, blue, orange, and yellow wooden posts, with two loops, and two dead-end trails.
At each intersection and viewpoint, there are benches available, so feel free to take short breaks during your hike to the beautiful Otter Falls.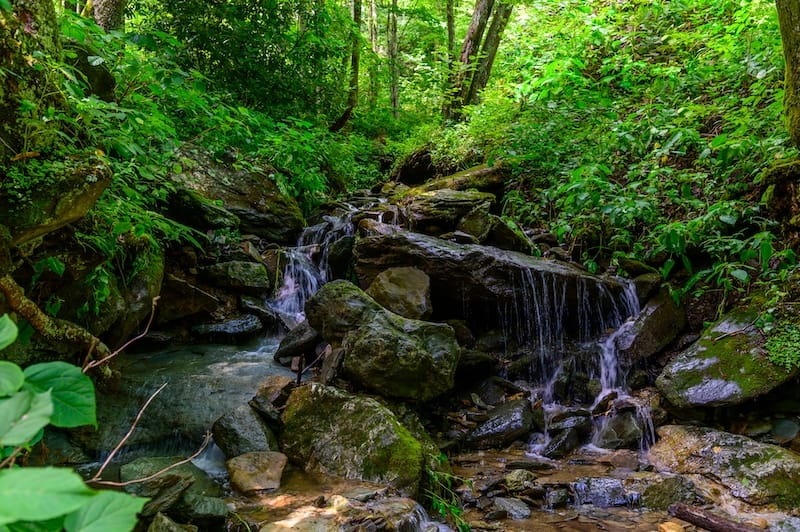 If you would like to go to the waterfall during summer, spring, and fall, you're in luck because, during those three seasons, the waterfall leads through the cool mountain forest.
However, during the winter, the trail is usually snowy and icy, which is definitely not ideal.
The park also sometimes closes during extreme weather, so make sure to town website alerts for updates.
11. Sliding Rock
Located in Pisgah National Forest, just north of Brevard, this incredible waterfall is waiting for you!
Sliding Rock is definitely one of the waterfalls that stands out from the rest. You are allowed to actually treat the waterfall (which is more of a wet rock than a waterfall) like a waterslide, hence the name, Sliding Rock!
The drop is about sixty feet and cascades into the fifty to a sixty-degree, eight-foot deep pool.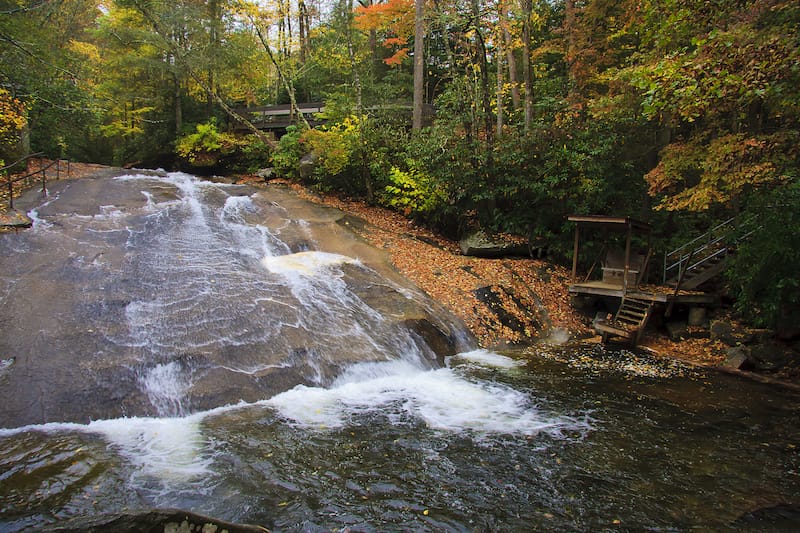 There is also an observation deck at the top if you'd rather watch. Lifeguards work from Memorial Day to Labor Day, so make sure to come on down when the lifeguards are around, to ensure your safety.
Some things to consider before coming down are the entrance fee ($4 per person), to avoid coming during peak hours (noon-4pm), and to check if they're open beforehand, as they sometimes close due to heavy rainfall.
12. Setrock Creek Falls
The route leading to the Setrock Creek Falls is generally easy to take, and the duration for the acreage hiker is about 28 minutes, as the hike is a little over a mile long.
It's great for both those who would prefer walking and those who would prefer hiking. There are, however, lots of roots, as opposed to some other trails, so be careful while going there to not trip.
The trail is located near Burnsville, North Carolina, and is open to all!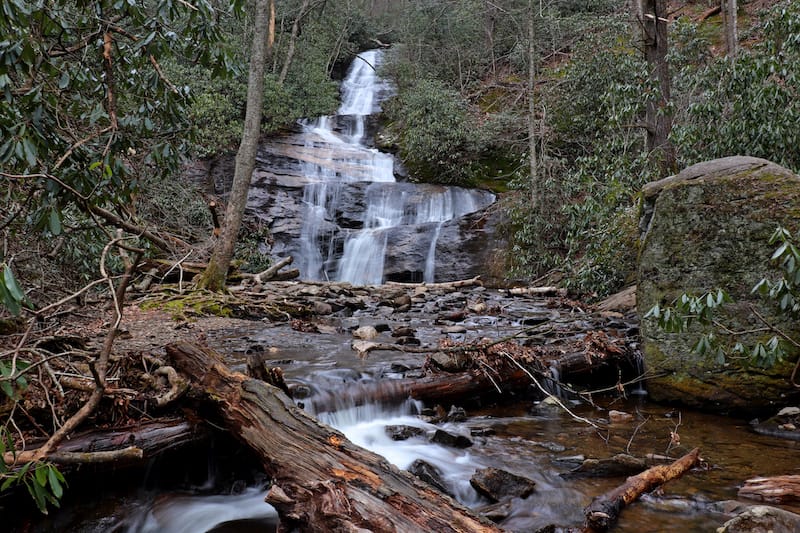 Dogs are allowed, but remember to keep them on a leash for the safety of both the dogs and other hikers.
It is also open year-round, so feel free to come on down to Setrock Creek Falls any time!
13. Mingo Falls
Just five miles from the entrance to the Great Smoky National Park on Big Cove Road, near the small NC town of Cherokee, lies the wonderful Mingo Falls, or Big Bear Falls in the Cherokee language.
The climb is very short, about a quarter of a mile, however, you do have to climb up 161 steps.
Then, there is a viewing bridge at the base of the waterfalls, which you can reach by crossing a short path after climbing the stairs.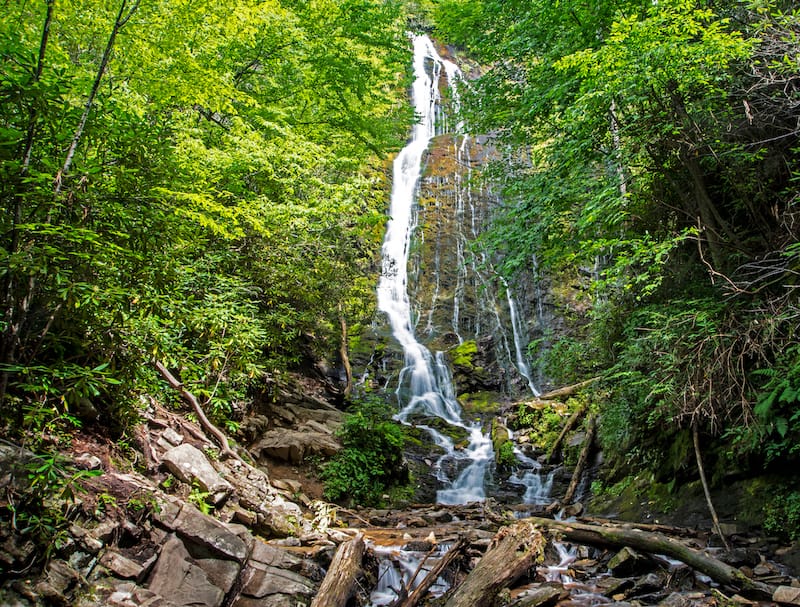 Mingo Falls cascades about 200 feet down granite boulders, and is truly a sight for sore eyes!
Some trails are usually not recommended to climb during the winter for safety reasons.
However, because the trail leading to Mingo Falls is practically only a stairway, it's actually encouraged to visit the waterfall during the winter, as the waterfall freezes, and turns the sight into another shade of 'beautiful'!
14. Rainbow Falls
Another win for fairytale lovers! When hiking the trail of Rainbow Falls, fall in love with the wildflower-filled forest on your way to the magnificent waterfall!
Rainbow Falls is located in Nantahala National Forest near Gorges State Park and is framed with an absolutely impeccable view of the flower-filled meadow, along with a lush and steep forest.
Once you reach Rainbow Falls, you'll see a whopping hundred fifty-foot tall waterfall, tumbling into a boulder-full deep pool.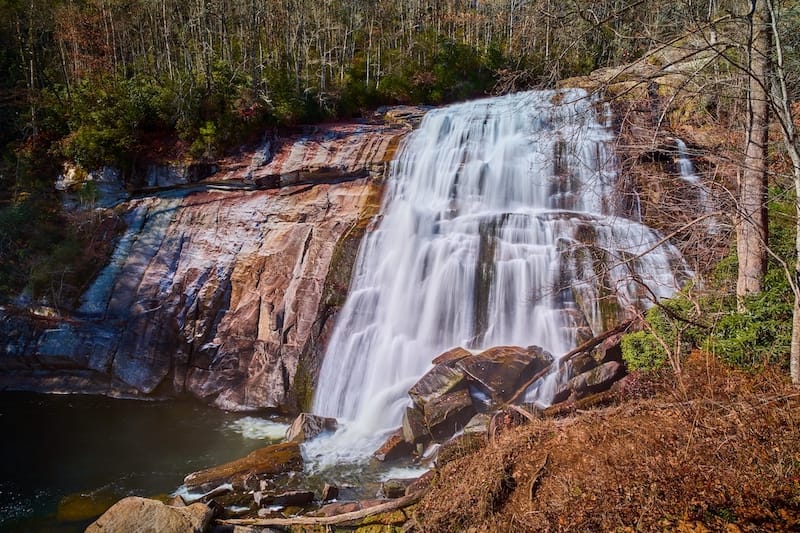 The reason why Rainbow Falls got its unique is that it crashes loudly and erupts into clouds of mist.
When this happens, and the sun is angled just right, a rainbow appears below the falls.
The trail is about four miles, roundtrip, and the difficulty level is relatively moderate. Also, don't forget to bring your furry friends, as the trail is dog-friendly.
15. Looking Glass Falls
Looking Glass Falls is one of the most popular in North Carolina.
Due to its roadside access and classic waterfall allurement, Looking Glass Falls has become a go-to waterfall of sorts around the region.
One thing people really seem to enjoy about this waterfall is its winding meanders through the Pisgah National Forest.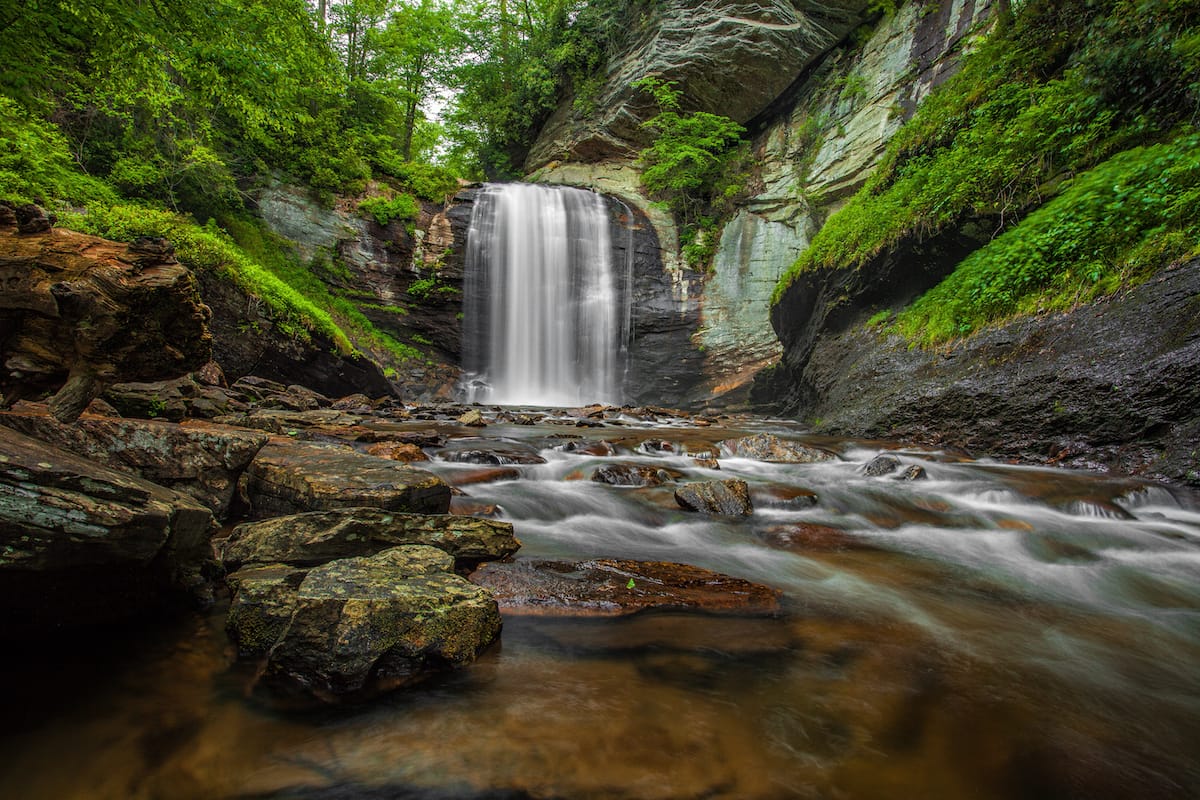 It also has access to some of the popular attractions nearby, such as the Sliding Rock!
If adventure takes you south of Asheville, chances are you'll get a good look at this waterfall.
The trail is also not a problem, as it's easy to hike and only a quarter of a mile long, round trip. It's also dog-friendly, so don't hesitate to bring your pets as well.
16. Crabtree Falls
Located on the Blue Ridge Parkway, at Milepost 339.5, Crabtree Falls is an absolute classic waterfall to visit.
To access this waterfall, you have two options: you can either choose to go on a more strenuous, three-and-a-half mile loop trail, climbing above the falls; or, you can go on a much easier hike on the same trail, which would be a three-mile-long hike, round trip.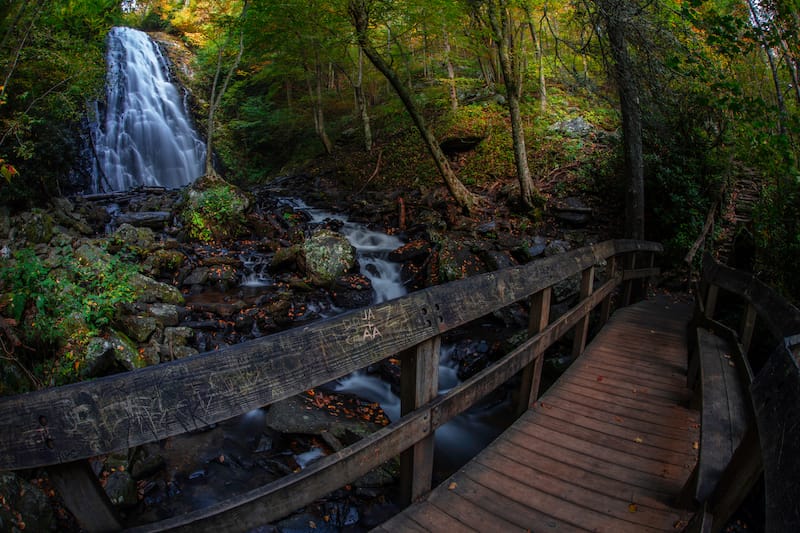 The waterfall at the end of the hike is definitely worth it, with its height of 70 feet, and full of wildflowers nearby in the early summer!
If you are planning to picnic at any time during your visit, there is a picnic area, just three-quarters of a mile down from the waterfall with tables and grills, and a beautiful mountain view!
17. Linville Falls
Multiple trails lead to the beautiful Linville Falls, choose one by the Linville Falls Visitor Center and it'll lead you to one of the most breathtaking views that mother nature has gifted us with, the three-tiered Linville Falls!
There are both moderate and strenuous hiking trails to choose from, so choose whichever one suits you best, and whichever one you think would be ideal for your experience in hiking, and go for it!
This waterfall is a must-visit and is probably the most famous one in the Blue Ridge.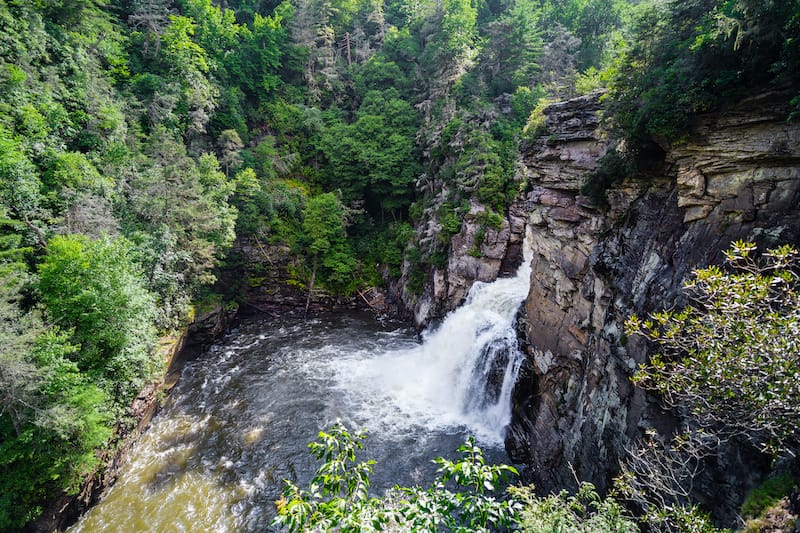 They host about 350,000 visitors each year! Although all are welcome, please be respectful of the rules that are set in place for everyone's safety.
Note that climbing on rocks and swimming in the water around Linville Falls is strictly prohibited!
18. Upper Whitewater Falls
This is one of the easiest hikes out there, with one of the shortest amounts of time taking to reach the destination, a destination with the tallest waterfall east of the Rockies.
Upper Whitewater Falls is insane – 811 feet!
You can find the waterfall on the Whitewater River in Jackson County in the Jocassee Gorge area of North Carolina.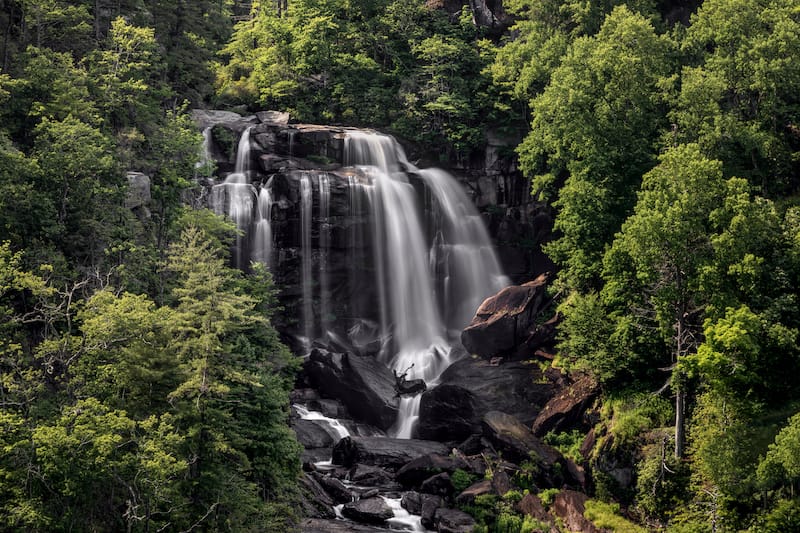 The 'hike' is only about a quarter of a mile and starts from the parking lot into a stairway (151 steps).
For hikers that tend to be more energetic and are looking for a means to add more walking and hiking on their trip, they can continue down the half-mile spur trail which drops six hundred feet in elevation to the Whitewater River and Foothills Trail.
19. Juney Whank Falls
This waterfall, unlike most others, was actually named after a person, Mr. Junaluska "Juney" Whank, who may or may not have actually been buried near the falls, and has given the waterfall its name.
The way to reach this waterfall would be by traveling the nearly one-mile route, round trip, from the Juney Whank Falls Trail.
The trail is considered to be moderately difficult, so it's not recommended for total beginners.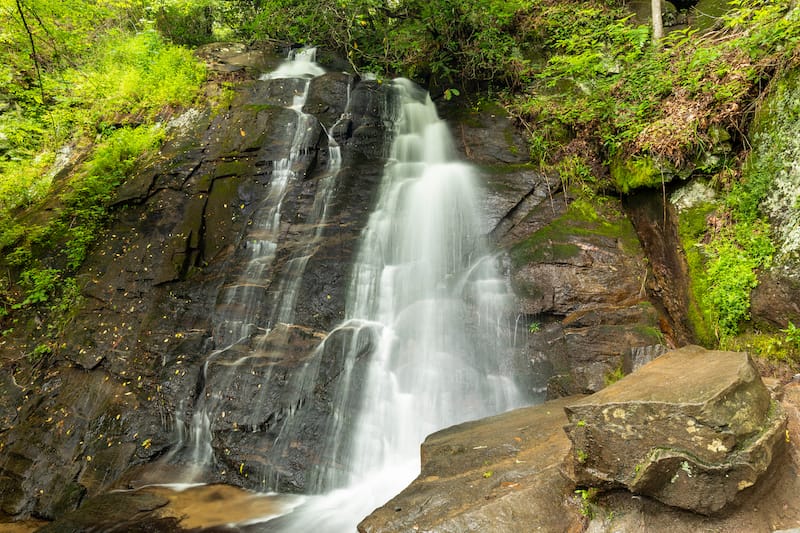 Once you reach the magnificent waterfall, you'll see that it is divided into two parts: its upper and lower sections.
The drop together is about 90 feet tall from top to bottom. The hike itself to the waterfall is about one to two hours long, to the waterfall and back.
Please also remember that bicycles and pets are prohibited on this trail!
20. Roaring Fork Falls
Near Burnsville, at the base of Mount Mitchell, sits the Roaring Fork Falls. The trail leading to the waterfall is easy to reach and is also family and dog-friendly!
It's only about a hundred-foot trail, leading to an insanely beautiful waterfall.
The scenery is impeccable, with the gentle flow of the water cascading down into tranquil waters at the base.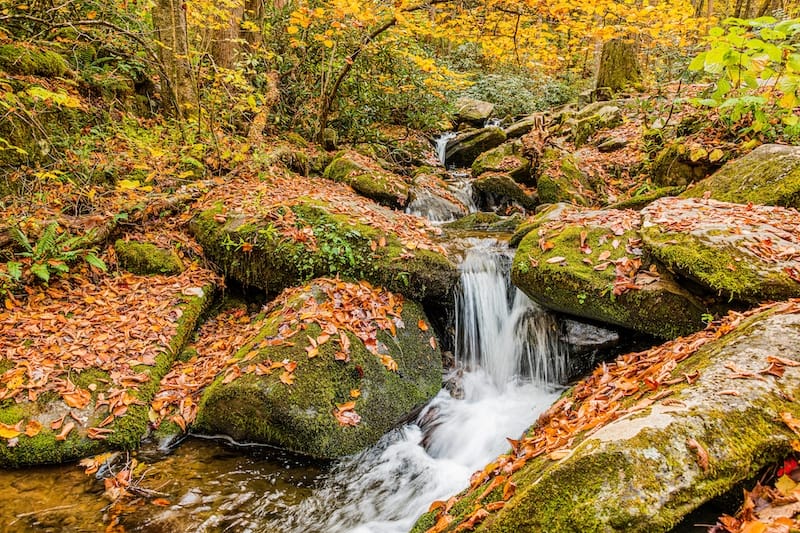 The waterfall is located off the same road as Setrock Creek Falls and about seven miles from Crabtree Falls.
Another great factor about the Roaring Fork Falls is that you can feel free and jump into the pool of water at the end of the falls, and go for a nice swim!
You can also go picnicking near the waterfall.
21. Soco Falls
Waterfalls are insanely beautiful as is, a real treat from Mother Nature. What's even better is seeing double waterfalls!
Although they are rare, they can still be found, and Soco Falls is actually one of them! To reach the waterfalls, you'll have to take just a short walk off the main road and start your incredible adventure.
The waterfalls are located between Maggie Valley and the Cherokee Reservation.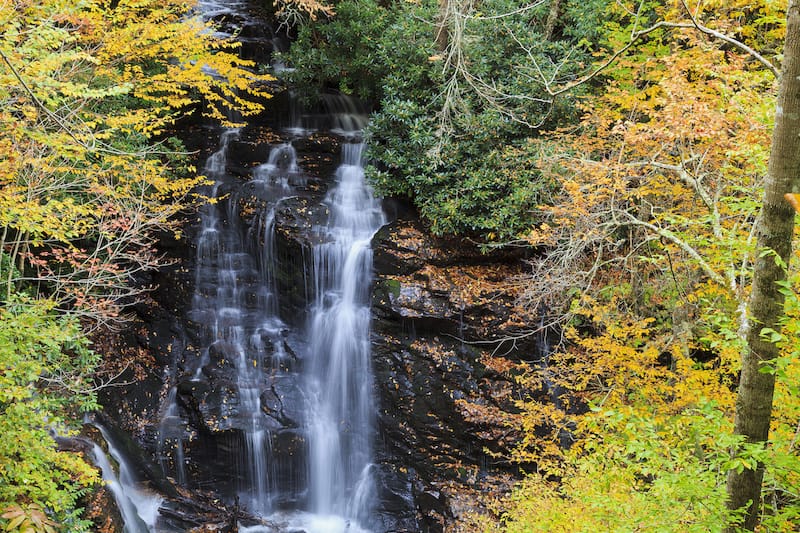 To get to the trail, you have to go one and a half miles to a marked pull-off from the Parkway, on the left side of the road.
You'll then see a small blue sign showing that Soco Falls is half a mile ahead.
The trail begins at the break in the guardrail, and once you get there, you'll reach a viewing deck overlooking the falls.
22. Moore Cove Falls
Located in one of the most popular parts of the Pisgah National Forest, lies Moore Cove Falls, in the "Land of Waterfalls."
The hike is very simple, and more like a walk, really. Spend some time walking through fern-filled woods and immerse yourself in the wonderful nature!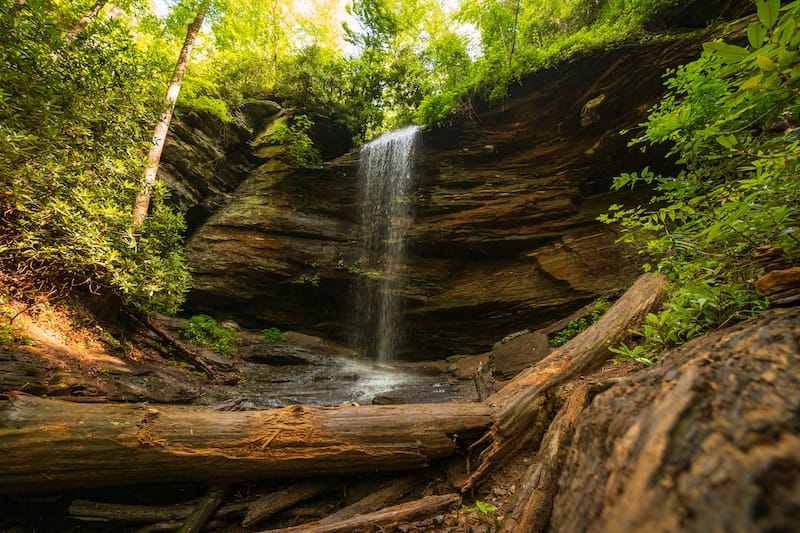 Moore Cove Falls is recommended to visit for those who have small children, as the view of the waterfall is just as great as any other in North Carolina, but the trail leading to it is really easy and safe for anyone of all ages to safely walk through.
Although an easy hike, it is about a mile and a half long, round trip, so make sure you're prepared to walk as much.
23. French Broad Falls
Although the actual waterfall is just a humble thirteen to fifteen feet, the trail has much to offer and is one of the most beautiful trails leading to the French Broad Falls.
You can see many other waterfalls on the trail until reaching the French Broad Falls, all located on the private property of the Living Waters Ministry.
You actually cannot park in their parking lots, but feel free to park by the entrance, by the side of the road.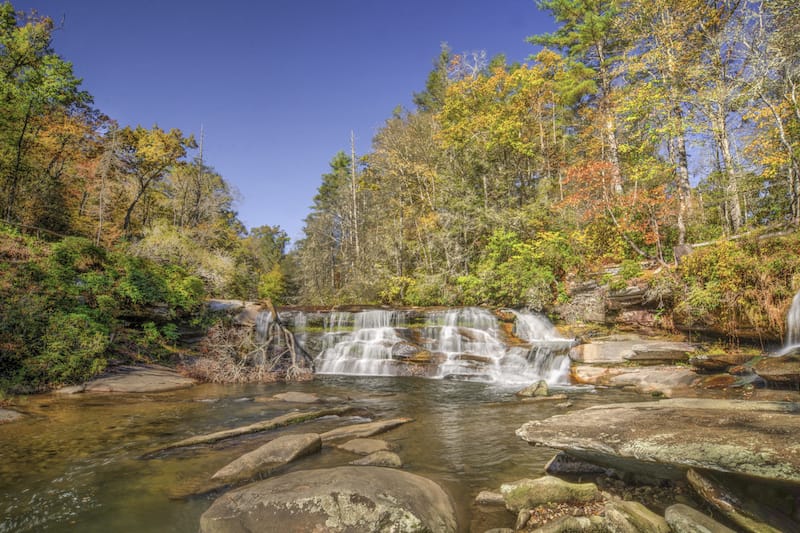 Pets are allowed, but please make sure that they are on a leash, for the safety and security of everyone, and remember to pick up their litter.
Also remember not to disturb the property in any way (remember, looking is okay, but no touching).
24. Leatherwood Falls
Just before you reach the beautiful Fires Creek, check out Leatherwood Falls, tucked into a little cove area.
Leatherwood Falls is a little waterfall, more like a short slide that cascades into a rock and then moves to form a cascade near the bottom.
The height of this waterfall is a humble twenty-five feet and is an incredible sight to see. This waterfall is more like your average, classic waterfall, nothing about the waterfall itself really makes it stand out from the rest.
However, it is a great place for picnicking if you want to go with your friends and family.
25. Silver Run Falls
Silver Run Falls is located just four miles south of Jackson County in Cashiers, in the Nantahala National Forest.
The waterfall is twenty-five feet tall and cascades into calm waters with a small beach area nearby. Besides the waterfall and view itself, it's also a very popular swimming spot in North Carolina.
You can enjoy the space for yourself if you go on days where it's not as hot, but on really hot days, it is usually crowded with people.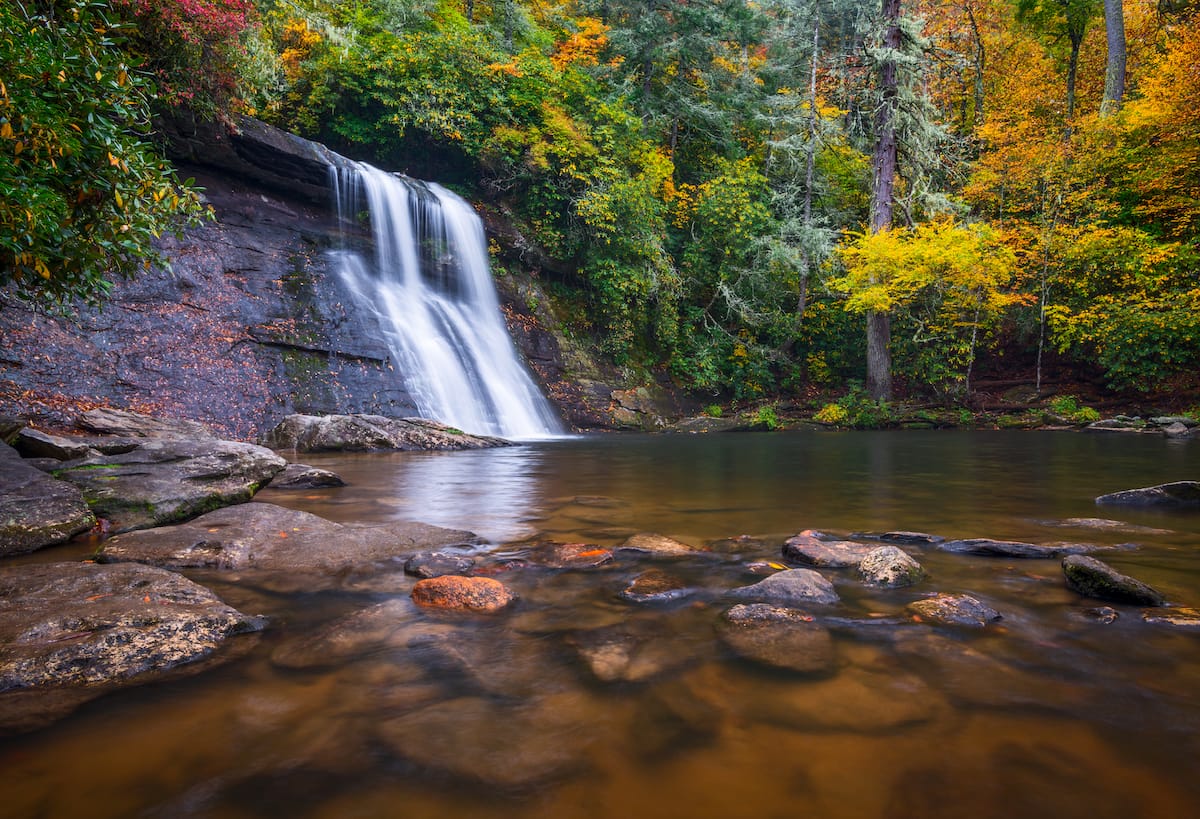 If you want to go with small children, that's not a problem as it is very safe for swimmers and hikers of all ages. It's a short walk, about a quarter of a mile, and fairly easy as well.
If you are not planning on swimming, consider visiting in mid-October, as the peak fall colors come out during this time.
26. High Falls
The hike to High Falls is moderately difficult, from the High Falls Visitor Center parking lot.
It takes about 45 minutes to drive to the area from Asheville in DuPont State Recreational Forest.
At the end of the trail is the gorgeous hundred and fifty-foot tall High Falls, which you can reach by hiking or cycling for a little over a mile, round trip.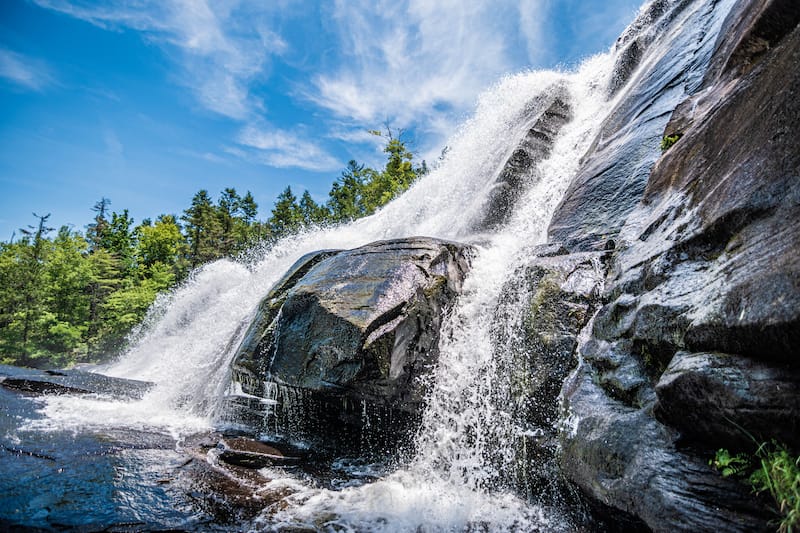 High Falls is another great spot for picnicking, although, remember to pack your own food, and there is nothing for sale in the vicinity of the waterfall or visitor center.
Sometimes the water is high, but when it's not, you can safely rock hop along the river bank to get a close-up view.
27. Lower Cascades Falls
Explore this insanely beautiful waterfall near Westfield, North Carolina, immersing in the state's amazing beauty.
The route to Lower Cascades Falls is considered to be an easy one, taking about eighteen minutes to reach.
The trail is, besides hiking, also popular for birding as well, where visitors can enjoy solitude during any part of the day.
It's open to all and is incredible to visit at any time, year-round. The length of the trail is a little more than half a mile, round trip.
It's also dog-friendly, so feel free to bring your pets as well, as long as they are on a leash.
The scenery is also great, both on the trail getting to your destination, by the waterfall, and the waterfall itself. The wildflowers on the trail are amazing to see, along with the forests.
28. Schoolhouse Falls
Explore the stunning Panthertown Valley (near Cashiers) by hiking to the cascades of Schoolhouse Falls.
It would definitely be a short adventure, but a fun and scenic one nonetheless. The hike to the Schoolhouse Falls is relatively moderate, so you can enjoy a nice workout while enjoying the scenery!
The trip is a little over two and a half miles long, round tip, and is open to all, including your furry friends!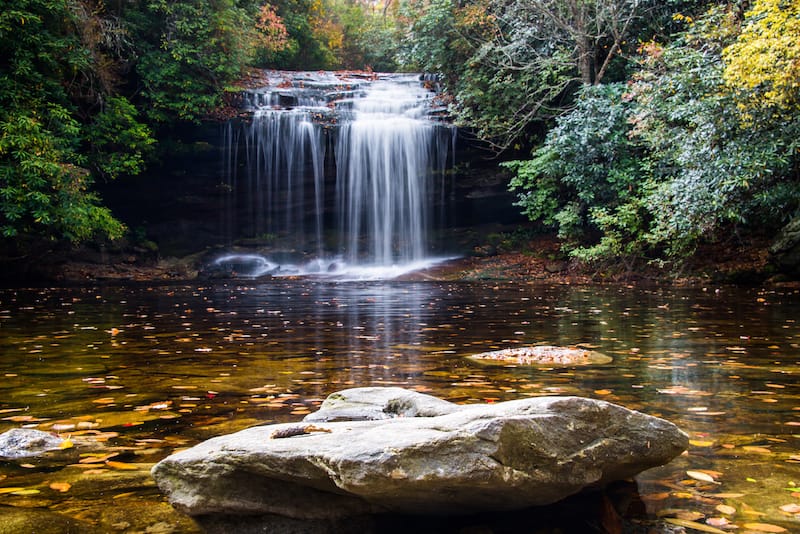 The waterfall is nestled in a scenic stream valley, near leafy rhododendron and lush forests. The waterfall tumbles from a curved rock into a calm, tranquil pool below.
The rocky pool makes it a perfect place to stand by and really take in Schoolhouse Falls' beauty.
29. Lower Falls
Lower Falls is a gorgeous waterfall that is accessible by taking a short and easy hike down to the falls.
The length of the trail is a little over half a mile, round trip, which makes it great for those who just want to see a nice view and spend some time with family and friends without having to go on strenuous hikes.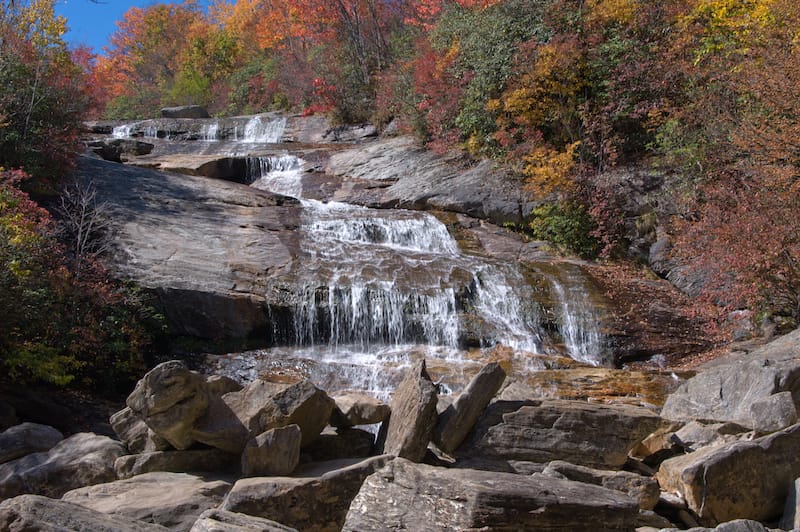 One other place this waterfall is visible from a small pullover on the Blue Ridge Parkway. The difficulty of this trail is moderate, practically great for almost everyone.
Besides the waterfall itself, there is also a swimming hole and a jump-off rock, so you can go cliff diving!
30. Bust Your Butt Falls
Standing out with its peculiar name, this swimming hole is one of the most popular in North Carolina, both for its name and because of the fact that people come from all over to "jump off", treat it like a waterslide, and dive into the chilly waters from the slippery boulders.
Getting to Bust Your Butt Falls is easy as it is a mere short walk over some rocks to reach it. One thing to really take into consideration and prepare for is your dives into the waters.
Check the depth of the water beforehand as it can vary depending on the amount of rainfall.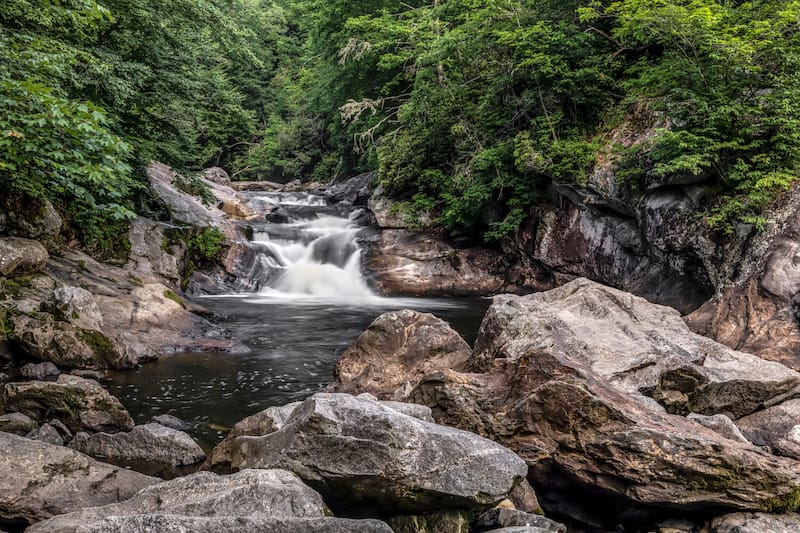 As mentioned, there are many large rocks along the way, which are great for sitting on or around and picnicking, sunning, and bird watching.
Did we miss any of the best waterfalls in North Carolina? Let us know your favorite North Carolina waterfalls in the comments. Thanks!
More North Carolina Travel Guides
Pin this Best Waterfalls in North Carolina Guide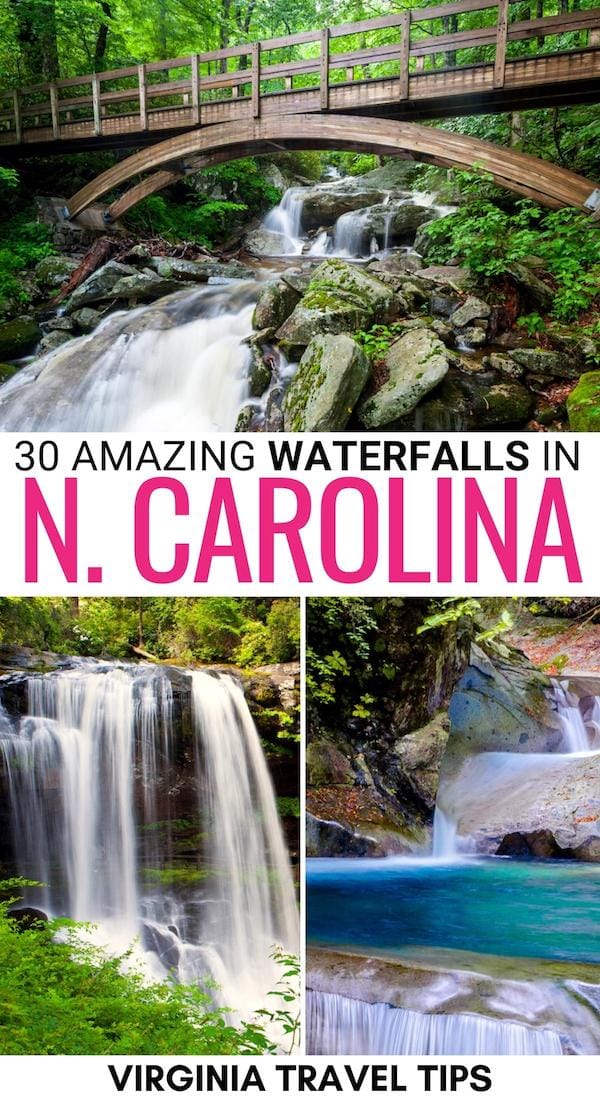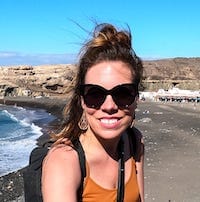 Megan is a travel blogger and writer with a background in digital marketing. Originally from Richmond, VA, she has lived all around the world (including Germany, Finland, Norway, etc) but her heart always finds its way back to Virginia. This blog is to help encourage travelers to explore the great state of VA… and its wonderful neighbors! Megan has written for or been featured by National Geographic, Forbes, Lonely Planet, Fodor's Travel, the New York Times, and more. She has visited 45 US states and 100+ countries… and wholeheartedly believes that Brunswick Stew is probably the greatest food to ever exist.