Asheville is one of the most popular vacation spots in North Carolina. And this weekend in Asheville itinerary will help you plan your getaway!
Are you planning your trip to Asheville last minute?
If you're traveling to Asheville last minute, you want to ensure you have lodging/tours booked ahead of time! Below are some of our top picks to help you plan!
🇺🇸 Best Tours in Asheville (+ Experiences):
🛌 Where to Stay in Asheville:
The Inn On Biltmore Estate (the most iconic stay in Asheville!)
The Windsor – Asheville (gorgeous boutique hotel downtown)
🚗 Looking for the best way to get around Asheville? Click here to check rental car rates for North Carolina!
This mountain city is most well-known for its views of the Blue Ridge Mountains and gorgeous scenery. The Biltmore Estate is also one of Asheville's most famous landmarks that gets plenty of visitors every year.
In addition, don't forget to check out Asheville's craft beer scene, parks, arts district, and nature. Even if you only have 2 days in Asheville, a stop at a local brewery (or waterfall!) is a must!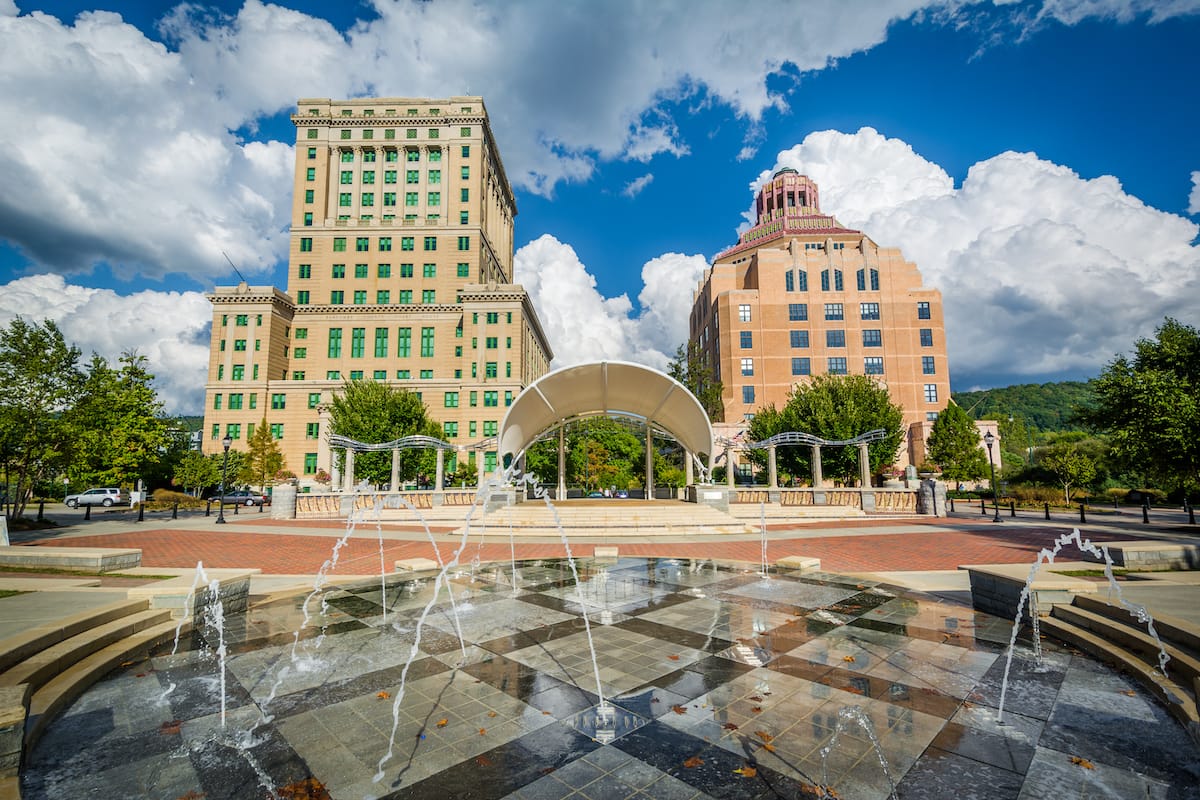 In this article, we've compiled an itinerary of the best activities that you should make sure not to miss during your visit to Asheville, including everything from restaurants to museums and so much more to suit everyone's interests.
How to Use this Asheville Itinerary
We have broken this itinerary into two days in Asheville – with activities for each day!
While you can spend 3 days in Asheville (and more!), we know many people will be heading there for merely 2 days and it is planned accordingly.
However, while the itinerary targets those with only a weekend in Asheville, we added a section at the end that gives recommendations for those with additional time in the North Carolina city!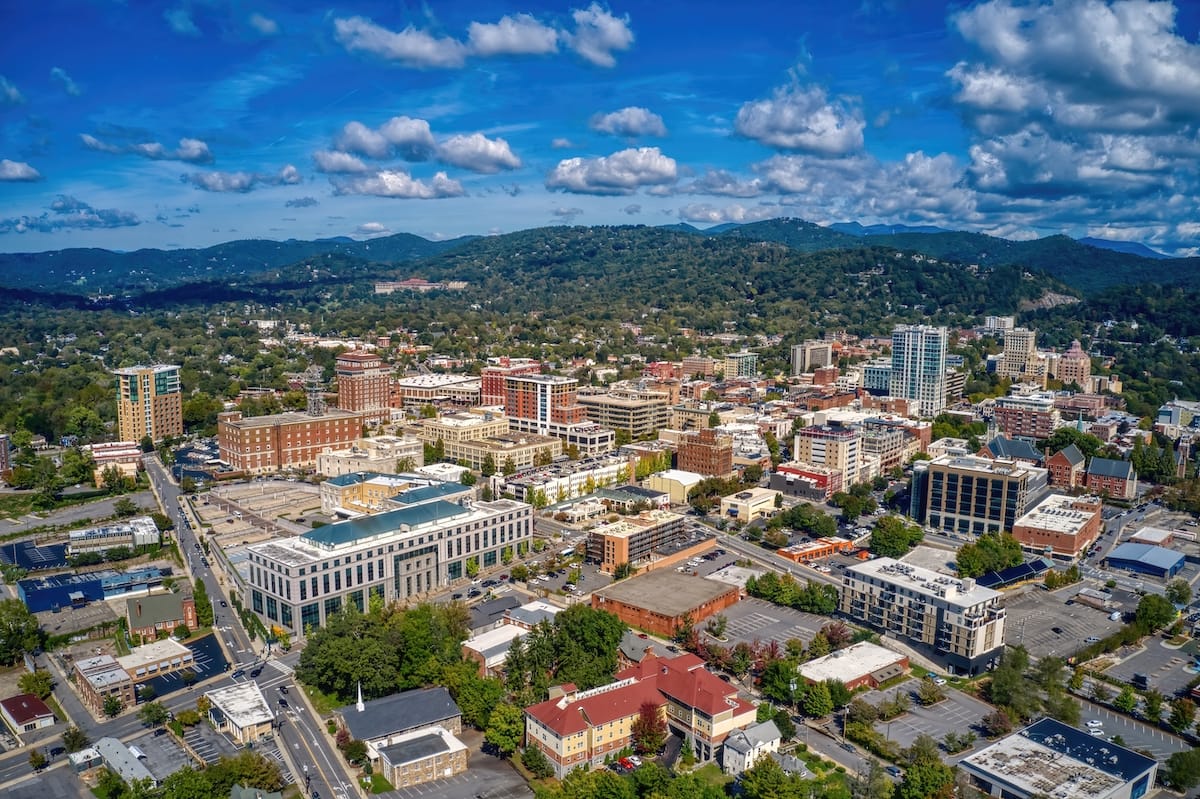 Ideally, you will have 4-5 days in Asheville. The reason? There are some incredible day trips from Asheville that are SO recommended! We include a few in the end and do mention driving the Blue Ridge Parkway on day two.
So, as suggested, we think it is best to have your own car in Asheville or to rent one there. You can check rental car rates and availability here.
If you have any questions or concerns, let us know in the comments or send us a message! Thanks!
How to Get Around Asheville
As noted above, a personal car in Asheville is a must if you want to take advantage of all the city and its surroundings have to offer. But, donʻt worry if you donʻt have one!
There is plenty to still see by public transportation or tour company! Here are some of the top tours in and around Asheville:
If you are a traveler, Downtown Asheville walking tour. The tours are offered 7 days a week and will take you to various sites across the city such as the Biltmore, downtown, and the River Arts District. You can hop off at any time, and hop back on at your convenience!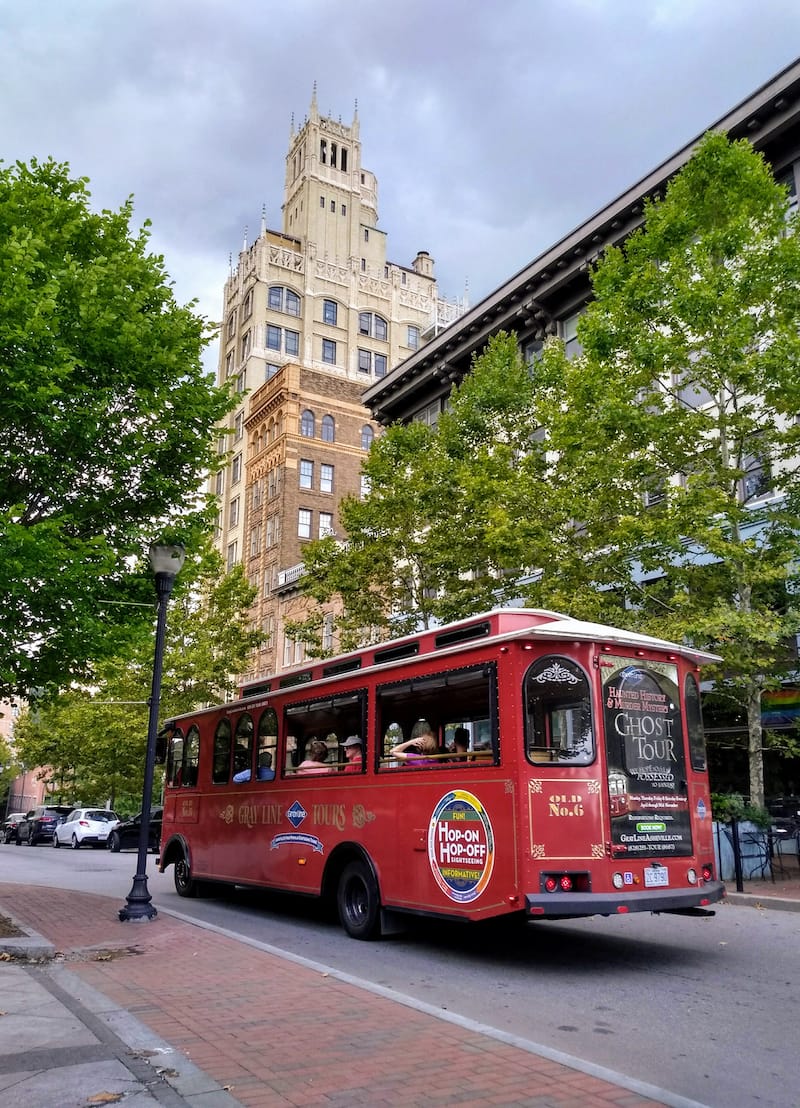 You can also get around by using Uber or Lyft like most other US cities. In addition, there is the ART system which is the Asheville bus system.
Click here to find out more info regarding timetables and schedules.
2 Days in Asheville Itinerary Overview
Day 1 Overview
River Arts District
Lexington Glass
Basilica of St Lawrence
Asheville Pinball Museum
Explore Ashevilleʻs breweries
Day 2 Overview
Discover Ashevilleʻs coffee scene
Biltmore Estate
Blue Ridge Parkway
Dinner in Asheville
Day 1 in Asheville
1. Walkthrough the River Arts District
Kickstart your weekend the right way by walking through the River Arts District, which houses artists' studios, galleries, and restaurants along the French Broad River.
Visit 310 ART Gallery to admire contemporary paintings, sculptures, mixed media, jewelry, and photography created by local artists, and head to North Carolina Glass Center to marvel at glass-blowing art.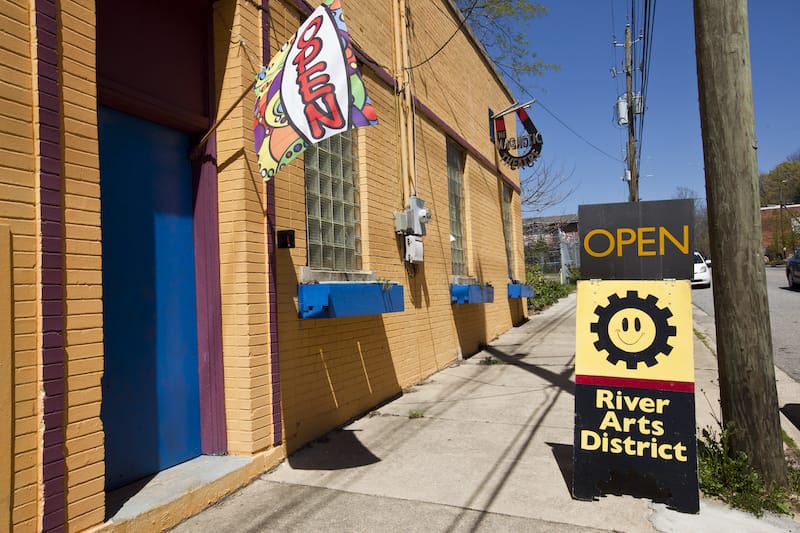 See lace-imprinted glazed porcelain at Michael Hofman Studios, explore the six artist studios/galleries under one roof at Asheville Cotton Mill Studios, and grab a bite and a beer at The Wedge Brewing Company.
Art enthusiasts can even take part in a week-long painting or pottery class at one of the must-visit studios.
2. Support Artists at Lexington Glass
A visit to Lexington Glass offers a front-row seat to the Southeast's most renowned artists, created by some of the best glass artists and technicians in the world.
The gallery showcases ornaments, vases, glassware, tableware sets, custom lighting, and many other timeless and innovative hand-blown glass pieces.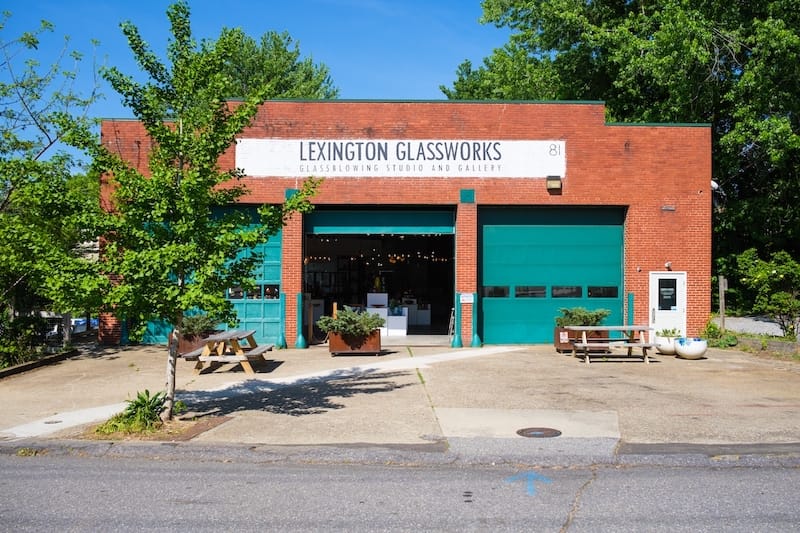 Besides seeing the fascinating glassblowing process from start to finish, you can also enjoy a small selection of rotating local craft beers on tap on Fridays and Saturdays.
After touring the gallery, choose a one-of-a-kind gift for your loved ones or a memorable piece to take a little bit of Lexington Glass home with you.
Address: 81 S Lexington Ave, Asheville, NC 28801
3. Stop by the Basilica of St. Lawrence
After quenching your thirst for art, head to the Basilica of St. Lawrence to experience spiritual tranquility (or listen to stories of paranormal activity).
This is one of Asheville's architectural gems, designed by Rafael Gustavino and Richard Sharpe Smith and completed in 1909 by Raphael Guastavino, Jr.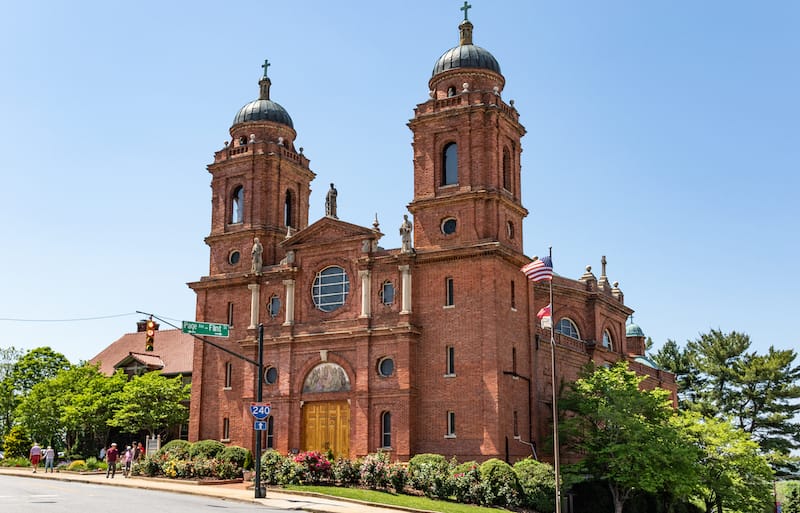 Upon entering the church, you can see statues of various saints, including St. Cecilia, St. Patrick, St. Rose of Lima, and the church's namesake, St. Lawrence.
Featuring two chapels and the largest freestanding elliptical dome in the country, this Spanish Renaissance-style church is open to the public Monday through Friday, 9 am-4 pm.
Nearby you can also find a gift shop, a rectory, and a garden dedicated to St. Mary.
Address: 97 Haywood St, Asheville, NC 28801
4. Go Retro at the Asheville Pinball Museum
Easily one of the unique museums in downtown Asheville, Asheville Pinball Museum is the perfect place for the young and young at heart.
You'll quickly discover this is not your ordinary museum, as it features 35 pinball machines in the front and 35 classic arcade video games in the back, which you can play non-stop for one set price.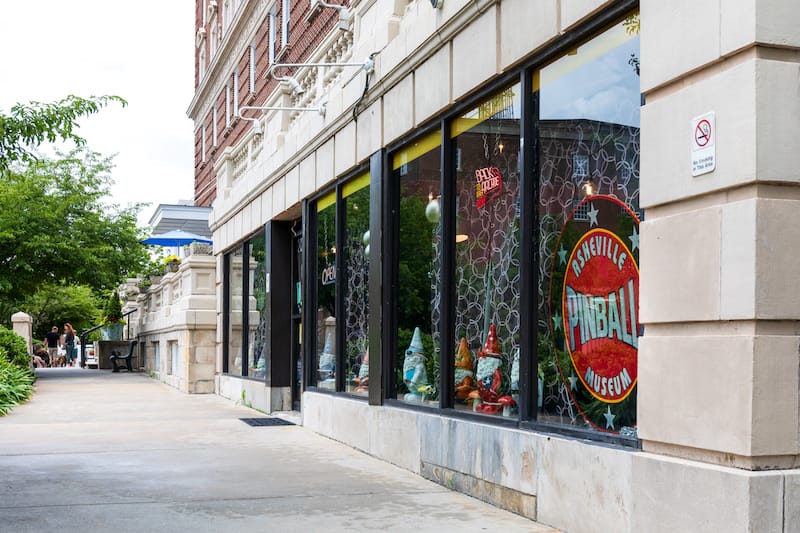 Inside, you will even find several vintage pinball machines dating back to the 1930s. Moreover, there are snacks, sodas, and beer to fuel hours of pinball fun.
Some of the classic and unique games you shouldn't miss are Roller Coaster Tycoon, Star Wars, Donkey Kong, Hercules, and 1942.
Address: 1 Battle Square, Asheville, NC 28801
5. Explore Some Asheville Breweries
Hi-Wire Brewing
Ashville's booming craft beer scene deserves special attention, so whether you are a beer lover or not, exploring a few of Asheville's top breweries promises an unparalleled experience. Many also offer great restaurants!
Beer geeks should head to Hi-Wire Brewing to sip their balanced and approachable flagship, specialty, and seasonal offerings.
Address: 284 Lyman St, Asheville, NC 28801
Catawba Brewing Co
Find your new favorite craft beer and hard seltzer at Catawba Brewing Co, recognized as one of the pioneers of N.C.'s thriving craft beer market.
Address: 32 Banks Ave, Asheville, NC 28801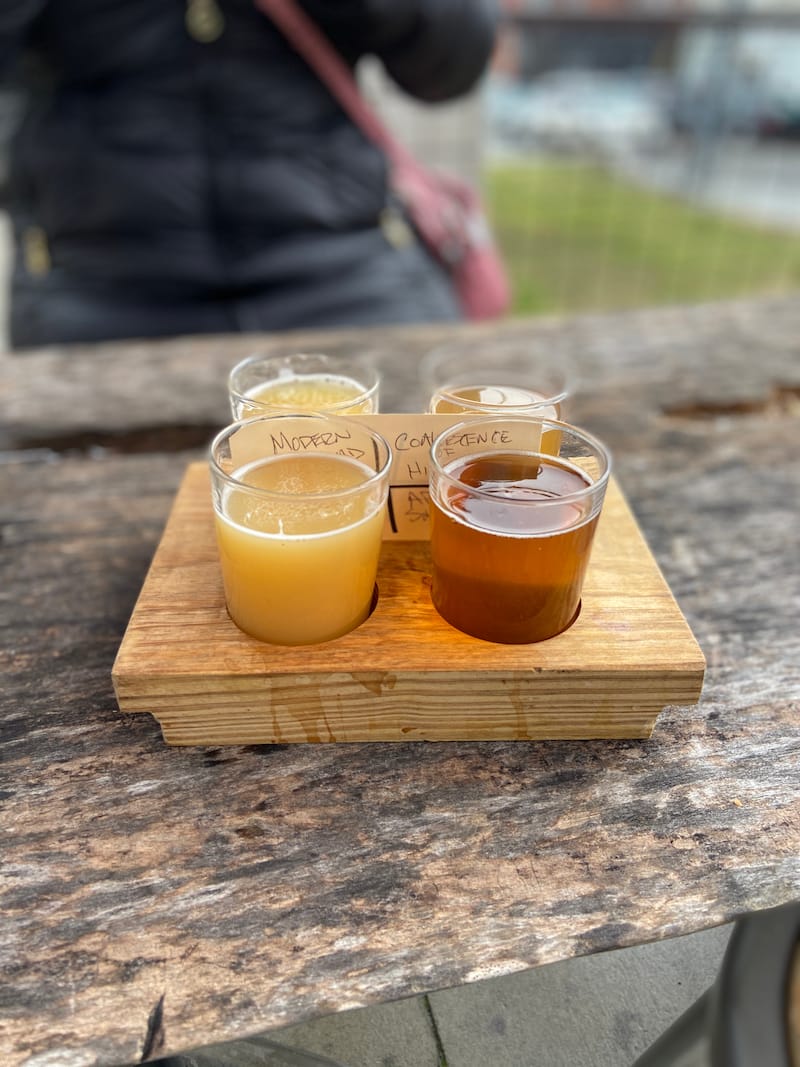 Wicked Weed
Another popular place is Wicked Weed Brewing Pub which has four locations within Asheville and offers West Coast IPAs, barrel-aged sours, wheat ale, and much more.
Address: 91 Biltmore Ave, Asheville, NC 28801
Day 2 in Asheville
6. Enjoy a Coffee in Asheville
Rowan Coffee
Get your caffeine fix at Rowan Coffee, which has been offering exceptional coffee to the public since September 2021. Hang out with friends in the cozy atmosphere designed with elements of the early 20th century.
Grab a table and experience the taste of their fresh, vibrant, and balanced coffees that stand out with flavor clarity and high natural sweetness.
Make sure to check out their rotating menu of seasonal coffee cocktails, as their creative hot and cold beverages are real showstoppers.
Address: 66 Broadway St, Asheville, NC 28801
Double D's coffee
Double D's Coffee and Dessert is not your average coffee shop, located in the heart of downtown Asheville.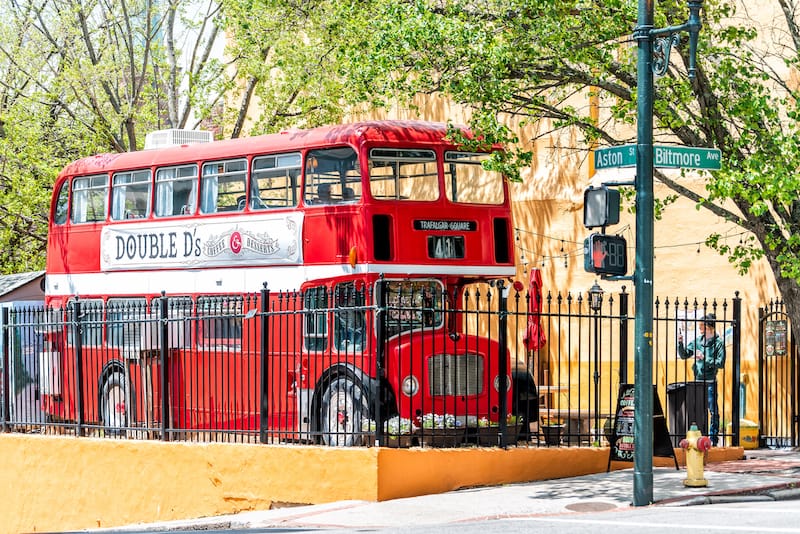 Step onto Asheville's Landmark Coffee Bus to enjoy espresso beverages, fancy drinks, and delicious treats in the cozy setting of this red double-decker bus.
Pair your organic coffee, roasted locally by Notorious Coffee Roasting Company, with locally baked goods and desserts, and your unique coffee experience will be guaranteed.
On a sunny day, you can sip your delicious iced drinks or milkshakes in the outside vintage seating area. Make sure to snap a fun photo at this unique coffee bus.
Address: 41 Biltmore Ave, Asheville, NC 28801
7. Visit the Biltmore Estate
Start your second day feeling like royalty at Biltmore Estate, which is America's largest privately-owned mansion nestled in the heart of Asheville and the Blue Ridge Mountains.
Biltmore is open 365 days a year and tickets cost $60-$85, depending on the time of year.
Built-in 1895 by George W. Vanderbilt, this architectural masterpiece is home to 250 rooms, including 43 bathrooms, 35 bedrooms, and 65 fireplaces.
The 8,000-acre estate features 75 acres of gorgeous gardens, the U.S.'s most-visited winery, shopping and dining sites, four-star accommodations, hiking trails, and more.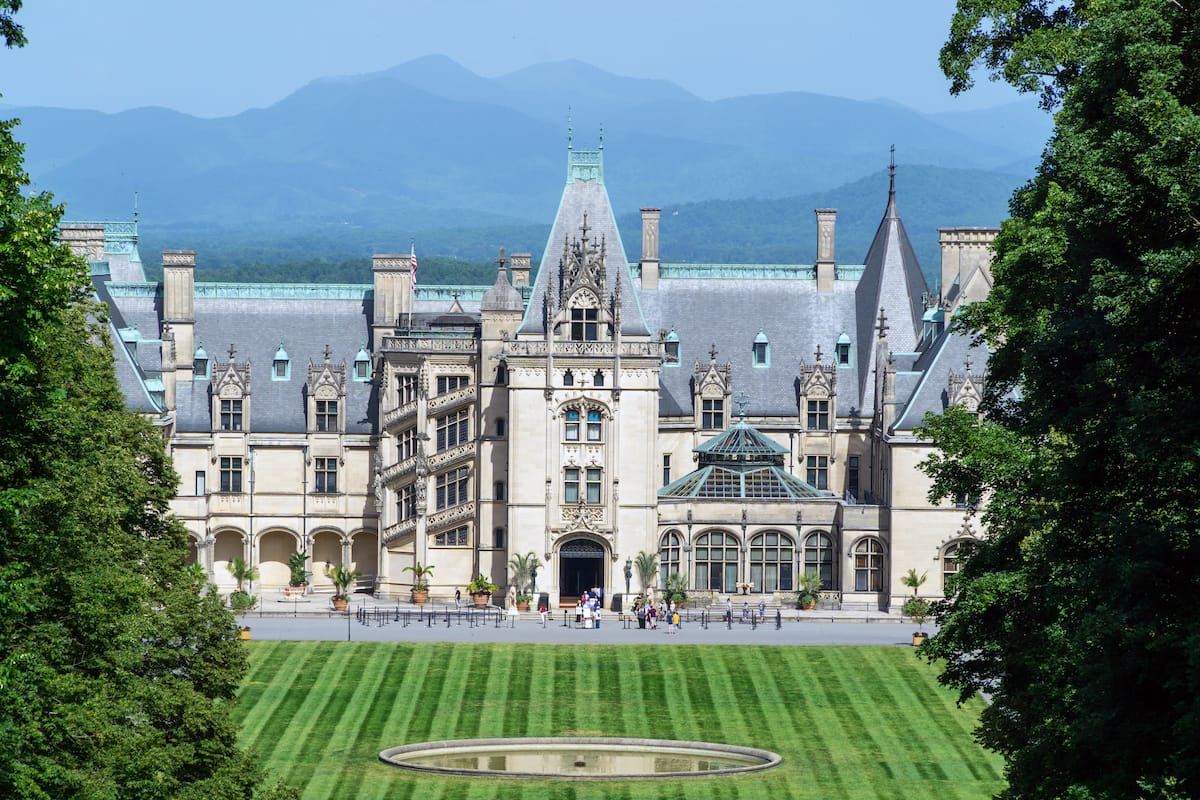 After a few hours touring the grounds of this French Renaissance-style castle, fuel up at Stable Café, which offers sandwiches, burgers, salads, etc.
Then it's time to explore meticulously maintained formal and informal gardens designed by renowned landscape architect Frederick Law Olmsted, which are packed with ancient trees, 200 varieties of roses, and a variety of azaleas.
Other highlights of the estate are the Conservatory and the Biltmore Bass Pond Waterfall.
To enjoy the great outdoors, even more, you can try carriage rides, horseback riding, biking, hiking, river trips, and falconry.
Antler Hill Village is the perfect place to experience diverse shopping and dining scenes, sip a glass of signature wine at Biltmore Winery and delve deep into Biltmore's agricultural heritage at nearby Antler Hill Farm.
Level up your dining experience in one of Biltmore Restaurants (with a ticket), where you can sample delicious treats in a period setting.
8. Drive the Blue Ridge Parkway (and Hike!)
A drive along the Blue Ridge Parkway, one of the most scenic driving routes in the United States, will reward you with magnificent vistas all around.
The section near Ashville has a specific charm to it as it winds through several dramatic locations, so make sure to add a few of these stops to your itinerary.
Enjoy the beauty of the Smokies while horseback riding on Dutch Creek Trails and take in lush greenery and beautiful waterfall views by hiking the Linville Falls Trail.
Don't miss exploring Grandfather Mountain, one of the Blue Ridge's highest peaks, where you can cross the exhilarating swinging bridge for 360-degree breathtaking views.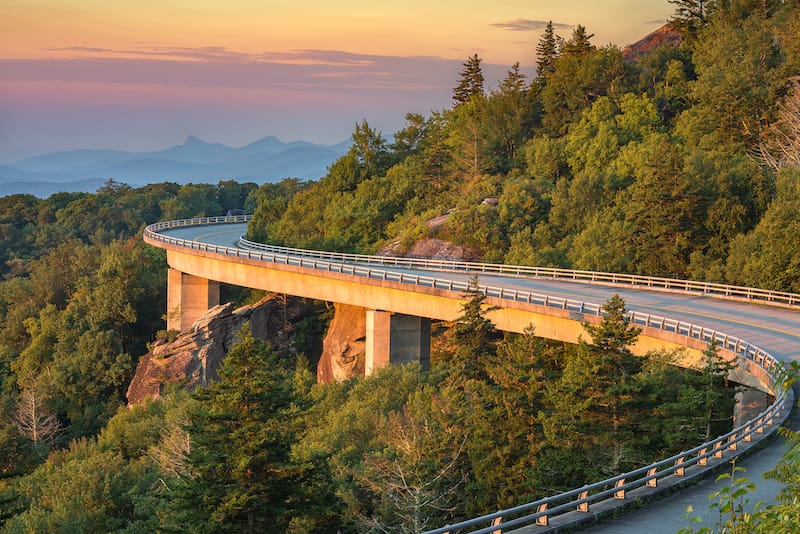 History buffs shouldn't miss visiting Moses H. Cone Memorial Park to learn about the textile magnate's family and explore historic carriage trails.
Then you can head to Southern Highland Craft Guild to witness gorgeous masterpieces created by local artisans.
If you have time, make sure to go hiking at Craggy Gardens, which meanders through a northern hardwood forest to Heath Bald, and finally leads to a grassy summit.
Craggy Pinnacle Hike is one of the challenging hikes here that will treat you to magical scenery.
To admire marvelous native flora, plan your visit during June to see some of the 469-mile Blue Ridge Parkway corridor filled with blooming Catawba rhododendrons, wild blueberries, blackberries, and wildflowers.
9. Head Back to Asheville for Dinner
Buxton Hall Bar-B-Que
Operating since 2015, Buxton Hall Barbeque is an Eastern Carolina-style barbecue restaurant housed in the old Standard Paper Sales Company building.
Here you can taste delicious masterpieces that perfectly blend Southern heritage and modern cooking. The diverse menu includes brisket, ribs, sausage, seasonal sides, soups, salads, sandwiches, and more.
Believe me, the taste of their signature pulled pork and the fried chicken sandwich shaped by the unique touches of Chef Elliot Moss is out of this world.
The iconic atmosphere, retro 1960s decor, friendly staff, and mouth-watering dishes guarantee a one-of-a-kind experience.
Address: 32 Banks Ave, Asheville, NC 28801
Jerusalem Garden Cafe
Jerusalem Garden Cafe is a family-owned cafe operating in downtown Asheville for more than twenty years.
Here, your senses will be transported to Jerusalem for a time while indulging your taste buds with authentic made-from-scratch Mediterranean and Middle Eastern dishes.
They serve lunch and dinner seven days a week and brunch on the weekends.
Visit on Friday or Saturday evening to enjoy live music and belly dancing and savor fresh gyros, hummus, falafel, baklava, kenafa, along with many other Middle Eastern recipes brought by owner Farouk Badr from his homeland.
Address: 78 Patton Ave, Asheville, NC 28801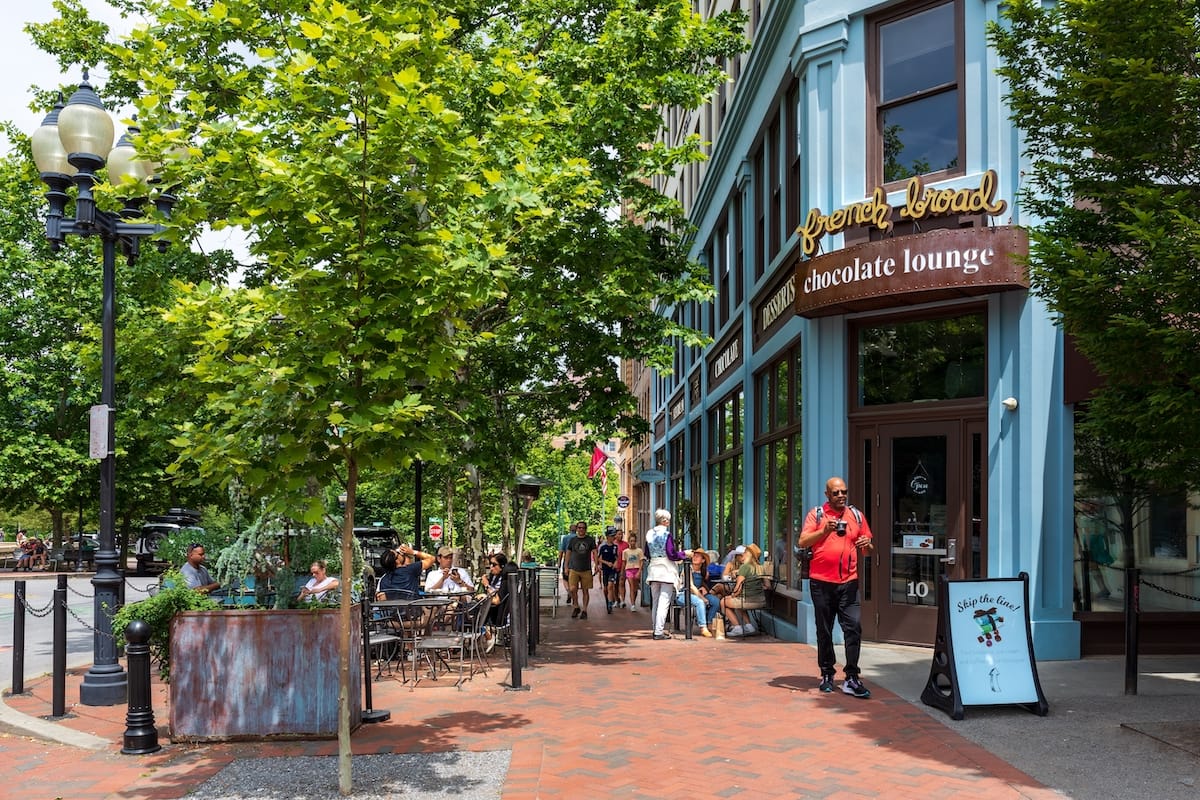 French Broad Chocolate Factory
There's no place like the French Broad Chocolate Lounge for indulging your sweet tooth.
Nestled in Pack Square, this signature light blue building is a chocolate lover's dream destination where you can taste homemade ice cream, artisan bonbons, caramels, custards, cookies, cakes, brownies, etc.
They even offer vegan and gluten-free options. All of the delicious masterpieces are made from their own bean-to-bar chocolate in their chocolate factory.
Fulfill a childhood dream and witness the process of cacao beans being turned into chocolate by taking a chocolate factory tour.
Tupelo Honey
Operating since 2000, Tupelo Honey is one of the pioneers of Asheville's farm-to-table movement crafting brunch, lunch, and dinner.
It serves fresh, scratch-made Southern fare with a creative twist, along with many gluten-free and vegetarian options, not to mention several refreshing cocktails.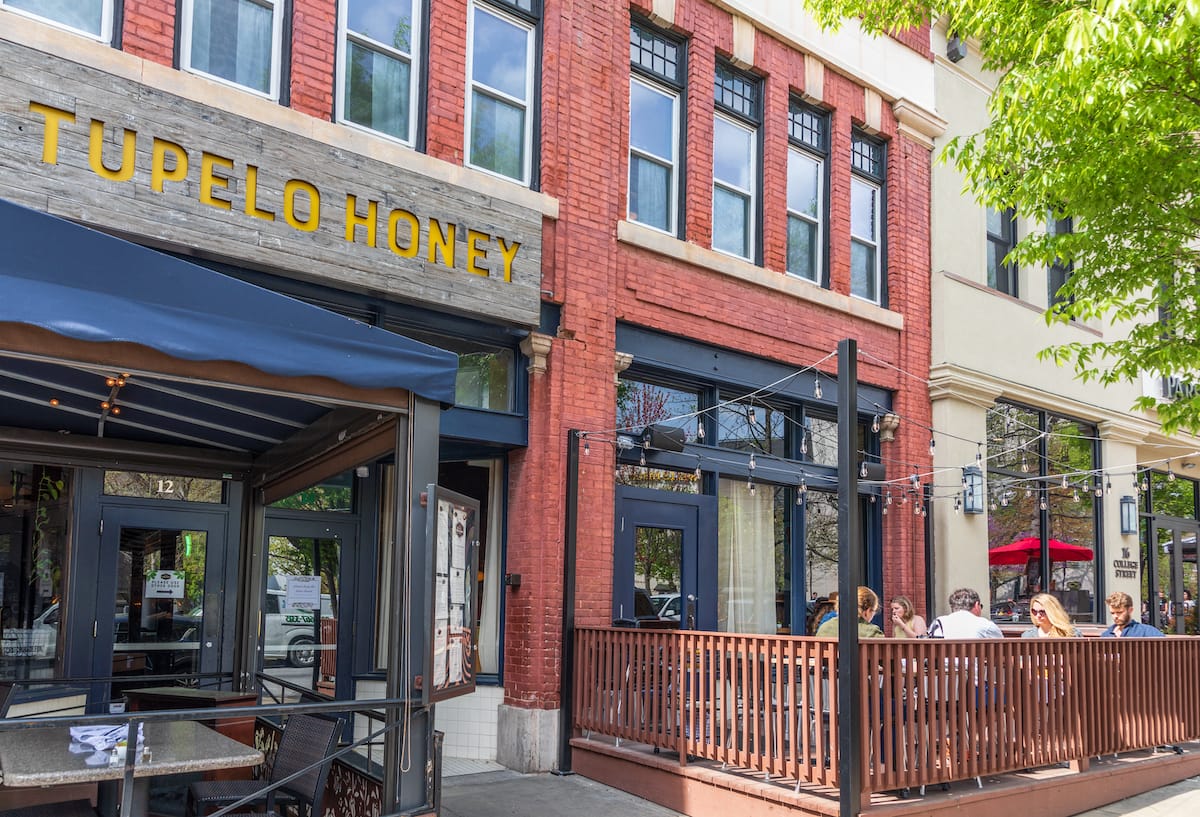 Delicious snacks and appetizers will certainly whet your appetite for the cafe's main dishes like Bone-in Fried Chicken, Sriracha Honey Fried Chicken & Waffles, Chili Lime Roasted Half-Bird, Blackened Mahi-Mahi, and more.
Don't forget to top it off with a mouth-watering dessert, such as the Heavenly Banana Pudding or Brown Butter Pecan Pie.
Address: 12 College St, Asheville, NC 28801
Stable Cafe at Biltmore
Conveniently located in Biltmore Estate's renovated stable complex, Stable Café offers an unmatched dining experience amidst a period setting.
The lunch menu includes everything from sandwiches and chargrilled burgers to fresh salads and heavenly desserts.
If you hop in for dinner, you'll have your choice of Stable Café BBQ with 16-hour smoked Appalachian-style pulled pork, locally roasted chicken, Carolina barbeque, along with many other Southern favorites.
Just note that to dine here, you must have a daytime ticket or be an estate lodging guest.
Address: 1 Approach Rd, Asheville, NC 28803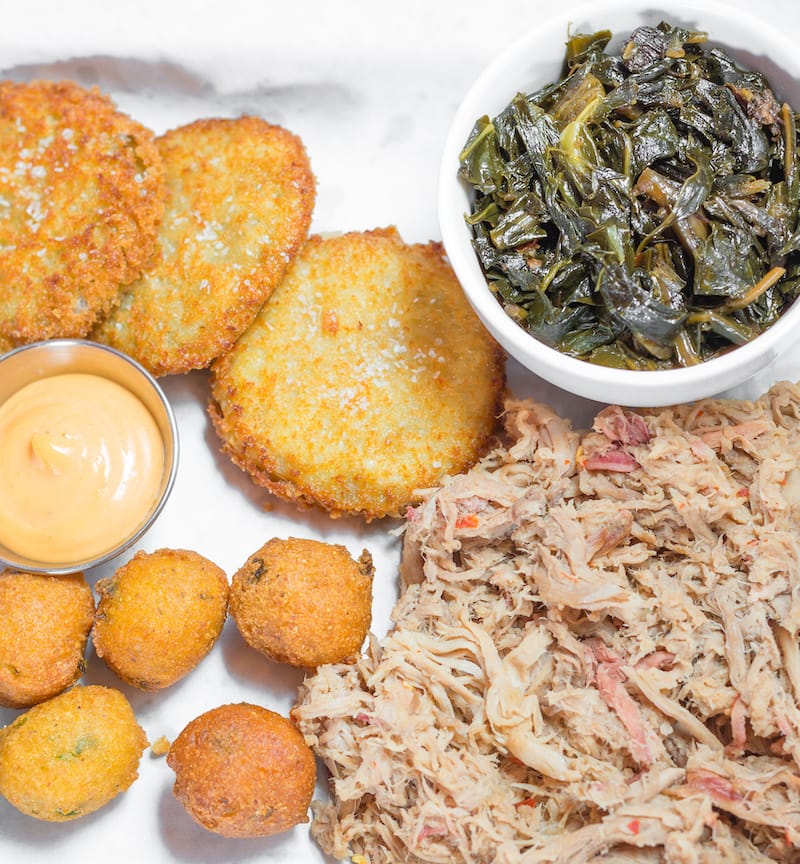 Chestnut
An unparalleled culinary experience awaits you at Chestnut.
Here you can savor handcrafted classic food shaped by modern touches and spice things up with wine, beer, and carefully crafted cocktails, such as No Name Game, Burning Bronze, Jesspresso, etc.
The menu offers a wide variety of dishes, like Rabbit Ballotine, Grilled Octopus, Sunburst Farms Trout, Spanish Calamari Salad, and more. Make sure to leave a little bit of space to enjoy a Maple Sundae, Lemon Tart, or Carrot Cake Tres Leches.
Address: 48 Biltmore Ave, Asheville, NC 28801
Chai Pani
Get the real taste of Indian street food at Chai Pani operating since 2009, where every meal highlights India's astonishing culinary diversity.
Their must-try list includes Aloo Tiki Chaat, Butter Chicken Thali, Vada Pav, Crispy Masala Fish Roll, and more.
Friendly staff, cozy ambiance, authentic flavors, and terrific Indian food made by five-time James Beard-nominated chef Meherwan Irani will make you want to return to the Chai Pani every time you visit Asheville.
Address: 22 Battery Park Ave, Asheville, NC 28801
Have 3 Days in Asheville (or More?!)
10. Go Apple Picking in the Late Summer / Early Fall
If you have extra time, head out to discover one of the U.S.'s top apple-growing areas!
A weekend trip from early August through October to one of the apple farm orchards just 25 miles south of downtown Asheville is the perfect way to spend the day outdoors.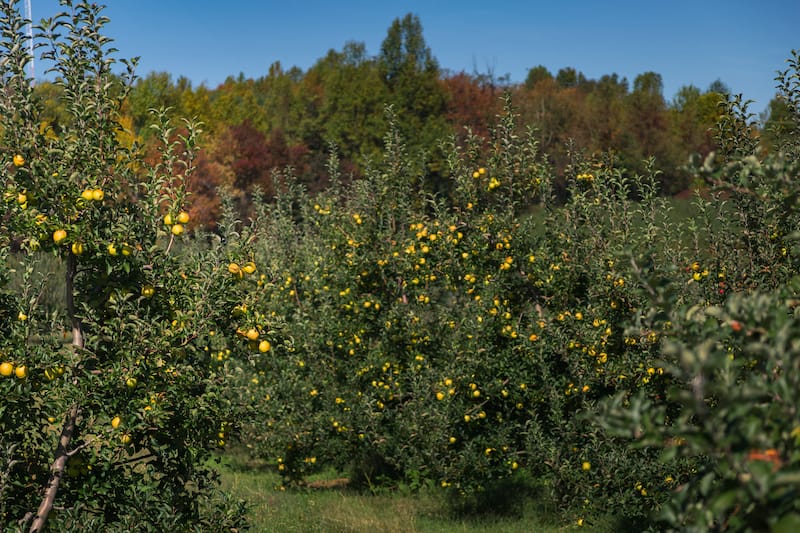 Stepp's Hillcrest Orchard offers pick-your-own apple fields, wagon rides through Farmer Stepp's pumpkin patch, and a Country Market packed with apples, pumpkins, cider, apple butter, and gifts.
Another must-visit farm is Jeter Mountain Farm, where you will find 23 varieties of apples available in the U-Pick orchards, as well as sunflowers, peaches, blueberries, and pumpkins.
11. Enjoy Shakespeare in the Park (Spring-Early Fall)
Just a few blocks north of downtown, you can enjoy Shakespeare favorites held in the Montford Community Center Complex. The Montford Park Players is N.C.'s oldest Shakespeare Festival which you can attend at no cost.
These open-air free "Shakespeare in the Park" productions, organized on Friday or Saturday evenings in the summer (starting in spring), are performed mainly by volunteers at the Hazel Robinson Amphitheater.
Just note that there is no covered seating, so make sure to bring an umbrella if rain is in the forecast. Chair rentals are available for $7. Even though performances are free, donations of $10-$15 per person are encouraged.
12. Visit the Carl Sandburg Home and Waterfall
Get a glimpse into the life of the renowned poet and writer Carl Sandburg at the 246-acre Carl Sandburg Home National Historic Site near the town of Flat Rock.
The magnificent old Sandburg home, on the Connemara mountain farm, sits at the base of the mountains rising out of the French Broad River Valley.
The 5-mile trail network, ranging from easy to moderate difficulty, allows you to explore the area at your own pace.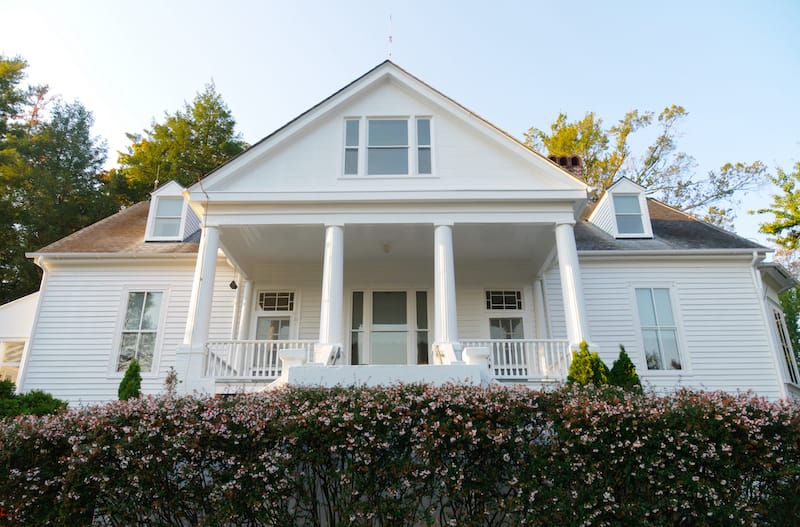 Hike, walk, sit, relax, and experience the tranquility which inspired Carl Sandburg to write. And today, it is the ideal Asheville day trip!
The Glassy Mountain Trail will lead you to the summit of Big Glassy Mountain, while Memminger, Spring, and Orchard trails will take you through the barnyard with goats, ponds, and historic homes.
Address: 1800 Little River Rd, Flat Rock, NC 28731
13. Check Out the North Carolina Arboretum
Escape the hustle and bustle of city life at the North Carolina Arboretum nestled in the Bent Creek Experimental Forest of the Pisgah National Forest.
This 434-acre public land is home to 65 acres of cultivated gardens, 10 miles of forested hiking and biking trails, engaging rotating exhibits, etc.
Hike or bike Bent Creek Road and Trail, take a relaxing stroll through Holly Garden, Heritage Garden, or Stream Garden, see the impressive bonsai collection, enjoy a stunning exhibit at the Baker Visitors Center Exhibit Hall, and check out their special events calendar.
Make sure not to miss their Winter Lights Festival to ​​walk through the decorated gardens, pass under rainbow tunnels, make s'mores, and savor peppermint hot chocolate.
14. Get Down at Some Asheville Festivals
Asheville Beer Week (May)
The mountains are calling, and so is the beer. Asheville has a whole week dedicated to beer from May 19 – 27, so you can experience the thriving local craft beer scene during the largest annual celebration of craft beer in Asheville and western North Carolina.
Some of the not-to-miss events are beer release parties, BBQ and beer pairings, tap takeovers, beer with yoga, local live music, beer education workshops, and much more.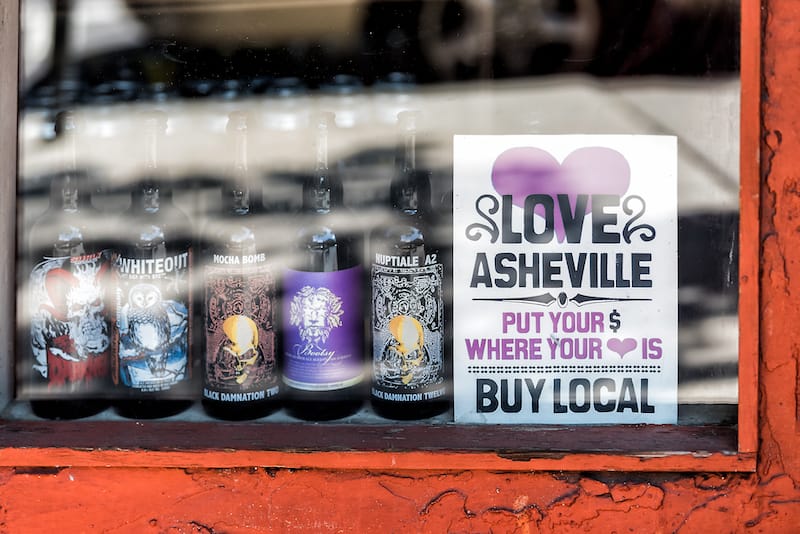 Apart from beer, you can also savor wine, spirits, coffee, kombucha, and cider, and pair them with local culinary treats that will get your mouth watering.
Mountain Dance and Folk Festival (August)
Get acquainted with the beauty of the southern Appalachian mountain's traditions during the Mountain Dance and Folk Festival, the nation's longest-running folk festival.
Held in August, hundreds of musicians, dancers, balladeers, banjo pickers, and storytellers show off their talents and dedication to preserving local culture.
The festival was founded by Bascom Lamar Lunsford in 1928 with the main goal to showcase the finest of Appalachian ballad singers, string bands, and square dance teams for entertainment.
Be ready to appreciate the importance of Southern Appalachian culture by enjoying toe-tapping rhythms of Bluegrass, hand-clapping, clogging, stories of century-old ballads, the elegance of Big Circle Mountain Smooth Dance, and fun storytelling.
Candlelight Christmas Evenings at the Biltmore (Winter)
From November through January, you can witness how the most wonderful time of the year transforms America's largest home into a real
The interior is adorned with twinkle lights, ornaments, firelight, and holiday décor, creating the perfect conditions to get into the holiday spirit.
The ticket includes a magical self-guided candlelight tour of the Biltmore Estate, and a next-day visit to Antler Hill Village, the gardens, and Biltmore Winery.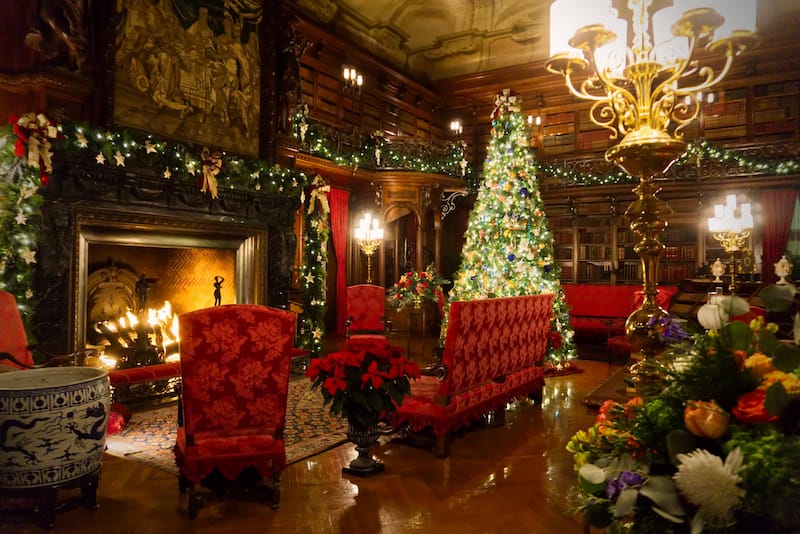 Take an evening stroll to enjoy live music and marvel at 55 elaborate hand-decorated trees, including the stunning 35 ft.
live Fraser fir in the Banquet Hall, 25,000+ ornaments, 1.5 miles of fresh garlands, 2,000 poinsettias, and other favorite holiday plants.
Old World Dickens Festival (December)
Step back in time to the days of Charles Dickens as you take part in the Old World Dickens in the Village Festival, held on the first weekend of December.
Get into the holiday spirit as you walk past the historic buildings adorned in holiday lights and enjoy a tree lighting ceremony on the Village Green.
The event begins on the first weekend of December on Friday from 4:00 pm to 8:00 pm, and continues on Saturday, from 11:00 am to 5:00 pm.
More than two dozen strolling carolers, jugglers, mimes, actors, and musicians dressed in Dickensian-era costumes will perform Dickens-themed acts throughout Historic Biltmore Village.
Did we miss any worthwhile places to visit on a weekend in Asheville? Let us know your tips for this Asheville itinerary below. Thanks!
More Asheville Travel Guides
Pin this Weekend Trip to Asheville Guide