One of the best adventures to partake in with your family, friends, or significant other is apple picking. These are the best places to go apple picking in North Carolina.
The best part is that many of the North Carolina apple orchards offer other opportunities too, such as checking out delicious food at the bakery and farmers' markets.
With plenty of options to choose from, you're guaranteed to have a memorable time this summer or fall! Keep in mind that some of the options on this list are only open seasonally.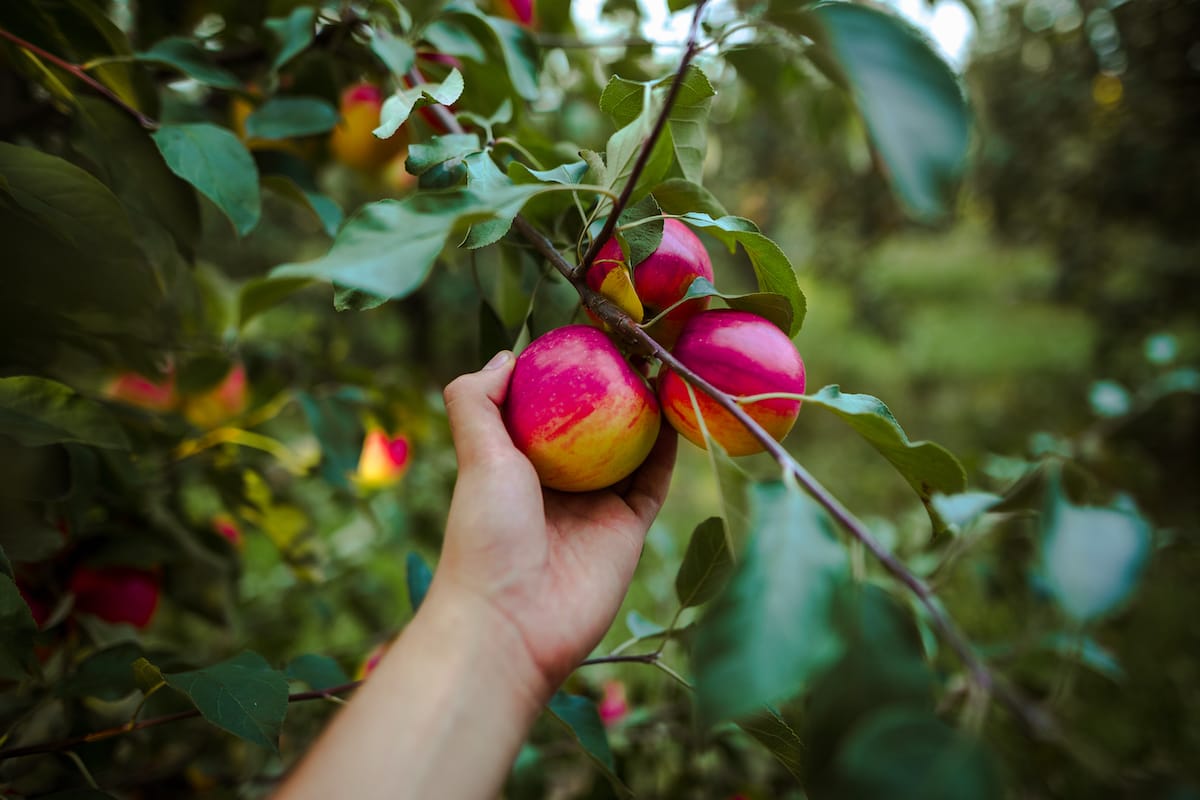 We also include some seasonal tips to help you get ready for the season below.
Did we miss any of the best apple orchards in North Carolina on this guide? Let us know in the comments!
North Carolina Apple Picking Tips
North Carolina is in the top 7 of 32 states in the US that produce apples, which means that you'll have plenty of apple orchards to choose from if you're looking for a special place to go apple picking.
The best time to go is between mid-August to October or even November, depending on the weather. In addition, you can often pick other fruits, such as peaches and blueberries in the summer, or pumpkins in the fall in many of these orchards.
You might also be just in time for festivals! Just keep in mind that the apples on the outside of the tree will be the ones to ripen first!
Apple Picking in North Carolina
Jeter Mountain Farm Orchard
This 411-acre farm is located in the Blue Ridge Mountains, which is only a few minutes from Brevard, Greenville, and Asheville.
The family-owned farm has been actively operating since 1813, running for over 150 years. While here, visitors and their families will feel very welcome in the beautiful and serene environment.
Over 20 apple varieties grow here, as do other fruits, including strawberries, peaches, pumpkins, and grapes.
Jeter Mountain Farm allows families and guests to pick their own fruit from any of the orchards during U-Pick seasons.
The farm also produces two of its own apple ciders that are pressed on-site using apples grown on the farm. Four rotating hard cider flavors from the Flat Rock Cider Company are also served here.
Address: 1126 Jeter Mountain Rd, Hendersonville, NC 28739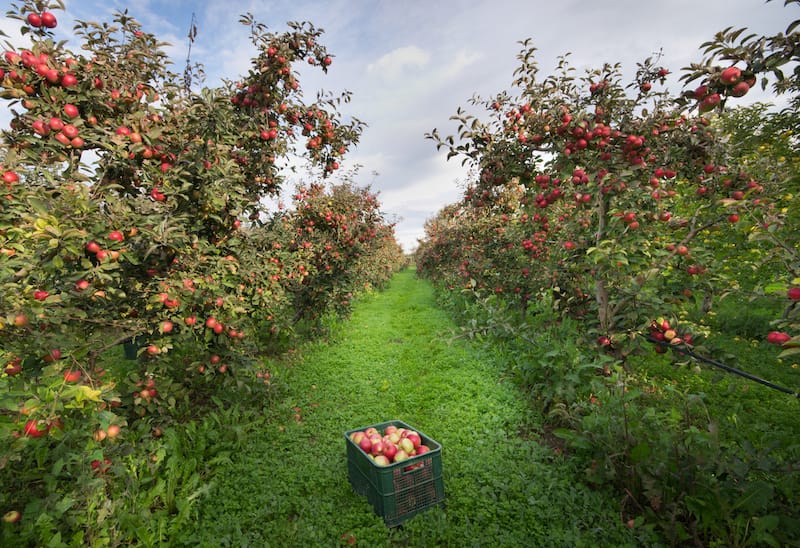 Apple House & Owenby Orchards
Located in Hendersonville, North Carolina, the Apple House & Owenby Orchards has been successfully run by the Owenby family for over 60 years.
The farm is nestled on 90 acres of land where apples and freestone peaches are grown in season.
Other products that are available for purchase here include apple cider, blackberry cider, hot boiled peanuts, apple butter, fruit butter, jams, jellies, preserves, and handmade wood crafts.
Varieties of sugar-free products can also be found at Apple House & Owenby Orchards.
The Apple House part of the farm is a roadside farm market also run by the family. Guests and families visiting are sure to have an amazing time with the gorgeous greenery and countryside feel here.
Address: 3807 Chimney Rock Rd, Hendersonville, NC 28792
Apple Hill Orchard and Cider Mill
Apple Hill Orchard and Cider Mill is a family farm dating all the way back to 1930.
However, the family only started farming apples in 1955. Located in the South Mountains of western North Carolina, the farm is just a short distance south of Morganton.
Delicious peaches are also grown here, and they are usually available from around July. The family also runs a farm market and a farmhouse bakery where apple and peach-flavored baked goods are available.
Apple Hill has always had a tradition of welcoming guests on the farm to join in on the harvest each fall.
Address: 2075 Pleasant Hill Ave, Morganton, NC 28655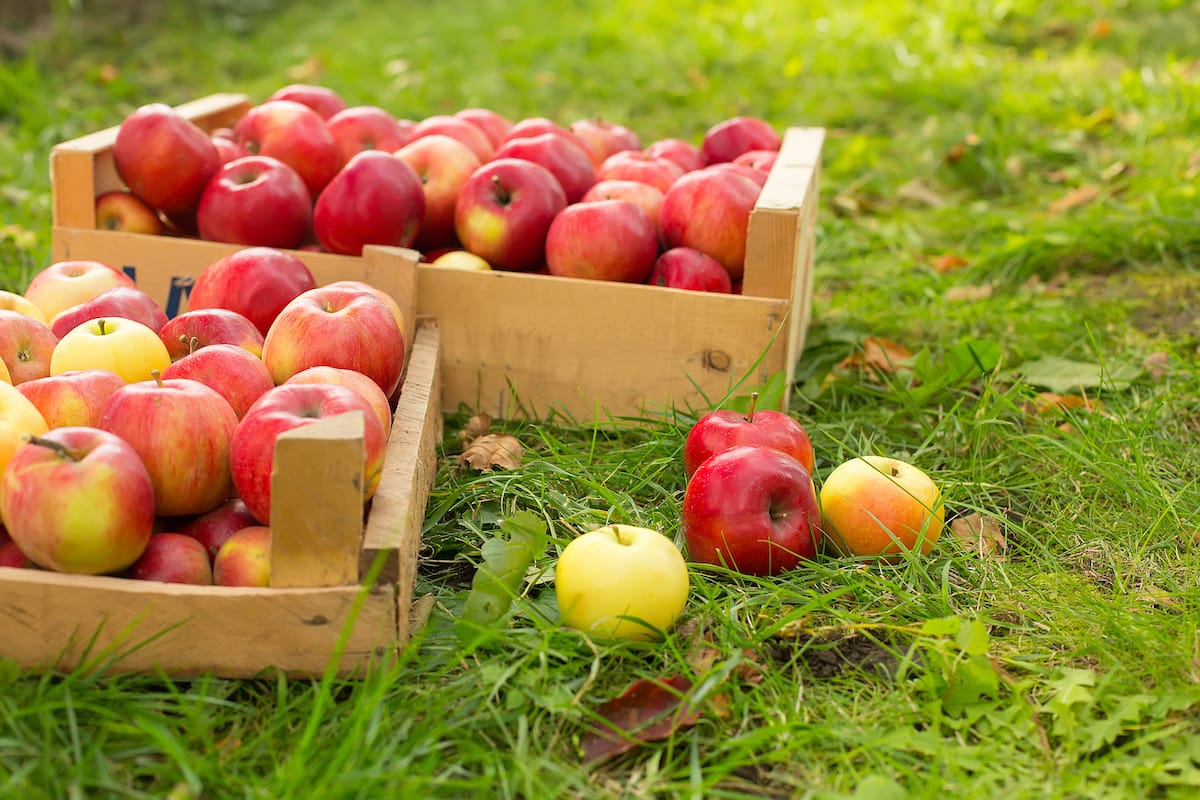 Millstone Creek Orchards
Millstone Creek Orchards is located in Ramseur, North Carolina.
Beginning in 2001 when Byrd and Diane Isom planted their first apple tree rows, the farm has certainly come a long way from when Byrd started selling fresh apples from the farm out of his pickup truck.
It was not until 2004 that the farm opened its doors to visitors from the community, and ever since, this family farm has only grown bigger and bigger with each passing year.
With the farm being over 18 acres, farm-fresh blackberries, blueberries, peaches, grapes, apples, pumpkins, and pecans are all available here for U-Pick every season.
Address: 506 Parks Crossroads Church Rd, Ramseur, NC 27316
Stepp's Hillcrest Orchard
This 70-acre working farm and apple orchard are located in the Blue Ridge Mountains near Asheville in Hendersonville, North Carolina.
The family-run farm has been operating for almost 50 years now, providing guests with a unique and intimate experience with nature and farm life every fall.
A variety of apples and pumpkins are available for guests to pick. Pre-picked apples are also available if you're in a rush. There is also a country market located on the farm where items like apple cider and baked goods from the farm bakery can be purchased.
Guests can enjoy many family-friendly activities such as apple picking, maze running, picnicking, and apple cannon target shooting.
Address: 170 Stepp Orchard Dr, Hendersonville, NC 28792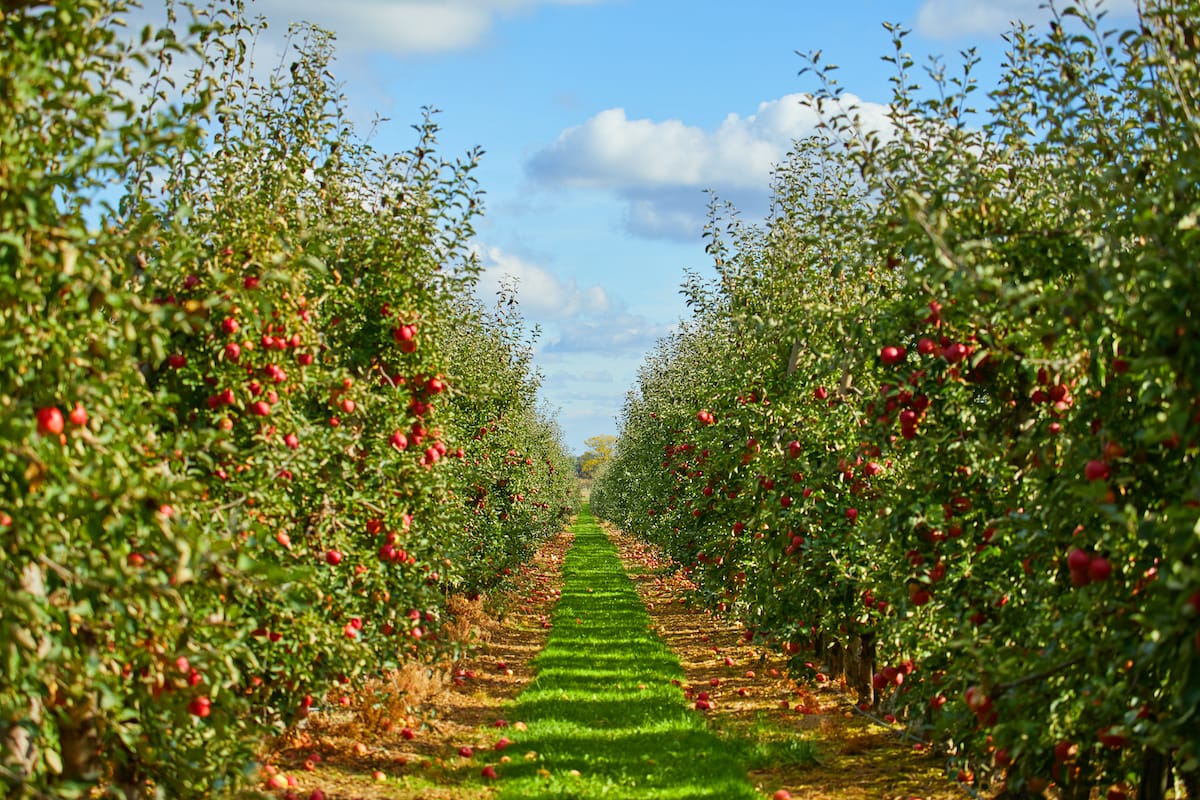 Coston Farm & Apple House
With stunning mountains in the backdrop, Coston Farm & Apple House is a 4th-generation family farm and apple orchard that is located in Hendersonville, North Carolina.
The family farm produces a variety of apple types such as Pink Lady, Granny Smith, Stayman Winesap, Fuji, Gala, Red Delicious, Rome Beauty, Arkansas Black, Ginger Gold, and King Luscious Apples.
Pumpkins are also farmed and available here.
Also within the grounds of the farm is the Coston Farm Apple House Gift Shop & Bakery, where guests can find delicious fried apple pies, apple fritters, apple cider donuts, giant chocolate chunk cookies, gift items, and more.
The farm also offers guests a pick-your-own experience to enjoy and promises an unforgettable trip.
Address: 3748 Chimney Rock Rd, Hendersonville, NC 28792
Sky Top Orchard
The family-owned Sky Top Orchard opened in the 1960s.
Located above Flat Rock, the orchard has a great view of the surrounding mountains. Sky Top offers a variety of apples!
Guests are guaranteed to have a wonderful experience at the farm, where they can choose to pick their apples or select from pre-picked ones.
With a country-style farm setting, the farm has ponds where you'll find ducks and geese swimming, as well as a barnyard with sheep, chickens, goats, peacocks, and more.
You can also explore the bamboo forest.
Address: 1193 Pinnacle Mountain Rd, Flat Rock, NC 28731
Grandad's Apples
Grandad's Apples is a family-owned 120-acre farm located near Asheville in Hendersonville, North Carolina.
The 4th-generation farm opened in 1994. While here, guests can select apples right from the trees or pre-picked apples from the bins available.
Pumpkins are also available in Grandad's pumpkin patch, where you can find pumpkins of many shapes and sizes. The farm also has a barn and country store and a bakery with a variety of baked goods, including hot cider donuts and cookies.
Address: 2951 Chimney Rock Rd, Hendersonville, NC 28792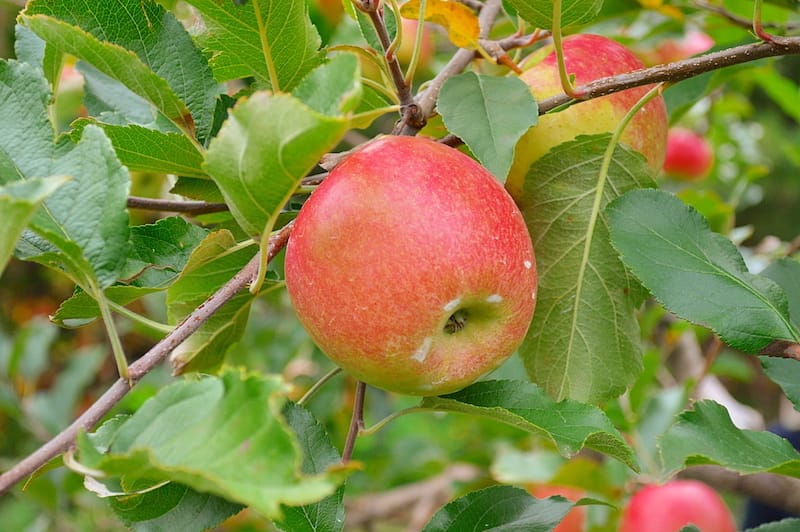 Justus Orchard
The Justus family has been running their farm and growing delicious apples for over 100 years and four generations, and they do not plan on stopping any time soon.
Justus Orchard is located in Hendersonville in the picturesque mountains of North Carolina.
The farm welcomes guests and families to enjoy many family-friendly activities at the historic farm, where they can participate in U Pick/We Pick apples, blackberries, and pumpkins.
Honeycrisp, Gala, Fuji, Golden Delicious, and Summerset are just some of the many apple varieties you will find here at Justus.
There is also a bakery, pond, and more to do here. The farm certainly has something for everyone of all ages to enjoy!
Address: 187 Garren Rd, Hendersonville, NC 28792
Tevepaugh Orchards
Tevepaugh Orchards is a family farm that has been running for 5 generations, producing fresh and delicious apples.
The apple varieties grown here include Ginger Gold, Gala, Honeycrisp, Jonagold, Early Fuji, Golden Delicious, Empire, Red Delicious, Cameo, Stayman Winesap, Red Rome, Granny Smith, Goldrush, and Pink Lady.
The farm is located in the stunning Brushy Mountains of North Carolina in Moravian Falls.
The family also grows varieties of other fruits such as peaches, nectarines, blueberries, blackberries, pumpkins, and more.
All the fruits here are tree-ripened and hand-picked when fully ripe for guests to enjoy the best flavor.
Address: 800 Vannoy Ridge Rd, Moravian Falls, NC 28654
Did we miss any of the best places for apple picking in North Carolina? Let us know your favorite North Carolina apple orchards in the comments. Thanks!
More North Carolina Travel Guides
Pin this Apple Orchards in North Carolina Guide