For a romantic getaway with your significant other, spouse, or partner, look no further than North Carolina. You will find so many romantic getaways in North Carolina that you will be spoiled for options!
North Carolina has everything from romantic hotels in the mountains to beach-front resorts, restaurants, and everything in between to make your trip even more special.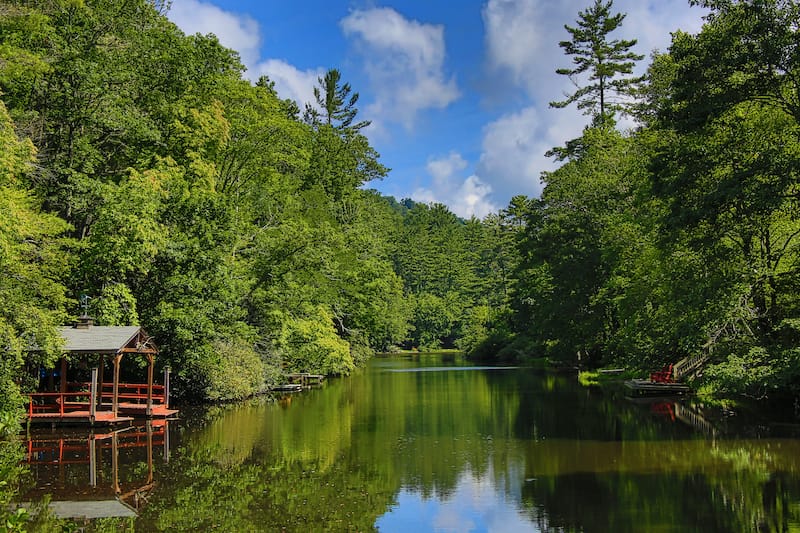 Get away from the stress of your daily life and fall back in love with each other by visiting any of the NC destinations we've included on our list.
Don't forget to let us know in the comments if you've visited any of these spots for a romantic vacation in North Carolina or if you have other ideas that we didn't cover!
Most Romantic Getaways in North Carolina
Outer Banks
The Outer Banks has a variety of great options for romantic getaways.
One of those is the back beach wild horse tours. With a duration of two hours, these safari-style tours, going along the beach, offer a unique type of recreation, where you can admire views of the region's wild horses.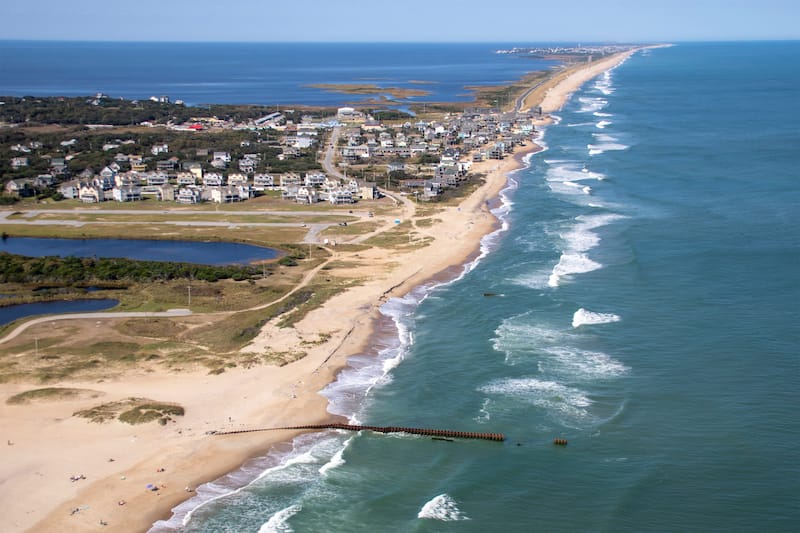 For a traditional alternative, you can choose to spend the morning watching the sunrise on the beach or listening to the relaxing sounds of the ocean waves.
Elizabethan Gardens is another wonderful place in the OBX to spend some time if you want to stroll together and enjoy the colorful gardens. What else is needed to enjoy some quality time with your significant other?
Couples looking to rejuvenate both their mind and soul can have spa time at Aqua Restaurant & Spa.
You can also surprise your loved one with an evening cruise on a chartered sailboat, a popular activity in the Outer Banks.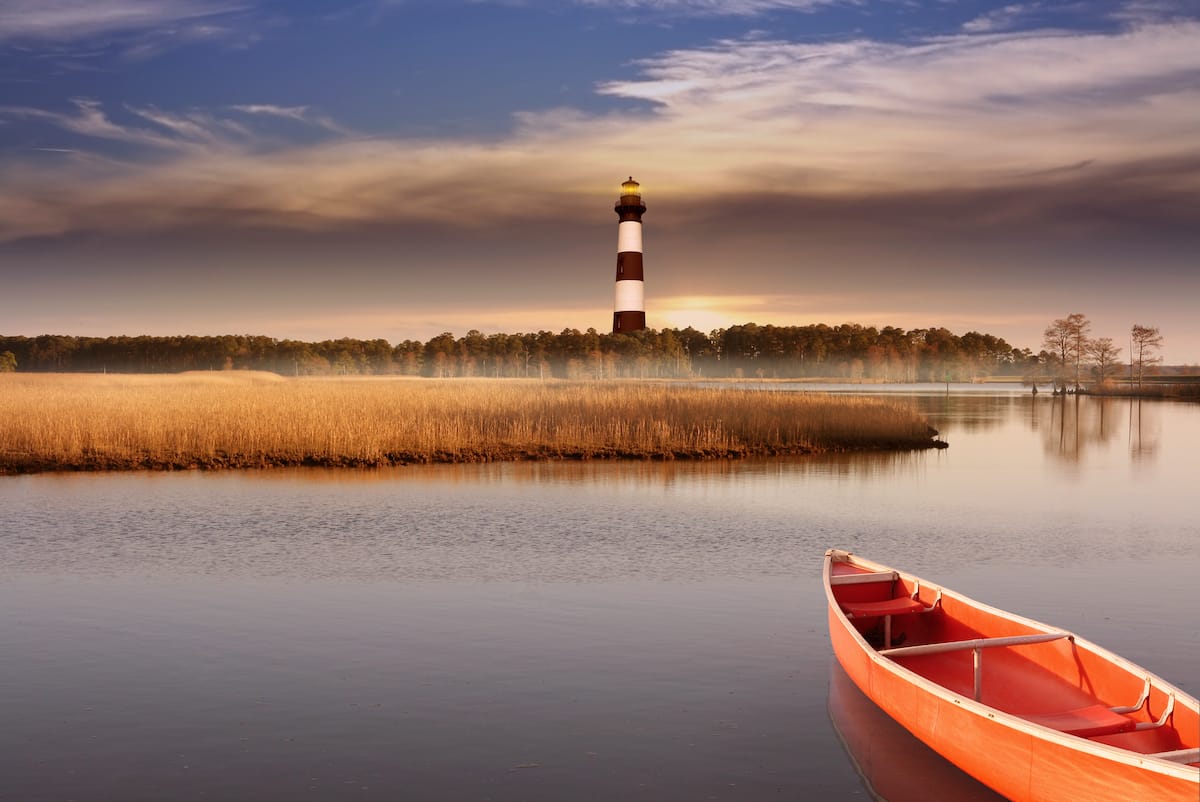 Being a top destination on the East Coast, you can also find many great hotels for your romantic getaway, even in the winter months!
Some of the most popular ones are Sea Ranch Resort, Burrus House Inn Waterfront Suites, Hampton Inn & Suites, and the Hilton Garden Inn.
Bent Creek Lodge
Location: Arden
BOOK HERE
Bent Creek Lodge is the perfect place to enjoy a romantic retreat in nature. It has a very relaxing atmosphere, comfortable amenities, and excellent food.
There are 10 guest rooms filled with rustic decor. The lodge offers a nice fireplace in the lobby and a picnic area, where you as a couple can enjoy some cozy quality time.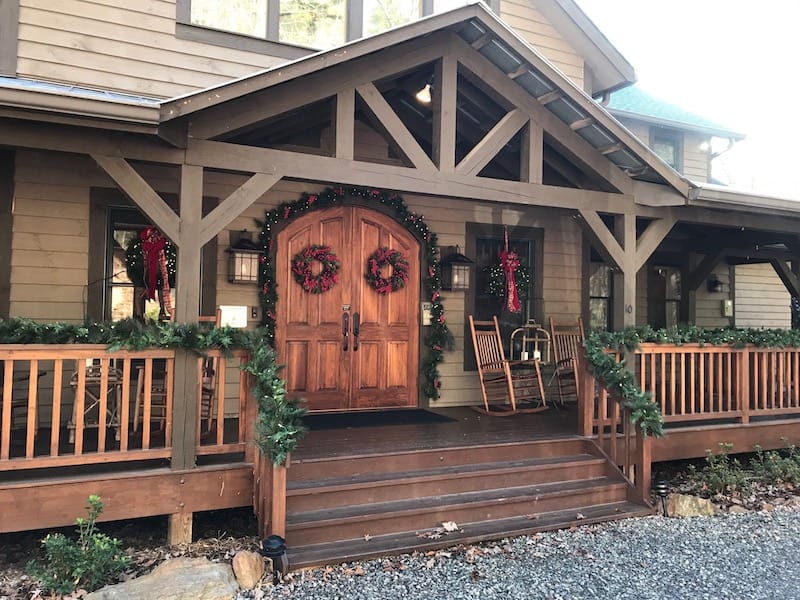 Near the property, you can entertain yourself by going golfing, checking out the hiking/biking trails, or going kayaking and rafting along the river.
The location of the lodge is pretty convenient as it creates a feeling of being secluded in the mountains, but at the same time, it's not far from the main road.
People who visited give pretty good ratings and claim that it offers better value compared to other B&Bs in the area. In short, this is the perfect destination to get a mixture of privacy and romance with amazing amenities.
>> Click here to check rates and availability
Lake Lure
One of the very first things that should come to your mind when thinking of Lake Lure is a tour on the lake the town was named after.
This is certainly not something you should miss because not only is the lake charming and beautiful, but you can also see sets from the famous Dirty Dancing movie and much more.
If you want to combine a good time with an adrenaline rush, head over to Canopy Ridge Farm. Here, you'll enjoy a great zipline adventure with thrilling features that lasts around one and a half hours.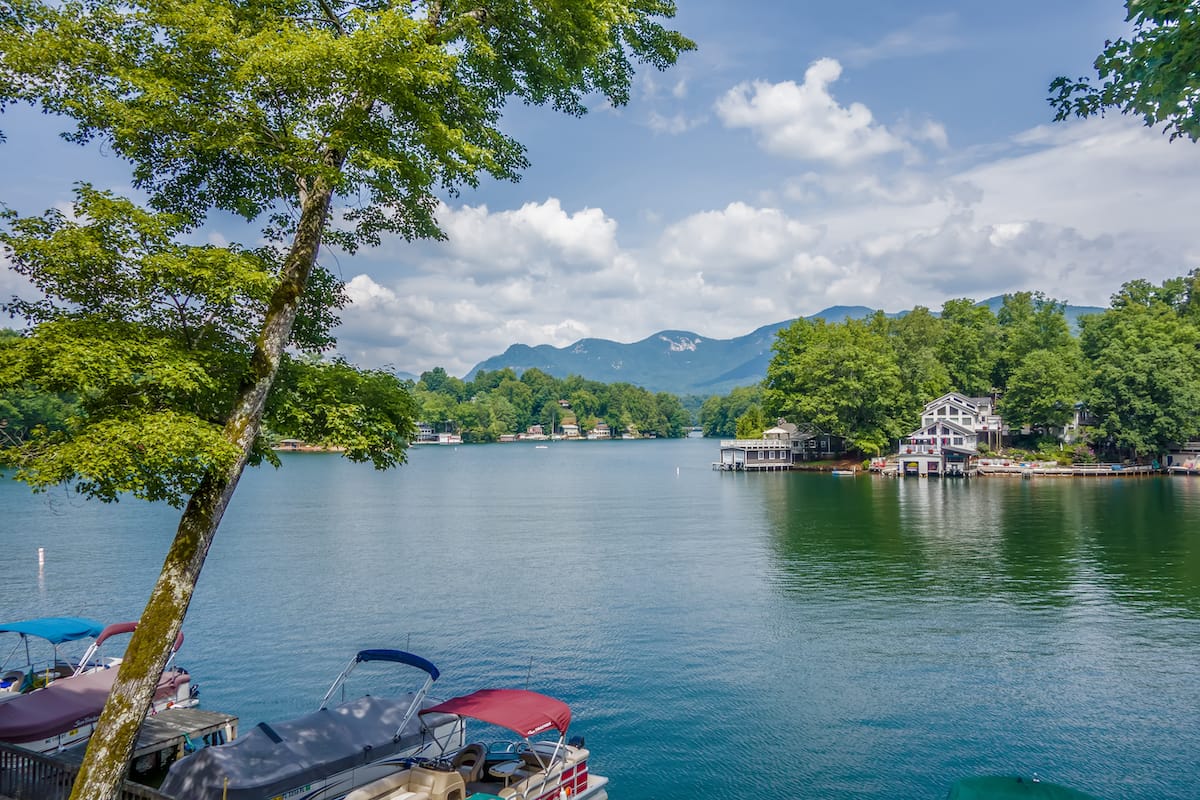 The town offers a lot of good dining options, too. The Gardens at Rumbling Bald Resort has a beautiful garden setting, while The Esmeralda Inn offers some epic panoramic views.
In addition to that, the latter also has a spa center, which promises a heavenly type of relaxation, so you might think about planning a spa day when in Lake Lure too.
In case you're more in the mood for simpler options, Morse Park can be a very convenient choice for a nice and cozy picnic with your partner.
White Doe Inn Bed & Breakfast
Location: Manteo
BOOK HERE
Need some time away from the kids? Be sure to check out the White Doe Inn Bed & Breakfast. This gorgeous property is an adult-only bed and breakfast, located 4 minutes from Outer Banks Mall in Manteo.
Beautiful garden views can be enjoyed from comfy rooms furnished with seating areas and a fireplace, which is just awesome for those cozy nights with blankets and tea.
The Manteo bed and breakfast offers free bikes and a nice spa and wellness center to take out all the stress or pressure and leave you feeling fully relaxed.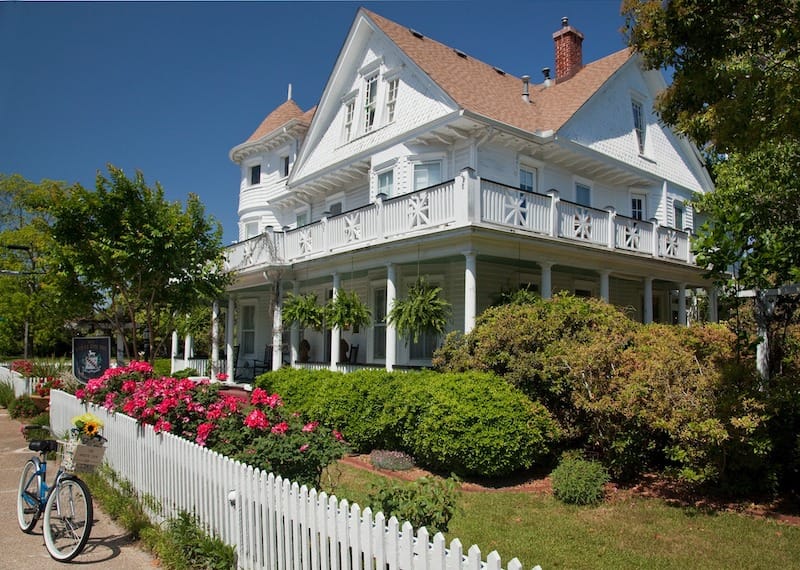 The Roanoke Island Festival Park is only 8 minutes walking distance and Bodie Island Lighthouse, one of NC's most famous lighthouses, is 18 minutes driving distance, so you have plenty to check out near the hotel for your romantic getaway, too.
If you're looking for the perfect place to stay as a couple in North Carolina that has an appealing setting, lots of amenities, a lovely garden, and excellent service, look no further than White Doe Inn Bed & Breakfast.
>> Click here to check rates and availability
Wilmington
Located in southeastern North Carolina, Wilmington offers a variety of attractions including sandy beaches, delicious restaurants, active nightlife, beautiful culture, and history.
Wilmington prides itself on a few delicious restaurants like Circa 1922, Rx Restaurant and Bar, Roko Italian Cuisine, and others.
Elijah's Restaurant is a very convenient spot to enjoy a romantic dinner and it offers delicious meals at the waterfront deck. Definitely check out the whole list of available options if you are interested in a nice romantic dinner when in Wilmington.
Alternatively, take a nice stroll along the Wilmington Riverwalk. It's a 1.75-mile boardwalk that is almost always full of people, especially around sunset.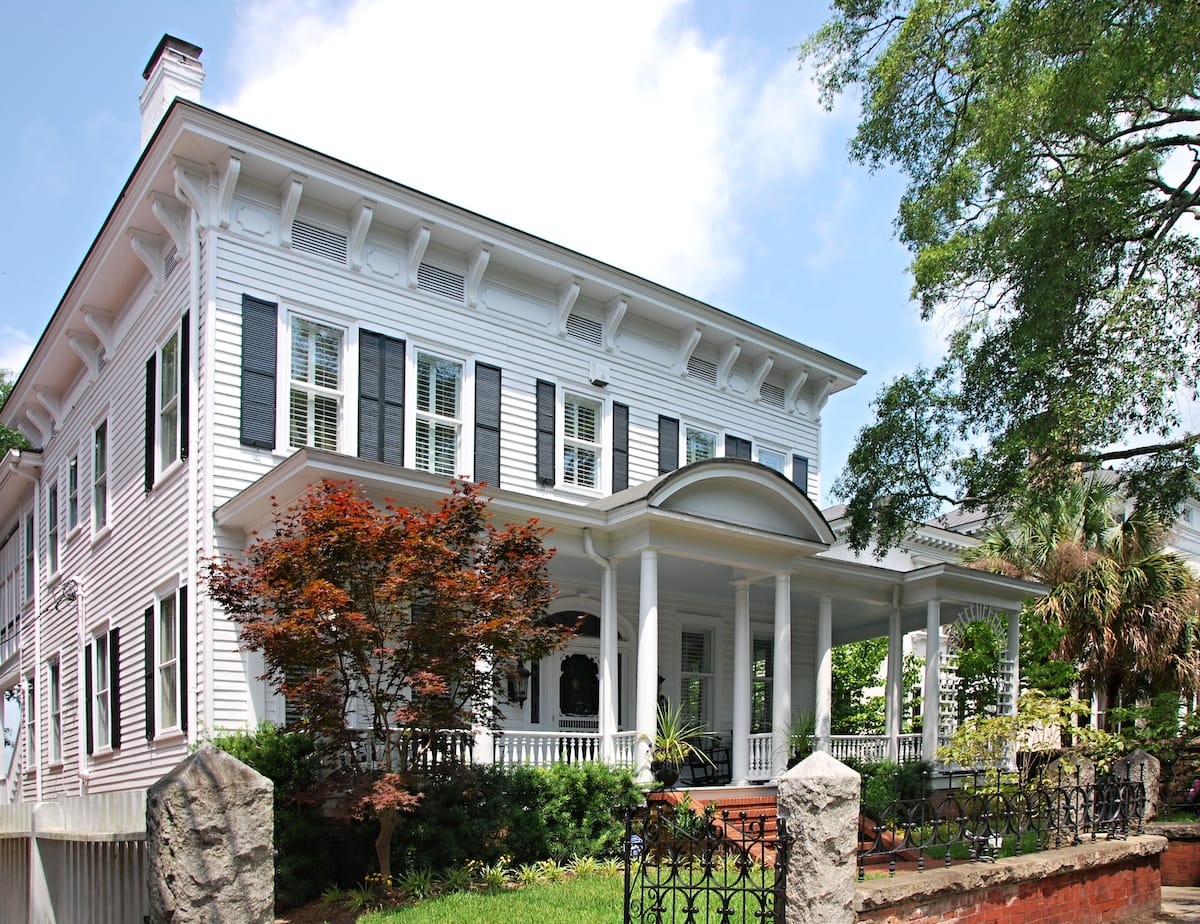 Consider having a nice picnic at Halyburton Park. What's more romantic than that? Bring some food or snacks with you and have a good time while being close to nature. You can also hike or bike on the trails of the park.
Last but not least, if you're a fan of watersports, reserve a kayaking tour at Masonboro Island Reserve at sunset. It is one of the best things to do near Wilmington.
It promises to be a very memorable experience both for you and your partner and the perfect way to end a romantic getaway in Wilmington.
Lakeview at Fontana
Location: Lauada (near Bryson City)
BOOK HERE
Lakeview at Fontana is another excellent option for a romantic trip in North Carolina. Guests here have access to a shared kitchen as well as a shared lounge.
Outside, guests also can access a picnic area, sun terrace, and barbecue facilities, where you can have a tasty meal. What better way to spend your romantic vacation than to cook some of your favorite meals together while enjoying the beauty of nature?
Hiking around the area is one of the activities offered to guests at the lodge. If you want to experience some of the trails together, now's the perfect time to do so.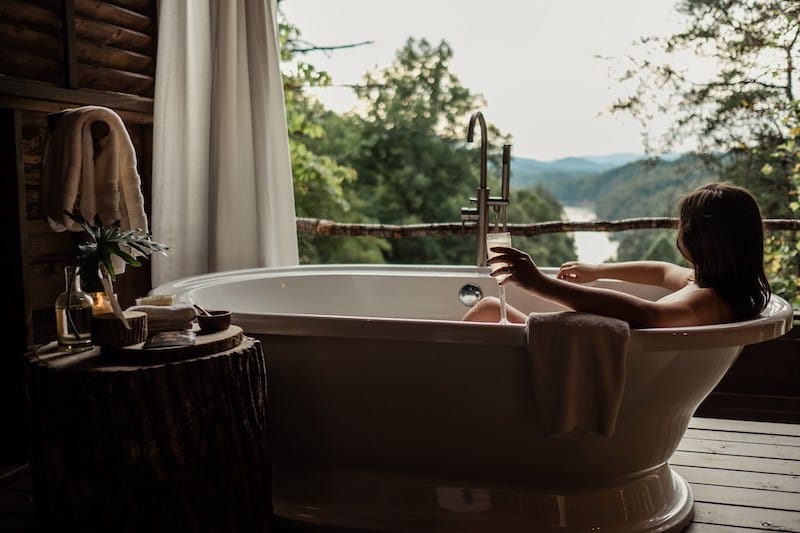 At Lakeview at Fontana, you can also check out the outdoor swimming pool with a view and spa facilities, excellent for getting some relaxation during your trip.
If you want to bring your pet along for your special getaway, pets are allowed at the lodge, but you may have to pay an additional fee.
>> Click here to check rates and availability
Brevard
Only about 45 minutes from Asheville, Brevard is known to be a place full of astonishingly beautiful waterfalls. And if you're on a romantic getaway, you most certainly don't want to miss the chance to visit at least once.
Some of the most picturesque waterfalls in the town are Rainbow Falls, Looking Glass Falls, Turtleback Falls, Triple Falls, and Whitewater Falls.
Apart from its waterfalls, this North Carolina town offers many recreational activities, especially eateries. Some of the best-rated shops in the area are The Square Root, Downtown Chocolates, Farm Taqueria, and Magpie Meat & Three.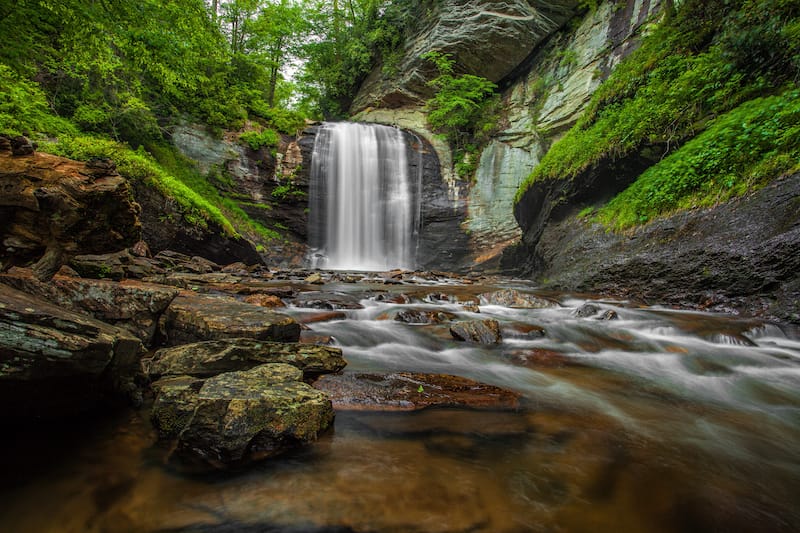 For those who want to spend some time in nature, Bracken Preserve should not be missed. With an area of 395 acres, it's perfect for organizing picnics, hikes, and even hunting, though there is hardly a chance you can combine hunting and a romantic getaway!
Anyways, know that the park suggests single-track trails for hiking, biking, or just strolling.
In Brevard, you can take a kayaking trip on the French Broad River. Glide along the waters of the world's third oldest river, which has seen thousands of years of history.
Bike trails in Brevard are awesome too, so you might want to think about spending spare time on a long bike ride with your loved one.
The Inn on Biltmore Estate
Location: Asheville
BOOK HERE
On the more luxurious side, the Inn On Biltmore Estate is extremely popular among guests with its sprawling area and classy furnishings.
Apart from in-room service for breakfast, lunch, and dinner, the property's dining room is a sophisticated fine dining establishment that specializes in regional cuisine.
Some of the inn's facilities include a picnic area, sun terrace, beautiful garden, pools, and more. When it comes to activities, there are live music performances, cycling, and hiking opportunities.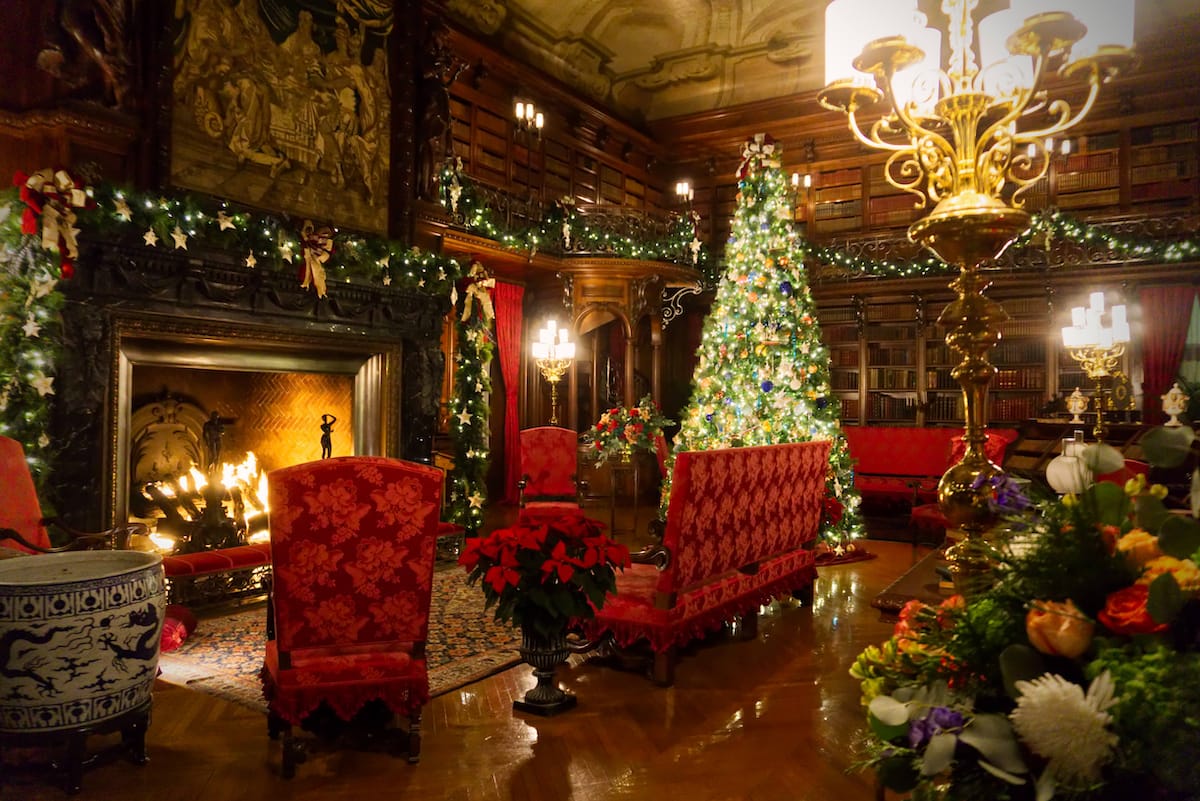 Couples can also check out their bike tours, horse riding, and fishing opportunities, but those come at an additional charge. Wellness activities are not neglected here too.
From yoga and fitness classes to extra-relaxing massages, you're free to find your best option to feel at ease. You're also close to some of the best landmarks in Asheville!
With the help of the extra friendly staff, you can also organize something romantic like a dinner or just a small surprise for your significant other, perfect for those planning a proposal or other surprise.
>> Click here to check rates and availability
Charlotte
Full of culture, art, luxury hotels, and restaurants, Charlotte is the most populous city in North Carolina.
One of the very first options that could come to your mind is taking a tour of the city together. Keep in mind that you can probably make it more memorable if you hop on an electric cart city tour.
It's a typical way to enjoy the surroundings and get to know the city with a special twist.
After that, you can continue your tour with your partner by visiting places such as the 7th Street Public Market to grab a glass of wine, take a 30-minute drive to Village Park to have a comfy picnic, or watch a movie outside on the big screen.
When in downtown Charlotte, the chances that you'll truly have enough privacy with your companion are not high, so you can instead visit Freedom Park and spend some time strolling around, playing tennis/volleyball, and other favorite outdoor activities.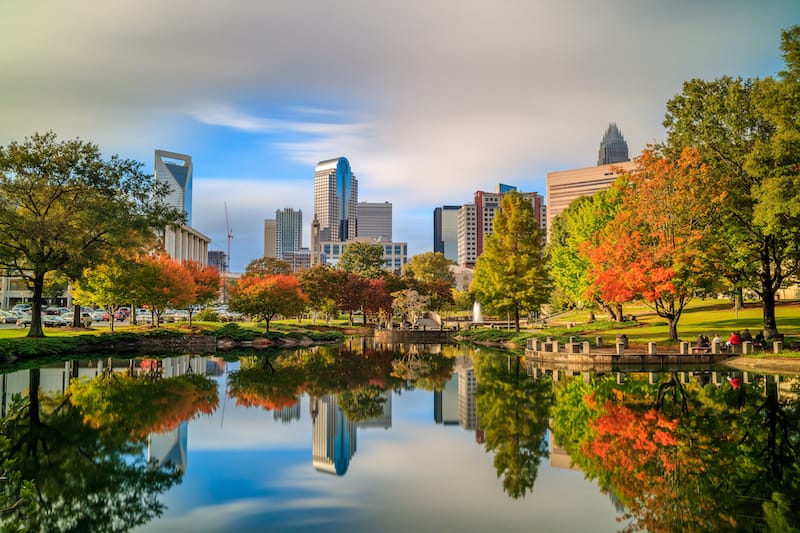 Charlotte offers some premier spa salons, which can serve as an ultimate relaxation for you as a couple. To pamper yourself, some of the best choices here are True Rest Float Spa, Live Well Sauna + Salt, and The Invigory.
To be mesmerized by some architecture and vast areas, you can take a day trip ​​from Charlotte to the Biltmore Estate in Asheville. While being the world's largest private residence, it's also one of North America's most popular tourist destinations.
In case you're planning a proposal, the beautiful gardens and the magnificent aura make this place an ideal spot, even if you're visiting Asheville in winter! Don't forget your camera!
There are also many weekend escapes from Charlotte that you can enjoy if you're in the city for a longer duration of time!
Grandover Resort & Spa
Location: Greensboro
BOOK HERE
Convenient, quiet, and grand… These are probably the best words describing the castle-like hotel, Grandover Resort Golf and Spa. If you plan to stay here during the warmer months, you can take advantage of the lovely outdoor pool.
The property is highly appreciated by golf lovers. There are two 18-hole championship golf courses here, as well as an area designated for meetings and 1,500 acres of woodlands and groomed lawns.
Some other facilities at the hotel include the fitness center, four tennis courts, the volleyball court, and a bike rental at the golf shop.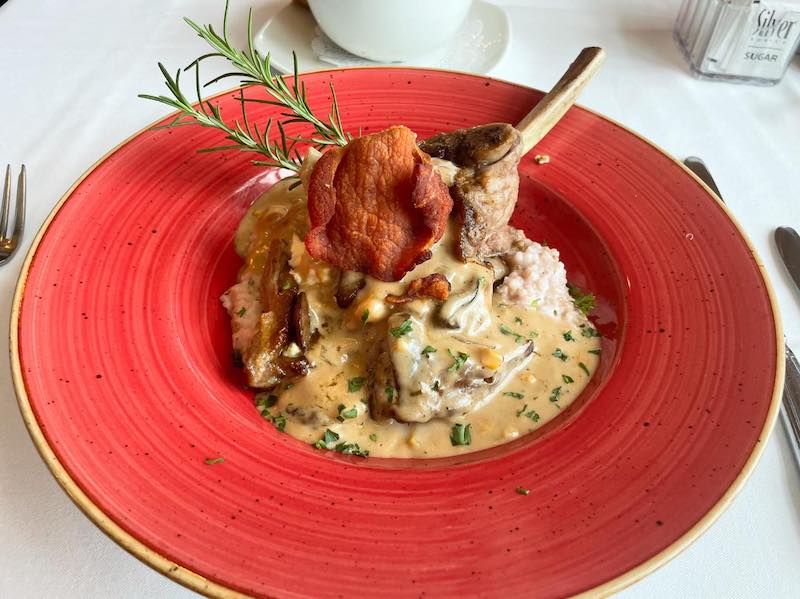 Be sure to check out the on-site restaurant, Di Valletta, where you can spend the romantic evening of your dreams during your trip to Greensboro.
Alternatively, you can choose to spend your evenings after touring the area in the spacious rooms, which are equipped with private bathrooms and relaxing seating areas.
In case you feel a need to explore what's close to the hotel, consider visiting High Point Furniture Market or Gateway University Research Park.
>> Click here to check rates and availability
Emerald Isle
For a romantic getaway at the beach with your sweetheart, Emerald Isle can surely be one of the best options. The Crystal Coast of North Carolina will serve as the ultimate place to spend your romantic adventure.
Something worth trying here is a simple walk by the beach while holding hands with your partner. Let the sounds of the waves guide you while you're enjoying some quality time during sunrise or sunset.
Quick Tip: 'The Point,' a tailed-off sandbar at the very end of the Isle, offers some breathtaking, beautiful panoramic views of the Atlantic, Bogue Sound, Bogue Inlet, and Bear Island.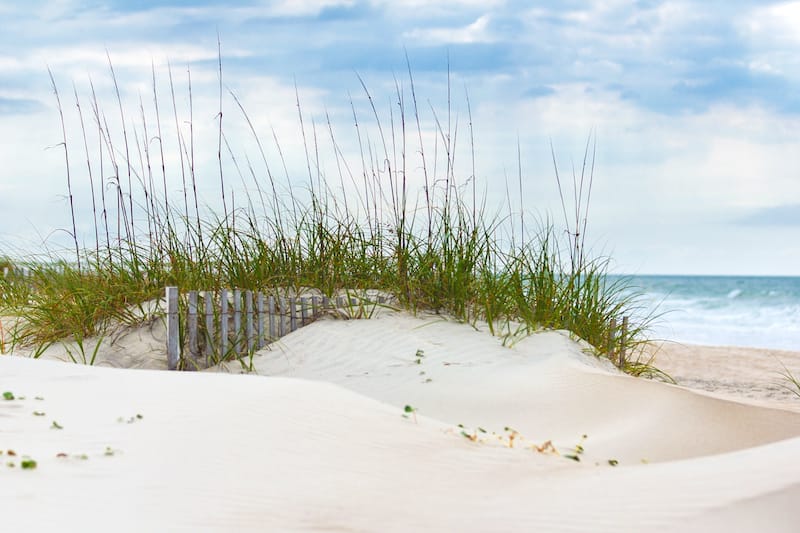 While here, you can also pay a visit to Hammocks Beach State Park, which is known to be an unspoiled beach area on the Atlantic coast.
You'll have to catch a ferry, boat, or kayak to reach this destination, making it even more special for your trip.
No matter if you're planning a trip without occasion, or celebrating an anniversary, Emerald Isle has some pretty unique restaurants offering delicious meals from steak houses to seafood restaurants.
According to customer ratings, Kathryn's Bistro & Martini Bar, Caribsea, and Riverside Steak & Seafood are on the list of options that you better not miss when you're visiting Emerald Isle.
The Ballantyne
Location: Charlotte
BOOK HERE
Continuing the list of luxury hotels for a romantic getaway, next up is The Ballantyne. It's a collection hotel with world-class service and a very pleasing, luxurious interior.
Not surprisingly, this hotel is very popular for two-person getaways. It also provides the most relaxing experience for all guests. The main relaxation centers here are the indoor pool, the salon, and the sun terrace. The hotel also offers a fitness center, trails, and other facilities.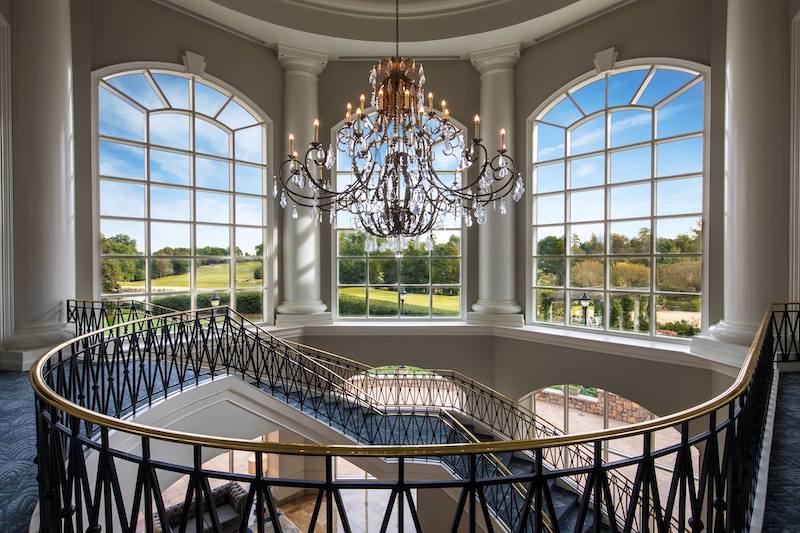 Inside the hotel, the Gallery restaurant offers an elegant and classical environment. The regionally inspired cuisine serves exquisite dishes and the service is top-notch.
The rooms are extra comfortable with beautiful furnishings, ten-foot ceilings, and large windows so you can observe the amazing views and get the most out of your romantic getaway.
>> Click here to check rates and availability
Highlands
With an elevation of 4,118 feet, Highlands is one of the highest towns east of the Mississippi River, and is especially beautiful in fall (but shines any time of the year)!
Full of tranquility, stunning views, and charm, this mountain town can easily impress you while becoming one of your favorite places to visit as a couple.
There is quite a range of outdoor and indoor activities here, from hiking and biking trails to scenic drives and top-rated eateries.
You can't miss Highlands' treasure: its NC-famous waterfalls. Sights like Dry Falls, Glen Falls, and Cullasaja River Gorge are must-sees, especially if you and your loved one like spending time around an abundance of natural beauty.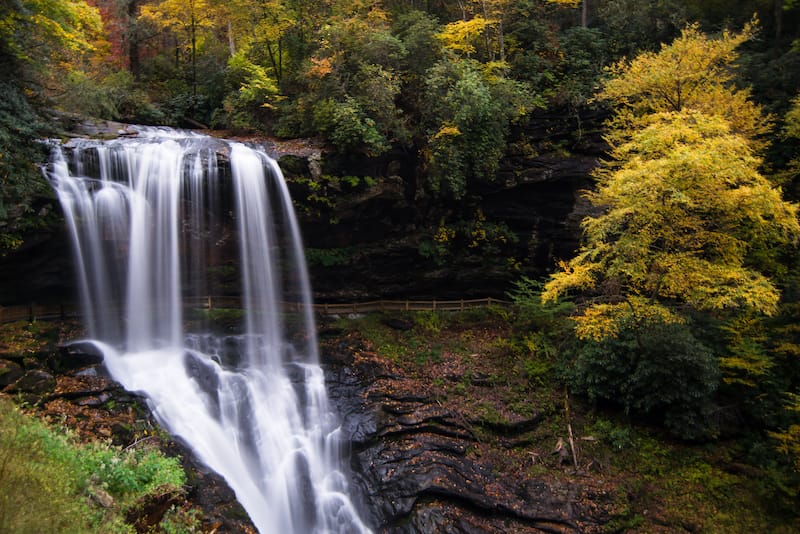 To take some amazing photos of your romantic trip, you might want to consider taking a 2-mile hike to Whiteside Mountain, which is known for its cliff edges and admirable views.
There are many options for a romantic dinner, so you'll be able to plan an intimate and comfortable dining experience. One of the best restaurants is the award-winning Wolfgang's Restaurant and Wine Bistro.
It's located on Main Street in the historic downtown Highlands. Other very good-rated restaurants are Madison's, Lakeside Restaurant, and On the Veranda Restaurant.
To combine a charming experience with the mountain environment, reserve a stay at downtown ​​Old Edwards Inn and Spa. Their mineral pool and spa treatments are especially popular among couples.
The Omni Grove Park Inn – Asheville
Location: Asheville
BOOK HERE
With views of the Blue Ridge Mountains, Asheville's Omni Grove Park Inn is considered to be one of the best inns of the region.
This inn, built in 1913, is also highly rated by couples. Maybe it's partially because of the more than 4 restaurants and bars on site.
Blue Ridge Dining Room offers a southern style menu, Sunset Terrace is known to serve tasty steaks and seafood cuisine, EDISON, craft ales + kitchen and casual food and beer, and VUE 1913 that brings a taste of France are all of the restaurants at the inn, and you surely shouldn't miss any of them.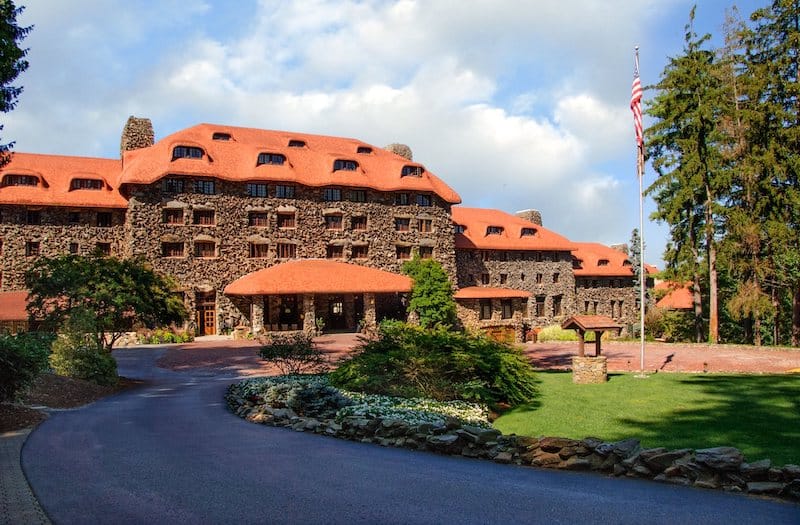 You'll also find a spa featuring mineral pools, a sauna, and more. Alternatively, after a great dinner, you can spend some time in the sports complex. There is also a Donald Ross-designed golf course on site.
If by any chance you're going to propose or share some good news with your partner, you can do so near the magnificent Biltmore Estate, which is located 10 minutes away from the hotel.
>> Click here to check rates and availability
Did we miss any of the best romantic getaways in North Carolina? Let us know your top spots in the comments! Thanks!
More North Carolina Travel Guides
Pin this Romantic Places in North Carolina Guide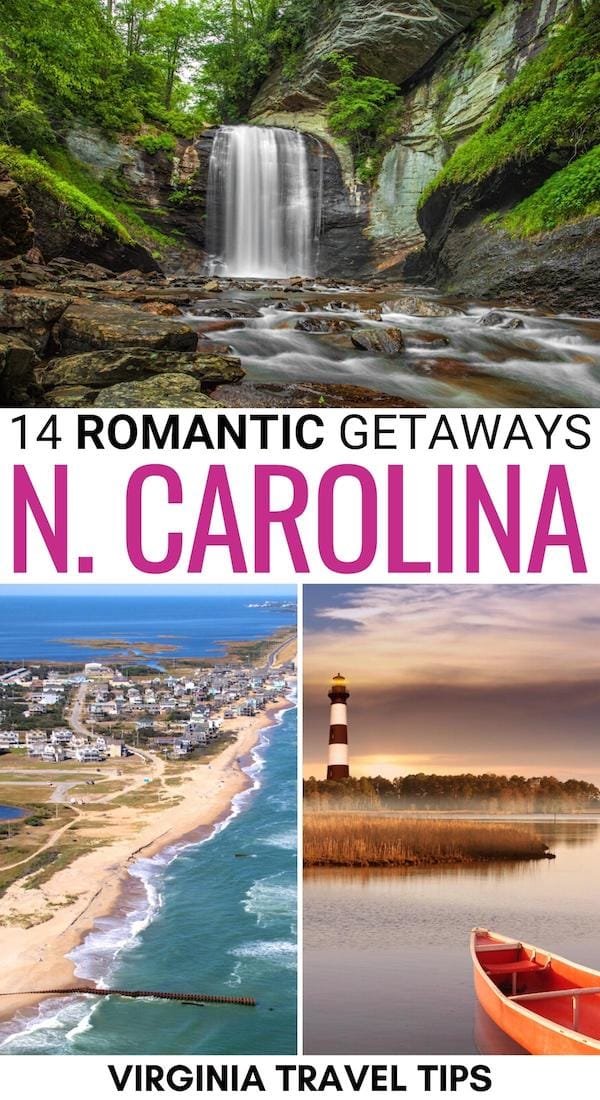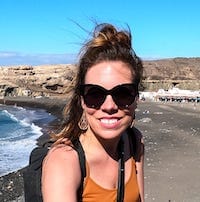 Megan is a travel blogger and writer with a background in digital marketing. Originally from Richmond, VA, she has lived all around the world (including Germany, Finland, Norway, etc) but her heart always finds its way back to Virginia. This blog is to help encourage travelers to explore the great state of VA… and its wonderful neighbors! Megan has written for or been featured by National Geographic, Forbes, Lonely Planet, Fodor's Travel, the New York Times, and more. She has visited 45 US states and 100+ countries… and wholeheartedly believes that Brunswick Stew is probably the greatest food to ever exist.