While the east coast may not have a reputation for skiing, you can still find plenty of opportunities for skiing in North Carolina.
This guide lists the top ski resorts in North Carolina, including ones for beginners (and with ski schools).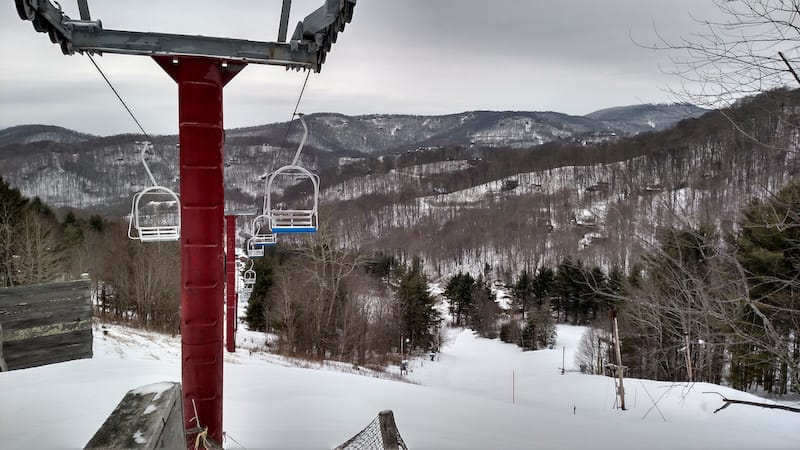 If you're looking to go skiing or snowboarding in North Carolina, hopefully, this will help you plan your winter trip!
Did we miss any amazing places for NC skiing and snowboarding? Let us know in the comments. Thanks!
Best Places for Skiing in North Carolina
Appalachian Ski Mountain
Location: Blowing Rock
Website
The story of Appalachian Ski Mountain starts in 1968, when Grady Moretz and four other partners purchased the area at a public auction and throughout time, it was transformed into a place full of snow, slopes, and fun.
This is now one of the best ski areas around NC High Country. Skiing some slopes here can be challenging for amateurs, but the resort offers guidance and coaching by trained and professional instructors so that newcomers can easily pass the beginner slopes and move to experience the whole mountain.
The place to learn to ski or snowboard here is at the French-Swiss Ski College.
It's the Southeast's oldest and most well-known ski school. Group and private classes are conducted in a welcoming setting and by knowledgeable instructors meant for new starters and advanced skiers and snowboarders.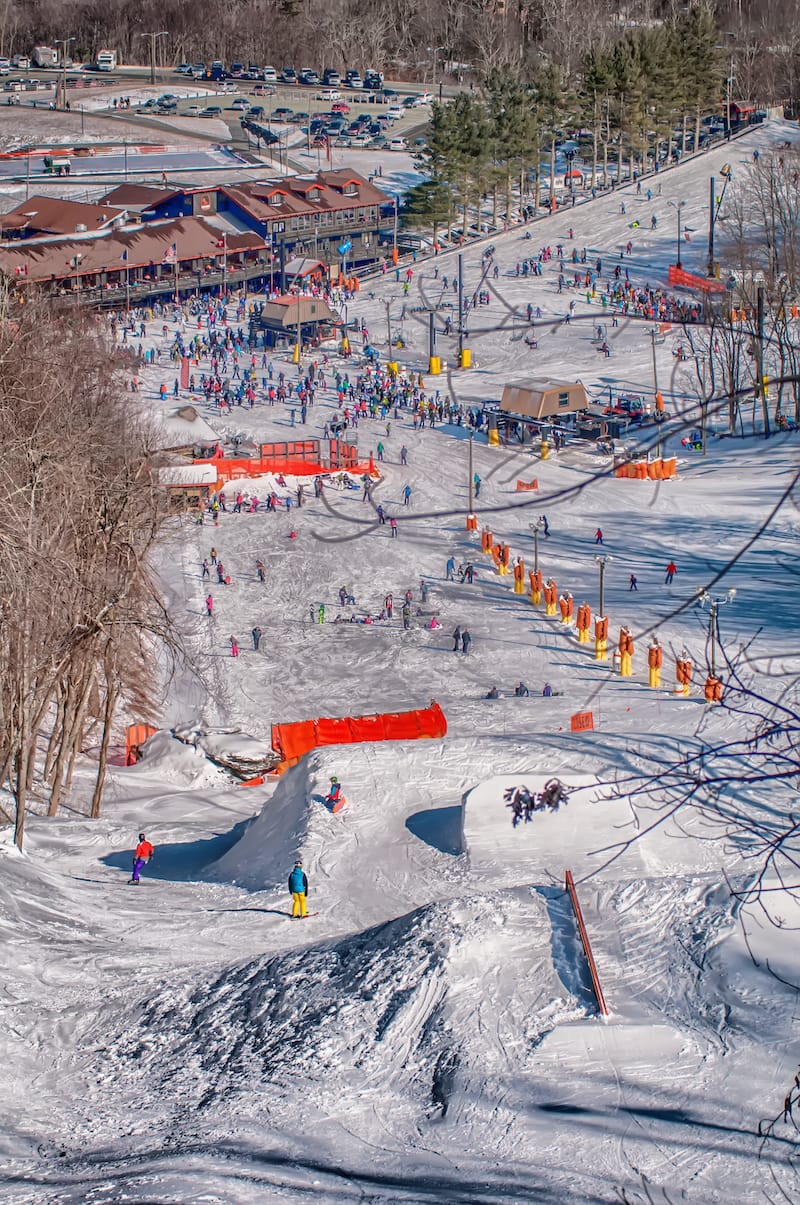 The entire ski experience includes 2 Quad Chairlifts, 1 Double Chairlift, 1 Conveyor Lift, 1 Handle Pull Lift, 10 slopes including 2 Terrain Parks, and more.
The season begins on the Friday before Thanksgiving through the first Sunday in April (check their website for more specific dates).
Additionally, the area includes a 46,000-square-foot Bavarian-style base lodge, a restaurant, ski shop, gift shop, nursery for children, video game room, meeting rooms, and a 200-foot observation deck.
The rental pass for skiers and snowboarders is received from the Ticket Booth.
There are also slopeside lodgings available for rental both in winter and summer. They are vacation homes with 180-degree views and are a one or two-minute walk from the slopes, allowing you to enjoy the perfect mountain getaway.
Ticket prices for skiing range from 29 to 69 US dollars and ice skating from 19 to 26 US dollars. You can also check out flex tickets, group rates, and season memberships.
Sugar Mountain Resort
Location: Sugar Mountain
Website
Boasting the largest ski area and the vertical drop (1,200 feet) in the North Carolina Blue Ridge Mountains, Sugar Mountain Resort is regarded as one of the best ski resorts in North Carolina.
The range of activities at Sugar Mountain is huge: tubing, ice skating, snowshoeing, snowboarding, and skiing. It receives an average of 78 inches of natural snow each winter and this variety of activities makes the area a perfect winter getaway for families.
The opening of the resort usually takes place around Thanksgiving and it stays open until mid or end of March.
For skiing and snowshoeing, you can choose to enjoy a full day, half-day, twilight, or even night sessions. Overall, there are 125 acres of ski terrain on 21 slopes, as well as 8 lifts for rapid transport.
Tubing and ice skating are great here too! Glide down 700 feet of tubing lanes or explore this winter wonderland through a 10,000 square foot refrigerated outdoor ice skating rink.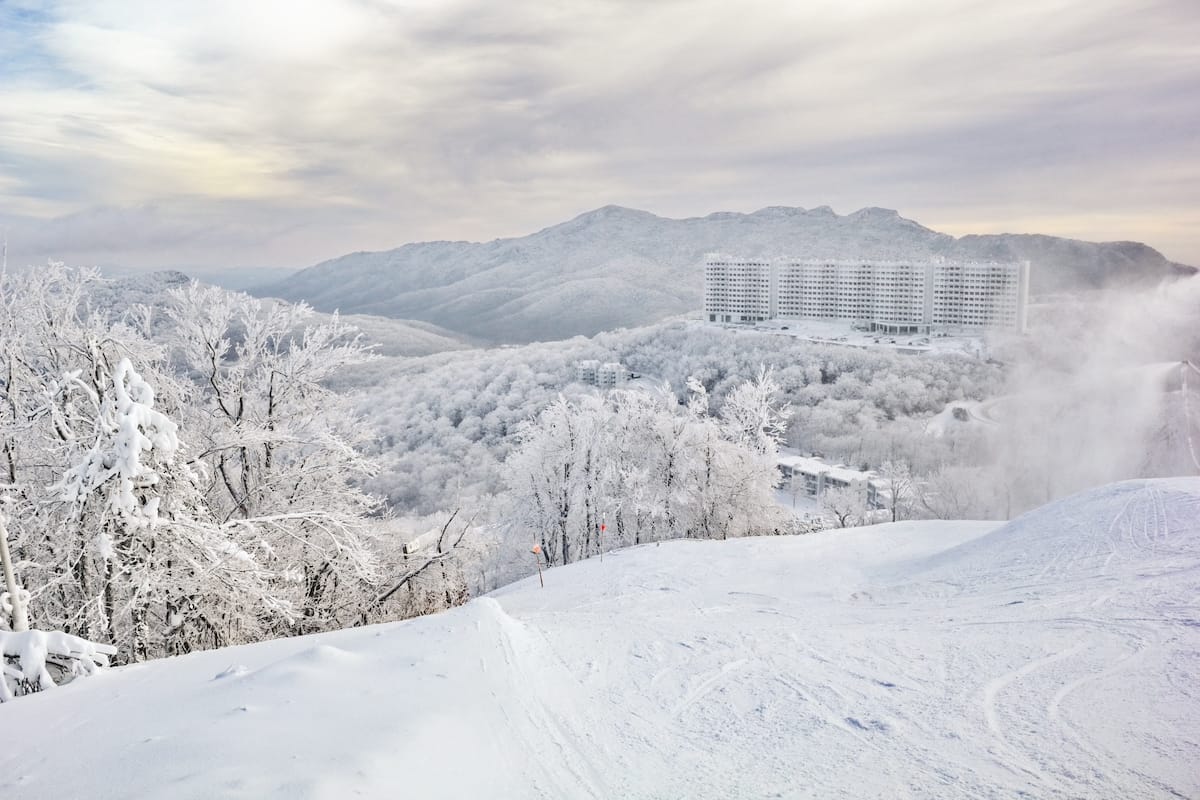 Snowshoe tours are also a favorite for visitors of Sugar Mountain. Those range from easy walks to more effort-requiring ones.
You can also devote some time to hiking and scenic drives here as the views of the white powder combined with the outlooks of the Blue Ridge Mountains is definitely something worth your attention!
Also, note that you shouldn't limit yourself and stay just for the day! An abundance of vacation rentals is available for those who want to stay longer.
You are free to choose from mountaintop condos, secluded log cabins, etc. If you want to distract yourself from snow-related activities and get cozy somewhere, keep in mind that there are rentals and more than 25 restaurants and shops located on-site too.
Consider visiting the resort from the end of November until New Year's Eve to catch some of the most interesting events and festivals taking place here.
Prices for adults for a full day are around $49 US dollars on weekdays and $80 US dollars on weekends and holidays.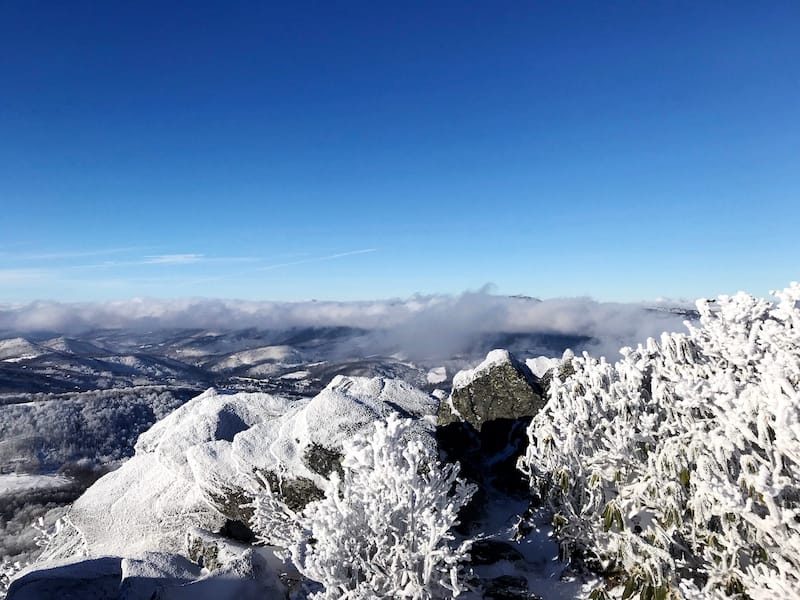 Beech Mountain Resort
Location: Beech Mountain
Website
With a peak elevation of 5,506 feet, Beech Mountain Resort is the highest ski area in the eastern part of the US. On 95 skiable acres served by 8 lifts, it has 17 trails, including a huge terrain park, making it one of the best places for skiing in NC.
One of the best things that can be seen here is the 5506' Skybar, serving food and beverages right on the top of the mountain. Also, check out the Beer Mountain Brewery Co, if you're passionate about drinking beer (with a view, naturally!).
The tubing park, located at the base of the slopes, close to the Resort Village, has some very long tubing runs and is an amazing type of recreation for families visiting. The fee on weekdays is $32 and on weekends/holidays $37.
This particular resort is a great option in case you're traveling with toddlers and kids in general. The reason is that the resort's ski school offers beginner and advanced lessons for both young and old.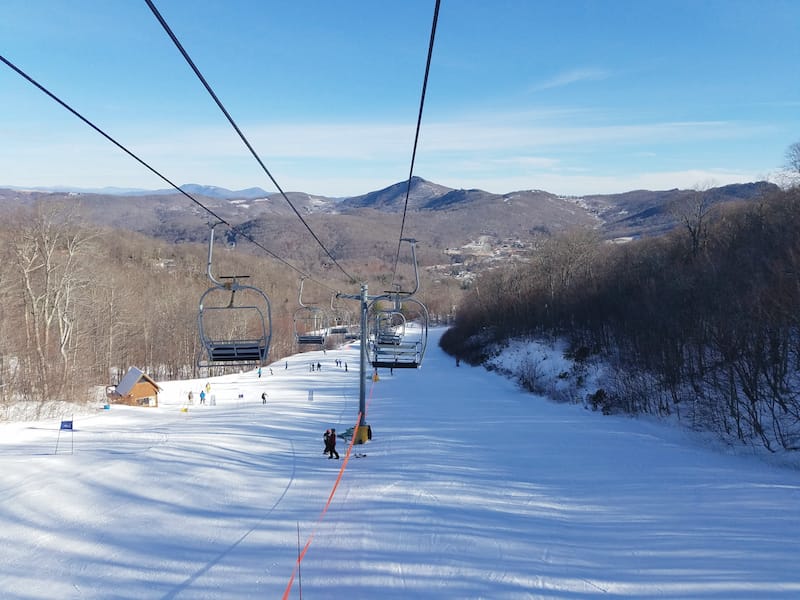 The Snowflakes Program, for example, creates an area for children aged 1 to 5 years old and provides them with snacks, juices, and a big playroom. As places fill up quickly here, it's recommended to make reservations beforehand.
Very recently, the resort improved its snowmaking capacity, added a new town plaza with pathways, several fire pits, as well as ice skating beyond the lodge. So, even if you've been here once, you might want to head back this winter to see what's new!
Depending on whether you're visiting on a weekend or weekday, and on session time (taking a morning half-day or whole day access), the price of entry fluctuates from 24 to 65 US dollars.
You'll find a plethora of accommodation options including 4 Seasons at Beech, White Wolf Lodge, Beech Alpen Inn, Top of the Beech Inn, etc. These are very convenient for groups of more than 15 people.
Wolf Ridge Ski Resort
Location: Mars Hill
Website
Wolf Ridge Ski Resort is another treasure of the Western North Carolina region. It's located 30 minutes north of Asheville in a small town called Mars Hill.
Both beginners and experts will find slopes corresponding to their skiing level. The type of adventures here includes skiing, snowboarding, tubing, whitewater rafting, mountain biking, horseback riding, caving, and hiking.
Spanning over 54 acres of skiable terrain, 100 percent snow-making capability, 15 lighted runs, one double, one quad, and two surface lifts are what you'll find at this NC ski resort.
Snow tubing is a favorite past-time for families visiting the resort! There is one huge slope with a top width of 60 feet, a bottom width of 100 feet, and a length of 350 feet.
As there are no set lanes, tubers can link tubes together to increase the fun and thrill. Note that snacks and drinks are accessible in case you feel hungry while enjoying a day in the snow.
Three fireplaces, a cafeteria, a gift store, a rental shop, and a group sales department are all available at the lodge, all overlooking the slopes.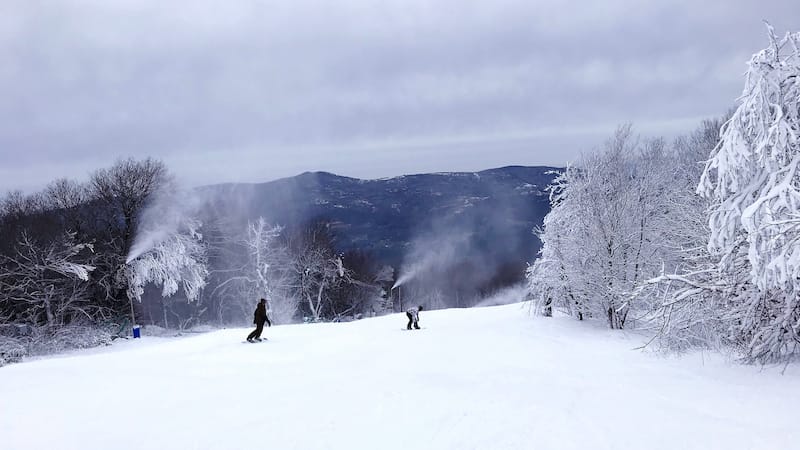 The tickets are separated into types of individual tickets, group tickets (more than 15), and snow tubing tickets. Also, if the visitor wants to have unlimited access, there are season passes too. Individual rates for a half-day pass are set at $34.
The Snow Sports School at Wolf Ridge provides private and group lessons for those who are eager to develop ski and snowboard skills. Check out the details about lessons offered on-site on their website.
Wolf Ridge Ski Resort also offers cabin rentals and nearby hotels to accommodate its guests. At Wolf Laurel Resort (next to Wolf Ridge), Wolf Mountain Realty has dozens of cabins, mountain chalets, and condominiums available for rentals (both short and long term).
Alternatively, you can choose one of the several hotels that are located just about 15 minutes away from the resort. You can ask for assistance at Wolf Mountain to help you find the best North Carolina mountain getaway based on your wants and needs.
Cataloochee Ski Area
Location: Maggie Valley
Website
Located 40 miles from Asheville, in Maggie Valley, Cataloochee Ski Area is often referred to as the best ski resort in North Carolina. It is definitely one of the best winter day trips from Asheville.
Elevations here reach up to 5400 feet, with a vertical drop of 740 feet. The season is just like others in NC, from early November to late March.
Note that all of the trails have light support, making nighttime skiing worth trying.
The Cataloochee experience surely has something for everyone with 18 slopes and trails, including the Cat Cage Terrain Park, 3 aerial lifts and 2 moving carpet lifts, and over 4,000 sets of snowsports equipment.
Tube World is the place to check out if snow tubing is more your thing (especially great for children!). Ride down on groomed slopes and get back to the top of the hill on the moving carpet lift, then tube down again.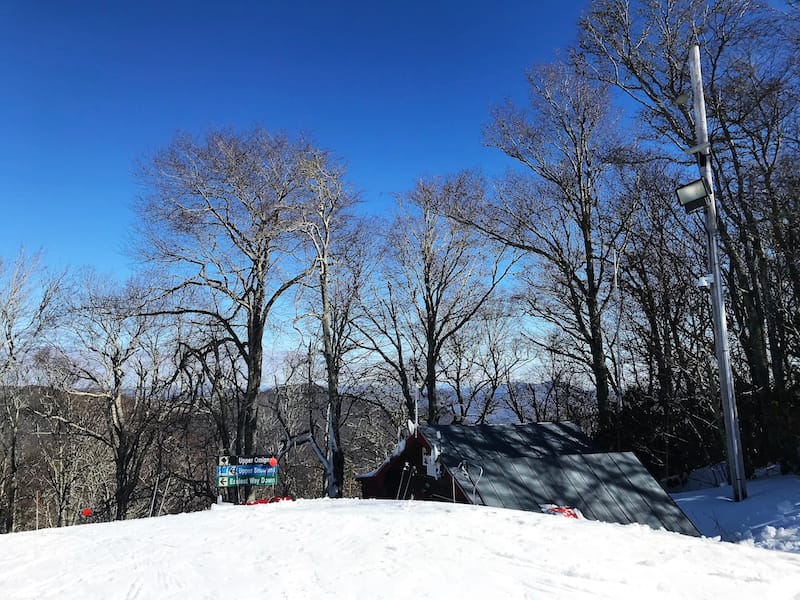 You can save some cash if you decide to visit on weekdays (the fee for tubing on weekdays is $30 and $35 on weekends). The same goes for lift tickets. For adults, the price range is between $35 and $76 US dollars.
Cataloochee prides itself on having a PSIA-AASI Member School, which provides all types of lessons: for those who are new to winter recreational activities and for well-trained veterans.
There are separate one-on-one lessons with trainers and group lessons, where participants with similar skillsets are trained together in a group setting. Children have their own program too, and it's called Cat Trackers. It welcomes children aged from 7 to 12.
You can plan the North Carolina ski vacation of your dreams at Cataloochee as it provides a variety of very comfortable properties in the Maggie Valley / Waynesville area. There are rustic cabins, world-famous hotel chains, etc.
If you're looking for rental equipment, there are over 4,000 sets of ski and snowboard equipment offered, both at the top and down in Maggie Valley, at Cataloochee Ski and Sports.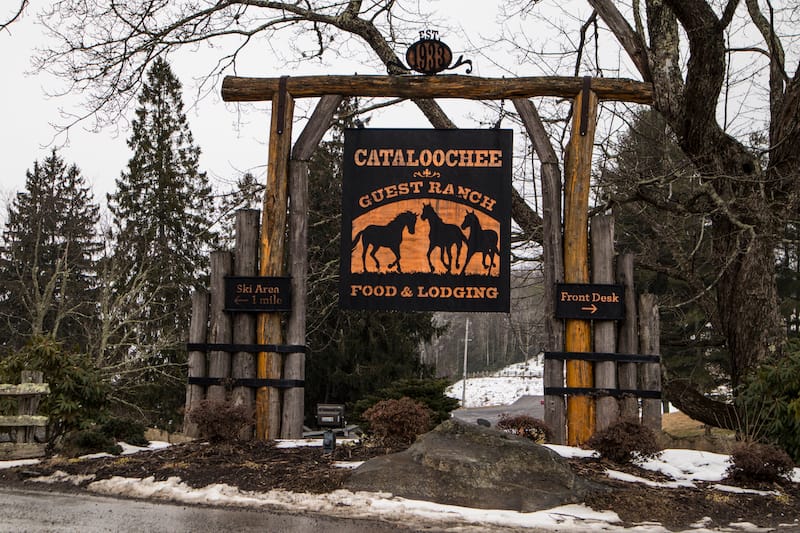 Ski Sapphire Valley
Location: Sapphire
Website
Since its opening in 1964, Ski Sapphire Valley has been the place where family memories have been created for generations!
The winter sports area is located between 964 and 1,005 meters above sea level. There are 0.3 miles of slopes for skiing and snowboarding. The transportation is done by a single lift.
The tubing zone there is famous for the name- Frozen Falls Tube Park. It's a 500 foot run with a 60 feet vertical drop. Tubing sessions take a little more than 1.5 hours. Make sure to arrive early to reserve your place. It's a first-come, first-serve basis.
Ski Sapphire Valley offers skiing and snowboarding lessons for all who are eager to develop their skills further. Lessons take place one hour after opening and run every hour and 15 minutes after that. Kids above age 4 are allowed to participate in group lessons.
Day ticket prices during the main season are around $40 for adults and $23 for children for ski passes. Discounts apply for groups of 10 and more.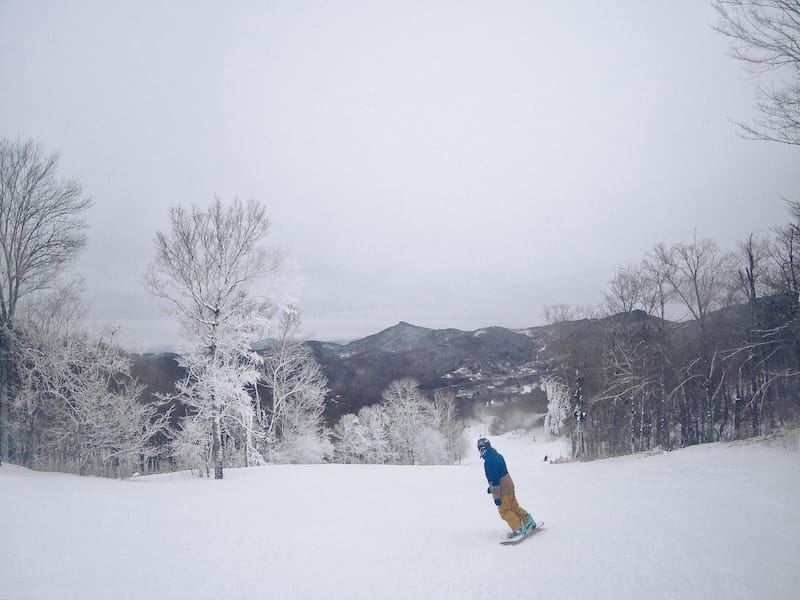 A huge plus of this resort is that it has some really good amenities and things to do beyond just skiing. One of the main things to do there is to enjoy the recreation center with restaurant facilities, indoor pool, hot tubs, saunas, fitness center, mini-golf, movie rentals, etc.
Additionally, the resort has an extra number of amazing vacation rentals if you're looking for a weekend getaway from Charlotte, Asheville, or beyond. There is even a separate website covering them all with complete descriptions to help you find the most appropriate option for you.
Equipment like boots, poles, skis, boards, helmets can be found at the Rental Shop. Typically, Ski Sapphire's opening date is the 2nd weekend of December.
Where is your favorite place to go skiing in North Carolina? Let us know your favorite ski resorts below. Thanks!
More North Carolina Winter Guides
Pin this North Carolina Skiing Guide