Are you heading to North Carolina's Crystal Coast soon and are on the hunt for the best things to do in Emerald Isle NC? This guide is here to help!
Are you planning your trip to Emerald Isle last minute?
If you're traveling to Emerald Isle last minute, you want to ensure you have lodging ahead of time! Below are some of our top picks in town!
Best Hotels in Emerald Isle:
🚗 Looking for the best way to get around NC? Click here to check rental car rates for North Carolina!
We cover some of the top attractions in Emerald Isle NC, from restaurants to water activities and more! We also cover some worthy sights nearby just outside of Emerald Isle.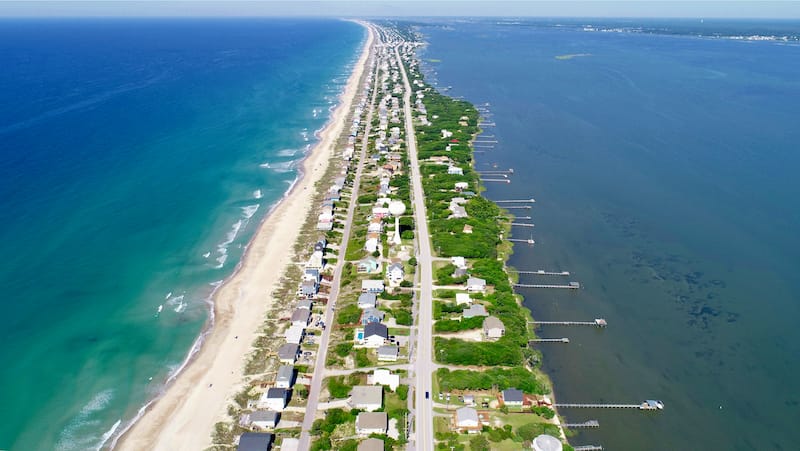 Do you have any tips for what to do in Emerald Isle? Let us know in the comments!
Best Things to do in Emerald Isle NC
Bogue Inlet Fishing Pier
If visiting Emerald Isle is on your bucket list for your next trip to North Carolina, you definitely need to consider doing a little fishing on Bogue Inlet Fishing Pier if you're visiting from March to November (when it is open).
It doesn't matter whether you are a professional fisherman or just an amateur, you will have the opportunity to catch wahoo, king mackerel, sea mullet, and several others!
If fishing isn't your thing, you should still visit the pier! it offers some stellar views and a place to take in the salty smell of the sea.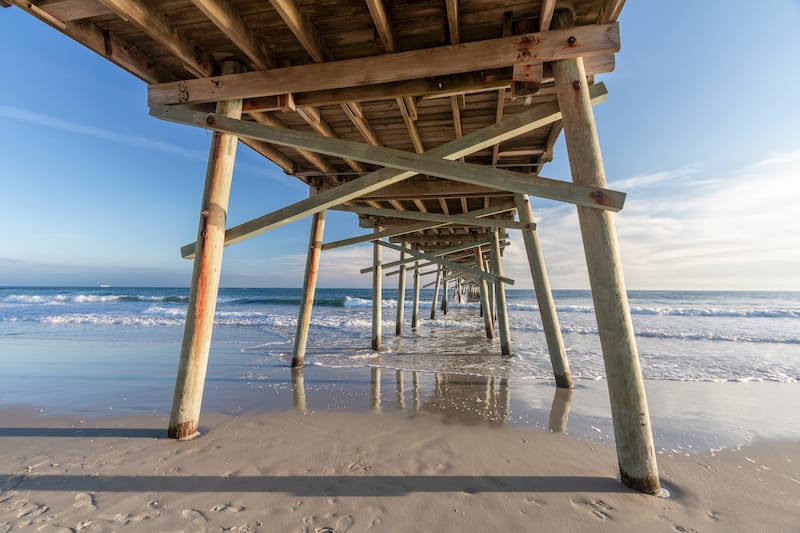 At the nearby pier convenience store, you will find everything you need if you happened to forget any beach toys or accessories. You will also be able to find unique souvenirs and level up your fishing game by replenishing your tacklebox with bait, tackle, nets, hooks, and many other essentials.
You can also enjoy your meal or have a snack at the adjacent Surfs Up Grill and Bar. There is beach parking available.
Address: 100 Bogue Inlet Dr, Emerald Isle, NC 28594
Jet Ski with AB Water Sport
AB Watersports, located in Atlantic Beach, NC, is a great place for those that love the water, and it will ensure you and your loved ones have a safe but thrilling adventure on the Crystal Coast.
Get your daily dose of fun while enjoying the isolated waterways of Crystal Coast with every rental AB Watersports has to offer, including those of jet skis, kayaks, pontoon boats, and paddleboards.
It is also the only rental company to deliver paddleboards and kayaks right to your doorstep!
View this post on Instagram

AB Watersports also offers exciting and educational tours with a guide on Cape Lookout National Seashore's undeveloped beaches with jet skis, during which you can get acquainted with the rich local history and witness breathtaking views of Cape Lookout Lighthouse, one of the most beautiful lighthouses in North Carolina.
Address: 612 Atlantic Beach Causeway, Atlantic Beach, NC
Website: https://www.abwatersport.com/
The Hot Wax Surf Shop
Hot Wax Surf Shop is another must-visit place in Emerald Isle if you are a thrill seeker and water sports junkie. You will find an abundance of the best water sports gear for rent at the shop.
From paddleboards, surfboards, kayaks, bodyboards, and skimmers to swimwear and accessories such as wetsuits, backpacks, rash guards, and more… Hot Wax has it all!
The Emerald Isle surf shop is also a great stop for adventurers since it offers self-guided paddling excursions, surf lessons, and various other tours.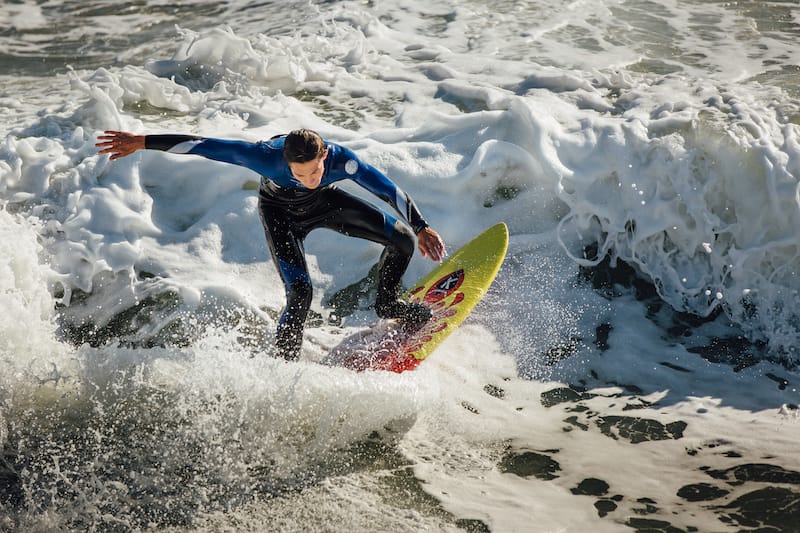 Surf camps with qualified instructors will guarantee an experience regardless of your skill level and they also offer kayaking and paddleboarding eco-tours.
Another alternative is taking a guided kayak fishing tour! Hot Wax Surf Shop is a can't-miss place in Emerald Isle for those looking to do some activities (and a little shopping)!
Address: 200 Mallard Dr, Emerald Isle, NC 28594
Website: https://www.hotwaxsurf.com/
Emerald Isle Beach
Emerald Isle is known to have some of the best scenic family beaches with magnificent Atlantic views. Escape the hustle and bustle of some of the east coast cities and head to the Emerald Isle beaches for an epic vacation.
There are many things to do in Emerald Isle by the beach – you can soak up the sun or even take a lesson (or two) to learn kayaking or paddleboarding in the serene waters of the Bogue Sound.
Emerald Isle, aside from having some of the most gorgeous and sandy beaches in North Carolina, also offers walking and biking trails as well as nature trails to observe the area's wildlife.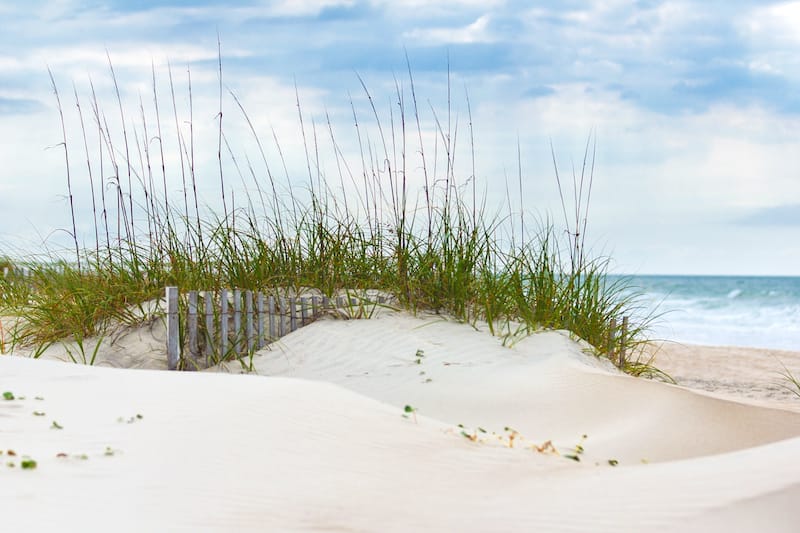 At the very end of the Isle, you will find 'The Point', a tailed-off sandbar, from where you can admire mesmerizing sunsets (and sunrises!) and appreciate the magnificent panoramic views of the Atlantic, Bogue Sound, Bogue Inlet, and Bear Island.
Adjacent, you can visit Bear Island, a part of Hammock Beach State Park, by ferry or a boat and feel the real vibes of an uninhabited island in North Carolina. This is also a perfect day trip from Jacksonville and other nearby cities!
Nearby, you can also find shopping areas featuring locals' artwork of the Crystal Coast and you can choose a souvenir as a reminder of your unforgettable trip. There are also plenty of restaurants around, so getting your fix of food should be an easy feat.
Hammocks Beach State Park
Want to discover one of North Carolina's best-kept secrets? If so, then pay a visit to tranquil Hammock Beach State Park, located on uninhabited Bear Island.
At only 4 miles long, this small island offers visitors gorgeous beaches on the Atlantic coast with a remote and ethereal setting. You can only get there via ferry, boat, or by kayak provided by the park (or you can bring your own)!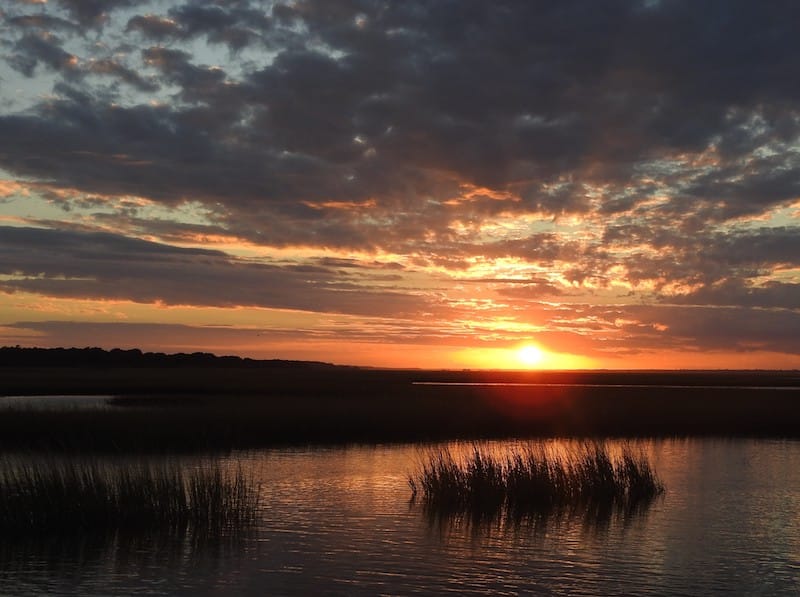 The North Carolina state park is considered a true local gem and it provides a full-service visitor center with a snack bar and bathhouse. It also offers ferry, boat, and kayak services to discover marshlands and untouched maritime forests paddling pathways.
Hammock Beach State Park also offers year-round available camping opportunities near the beaches of Bear Island. There are 14 family and 3 group campsites available there.
Various educational programs and exhibits will get you acquainted with endangered species that inhabit the island and will better inform you about the ecology of the park.
Address: 1572 Hammock Beach Rd, Swansboro, NC 28584
Website: https://www.ncparks.gov/hammocks-beach-state-park/home
Salty Pirate Water Park
Salty Pirate Water Park is steps away from the Emerald Isle beaches and is a great place to have fun with the family and cool off during those hot summer days. It is a family-owned waterpark and a comparably smaller one where you won't feel overwhelmed by its size.
The waterpark has various waterslides with lifeguards and is accessible for everyone from children to adults. It includes three tube slides, toboggan slides with a hilltop geyser, and few wading pools equipped with pirate ships for the little ones.
View this post on Instagram
Nearby, you will also find a cute cafe where you can enjoy snacks or ice cream to recharge before heading back into the water! Due to its awesome location, you will be in close proximity to other sights in Emerald Isle.
Address: 8915 Reed Dr, Emerald Isle, NC 28594
Website: https://saltypiratewaterpark.com/
The Growler Bar in Emerald Isle
If you're a craft beer lover, be sure to stop by The Growler, a bar that specializes in craft beers on draft, wine, and growler filling.
View this post on Instagram
They opened in the summer of 2016 and have been a local favorite ever since! They are open 7 days a week until midnight (2am on weekends) and are an ideal place to enjoy one of their rotating drafts alongside some delicious food.
Address: 200 Mallard Dr, Emerald Isle, NC 28594
Facebook: https://www.facebook.com/TheGrowlerEI/
Fort Macon State Park
Located on the eastern side of Atlantic Beach, Fort Macon State Park is one of the most visited state parks in North Carolina.
At Fort Macon, you can witness the reconstructed and historic Fort Macon, constructed in the 1820s in order to guard Beaufort Inlet. The Fort is a great illustration conveying an authentic feel of the 19th-century and depicting exceptional military architecture.
Inside the state park, you can also observe the Civil War reenactments that are held during the summer months.
The park offers gorgeous nature trails, undisturbed beaches with lifeguards on duty where you can go for a swim or surf fishing, loop trails to explore the coastal habitat, and a parking area.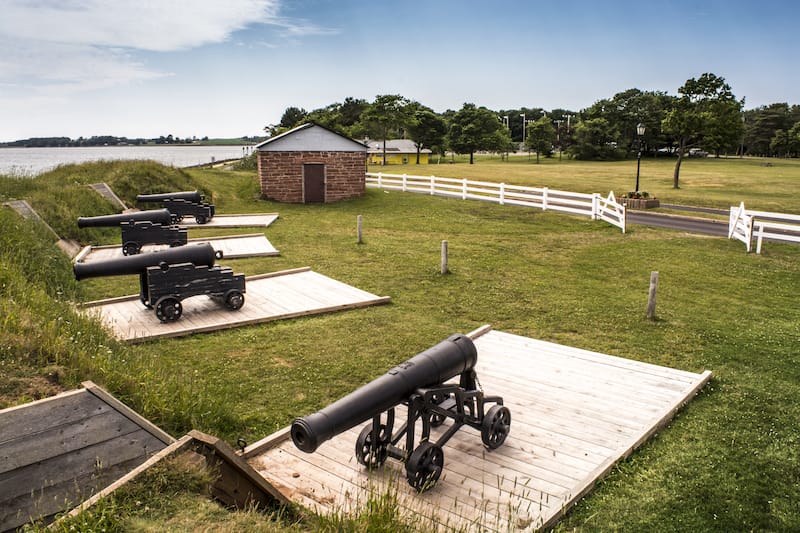 In the neighboring Coastal Education and Visitor Center, you can learn about the unique history of the Fort through various educational programs, guided tours, and exhibits.
Fort Macon State Park also offers a bathhouse, snack bar, and covered picnic area in case you decide to take a rest and hang out with your friends.
Address: 2303 E Fort Macon Rd, Atlantic Beach, NC 28512
Website: https://www.ncparks.gov/fort-macon-state-park/home
The Trading Post – Southern Food & Spirits
Offering great food with southern hospitality, this Emerald Isle restaurant is a fan favorite and serves up some of the best plates in the town!
View this post on Instagram
Established in 2016, The Trading Post has a spacious indoor area alongside an outdoor terrace and they serve southern fare with an eastern NC twist. You will see everything on their menu from fried green tomatoes to seafood and more. But, they are renowned for their fried chicken and shrimp 'n grits… so be sure to consider that for your meal!
They offer breakfast, lunch, and dinner.
Address: 8302 Emerald Drive, Emerald Isle, NC 28594
Website: https://www.thetradingpostei.com/
Emerald Isle Woods Park
Located along Coast Guard Road, Emerald Isle Woods Park is the perfect spot to have an exciting day full of adventures while being surrounded by lush greenery and crystal-clear waters.
This 41-acre park will make you fully seize the day as you enjoy all the activities it has to offer. You can admire the park's wildlife while passing through natural birding trails, gain access to Bogue Sound through kayaking or via the floating dock, explore the park through loop trails, or just stroll and admire the maritime forests while on a walking trail.
The other activity that you should definitely try when visiting Woods Park is the newly installed 9-hole disc golf course, crossing through the maritime forest.
The park is also an excellent place for fishing enthusiasts, as it has a pier on a channel where you can sit and engage in your favorite activity while admiring the relaxing nature.
Address: 9404 Coast Guard Rd, Emerald Isle, NC 28594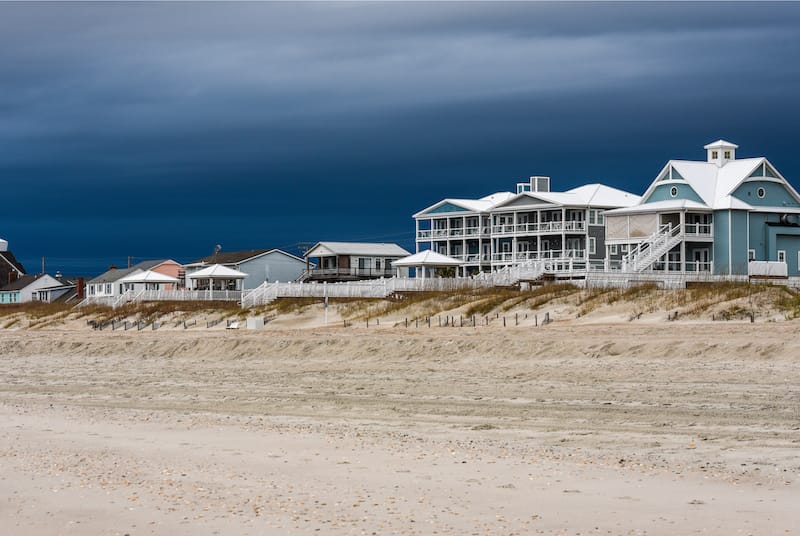 Where to Stay in Emerald Isle
There are plenty of nice hotels and cottages for staying overnight in Emerald Isle. Here are some of our top-rated picks for accommodation in Emerald Isle NC:
We hope that you found this guide of things to do in Emerald Isle NC helpful for planning your trip! If you have any recommendations or additional suggestions, please leave a comment below! Thanks!
More North Carolina Travel Resources
Pin this Emerald Isle Things to Do Guide