Did you know that there are dozens of islands off of North Carolina that are the perfect place for a calm summer getaway? These are the best islands in North Carolina (and what to do on each)!
Best known for its beaches and dreamy mountains to the west, it's definitely worth considering a vacation in North Carolina, particularly to its islands where you are able to get away from the hustle and bustle of your daily life!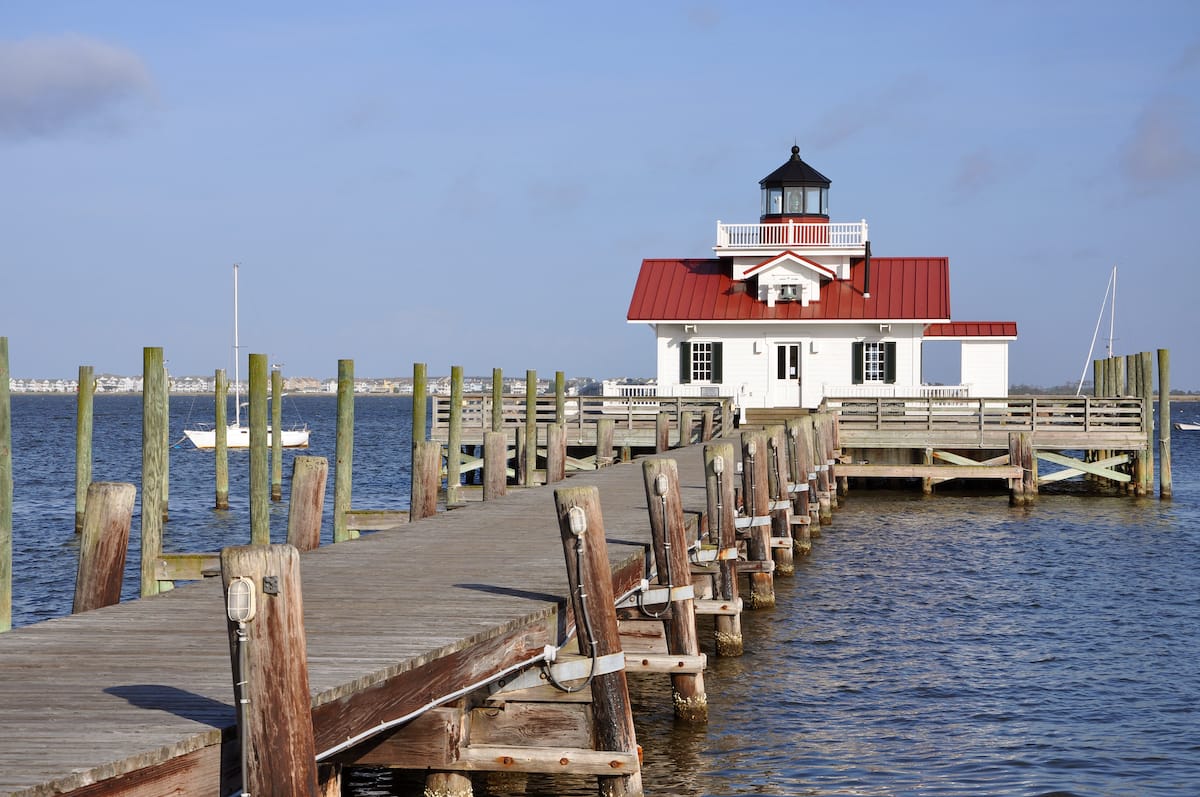 Here, you will be able to get a taste of Southern charm and vast stretches of the Atlantic Ocean.
Best of all, if you enjoy waterfront activities, you will have more than enough to do while there.
In this article, we've compiled a list of all the different islands in North Carolina that you definitely should check out. Did we miss any amazing North Carolina islands? Let us know in the comments!
Best Islands in North Carolina
Roanoke Island
Nestled between the North Carolina mainland and Nags Head, Roanoke Island, home to the towns of Wanchese and Manteo, is an eight-mile hidden gem on the Outer Banks.
Named after the historical Roanoke, Carolina Algonquian people who lived there in the 16th century at the time of English colonization, this small island is accessible from the mainland via the Virginia Dare, William B. Umstead, and Washington Baum Bridges.
History buffs shouldn't miss visiting the Fort Raleigh National Historic Site to explore Roanoke Island's rich past.
Then head to the 25-acre Roanoke Island Festival Park to get a glimpse at what life was like for those original colonists through interactive exhibits and festivals.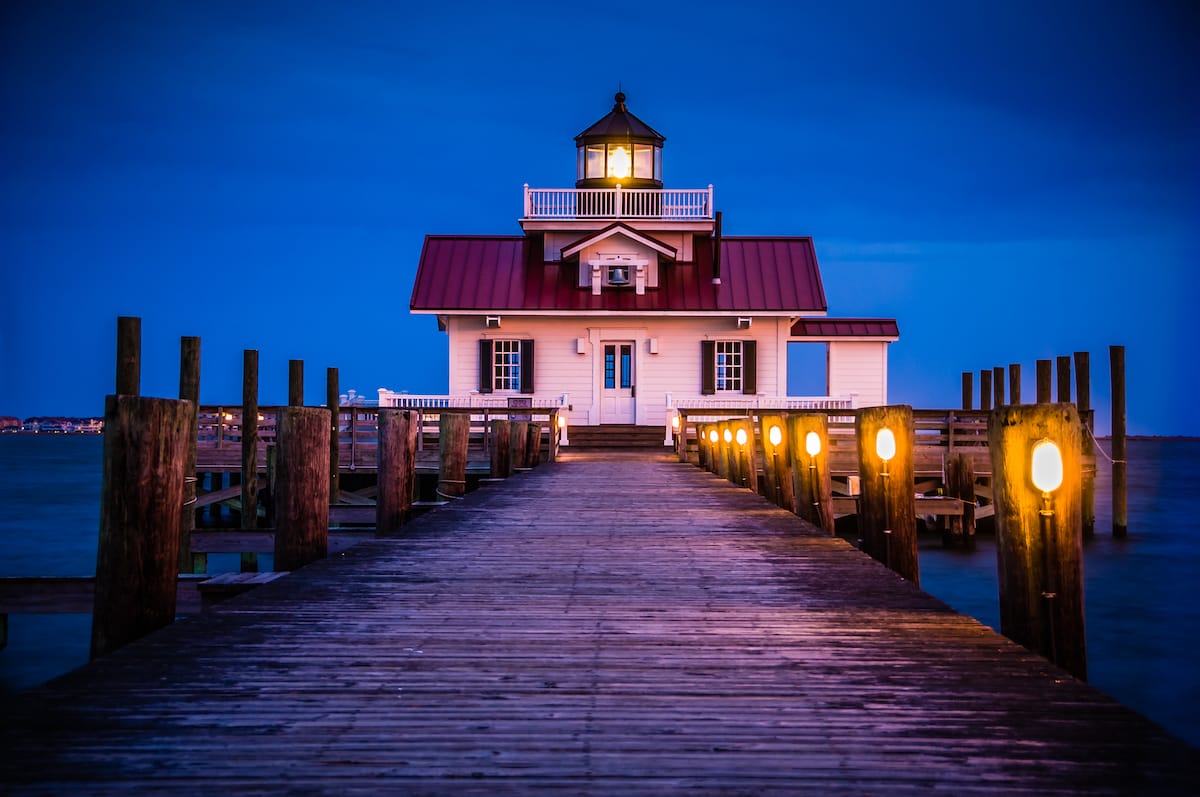 Next, you can check out stunning Elizabethan Gardens, a 10-acre botanical garden featuring a statue devoted to Virginia Dare and acres of well-manicured paths packed with breathtaking plants, trees, bushes, and flowers.
Climb aboard the Elizabeth II, a full-scale replica of the ships that first transported the original colonists; catch the longest-running outdoor drama, The Lost Colony, ​​which runs throughout summer; visit Roanoke Island Maritime Museum to admire exhibits of unique boats; travel back in time to the mid-1800s at Island Farm living-history museum; and don't forget to check out the gorgeous Roanoke Marshes Lighthouse.
Ocracoke Island
Being one of three islands that comprise the Cape Hatteras National Seashore, Ocracoke Island offers the perfect getaway for those who are in search of miles of unspoiled, pristine beaches and some breathtaking sunsets.
This 16-mile-long barrier island in North Carolina, home to Ocracoke village, is accessible only by one of three ferry routes, private plane, or private boat.
The main highlight of Ocracoke Island is certainly miles of uncrowded and undeveloped beaches.
Here you can try kayaking, surfboarding, SUPing, wave running, parasailing, fishing, and even clam digging.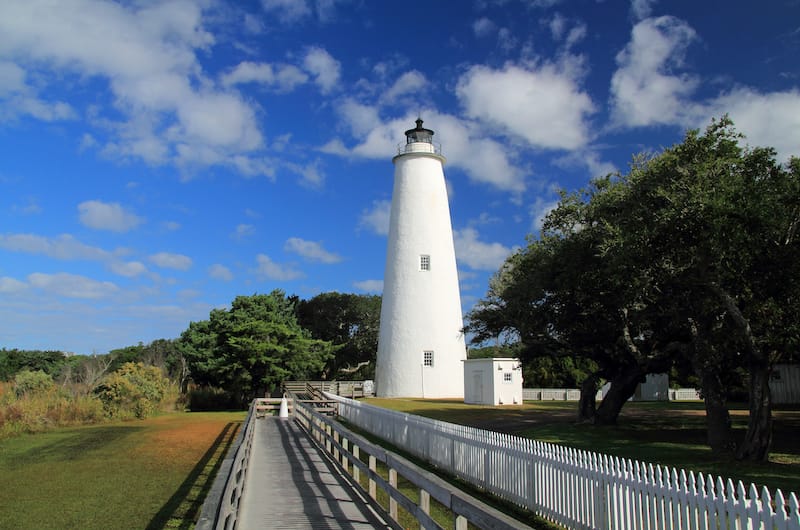 Ocracoke's wildlife attractions deserve special attention, so make sure to visit 188-acre Ocracoke Pony Pens to admire wild Banker ponies, which are descendants of Spanish mustangs believed to have arrived with shipwrecked explorers in the 16th or 17th century.
Springer's Point Nature Preserve is another great place to reconnect with nature as it features a 0.8-mile nature trail that will take you through a maritime forest, salt marshes, and wet grasslands.
Nearby you can find the historic 65-feet-tall Ocracoke Lighthouse, which is North Carolina's oldest lighthouse in operation and the second oldest in the United States.
Check out Teach's Hole Blackbeard Exhibit and Pirate Store for some pirate history, hike Hammock Hills Nature Trail for an up-close experience with diverse flora and fauna, visit the British Cemetery, soak up the sun at Pamlico Sound beach, take a ghost tour and explore the eclectic shopping and dining scene.
Topsail Island
Located about 40 miles northeast of Wilmington, Topsail Island is a 26-mile-long barrier island home to three quaint seaside towns: North Topsail Beach, Surf City, and Topsail Beach, and a number of restaurants and gift shops.
Legend has it that pirates used to hide their boats in the water between the mainland and the island, waiting for ships to approach them so they could take control of the ship and steal their cargo.
It made other ships watch for the tips of the pirate ship's "top sail" when approaching, which gave the island its name.
Everyone comes to Topsail Island to enjoy the #1 attraction: beach without crowds.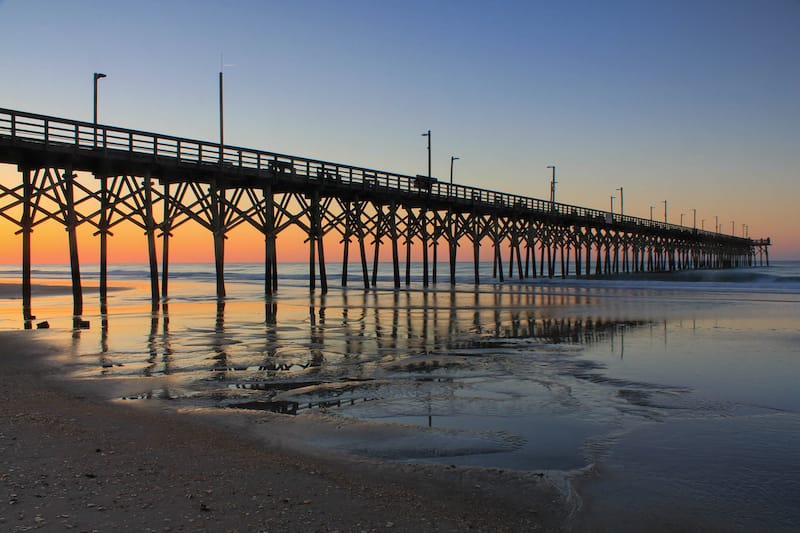 If you are traveling with the family, you will certainly enjoy Soundside Park, Topsail Island Skating Rink, and the Patio Playground putt-putt course.
Visiting Surf City Ocean Pier is a must while in Surf City, as it allows you to take in stunning views of the beach and undoubtedly bet on your next great catch.
Learn about the island's history during WWII at the Missiles and More Museum, go paddling or boating in the Intracoastal Waterway, set up your chair at Serenity Point to catch a mesmerizing sunset, fish off the Jolly Roger Pier, and see the turtles at the Karen Beasley Sea Turtle Rescue and Rehabilitation Center.
Cedar Island
Sitting on the edge of North Carolina and serving as a midway point between the Outer Banks and the Crystal Coast, Cedar Island is a small coastal community.
With more than half of the island being part of the Cedar Island National Wildlife Refuge, where you can expect a wide variety of activities for nature lovers.
Featuring a number of waterfront vacation rental homes and campgrounds just a stone's throw away, 30-mile wide Pamlico Sound is the perfect place for families to go swimming and beaching.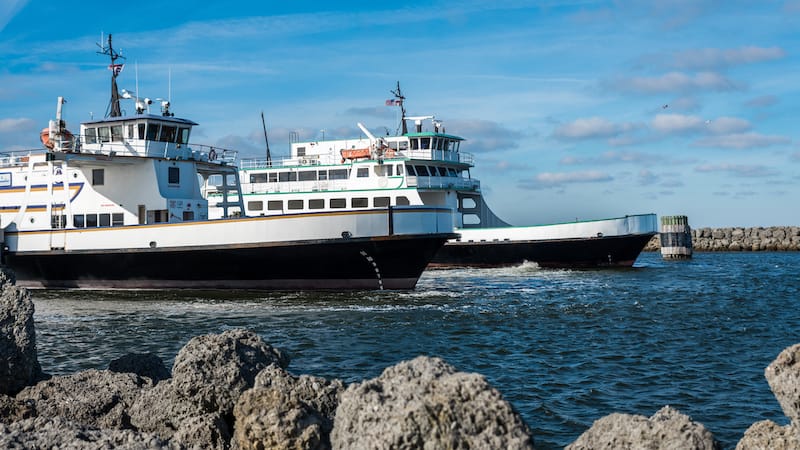 Cedar Island Resort should be your go-to option if you are traveling with the whole family. Whether you are a seasoned angler or a first-timer, you should definitely try fishing on Cedar Island.
Other outdoor activities include bird watching, wildlife observation, hiking, biking, kayaking, boating, etc.
Take a scenic drive along 138-mile Outer Banks Scenic Byway, enjoy horseback riding along the untouched Southern Outer Banks shoreline with Outer Banks Riding Stables or explore the unique culture and geography of Outer Banks' Down East region in the Core Sound Waterfowl Museum.
Anyone who enjoys swimming, surfing, shelling, fishing, and other outdoor adventures should take the Cedar Island Ferry to nearby Cape Lookout National Seashore, Cape Hatteras National Seashore, or quaint Ocracoke Island.
Knotts Island
Knotts Island is a remote island encompassed by the Currituck Sound, North Landing River, Back Bay, and Knotts Island Bay.
Nestled just south of the Virginia border, the island is only accessible by ferry, which makes it a real secluded paradise.
Knotts Island is home to the 9,503-acre Mackay Island National Wildlife Refuge, which features a wide array of wildlife species.
Go hiking the Charles Kuralt Trail, which will take you through tidal freshwater marshes and pine flatwoods so you can get up close and personal with some of the local inhabitants.
Another great way to enjoy nature is visiting Currituck Banks Reserve to explore maritime forests, sand dunes, and beaches and climb to the top of Currituck Beach Lighthouse.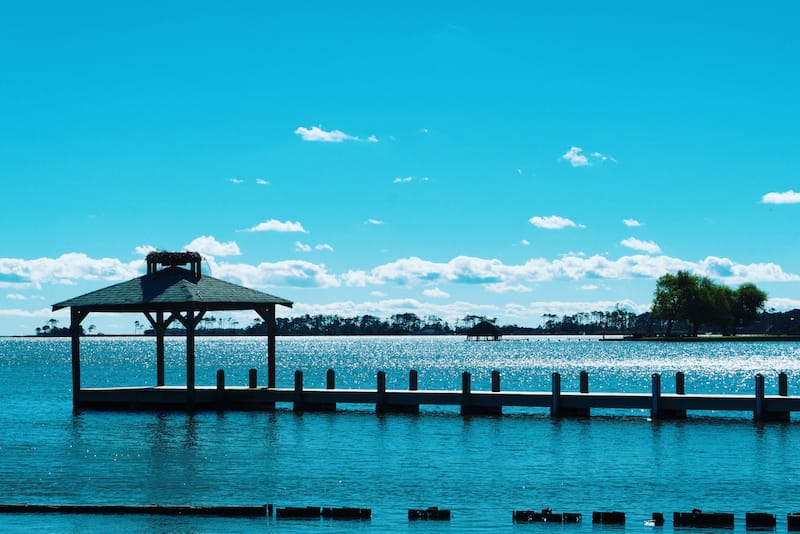 Go camping at Sandy Point Rest Campground overlooking the Currituck Sound, enjoy bird watching at the Charles Kuralt and fishing along the Marsh Causeway, and take part in private seasonal equestrian lessons at Willowgait Farm.
If those types of outdoor adventures aren't your cup of tea, instead, you can take a drive on Marsh Causeway, get the real taste of the island's fresh produce at Knotts Island Market, savor delicious fruit wines and pick your own apples and peaches at Martin Farm and Winery, and get an inside look into the Knotts Island history by visiting the Flyway Lodge, which once hosted Winston Churchill, President Dwight Eisenhower, and Nelson Rockefeller.
Hatteras Island
Featuring seven villages, two lighthouses and serving as the primary site of the 72-mile Cape Hatteras National Seashore, Hatteras Island is the largest island within the Outer Banks region.
Miles-long stretches of beach without any houses and hotels make Hatteras Island a thrilling watersports haven, where you can try surfing, kiteboarding, windsurfing, kayaking, bodyboarding, and more.
Take a ride along The Outer Banks National Scenic Byway to discover pristine beaches, enjoy miles of outdoor trails, and experience a diverse shopping and dining scene.
Chicamacomico Lifesaving Station, Graveyard of the Atlantic Museum, and Herbert C. Bonner Bridge are some of Byway's highlights.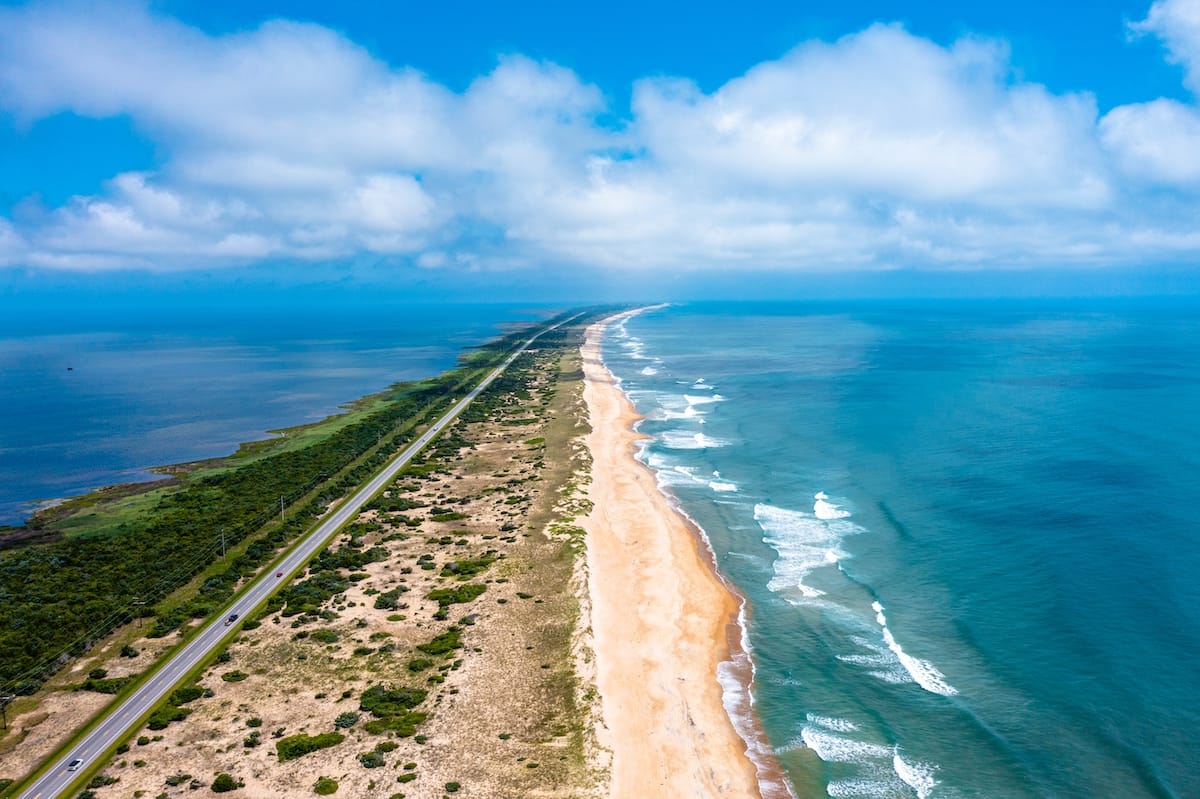 Hatteras Island Ocean Center is another must-visit place, as it offers educational activities for people of all ages.
Visit Pea Island National Wildlife Refuge to marvel at all sorts of unique creatures, launch your own boat from the Oregon Inlet Fishing Center, enjoy lunch at Good Winds Restaurant, stop by the Rodanthe Fishing Pier or the Avalon Fishing Pier and dig deep into the area's Native American history in Frisco Native American Museum & Natural History Center.
Adventure lovers can hike Buxton Woods Trail, and climb the Bodie Island Lighthouse and Cape Hatteras Lighthouse (the tallest brick lighthouse in the United States) guarding the Cape Hatteras National Seashore and explore the Cape Hatteras National Seashore on a guided horseback tour with Kitty Hawk Kites.
Bald Head Island
Nestled at the tip of Cape Fear in Brunswick County near Wilmington, Bald Head Island is a 12,000-acre slice of paradise.
Whether you are a history buff or not, taking part in the Old Baldy historical island tour is a must to get around the island, and climb Old Baldy lighthouse (North Carolina's oldest standing lighthouse, built in 1817), and explore the Keeper's Cottage.
Just climb to the top of the lighthouse, and you will be mesmerized by the views of Cape Fear River below.
Then you can head to Smith Island Museum to get a glimpse into the island's rich past. Cruise around the island with Riverside Adventure Co, appreciate Bald Head Island's 14 miles of gorgeous beaches, hike the M. Kent Mitchell Nature Trail, or immerse yourself in the island's ecosystem at Bald Head Island Conservancy.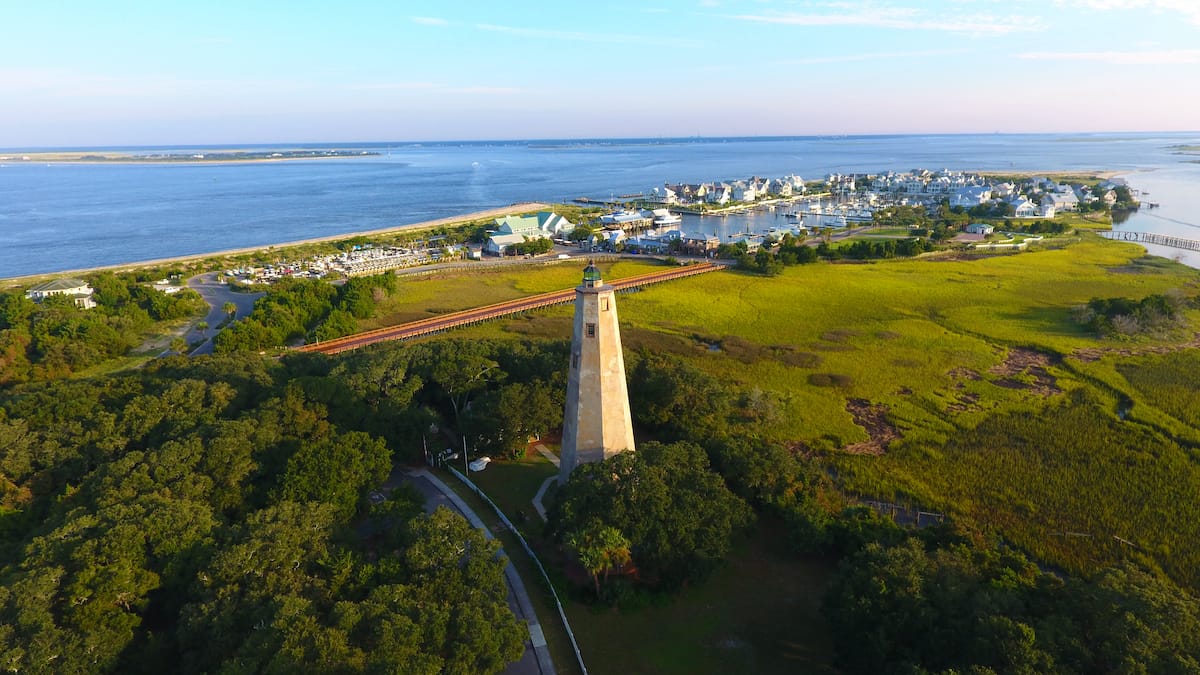 After a full day exploring the island and its beaches, it's time to reward yourself with a delicious treat at Delphina Cantina or satisfy your sweet tooth at Nye's Ice Cream.
Before leaving, relax and rejuvenate at Island Retreat Spa and Salon, play a good round of golf at the Bald Head Island Golf Club, and discover the Island's spooky side through Sail Shop's Ghost Walk.
Harkers Island
Home to the Cape Lookout National Seashore Visitor Center and the Core Sound Waterfowl and History Museum, Harkers Island is another mecca for beachgoers just 30 miles away from Emerald Isle.
Here you can spend the whole day shelling, fishing, swimming, and crabbing.
First, stop by Harkers Island Visitor Center to get all the sights of the island, check out the kid's corner and browse the gift shop.
Hop aboard a ferry from Harkers Island to the Cape Fear National Seashore to enjoy a 30-45 minute boat ride, and marvel at the distinctive black and white diamond patterned Cape Lookout Lighthouse.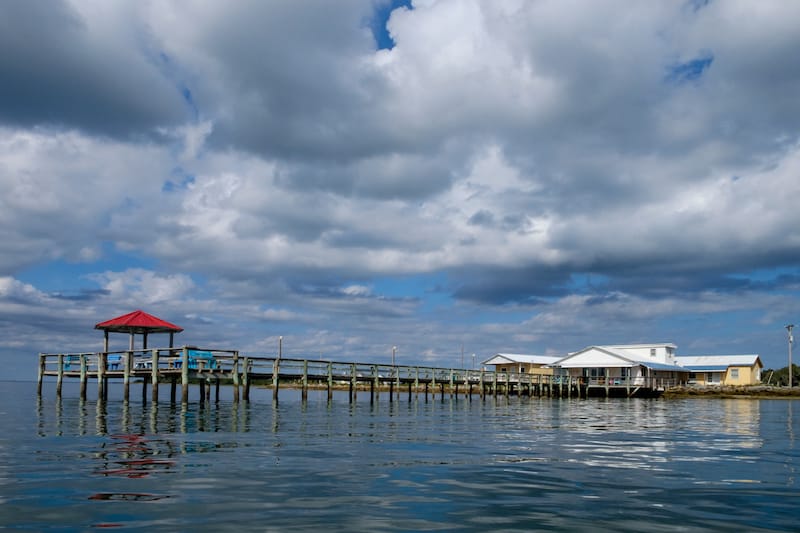 You can even plan your visit during the winter months to take part in the annual Core Sound Waterfowl Weekend & Decoy Festival in December or experience the Taste of Core Sound event in February.
Step back in time at Cape Lookout Village Historic District, learn more about the region's distinctive boat building and decoy crafting at Core Sound Waterfowl Museum, explore the maritime forest by hiking the Willow Pond Trail, or admire the wild horses that have roamed the barrier islands for many years along Shackleford Banks.
After exploring the island, head to Captain's Choice or Sea Side Galley to savor fresh local seafood.
Pea Island National Wildlife Refuge
Established in 1938, Pea Island National Wildlife Refuge is a 6,000-acre haven for more than 360 species of birds, and endangered and threatened animals like American oystercatchers, and loggerhead sea turtles.
Stretching over 13 miles along Cape Hatteras National Seashore, the refuge features a beach, dunes, brackish ponds, and marshes.
This birder hotspot provides a safe place for snow geese, various duck species, sanderlings, terns, egrets, herons, osprey, peregrine falcons, and neotropical migrants.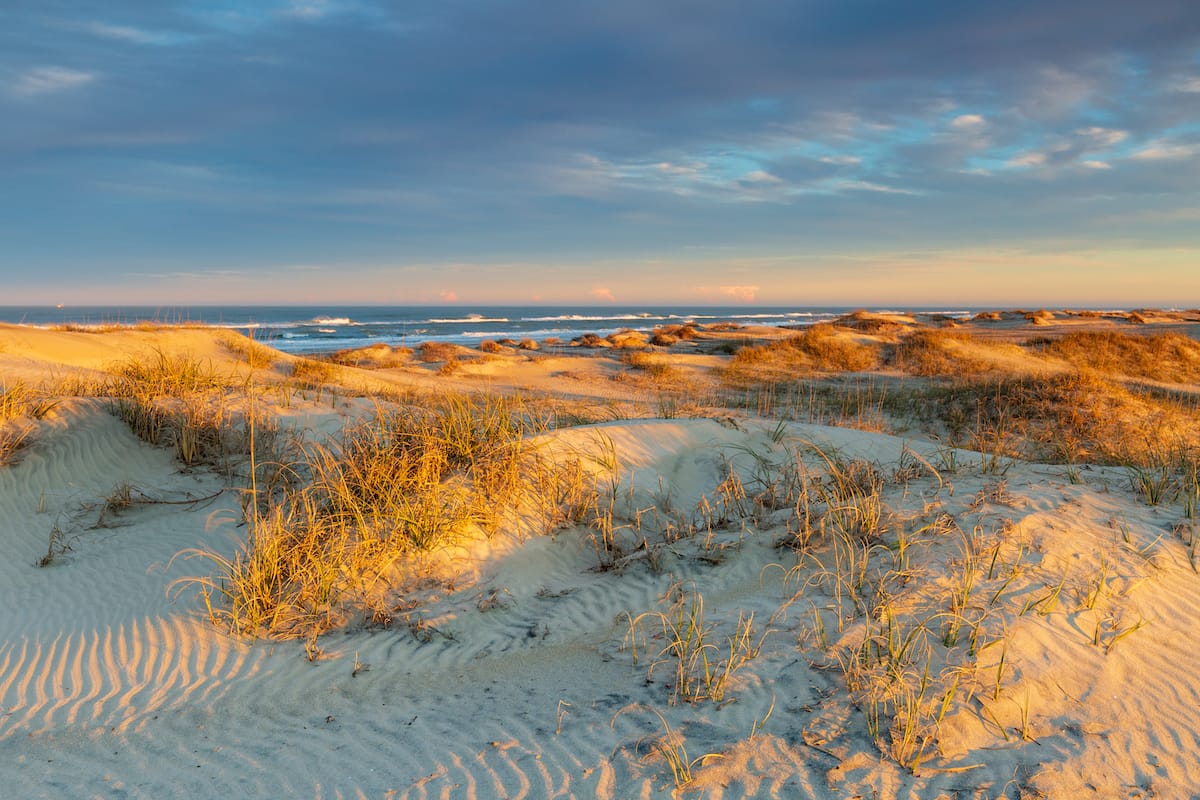 To explore Pea Island National Wildlife Refuge from another perspective, visit the Visitor Center, nestled on the north end of Hatteras Island on Highway NC 12, which is packed with interactive and hands-on exhibits, restroom facilities, and observation deck, and several trailheads.
Reconnect with your natural surroundings by hiking Pea Island's two short, universally accessible wildlife trails.
The North Pond Wildlife Trail is a half-mile trail near the Visitor's Center that offers spectacular views along the way, while the Salt Flats Wildlife Trail is a slightly shorter trail near the Oregon Inlet that leads to a scenic overlook stand.
The Refuge also hosts a number of seasonal educational programs and not-to-miss events, including a guided Pea Island Beach Walk, the annual Crabbing Rodeo, and the Wings Over Water festival.
Bodie Island
Being the northernmost region of the Cape Hatteras National Seashore, Bodie Island is a peninsula stretching from the southern tip at the Oregon Inlet into Virginia Beach, VA.
Once it was a true island, however, after the closure of Roanoke Inlet in 1811, the Currituck Banks and Bodie Island joined together at the Nags Head area and became one contiguous peninsula.
Bodie Island's main highlights are the black and white striped Bodie Island Light, built in 1872, and Currituck Beach Light, built in 1875.
Complete your fishing gear and head to casting your line standing on a fishing pier in South Nags Head; go swimming, boating, kayaking, and sunbathing at one of the sandy beaches within the Cape Hatteras National Seashore; and camping in the National Park Service-managed Oregon Inlet Campground.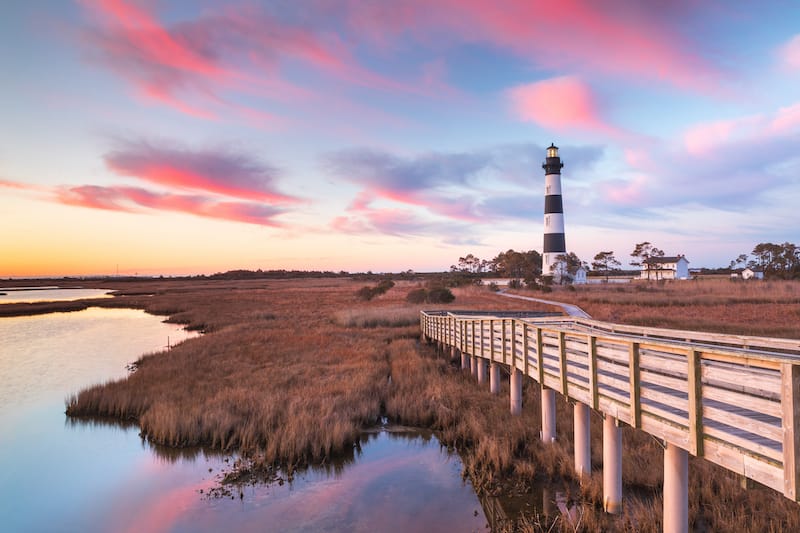 The 10-mile island is home to Oregon Inlet Fishing Center, one of the largest, most modern fishing centers on the Outer Banks, which offers a full-service marina and some of the area's best inshore and offshore charter fishing opportunities.
Additional area points of interest include the Wright Brothers Memorial in Kill Devil Hills, commemorating the first power flights of Wilbur and Orville Wright, and Jockey's Ridge, the tallest sand dune on the East Coast.
You will also find some of the best beaches in the Outer Banks nearby!
Portsmouth Island
Once the largest settlement on the Outer Banks in 1753, Portsmouth Island draws visitors with its unlimited camping options, Civil War history, incredible fishing, and some of the best shelling on the East Coast.
Located just south of Ocracoke Island and far from the developed world, the Island's thirteen miles of pristine beach is the perfect palace for beachcombing, shelling, fishing, and simply soaking up the sun.
The centerpiece Portsmouth Village is often referred to as a ghost town, as devastating storms and Civil War made Portsmouth Island an isolated and uninhabited place.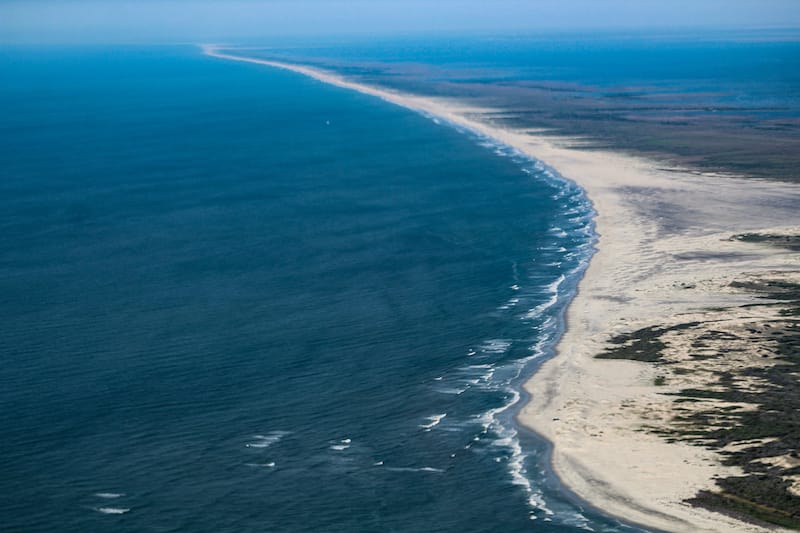 Here visitors can get a glimpse of what life was like back in the 18th or 19th century by touring the Methodist Church, U.S. Life Saving Station, The Portsmouth Village School, U.S. Post Office, and General Store.
Entering the buildings, admiring the interior, and witnessing the former villagers' belongings, you can certainly feel like time has stopped there.
Those interested in exploring the Portsmouth Village's rich heritage should pop over to Theodore & Annie Salter House and Visitor Center, which is a restored house packed with various exhibits.
Lea-Hutaff Island
The 5,641-acre Lea-Hutaff Island is one of North Carolina's last privately-owned undeveloped barrier islands nestled north of Wilmington, between Figure Eight Island and Topsail Island.
Once two separate land formations, Lea and Hutaff Islands were joined in 1998 after the closure of Old Topsail Inlet or Elmore's Inlet.
Accessible only by boat, the island is a pristine habitat for birds and many other animal and plant species.
Being this isolated means you will have deserted beaches, migrating shoals, and expansive marshes all to yourself to explore.
In this 4-mile birdwatchers oasis, you can admire colonial water birds like pelicans, egrets, herons, terns, avian visitors like black-billed plovers, American oystercatchers, greater yellowlegs, willets, sanderlings, to name just a few.
The sanctuary partners with the North Carolina Coastal Land Trust, the U.S. Fish, and Wildlife Service, and the North Carolina State to preserve this peaceful haven for birds, turtles, and other wildlife frequently threatened by habitat loss.
Shackleford Banks
If you are after adventures, surfing, fishing, and simply a laid-back beach cation, then you need to add the Shackleford Banks to your bucket list.
This 8.5-mile island is the southeasternmost region of the Cape Lookout National Seashore, bordered by the Back Sound, the Atlantic Ocean, Beaufort Inlet, and Barden Inlet.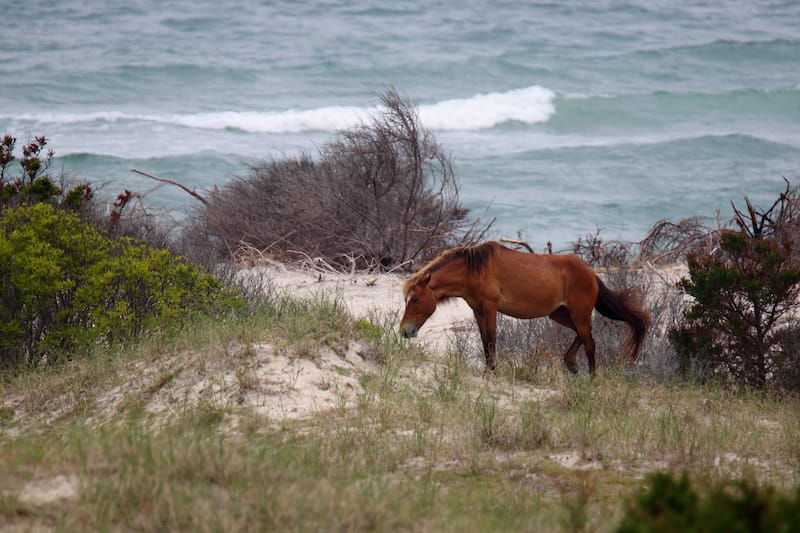 Venture out by boat or passenger ferry provided by Island Express Ferry Service to explore the picturesque and undeveloped barrier island shoreline, enjoy a wide range of sunny beach activities and appreciate Shackleford horses, or "Banker ponies," which are thought to be descendants of Spanish mustangs that survived a shipwreck back in the late 1500s.
Seasoned kayakers can even kayak to the island. It is one of the best places to visit near Beaufort.
Shackleford Banks is a renowned shelling destination, where you can find a huge variety of seashells, such as scotch bonnets, moon sails, colorful scallops, augers, and olive shells.
A wealth of watersports throughout the coastline await water junkies who can show off their skills of kayaking, surfing, and other watersports on sound waters.
Other activities on the island include birdwatching, fishing, boating, wildlife watching, etc.
Bird Island
Being more than 1,200 acres of nature lovers' paradise, Bird Island is one of 10 sites that make up the North Carolina Coastal Reserve & National Estuarine Research Reserve.
As the name suggests, this undisturbed stretch of land is home to Wood Stork, American Oystercatcher, Horned Grebe, Black Skimmer, Reddish Egret, Painted Bunting, etc.
Here you can experience the history, learn about sand dune wildlife, and admire many species listed as threatened by the federal and state governments.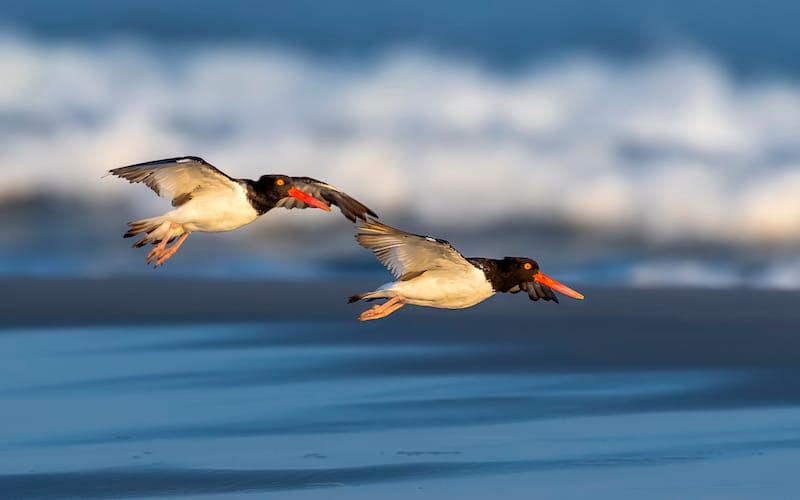 While walking through maritime grassland, salt marsh, meandering creeks, and dune beach ecosystems, you can also keep your eyes peeled for unique flora, including sea oats, prickly pear cactus, goldenrod, salt meadow cordgrass, pennywort, and beach morning glory.
Located between the town of Sunset Beach and the Little River Inlet in South Carolina, you can get there by boat at the Little River Inlet or on foot from Sunset Beach.
The latter offers parking at Main Street and the 40th Street Boardwalk.
Toss a line just off the island, and you can certainly bet on catching redfish, hogchokers, grouper, sea bass, and many more.
Kindred Spirit Mailbox is another must-visit local attraction where you can leave your own thoughts, hopes, and dreams in blank notebooks or read those left by others.
Oak Island
Home to the towns of Oak Island and Caswell Beach, Oak Island is a 13 miles long barrier island in Brunswick County, in the southern part of North Carolina.
Among the islands' top attractions are definitely beautiful beaches with more than 60 public beach access points.
Conveniently situated beside the beach, you can admire Oak Island Lighthouse, the state's most recent lighthouse, built in 1958.
Unleash your competitive spirit at Oak Island Golf Club in Caswell Beach, go fishing with NautiGirl Charters or Fugitive Fishing Charters, paddle from Tidalwaves Kayak & Canoe Launch, and enjoy delicious seafood, steak, or tacos at Island Way or Koko Cabana.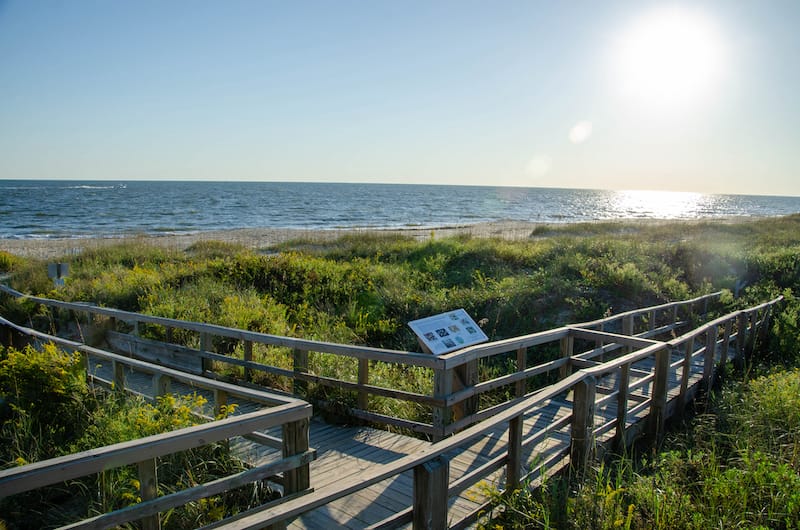 Come try your luck at catching king mackerel from 880-feet-long Oak Island Pier, the state's tallest pier, or 893-feet-long Ocean Crest Pier, voted as the state's top fishing pier.
Popular family attractions on the Island are the Oak Island Nature Center and the Ocean Education Center for learning about native flora and fauna through a variety of exhibits and Oak Island Skate Park for perfecting your skills on inline skates, bikes, and skateboards.
Make sure not to miss annual events organized throughout the year, such as Oak Island Jungle Golf, Earth Day Festival, Farmers' & Artisans' Market, Christmas by the Sea Parade, etc.
Masonboro Island
Nestled just five miles south of Wilmington, NC, Masonboro Island is the largest undisturbed barrier island stretching 8.4 miles along the southern section of the North Carolina coast.
This pristine paradise is surrounded by the Atlantic Ocean, the Atlantic Intracoastal Waterway, Masonboro Inlet, and Carolina Beach Inlet.
Masonboro Island Reserve protects coastal habitats for long-term research, education, and stewardship, where you can explore the barrier island, salt marsh, sand dunes, shrub vegetation, and tidal creek ecosystems.
The Island can only be reached by boat, kayak, or canoe. Near Wrightsville Beach and Carolina Beach, you can find public and private boat ramps as well as private ferry services to the Reserve.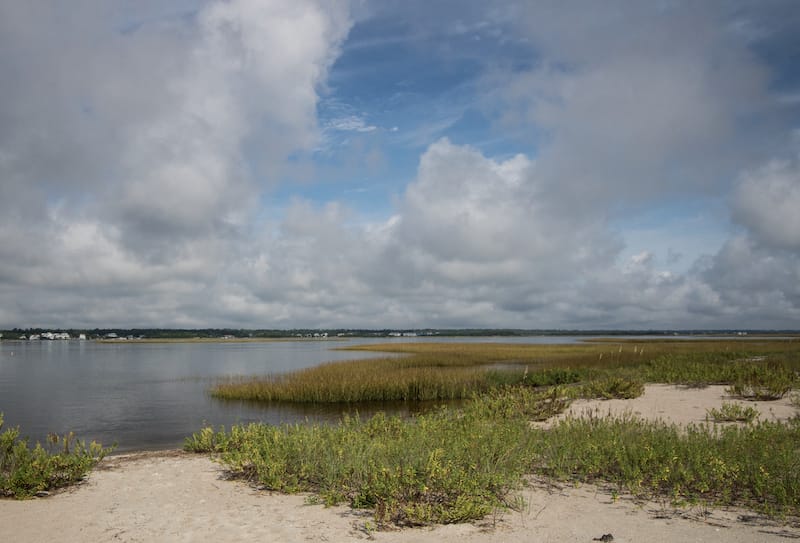 5,563 acres of land is visited by several different varieties of coastal and migrating birds, fish, invertebrates, and threatened loggerhead sea turtles.
If you're lucky, you could spot raccoons, opossums, marsh rabbits, red foxes, white-tailed deer, cotton mice, and even dolphins. Overnight camping is permitted at several sites throughout the island in case you want to stay longer than a day trip.
Emerald Isle
The last island on this list offers 12 miles of pristine shoreline and mesmerizing views of the Atlantic Ocean and Bogue Inlet.
Emerald Isle, also known as Bogue Banks Island, is home to beach towns of Emerald Isle, Indian Beach, Pine Knoll Shores, and Atlantic Beach.
Enjoy fishing from Bogue Inlet Fishing Pier, and get your daily dose of adrenaline while jet skiing, kayaking, pontoon boating, and paddleboarding with A.B. Water Sport, have a full day of sandy fun at some of the most breathtaking beaches in N.C. and get wet and wild at Salty Pirate Water Park.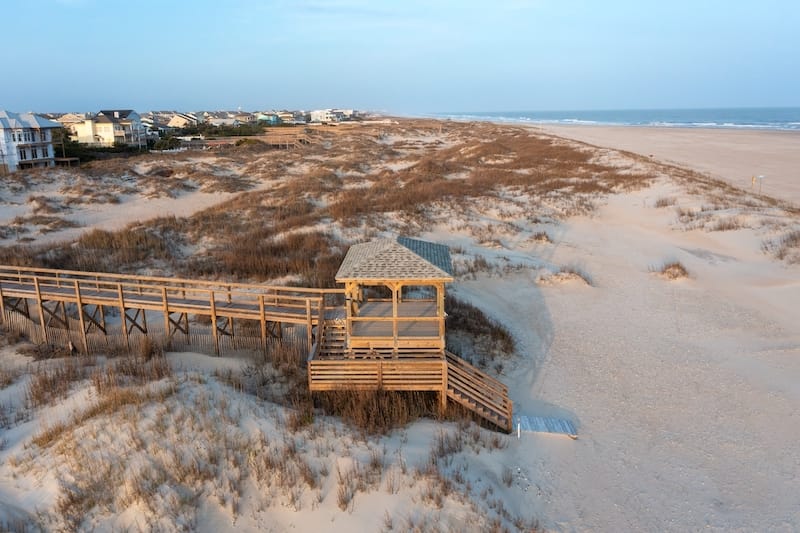 Water adventure lovers should miss visiting the Hot Wax Surf Shop to complete their water sports gear and enjoy self-guided paddling excursions, surf lessons, and various other tours.
Hop on a ferry or boat and head to Hammocks Beach State Park to discover marshlands and untouched maritime forests.
Other popular recreational spots in Emerald Isle include Emerald Isle Woods Park and Fort Macon State Park.
When you are done exploring the island, you can treat yourself to delicious craft beer at the Growler Bar or mouth-watering southern fare with an eastern N.C. twist at the Trading Post.
Did we miss any of the best islands in North Carolina on this guide? let us know in the comments. Thanks!
More North Carolina Coastal Guides
Pin this North Carolina Islands Guide