One of the most famous places to visit on the East Coast is the Outer Banks. Why? The gorgeous Outer Banks beaches, of course!
This guide details the best beaches in the Outer Banks, showcasing a mixture of rugged ones with developed (and somewhat touristy!) ones. It also showcases a few in the Southern OBX!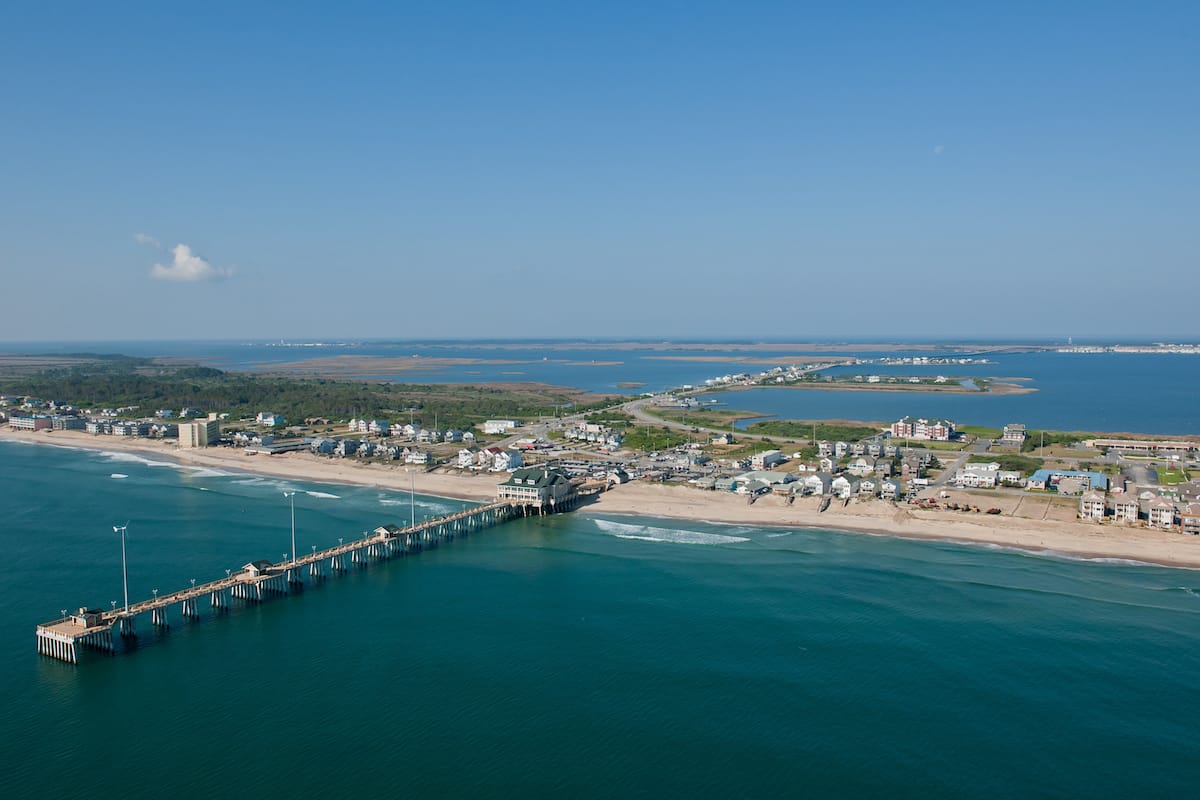 Did we miss any worthwhile OBX beaches on the guide? Let us know your top picks for this famous area of North Carolina in the comments. Thanks!
Best Outer Banks Beaches
Rodanthe Beach
Rodanthe Beach, now known for its tranquil and calming waves, didn't always have that reputation.
On the shores of the beach during World War II, a British tanker showed up after being bombarded by German U-Boats.
Some of the local men by the beach jumped in the water and saved 47 out of the 57 passengers on board.
With its legendary past, Rodanthe Beach continues to serve as a refuge for those who want to put their minds and bodies at ease.
Today, one of the main activities to do at the beach is going camping, as it has a number of small campgrounds for vacationers, and fishing. Many of the locals often go fishing at this beach!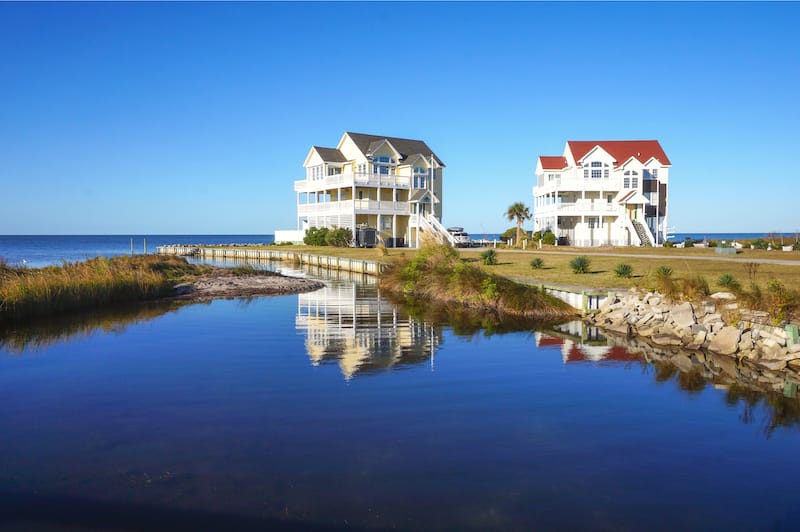 And when it comes to camping, if that's not your thing then you can look into the many beautiful vacation home rentals they have to offer just by contacting one of the agencies!
Another great point where Rodanthe Beach stands out is that they have the annual "Wings Over Water" event where local experts and visiting birders explore the grounds!
So make sure to take part in the event and stay up to date as to when they take place!
Ocracoke Island
Although swimming and sunbathing are essential and often the most practical things to do when at the beach or on an island, there are also other means of fun (and don't forget to check out the famous lighthouse)!
For example, at Ocracoke Island, Kitty Hawk Kites offers a variety of different activities like dolphin tours, kayaking, parasailing, and fish excursions.
However, the main thing Kitty Hawk Kites is known for being the world's largest hang gliding school.
So when in Ocracoke Island, let the adrenaline take you where it wants and participate in the activities!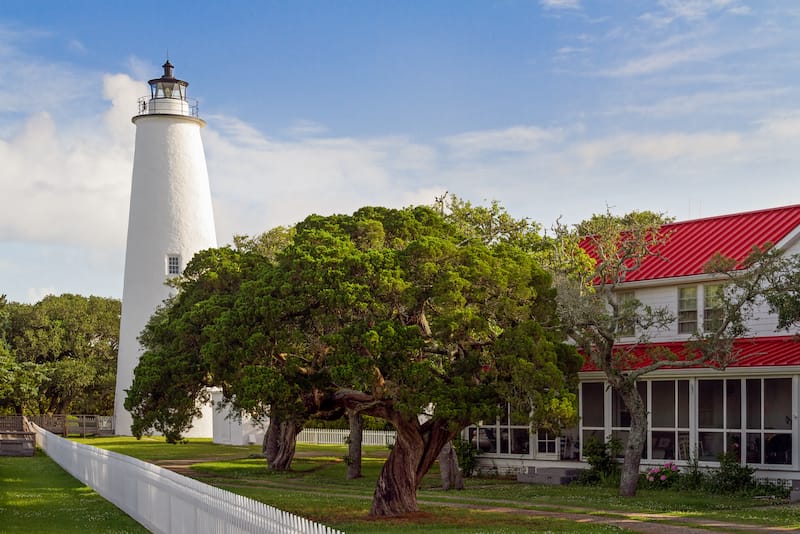 While on the island, also make sure to check out their very cool (and romantic!) restaurants with very tasty food! Some of the best would be The Flying Melon Cafe, 1718 Brewing, Fig Tree Bakery, and the Sweet Tooth.
All of them are very exceptional places and make sure to check them out when on the North Carolina island! Now when it comes to vacation rentals, Ocracoke Island probably wouldn't be the place you're looking for if you want a mansion by the beach.
However, for those who are looking for a little seclusion and relaxation, they can find small and affordable rentals on the island. So what are you waiting for?
Ocracoke Island awaits you this summer for some beach fun! Visiting the island is one of the best things to do in the Outer Banks!
Coquina Beach
Visitors to the beach can find numerous ways to be entertained on the island besides enjoying the sunsets and so on.
For example, at Coquina Beach, shelling and beachcombing are quite popular as colorful coquinas, jingle shells, and clamshells are easier to find than in most other places.
Hence the name, Coquina Beach. Also, one pastime, usually of the locals but of people from other places as well is surf fishing. The prime time for surfing is the fall and spring seasons, that's when most people decide to go.
So if it's not summer but you're still looking for things to do at the beach, you can try surf fishing as it's done in seasons when people usually don't swim.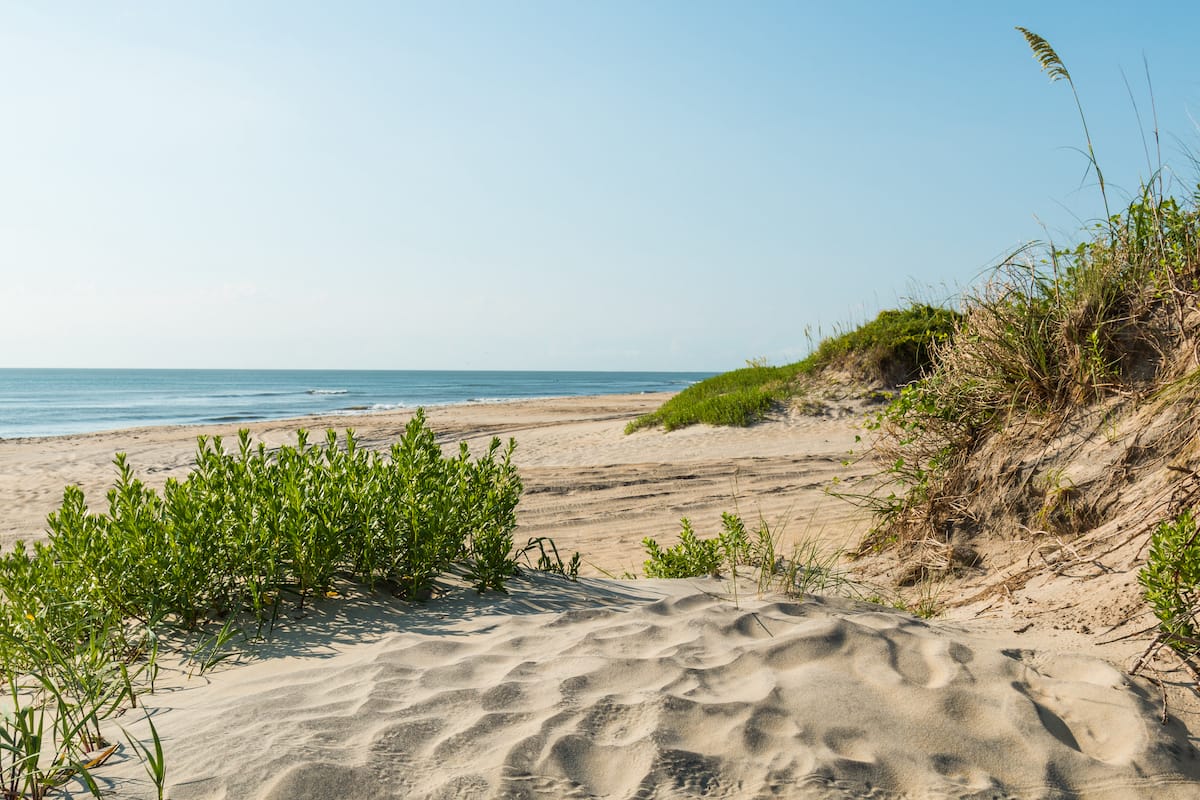 You also don't have to be an expert at all or know anything about surf fishing. Usually, visitors can easily catch a mullet, bluefish, or other regular catches.
Once you're at the beach, please remember that there is a beach driving fee, however, you can get a discounted price if you have an annual price: the weekly permit price being $50 and the annual one being $120.
Remember to follow all the safety rules, whether you are driving, swimming, or fishing, and enjoy your time at Coquina Beach!
Hatteras Island
As we all know, beaches can get wild, and they are there for people to get wild!
At Hatteras Island, all your requirements will be fully met and you will definitely leave happy as there isn't anything that won't suit someone's specific criteria, there's truly something for everyone!
If you're one to lay on the sand and enjoy the sun, go for it! When it comes to water sports, this is the place! Whether you're a beginner or a regular, they've got you covered.
You can go to the stores nearby where they have just about anything you can think of related to water sports gear! If you're into fishing, you can try that out as well.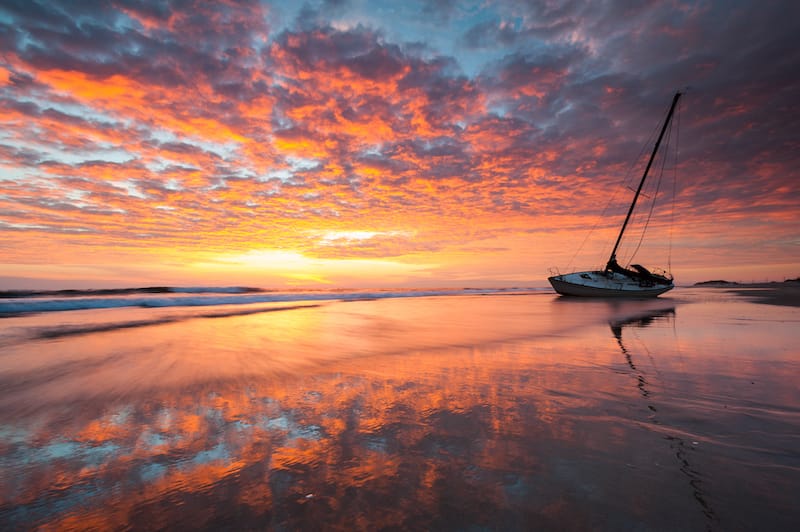 However, remember that you need a fishing license to be able to fish. You can obtain one online or at most sporting goods stores. Those licenses can last you 10 days, 1 year, or a lifetime.
Costs vary for state residents and visitors. Another fun activity you can take part in would have to be horseback riding!
When it comes to horseback riding, you are allowed to bring your own horse, although you'll have a limited amount of space as to where you can ride.
You may also use one of the five tours which are permitted on Hatteras Island to ride their horses along the national seashore. Prices vary for every tour agency and the duration of your ride.
Kill Devil Hills
Although the name may seem quite off-setting, Kill Devil Hills is truly a treat for families. When vacationing with the entire family, it's the ideal place to go.
It has great activities for parents and children to be able to do together. When off the beach, you can visit the Paradise Fun Park where you can do things like play mini-golf, ride the bumper cars or Go-Karts.
Paradise Fun Park is a great opportunity for families to spend fun-filled days together! Now for a place so magical, you may be wondering what gave it its horrendous name, right?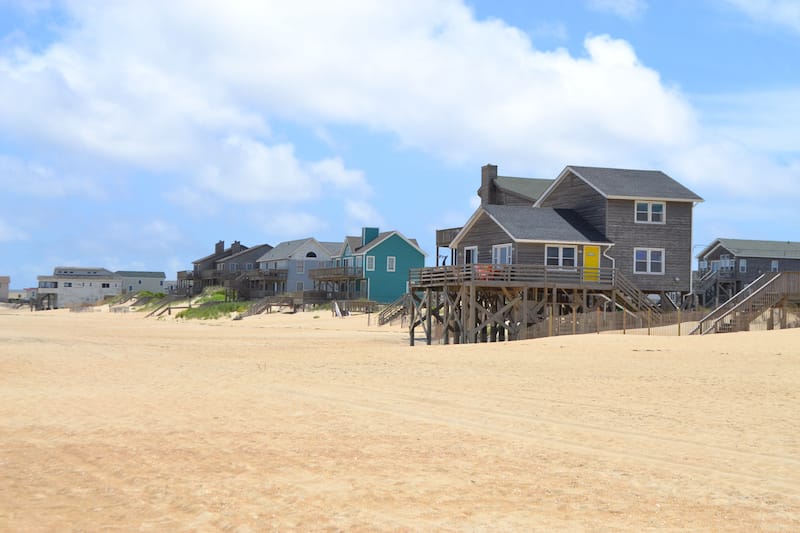 Well, the origin of the name of the town is up for debate even today among the locals. However, the most popular legend has it that there was a rum that people said was so strong it "could kill the devil."
They said it so much and that rum became so popular in the area that they named the place Kill Devil Hills! Now, when in Kill Devil Hills, make sure to take advantage of the diverse cuisine they have to offer.
Some of the best restaurants are the Thai Room, Henry's Restaurant, and Awful Arthur's Oyster Bar.
With a combination of amazing food and fun activities, Kill Devil Hills is a great place for you and your family to get away for a while!
Another place you can visit when at Kitty Hawk is the Wright Brothers National Memorial. You enter the visitor center and then walk through and see the journeys of Oliver and Wilber Wright.
You study their characters and get a full understanding of their lives. All in all, Kitty Hawk is a great place to spend some time and learn.
The place is really about learning, especially about Native Americans and their culture and history.
Kitty Hawk
With fun and education intertwined together, Kitty Hawk allows all those who visit to really immerse themselves in the culture of Kitty Hawk.
One of the many programs they have includes a history lesson on the lost colony of Roanoke and how 30 years before the pilgrims arrived, 117 Native American men arrived and were the very first settlers of the place.
There are a variety of packages that fall into this although you'd have to check their page for the details. Another history-related activity would be if you set sail on the tour of the outer banks and felt as though you were a settler looking to settle in the New World!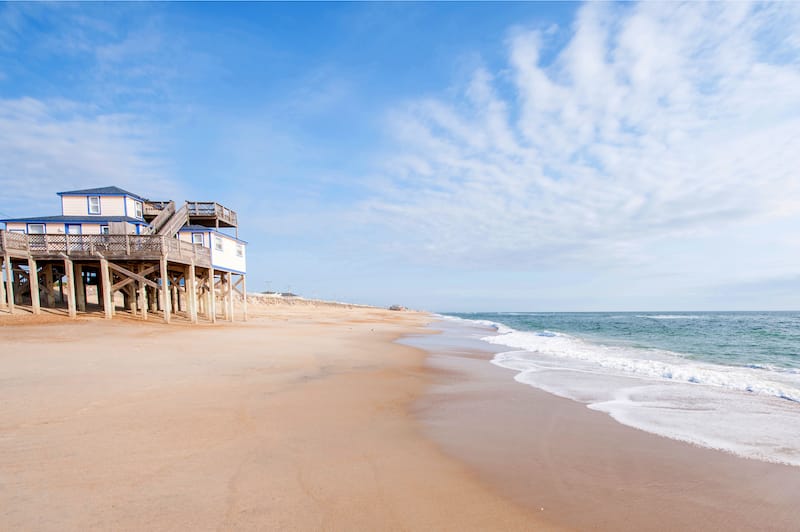 So come on down for both an educational and interesting experience at the Kitty Hawk!
Corolla Beach
Now Corolla Beach has a lot of attractions, but the one that stands out the most is definitely the fact that Spanish Mustangs roam the shores of the beach.
The Colonial Spanish Mustangs are more popular than anything else in the region and are especially a wonder to tourists. The best part is that guided tours are available with the horses!
Riding on the beach shores on the back of a horse gives so much emotion and feeling that allows a person to truly live- to truly know that they're living….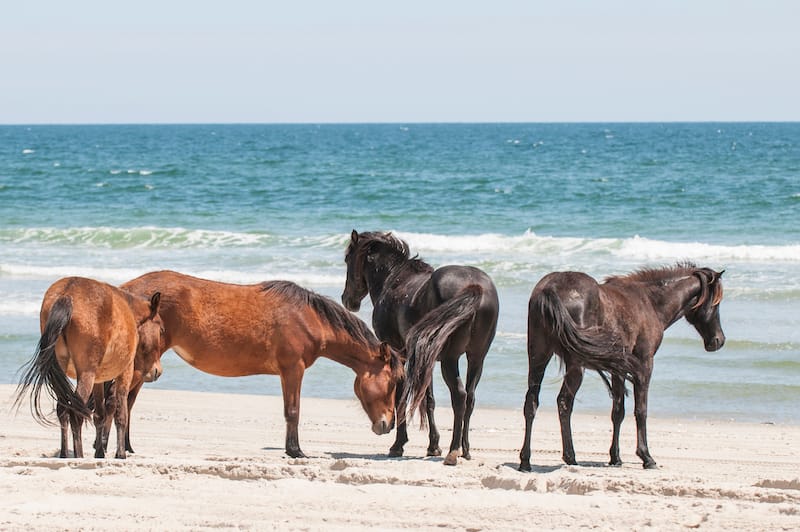 Another cool place you can visit is the Center for Wildlife Education where you can go and learn about the diversity of the wildlife in the area.
When in Corolla and you're tired of the heat, no worries!
Some of the best ice cream shops are in Corolla Beach. For example, Big Buck's Homemade Ice Cream! Also, if you're looking for a nice place to eat with good food, choose the Sun Fish Grill! They have a variety of seafood and offer delicious specialties as well!
Nags Head
Now Nags Head doesn't have any crazy attractions and exciting things to see, but it is the ideal place for relaxation.
Nags Head is the perfect place for someone looking to get away from the chaos that is life and go somewhere where they could detach from the world for a bit and destress.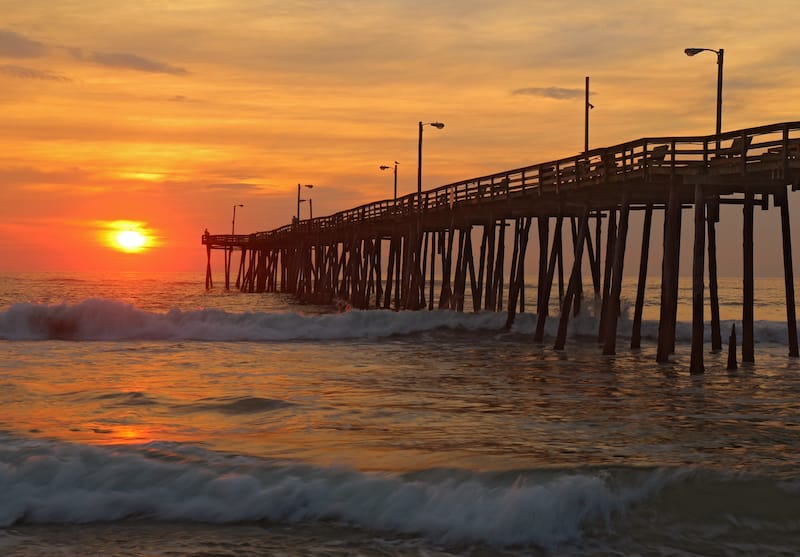 You can watch the sunset or sunrise and lay in the sands. The beach is just a simple beach with not too much chaos and isn't crowded. You feel at peace, not connected with the outside world, and able to just walk around, sunbathe, swim, or go shopping.
Nags Head also has some great places to indulge in some excellent food. One of the best restaurants would have to be Miller's Waterfront Restaurant. The restaurant is a family-friendly seafood restaurant where everyone feels welcome!
Cape Point Beach
Now, like most beaches, Cape Point Beach is great for those who want a bit of change in their lives. However, unlike most other NC beaches, Cape Point Beach offers some services to those who use its beach.
For example, you can get your fish catches cleaned for free. This is convenient because once you're done fishing, you can go home and have freshly cleaned fish for dinner.
Another activity at Cape Point Beach is that it's a great place to just pick up a book and read. Cape Point Beach has amazing scenery in which you can partake in.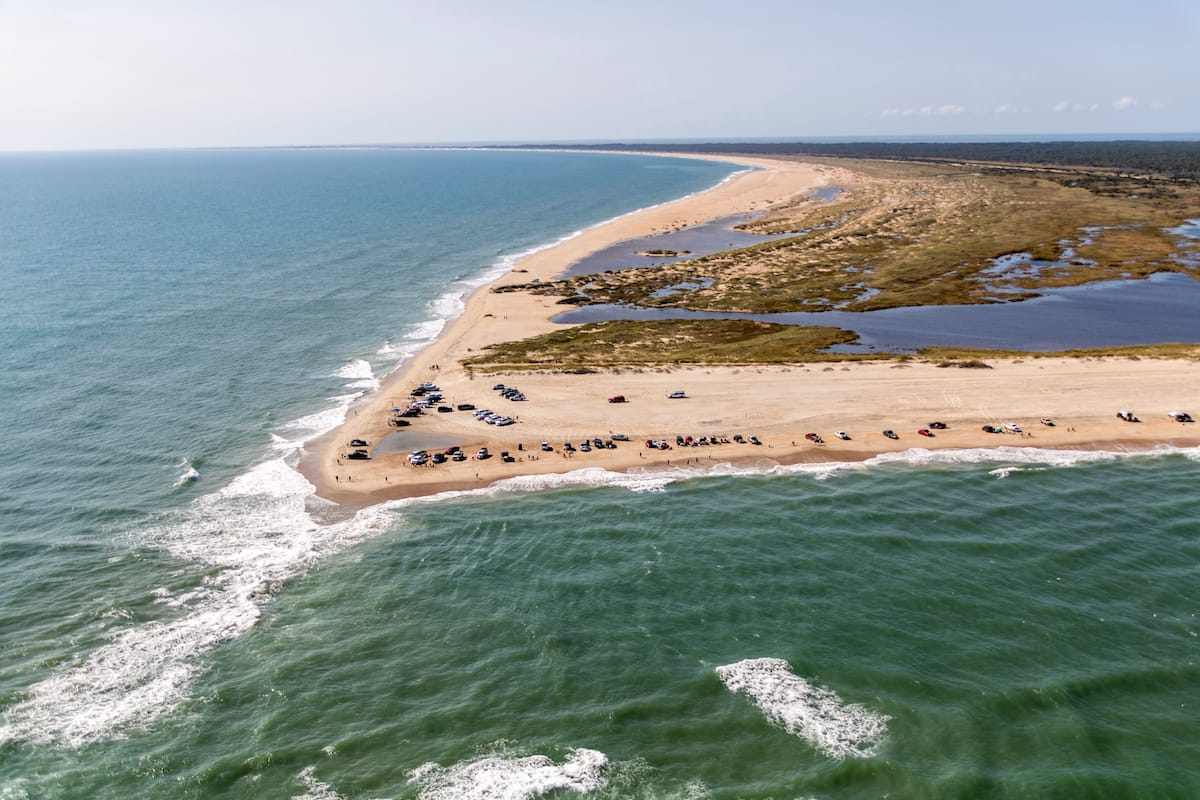 There are many forests and wildlife if you go a little more into the forest, you can also hang out with some wildlife. Part of that wildlife includes birds.
Birdwatching is quite a hobby in this part of town as people are always eager to find a new bird or continue looking at the bird or birds that they've been looking at.
So if you're planning on going fishing or birdwatching- or perhaps you'd like to swim or sunbathe. Either way, it's up to you, but Cape Point Beach is there for you!
Duck Beach
One of the nicer beaches, Duck Beach is famous for its luxurious vacation rentals. The most notable place to stay would definitely have to be the Sanderling Hotel with ocean view rooms and suites.
There are also plenty of on-site dining areas and a gym and tennis courts as well. The dining options depend on you and your needs. They can go from elegant to casual.
For example, Aqua Restaurant is a great fine-dining option but if you want something more casual, restaurants like Coastal Catalina, Duck Duck Burger, and Cookshack Fried Chicken are the ideal choices for you!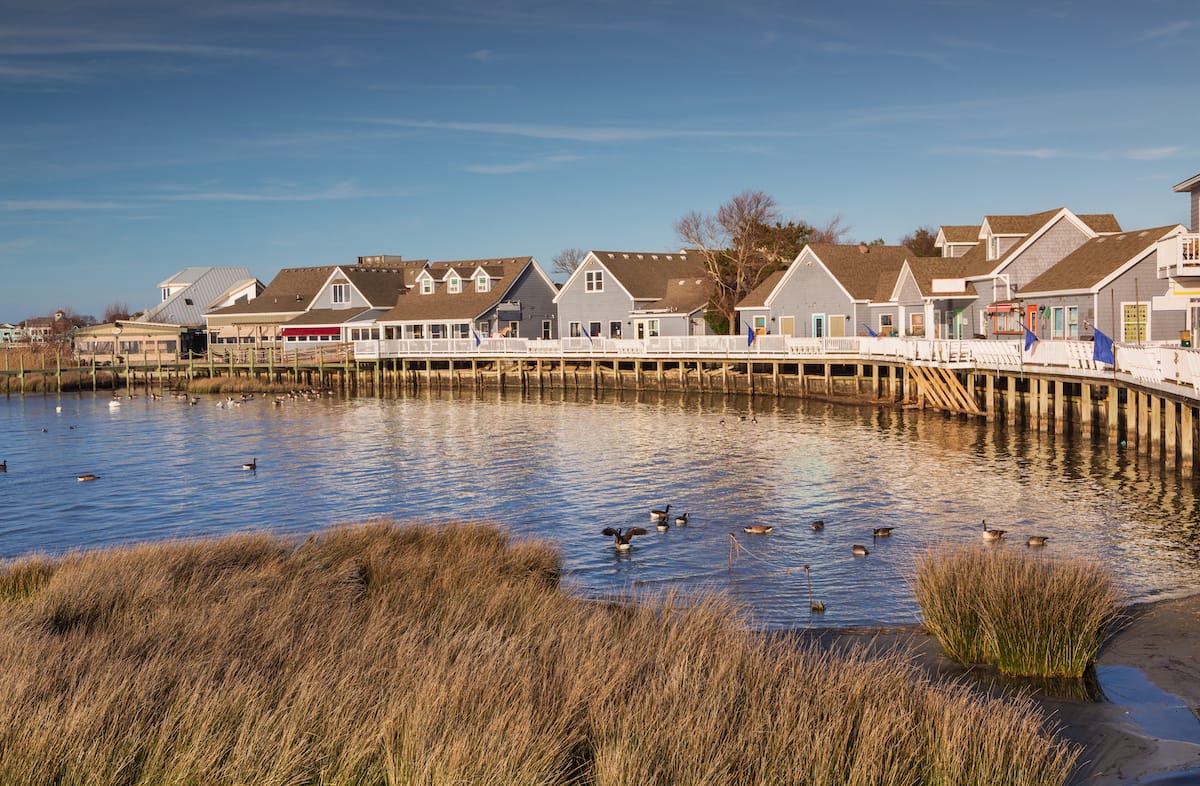 They have plenty of beach stores and souvenir and t-shirt stores, but you'd have to leave the OBX town a little bit if you're planning on spending your days shopping.
And of course, there is the beach itself. At Duck Beach, it's all about relaxing and enjoying the moment. And, you will find plenty of other things to do in Duck, too!
Southern OBX Beaches
Pine Knoll Shores
Located in Crystal Coast, the southern end of Outer Banks, Pine Knoll Shores is a great beach with a diverse range of things to do.
Take a book to relax on the beach, or take a stroll in nature at the Theodore Roosevelt Natural Area.
It also has a "Living Shipwreck" exhibit, with a life-size replica of a submarine and The Queen Anne's Revenge, Blackbeard's infamous ship.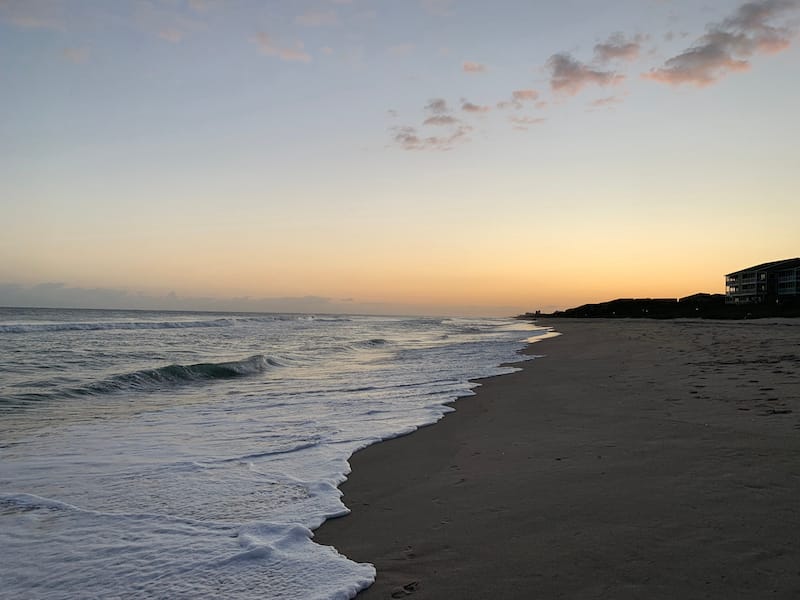 If you're into golfing, the greens at Crystal Coast Country Club boast beautiful views as well as a good course.
For an afternoon treat, stop at Happycakes Cupcakery, which even offers gluten-free cupcakes. For dinner, try Prime 1079 steakhouse.
Cape Lookout
For a serene and secluded escape, make sure to check out Cape Lookout National Seashore.
This beautiful island is accessible only by boat, but there is a ferry that operates between Harkers Island and Cape Lookout if you do not have your own boat.
Before getting on the ferry, take time to go to the Cape Lookout VIsitor's Center (on Harker Island) to learn more about the history and nature of Cape Lookout.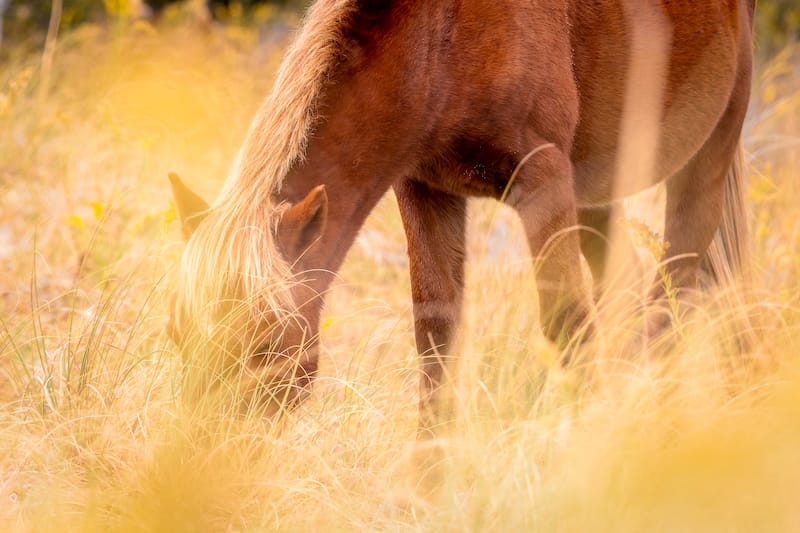 Once on the beach, you can enjoy just relaxing, or walking along the sand dunes. To extend your time in this natural paradise, consider camping at one of the available campsites on the island.
Visit the beautiful Cape Lookout Lighthouse, nicknamed Diamond Lady due to the pattern on the side.
Another exciting thing to see while at Cape Lookout is the wild horse herds of Shackleford Banks, a small island part of the Cape Lookout National Seashore area.
Did we miss any of the best Outer Banks beaches? Let us know your top OBX beaches in the comments. Thanks!
More Outer Banks (& NC!) Travel Guides
Pin this OBX Beaches Guide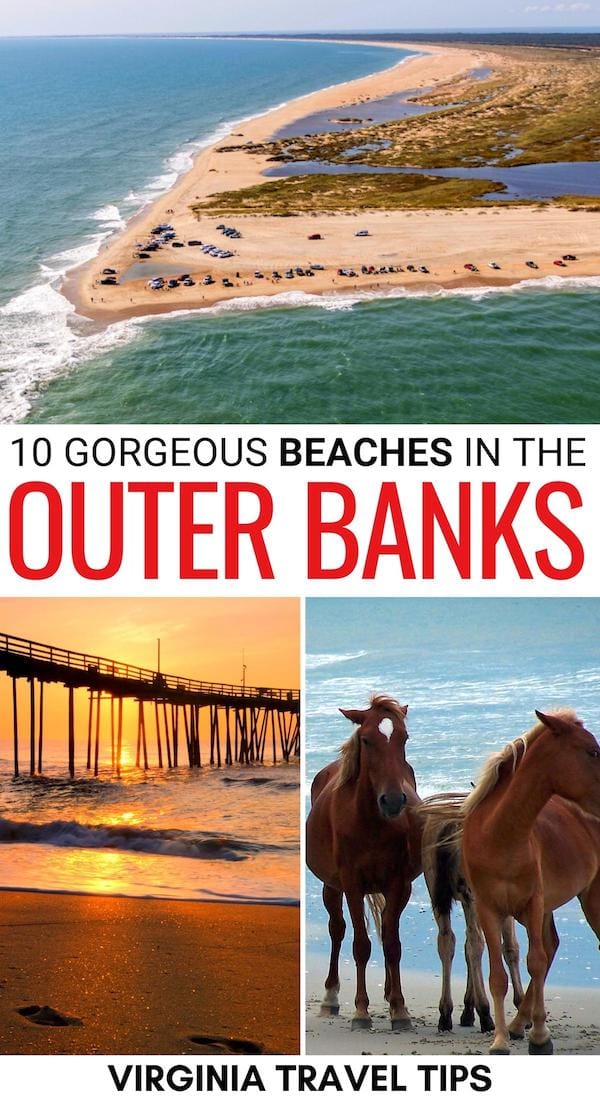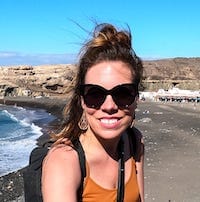 Megan is a travel blogger and writer with a background in digital marketing. Originally from Richmond, VA, she has lived all around the world (including Germany, Finland, Norway, etc) but her heart always finds its way back to Virginia. This blog is to help encourage travelers to explore the great state of VA… and its wonderful neighbors! Megan has written for or been featured by National Geographic, Forbes, Lonely Planet, Fodor's Travel, the New York Times, and more. She has visited 45 US states and 100+ countries… and wholeheartedly believes that Brunswick Stew is probably the greatest food to ever exist.