If you've ever considered going to the Outer Banks, you should definitely make it a point to visit Hatteras Island, which is best known for fishing and beautiful beaches! These are the best things to do in Hatteras NC.
Are you planning your trip to Hatteras last minute?
If you're traveling to Hatteras last minute, you want to ensure you have lodging ahead of time! Below are some of our top picks in town!
Best Places to Stay in Hatteras and Nearby:
🚗 Looking for the best way to get around NC? Click here to check rental car rates for North Carolina!
Hatteras is one of the most popular destinations for fishers on the east coast. However, the famous island in North Carolina is also known for its stunning and remote beaches, water sports, and history.
When visiting the Outer Banks, it would certainly be worth checking out Hatteras for its smaller crowds and more unique opportunities.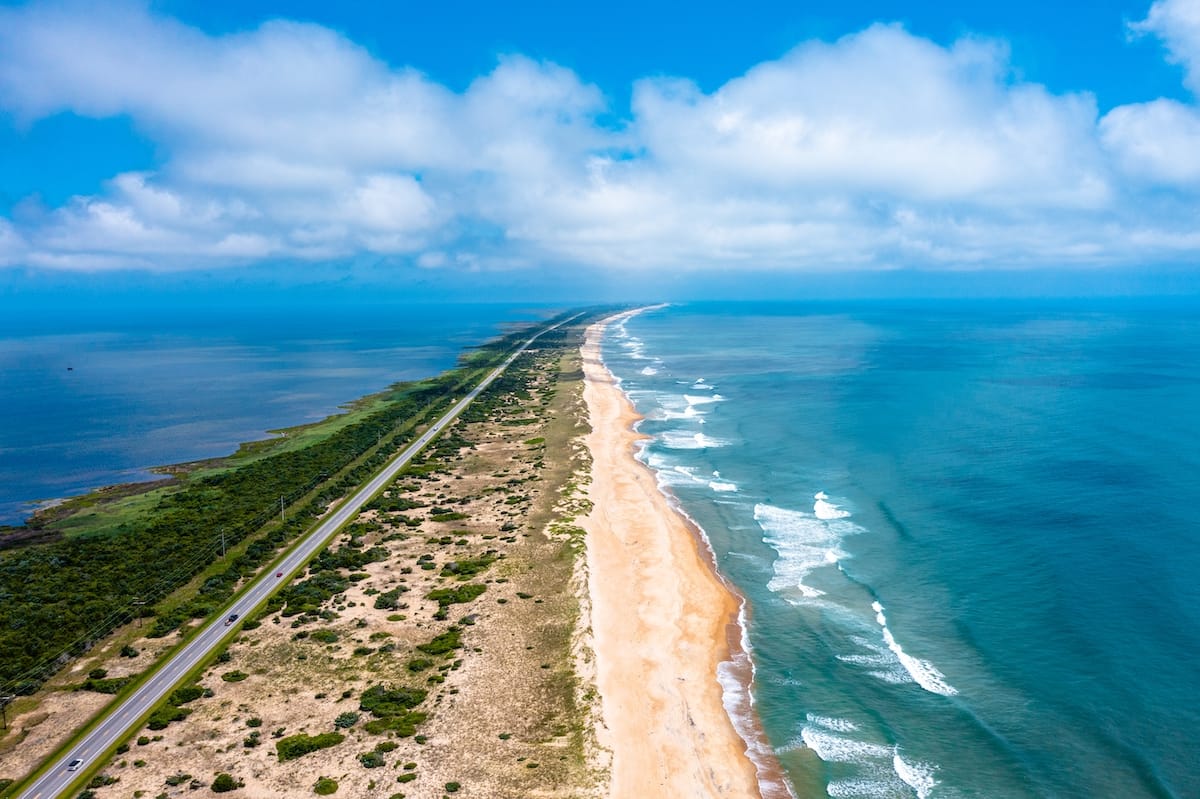 You can enjoy activities such as swimming, canoeing, kiteboarding, and kayaking, and there are also plenty of hiking opportunities, too.
If you enjoy shopping, museums, and delicious restaurants, Hatteras also has all of that and more! Here is our list of what to do in Hatteras and nearby – let us know if we missed anything!
Best Time to Visit Hatteras (and OBX)
In the United States, beach season tends to be between May and September (Memorial Day and Labor Day), so you can always visit Hatteras and the Outer Banks at this time.
However, you might have better luck if you choose to visit between March and May or September and November.
This is because you won't have to deal with as many crowds, and the rates of accommodations will inevitably be a lot cheaper.
Aside from that, it won't get as hot, but you still will be able to enjoy some of the seasonal activities that are only open during the town's peak season.
Best Things to Do in Hatteras NC (& Nearby)
Cape Hatteras Lighthouse
The Cape Hatteras Light Station is located in the middle of the Cape Hatteras National Seashore.
The area is known to be quite dangerous and it actually earned the label "Graveyard of the Atlantic" as an enormous number of ships have run aground due to the shifting sandbars.
The lighthouse is open to visitors who want to climb it.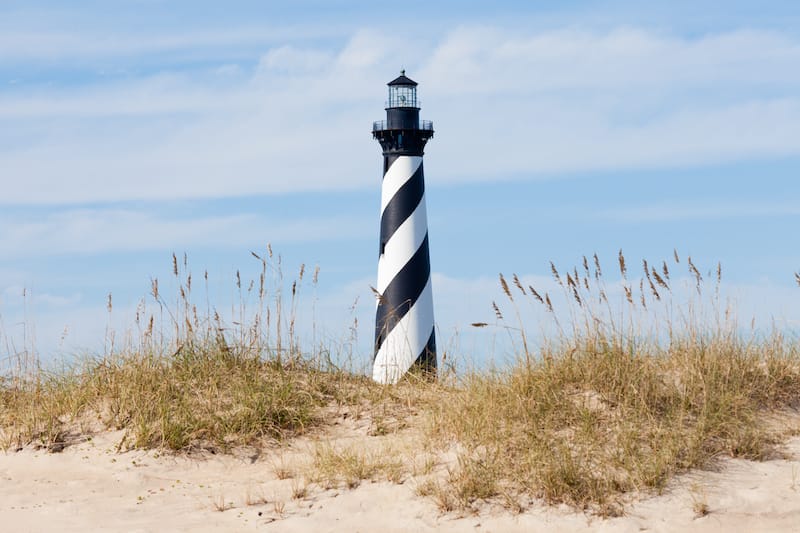 Getting to the top will guarantee some pretty amazing views. Nearby, you'll find the Hatteras Island Visitor Center and Museum of the Sea, which exhibits the history and heritage of not only the lighthouse but also the Outer Banks.
By the way, this lighthouse, standing at 210 feet, is the tallest brick lighthouse structure in the US and the second tallest in the world.
Address: 46379 Lighthouse Rd, Buxton, NC 27920
Hatteras Island Ocean Center
Hatteras Island is situated in Hatteras Village. It is the ultimate place to indulge in the history and nature of Hatteras Island.
Visitors here are welcome to experience the coastal wetlands. Getting to the boardwalk and marsh trail here is a must!
Though none are challenging hikes, the ecosystem here is rich and you never know what wetlands habitats you'll meet here.
Note that reaching the end of the boardwalk is highly recommended as the view from the observation deck is stunning. The center overall has many recreational and interactive activities suitable for all ages.
Throughout the summer, nature programs such as Sea Turtle Patrol, Kayak Nature Tours, Marsh Madness, and the Ocean Center's exhibit room are available from Monday to Friday.
Check their website before visiting to find more information on schedules and prices.
Address: 57204 North Carolina 12 Mile Marker, 71, Hatteras, NC 27943
Day Trip to Ocracoke Island
Miles of uncrowded coastline await you at Ocracoke Island. First and foremost, the beaches here are stunning and suitable for swimming, surfing, fishing, and other water-related activities.
For a memorable day, you can organize a dinner around a campfire or go for a sunrise drive.
Here, you may also visit Ocracoke Banker Ponies to see the wild ponies and visit the oldest lighthouse in North Carolina that is still operating.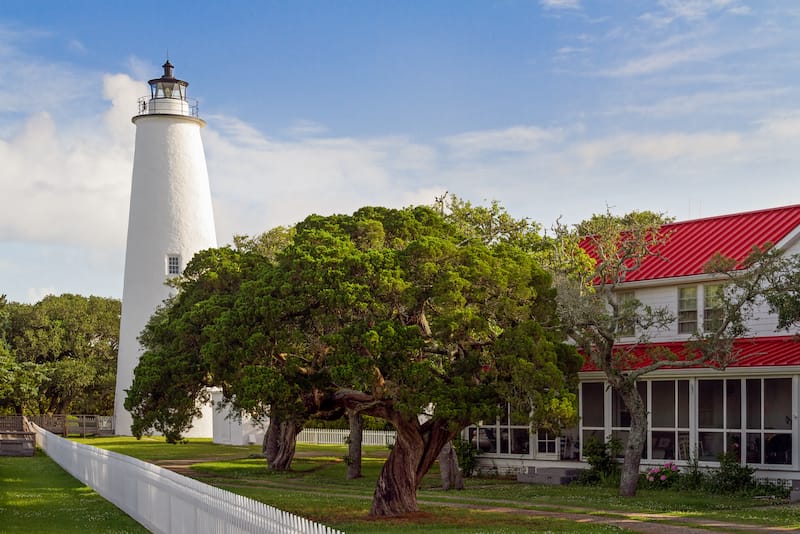 If you're in the mood for hiking, challenge yourself to get to the highest points of the island on the Hammock Hills Nature Trail.
After a long day, relax at one of the local restaurants featuring dishes from around the world, or take a sip of some well-crafted beer at 1718 Brewing Ocracoke.
Apart from many outdoor activities on the island itself, you can also organize a short trip to the nearby Portsmouth Island, which is an abandoned place with an old postal office, church, and a schoolhouse.
Frisco Mini Golf & Go-Karts
This family-fun place is located in Frisco, one of the towns in the Outer Banks, which has been developed for tourists and is a small and quiet residential community.
You can spend an interesting day at Frisco Mini Golf & Go Karts, which promises to provide fun for the whole family. Here, you can try out a round of mini-golf, go-karts, or bumper cars.
It's especially suitable if you're not into water sports or you get bored easily with the activities available at the beach.
If you were not lucky enough to visit on a sunny day, you can still enjoy the day playing indoor arcade games. Keep in mind that Frisco Mini Golf & Go Karts is only open seasonally from the spring till the fall.
Address: 50212 Trent Lake Ln, Frisco, NC 27936
Kayaking in Hatteras
Visit Hatteras Watersports, which is a watersports rental located in Salvo on Hatteras Island. The location allows for great opportunities when it comes to jet skiing, kayaking, and paddleboarding.
The rental offers kayaks or stand-up paddleboards to tour Pamlico Sound and explore the most out of its wetlands and marshes.
Here, you can also get to Pea Island, explore its wildlife area, and take an excursion on sit-in or sit-on-top kayaks. Hatteras Watersports was in fact once the Pea Island Life-Saving Station, so it has a bit of history too.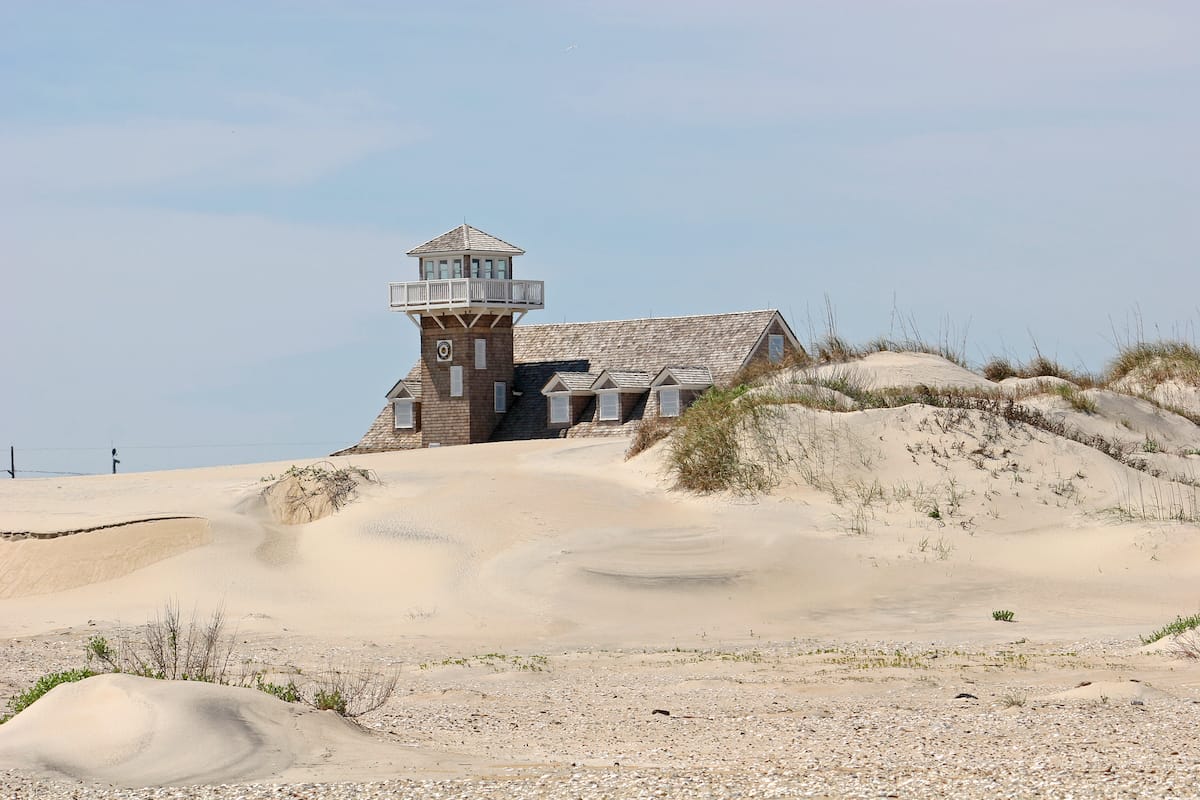 When you feel like you've been on the water for too long, note that it has spacious grass spots to relax, have a picnic, etc.
Rentals range from jet ski and single kayak to double kayak and stand-up paddleboard. You can either book these online through their website or by phone.
Hatteras Island Beach Horseback Riding
Hatteras Island Beach Horseback Riding provides a unique opportunity to combine horseback riding with stunning views of Cape Hatteras National Seashore.
This place prides itself on the fact that it's the only place for horseback riding in the US offering views of the Cape Hatteras lighthouse, the Atlantic Ocean, Hatteras Inlet, Ocracoke Island, and the Pamlico Sound.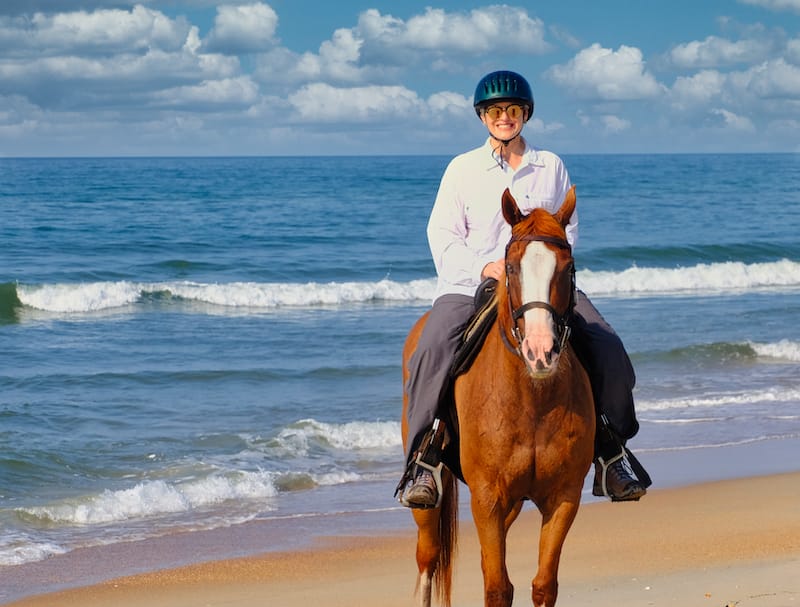 A few options of packages are available: family, customer adventure, and single rider. For families looking to create some everlasting memories when in Hatteras, this package is definitely a good choice!
If you desire to have some "me" time and get some main character vibes, choose the option to ride alone.
Last but not least, you can organize romantic proposals or anniversary events in a very creative manner. Communicate with the staff beforehand to get approval and make your ideas a reality!
Address: Ramp 55 park service parking lot, Hatteras, NC 27943
Diamond Shoals Restaurant and Seafood Market
For decades, Diamond Shoals Restaurant has been a top-rated spot serving quality local seafood. In addition to "marine life" cuisine, this place is also the host of the only sushi bar in all of Hatteras Island.
It's worth mentioning that they're not limited to just classical options of sushi. Their tasty offerings include savory watermelon rolls, spicy tuna, and other exciting flavors.
The restaurant has separate breakfast, lunch, and winter menus, featuring both traditional seafood essentials and some unique dishes with interesting twists. From time to time, you might also catch some great events taking place here.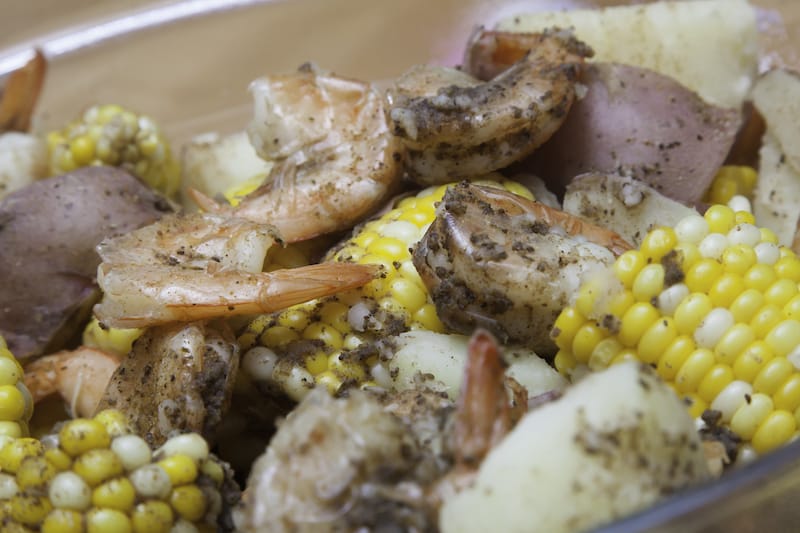 For those interested in making a Hatteras-typical seafood feast by themselves, Outer Banks Seafood Market offers a wide range of local and freshly-caught seafood like shrimp, scallops, oysters, blue crabs, tuna, and more.
Along with this, here you'll also find all the seasonings and spices you might need to prep the seafood.
Address: 46843 NC-12, Buxton, NC 27920
Frisco Native American Museum
This museum was initiated by two history preservers who came together and opened the Frisco Native American Museum in 1987. The exhibits are centered around presenting artifacts both from Native cultures and local tribes.
There are thousands of artifacts on display here. Apart from the exhibits, the building also has a general store, post office, shell shop, and more.
Visiting the museum will also give you a chance to explore the beautiful maritime forest trails. Every season has its beauty, whether you want to visit in the warm summer months or check out the colorful fall foliage.
View this post on Instagram
Among many historical artifacts, you'll encounter here, a very prominent one is a real North Carolina shad boat. You can also check out labeled specimens, exhibits, and open spaces with benches along the trails.
Also note that the museum has a designed program for the visually impaired, which includes trail walks and unique guided tours, and it can be organized through the museum's education director.
Address: 53536 NC-12, Frisco, NC 27936
Graveyard of the Atlantic Museum
The Graveyard of the Atlantic Museum is one of the best entertainment spots for people of all ages.
It opened in 2002 and is located in Hatteras Village, the southernmost part of Hatteras Island. It's a maritime museum dedicated to the Outer Banks' maritime history and shipwrecks.
Here, you may spend your time attending a lecture series, going on a self-guided tour, or watching the informative introductory video in the Film Room.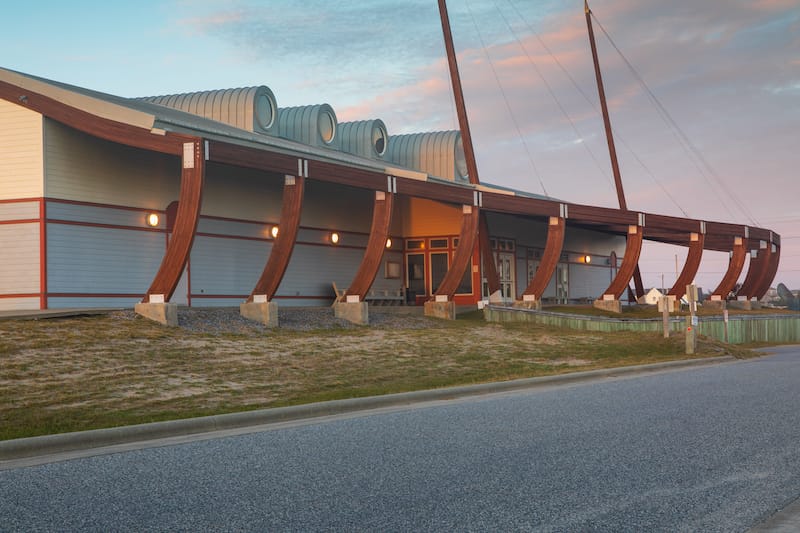 The daily offering revolves around a scavenger hunt, where people can peruse the museum for items and get special rewards for their efforts.
Additionally, the museum has new exhibits that are introduced each year. There is no entrance fee for the museum, and most of the programs offered are free, too.
Address: 59200 Museum Dr, Hatteras, NC 27943
Buxton Woods Trail
Oceanfront beaches are always desired locations by many people visiting Hatteras Island. However, if you're striving to experience something more than a typical, unspoiled beach, check out the Buxton Woods area.
Buxton Woods Trail is quite popular among hikers both in winter and summer. The woods are completely untouched, so if you like exploring wild trails you will greatly appreciate this site.
Also, note that there are no specific access points here, and exploring the area is best through back roads and searching for trailheads.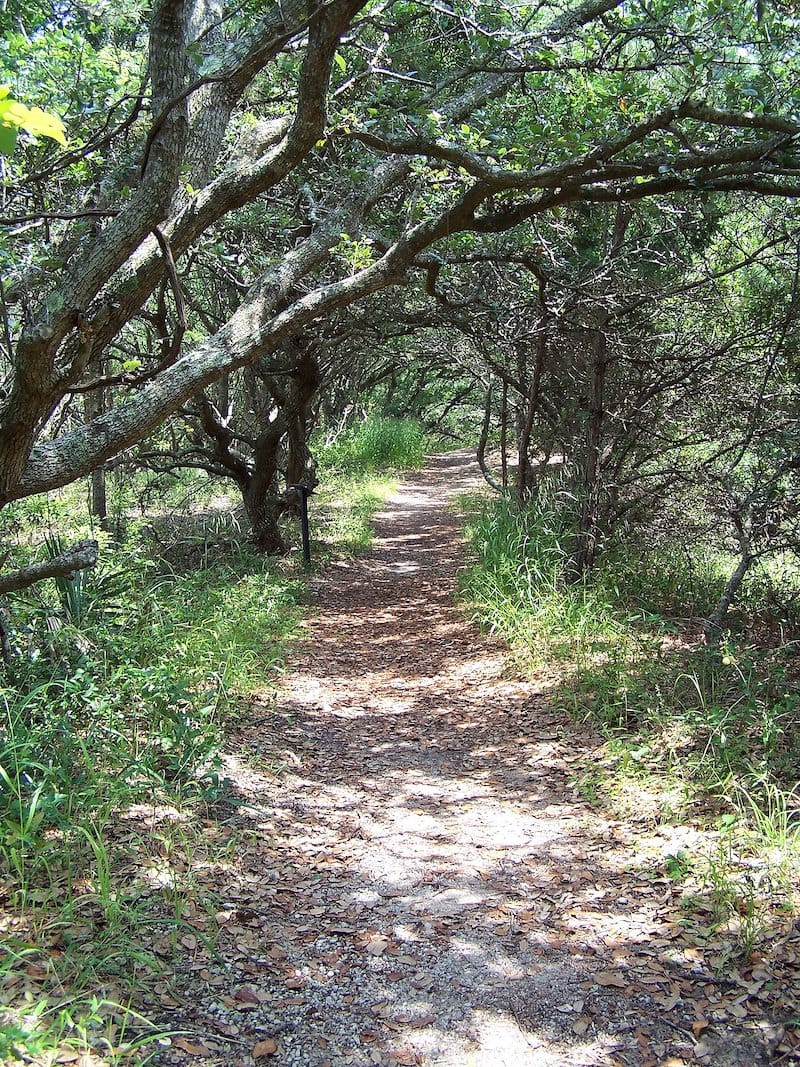 There are two entrances: one located close to the Cape Hatteras Lighthouse and the other on Water Tower Road, near Buxton town limits.
The first route goes through Buxton's biggest ponds, while the other one combines both easy and challenging (mountain-like) hikes. Apart from this, you can choose your own paths and explore the oceanside roads that gradually blend into the woods.
Address: 46375 Lighthouse Rd, Buxton, NC 27920
Orange Blossom Bakery
Orange Blossom Bakery was a motel first before becoming a bakery and a cafe. Its interesting name comes from the orange grove located in the area.
Having had different owners over time, this bakery evolved continuously and developed many lifelong customers.
Orange Blossom has a signature offering called Apple Uglies. As the name suggests, it might not be the most visually appealing dish, but the taste might be the best you've ever tried!
The menu also includes chocolate-covered uglies, donuts, and a selection of pastries and muffins, so you're in for a treat!
If you're not in the mood for sweets, choose something from breakfast sandwiches and burrito options. Also, you can order custom-made cakes if you have some special occasions coming up like birthdays or anniversaries.
Keep in mind that the cafe is closed in the winter.
Address: 47206 NC-12, Buxton, NC 27920
Kiteboarding in Hatteras
A great place to enjoy kiteboarding in Hatteras is Kite Club Hatteras. They offer anything from kiteboarding lessons, accommodation, kite camps, and foil boards lessons.
The lessons are typically 3 hours long and the rates range from $245 to $375. New learners can take the introductory course to learn about kite control, then move to levels two and three lessons.
So, it's not limited to amateurs or professionals. You can be a complete beginner but still, end up riding independently after a few lessons.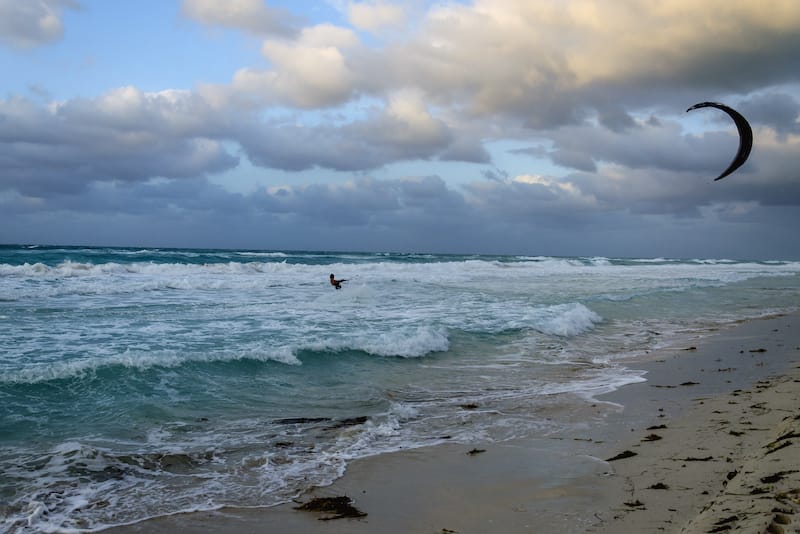 If you're looking for a bigger package, consider reserving the kitesurfing camp. It includes the Kite Club Hatteras Guest House stay for 7 nights and 3 days of private kiteboarding lessons.
Alternatively, consider taking foil boarding lessons, which is known as the newest style of kiteboarding.
A huge bonus is that the lessons are offered not only in English, but also in French, Russian, Bulgarian, Spanish, Portuguese, and French.
Hatteras Sol Waterside Grill
Hatteras Sol Waterside Grill is one of the highest-rated restaurants in Hatteras. Here, you'll get to experience sophisticated dining mixed with a delicious menu and breathtaking views!
The main factors attracting visitors are the Hatteras-typical beautiful sunsets, which provide opportunities for taking some Insta-worthy pics, and the tasty menu that this restaurant presents.
Mostly using fresh fish and other local ingredients, the chef serves customers a broad variety of homemade creations.
The dinner menu has both typical and unique options with interesting starters, mouthwatering salads and desserts, an array of entrees, and a few meals designed for kids only.
In short, this is the ultimate restaurant in Hatteras to experience a culinary delight and a uniquely relaxing atmosphere.
Address: 58646 NC-12, Hatteras, NC 27943
Buxton Woods Coastal Reserve
Buxton Woods Coastal Reserve features 1,007 acres of land, perfect for those looking to hike or go birdwatching. Buxton Woods is home to the only maritime shrub swamp community in the world, and it is within the largest Maritime Evergreen Forest tract along the Atlantic coast.
The woods also feature sand dunes, red cedar, and live oak trees. When hiking, you'll be able to catch some stunning views from the dune ridges.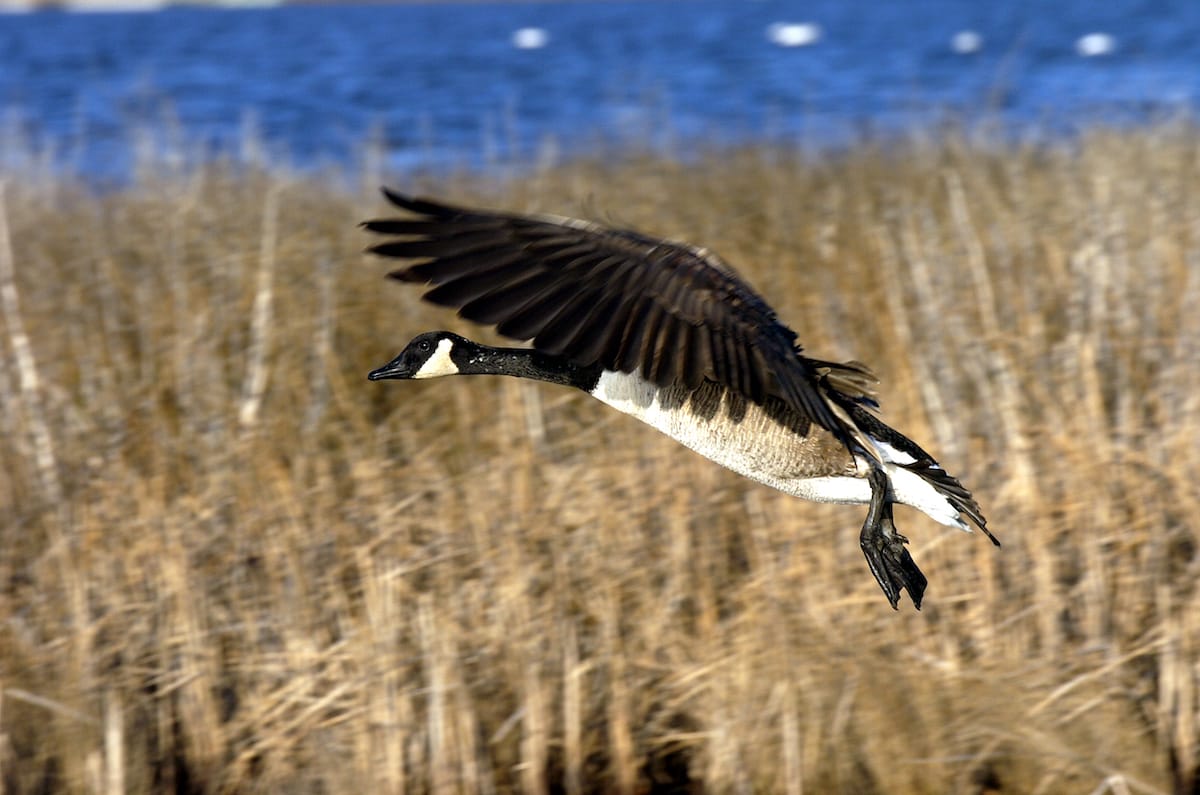 If you want to go birdwatching, you will be able to catch 360 species of birds here, even bald eagles and peregrine falcons.
You might also catch sight of animals like the river otters, white-tailed deer, mink, green anoles, and eastern box turtles.
Hiking is also a popular activity here, but keep in mind that it can be impossible to hike through the sedges if it's raining.
Dancing Turtle Coffee Shop
When you've already visited the island and have some adventure stories to share with friends, or even if you've just arrived, Dancing Turtle Coffee Shop is the perfect spot to enjoy a delicious cup of coffee!
This seasonal cafe and coffee shop, opening in early or mid-March, offers a cozy atmosphere. As people visiting here claim, it feels like you've been given a warm hug once you walk into the Turtle.
The shop portion offers a variety of coffees and teas, gifts, and as well as anything for your dog (that's probably because the owners have two cute pups in their family).
The types of coffee offered here are rather unique. Some of the best choices include Dancing Turtle House, Southern Pecan, Dancing Turtle Decaf brewed, and Coconut Crunch.
Reviews state that coffee is certainly not the only thing worth trying here. You should also check out the blueberry or chocolate chip pastries, soft muffins and scones, croissants, the stickiest sticky buns, and more.
Address: 58079 NC-12, Hatteras, NC 27943
Where to Stay in Hatteras
You will find plenty of amazing places to stay in Hatteras and nearby. Here are a few top options.
Did we miss any of the best things to do in Hatteras NC on this guide? Let us know your favorite Hatteras attractions in the comments!
More East NC & Outer Banks Travel Guides
Pin this Cape Hatteras Things to Do Guide