Beaufort is one of the most beautiful small towns in North Carolina. As one of the oldest towns in the state, there are many things to do in Beaufort NC for first-time visitors.
Are you planning your trip to Beaufort last minute?
If you're traveling to Beaufort last minute, you want to ensure you have lodging ahead of time! Below are some of our top picks in town!
Top hotels in Beaufort (and nearby!)
🚗 Looking for the best way to get around NC? Click here to check rental car rates for North Carolina!
This guide will cover what to do in Beaufort, NC, including some cool activities, historical sights, and places to eat. This really is one of the most beautiful places in North Carolina!
Did we miss any key Beaufort attractions? Please let us know in the comments! Thanks!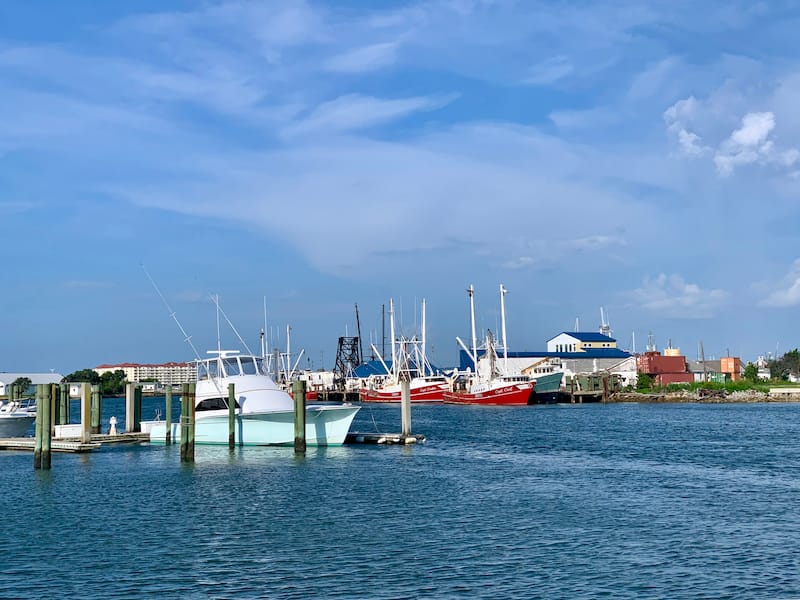 Best Things to Do in Beaufort NC
North Carolina Maritime Museum
Keen to discover Beaufort's local ecology, mesmerizing artifacts found along coastal NC, and learn about the maritime heritage of this gorgeous town? If so, get ready for a remarkable journey at the North Carolina Maritime Museum.
The Museum preserves NC's rich coastal history, which infers that when inside, you will get a chance to get up close with the area's marine life, shipwrecks, pirate history, boating, lifesaving, and war-related exhibits.
View this post on Instagram
In the museum, you will witness recovered items from the shipwreck of the famous Blackbeard's ship, Queen Anne's Revenge.
When visiting, you will also get to know the real history of lighthouses and the lifesaving stations, along with getting acquainted with the local seafood industry.
You will undoubtedly leave the Maritime Museum feeling like a local! Boat lovers will certainly appreciate the Harvey W. Smith Watercraft Center, which is situated on Taylor Creek and offers boat-building courses for all ages and skill levels.
On your way out, make sure to stop by the gift shop and pick a souvenir or two for your loved ones.
Address: 315 Front St
Website: https://ncmaritimemuseumbeaufort.com/
Beaufort Historic Site
Start your exciting trip to Beaufort at the Beaufort Historic Site, where you can basically witness coastal North Carolina as it was during the 18th and 19th centuries.
The Beaufort sight is home to dozens of restored historic homes. One of which is the award-winning John C. Manson House and Josiah Bell House, dating back to the early 1800s and displaying historical artifacts.
Other remarkable places to visit in Beaufort are The Old Jail, Apothecary & Doctor's Office, NC's oldest wood-framed Carteret County Courthouse, and the town's oldest cemetery, Old Burying Ground.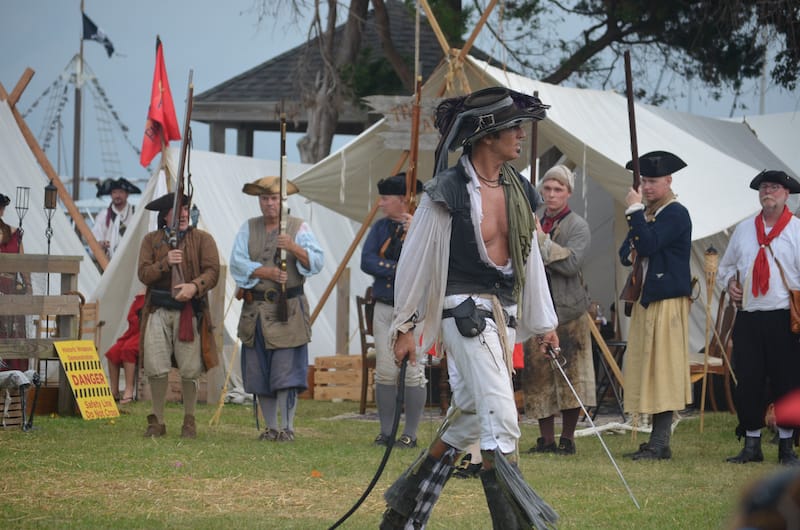 Take a guided tour around the city to visit those historic places while being on a vintage English double-decker bus from 1967, which in turn, adds a rustic touch to the whole authentic vibe of the period-era atmosphere.
They offer guided tours are a great way to get educated about the town's rich history, and learn the real story of the area's notorious pirates, Confederate spies, and the mystery of star-crossed lovers.
Don't forget to check out the Old Beaufort Gift Shop, which features a vast selection of exclusive books, local history, carved decoys, and fresh herbs, along with showcasing the unique art of pottery and hand-woven rugs, and much more.
Address: 130 Turner St
Website: https://beauforthistoricsite.org/
Best Restaurants in Beaufort, NC
There are plenty of tasty restaurants in Beaufort to enjoy on your trip. And if youʻre in town for a long time, you can check out some of the best restaurants in Atlantic Beach, Emerald Isle, and other places along the Crystal Coast as well!
Here are some of the top-rated places to eat in Beaufort (and if we missed places, let us know!):
City Kitchen (114A Town Creek Drive)
Clawson's 1905 Restaurant & Pub (425 Front Street)
Beaufort Grocery (117 Queen Street)
Aqua Restaurant (114 Middle Lane)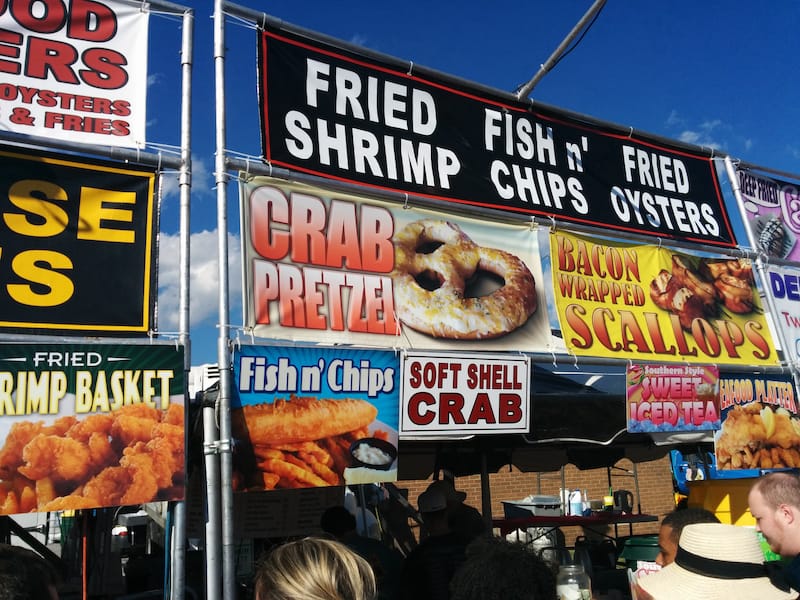 Old Burying Ground
Visit the Old Burying Ground, the town's most mysterious spot, to learn about the enthralling 300-year history of Beaufort in one place. It is located in Beaufort's Historic district on the 400 block of Ann Street.
At first, it served as a convenient spot for arranging Anglican church services for nearby St. John's Parish, but later in 1731, it was given to the town of Beaufort, which has owned and maintained it ever since.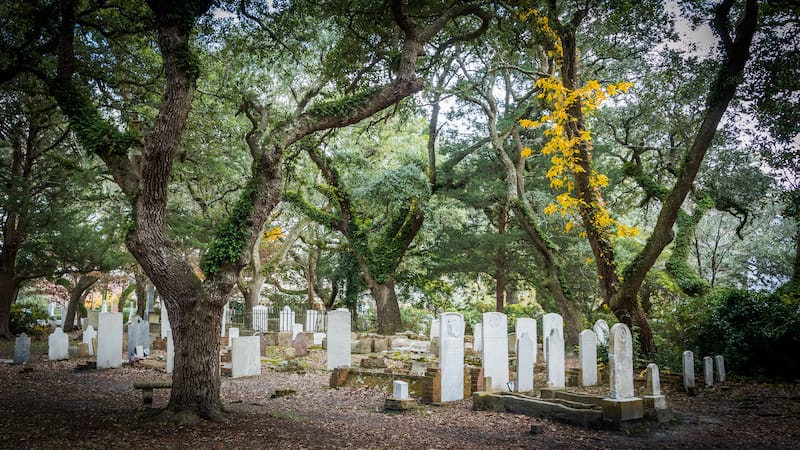 The cemetery was built in the early 1700s, and weathered tombstones are a great illustration of the area's hundreds of years old history.
The cemetery's oldest northwest section is home to various unmarked graves that date back to the early 1700s and are thought to be the graveyard of Native American war victims.
This place also served as a final resting place for a child who died in the sea and was buried in a barrel of rum, and the famous privateer Captain Otway Burns (along with the crew of the Crissie Wright), who all died during 1886's severe January storm.
Address: 400 Ann St
Website: https://beauforthistoricsite.org/old-burying-ground/
Rachel Carson Reserve
Located across Taylor's Creek between the Newport and North Rivers, Rachel Carson Reserve is a large complex of undeveloped islands, including Town Marsh, Carrot Island, Bird Shoal, and Horse Island.
The rich coastal ecosystem is enclosed in this pristine estuarine environment, which features tidal flats, shell bottom, ocean beach, dredge spoil areas, sand dunes, salt marshes, submerged aquatic vegetation, and maritime forest.
While visiting this unique 2,315 acres of land, get ready to witness one-of-a-kind wild horses that have inhabited the island since the 1940s and, by symbolizing freedom, are considered as a cultural treasure for locals.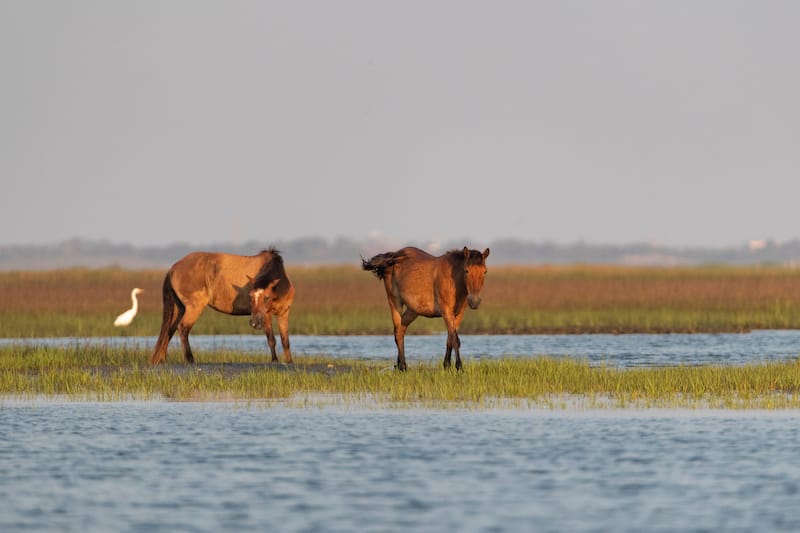 A diverse range of unique and hard-to-find species of birds, mammals, fish, and invertebrates consider this place as their main natural habitat, which makes this reserve even more magical and worth your visit.
It truly is one of the essential things to do in Beaufort NC (and is rather romantic, too)!
Address: Front St
Website: https://www.visitnc.com/listing/CrtT/rachel-carson-reserve
Mattie King Davis Art Gallery
Get a great dose of creative inspiration at the Mattie King Davis Art Gallery, Carteret County's oldest art gallery. It is located at the Beaufort Historic Site in the historic Russell House.
The Gallery is home to various masterpieces created by local and regional artists and features a wide range of artwork from oils, acrylics, and watercolors to pottery, glass, and weavings.
While admiring the artwork on display, you can clearly see the inspiration behind every gem, which is often of the picturesque coastline.
Aside from serving as one of the best attractions in Beaufort, it also gives an opportunity for art lovers to purchase their favorite works of art as a souvenir to take home.
Part of the gallery's proceeds is used for supporting educational programs and restoration activities of Beaufort Historical Association.
Address: 150 Turner St
Facebook: https://www.facebook.com/mattiekingdavisgallery/
Craft Beer in Beaufort
If you're a beer lover, don't worry – Beaufort has you covered! These are some of the top breweries in Beaufort, NC (and one is nearby in Atlantic Beach).
Fishtowne Brew House (133 B. Turner St)
Mill Whistle Brewing (1354 Lennoxville Rd)
Crystal Coast Brewing Company (219 W Fort Macon Rd, Atlantic Beach, NC)
View this post on Instagram
Harvey W. Smith Watercraft Center
Eager to discover Beaufort's rich maritime history or be a witness of a traditional NC's wooden boatbuilding process? If yes, then Harvey W. Smith Watercraft Center should be on your itinerary when planning your trip to gorgeous Beaufort.
From the sounds of a true boatbuilding process to the smell of rustic wood, it will make you travel back in time to the historic days of the shipbuilding industry.
A single glass wall is all that separates you from the real process of small wooden boat building from start to finish done by the members of the Carolina Maritime Model Society, which can take up to 12-14 months to complete.
View this post on Instagram
An excellent entertainment spot to not only spend some quality time with family or friends but to also learn about this truly magnificent craftsmanship process.
The Harvey W. Smith Watercraft Center also offers boat-building courses for all ages and skill levels to practice the unique art of boatbuilding and for people to familiarize themselves with the powerful heritage of coastal NC.
Address: 326 Front St
Website: https://thewatercraftcenter.com/
Kayaking in Beaufort
Water junkies will love this town since it offers some of the best places to go kayaking in North Carolina.
Go riding the waves in either Taylor's Creek, which connects downtown Beaufort and the Rachel Carson Reserve, or in Back Sound, the main waterway between Shackleford Banks, Harkers Island, and Cape Lookout National Seashore.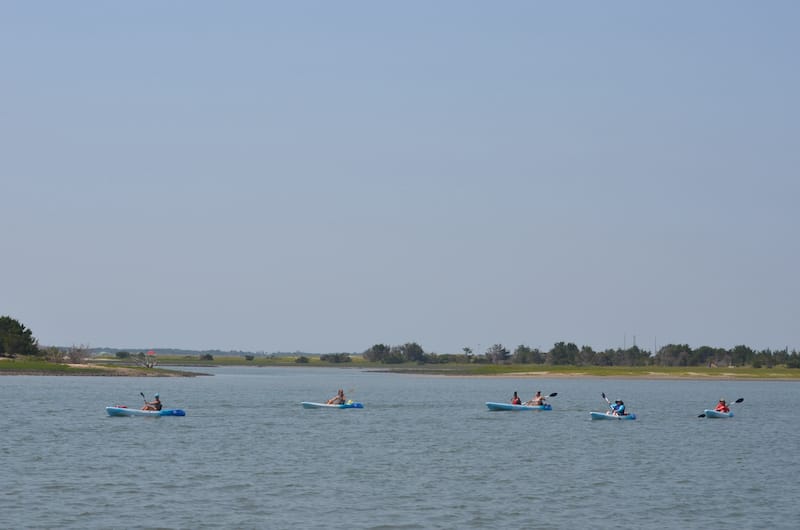 Go on with your adventures and explore the crystal-clear waters with one and only Beaufort Paddle, which is a local family-owned business offering paddle sports gear.
There you can find kayaking equipment rentals for experienced individuals or guided tours for amateurs.
With an additional small fee, you can also have all the equipment delivered to a location of your choice.
Parasailing with Beaufort Inlet Watersports
Get your daily dose of adrenaline while parasailing hundreds of feet above the prettiest waters of the Crystal Coast and witnessing tidal pools, the rich marine life, and one-of-a-kind wild horses along the shoreline.
Get ready for creating lifetime memories with Beaufort Inlet Watersports, which offers safe parasailing opportunities over gorgeous Beaufort Inlet for adventurers since 2002.
Once you are high up in the air, prepare to be mesmerized by the views of Shackleford Banks and Carrot Island, or get a bird's eye view of the iconic Cape Lookout Lighthouse and Fort Macon National Park.
The whole tour takes up to 45 minutes, 10 of which are dedicated to the flight. Parasailing in Beaufort NC is one of the best things to do while there!
Shackleford Banks
Beach lovers will certainly appreciate these magnificent 8.5-mile-long pristine barrier island beaches in Shackleford Banks, which is considered as one of the three components of Cape Lookout National Seashore.
Nestled between the Atlantic and downtown Beaufort, this area can be reached via ferry, boat, or kayaks provided by Island Ferry Express.
About 200 freely roaming wild horses, thought to be descendants of the shipwreck transporting Spanish horses, are considered to be the island's true gem.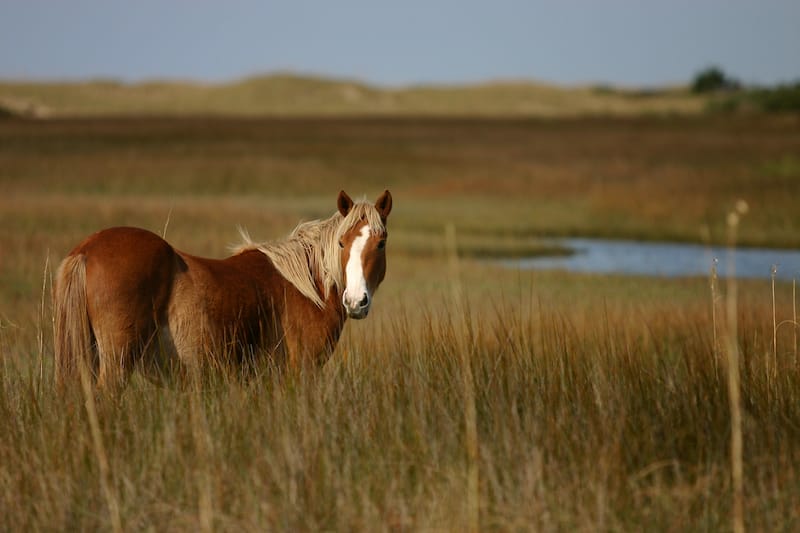 Explore the islands' rich nature and history in-depth or get up close with wild horses while taking a complete tour offered by Water Bug Tours. Sandwiched between Beaufort and Barden Inlets, the island also serves as a popular spot for fishing enthusiasts.
Once on the island, a wide range of activities await you to ensure an exciting trip, including wildlife watching, surfing, kayaking, paddleboarding, birdwatching, and much more.
Scuba Diving in Beaufort
Epic diving adventures await you in the gorgeous coastal town of Beaufort.
Get ready to explore life under the waves and have the most exciting experience with the assistance of Discovery Diving and Olympus, the town's two charter diving companies.
They provide full-service diving opportunities for either half-day, full-day, or custom-designed SCUBA diving trips to discover mysterious shipwrecks in the Graveyard of the Atlantic.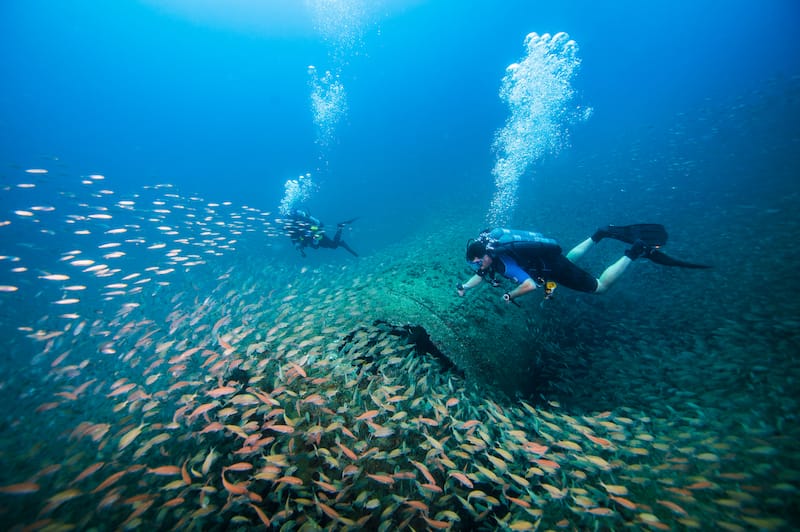 These two giants offer a dive shop where you will find a diverse range of SCUBA equipment, beach equipment accessories, gear sales, and rentals, along with dive apparel.
Scuba diving is one of the best activities in Beaufort for those looking to see a new world along the coast of North Carolina!
What are your favorite things to do in Beaufort NC? Let us know the best Beaufort landmarks and attractions in the comments. Thanks!
More Eastern NC Travel Resources
Pin this Beaufort Things to Do Guide