One thing North Carolina is renowned for is having some of the best beaches in the United States. These are some of the most beautiful North Carolina beaches to visit on your upcoming trip!
The first beach I ever saw was actually in the Outer Banks in North Carolina. I had been living in Germany for a lot of my childhood and when we moved to Virginia, my parents had planned a trip to Nags Head for the family. That was the first encounter I ever had with the ocean!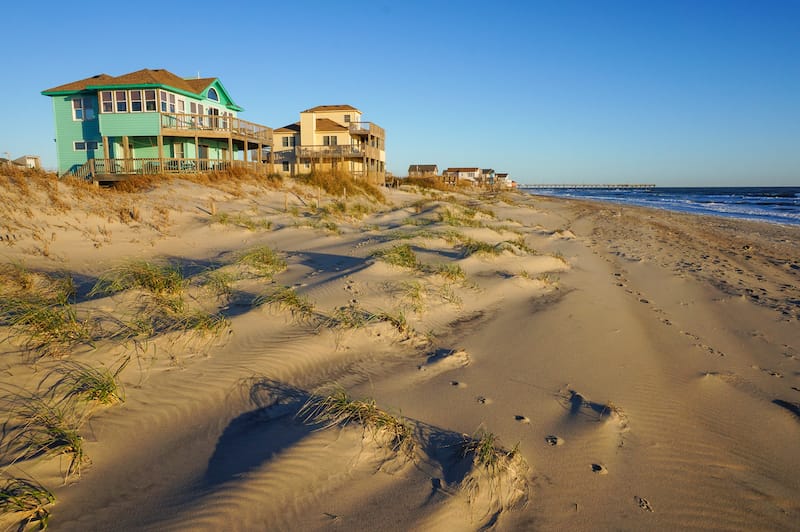 So, needless to say, the beaches of North Carolina are special to me. And, there are plenty of them – compared to the few beaches in Virginia that always end up overcrowded during the summer months.
What is your favorite beach town in North Carolina? Let us know in the comments. Thanks!
Best North Carolina Beaches Map
To add this map to your Google Maps account, click the 'Star' icon next to the map name. You can then view it on your cell phone or computer by heading to your Google Maps account, click the menu and add it to 'Your Places'.
Beaches in North Carolina – The List
Corolla
Located in the Outer Banks and nestled between the ocean and the sound, Corolla offers its visitors impeccable beaches with cozy retreats and breathtaking scenery to admire from the town's every corner.
Along the beach, you can witness one-of-a-kind wild horses, the Colonial Spanish Mustang – the island's true treasures, and go on a guided ride with them.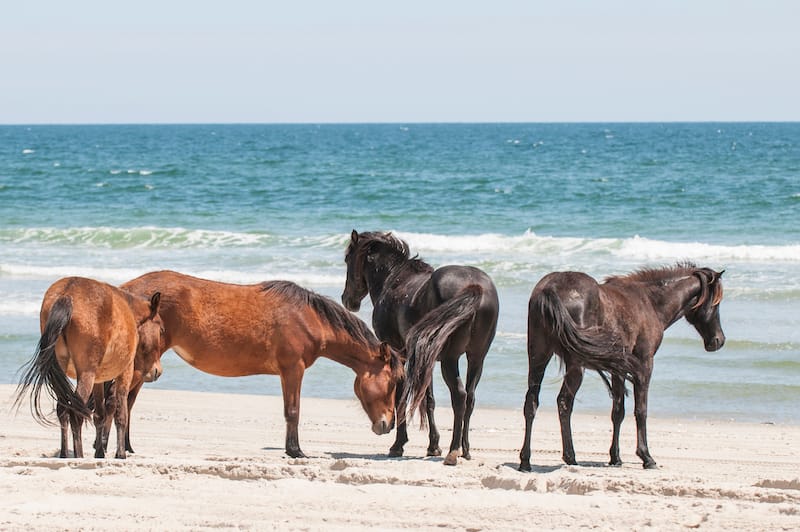 Pay a visit to the Center for Wildlife education and get acquainted with NC's rich biodiversity. Adventure seekers can have an exciting day in Corolla Adventure Park or learn to surf, kiteboard, water ski, or kayak in the ocean.
Get the complete view of the Outer Banks beaches while climbing to the top of the gorgeous Currituck Beach Lighthouse, dine at waterfront restaurants, and go shopping to round out your day.
This is one of the most beautiful small towns in North Carolina to visit.
Nags Head
Located on the central part of the Outer Banks, charming Nags Head is the town where history meets modern living. Witness Nags Head's unique architectural style while strolling throughout the Historic District.
Take a relaxing stroll along the unspoiled shoreline, which extends for nearly 7 miles and offers contemporary cottages with old Nags Head style along the way.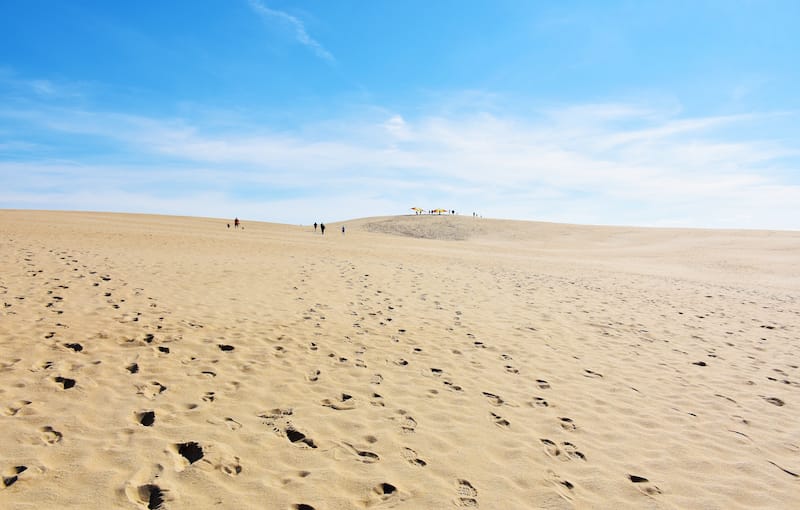 The city's main treasure, Jockey's Ridge State Park, is home to the largest sand dunes, natural hiking trails, visitor's center, gift shop, museum, and various shoreline sports for ocean fans.
Town also features two fishing piers – the Nags Head and Outer Banks Fishing Piers, which offer great fishing experiences, ensuring some exciting catches!
Carolina Beach
Want to have a laid-back, old-fashioned beach vacation while still enjoying a full range of fun activities? If so, then Carolina Beach has you covered with its miles-long pristine beaches, natural diversity, and entertaining atmosphere.
Get the best sunset views along with stunning views of the Atlantic while strolling on the nationally recognized vintage Carolina Beach Boardwalk.
Ride the waves, paddleboard, swim in crystal clear waters, hike on white-sand trails… all while catching some rays in Carolina Beach State Park.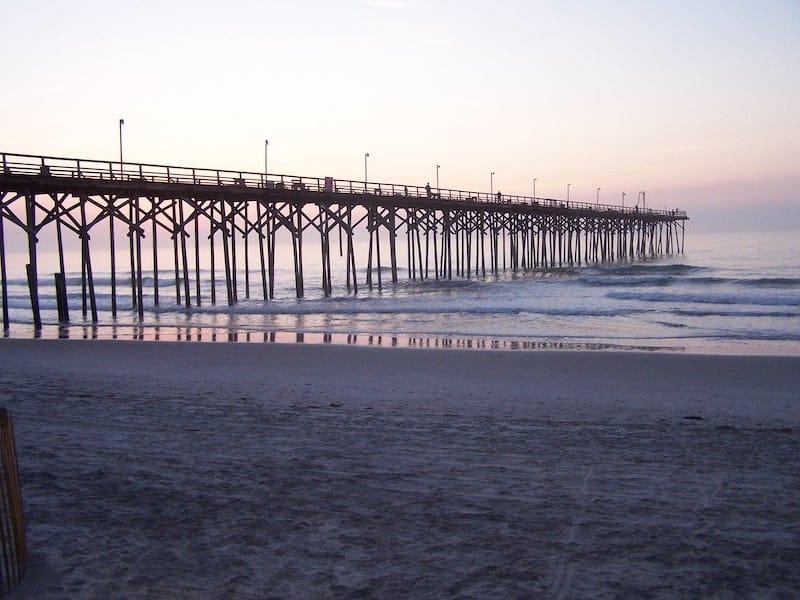 Try your luck with some fishing on the Carolina Beach Pier, and be sure to catch yourself some dinner. Plenty of camping options are available for adventurers to have a relaxing sleep under a starry sky.
Dive into the local cuisine at scenic, oceanfront restaurants overlooking the Atlantic.
The areaʻs hotspot is famous for its oceanfront tiki bar and music venues will certainly entertain the night owls. Don't miss NC's largest Carolina Beach Music Festival, which is the only music festival held on the beach.
Emerald Isle
One of the best beaches in North Carolina for families to visit is Emerald Isle. This area has so many activities that you'll never get bored! There are many things to do in Emerald Isle, including some white-sand beaches.
One of the most popular things to do there is to go fishing. The Bogue Inlet Fishing Pier is a fantastic place to catch dinner. You can catch sea mullet, mackerel, wahoo, and more there!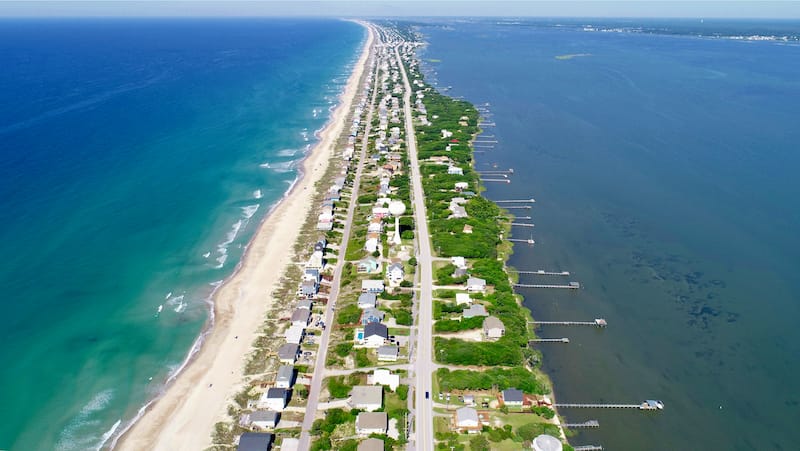 Another popular activity in and around Emerald Isle is going jet-skiing. While some love to lounge at the beach, others get bored easily (like me). You can cruise up and down the beautiful Crystal Coast with ease when renting a jetski.
Some of the other things you can do at the beach in Emerald Isle are paddleboarding, kayaking, swimming, surfing, and more.
Cape Hatteras National Seashore
Cape Hatteras is one of the most famous North Carolina beaches (although it contains several!) and one of the ones that come to mind when I think of the seaboard there.
The NC barrier islands are ever-changing and they almost always change with each and every hurricane that beats against the North Carolina coast.
It is about 563 nautical miles from Bermuda and the waters off of the coast are referred to as the Graveyard of the Atlantic as over 600 vessels have sunk there.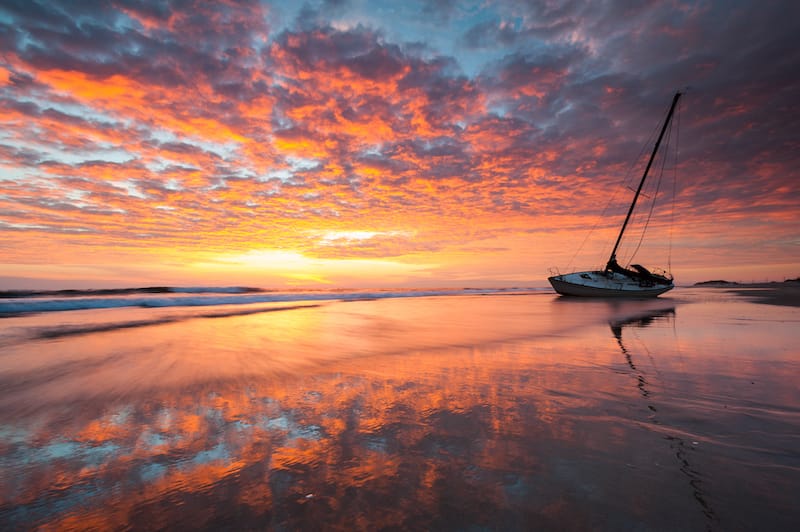 There are three barrier islands that make up Cape Hatteras – Ocracoke, Hatteras, and Bodie Islands. We cover Ocracoke as a separate place on this guide, but all three have phenomenal beaches!
Another notable place that you'll find on the seashore is the Cape Hatteras Lighthouse which dates back to 1870 and is one of the most famous landmarks in North Carolina.
Wrightsville Beach
Located east of Wilmington, Wrightsville Beach should be your top pick if you are looking for an active island lifestyle. Crystal clear water, spacious and pristine beaches, and a busy nightlife await you in this vibrant beach town.
Wrightsville Beach will undoubtedly satisfy even the most demanding water junkie by offering plenty of water sports activities like surfing, kayaking, and stand-up paddleboarding with Wrightsville SUP.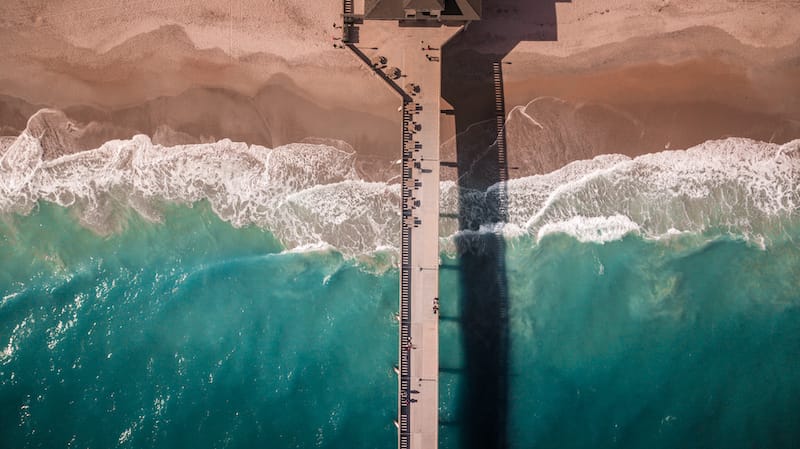 Be ready for some Atlantic fishing at Johnnie Mercers Pier, or have your dream fishing trip by taking a fishing charter from the beach. Spice up your dining experience at the many beach taverns serving water to table fare while enjoying live music on the pier.
This beach town offers the best assortment of shopping options, ranging from beach boutiques to surf shops. It is the ideal destination for leisure travelers looking for convenient camping and resort amenities and the best spa experience amidst a serene setting.
Bald Head Island
Bald Head Island is the ideal island retreat for those seeking the tranquil charm of untouched nature. This car-free island can be reached via a private boat or ferry and is the ideal location to get away from the hustle and bustle of city life.
The Island is home to unspoiled beaches, maritime forests, and salt marshes, all of which you can discover up close on foot or by taking a bike, a boat, or a golf cart.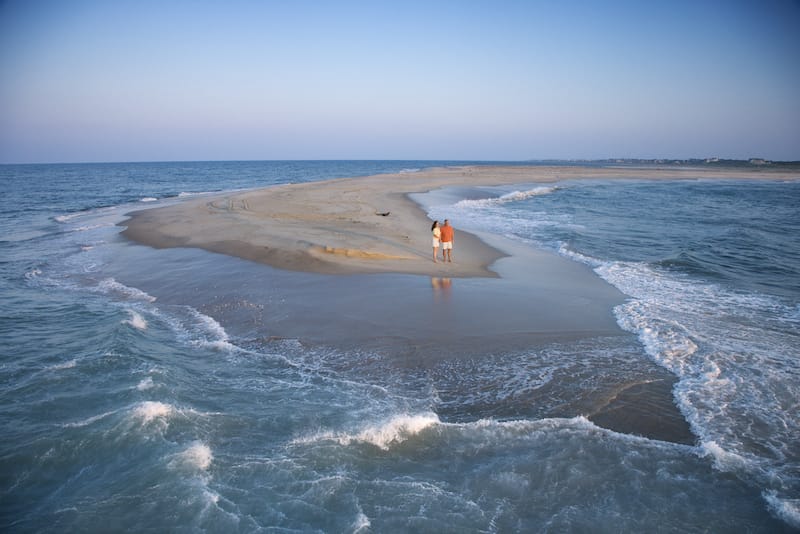 Make sure to visit NC's oldest standing lighthouse, Old Baldy, and climb to the top to marvel at the Island's unparalleled views from above.
On this well-maintained Island, you can still witness NC's largest sea turtle nesting spot as well as learn more about the island's rich wildlife at Bald Head Island Conservancy. Beach rentals are available throughout the Island, along with plenty of dining and shopping options to choose from.
Ocracoke
Ocracoke is often considered to be the pearl of the Outer Banks and the town is home to 14 miles of pristine beaches and is the ideal destination for those who want to settle in peace and quiet.
It is a compact town full of historical sites to discover, including NC's oldest lighthouse, the Ocracoke Island Lighthouse and the Ocracoke Preservation Museum.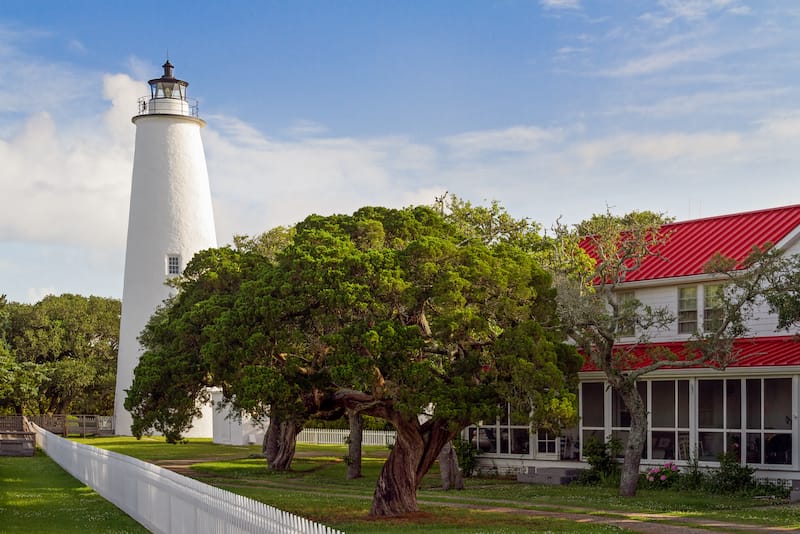 Wildlife attractions are a favorite activity when in Ocracoke, whether it's witnessing the island's wild ponies at the Ocracoke Pony Pen or admiring the diverse nature at Springer's Point.
Ocracoke Village, with plenty of dining and shopping spots, as well as boating and fishing options, promises you a memorable stay!
Topsail Island
Once a popular hideaway destination for pirates, Topsail Island now offers visitors the chance to indulge in the serene beauty of nature and enjoy a laid-back vacation.
Elevate your beach experience and get sun-kissed on the neverending, uncrowded, and untouched white sandy beaches. Learn more about Topsail Island's rich history at the Missiles and More Museum or learn about marine turtles at the Karen Beasley Sea Turtle Rescue and Rehabilitation Center.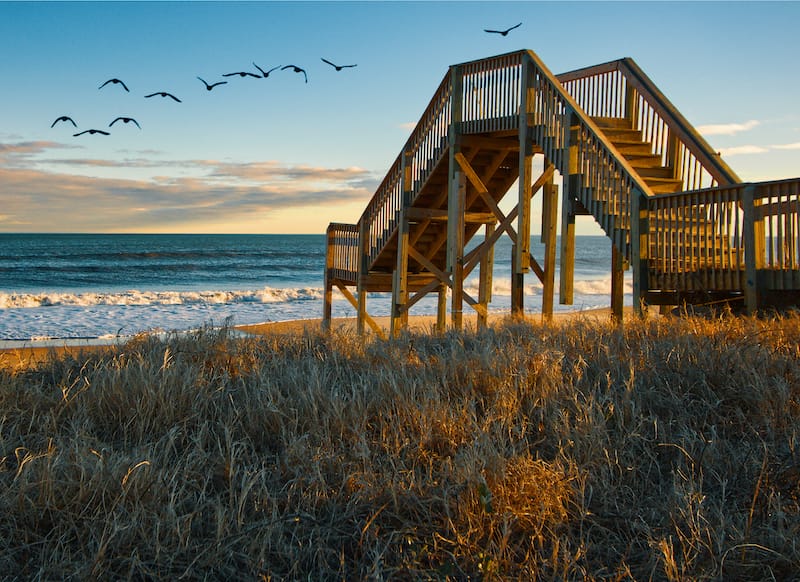 This gorgeous Island is full of oceanfront, marsh front, and inland vacation rentals and offers various water sport activities (surfing, fishing, jet skiing, boating) to enjoy the water, local eateries to get a taste of signature dishes, and various shopping spots to round off your day.
The Island is very close to downtown Wilmington, which means that you can easily spend a day enjoying all the entertainment options the downtown has to offer.
Atlantic Beach
Nestled between the Atlantic and Bogue Sound, Atlantic Beach is home to some of NC's most pristine beaches.
Spend a whole day in the sparkling waters while enjoying surfing, scuba diving, swimming activities, then explore further out by boat or take a fishing charter for a great catch at Captain Stacy Fishing Center.
Choosing the best place to dine in Atlantic Beach is certainly one of the hardest things to do! From classic American diners to the finest seafood restaurants, you will have your choice of where to indulge in the local cuisine.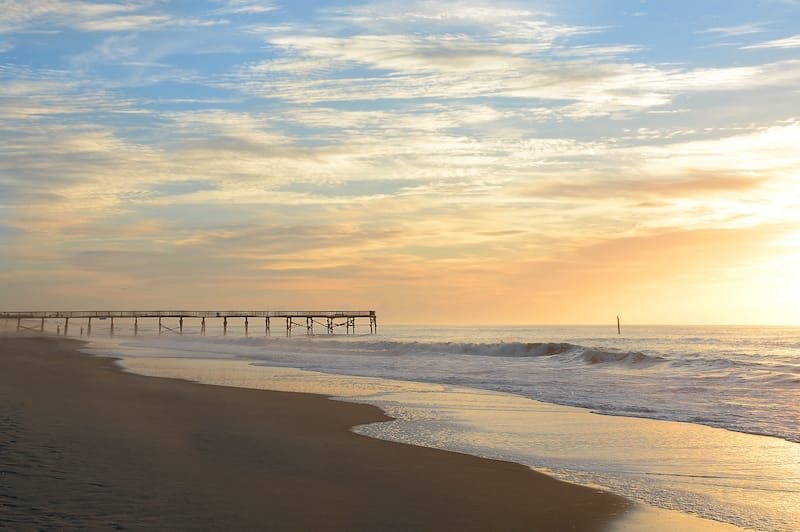 A casual walk away, you will find NC's popular Fort Macon State Park, which will make you travel back in time to the 19th-century.
Chase mesmerizing sunsets along with panoramic ocean views while strolling on Atlantic Beach Boardwalk. Make sure not to miss regularly organized Atlantic Beach special events and festivals, which will ensure you a fun and exciting getaway.
Duck
Despite being next to the Outer Banks' larger towns, Duck stands out with its relatively small area packed with amazing conveniences for a memorable vacation.
As the name implies, this lovely beach town has seen a lot of waterfowl hunting since the 1800s. Bordering Currituck Sound and the Atlantic, it offers the ideal location for water sport activities.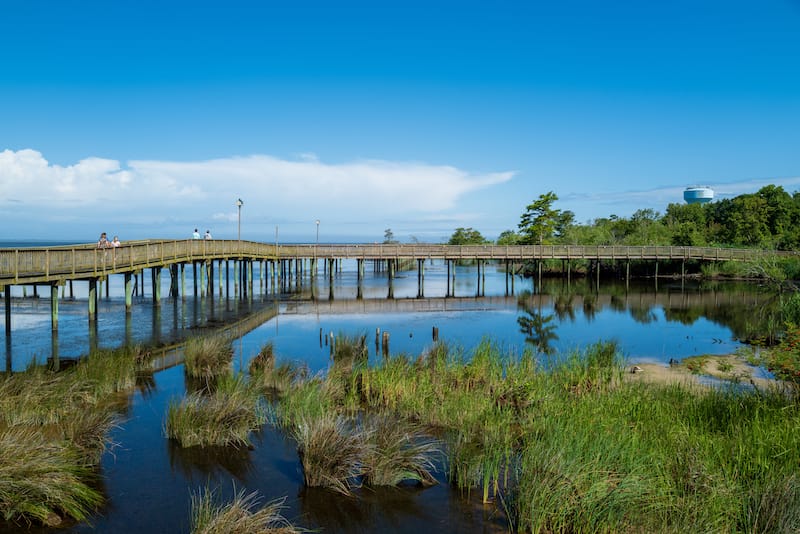 Duck's beautiful beaches are brimming with stunning vacation rentals, fine dining restaurants, shopping complexes, and outdoor theaters… making it one of the best towns in the Outer Banks to stay in for vacation.
Visitors can enjoy various special events all year round in Duck Town Park, such as the Duck Jazz Festival, the Duck Yuletide Celebration, and several others.
This is one of the best beaches in North Carolina for those looking for a little bit of life alongside the water!
Kure Beach
Enjoy your laid-back coastal getaway in Kure Beach, a charming and small town just eighteen miles from downtown Wilmington. Have a glimpse into the past at Fort Fisher State Historic Site, where you will witness the grounds of Civil War's greatest land-sea battle.
Surf the waves, kayak, or paddleboard in crystal clear waters, or simply take a swim in the Atlantic to experience the stunning coastline with its full potential.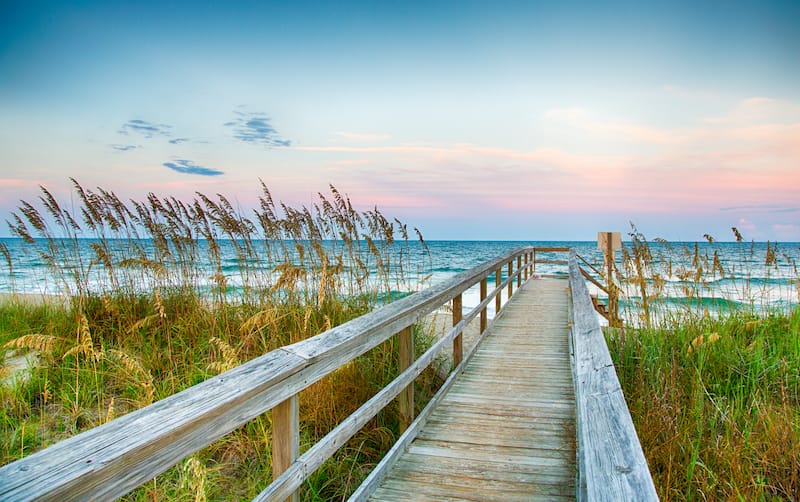 Head to Ocean Front Park if you're looking to relax with the family. Don't miss out on special fun and exciting events and festivals organized throughout the year, including the Boogie in the Park concert series, Pleasure Island Seafood, Blues & Jazz Festival, and much more.
Hammocks Beach State Park
Want to discover one of North Carolina's best-kept secrets? If so, then pay a visit to tranquil Hammock Beach State Park, located on uninhabited Bear Island.
At only 4 miles long, this small island offers visitors gorgeous beaches on the Atlantic coast with a remote and ethereal setting. You can only get there via ferry, boat, or by kayak provided by the park (or you can bring your own)!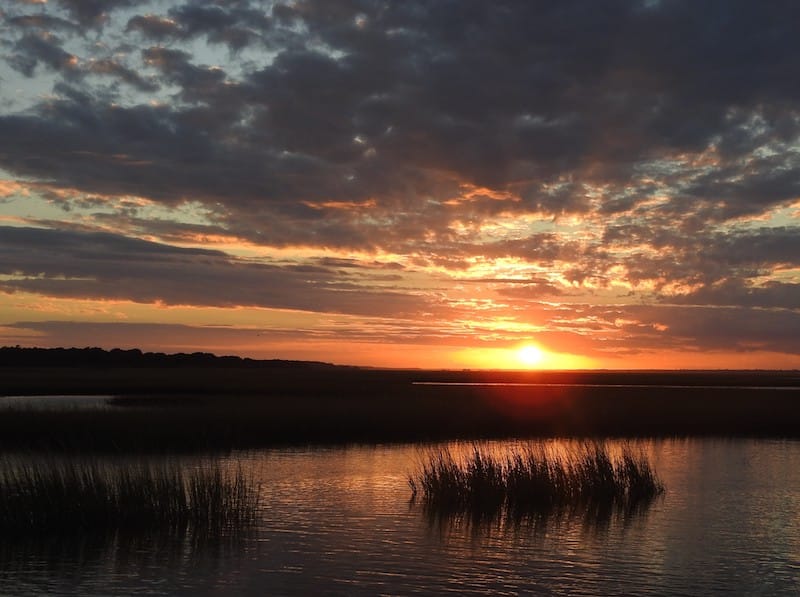 The North Carolina state park is considered a true local gem and it provides a full-service visitor center with a snack bar and bathhouse. It also offers ferry, boat, and kayak services to discover marshlands and untouched maritime forests paddling pathways.
Hammock Beach State Park also offers year-round available camping opportunities near the beaches of Bear Island. There are 14 family and 3 group campsites available there.
Various educational programs and exhibits will get you acquainted with endangered species that inhabit the island and will better inform you about the ecology of the park.
Did we miss any of the best North Carolina beaches? Let us know your favorite beaches in North Carolina in the comments! Thanks!
More Coastal NC Travel Guides
Pin this NC Beaches Guide