Wilmington, North Carolina is often considered to be one of the most beautiful riverfront cities in the United States. And these are the best things to do in Wilmington NC!
Known for its accessibility and annual festivals, there's a lot to see and do during your trip to Wilmington. You can check out the waterfront activities, attractions, historical sites, dining, and more.
Wilmington is also known for the festivals that take place throughout the year. During your visit, be sure to also take a walk along the Riverwalk and check out the city's best cafes and nightlife scenes!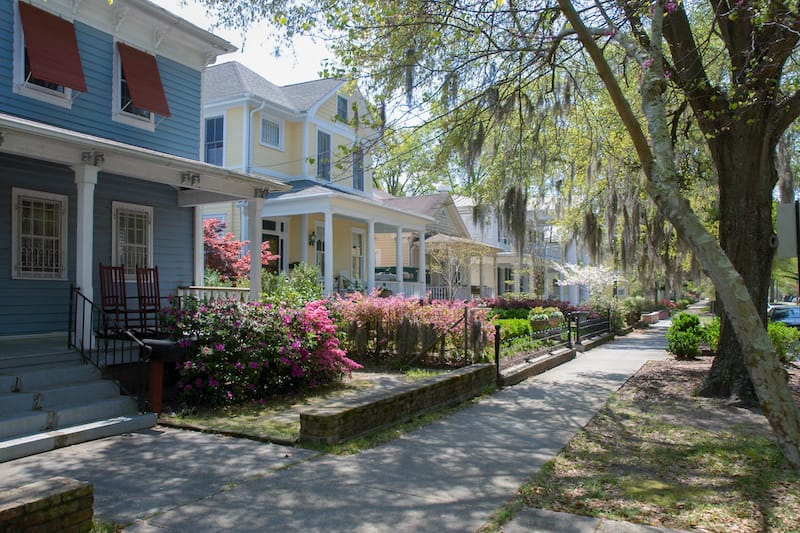 In this article, we've compiled a list of the top Wilmington attractions and landmarks that will surely make your visit unforgettable.
If we missed any amazing Wilmington landmarks, let us know in the comments.
Best Wilmington Tours (to Maximize Your Time!)
If you're looking for something more organized when in Wilmington and the surrounding area, here are some awesome Wilmington tours you should check out.
These tours will help you maximize your time, which is especially important if you only have a short amount of time in the city! We listed a variety so that you can pick which one is most suitable for you (and many include multiple places!):
Sunset sail tour of Wrightsville Beach (Popular tour!)
E-bike tour of historic sites and breweries (Top rated!)
Electric bike or e-mobility scooter rental (cool way to see the city!)
Best Things to Do in Wilmington
Head to Wrightsville Beach
Wrightsville Beach, one of North Carolina's most popular and accessible beaches, offers a variety of outdoor activities and water sports just 8.5 miles from Wilmington.
National Geographic named the seaside town one of the world's best surf towns where you can practice all types of water sports and visiting is definitely one of the best things to do in Wilmington.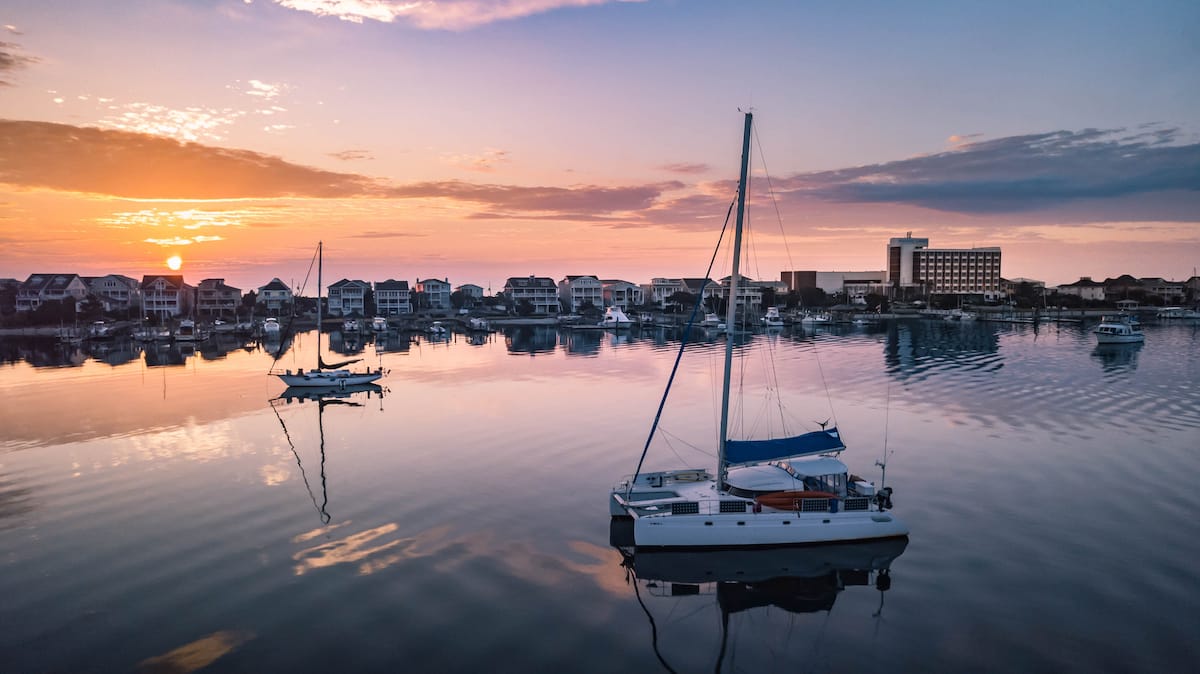 The NC beach offers a sandy coastline stretching for five miles with crystal-clear water and alluring views. It is the ultimate destination for family holidays where you can spend a lot of time relaxing on the beach.
Some favorite activities at the beach include surfing, paddle boarding, going on historical tours at the museums, and exploring hidden sanctuaries.
Take the Trolley Tour Downtown
With the cobblestone streets that make up Wilmington's downtown (and its history!), visitors can enjoy the town's charm and splendor by taking a trolley tour.
A ride on the old-fashioned trolley is a popular activity in downtown Wilmington and one where you will have the chance to explore the history and historic landmarks in motion.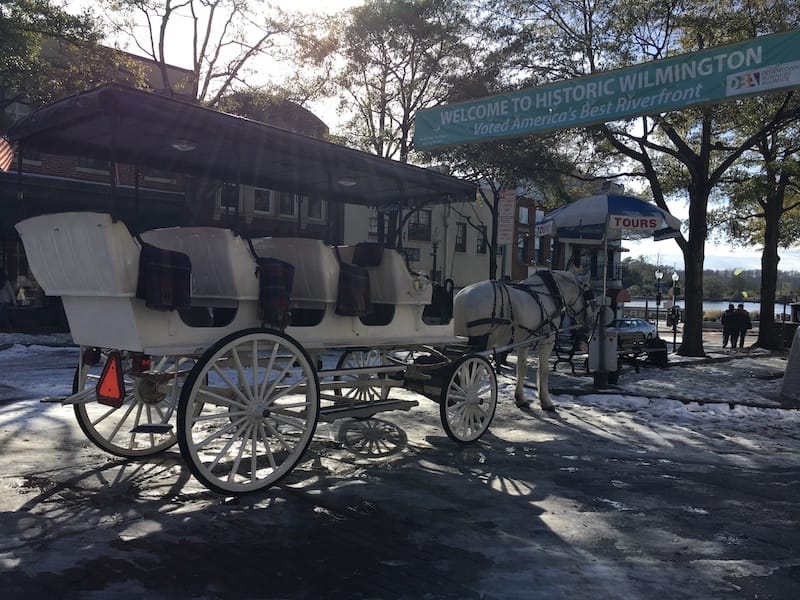 The tour travels past the most popular places in the town, including film locations from The Conjuring, Iron Man III, I Know What You Did Last Summer, and some popular TV shows, as well as the historical Bellamy Mansion and local museums.
This eight-mile trolley tour lasts about 45 minutes and is one of the best activities in Wilmington!
Stroll through Airlie Gardens
Located two miles from Wrightsville Beach, Airlie Gardens offers 67 acres of wildlife and green areas, a 500-year-old Airlie Oak, 75,000 azaleas, natural lakes, and so much more that you need to explore!
All these sites are connected by an array of hiking trails. The history of the place dates back to 1884 when Sarah Jones and Pembroke purchased the property and turned it into a splendid garden.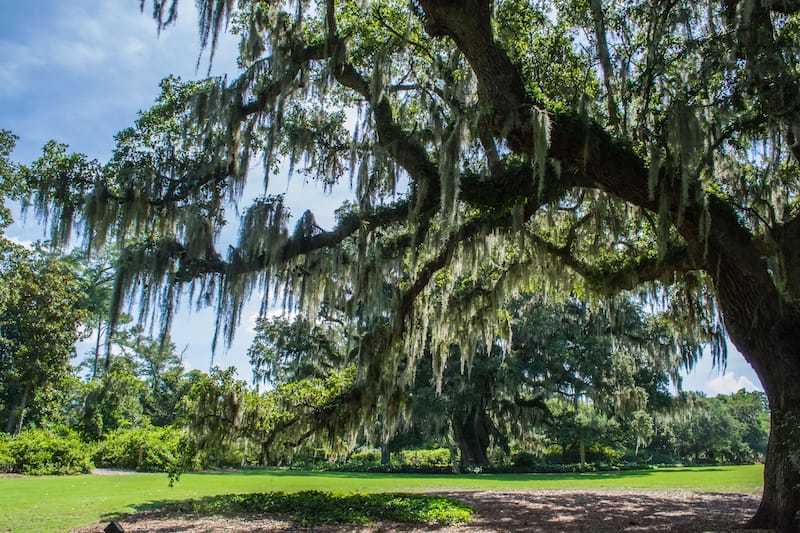 Today, Airlie Gardens is a non-profit organization with a mission to preserve the historical site and its nature, as well as to organize cultural and environmental programs.
Airlie Gardens also holds regular events such as the Bird Hikes Summer Concert Series and Enchanted Airlie. The admission fee for guided tours is $9 per person.
Address: 300 Airlie Rd, Wilmington, NC 28403
Enjoy the Downtown Sundown Concerts
Wilmington's summertime concert series are popular outdoor concerts open to the public, taking place on the first and third Fridays from May to October starting at 6:30 pm.
This annual event (that spans many days as indicated above!) gathers over 26,000 visitors, residents, and guests and is a significant part of downtown life in Wilmington.
Each event offers live concerts and entertainment with beer and beverages sold nearby. Food trucks usually line up on Main Street with different snacks for hungry listeners.
Note that visitors are not allowed to bring pets or outside alcohol on the premises, and visitors are prohibited from smoking on the property.
See Wilmington with EZ Electric Bike Rentals
Honestly, I love when you have options to see a city from a bike, and even more when it's an electric bike (okay, I am not in the greatest shape).
And, just this September, a new company launched a service that offers residents and tourists the opportunity to see Wilmington by bike! They have a selection of e-bicycles and e-mobility scooters for those in a wheelchair.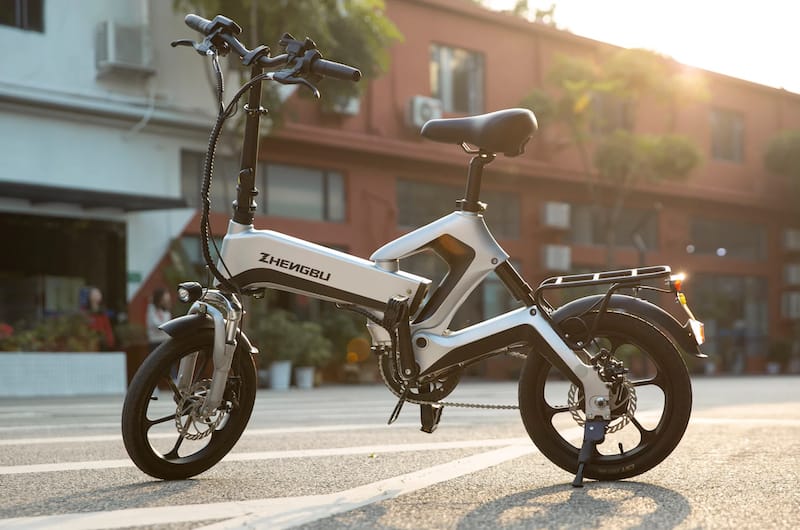 This is an eco-friendly way to see the North Carolina city and a way to be able to hop-on and hop-off at your leisure!
To book a bike, you can click the link below to their website or give them a call at (910) 474-0003.
>> Click here to check rates and availability
Play Disc Golf in Wilmington
Disc golf is an up-and-coming sport where players throw a special disc at a target using the strategy and mastery of traditional golf mixed with the action of Frisbee.
This unique sport has many players in Wilmington, with three popular places to practice and play disc golf.
Arrowhead Park
Arrowhead Park is a small but challenging wooded area with some low hills. An 18-hole disc golf course is perfect for beginners, while advanced players can play in a Gaga Ball pit with old playground classics.
Arrowhead Park is located in southern New Hanover County and includes a picnic shelter, two tennis courts, a basketball court, and a multi-purpose field.
Address: 720 Arnold Rd, Wilmington, NC 28412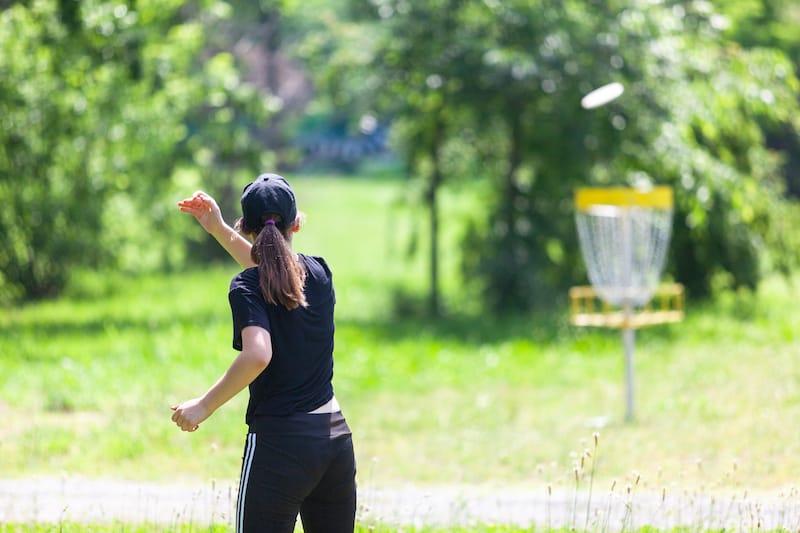 Northern Regional Park
Recently transformed into Northern Regional Park, the New Hanover Country Park features an 18-hole disc golf course, multi-age playground, restrooms, and two picnic shelters.
Address: 4700 Old Ave, Castle Hayne, NC 28429
Founders Park
The town's first park is located at 113 Town Hall Drive. It features 8 acres of playgrounds, a picnic area with tables, open green spaces, and a 9-hole disc golf course.
Address: 113 Town Hall Dr, Leland, NC 28451
Visit the Best Wilmington Breweries
People traveling to North Carolina will not be surprised to learn that the state has the largest number of breweries in America's South, with Wilmington proudly carrying the name of America's beeriest beach town. And rightfully so!
When in town, make sure you visit these three popular Wilmington breweries.
Wrightsville Beach Brewery
Producing over 10 varieties of craft beer, Wrightsville Beach Brewery is a favorite among visitors to enjoy delicious food paired with good beer! Located not far from the Bradley Creek Waterway, the brewery is also known for its fresh seafood.
Wrightsville Beach Brewery regularly holds tastings, evenings with live music, yoga sessions, and special Tuesday brewery tours.
Recently, the brewery has launched a gluten-free IPA. The brewery is open daily from 11am – 10pm.
Address: 6201 Oleander Dr, Wilmington, NC 28403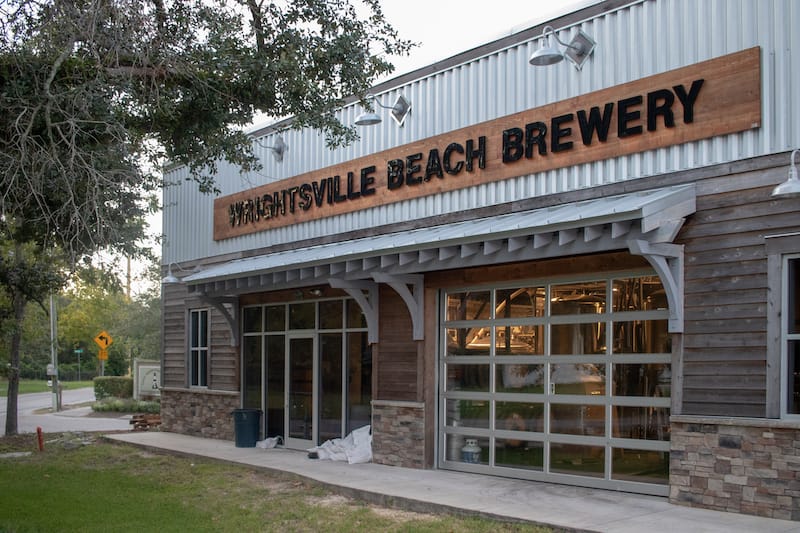 Edward Teach Brewing
Located in a 100-year-old former fire engine house, Edward Teach Brewery is a cool place to visit in the heart of Wilmingtonʻs Brooklyn Arts District.
The brewery is named after the infamous pirate, Blackbeard, whose real name was Edward Teach. The Edward Teach Brewery and downstairs bar resemble his ship, Queen Anne's Revenge.
Currently, the brewery offers five craft beers and the warmest atmosphere to enjoy them all!
Working hours: Mondays – Thursdays 1 pm – 10 pm, Fridays and Saturdays 12 pm – 12 am, Sundays 12 pm – 8 pm
Address: 604 N 4th St, Wilmington, NC 28401
Front Street Brewery
Front Street Brewery, with the largest selection of craft beer (already counting 14 types) in the city, was the first craft brewery in Wilmington. It has been operating for 26 years!
The restaurant and brewery, located in Historic Downtown Wilmington near the Cape Fear River, offers exceptional appetizers, the most extensive selection of whiskey and bourbon, craft beer (of course), and a taproom for tasting.
Working hours: Mondays closed, Tuesdays – Saturdays 11:30 am-10 pm, Sundays 12 pm-8 pm
Address: 9 N Front St, Wilmington, NC 28401
See the City with Cape Fear Riverboats
Cape Fear River Boats offers an exciting and relaxing one-hour tour exploring the beautiful sights of North Carolina. A guided tour covering the region's history is a wonderful way to discover Wilmington.
An extended trip lasting four hours will take you up the river to see the exciting sights of North Carolina that cannot be explored any other way (well, shouldnʻt be).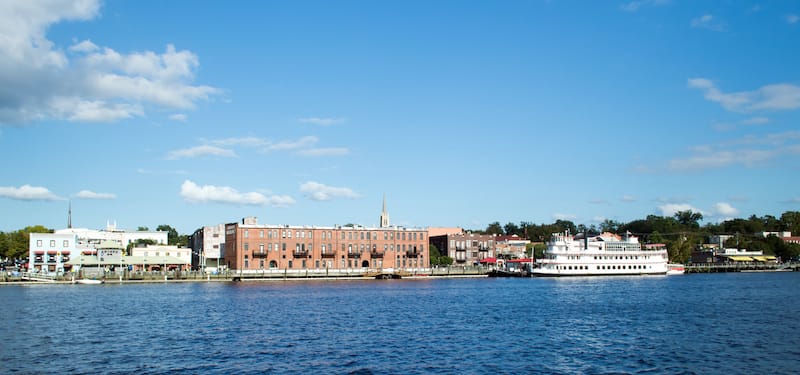 The Cape Fear River cruise offers stunning sunset views that can also be an excellent choice if you are planning a romantic evening.
Check Out the Wilmington Bar Scene
Organize a night out in Wilmington at one of these super-popular bars! You can even choose to go on a bar crawl and visit all of them!
Dead Crow Comedy Room
The Dead Crow Comedy Room is a fun-time comedy club and bar that is the best place to laugh, drink, and enjoy live comedy shows in Historic Downtown Wilmington.
The showroom shares space with a lush indoor bar and an outdoor beer garden.
Address: 511 N 3rd St, Wilmington, NC 28401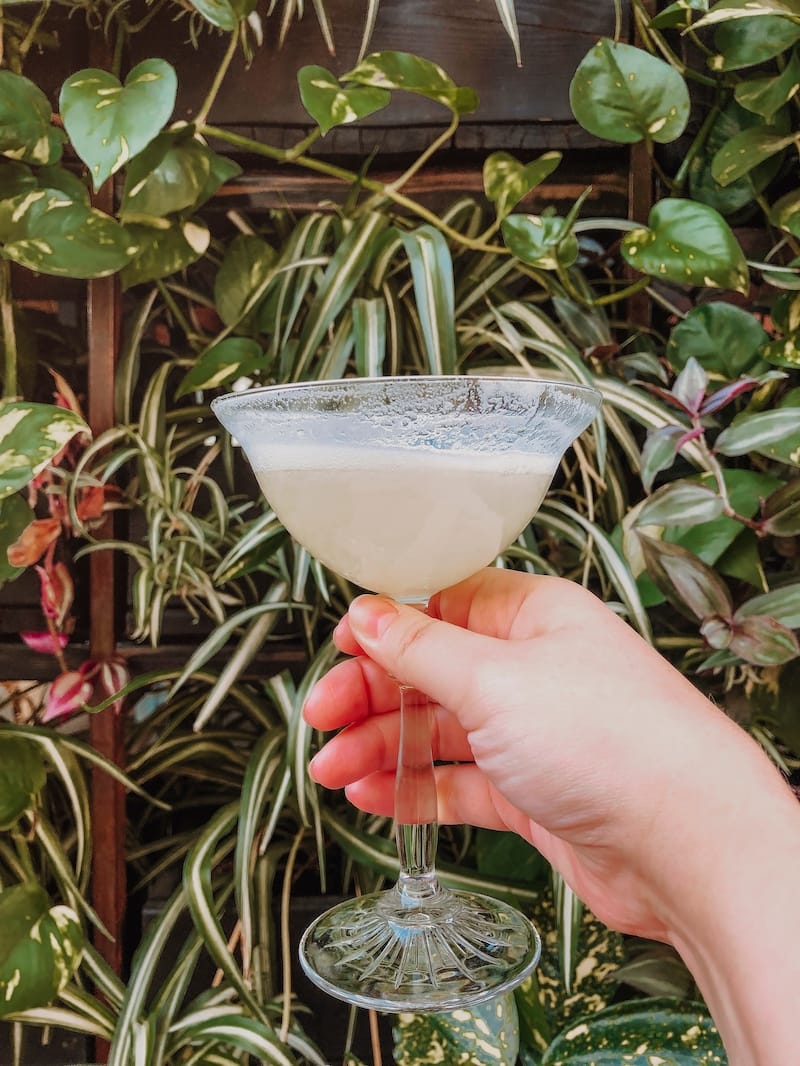 The Blind Elephant
Speakeasy venues from the 1920s Prohibition-era are back! They may be a ʻsecretʻ, but the mood, exquisite cocktails, and bourbon are always flowing!
Visit the Blind Elephant, hidden behind a metal door with a peek-a-boo sliding window on Smith Alley, and explore one of Wilmingtonʻs best bars for yourself!
The bar regularly holds signature events such as jazz piano four days a week, whiskey tastings once a month, the annual Great Gatsby Costume Party, and an Oscar Viewing Party.
Address: 21 N Front St, Wilmington, NC 28401
Whiskey Tango Foxtrot
Historic Downtown Wilmington's exclusive Whiskey Tango Foxtrot bar invites you to enjoy hand-crafted signature cocktails, 30 single malt whiskeys, craft beer, and a rotating snack selection in a relaxed atmosphere.
There is a special space and outdoor covered patio for private evenings where you can smoke cigars and chill with friends.
Address: 111 Grace St, Wilmington, NC 28401
Check Out the Cotton Exchange
Take a shopping tour in Wilmington at the Cotton Exchange, a traditional district with the best boutique shops in Historic Downtown.
The spacious courtyards and restaurants reflect the town's history while you peruse the streets. You can also check out the Wilmington Walk of Fame, honoring hometown heroes.
Some famous residents whose names are depicted on the Walk of Fame include Charlie Daniels, Althea Gibson, David Brinkley, and Roman Gabriel.
The Cotton Exchange also offers over fifteen unique boutiques of fine art, jewelry, accessories, clothing, handmade crafts, and North Carolina souvenirs. For guests shopping and dining, parking at the district is free.
Take Part in Some of Wilmingtonʻs Festivals
Wilmington's festivals are back, making the heart of the city beat again with all the happy voices of locals and visitors both!
Check out the dates when visiting the city and maybe you will have a chance to take part in one of the following popular festivals.
North Carolina Jazz Festival
Probably one of Wilmington's most popular and visited festivals is the North Carolina Jazz Festival, gathering jazz enthusiasts from all over.
Three days of jam sessions and spectacular performances by talented artists will take you to the world of vibrant jazz music. The North Carolina Jazz Festival takes place in February.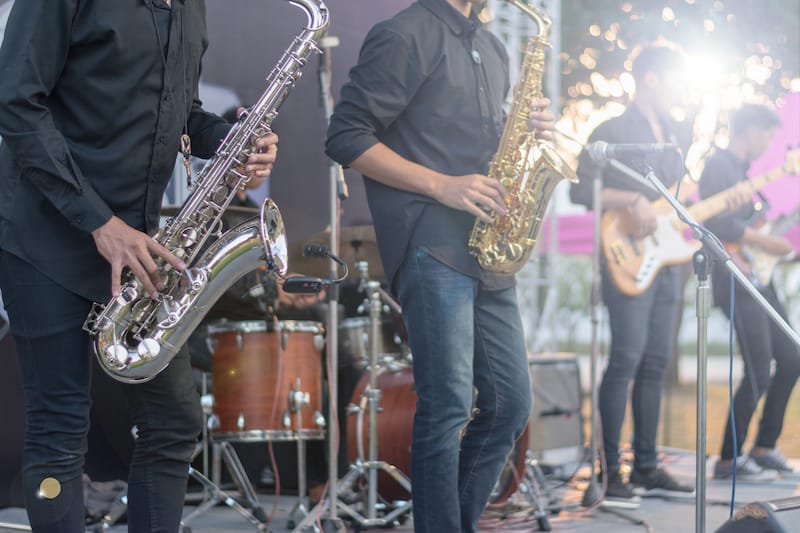 Wilmington Fall Wine & Beer Walk
Everyone loves beer, wine, and fun, especially when all three are served in one place called the Wilmington Fall Wine & Beer Walk.
The festival is held at the end of September in the downtown area, where guests can drink some wine/beer and enjoy strolling the neighborhood.
Cucalorus Film Festival
One of the most renowned festivals in Wilmington is the Cucalorus Film Festival held in November in downtown Wilmington.
The festival boasts about 100 movies from different countries focusing on world cinema and filmmakers. The festival is a wonderful place to connect, get to know the community, and share ideas.
See the USS North Carolina
Wilmington offers some of the most diverse tours and recreation in North Carolina, teaching visitors more about the historic city and providing them with beautiful views of the beach.
The exclusive USS North Carolina tour explores the Battleship North Carolina Memorial displaying the restored World War II relic. The memorial honors 11,000 North Carolinians who sacrificed their lives during World War II.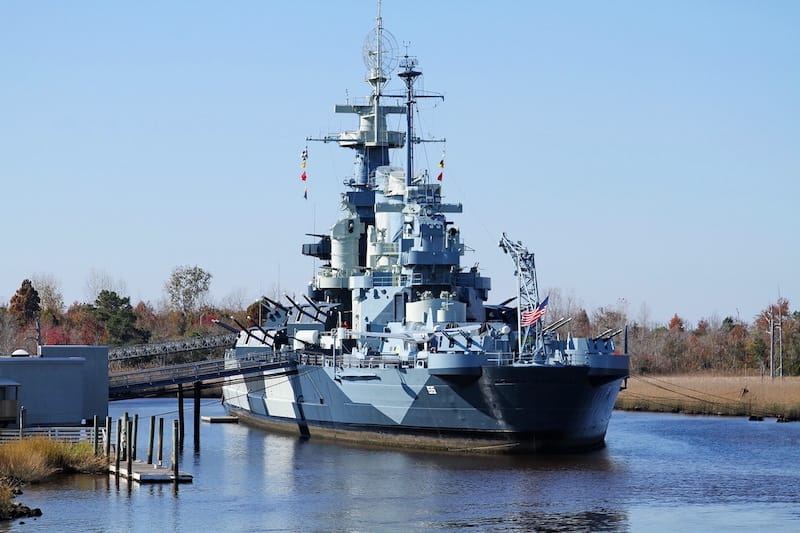 Youʻll have a chance to explore nine ship levels starting from the observation deck, including the mess decks, powder storage, gun turrets, sickbay, and engine room. The refurbished WWII Battleship is open daily from 8 am to 5 pm.
Admission: Adults (12-64): $14, Military/Seniors (65+): $10, Children (6-11): $6, "Friends" Members/Children (Under 5): free
Address: 1 Battleship Rd NE, Wilmington, NC 28401
Stop by the Cameron Art Museum
Already celebrating 50 years of arts education, the Cameron Art Museum (CAM) is a unique place for cultural gatherings and is one of the bst places to visit in Wilmington.
The 42,000 sq.ft. avant-garde museum acts as a community center and presents the 200-year history of North Carolina.
It also is home to one of the world's largest Mary Cassatt romantic color print collections. The museum is committed to enriching museum visitors' lives with high-quality art through exhibits and cultural programs.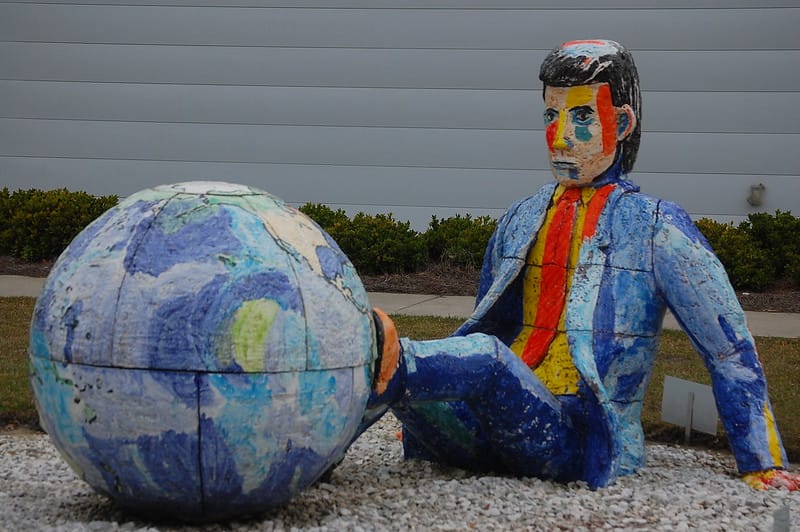 The Cameron Art Museum holds six to eight annual rotating exhibitions, outdoor installations and projects, dynamic public programs, and a historic Civil War site. The school operating within the museum offers ceramic art classes for all ages.
Working hours: Tuesday – Sunday: 10 am-5 am, Thursdays: Open late until 9 pm. Exclusive tours for special-needs visitors are organized on closed days (Mondays) to give them the space and time to enjoy art and make connections.
Admission: Members: Free, Adult: $10, Seniors/Active Military/Students: $8, Ages 19 & under: Free
Address: 3201 S 17th St, Wilmington, NC 28412
Watch a Baseball Game in Wilmington
Whether you are a fan of baseball or not, you should watch a game in Wilmington, as it remains a crucial part of the city's culture!
Come and root for the Wilmington Sharks baseball team, whose primary goal is to give a good show that promotes fun and memories… while also playing Americaʻs favorite game!
The Wilmington Sharks play their home games at the Buck Hardee Field at the Legion Stadium, more commonly referred to as the Shark Tank.
The stadium, which seats 1,200 people, is also home to the Wilmington Hammerheads professional soccer team.
Take an E-Bike Tour of Historic Sites and Breweries
One of the most exciting ways to explore historic Wilmington is by taking an e-bike tour. The tour will include visits to the top three Wilmington breweries as an added bonus!
The half-day e-bike tour will include stops at the most significant historical sites downtown, letting you enjoy and learn more about the town's story.
The 12-mile tour will take about 4-5 hours. What sets this e-bike tour apart from other tours of Wilmington is the perfect balance of sightseeing and craft beer tasting, blending cultural time with relaxed and fun adventures.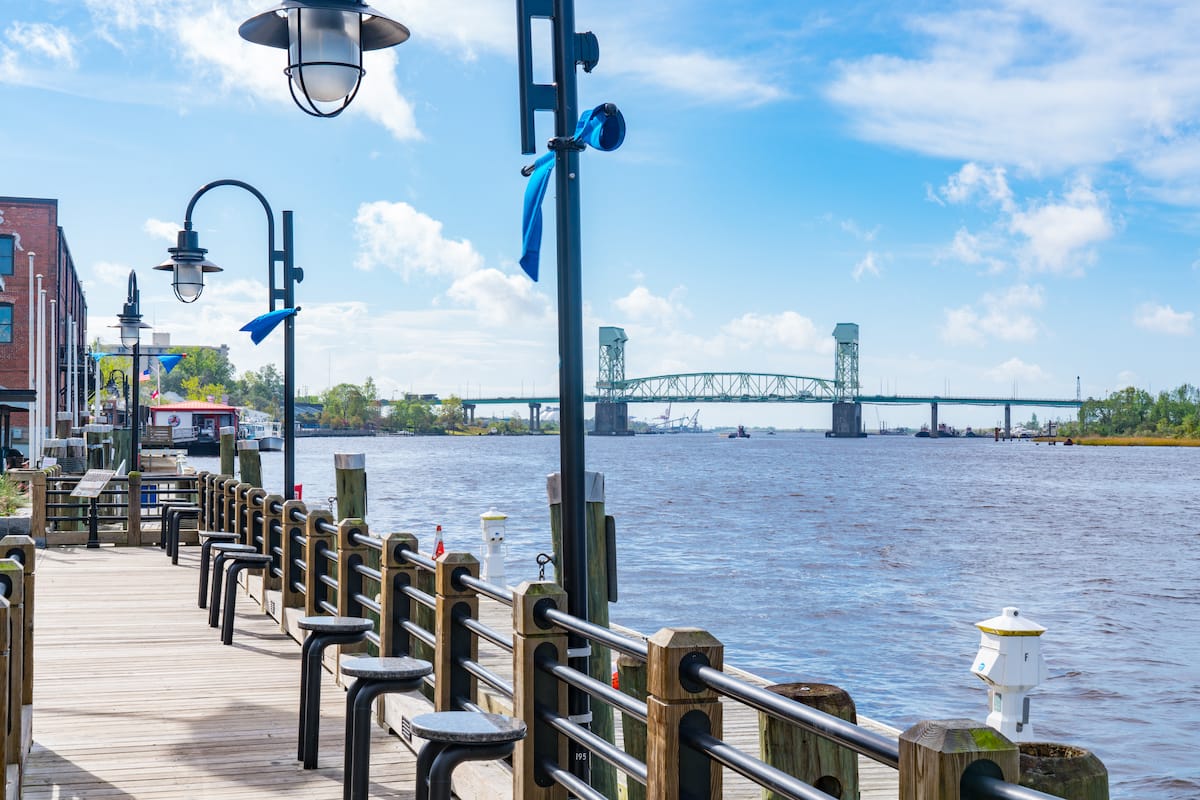 The tour will include the following stops: Waterline Brewing Company (45-minute stop), Thalian Hall Center for the Performing Arts (15-minute stop), Wilmington Oakdale Cemetery (20-minute stop), New Hanover County Courthouse (15-minute stop), Riverwalk (10-minute stop), Bellamy Mansion (5-minute stop), Edward Teach Brewing (45-minute stop), and Flytrap Brewing (45-minute stop).
It is not wheelchair accessible, nor is it recommended for expecting mothers and people with heart problems. Those 14 years and older are welcome to go on the e-bike tour, and those 21 years and older are welcome to taste craft beer.
>> Click here for rates and availability
Go on a Sea Legs Pedal Tour
Experience the thrill of pedaling a boat while taking a cruise with your family and friends. This fun tour lasting about 90 minutes promises to provide guests with a lot of fun… and cardio training!
Guests are welcome to bring food and beverages to help them enjoy their time to the max. On certain days, there is a Fireworks Cruise on Thursdays that lasts for 2 hours.
The Sea Legs Pedal Tour has no age restrictions. You can take a tour with your whole family.
After all the delicious food you're about to eat in Wilmington, it is a great way to burn some extra calories, too!
Take a Sunset Sail Tour
What can be more impressive and memorable than a sunset sailing tour of Wrightsville Beach aboard a 42-foot yacht? The surrounding waterways and islands look even more captivating under the glow of the sunset!
Your waterway tour will take you along the southern part of the island, the Masonboro Inlet, and the Intracoastal Waterways of Motts Channel. The trip is ideal for couples, groups celebrating special events, and families.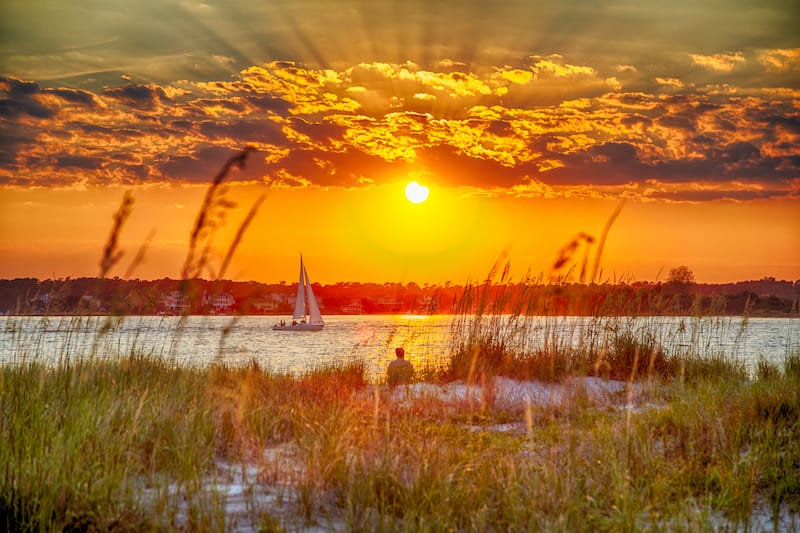 A slow, peaceful cruise will let you enjoy the beautiful views and take pictures. Guests are treated with soft drinks, juice, and water on board the boat. The tour is not wheelchair accessible.
>> Click here for rates and availability
Have Fun at Jungle Rapids
The Jungle Rapids Family Fun Park is the best place to enjoy water activities for family entertainment and all-day fun.
The entertainment center features a water park with a million-gallon Wave Pool, Lazy River, Volcano Mountain, Dual Lane Speed Slides, Snack Shack snack bar, a 7,000 sq. ft. Kiddie Splash Pool, and so much more.
No outside food and drinks are allowed. You can bring your empty water bottles and get water from the water fountains near the bathrooms.
Lounge at the Beach Bars in Wilmington
Although Wilmington remains one of the best places for going on tours of museums and other historical sites, it is also an excellent North Carolina town for partying and enjoying chill evenings at a beach bar.
Be sure to visit these three bars during your next night out!
The Fat Pelican
Head to the Fat Pelican, one of the most exciting beach bars on Carolina Beach with a selection of over 400 beers, wines, and non-alcoholic beverages.
The labyrinthine rooms have brick walls and a backyard providing a unique atmosphere.
Working hours: Monday-Saturday: 11 am – 2 am, Sunday: 12 pm – 2 am
Address: 8 Lake Park Blvd S, Carolina Beach, NC 28428
Nollie's Taco Joint
Packed with Mexican flavors, Nollie's Taco Joint is the most popular spot on Carolina Beach to enjoy some tasty tacos with a cold beer.
Besides tacos, you can try out some traditional burritos, salads, nachos, quesadillas, and a rotation of homemade desserts. Even better, they have vegan and vegetarian options.
Address: 3 Pelican Ln, Carolina Beach, NC 28428
The SeaWitch
This classy beach bar, with an indoor and outdoor terrace, is a fantastic place to spend evenings tasting signature seafood with beer. The SeaWitch also includes a Tiki Bar that delivers some good live, local music.
Working hours: Tuesday – Thursday: 4 pm – 11 pm, Friday and Saturday: 12 pm – 1 am, Sunday: 11 am – 11 pm. Mondays closed.
Address: 227 Carolina Beach Ave N, Carolina Beach, NC 28428
Stop by Bitty and Beau's Coffee
Bitty and Beau's Coffee is far more than your average coffee shop. The brand stands for acceptance, human values, equality, and the inclusion of people with intellectual and developmental disabilities.
The brand owners, Amy and Ben Wright, are the parents of four children. Lillie was born with autism and Bitty and Beau were born with Down syndrome.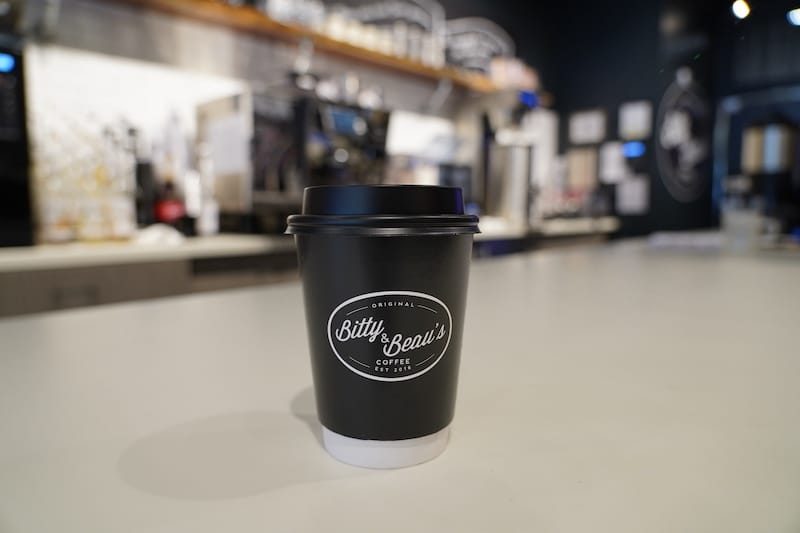 Understanding the serious problem in the country's labor market, they have created a space for people with intellectual and developmental disabilities to work and be part of the community.
Today, Bitty & Beau's has over 23 shops in 12 states, and Wilmington is one of them! Definitely check it out if youʻre keen to enjoy one of the best coffee shops in Wilmington NC!
Address: 4949 New Centre Dr, Wilmington, NC 28403
Visit the Mayfaire Town Center
In addition to its Historic Downtown, Wilmington is home to the Mayfaire Town Center, a new community that combines noteworthy architectural styles that are harmonious with the existing natural environment.
The heart of Mayfaire is a mixed-use town center with over 20 restaurants, office spaces, a movie theater, and about 90 popular retail shops organized for locals' comfort. It is a one-stop-shop for shopping, entertainment, and dining.
The sidewalks have large trees providing lots of shade to make your walks even more comfortable!
Working hours: Sunday: 12pm – 6pm, Monday – Thursday: 11am – 8pm, Friday – Saturday: 11am – 9pm. Individual store and restaurant hours may vary.
Discover the Cape Fear Museum
Cape Fear Museum of Science is the first history museum in North Carolina, adding changing special exhibits to the permanent collection. The museum is in Wilmington's oldest building.
Among the most valuable exhibits is a scale model of the 1863 Wilmington waterfront – it is definitely one to check out there!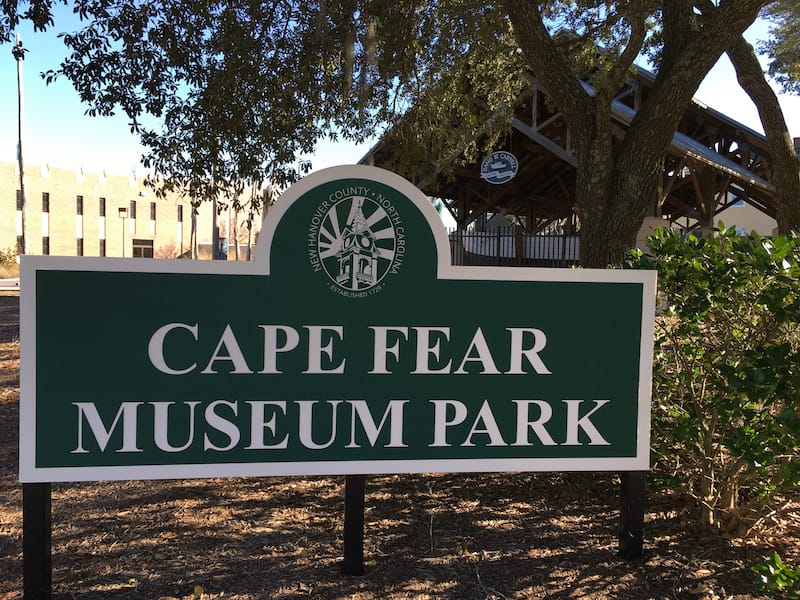 Visit Space Place to try on an astronaut suit, explore the Michael Jordan Discovery Gallery, or enjoy family time at one of the museum's educational programs.
Address: 814 Market St, Wilmington, NC 28401
Go on a Ghost Walk of Old Wilmington
Get spooked and go on a ghost walk of Old Wilmington! The 90-minute ghost walk will take you into the depths of the old town with haunted homes and burial grounds showcasing spooky stories.
The Ghost Walk of Old Wilmington is one of the top 5 original ghost walks in America. The award-winning tour also appeared on MTV, the History Channel, the Travel Channel, and the Discovery Channel.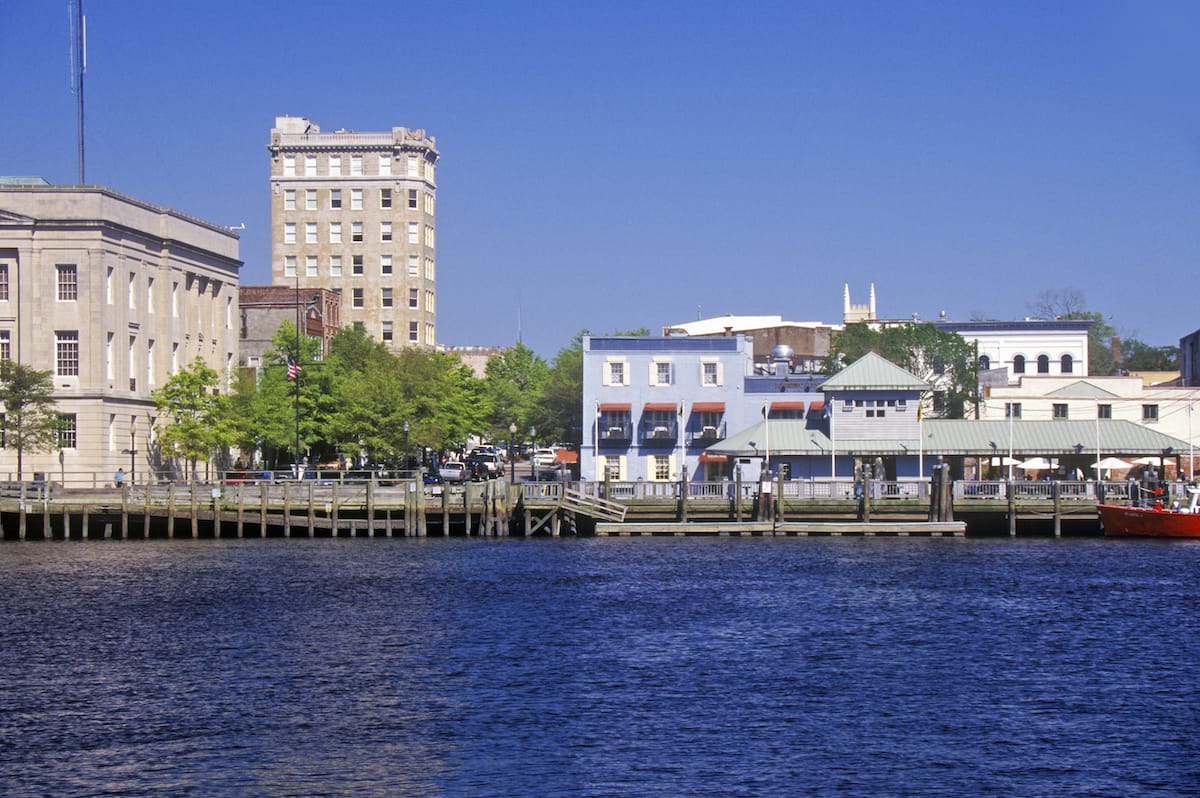 Surprisingly, it is a family-friendly tour that takes place at night, and for an even more thrilling adventure, you can continue the night with a haunted pub crawl.
Take an EUE Screen Gems Studios Tour
Commonly referred to as "Hollywood East" and "Wilmywood," Wilmington is ranked as one of the top locations for film production in the United States.
EUE/Screen Gems Studios has filmed over 400 projects since 1983 and still has the stages of movies and TV shows open to the public. The full-service studio features over 150,000 square feet of column-free shooting space and ten stages.
Guests may have the opportunity to check out a huge water tank stage on a massive arena used for underwater scenes.
Seasonal tours, generally organized on weekends, take visitors through the famous stages and arrange visits to sets used to film current television series. EUE/Screen Gems Studio tour has no age limitations and is suitable for family visits.
Relax in Carolina Beach State Park
Carolina Beach State Park is a secluded camping area with one of the best fishing spots in North Carolina. The park has 9 miles of hiking trails and a 1-mile trail for biking. Visitors can also go camping under the stars!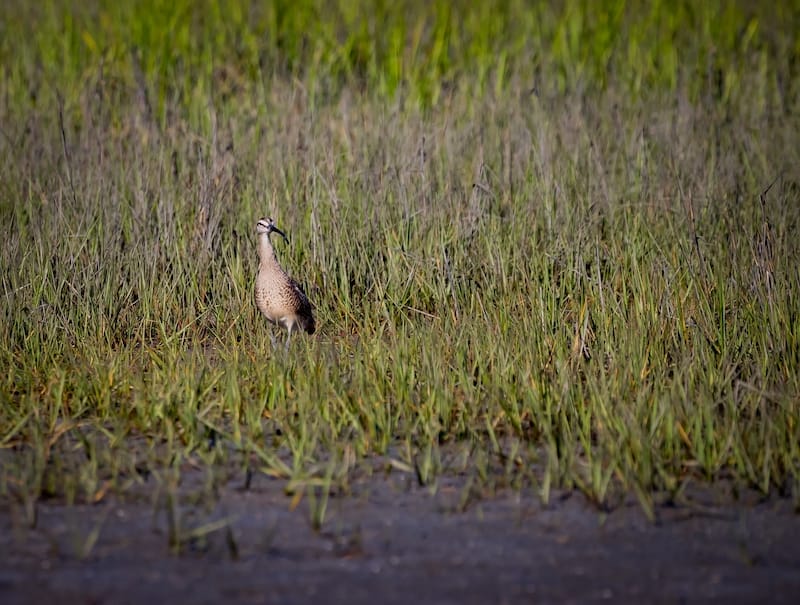 You can rent a cabin for up to six people or stay in a tent. At the Visitor Center/Exhibit Hall, located near the entrance (wheelchair accessible), guests can get information and plan educational hikes.
Another popular activity that people enjoy here is fishing, as Carolina Beach State Park offers some of the best angling opportunities in the area.
Stop in Bellamy Mansion
The impressive Bellamy Mansion is one of the best examples of early-1800s architecture in North Carolina. There is no pure architectural style at the mansion, but aspects of Greek Revival, Neoclassical, and Italianate styles are mixed into one.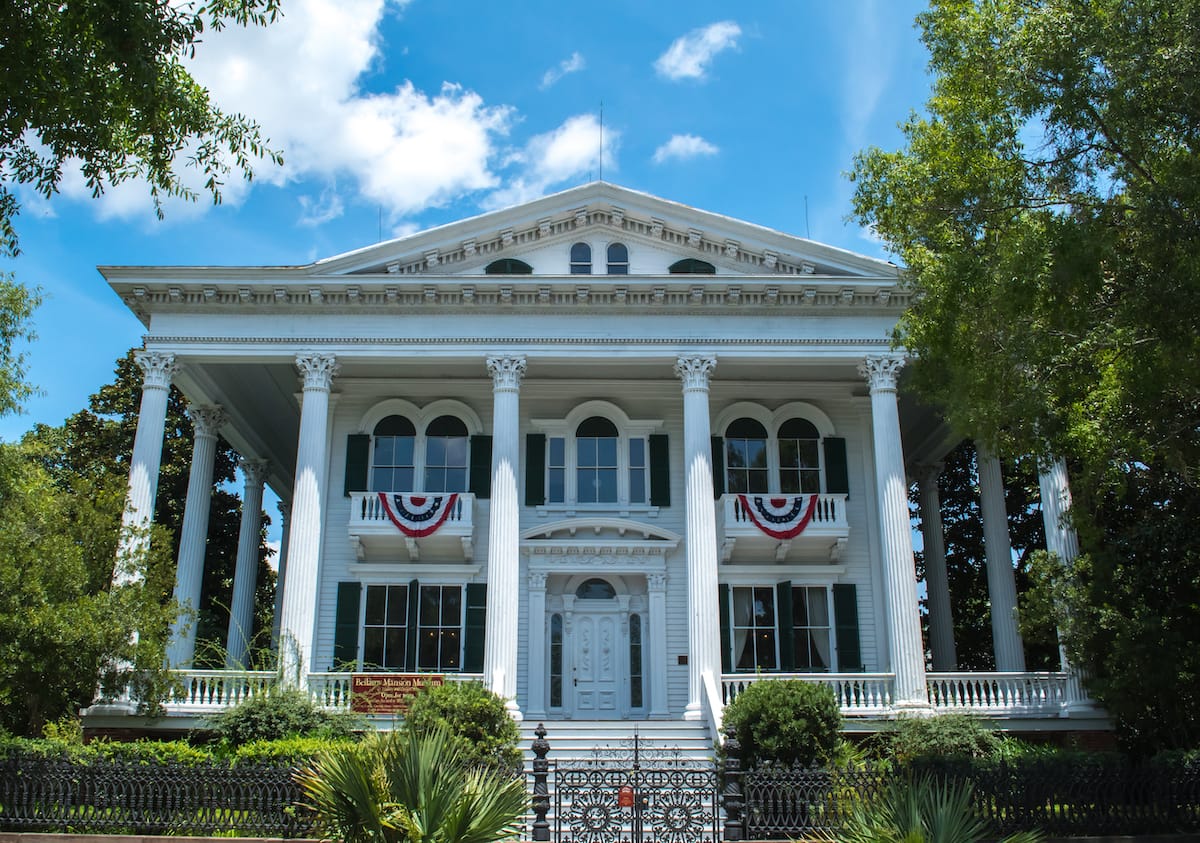 Built in 1861 as a family residence, the museum now has rotating exhibits. Take a self-guided tour via your mobile device after watching a video introduction about the Bellamy Mansion and its history.
Working hours: Monday – Sunday: 10:00 am – 4:00 pm
Admission: Adults: $14, Seniors (62+): $12, Active/Retired Military ID: $12, National Trust Members: $12, College Student ID: $12 Students (ages 6-18): $7, Kids under 5 & Members: free, Adult Premium Tour: $20, Student Premium Tour: $10
Address: 503 Market St, Wilmington, NC 28401
Peruse the New Hanover County Arboretum
The New Hanover County Arboretum is a 7-acre garden open all year round. The paved pathways will take you to a beautiful Japanese garden with a unique tea house, Japanese maples, and a water garden with colorful koi fish.
This family-friendly place has a separate zone for little guests, too. There are memorials dedicated to the five branches of the military in the Contemplation Garden.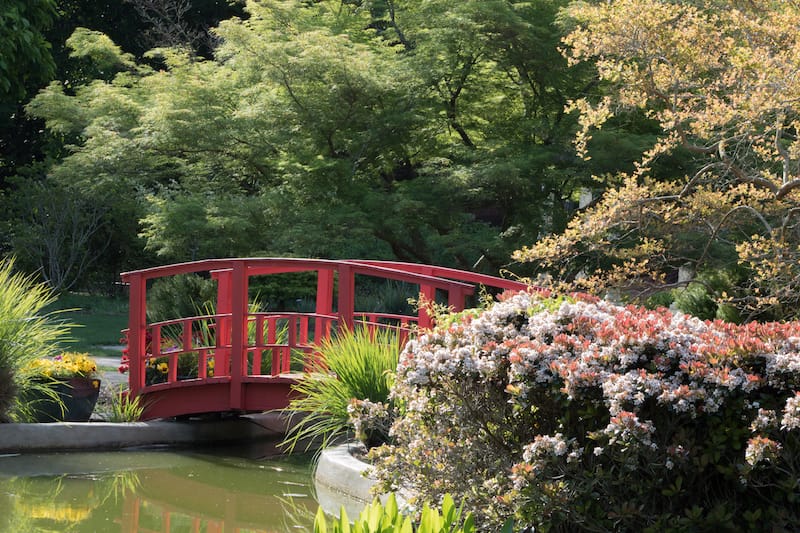 The Garden is open from 8 am to 5 pm daily. It also features a gift shop, which is open 10 am – 4 pm on weekdays.
Address: 6206 Oleander Dr, Wilmington, NC 28403
Where to Stay in Wilmington NC
If youʻre looking for the top places to stay in Wilmington, here are some of the favorites!
Did we miss any of the best things to do in Wilmington NC? Let us know your favorite Wilmington attractions in the comments! Thanks!
More North Carolina Travel Guides
Pin this Wilmington Things to Do Guide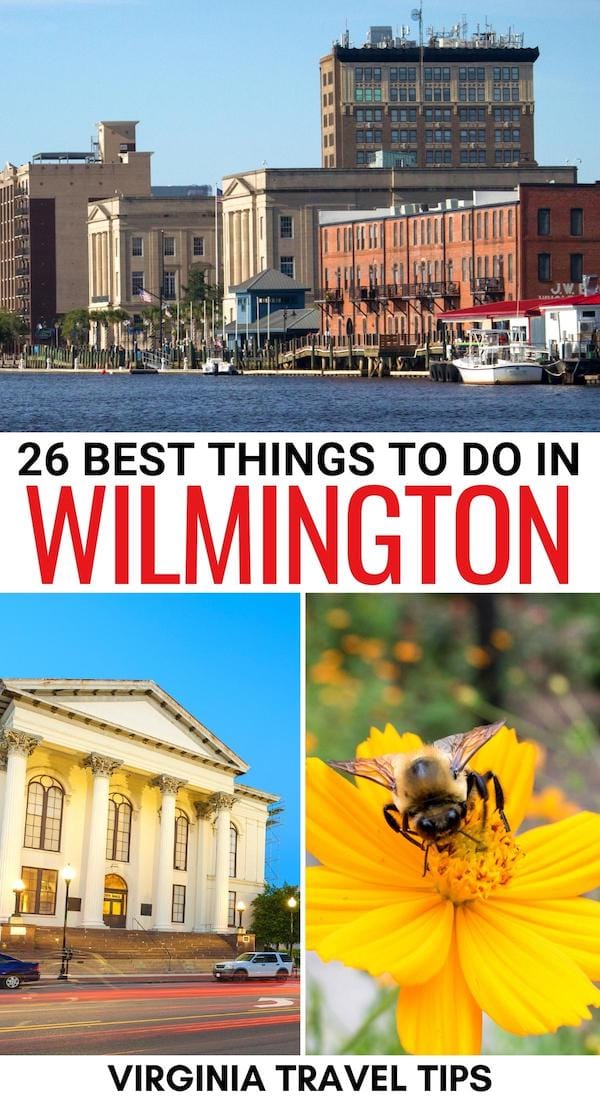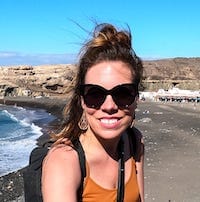 Megan is a travel blogger and writer with a background in digital marketing. Originally from Richmond, VA, she has lived all around the world (including Germany, Finland, Norway, etc) but her heart always finds its way back to Virginia. This blog is to help encourage travelers to explore the great state of VA… and its wonderful neighbors! Megan has written for or been featured by National Geographic, Forbes, Lonely Planet, Fodor's Travel, the New York Times, and more. She has visited 45 US states and 100+ countries… and wholeheartedly believes that Brunswick Stew is probably the greatest food to ever exist.