The East Coast of the United States is home to some of the most beautiful landscapes and mountains, and North Carolina is certainly no exception.
This is a guide about the best historical sites and national parks in North Carolina!
From its sandy beaches to luscious forests, North Carolina should definitely be on your travel bucket list in the United States, and not just for the famous Outer Banks and other destinations!
Outside of its beautiful beaches, North Carolina also has an extensive history and is the home of several national parks that have thousands of visitors every year.
You can learn more about the history of the US and do some exploring, too. Here are some of the best North Carolina national parks that you shouldn't miss.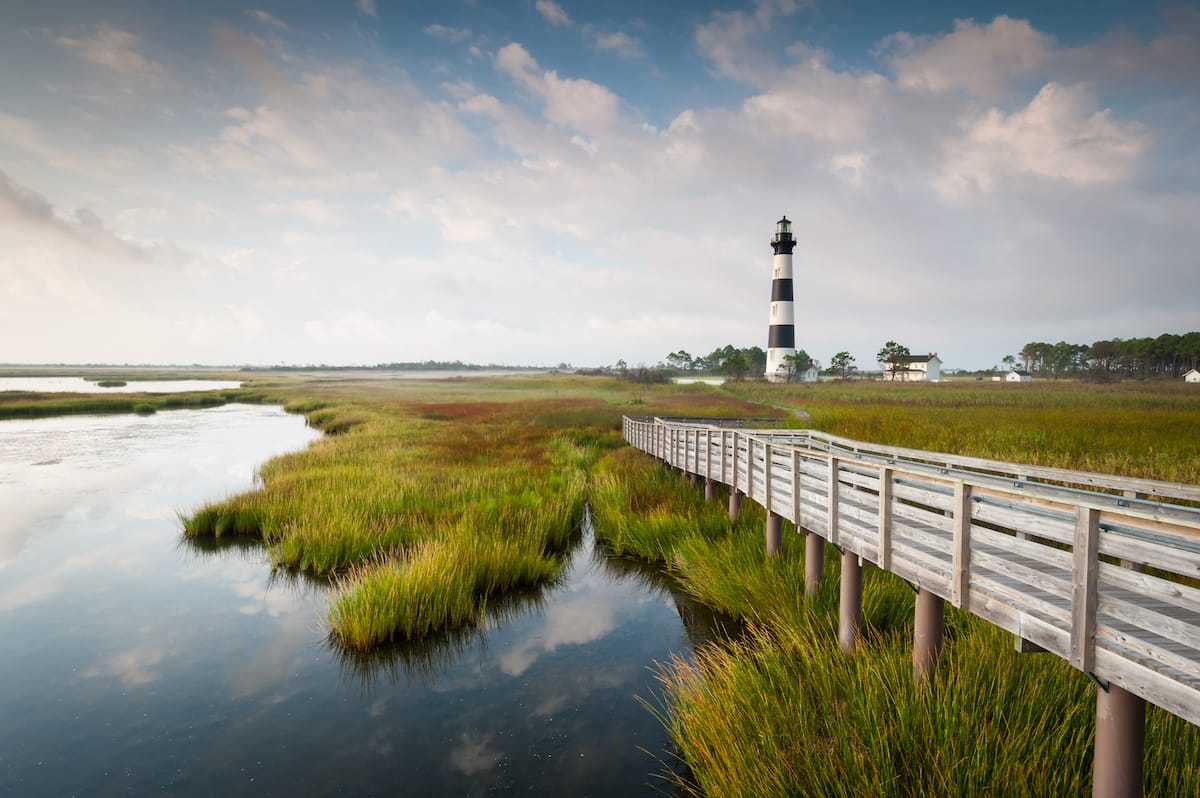 Best National Parks in North Carolina
1. Appalachian National Scenic Trail
Location: Passes through Hot Springs, North Carolina
Open year-round and accessible from many locations, the Appalachian Trail is the longest hiking-only trail in the world, extending between Maine and Georgia.
This scenic trail was conceived by forester Benton MacKaye, built by volunteers, and completed in 1937. The National Trails System Act of 1968 recognized it as the first National Scenic Trail.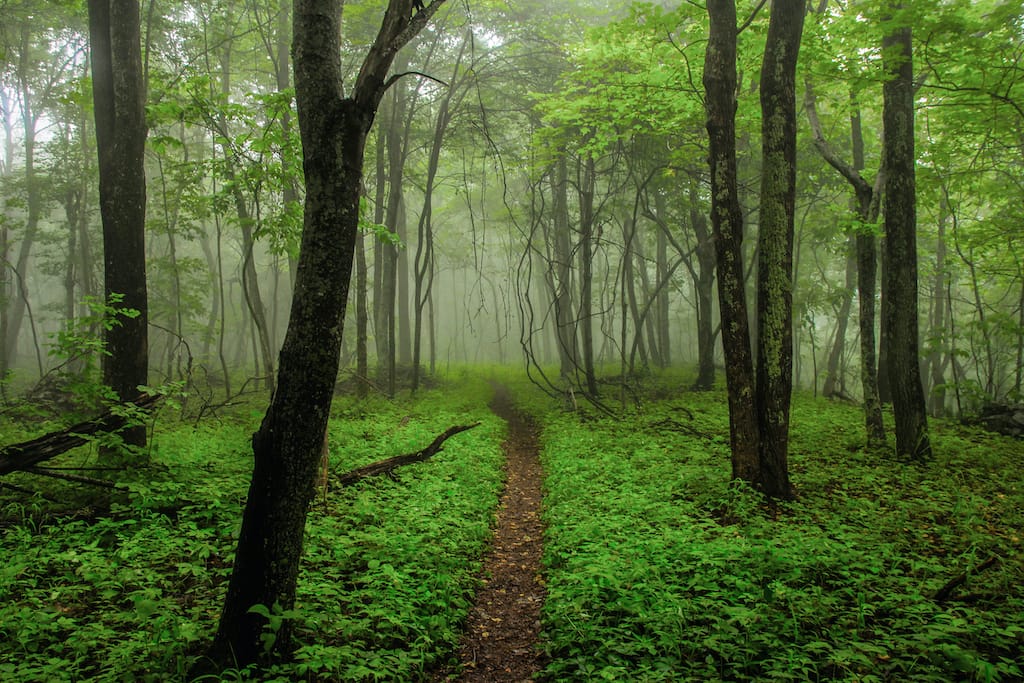 The trail is more than 2,100 miles long, covering the Appalachian Mountains' picturesque and forested landscapes.
The Appalachian Trail has day hikes suitable both for amateurs and professional hikers who can start and finish the whole trail in a season.
Completing the entire trail takes from 5 to 7 months. Along the trail, shelters are spaced 10 to 12 miles apart.
Since the trail covers so much of the country, it has lots of rich wildlife too! Moose, black bears, deer, coyotes, bobcats, woodchucks, porcupines, and raccoons can all be found along the way.
There is no entrance fee, but note that if you're going to be here on a long hike, be prepared for all weather conditions as some unexpected and extreme changes can happen.
2. Blue Ridge Parkway
Location: North Carolina, Virginia, Tennessee
Blue Ridge Parkway is known as America's favorite drive, and that's not surprising as it provides stunning views of the Appalachian Highlands' rugged mountains.
There is a lot you can do at the Blue Ridge Parkway. Spend a night under the stars in one of the eight campgrounds, but note that only designated campsites are available for camping.
Enjoy traditional old-time string band music at special events taking place at different areas of the park and at the Blue Ridge Music Center.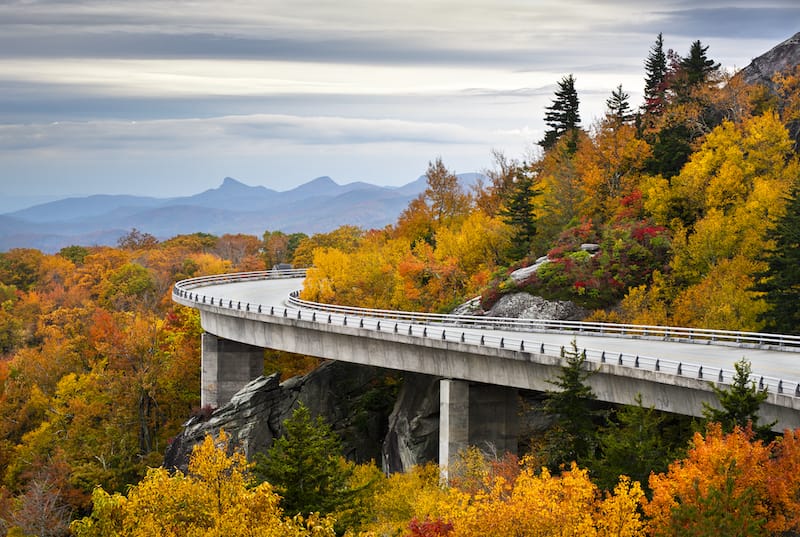 Over 300 miles of trails are an awesome opportunity for you to find the hike of your dreams. After deciding on what you want to see and how long you want the hike to be, explore the list of trails ranging from some easy to some more challenging ones.
Picnicking here can be quite memorable too, considering the picturesque vistas of the parkway. There are 14 picnic areas, open from mid-spring to fall.
There are a few popular destinations you don't want to miss here. For example, Humpback Rocks is a mixture of cultural and natural features that says a lot about the parkway as a whole.
Or maybe you can drive along or take a hike at the Linn Cove Viaduct, which presents the area from another viewpoint. The choices are many, so plan your visit wisely!
3. Cape Hatteras National Seashore
Location: Outer Banks, North Carolina
The fact that Cape Hatteras is the U.S. eastern seaboard's highest-risk area for hurricanes and tropical storms doesn't make it any less desirable for tourists.
It is most well-known among tourists for the relaxing ocean breeze and astonishingly beautiful night sky. You'll find plenty of exciting things to do in Hatteras beyond just the beaches, however.
The area is considered to be the best surfing location in the eastern US and apart from that, there are plenty of beach activities here.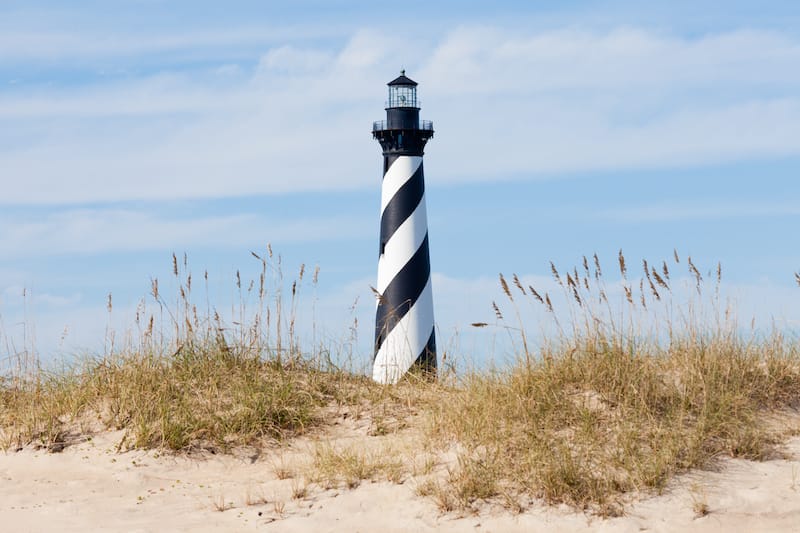 On the nearly 70 miles of warm golden sand, you can have some very relaxing walks, sit around a beach fire, fly a kite, or build the sandcastle of your dreams!
If beach activities in the Outer Banks are not your favorite, you can do some hiking or fishing. There are a variety of outstanding fishing options at Cape Hatteras National Seashore.
Although the best seasons for fishing are spring and fall, "committed" fishers can catch fish all year long.
The areas beyond the beach can be explored by hikers through Buxton Woods Trail, Open Ponds Trail, or Hammock Hills Trail.
You can also stop by one of the visitor centers for orientation or to find a ranger program. Last, but not least, try to climb one or all three lighthouses that have helped mariners navigate the rough waters.
4. Cape Lookout National Seashore
Location: Southern Outer Banks, North Carolina
At Cape Lookout National Seashore, you'll find a wide range of activities no matter what your interests are.
From horse watching to camping and fishing to learning about the history of Cape Lookout Light Station and exploring historic villages, this national park is not to be missed.
When it comes to things to do, you should definitely check out ​​Portsmouth Village. Tour and explore the area with a guided tour, visit the Theodore & Anne Salter House and Visitor Center, and see the exhibits there.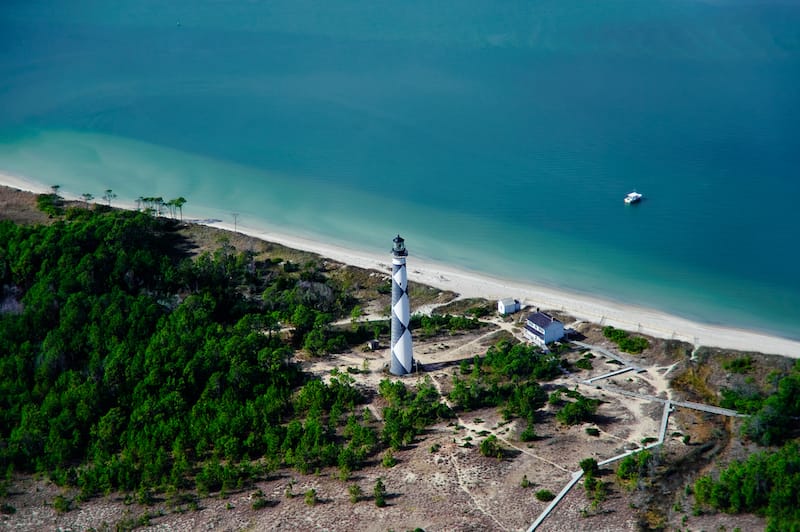 Apart from climbing the lighthouse, you can also swim or relax on the beach, tour the Keeper's Quarters Museum, or visit the Light Station Visitor Center.
Shackleford Banks is also great for spending some time on the beach, but the more interesting activities here include searching for horses or nesting shorebirds, kayaking, and canoeing.
An important thing to remember here is that these North Carolina islands are undeveloped, so there are no paved roads, bathhouses, camp stores, or even trash cans on the seashore.
So, plan your visit ahead of time, and don't forget to bring food, water, and all the necessary supplies with you.
5. Carl Sandburg Home National Historic Site
Location: Flat Rock, North Carolina
Also known as the "Poet of the People," Carl Sandburg was an American poet, biographer, journalist, and editor.
To honor Sandburg's massive collection of stories about the American people's plights, struggles, joys, and hopes, the home was designated as a National Historic Site in 1968.
The 264-acre park with a very beautiful setting is located in western North Carolina. Visitors can take a tour of the Sandburg House, explore over 5 miles of trails, see the farm and dairy goats, and a lot more. It's recommended that you start your trip from the Sandburg Home.
If you take a guided tour, you'll have access not only to the ground floor that contains visitor information and exhibits but also to the area furnished with the Sandburg family belongings.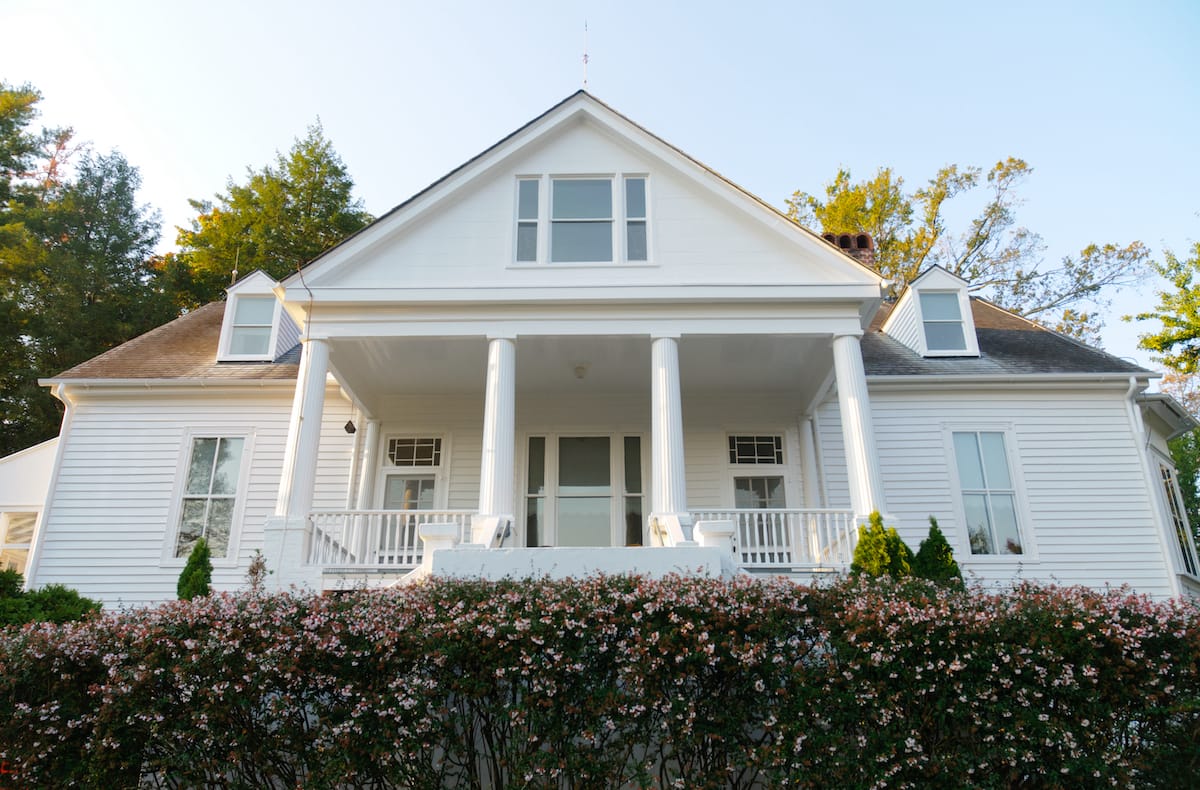 Also, devote some time to visit the barn. The Chikaming Goat Dairy was owned and operated by Mrs. Sandburg and it had approximately 200 goats at its peak!
Take a self-guided tour here and watch a 12-minute interview between Mr. Sandburg and Edward R. Murrow. Most say your visit is not complete if you miss the audio-visual room.
Snacks and water can be purchased from the bookstore, but note that the selection is limited. Entry to the park is free of charge. Parking is also free, but the house tour requires a fee.
6. Fort Raleigh National Historic Site
Location: Manteo, North Carolina
The Fort Raleigh National Historic Site protects and preserves parts of England's New World colony that were established between 1584 and 1590.
This area also preserves the cultural legacy of Roanoke Island's Native Americans, European Americans, and African Americans.
Located a few miles north of Manteo, this historic site has many interesting spots to check out.
You can start with the visitor center, which incorporates exhibits on the Algonquian, English, Roanoke Island Freedmen's Colony, the Civil War Battle of Roanoke Island, and Reginald Fessenden.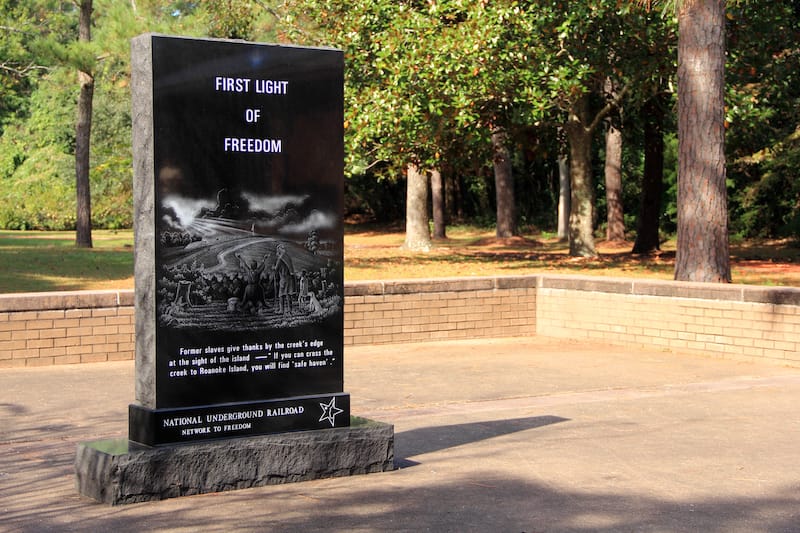 Visitors should also check out the 1896 Monument, which commemorates the baptism of Manteo, a member of the Croatan tribe, by the English and the birth of the first English child in North America.
Another spot is the First Light of Freedom monument, which was built during the Civil War and is a marker of the Roanoke Island Freedman's Colony.
There are two trails worth your attention here: Freedom Trail and Thomas Hariot Trail. The first one is a 1.25-mile trail promising views of Croatan Sound, while the second is just a 0.3-mile loop, going through marine woods to Albemarle Sound's sandy shores.
The site welcomes visitors every day of the year except for Christmas Day, and there is no entrance fee.
7. Great Smoky Mountains National Park
Location: Swain and Haywood counties, North Carolina
Being America's most visited national park, the Great Smoky Mountains is world-famous for the diversity of plant and animal life and stunning ancient mountain views.
The numbers of recreational activities are endless here, and entry to the park is free, making it one of the most popular national parks in the US.
The range of things to do at Great Smoky includes strenuous hikes, spending relaxing time while watching picturesque sunsets, auto touring, camping, checking out the surrounding forests, and more.
The real challenge here is to choose the area and activity appropriate for exploring this biodiverse space.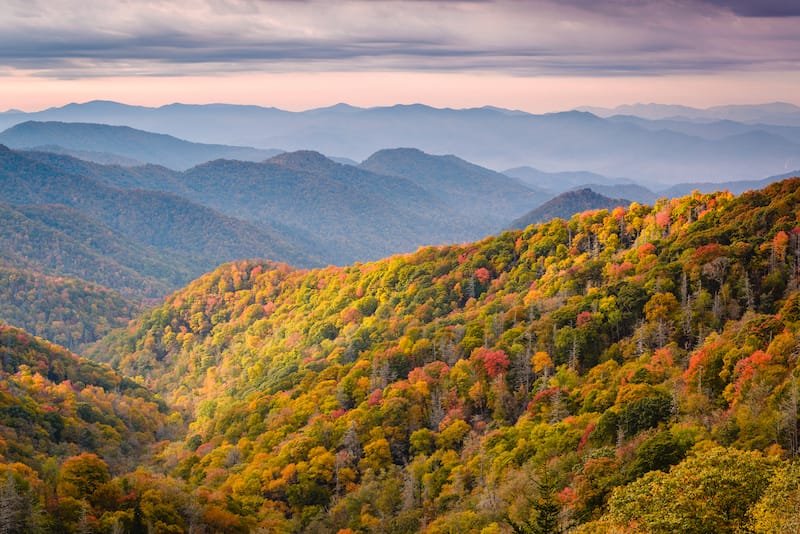 One of the most famous occupations is auto-touring. Most of the 384 miles of roads are paved and provide some unreal nature views. When it comes to camping, there are both backcountry and frontcountry options.
You can do it near your car in a developed campground or get to a group campground suitable for groups of eight and more. For hiking, there are trails convenient all months of the year.
Just do thorough research on famous hiking destinations beforehand to find the one that attracts you the most!
Also don't miss visiting over 90 log buildings located in the park, which is one of the best collections in the eastern USA. Some of these include homes, churches, schools, and barns that have been preserved.
8. Guilford Courthouse National Military Park
Location: Greensboro, North Carolina
Guilford Courthouse National Military Park holds 28 monuments to commemorate the soldiers and commanders of the Battle of Guilford Courthouse, the signers of the Declaration of Independence, and other prominent local figures.
You can easily find lots to do here no matter if you're alone, with friends/family, or with kids and it is one of the best things to do in Greensboro NC!
Drive through the Battlefield Tour Road that loops the battle site, visit Hoskins Farm (a plantation bought by the Hoskins family before the Revolutionary War battle), get acquainted with museum exhibits, and more.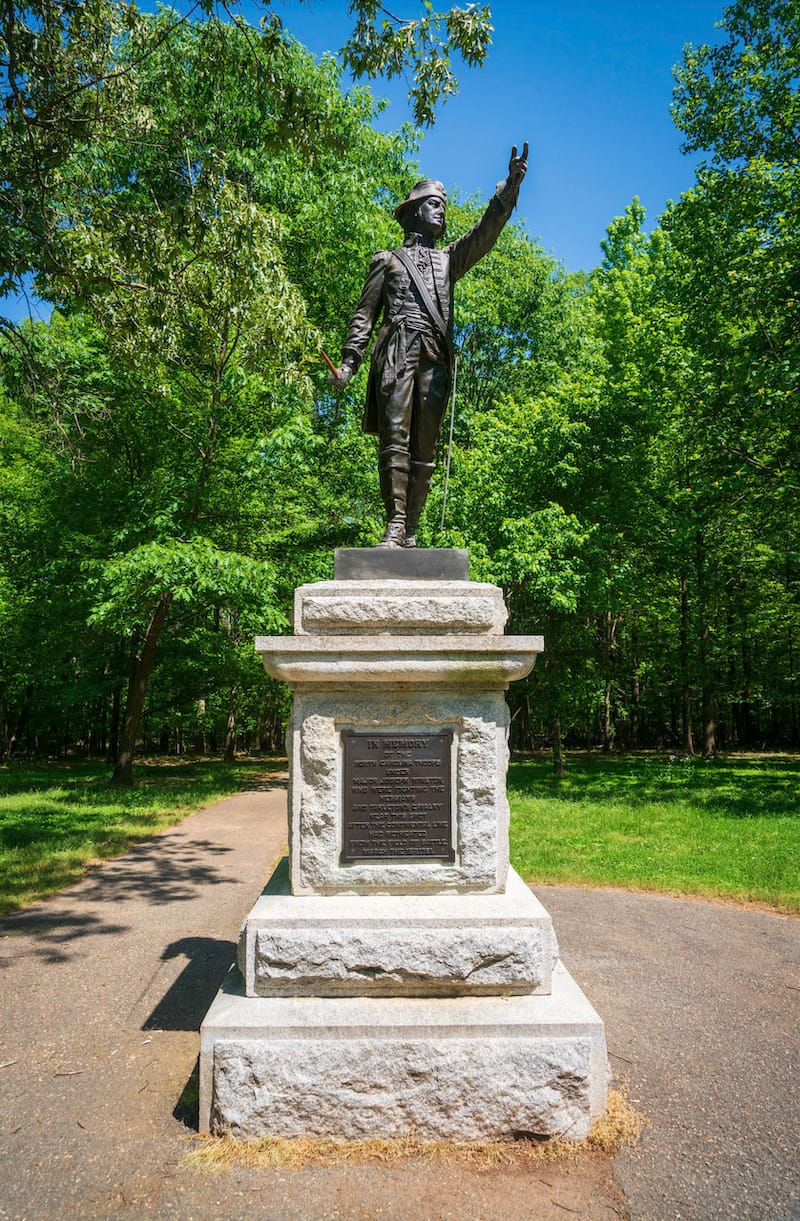 If you like biking, Tour Road gives you the chance to start at the Visitor Center parking lot, cross Old Battleground Road, and get to know the area until you reach the Old Battleground Road and New Garden Road intersection.
In case you're a fan of innovative solutions in these kinds of places, go on a few self-guided cell phone tours. Just ask for instructions at the Visitor Center, and learn more about the events of March 15, 1781, by foot or car.
9. Moores Creek National Battlefield
Location: Currie, North Carolina
The Battle of Moores Creek Bridge was on February 27, 1776, during which American forces defeated the British, and thus the British authority in North Carolina was over.
Considering the importance of this battle, Moores Creek National Battlefield has now become a significant site, combining history with lovely natural surroundings. It's located 20 miles from Wilmington, NC.
Here you'll encounter remnants of the 1776 road traveled by patriot and loyalist forces. A visitor center with displays (a new Gullah Geechee exhibit) and a gift shop, a few maps and movies, a Colonial forest trail, and a picnic area are all at the site.
Birdwatchers will certainly like the site even more as it's part of the North Carolina Birding Trail, making it a great area to watch a wide variety of birds.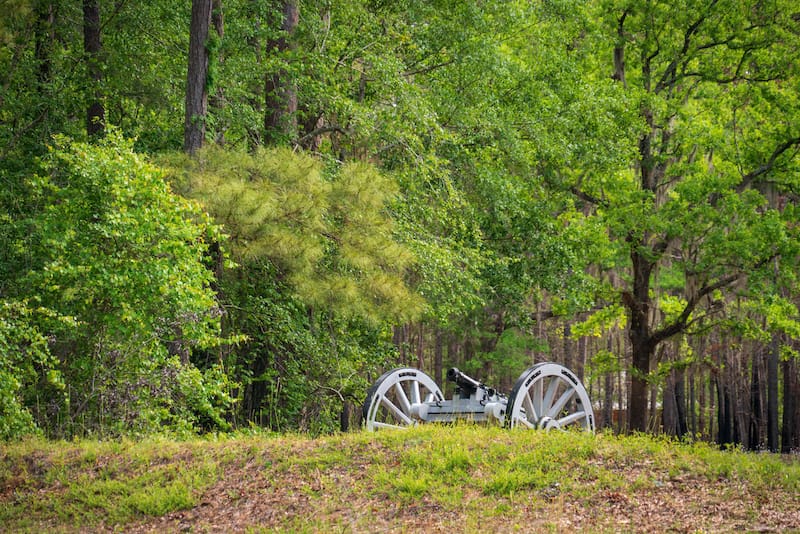 Through the battlefield and across Moores Creek is a trail with wayside exhibits. The historic reconstructed bridge is located along the trail.
Take part in the exciting Fall Living History Weekends and Annual Anniversary Living History Weekend on the last weekend in February, and docent-led Candlelight Battlefield Tours in November.
You might need permits for some of the special events and activities here. The special-use permits must be obtained in advance and may have a fee.
10. Wright Brothers National Memorial
Location: Kill Devil Hills, North Carolina
The Wright Brothers National Memorial commemorates the first successful airplane flights that took place on December 17, 1903, and required about four years of scientific experimentation.
Wilbur and Orville Wright were two courageous and self-taught engineers with a dream of teaching the world how to fly.
The memorial is located in the heart of the Outer Banks, in the town of Kill Devil Hills. One of the things you shouldn't miss here is getting to the spot where the Wright brothers first took flight and the areas where they landed successfully.
You might also want to check out what the place where they stayed looked like. Reconstructed 1903 camp buildings offer an idea of what camp life was like for the Wrights in 1903.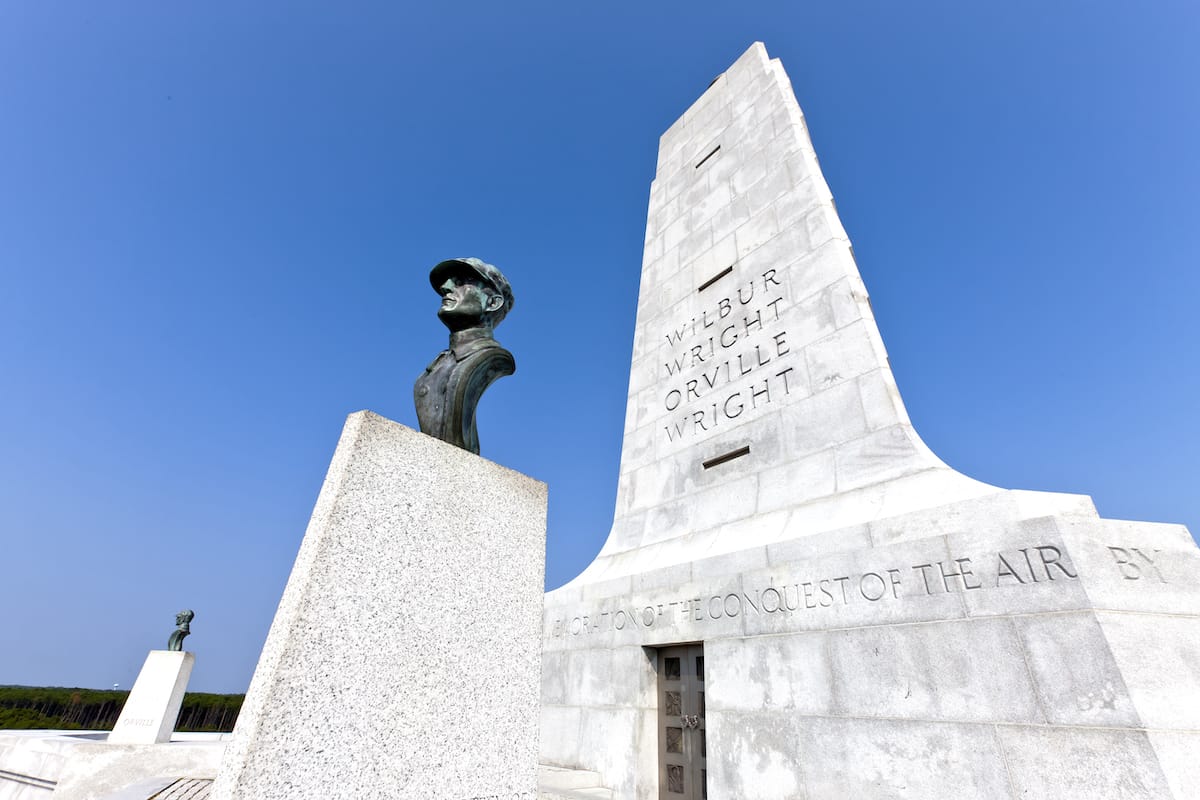 At the site, you can also see the artistic representation of the moment of the first flight, located on the south side of Kill Devil Hill.
On top of the same historic hill, have a look at the Wright Brothers Monument too. Lastly, to receive information on everything from places to go to explore exhibits and attend ranger programs, stop by the Wright Brothers Visitor Center.
Everyone entering this site must have a valid entrance pass.
Have you ever visited any of these national parks in North Carolina? Let us know in the comments your tips and recommendations. Thanks!
More North Carolina Travel Guides
Pin this North Carolina National Parks Guide