One of the most underrated places to visit in North Carolina is the city of Jacksonville. These are the best things to do in Jacksonville NC – from historical attractions to delicious coffee shops and beyond!
Are you planning your trip to Jacksonville last minute?
If you're traveling to Jacksonville last minute, you want to ensure you have lodging booked ahead of time! Below are some of our top picks to help you plan!
Where to Stay in Jacksonville:
🚗 Looking for the best way to get around NC? Click here to check rental car rates for North Carolina!
Jacksonville is often a familiar name as it is the home of Camp Lejeune, the largest Marine base on the East Coast! But, there is plenty more to see there than the base!
We hope this guide helps you plan what to do in Jacksonville NC if you have a trip coming up! Did we miss any awesome Jacksonville landmarks? Let us know in the comments!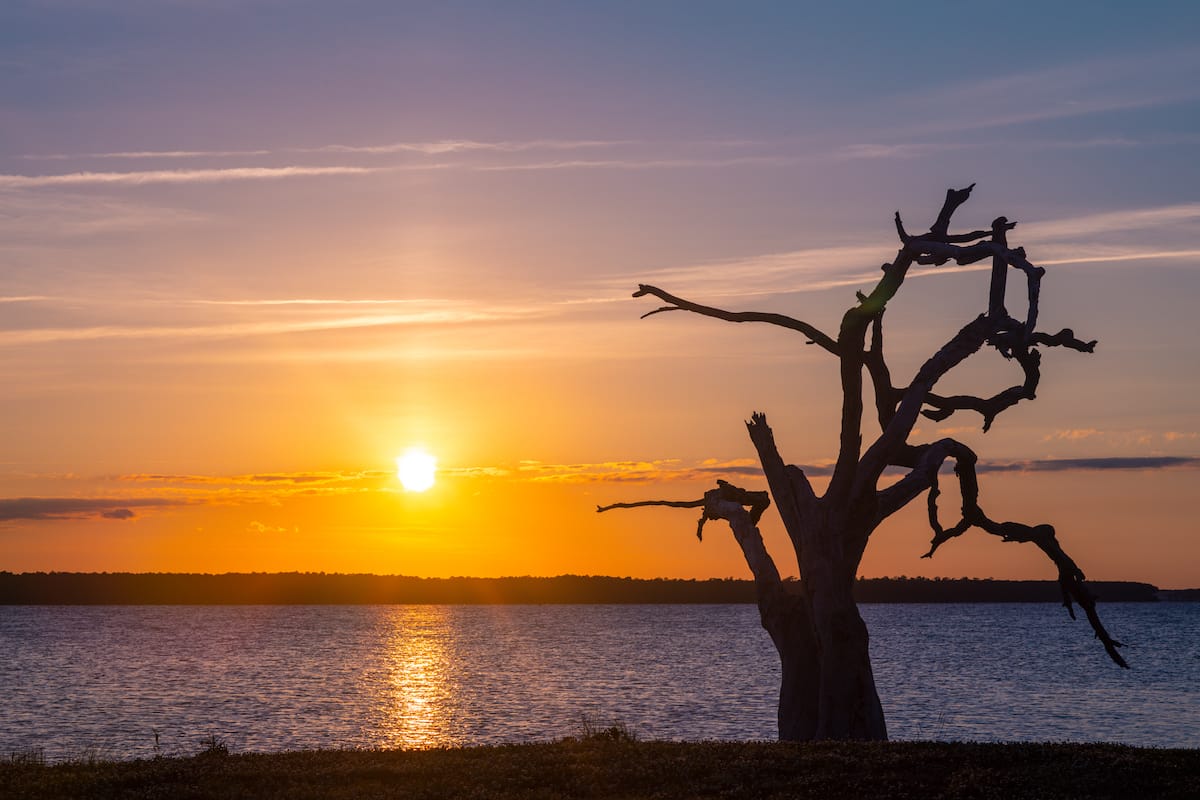 Things to Do in Jacksonville
Enjoy a Coffee Shop in Jacksonville
Milk Road Coffee Shop
When visiting Jacksonville, you don't have to go too far to grab your perfect cup of coffee! The Milk Road Coffee Shop, a veteran-owned company, is the perfect place to get your caffeine fix.
In operation since 2016, this cool coffee shop offers freshly roasted specialty coffee along with globally-inspired, mouth-watering pastries made with seasonal and local ingredients.
With so many options to choose from, it's pretty challenging to pick just one. Order their must-try Belgian pearl sugar-topped liege waffles and trust me, you will want to start your every morning with the delicious treat!
On a sunny day, enjoy your breakfast in the outside seating area, or if you don't have much time, take your delicious grab-and-go coffee with you.
Address: 4240 Gum Branch Rd, Jacksonville, NC 28540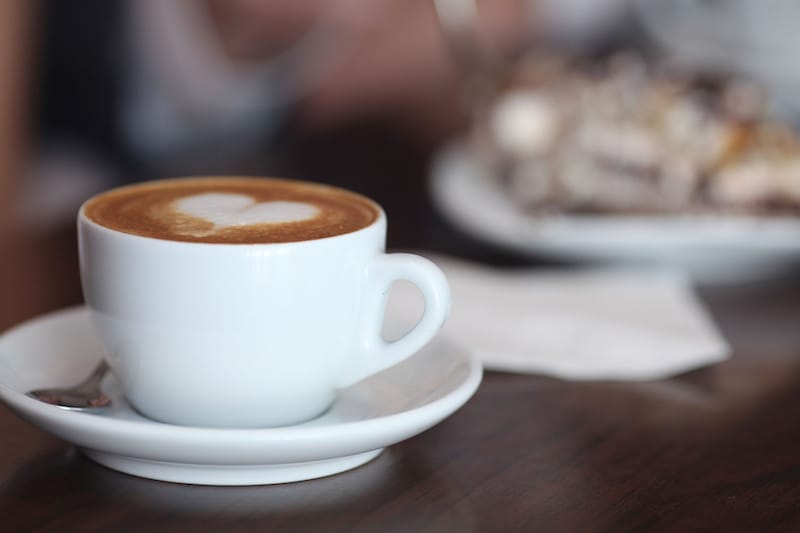 Brewed Downtown
Are you on a hunt for tasty coffee in Jacksonville? If so, then add Brewed Downtown to your bucket list. This small cafe is the perfect place to jump-start your day with a hot cup of coffee.
Since 2012, this mom-and-pop place has offered gourmet coffee, non-coffee specialty items, homemade breakfast, lunch, and dinner. A cozy atmosphere, friendly staff, and individualized attention will make you feel at home away from home.
The coffee shop has several options to best meet your needs, like dine-in service, take-out, and full-service drive-through window.
They also offer catering services for meetings, private parties, bridal or baby showers so that you can celebrate an important milestone in style.
Address: 1000 New Bridge St, Jacksonville, NC 28540
Peruse the Lejeune Memorial Gardens
Visit the Lejeune Memorial Gardens which honors veterans who have given the greatest sacrifice for the nation's freedom and lost their lives in the act of US Military Service.
The Jacksonville landmark is home to a number of stunning memorials, including the Montford Point Marine Memorial, the Beirut Memorial, the Onslow Vietnam Veterans Memorial, and the 9/11 Memorial Beam in honor of the World Trade Center attack victims (we discuss a few below!)
Here you can witness the world's largest 3D symbol of the US Marine Corps, the Eagle Globe and Anchor statue, located in a reflective pool at the entryway to the future Museum of the Marine.
The Park also features space for future memorials, notably the Corpsmen Memorial, as part of the Lejeune Memorial Gardens Master Plan.
Address: 109 Montford Landing Rd, Jacksonville, NC 28540
Pay Respects at the Beirut Memorial
Beirut Memorial was the first memorial erected in Lejeune Memorial Gardens.
Gifted by the citizens of Onslow County, this memorial is the biggest privately-funded military memorial that honors the 273 Marines who died during the Beirut bombing on October 23, 1983.
The 24th Marine Amphibious Unit was formed in response to a request by the Lebanese government, with the primary purpose of serving as a peacekeeping force in Lebanon between conflicting Muslim and Christian troops.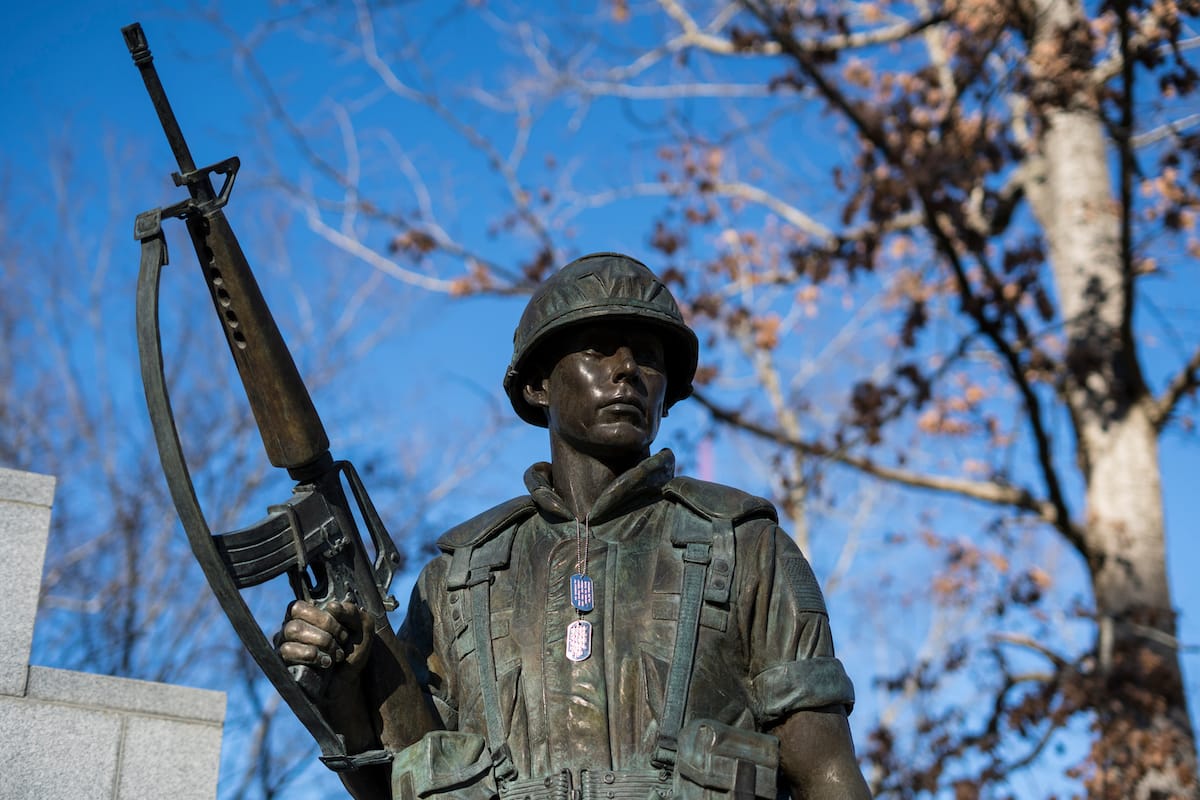 However, a non-Lebanese terrorist attack destroying the 8th Marines Headquarters building resulted in 241 casualties.
The words "They Came in Peace" are engraved on the memorial's walls highlighting that Marines were sent to this danger zone as peacekeepers.
In addition to 273 names, you can also see three Marine pilot names engraved in granite who lost their lives in Grenada.
Address: 911 Lejeune Blvd, Jacksonville, NC 28540
Have Ocean Views at Splash by the Sea
If you are looking for a lovely place to dine with your sweetheart, then Splash by the Sea at North Topsail Beach is the place to go (and offers a nice little getaway from Jacksonville)!
The location of this restaurant is ideal for dining with a view in the ultimate romantic setting.
The restaurant is nestled inside Villa Capriani Resort and offers both indoor and outdoor seating areas overlooking the breathtaking vistas of the ocean as well as the Villa complex and pools.
View this post on Instagram
They have a diverse menu packed with pizza, soups, salads, main courses, and spiced up with delicious desserts. Just note that tables are assigned on a first come first served basis at the entrance.
Address: 790 New River Inlet Rd, North Topsail Beach, NC 28460
Honor Bravery at the 9/11 Memorial Beam
The 9/11 Memorial Beam is another impressive statue that captures one of the most tragic events in American history.
The memorial is situated between the Beirut Memorial and Entry Wall to the Vietnam Veterans Memorial and features a beam from the Twin Towers that was brought by police and firefighters of New York and presented to the first troops fighting the war on terror.
The annual Patriot Day Observance takes place near the memorial to commemorate those who died during the terrorist attack on September 11, 2001, as well as those who keep fighting against the crimes today.
This public event starts at 8:15 am, which is the exact time when the Twin Towers were first under attack.
Address: Jacksonville, NC 28540
Explore Downtown Jacksonville
A visit to downtown Jacksonville will make you experience the city's charm, appreciate its rich traditions of hospitality, witness historic North Carolina sites, and immerse yourself in a delicious food scene.
The heart of the city is home to more than 17 parks, including well-known ones such as Northeast Creek Park, Big Branch Bike Park, Oakhurst Nature Park, etc.
Your first stop should be the Freedom Fountain, honoring those who served their nation while in Onslow County. To delve deep into the history of Jacksonville, pay a visit to Pelletier House, Jacksonville's oldest house built in 1850.
Lejeune Memorial Gardens is another must-visit site where you can see the Beirut memorial, 9/11 Memorial Beam, Montford Point Marine Memorial, and Vietnam Veterans Memorial, honoring those who have given the greatest sacrifice for their country's freedom.
Have Breakfast at the Kettle Diner
Start your morning at Kettle Diner, a local favorite for its delicious homemade breakfast. Friendly staff and a cozy, home-like atmosphere will guarantee your mood for the rest of the day.
This little restaurant also has plenty of local lunch and dinner options at reasonable prices.
Make sure to taste some must-tries from kettle specialties, such as pot roast, chicken-fried steak, or Italian specialties, like catfish fillet and fried jumbo shrimp, which are just absolutely delightful!
View this post on Instagram
Don't forget to top it off with a bit of homemade dessert, and you will definitely stop in here during your next Jacksonville trip.
Address: 300 Marine Blvd, Jacksonville, NC 28540
Enjoy Moonshine at Walton's Distillery
Get the real taste of the area's signature spirits at Walton's Distillery, a mere 15 minutes west of downtown.
All of their spirits are made by combining local traditions of moonshine made with current best practices of Kentuckian distilleries to get the most unique and delicious moonshine in the region.
After treating yourself to a sip of Junior Walton's Premium Select, E.M. Walton's Premium Salted Caramel, Junior Walton's Authentic Carolina Moonshine, or other must-try flavored varieties, you will certainly taste the history and immerse yourself in it.
View this post on Instagram
If you are keen to see the moonshine and whiskey-making process and appreciate all the blends, then you can take part in tours that run every 30 minutes from Monday through Saturday.
Address: 261 Ben Williams Rd, Jacksonville, NC 28540
Take a Tour with Marsh Cruises
Thrilling family adventures with Marsh Cruises will guarantee exciting memories that last a lifetime. It offers a wide range of affordable options to admire the stunning Crystal Coast at its finest.
Their 25-foot Bayrider Skiff is perfect for up to 6 people to explore maritime forests, salt marshes, sandbars with hidden treasures and will reward you with one-of-a-kind ocean scenery as you've never seen before.
Indulge in an exclusive guided tour around the alluring coastal waters of Swansboro, the Emerald Isles, Bogue Inlet, Bear Island, and Hammocks Beach State Park with Sunset or Scenic Cruises that allow you to witness the most breathtaking sunset views.
Stroll through Sturgeon City Park
Immerse yourself in a serene getaway in Sturgeon City Park, which is one of the many gems of Jacksonville. This is a great spot for family hangouts and picnics as it offers covered picnic tables and charcoal grills.
You can let the kids loose in the playground and go fishing in the nearby river. This 14-acre park is covered in lush greenery and rolling hills and features a few boardwalk paths perfect for relaxing strolls.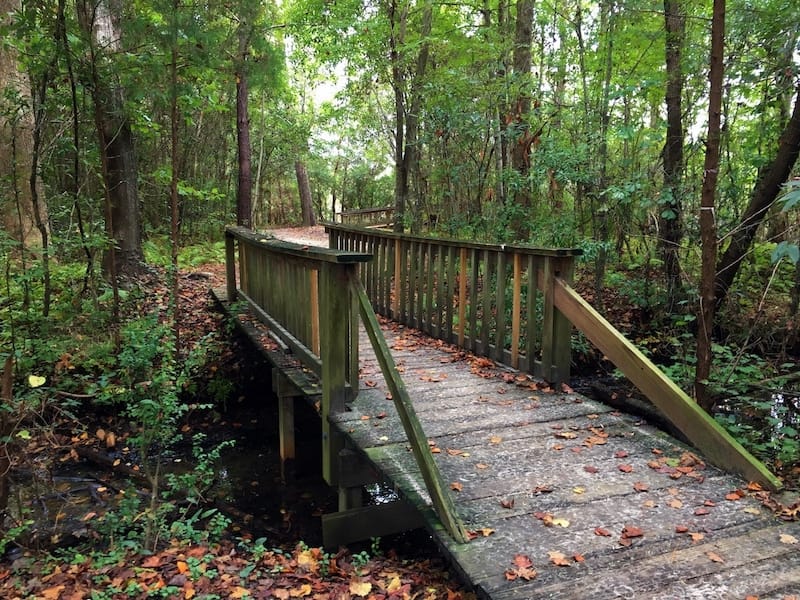 Paved walking trails allow you to admire rich flora and fauna and take in picturesque views. The end of the boardwalk has a floating kayak/canoe launch pad so that you can kayak and enjoy its calm waters.
Take a Day Trip to Emerald Isle
A day trip to Emerald Isle is the perfect option for family fun adventures! For some thrilling water adventures, head to AB Watersports which offers jet skis, kayaks, pontoon boats, and paddleboards to enjoy the isolated waterways of Crystal Coast.
Get wild and wet in Salty Pirate Water Park or delve deep into history in Fort Macon State Park. Your Emerald Isle trip won't be complete without visiting Bogue Inlet Fishing Pier to take in the stunning views and enjoy little fishing.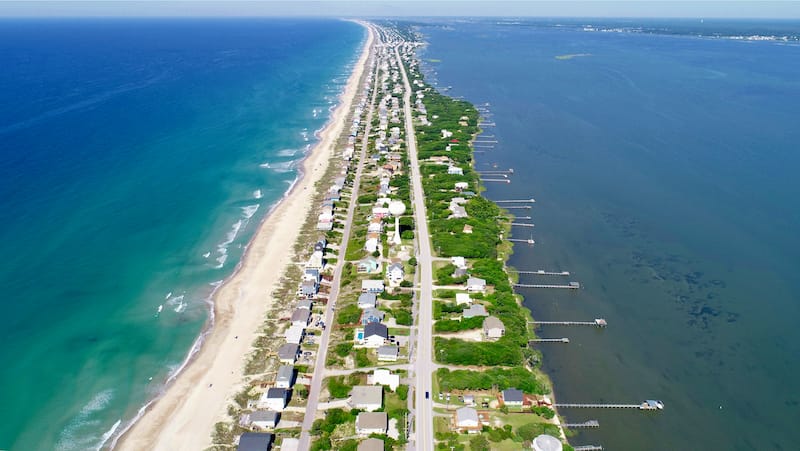 Escape the hustle and bustle in Hammock Beach State Park's serene setting or soak up laid-back vibes while sunbathing on Emerald Isle Beach.
After an exhausting day exploring the gorgeous Emerald Isle, recharge at the Trading Post that serves up some of the best plates in the town.
Take a Day Trip to Topsail Beach
Topsail Beach is a retreat for those keen to have a relaxing vacation and welcome the challenges of the burning sun, sea, and sand.
The town is packed with plenty of activities to suit everyone's taste. Once a small coastal fishing town, anglers can still enjoy great fishing adventures at the Jolly Roger Fishing Pier.
If you are visiting this beach with a boat, you can rent Marina's boat ramps by the night to admire the breathtaking sound front the next day.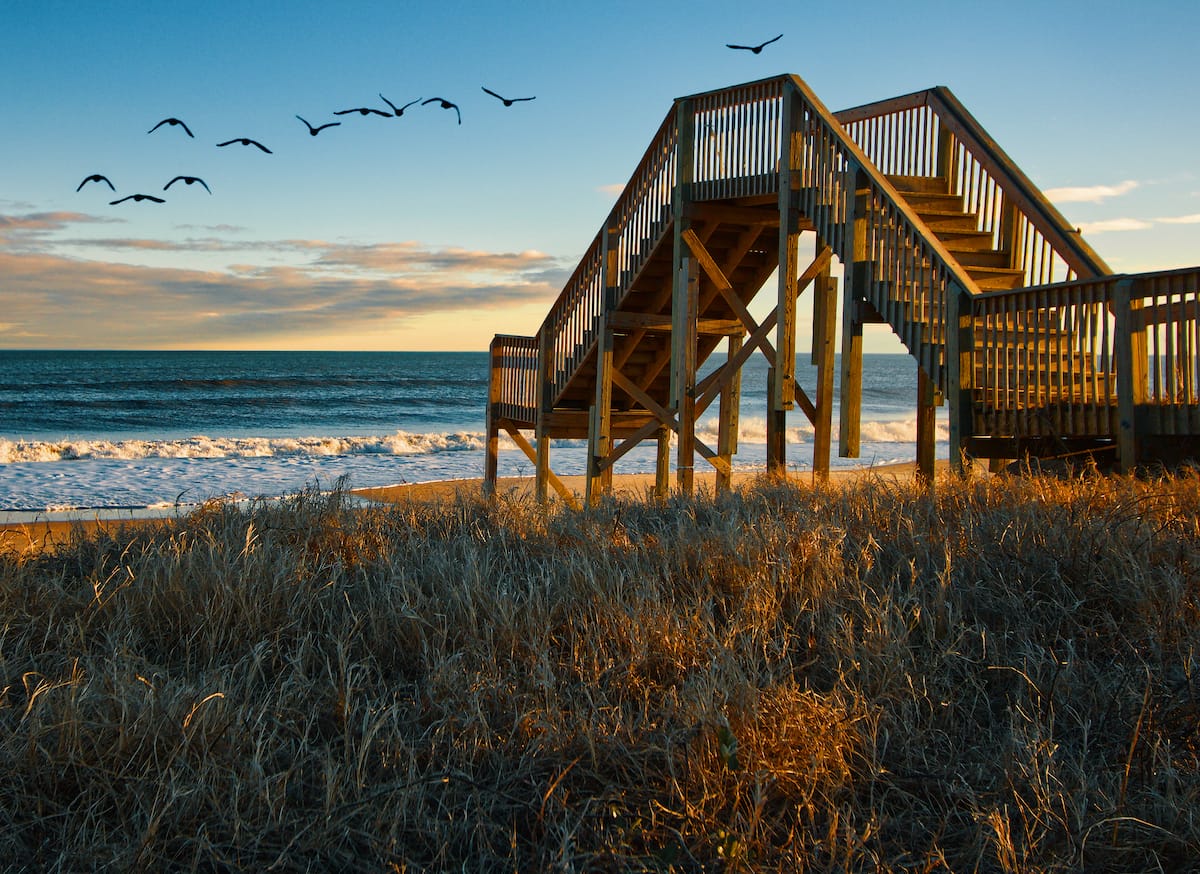 After spending the whole day in the water, head to the dining and shopping center, go skating at Topsail Island Skating Rink, or unleash your inner child at Patio Playground.
History buffs shouldn't miss a visit to the Missiles and More Museum to dig deep into the history of Topsail Beach during WWII.
Pay Respects at the Vietnam Memorial
The Vietnam Veterans Memorial at Lejeune Memorial Gardens is the US's second-largest Vietnam Veteran Memorial after the National Memorial in Washington DC.
There is an entry wall with 5 medallions on it, each representing a separate branch of the military. Beyond the nearby bridge, you can visit the main dome, fountain, and glass wall circling the dome.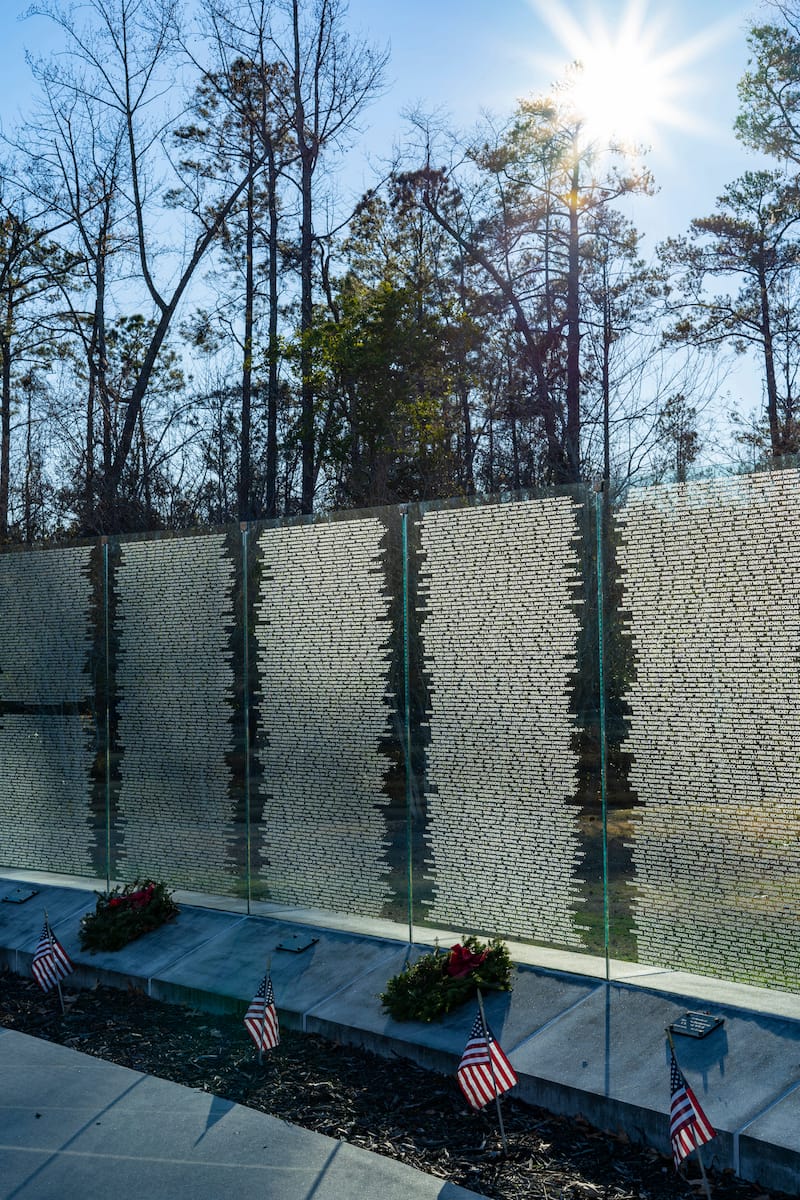 The latter lists all the names of more than 58,000 Veterans from the five branches of the Armed Forces who served on active duty during the Vietnam conflict etched into glass walls in alphabetical order.
The memorial also commemorates more than 300,000 military members who were injured in Vietnam, as well as those who are still missing, signifying them as POW/MIA or dead (the * symbol next to their names shows that they have returned home).
Address: Jacksonville, NC 28540
Get Mindful at the Blend Nutrition Bar
Blend Nutrition Bar should be your go-to option if you prefer healthy meals! They offer energizing, healthy and mouth-watering alternatives, so you do not need to worry about ruining your healthy diet plan.
The diverse menu includes everything from Açaí Bowls and refreshing drinks to artisan toasts and printed coffee. It's all about healthy food options for this cute cafe and it is one of the best places to visit in Jacksonville NC as a result!
View this post on Instagram
Besides offering an indoor cozy lounge area, the cafe also has a gorgeous patio so you can enjoy your delicious food in the open air.
The inside area also features a yoga space and working room, so if you need one, just make sure to reserve it before visiting.
Address: 109 Marine Blvd suite 2, Jacksonville, NC 28540
Relax by the Freedom Fountain
The stunning Freedom Fountain serves as a gateway to the downtown and many of the fun things to do in Jacksonville NC.
The Fountain commemorates those who have served or are currently serving in all five branches of the US military, especially those who have gone through Onslow County while serving their nation.
The Fountain features a pool with a Freedom plume, the tallest of the fountain jets in the middle, three water spires around it (one for the state, the federal, and the local governments), and fifty bubblers (one for each state).
On most nights, you can witness how the Fountain comes alive in red, white, and blue hues.
The Jacksonville attraction was officially turned on on November 9, 2012, and an annual Freedom Fountain Observance is organized the week before Veterans Day to share the story of the original Fountain and highlight its devotion to those who serve.
Address: 895 New Bridge St, Jacksonville, NC 28540
Take a Day Trip to Hammocks Beach State Park
Situated on the 4-mile long uninhabited Bear Island, the secluded Hammock Beach State Park is NC's best-kept secret, less than a half-hour drive from downtown.
Your first stop should be the Visitor Center which features a snack bar and guides and gives advice on what to do.
This tranquil park is home to one of the most undisturbed beaches on the Atlantic coast, which is accessible via private boat or ferry provided by the Park's Visitors Center.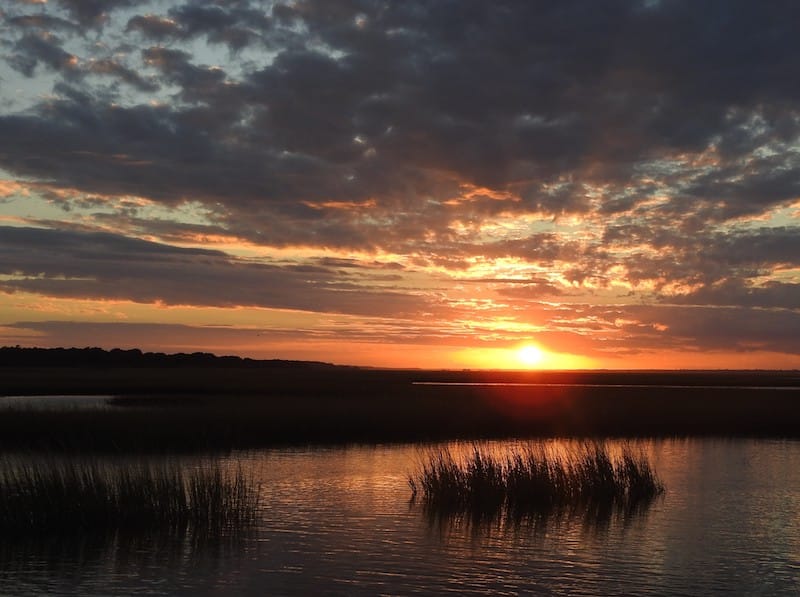 For getting out on the water, rent kayaks, paddleboards, or canoes from Paddle NC or book a cruise with Marsh Cruises (mentioned above!) to take in the mesmerizing views of Bear Island from the water.
Many interpretive programs and extensive exhibits will help you learn more about the ecology of the Park and get acquainted with endangered species inhabiting the island.
Address: 1572 State Rd 1511, Swansboro, NC 28584
Head to Camp Lejeune
Jacksonville is home to US Marine Corps' Camp Lejeune, which is the largest Marine base on the US East Coast.
Including 14 miles of beaches and 80 live-fire ranges, this is the perfect place for the Marine Corps to live and train and for visitors to immerse themselves in military history.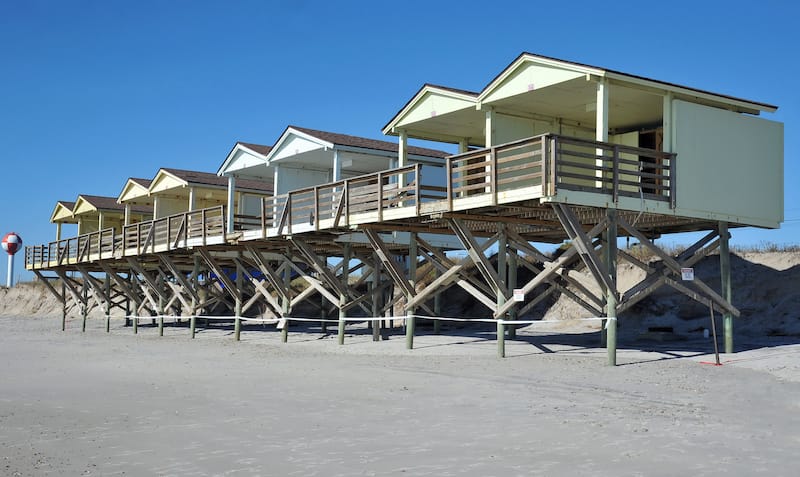 If you are not one of over 130,000 Marines, Sailors, DoD civilians, or their family members, then you need to stop at Camp Lejeune Visitor Center to get a DBIDS card or temporary paper pass in order to get access to Camp Lejeune.
Go to Zing Zum at the Children's Museum
If you are traveling to Jacksonville NC with kids, then Zing Zum at the Children's Museum should be at the top of your must-visit list. The museum opened its doors to the public in 2018 as a non-profit organization after 13 years of planning.
This is a true haven for kids up to 10, where they can have some fun while engaging in interactive learning experiences in various sections, such as puppet theater, grocery store, veterinary center, dentist's office, cooking area, climbing wall, fishing area, mini military "camp," closed off toddler area, etc.
The hands-on and educational exhibits here encourage exploration, inspire imagination, and promote creativity.
Throughout the week, there is always something exciting happening at the museum, such as Art Exploration, Baby & Me Mornings, Interactive Storytime, Valentine's Day Murder Mystery Dinner, etc.
Address: 625 New Bridge St, Jacksonville, NC 28540
Support NC Goods at Mike's Farm
Whether you are traveling with friends or family, Mike's Farm is truly a place worth experiencing.
Start your journey from the Country Store and Bakery, where you can find the perfect gift for your loved ones and try a delicious cheese danish before digging into dinner.
Take a stroll around the farm to meet a variety of animals at the petting zoo or shop for state-produced goods in NC Products Barn. Make sure not to leave the farm without savoring their delicious meals in the restaurant!
View this post on Instagram
Their signature mac 'n cheese is out of this world. Please don't forget to save a little room for a decadent dessert!
The farm also hosts seasonal events throughout the year, including Fall Pumpkin Patch Hay Rides, Easter on the Farm, Strawberry Picking, Supper with Santa, Ho! Ho! Christmas Show, etc.
Address: 1600 Haw Branch Rd, Beulaville, NC 28518
Go Hiking in Croatan National Forest
Croatan National Forest, one of four national forests in North Carolina, is a true heaven for nature enthusiasts.
Surrounded by tidal rivers and the Bogue Sound, 160,000 acres of land is home to saltwater estuaries, pine forests, bogs, raised swamps, diverse wildlife, and plenty of hiking trails.
Those eager to observe wildlife can hike the Forest's most famous 21-mile Neusiok Trail, part of the statewide 900-mile Mountains-to-Sea Trail that was once used by Native Americans and early European settlers.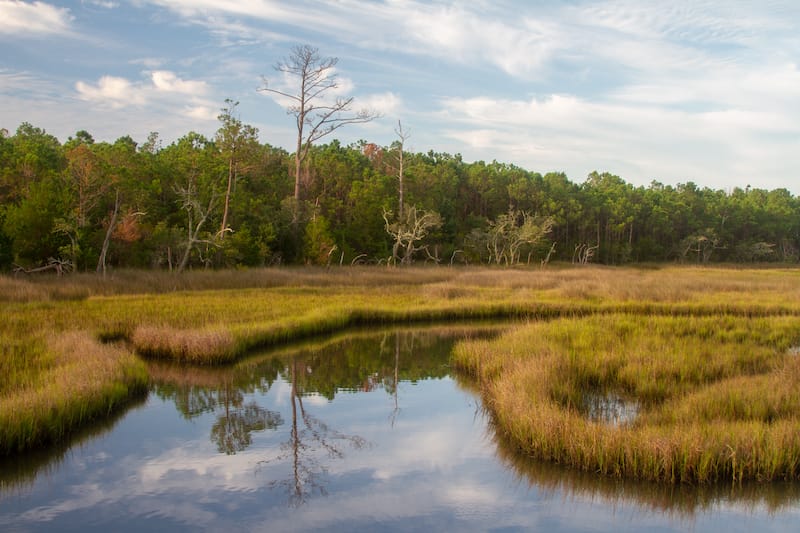 To take in the stunning forest and coastal scenery, go hiking Cedar Point Tideland Trail which traverses through salt marshes and offers boardwalks and smooth gravel paths.
Thrill-seekers can try hiking the 11-mile Weetock Trail, where you better have your map and compass with you to be able to navigate through it.
Where to Stay in Jacksonville
You will find several places to stay in Jacksonville, including hotels and inn options. Here are some of our favorite places in downtown Jacksonville:
Did we miss any of the best things to do in Jacksonville NC on this guide? Let us know your top travel tips for Jacksonville in the comments! Thanks!
More Eastern NC Travel Guides
Pin this Jacksonville NC Things to Do Guide