Are you looking for the best places to go strawberry picking in North Carolina? This guide covers the best u-pick strawberry farms in North Carolina and details how to visit, what to expect, and more!
Let us know if we missed any incredible North Carolina strawberry farms near you! Thanks!
When is Strawberry Season in North Carolina?
Strawberry season usually starts at the end of April (or early May) and extends all the way until the end of May. This, of course, is dependent on the winter in North Carolina that year.
Be sure to follow your local NC strawberry farms to see projected opening dates and seasonal information!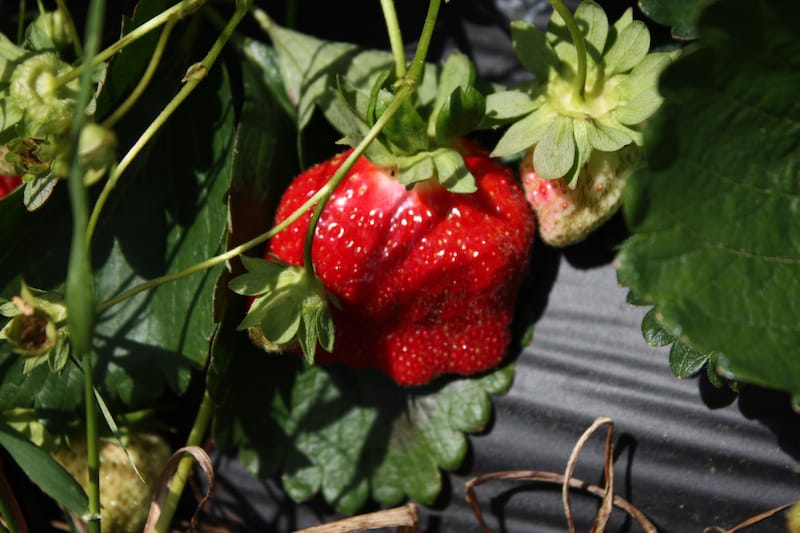 Strawberry Picking in North Carolina
Obermiller's (Hendersonville)
The Obermiller's farm is known strictly for its berries! As the strawberry season is coming up, grab some friends or family- or both, and join the fun of strawberry picking!
The season starts at the beginning of May and ends at the beginning of June. However, if strawberries aren't your thing, you can try out blueberry and blackberry picking which start at the beginning of July!
The times may vary so make sure to check their Facebook page or give them a call before heading on over. Focusing solely on berries, the OBermiller's Farm is able to produce some of the best in the state!
Address: 621 Allstar Ln, Hendersonville, NC 28739
Darnell Farje Avery Farms (Bryson City)
Darnell Farms is a family business and its sole purpose is to provide for its community and satisfy the needs of each and every individual customer!
They're open from Monday to Saturday from 8 am to 7 pm and Sunday from 9 am to 6 pm.
Strawberry picking season starts at the beginning of May and lasts as long as strawberries are nice and healthy (depending on the harvest of each particular year).
They are also well-known for their events, such as the "Strawberry Jam" where there is a music festival as well a jam, thus, the name: strawberry Jam!
Down at Darnell Farms, they also have Christmas trees during the Christmas season!
Address: 2300 Governors Island Rd Bryson City, NC 28713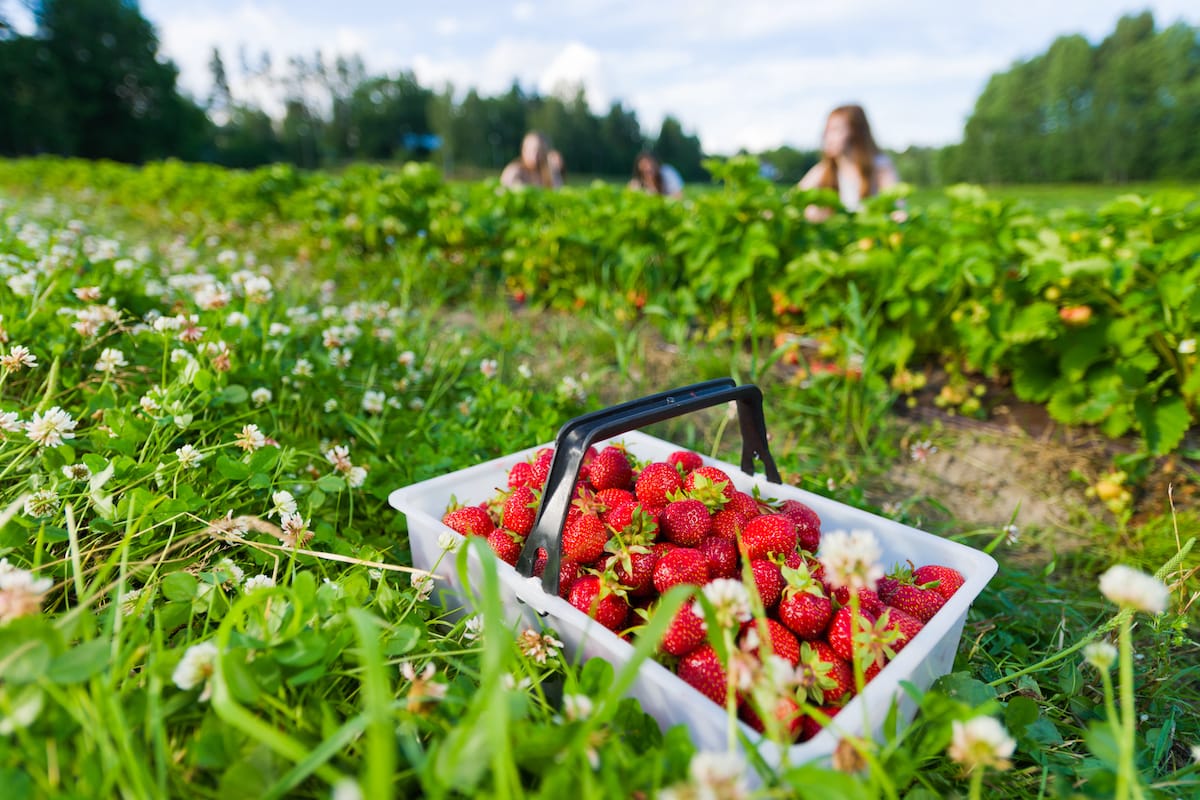 Avery Farms (Plumtree)
Now although they are a Christmas tree company, Avery Farms also prides itself in the U-pick program they have where you can go and pick berries right off the plant!
Berry picking season started last spring and lasts until the first frost of the year!
Make sure to check out the cool and interesting place when planning a trip to go strawberry picking.
Down at the farm, they also offer a variety of selections to choose from if you want to go just to pick up some fresh produce or some tasty treats from mother earth like honey.
Now Avery Farms has apples, ciders and jams, and jellies in the fall season!
Address: P. O. Box 190 Plumtree, NC 28664
Lineberger's Berry Hill Farm (Iron Station)
Now the Lineberger's Berry Hill Farm is different and full of history and identity as it has been the one main part of the family who owns the place and has been in the family for four generations!
There's nothing more satisfying on a hot, summer day than to go berry picking!
They also have a farm store where you can buy fresh, organic products. Both your body and the community will thank you.
Also, when in the season there is also a pumpkin patch and events surrounding it where you can come and participate!
Address: 906 Dallas Stanley Hwy ​Dallas, NC 28034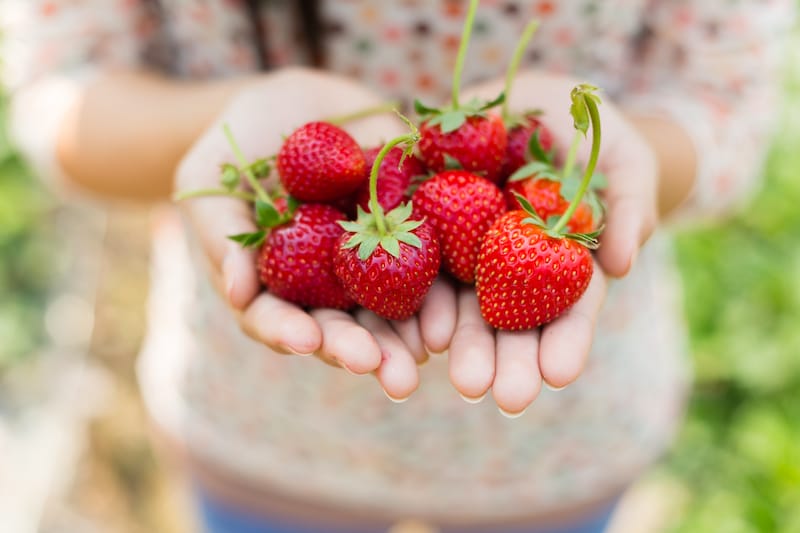 Country Road Strawberries (Pinnacle)
Since 2003, Country Road Strawberries is the leading farm in the area!
They are number one because of the immaculate service they offer along with a warm and friendly environment where you can enjoy time outdoors whether that be alone or with friends and family.
When picking, please take into consideration that it's $10 per gallon. During the season, they are open Monday to Saturday 8 am-6 pm.
For more details as to when exactly the season will start this year, continuously check their page and stay up to date when they are opening. The picking is in three intervals: the morning, prior to lunch, and in the evening.
Address: Off Pinnacle Hotel Road, Pinnacle, NC 27043
Knob Creek Orchards (Lawndale)
The Knob Creek Orchards has been owned and operated since 1958 – so they know what it's all about!
They started out as a peach and apple business and now sell blackberries, strawberries, and homemade ice cream!
If you're in the small NC town and want to either spend the day strawberry picking if the season is in or you want to stop by and have a taste of ice cream made from homegrown products, Knob Creek Orchards.
They have grown to the point where they have strawberry picking season open to all! They are open Monday to Saturday, 9 am to 5 pm, and Sunday, 12:30 pm-5:30 pm.
For more information about the farm, make sure to check their website occasionally or give them a call at: (704) 538-1405.
Address: 6471 Fallston Rd, Lawndale, NC 28090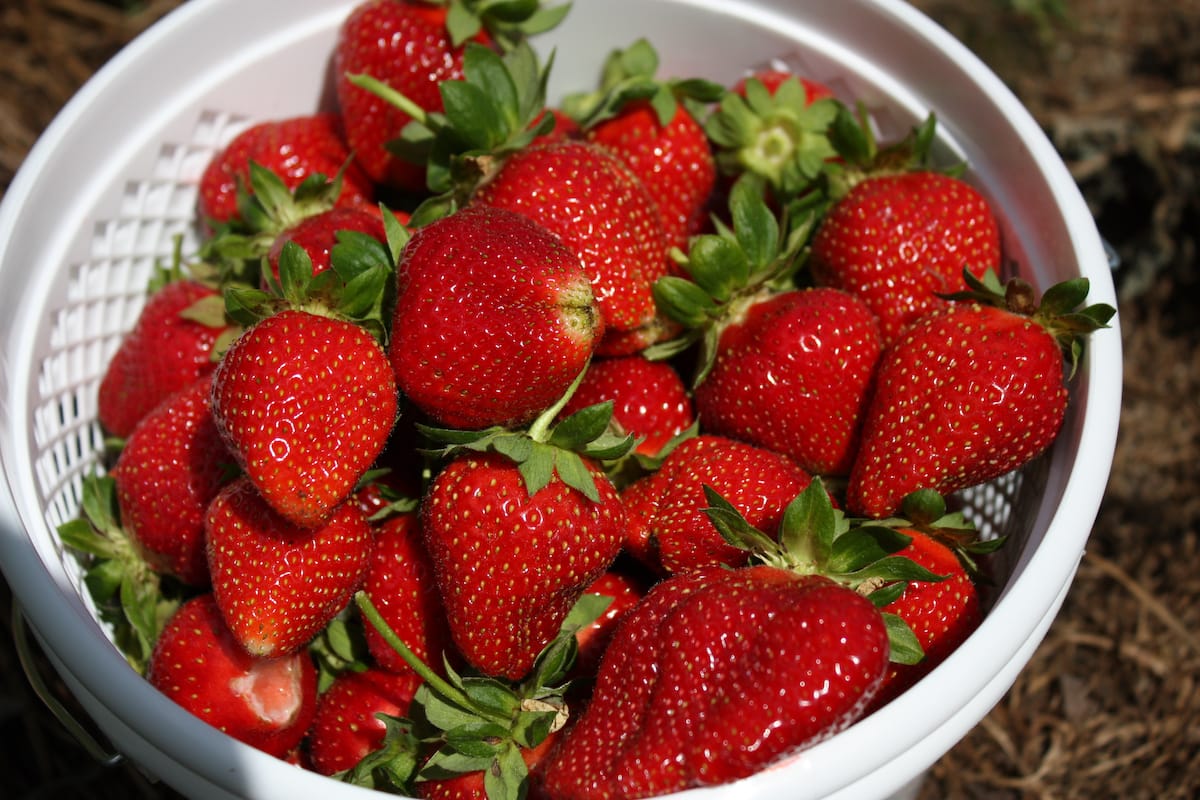 Cody Strawberry Farm (Richfield)
Whether you just want to help out local businesses or truly do right by your body, the Cody Strawberry Farm is for you.
Being family-owned and operated, the Cody Strawberry Farm has made it its goal to have the best fruits and vegetables available for its customers as they pick all their goods daily.
You can either come and do some grocery shopping down at the farm or pick your own produce!
Days and hours are Tuesday to Saturday, 8 am-6 pm, and Sunday, 1 pm-6 pm. All are welcome to join and spend their day in the beautiful strawberry fields.
Address: 44052 Pauls Crossing Rd, Richfield, NC 28137
R&M Strawberry Farm (Belews Creek)
Spend your day picking luscious fruits both for enjoyment and for health! The R&M Strawberry Farm is one of the best strawberry picking farms in the area as it mainly focuses solely on strawberries.
They also have a variety of flowers you can go and purchase which are only in season temporarily and around the same time as the strawberry picking season.
To be more informed, visit their Facebook page as to when exactly they will be open for strawberry picking and at what hours as they are very flexible and often change the times. So if y
Address: 7369 Parham Rd, Belews Creek, NC 27009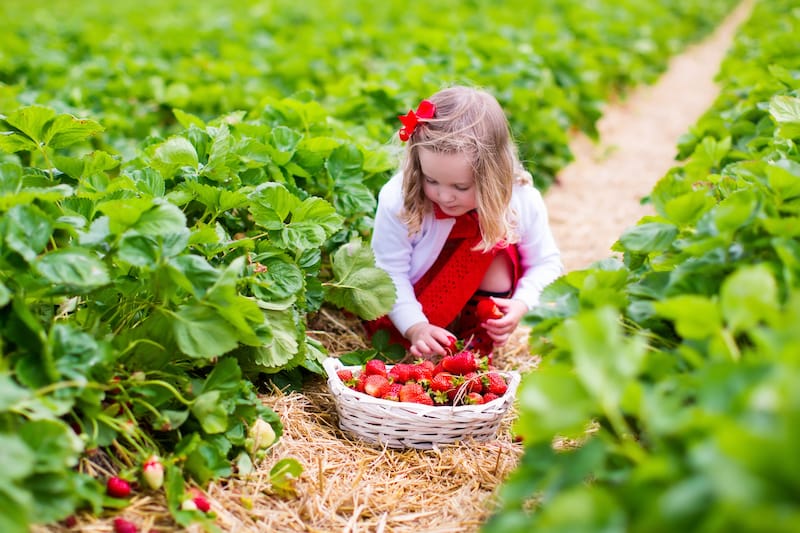 Ingram's Strawberries Farm (High Point)
This farm is not only great for those who want to pick strawberries but there are also a variety of vegetables to choose from when picking the harvest.
You can feel as though you are a real gatherer and immerse yourself in the natural feeling that is working for your own food.
The Ingram Strawberry Farm is the perfect place to experiment with that! They are open Monday to Friday from 7 am to 7 pm and Saturday from 7 am to 5 pm.
If you don't want to pick your harvest, you can also visit them and have some homemade ice cream or try some of their other homemade goods!
Address: 6121 Riverdale Dr, High Point, NC 27263
Jean's Berry Patch (Apex)
If you want to taste "the best strawberries you've ever had" as said by one of the many satisfied customers, you can visit Jean's Berry Patch near Raleigh!
With juicy and tasty strawberries, this farm is famous for its strawberries' sweet and one-of-a-kind taste as it stands out from the rest of the strawberry farms.
The strawberry picking season typically starts in April and ends in June but the exact start and end date have many dependent factors which will become clear once we come closer to the season.
They are open from Monday to Saturday from 10 am to 5 pm and Sunday from 1 pm to 5 pm.
For prices and start and end dates, look out for updates on their Facebook page or give them a call.
Address: 38 Lewter Shop Rd, Apex, NC 27523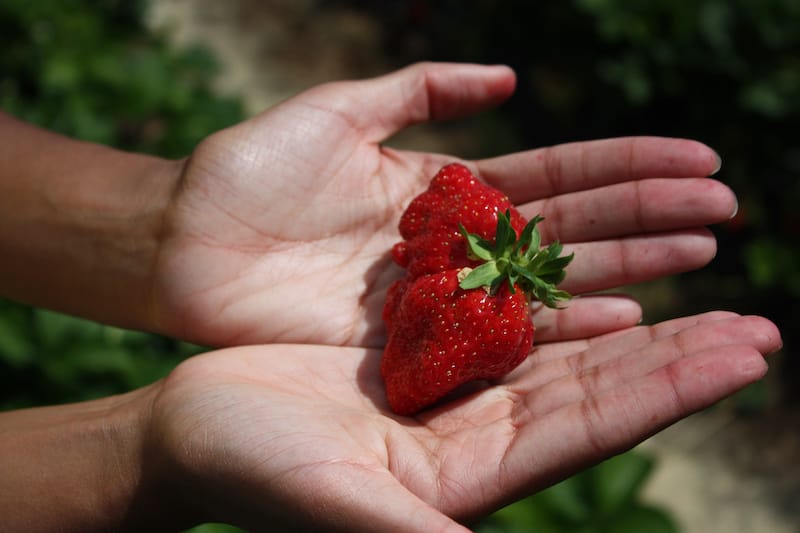 McAdams Farm (Efland)
Farmers' markets are always an attraction for everyone who enjoys a good day enjoying themselves and eating and buying good food for cheap prices.
The McAdams Farm is the place to go for those people who like to be interactive and obtain their own food and for those who love the cottage come aesthetic and love farmer's markets!
You can either pick your own food or go buy it for a cheap price at the market that's on that very farm. For more details about pricing, dates, and times, check their website or give them a call!
Address: 1100 Efland – Cedar Grove Rd, Efland, NC 27243
Mabe's Berry Farm (Walnut Cove)
Now whether you want to pick your own strawberries or you'd rather buy them pre-picked, Mabe's Berry Farm is at your service!
They are open every single day from 8 am to 8 pm and the picking season starts in April and lasts until June! If you are planning to buy pre-picked berries, make sure to place your order before driving up to the farm to ensure the best quality!
Also, if you're planning on picking the strawberries yourself, call ahead of time for information on weather and field conditions so as to not waste your time driving to the place for no reason.
Address: 1695 Greenfield Rd, Walnut Cove, NC 27052
Jones Fruit Farm (Walstonburg)
Famous for its berries, peaches, and cantaloupes, the Jones Fruit Farm is ready to help you pick out exactly what you're craving!
However, please take into consideration that they are not all simultaneously available as they all have seasons in which they are ripe and fresh.
strawberries are from April to June, peaches are from June to August, cabbages are from May, blueberries are from June to July, and cantaloupes and melons are from July to August.
When at the farm, also make sure to take advantage of the ice creams that are made by the fruits that are in season.
They are open Monday to Saturday from 8 am to 7 pm. Call-in orders are accepted as well.
Address: 7084 Beaman Old Creek Rd Walstonburg, NC 27888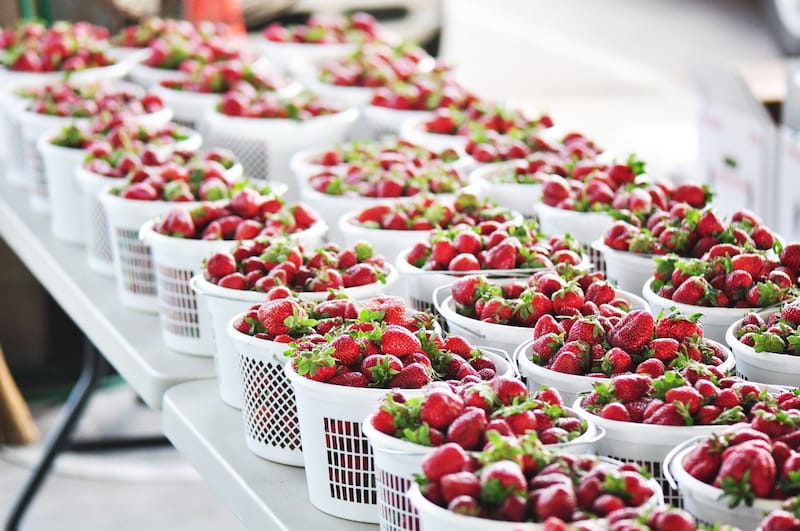 Williams Strawberry Farm (South Mills)
Down at Williams Strawberry Farm, you can find an abundant amount of different fruits and vegetables at exceptional prices!
Come and either pick strawberries during the months of mid-April through May or greenhouse cucumbers and tomatoes. You can also buy bedding plants which are available.
If you've got a sweet tooth, there's no problem there! You can visit the on-site bakery where there are homemade goods along with eight flavors of ice cream to choose from!
They are open Monday to Saturday from 7 am to 7 pm. If you're interested in visiting or have any questions, give them a call at (252) 771-2647.
Address: 1381 NC Highway 343 N South Mills, NC 27976
Willis Strawberry & Vegetable Farm (Newport)
What is spring without strawberries? Down at the Willis Strawberry & Vegetable Farm, you have the opportunity of embracing the cool wind after a harsh winter with the warm feel of the sun, indicating Summer is yet to come.
Spring is the season of rebirth and growth, not only for human beings but for nature all in all. With a clear mind and the breeze in your hair, strawberry picking is only the natural thing to do!
At Willis Strawberry & Vegetable Farm, you have the option of not only picking strawberries but other fruits and vegetables as well that represent the beautiful seasons we have!
They are open Monday through Saturday 8 am to 7 pm, and Sunday 10 am to 5 pm.
Address: 575 E Chatham St, Newport, NC 28570
Carol Sue Farms (Hampstead)
Down at Carol Sue Farms, you can truly embrace the feel of springtime when harvesting!
You can choose between strawberries or blueberries, strawberry season starting at the beginning of April and ending by the end of May while blueberry season starts mid-May and ends at the end of June or the beginning of July depending on the weather conditions and harvest of the given year.
If you are enthusiastic about the berries and spring, you can get a jump start and start buying pre-picked berries which will be available by the end of March!
They are open Monday to Friday from 10 am to 6 pm, Saturday from 10 am to 5 pm, and Sunday from 12:30 pm to 4:00 pm. For more information, give them a call at (910) 520-6629.
Address: 19874 Hwy 17, Hampstead, NC 28443
Did we miss any of your favorite strawberry farms in North Carolina?
Let us know the best places for strawberry picking in North Carolina in the comment. Thanks!
More North Carolina Travel Guides
Pin this North Carolina Strawberry Farms Guide