Hickory is a city located northwest of Charlotte and is a place with quite a bit to offer! This is a guide of the best things to do in Hickory NC for first-time visitors.
With around 40,000 people living in Hickory, the city has museums, coffee shops, restaurants, and a lot more to attract visitors for a long weekend there.
We think it is a fantastic weekend trip from Charlotte and other places in the region (even though it is close to Charlotte!)
This guide will detail the best attractions in Hickory and some of our top picks for food and drink.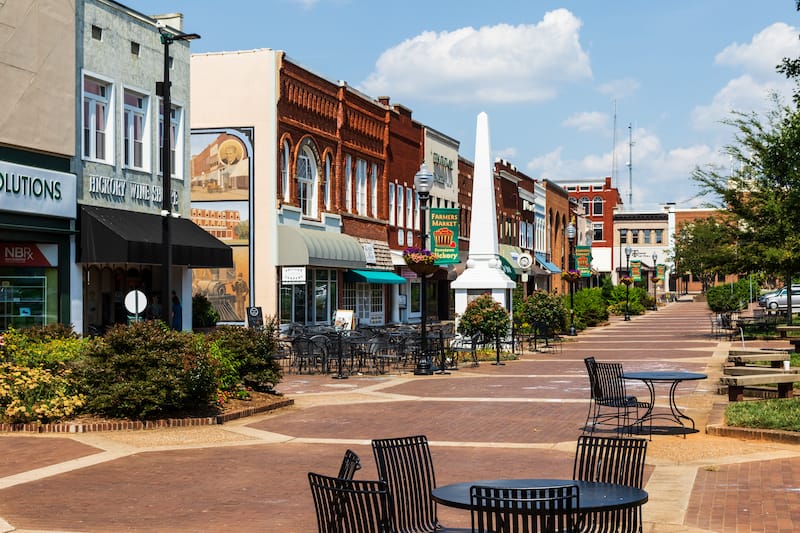 Do you have any suggestions for what to do in Hickory? Please let us know in the comments!
Best Things to Do in Hickory NC
Taproot Coffee Bus
After wandering around in Hickory and observing its gorgeous attractions, it is time to take a break and have a cup of coffee in one of the most famous coffee shops in Hickory. Taproot Coffee Bus is actually a unique cafe that is in a bus!
Taproot Coffee Bus has different types of coffees and brewing methods and you'll find everything from French Press, AeroPress, Chemex, Moka Pot, and more.
View this post on Instagram
Don't miss out on stopping by for a cup of joe in this unique coffee shop (that has fantastic coffee)!
Address: 2475 N Center St suite b, Hickory, North Carolina 28601
Website: https://taproot.coffee/
Hickory Museum of Art
For art lovers, Hickory has one of the most famous art museums in the state, the Hickory Museum of Art.
The Hickory Museum of Art was established in 1944 and the displayed exhibitions are available to check out for the public. It contains artwork from the 19th-century all the way until pieces from today.
For fans of the renowned Andy Warhol, the Hickory Museum of Art showcases 36 iconic masterpieces by him, including illustrations of pop culture icons Mick Jagger, Mickey Mouse, and Santa Claus.
Aside from many popular artists' works, the museum has its own collection of artwork like an interesting photo gallery of high-speed photography captured in photos, art glass exhibitions, works of North Carolina artists, and more.
The Hickory Museum of Art has to be on your North Carolina bucket list if you're into learning more about regional and local art from this part of NC!
Address: 243 3rd Ave NE, Hickory, North Carolina 28601
Working hours: 10 AM–4 PM. Closed on Monday and Tuesday
Catawba Science Center
The 35,000 sq feet Catawba Science Center is a paradise for children and if you're traveling with kids, you definitely don't want to miss it when you're visiting Hickory! Annually, it accepts thousands of children and is known as one of the best places to enjoy family time.
The science technology museum offers visitors educational and interactive displays for young visitors, opportunities to participate in the summer camp, and even acts as a unique venue for parties and events.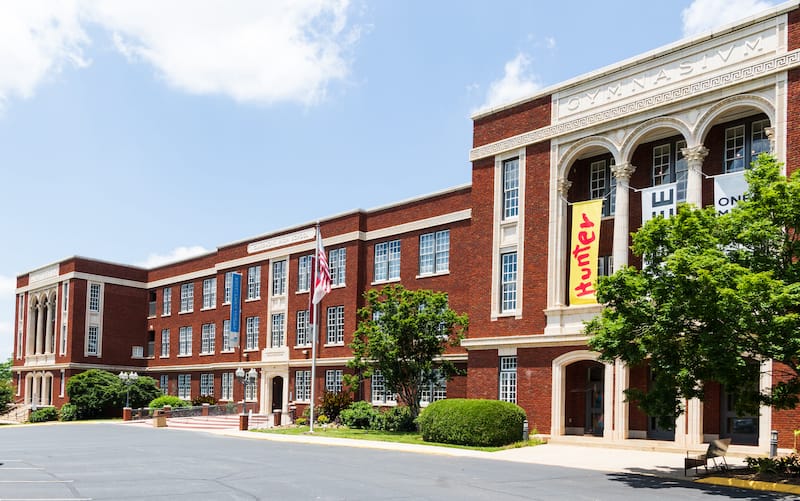 In the facility, your family will be entertained by an impressive planetarium, get to learn more about marine life at the aquarium, and learn how the laboratory operates with special suits, and more.
Address: 243 3rd Ave NE, Hickory, NC 28601
Working hours: 10:30 AM–4 PM. Closed on Monday and Tuesday.
Website: https://catawbascience.org/
Hickory Aviation Museum
Probably one of the coolest and interesting museums in North Carolina for kids and adults of every age, the Hickory Aviation Museum is located in the Hickory Regional Airport. It is one of the best places to visit in Hickory!
If you are planning to visit this well-known aerospace museum, get ready to see the Golden Age of Aviation, intriguing artifacts, and warbirds.
You will have the opportunity to get familiar with the history of aviation up close and personal and witness exhibits like aircraft from World War II to F/A-18 Hornet and F-14 jets. The collections are well-maintained and definitely interesting for visitors!
Address: 3101 9th Ave Dr. NW, Hickory, North Carolina 28601
Working Hours: 10 AM–3 PM. Open only on weekends
Henry River Mill Village
Located only 6 miles away from Hickory in Burke County, the Henry River Mill Village is another historical place that everyone needs to visit as a day trip while they are traveling throughout the city.
The small textile village was established at the beginning of the 20th-century by Michael Erastus Rudisill and his brother Albert Pinkney Rudisill, including the dam and mill's construction.
Nowadays, the industrial village was used as a shooting location for the popular film series The Hunger Games (it was used for scenes for District 12).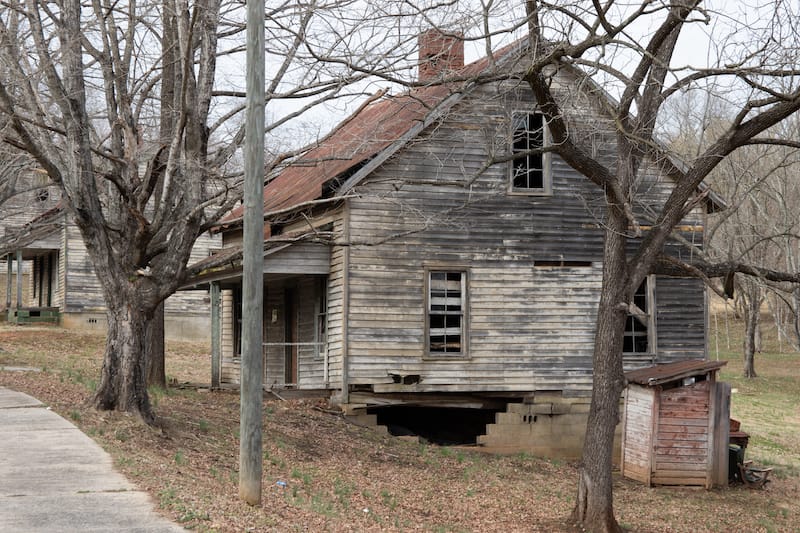 Visitors of the Henry River Mill Village will have the chance to witness and learn more about the milling history in North Carolina and there are even many events taking place there today. The mill has been placed on the National Register of Historic Places.
Address: 4255 Henry River Rd, Hickory, NC 28602
Website: https://www.henryrivermillvillage.com/
The Vineyard and Winery at Catawba Farms
The Vineyard & Winery at Catawba Farms is located approximately 17 miles away from Hickory and for nature and wine lovers, it is one of the best day trips from Hickory!
The facility spans over 34 acres and is home to one of the best vineyards in Catawba County. When there, guests can experience high-quality varieties of wines in the tasting room, take them home for purchase, and try delicious food made from local ingredients.
View this post on Instagram
By taking a tour of the vineyard led by a knowledgeable guide, you will have a chance to see the entire property, learn about the grape varieties there, and taste some of their beverages.
You will also get a chance to see the Sigmon Farmhouse that dates back to the late 1800s and is a place you can stay overnight in its renovated rooms if you wish.
Address: 1670 Southwest Blvd, Newton, NC 28658
Website: https://catawbafarms.com/winery.html
Henry Fork River Park
If you like to picnic with your friends and family, then hanging out at Henry Fork River Park is one of the best things to do in Hickory NC! You'll find an 8,000-square-foot area where you can see shelters with picnic tables, restrooms, grills, and large soccer and sports fields.
Also, Henry Fork River Park offers two large playgrounds for kids, a paved walking trail, horseshoe pits, a concession stand, a canoe launch, and an Alpine Tower ropes course.
Address: 5655 Sweet Bay Ln, Hickory, NC 28602
Working Hours: 7 AM–7 PM. Open all week
Blowing Rock Draft House & Brewery
Craft beer lovers can enjoy their beloved drink in one of the best beer breweries in Hickory at Blowing Rock Brewing Company.
The ingredients used in their beer are all based on clean mountain water. They use local ingredients as much as possible and high-quality hops.
Blowing Rock Brewing Company has won many championships and awards over the years.
They have a wide selection of beer including some of their beloved brews like Cloud Rise IPA, Blowing Rock IPA, Fresh Trail Golden Lager, Mel Electrum Amber Ale, Brave New Brown Ale, Cranberry Pomegranate Kölsch, and more.
View this post on Instagram
Aside from just beer, they serve pizza, burgers, and other eats for hungry patrons.
Address: 883 Highland Ave SE, Hickory, North Carolina 28602
Website: https://blowingrockbrewing.com/blowing-rock-draft-house-hickory-nc/
FOURK Restaurant
One of the best things to do in Hickory is to EAT! And one of the best places to eat in the city is at FOURK Restaurant, a place specializing in American food.
The food at FOURK is served with a bit of a twist because the food and dishes are prepared with an emphasis on sauces and spices.
You'll find a rich menu with food such as Ahi and avocado, lobster dip, baked brie, and more. You will also find a nice variety of salads like their Thai Shrimp Salad, Kale Caesar, and more.
View this post on Instagram
Address: 1410 4th St Dr NW, Hickory, NC 28601
Website: https://www.fourkrestaurant.com/
Where to Stay in Hickory
If you're looking for a hotel for your trip to Hickory, here are some of the top-rated places to stay in the North Carolina city:
These are our favorite things to do in Hickory NC – what are yours?
Let us know any attractions, activities, or landmarks in Hickory that we missed. Thanks!
Additional Western NC Travel Guides
Pin this Hickory NC Attractions Guide