Planning an intimate escape and looking for the most romantic getaways in Tennessee? We have you covered!
With all the stress we deal with in our daily lives, we often forget to spend some quality time with the person who matters most- our significant other.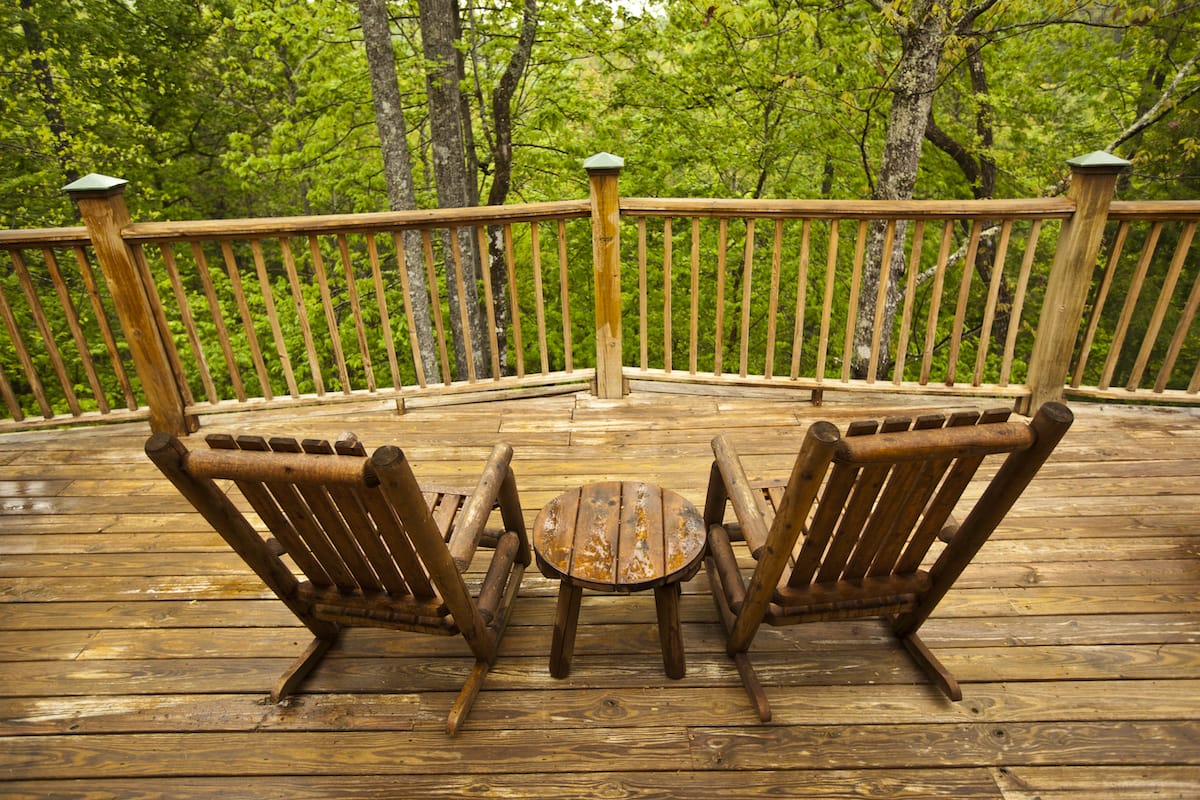 What better way to relax and surprise them than planning a special trip, just for the two of you?
Tennessee might not be the first place you think of when you imagine a romantic getaway, but you'll be surprised to see all the beautiful cabins, small towns, and special adventures the state has to offer couples.
Read on to find out our top picks for a romantic getaway in Tennessee that you and your significant other will return from feeling refreshed and in love.
Most Romantic Getaways in Tennessee
Morristown
If you are a couple that prefers more classic date nights, then Morristown should be at the top of your list.
Spend some quality time with your partner in Bickford Theater, where you can enjoy various events, such as jazz concerts, children's theater, dramas, musicals, and much more.
Immerse yourselves in the beauty of nature at Lewis Morris Park while hiking, running, mountain biking, and picnicking amidst the natural setting.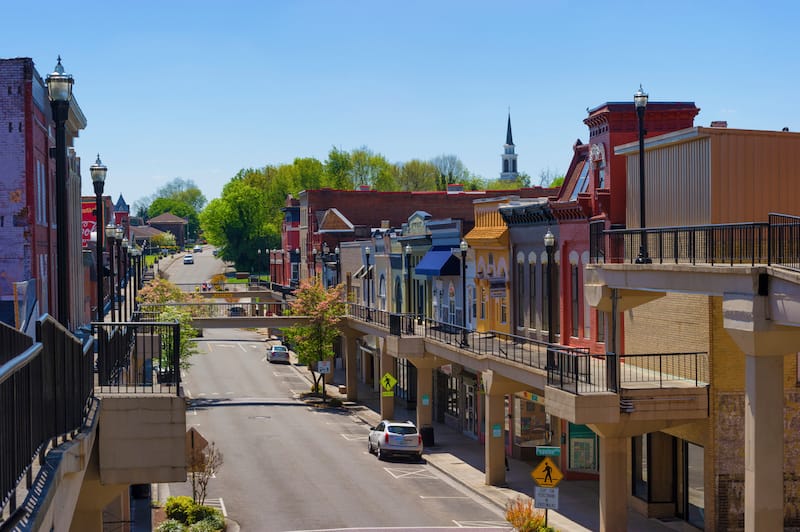 Unleash your competitive spirit at Lidgerwood Park and get into a fun competition with your partner at any of the tennis, baseball, basketball, and soccer fields.
Treat your date to stunning views in Panther Creek State Park, nestled on the shores of Cherokee Lake. AMC Headquarters 10 is another must-visit spot to share a large bucket of popcorn and check out some newly released movies.
Even if neither of you is a history buff, visiting Morristown National Historical Park and Washington Headquarters & Museum can be a lot of fun.
Built in 1937, here you can explore the Lloyd Smith Gallery, an American-style gallery, a war military life gallery, and much more.
Finish off your Morristown trip in tranquility at the 127-acre Frelinghuysen Arboretum, home to fountains, pavilions, lush fields, woodlands, and rich flora.
The Sewanee Inn
Location: Sewanee
BOOK HERE
Nestled right next to The University of the South, The Sewanee Inn offers an ultimate romantic retreat for those who appreciate elegance and comfort.
This charming Gothic-style boutique hotel features 43 luxurious rooms that will reward you with the sweeping vistas of lively University Avenue, Sewanee's renowned 9-hole golf course, and its tennis club.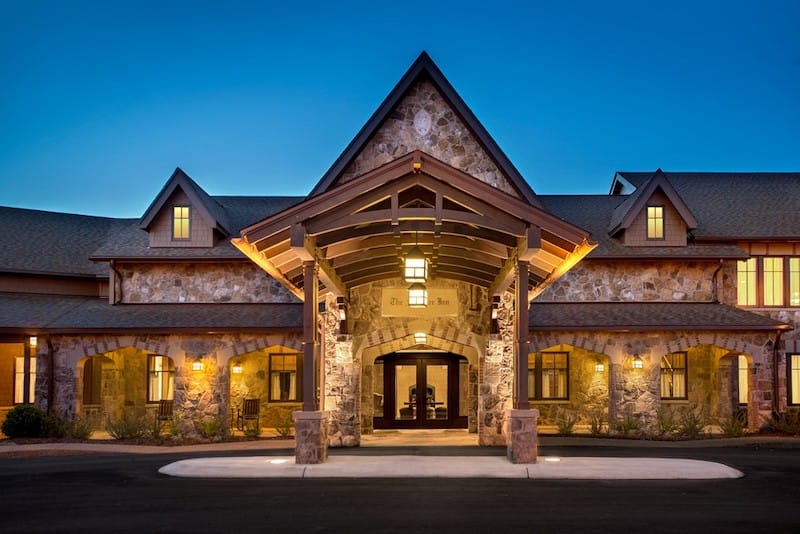 Make the Superior King Suite your love nest for the weekend, where you can wake up with your special date to the marvelous scenery of the Tennessee mountain-top plateau every morning.
Savor Southern comfort food at Shakerag or pop over to Green's View Grill located on the golf course to enjoy casual bar fare.
Quench your thirst for learning by taking part in guided tours of The University of the South campus and immerse yourself in an unmatched educational experience.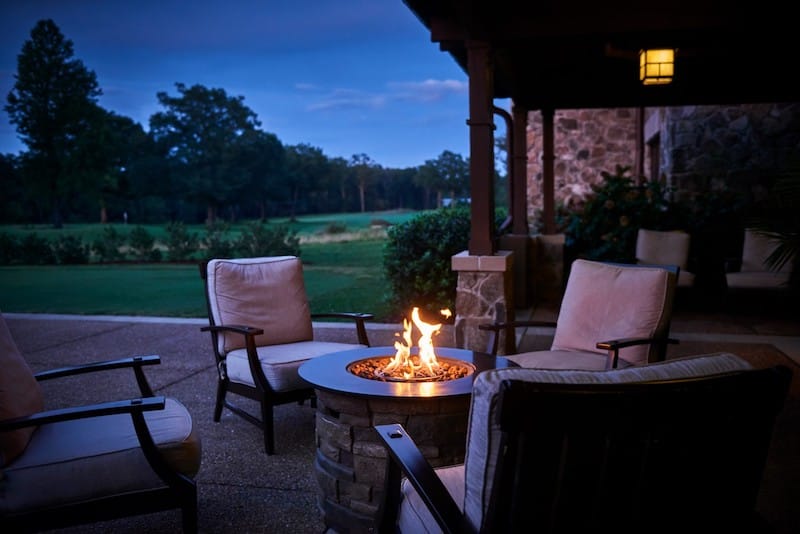 Just steps away from the Inn, you can experience the great outdoors while rock climbing, swimming, mountain biking, canoeing, kayaking, fishing, bird watching, and hiking.
>> Click here to check rates and availability
Columbia
Thinking about classier date ideas without having to spend a fortune? If so, then add the quaint city of Columbia to your bucket list.
Level up your dining experience at Southern Tre Steakhouse, where a romantic ambiance and diverse menu offering seafood, delicious steaks, and pasta will guarantee an uncompromising experience.
If you both love water activities, River Rat's Canoe Rental is the place to go. It features boat tours, kayaks, and canoes for you to try a relaxing trip down the river with your partner.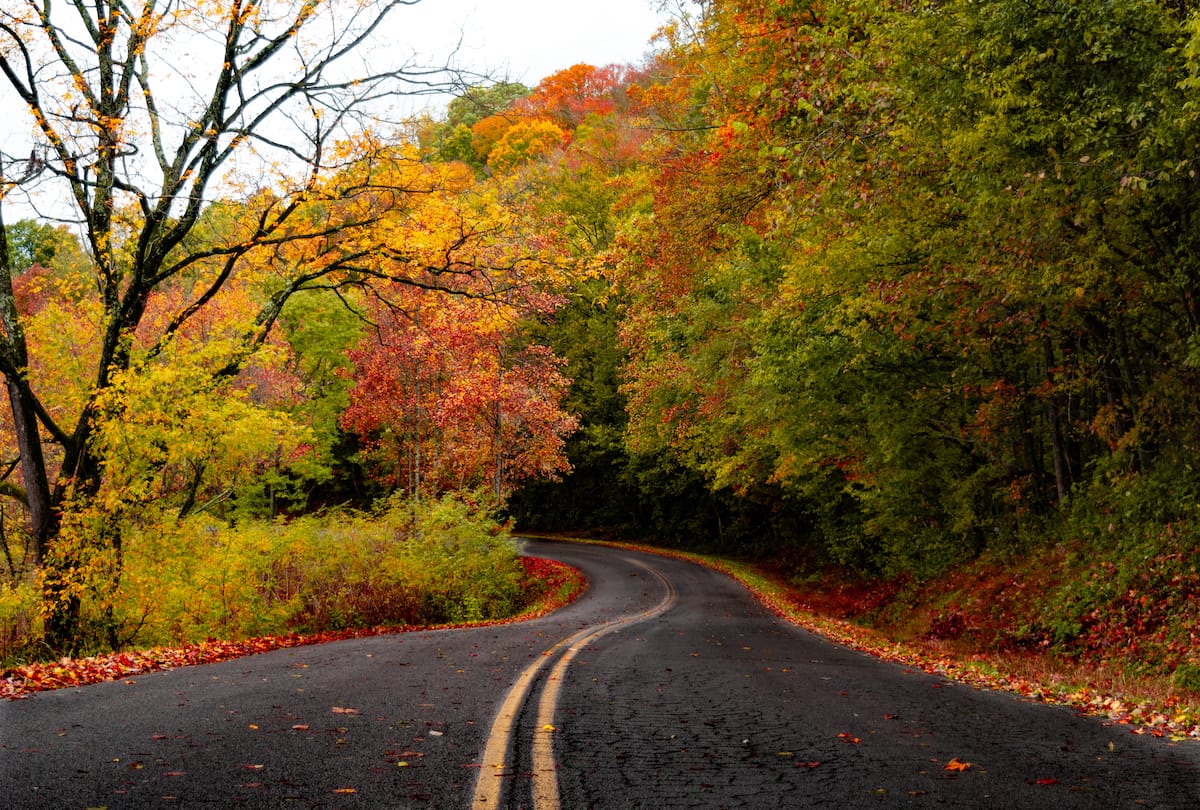 Spend an entertaining evening at Shadybrook Cinema enjoying the latest blockbusters or have fun at the Bear Glen Championship Putting Course playing in an 18-hole golf course that also features a tee line full swing area and batting cages.
Nature lovers can head to Chickasaw Trace County Park to hike and mountain bike on well-kept trails, take in the breathtaking scenery and even try fishing, canoeing, or kayaking on the gorgeous Duck River.
For some out-of-the-box date night ideas, pop over to Extreme Escape Games in nearby Franklin, about a 40-minute drive from Columbia, to show off your teamwork, improve communication, develop problem-solving skills, and experience the thrill of escape games.
RiverStone Resort & Spa
Location: Pigeon Forge
BOOK HERE
Whether you are celebrating your honeymoon or just looking for a romantic getaway with your soulmate, RiverStone Resort & Spa has you covered.
Spacious condominiums with a kitchen, private balcony, spa bath, and fireplace will make your stay a memorable one.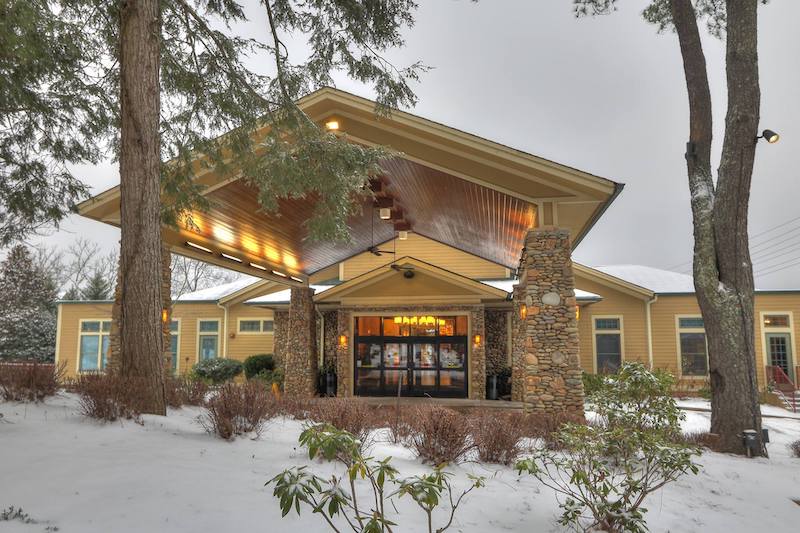 Treat your significant other to a relaxing retreat with a spa day for two at The Spa, where massage therapy and a wide range of face and body treatments will make you both return rejuvenated.
For a special secluded retreat, book the Smoky Mountain cabin to enjoy airy loft layouts, indulge in a romantic atmosphere, warm up in front of a fireplace, and breathe in the fresh air while seated in the balcony overlooking Little Pigeon River.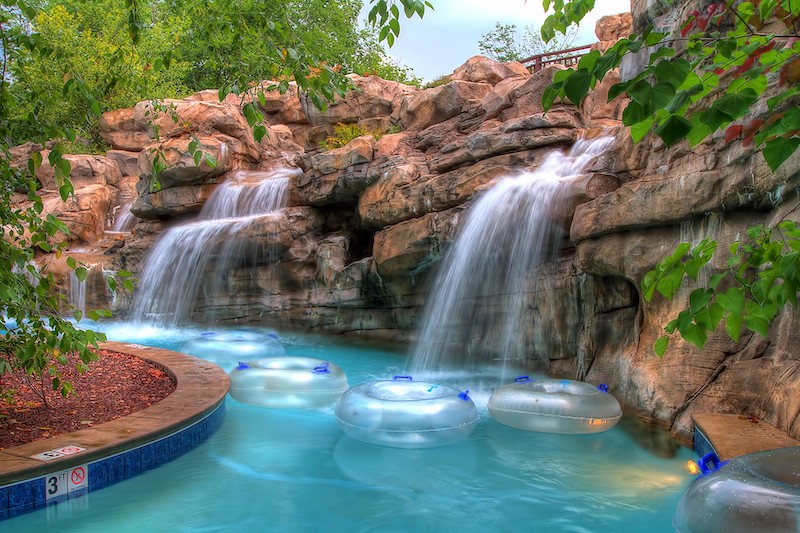 If you're looking for things to do close to RiverStone, you can catch a great show at The Comedy Barn, listen to popular contemporary country music at Country Tonite Theater, or enjoy dinner and hilarious comedy (get ready to laugh until your stomach hurts) at Dolly Parton's Stampede.
>> Click here to check rates and availability
Greeneville
A weekend in Greeneville is a great way to share magical moments with each other while exploring Tennessee's second-oldest town.
If you are both interested in arts, then head to Niswonger Performing Arts Center to catch a magnificent show, such as musicals, ballets, children's programming, stand-up comedy, and much more.
Immerse yourselves in history at the Andrew Johnson National Historic Site by touring two of his houses, the tailor shop, and his burial place.
Add a fun twist to your date nights in The Wandering Llamas, and spend an exciting day hiking with friendly llamas in the stunning Smoky Mountains.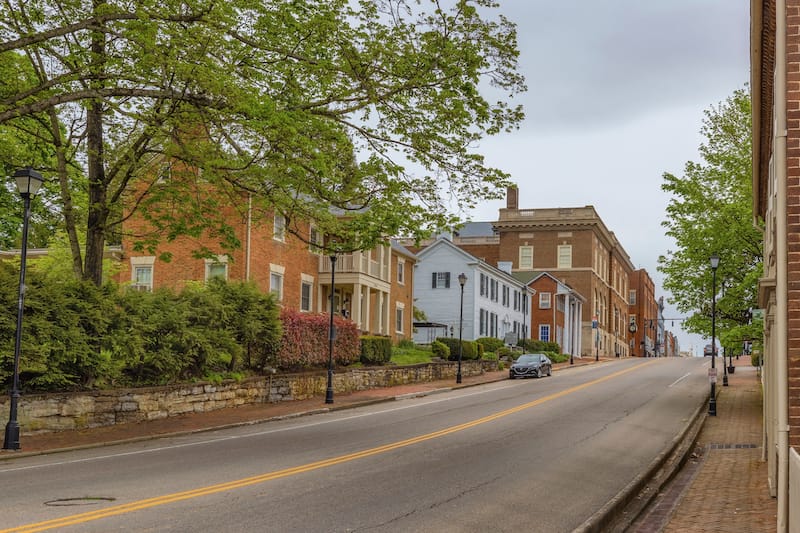 If you are both passionate about cars and sick of the same old outings, then visit City Garage Car Museum to witness a magnificent collection of vintage cars.
Visiting the Greeneville Greene County Museum is another great way to step back in time together. In addition, a trip to Buffalo Trail Orchard is not your typical date night option.
At this family-owned farm, you can pick your very own fresh vegetables, apples, and berries right from the trees.
Before leaving, make sure to check out Greeneville Antique Market to buy quality antiques, such as micro mosaic jewelry, furniture, coins, and clothes to bring home a piece of historic Greenville with you.
Berry Springs Lodge B&B
Location: Sevierville
BOOK HERE
Rekindle your romance at the Berry Springs Lodge, where rustic charm combined with modern amenities will guarantee a one-of-a-kind romantic getaway.
The Blackberry Springs Suite is the perfect room for you to share magical moments with each other, as it offers a large private balcony, a two-person whirlpool tub with a window overlooking the mountains, a living room with a fireplace, and a private back deck to take in the colorful sunsets over the mountains in each other's arms.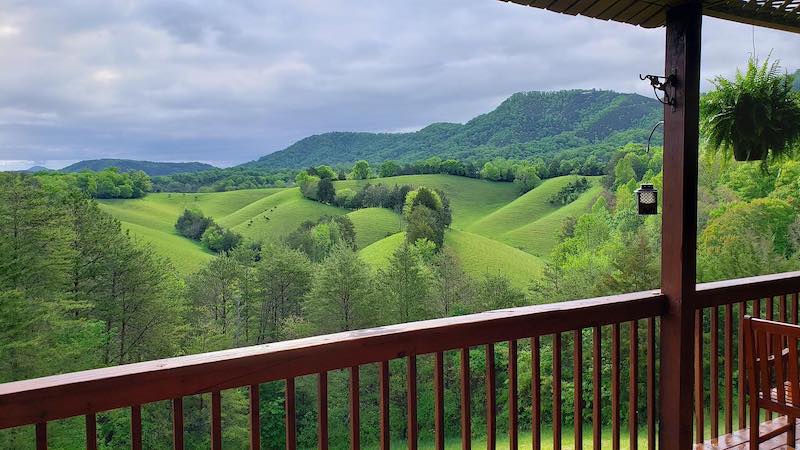 If you and your partner are nature lovers, you can hike through the woods and explore nature at its finest or take a canoe ride across the ponds.
Adventure chasers can ride either the mountain trail or the loop trail, while those who prefer a more laid-back trip can soak up the summer sun on a white sand beach.
You will also find a ping pong table, pool table, basketball hoop, and picnic tables in the lower pavilion.
>> Click here to check rates and availability
Pigeon Forge
A trip to charming Pigeon Forge will get you and your significant other in the mood for romance.
Treat your other half to the mesmerizing scenery of rivers, rolling hills, cityscapes, flowing rivers, towering trees, and breathtaking beauty of the Great Smoky Mountains (and the national park of the same name!) with Scenic Helicopter Tours.
Take your relationship to the next level by indulging in rejuvenating treatments and relaxing massages at RiverStone Resort & Spa or St. Somewhere Spa.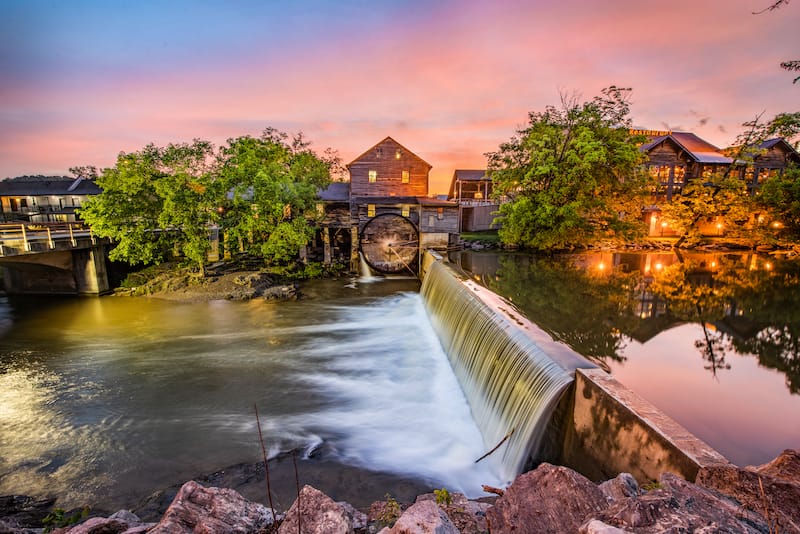 If you are looking for a unique date idea to kick off that long-awaited proposal, then the Great Smoky Mountain Wheel at The Island is the ideal place to confess your feelings to the love of your life while 200 feet above the city.
Rekindle your romance at Crave Golf Club by placing bets on who will lose at indoor or outdoor 19 hole mini-golf course, playing thrilling escape games, or enjoying delicious ice cream in a yummy candy shop.
After an exhausting day exploring Pigeon Forge, finish off your day at one of the Pigeon Forge Cabins where you can relax, take in the tranquil scenery from the comforts of a cozy cabin, and experience an ultimate secluded retreat.
Mayor's Mansion Inn Bed and Breakfast
Location: Chattanooga
BOOK HERE
If you are thinking about going away for a dreamy, historic couple's trip, then Mayor's Mansion Inn Bed and Breakfast, built in 1889, is the place to go.
Nestled in the Fort Wood Historic District, Chattanooga's historic inn offers romance packages to guarantee an exquisite experience with your loved one.
Silver, Gold, and Platinum Packages include everything from bottles of finest wine and charcuterie boards to sunset or sightseeing cruises for 2 on the Southern Belle Riverboat and in-room couple's massage.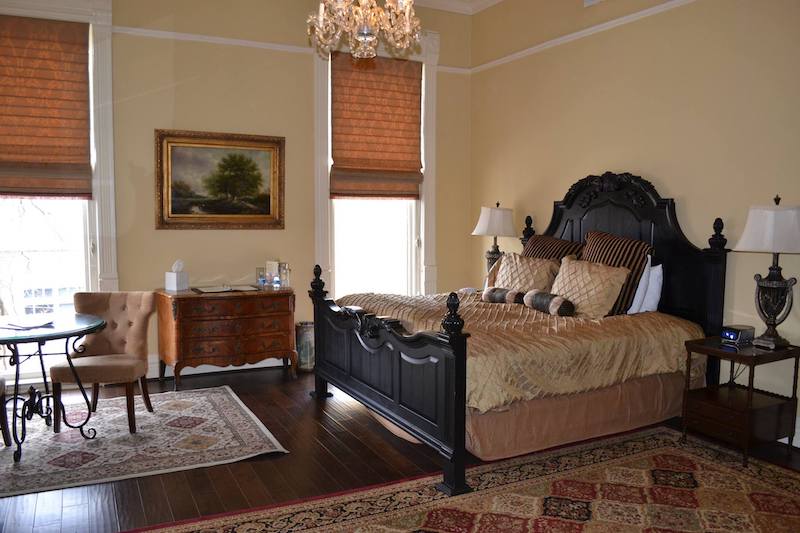 For a splurge-worthy romantic experience, book Laurel Falls Honeymoon Suite or Rising Fawn Honeymoon Suite that features a king-sized bed, marble-soaking tub, separate walk-in shower, royal atmosphere, and much more for your exquisite memories.
If you are both nature lovers and looking for thrilling adventures, go hiking in Cloudland Canyon State Park and Fall Creek Falls, rock climbing in Sunset Rock, whitewater rafting in Ocoee River, or wildlife viewing in Chattanooga Nature Center.
>> Click here to check rates and availability
Jonesborough
Whether you are planning your anniversary trip, weekend getaway, or honeymoon, Jonesborough is the perfect destination to fire up the romance.
Since Jonesborough is known as the Storytelling Capital of the World, it is needless to say that the International Storytelling Center is the city's gem where you can listen to extraordinary stories and get empowered to tell yours.
Wandering hand in hand from one booth to another at Jonesborough Farmers Market is a fun way to learn a little bit more about each other.
You can satisfy your pastry cravings in The Lollipop Shop and get your caffeine fix in The Corner Cup.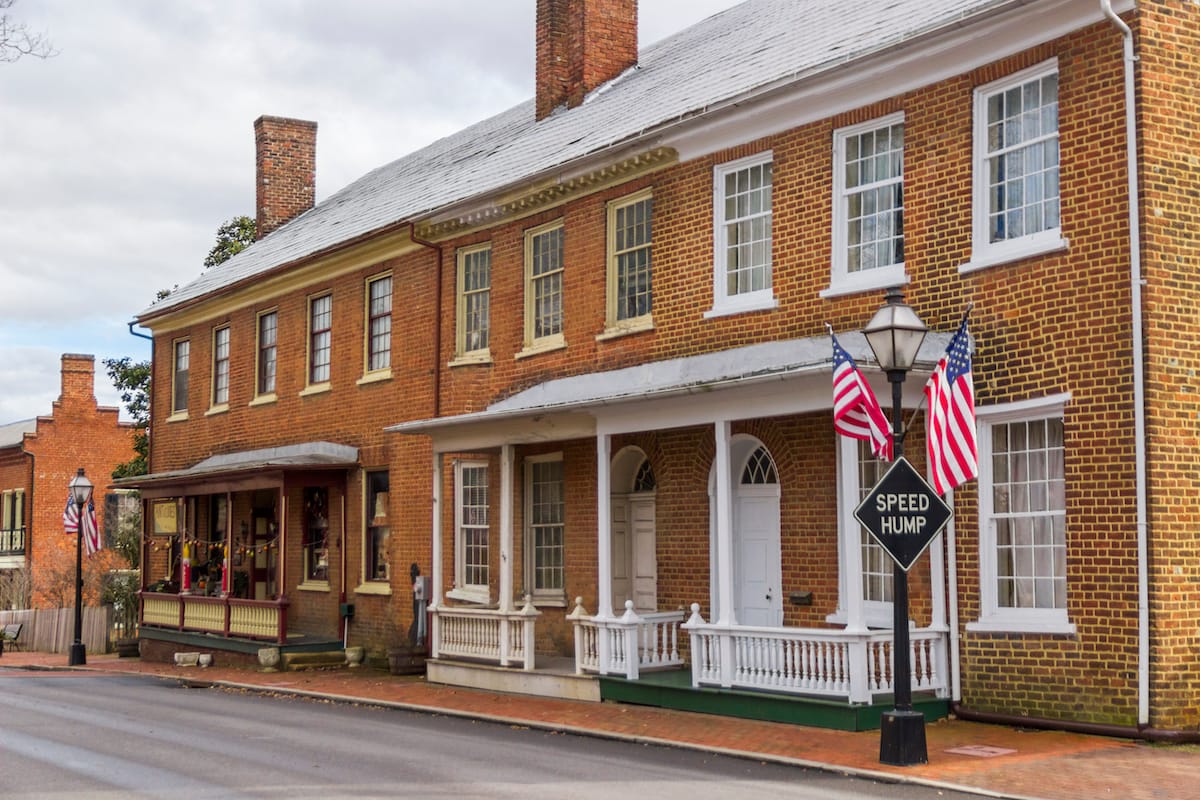 Sometimes the best way to get away from the crowd and the city's hustle and bustle is to reconnect with nature, which you can do at Persimmon Ridge Park. The park features many hiking and biking trails for those who love the outdoors.
Have a drink (or a few) together at Tennessee Hills Distillery while trying their signature products and discovering unique liquor-making processes.
If you and your special date are fans of Mexican Cuisine, then Let's Taco Bout It, Jonesborough's local food truck, is a must-visit for you to savor their mouth-watering quesadilla, queso, and tacos.
Little Valley Mountain Resort Cabin Rentals
Location: Sevierville
BOOK HERE
A weekend away at a cabin somewhat close to Gatlinburg is definitely one of the best ways to ignite the heat between you and your loved one. Whisk them away on an amazing romantic getaway at Little Valley Mountain Resort Cabin Rentals.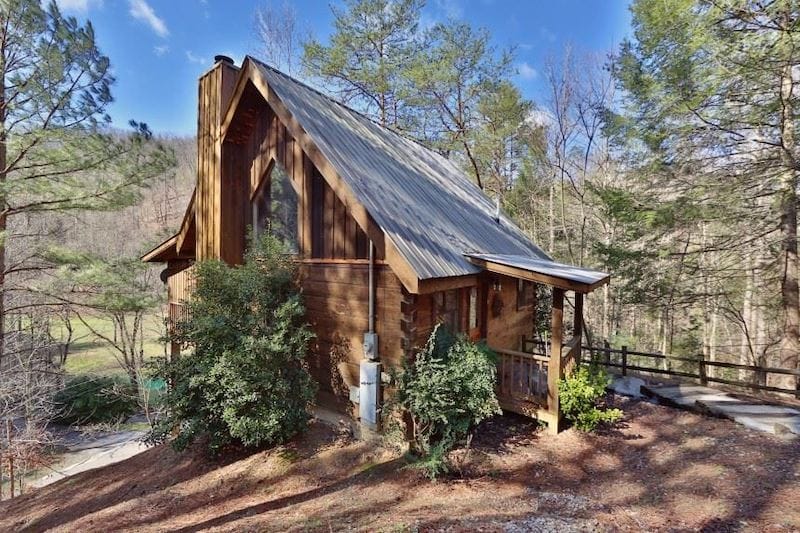 Reserve one of their honeymoon cabins surrounded by lush greenery that features a rustic design, jacuzzi tab, romantic outdoor fireplace, pool table, and hot tub on a private deck overlooking stunning mountains to make your weekend a memorable one.
For a fun competition, pop over to Little Valley Resort's badminton and basketball fields, tennis court, par 3 golf or 18-hole miniature golf courses, or go for horseback riding adventures with Davy Crockett Riding Stables.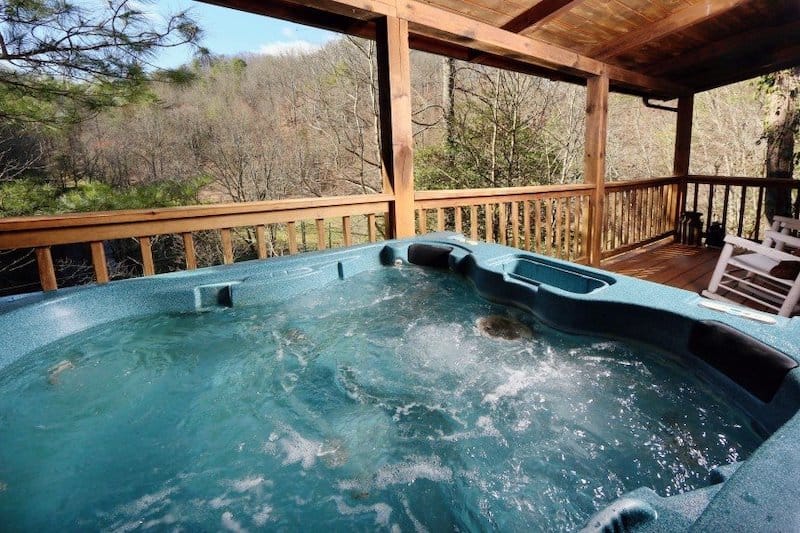 After a sweaty competition, take a relaxing dip in a heated outdoor swimming pool and finish off your day by chatting together over the patio fire pit in a romantic setting.
>> Click here to check rates and availability
Rogersville
Are you and your partner history buffs who prefer to spend your romantic weekend getaways digging into some history? If so, then the historic Rogersville, tucked in the heart of Tennessee, should be your top pick.
Stroll downtown to admire many historic sites, such as Tennessee's first post office, "The Knoxville Gazette" (the first newspaper printed in Tennessee), the Thomas Amis Historic Site, the home of Davy Crockett's family, and the burial site of his grandparents.
Another fun way to explore Rogersville's unique heritage is to take part in Heritage Days held in October to witness everything from traditional Appalachian music, antique cars, quilts, and farm equipment to Civil War reenactments.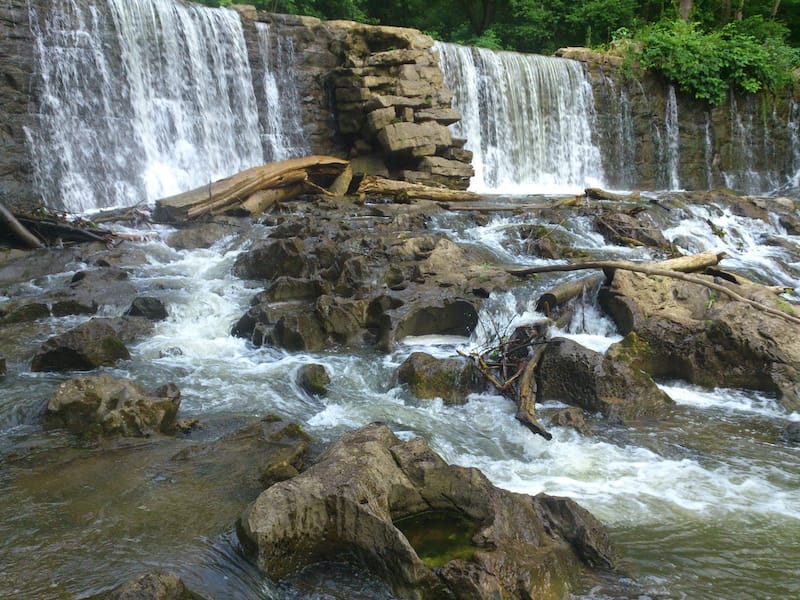 After a busy day of sightseeing, head to the 1800s-era Amis Mill Eatery where a delicious menu including crawfish etouffee, smoked prime rib, burgers, BBQ, and homemade desserts, friendly staff, and stunning views of Big Creek Dam and Waterfall will guarantee unparalleled dining experience.
Spoil your partner with a one-of-a-kind historical experience at Hale Springs Inn, built in 1824.
Stay in one of nine elegant rooms, indulge in a couple's spa day, level up your dining experience at McKinney's Tavern by Troutdale, or celebrate your special occasion in a perfect courtyard with a patio.
The Inn On The River
Location: Pigeon Forge
BOOK HERE
Mark your next romantic milestone with a serene getaway to The Inn On The River, nestled on Little Pigeon River.
Book one of their mini-suites with an in-room jacuzzi, fireplace, and private balcony overlooking the stunning Great Smoky Mountains National Park to spend some dedicated time away together, just the two of you in the middle of action-packed Pigeon Forge.
When booking your stay, don't forget to include the Romance Package, which features half a pound of locally made truffles, a bottle of champagne or sparkling cider, champagne flutes, Bath & Body Works bubble bath and lotion, silk rose petals, and flicker candles for an ultimate romantic experience.
Every evening you can enjoy your dinner on the outside covered patio overlooking the river or make your own on outdoor gas grills.
To unwind and relax, take a dip in the outdoor pool on the river, and if it gets a little too cold, you can head to the heated indoor pool or soak in the hot tub.
>> Click here to check rates and availability
What are your favorite romantic getaways in Tennessee? Let us know the dreamiest places to escape to in the comments! Thanks!
More Tennessee Travel Guides
Pin this Romantic Places in Tennessee Guide