There's no better way to enjoy the beauty of nature and taste some delicious, fresh food than going to an apple orchard! These are the best apple orchards in Tennessee that you must visit this year!
Whether you want to go as a family, alone, on a date, or with friends, there's certainly fun at apple orchards for everyone.
And at these top places to go apple picking in Tennessee, you will find fun for everyone (and there is plenty to do even if youʻre not an apple lover)!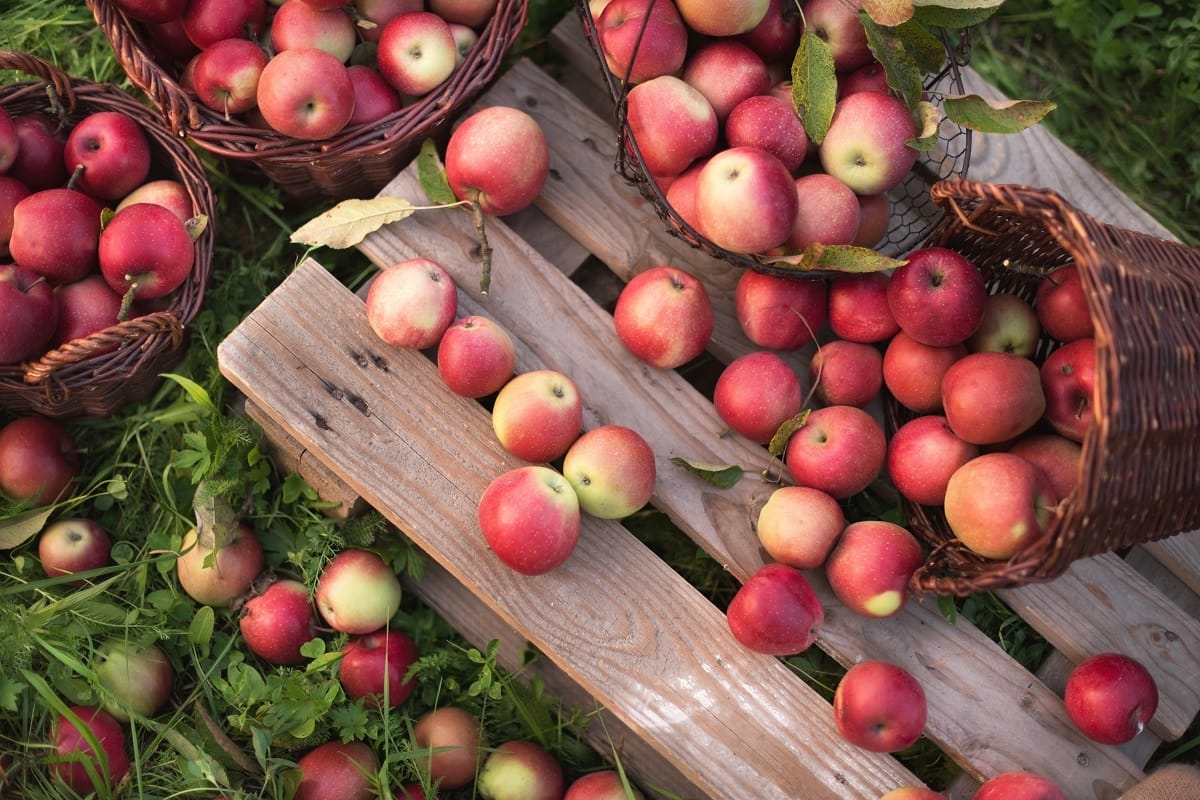 Visiting an apple orchard is perfect between the spring and fall. Be sure to check out when your favorite fruits or vegetables are in season to plan your trip accordingly!
In this article, we've compiled a list of some of the best apple orchards in Tennessee that you should be sure to visit.
Best Apple Orchards in Tennessee
Fairmount Orchard, Inc.
Just off of Signal Mountain, Fairmount Orchard, Inc. is a locally-owned farm open 7 days a week for the season from mid-August through January.
This is the perfect place to welcome fall with a wide range of apple varieties, homemade cider, honey, jams, dried apples, and jellies.
They offer more than 20 varieties of apples to choose from, such as Golden and Red Del, Fuji, Mutsu, Red Rome, Stayman Winesaps, Ambrosia, Granny Smith, and many more.
You can also taste the most delicious fresh apple cider, which is fully produced on the spot.
Address: 2204 Fairmount Pike, Signal Mountain, TN 37377
Scott's Orchard
The century-old, family-owned Scott's Orchard is the largest apple orchard in Tennessee, stretching across the Alabama-Tennessee state line.
One hundred acres of land feature over 18 different varieties of apples, while an additional 50 acres are planted with 20 different varieties of peaches.
Here you can pick your own fresh apples, ranging from Ginger Gold, Gala, and Ozark Gold to Mutsu, Red Delicious, Winesap, and more.
Those who want to witness the grading machine process can plan their visit during the early hours to see how the best and freshest apples are packaged.
In addition to apples and peaches, Scott's Orchard offers plums, watermelons, slushies, vegetables, honey, molasses, and delicious fresh-pressed cider too.
They also have their own bakery that makes apple pie, apple pie filling, and applesauce.
You can also check out the General Store, which is packed with blueberry, cherry, peach, or red raspberry vinaigrette; apple butter syrup; peach cobbler syrup; and wildwood apple pie spice blend among other products.
Address: 2163 Scott Rd, Hazel Green, AL 35750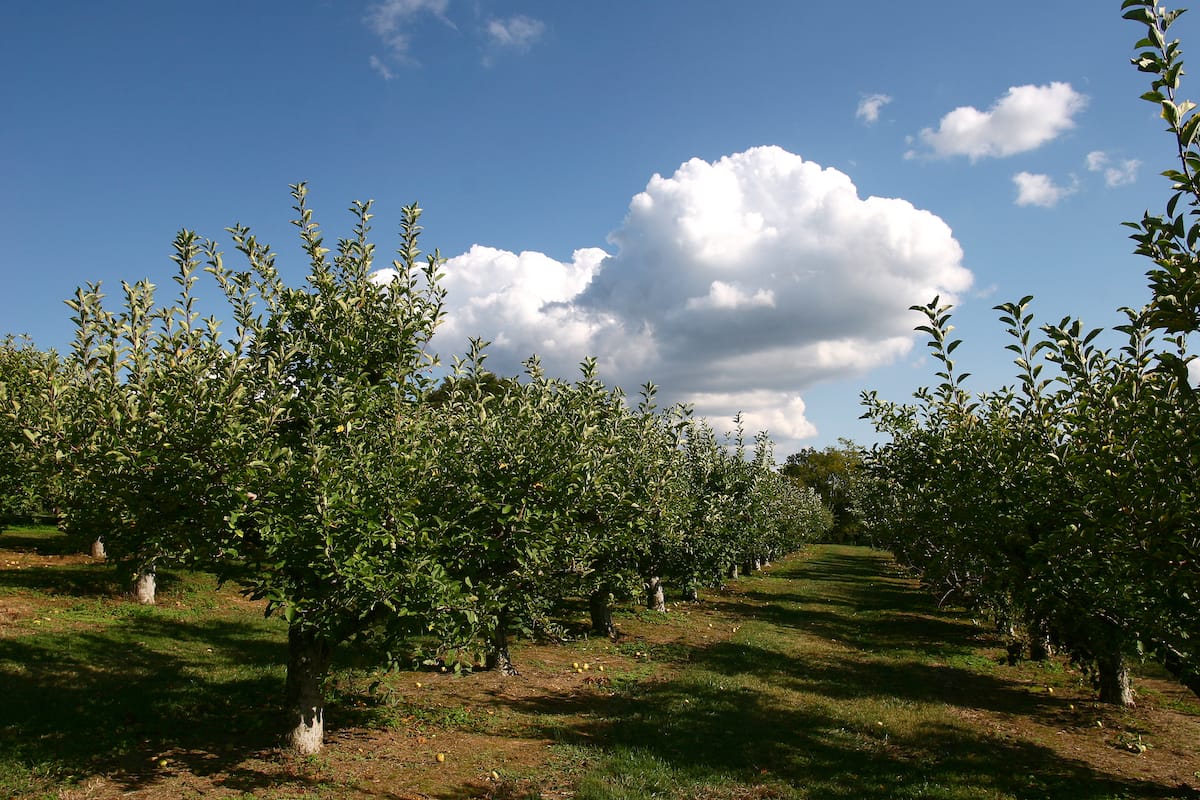 Wheeler's Orchard
Nestled atop Fredonia Mountain on the Cumberland Plateau, just an hour's drive from downtown Chattanooga, Wheeler's Orchard & Vineyard is one of the only sustainable orchards in the southeast.
Home to the world's largest expanse of hardwood forest, 200 acres of land offers its visitors the centerpiece apple orchard, blueberry patch, and vineyard.
You are welcome to bring a picnic lunch with you to enjoy a lazy day on a blanket while taking in the splendid vistas of the surrounding mountain ridges overlooking the orchard.
Visit from late July through October to get your hands on Mollie's Delicious, Jona Gold, Empire, Turley Winesap, Ole Time Golden Delicious, McIntosh, and many other varieties of crisp and juicy apples.
Just make sure to arm yourself with a big basket when you head out to pick and eat the delicious apples, grapes, blueberries, other seasonal herbs, and vegetables at this U-Pick orchard.
Despite having a vineyard, this orchard doesn't feature a winery yet.
Instead, they offer native and hybrid varieties of a plethora of seedless, seeded, table, wine, and processing grapes perfect for making juices, preserves, wine, pies, or simply adding to your fresh salads.
Address: 956 Wheeler Rd, Dunlap, TN 37327
Oren Wooden's Apple House
Oren Wooden's Apple House is a family-owned business that is now six generations in the making.
Set high above Walden's Ridge between Pikeville and Dayton, 100 acres of land grows 21 varieties of apples, plus peaches, pumpkins, gourds, and other fruits and veggies.
You can visit Oren Wooden's Apple House from July through the end of the growing season, usually around Thanksgiving. An old-fashioned farm market offers its visitors homegrown fruits and veggies, jams, jellies, pickles, butter, and preserves.
The nearby gift shop features quilts, crafts, woodwork, cookbooks, decorative baskets, salad dressings, old-fashioned candies, and more.
The orchard is well known for Oren's Orchard Café, which serves homemade Southern-style fare with daily specials featuring seasonal produce from the farm.
The Pie Shop is a dessert heaven where you can satisfy your sweet tooth.
Here nostalgia is captured in every dessert, like apple pies, apple dumplings, orange crush cakes, apple cakes, cookies, ice cream, cider slushies, and other mouth-watering goodies.
Address: 6351 New Harmony Rd, Pikeville, TN 37367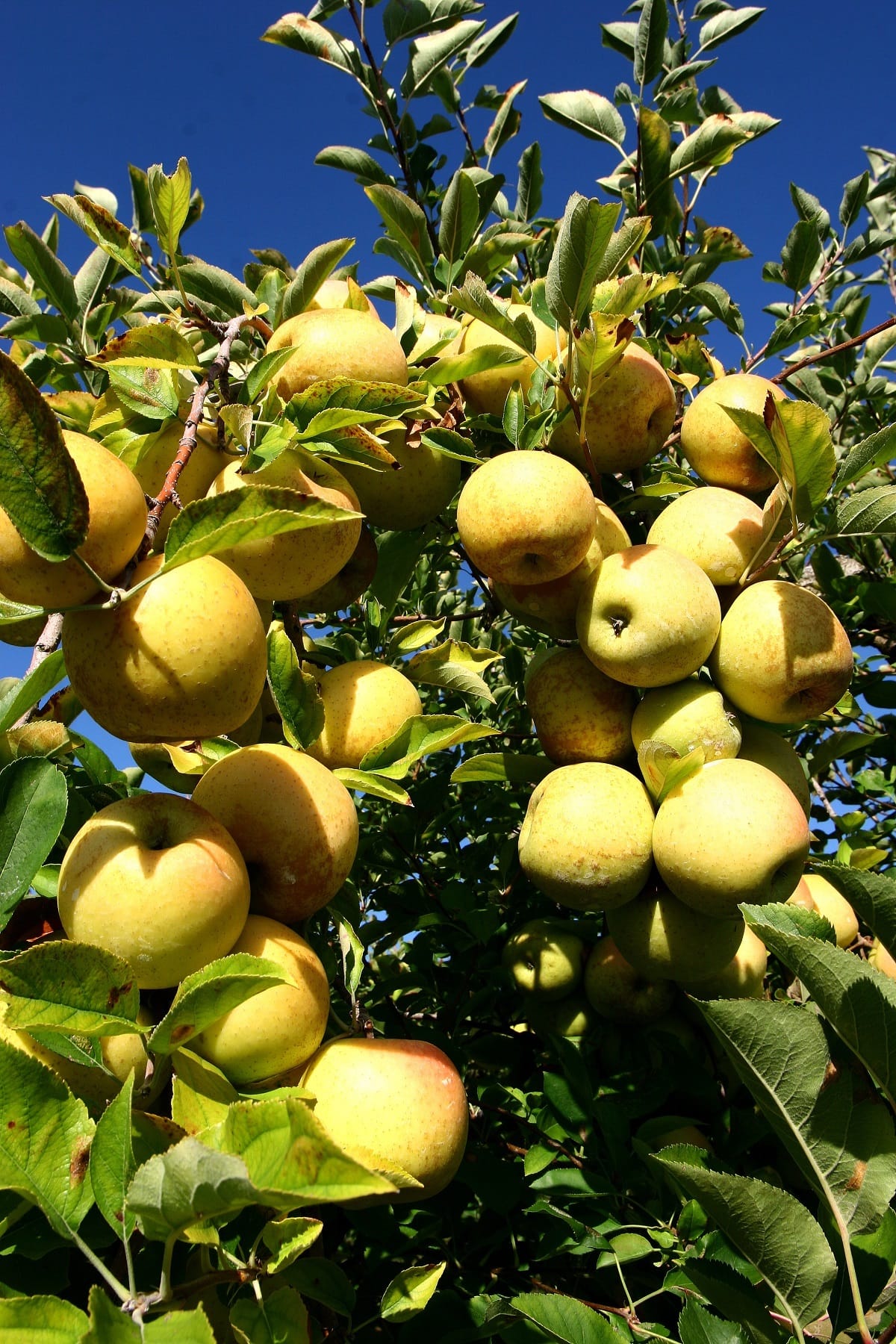 Shade Tree Farm And Orchard
Founded in 1983 by Tom Head, Shade Tree Farm and Orchard produces feeder calves, apples, and other varieties of fruit. More than 500 apple, peach, and pear trees grow on 140 acres of land, which is sprinkled with daylilies all around.
You can visit this orchard from Labor Day weekend until the first week of November on Thursdays through Sundays from 9 AM to 5 PM.
The beginning of September is a special time as the smell of fresh apple cider is in the air.
Buy freshly-pressed cider in 1/2 or 1-gallon jugs and cider slushies in the store in season or frozen cider during the off-season.
For a complete orchard experience, grab your baskets and head to pick-your-own fields to pick the perfect apples, blackberries, blueberries, and pumpkins.
Apple varieties you can choose from include Anna, Granny Smith, Red Delicious, Golden Delicious, Gala, Jonathan, Mutsu, and many others.
Educational programs for elementary school children for $8 per person are offered at the orchard, where the kids can participate in 4 sessions to learn about the life of "Johnny Appleseed," enjoy cider making and take a wagon ride around the orchard and farm.
Address: 2087 Kinneys Road, Adams, TN 37010
Breeden's Orchard
Breeden's Orchard is located about 30 minutes east of Nashville atop a hill in Mt. Juliet. This 12-acre peach and apple orchard has been in operation since 1974, and now they even carry their own Scottish Highland grass-fed, non-GMO beef.
You can come to pick your own peaches in July and enjoy the seasonal offerings at the farm stand, including white peaches, Red Havens, and Elbertas.
In the fall, when apple season starts rolling in, you can get your hands on a wide range of apple varieties and sample fresh-pressed cider or cider slushies.
In addition to the 500 planted trees, there are also blueberry, raspberry, and blackberry bushes.
There are many things to enjoy at Breeden's Orchard, including orchard tours, field trips, Friday morning storytime, and classes.
Their market store features local fruits, vegetables, baked-from-scratch goodies, and other fun items. Make sure not to miss savoring their iconic fried and baked pies and donuts.
Address: 631 Beckwith Rd, Mt. Juliet, TN 37122
Jones Orchard
Located about 15 miles north of Memphis in Millington, Jones Orchard has been offering the best fruits to Memphis and the mid-South for nearly 7 decades.
Over 600 acres of farmland feature apples, blackberries, blueberries, nectarines, peaches, plums, strawberries, veggies, and more.
Here you can find pick-your-own fields, two roadside markets, the Country Kitchen at the Market, and have a blast at their thrilling fall events.
Over 110 acres of land is home to 25 varieties of peaches, including Elberta, Redskin, Georgia Belle, and Indian Peaches, while 50 acres are devoted to plums, nectarines, strawberries, blackberries, blueberries, pears, apples, and pumpkins.
Get lost in the huge 10-acre corn maze, try to figure out who kidnapped Farmer Joe during the Farm Scene Investigation, rescue Boots the Dog at Monster Mystery, and experience hair-raising adventures during the Festival of Fear while exploring the haunted Jones Orchard Corn Maze, pumpkin patch, and hayride.
Don't forget to check out the Country Kitchen to buy delicious farm-fresh jams, jellies, or relishes made with their own fresh fruits to take a little part of Jones Orchard home with you.
Address: 7170 Highway 51 North, Millington, TN 38053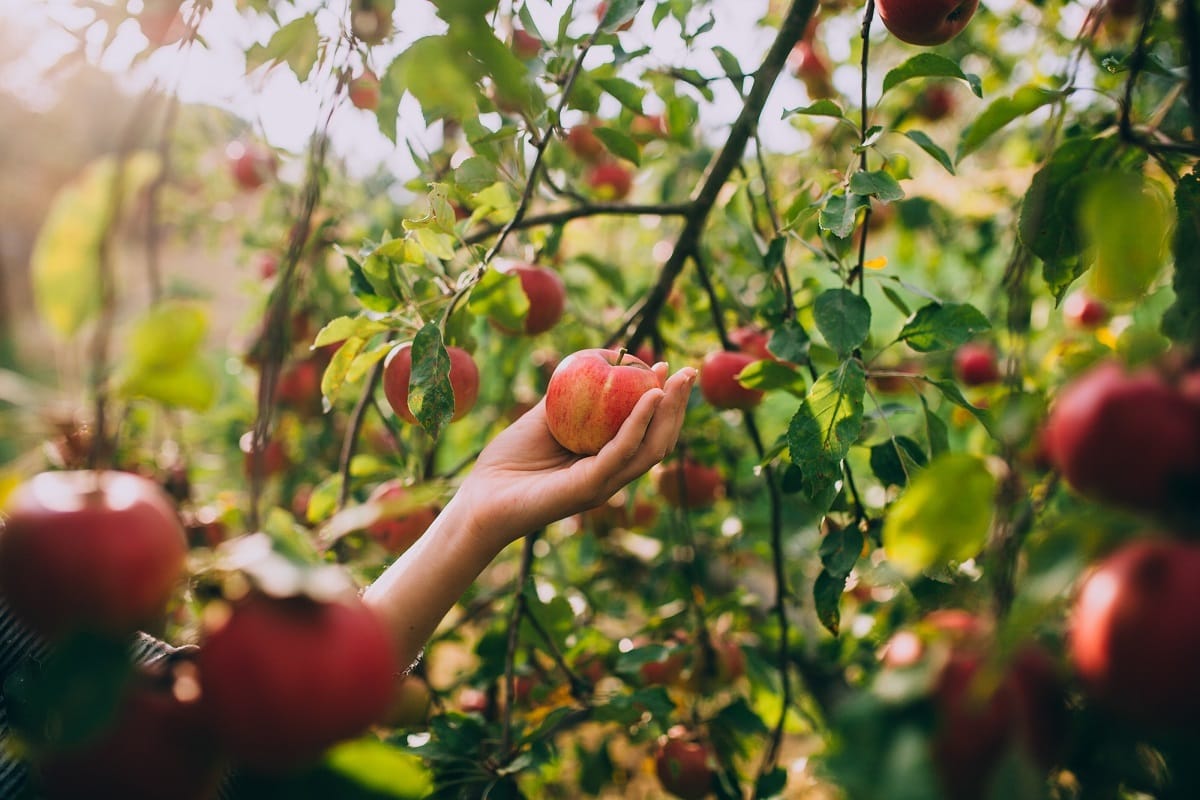 Apple Valley Orchard
Now home to approximately 15,000 trees, Apple Valley Orchard started as a hobby in the early 1960s. This family-owned orchard sold its first apples in 1974, installed a cider mill in 1978, and built a new apple house complete with a bakery in 1987.
Over 30 varieties of apples are grown on 40 acres in July, August, September, and October, including Dandee Red, the iconic Caitlin Gala, Lura Red, Red Delicious, Jonathan, Arkansas Black, Granny Smith, and many others.
Their crisp and juicy apples are the perfect complement to fall weather, not to mention apple cider, homemade pies, pecans, old-fashioned apple stack cakes, fritters, and a variety of foods from the onsite bakery.
From September through October, wagon rides through the Orchard are offered on Saturdays and Sundays at 2:00pm and 4:00pm, and school field trips and group tours are available by appointment from Monday through Friday.
During those tours, you will enjoy trailer rides, learn how they take care of the trees, listen to the Johnny Appleseed story, visit the packing house/cider room, and at the end, you will be rewarded with an apple and a cup of cider.
Keep in mind that this is not a u-pick orchard.
Address: 351 Weese Rd SE, Cleveland, TN 37323
Morning Glory Orchard
Rounding out our list, Morning Glory Orchard is located in historic Nolensville, just minutes from Brentwood, Franklin, Nashville, and Murfreesboro.
This orchard is a small, second-generation family farm well known for its delicious peaches, apples, local honey, homegrown vegetables, jams, preserves, hard cider, and fresh baked goods.
Just take a relaxing stroll through their well-maintained apple and peach orchard to enjoy the splendor of the picture-perfect scenery.
Self-guided tours for $5 per person are available in June, July, and August on Thursdays and Fridays and in October on Tuesdays through Fridays from 9 AM to 2 PM.
Please note that they do not offer public pick-your-own produce, but you can purchase fresh fruit from the farm store.
As the fall season rolls in, don't miss your chance to try their mouth-watering apple cider donuts, only available on Saturdays.
Other fun events throughout the year include Picnic in the Orchard, Food Truck Wednesdays, Yoga in the Orchard, "Let's Get Peachy" Tennessee Peach Festival, Apple and All Things Fall Festival, and the 20th-year Celebration in 2022.
Before leaving, check out their retail store, which features everything from jewelry and home décor to sugar scrubs and many other artisan gifts. It makes for the perfect Tennessee souvenir!
Address: 7690 Nolensville Rd, Nolensville, TN 37135
Did we miss any of the best apple orchards in Tennessee? Let us know your favorite places for apple picking in Tennessee in the comments! Thanks!
More Tennessee Travel Guides
Pin this Apple Picking in Tennessee Guide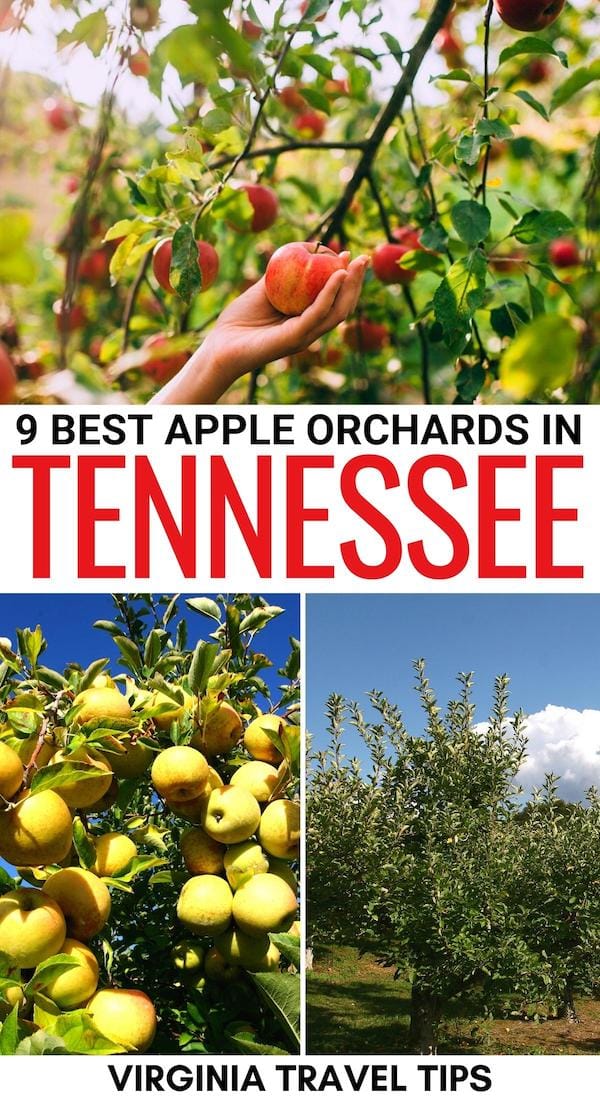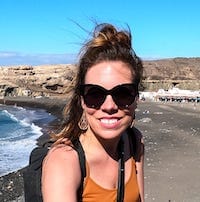 Megan is a travel blogger and writer with a background in digital marketing. Originally from Richmond, VA, she has lived all around the world (including Germany, Finland, Norway, etc) but her heart always finds its way back to Virginia. This blog is to help encourage travelers to explore the great state of VA… and its wonderful neighbors! Megan has written for or been featured by National Geographic, Forbes, Lonely Planet, Fodor's Travel, the New York Times, and more. She has visited 45 US states and 100+ countries… and wholeheartedly believes that Brunswick Stew is probably the greatest food to ever exist.