Tennessee is brimming with natural gems and plenty of reasons to visit – and one of the best times to visit is during the colorful fall in Tennessee!
These are the best places for fall foliage in Tennessee – including national parks, places within those national parks, and cities.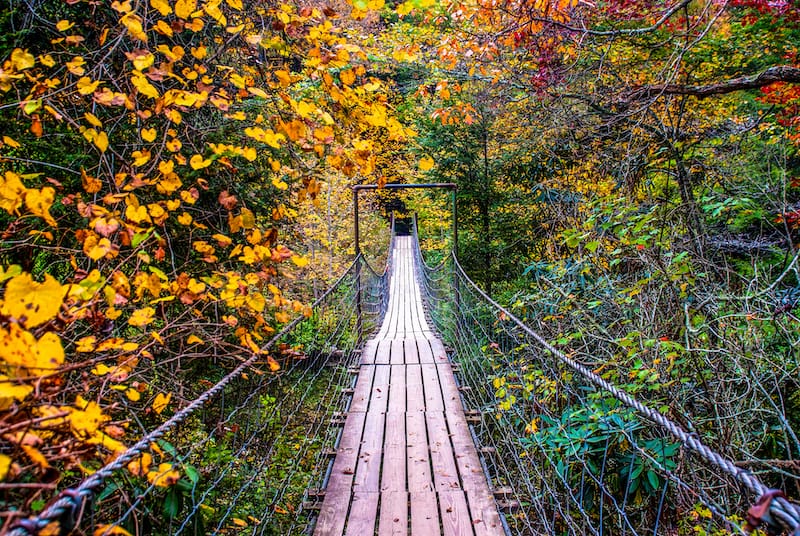 Did we miss any fantastic places for leaf-peeping in Tennessee? Let us know in the comments. Thanks!
Best Places for Fall in Tennessee
Cades Cove
Cades Cove is the most visited tourist destination in the Great Smokies. For hundreds of years, the Cherokee Natives used to hunt in the area until Europeans appeared there in the early 1800s.
Visitors can enjoy its rich historical background where you'll find old grist mills, log cabins, and restored churches.
Cades Cove is an absolute fall paradise, particularly during October and November when the area transforms into a vibrant fairy-tale. You'll find a diversity of trees there allowing for unique foliage viewing opportunities and color schemes.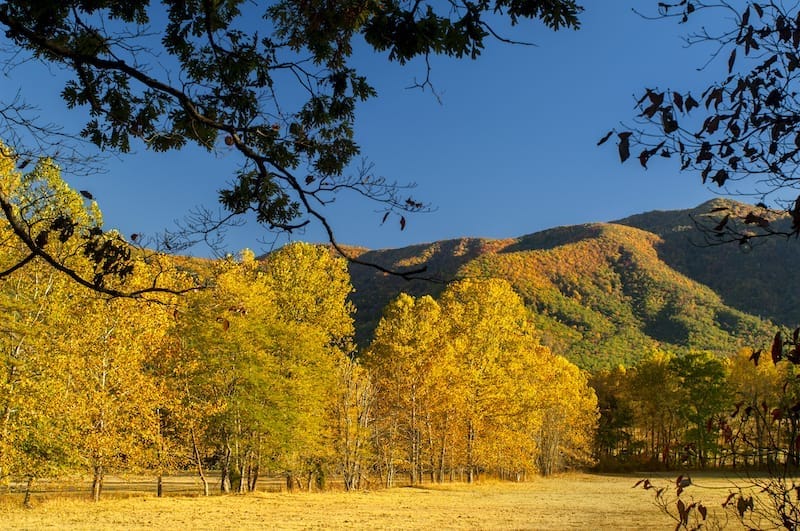 The best way to enjoy Cades Cove's majestic views is to take a drive along the Cades Cove Loop Road. You'll have an 11-mile-long unforgettable trip through Great Smoky Mountains National Park and there are plenty of hiking trails and waterfalls, like Abrams Falls.
If you visit Cades Cove in the fall, there are several must-do things such as hayrides, photo opportunities, and more.
Great Smoky Mountains National Park
Great Smoky Mountains National Park is the most popular national park in the United States (by visitation) and it is adored by locals and guests. It boasts abundant wildlife, stunning waterfalls, and unique trails.
The park usually has several weeks of remarkable fall displays before winter makes its arrival.
Start your trip from Clingmans Dome, a 6,643-foot scenic road and hike offering vibrant fall vistas. The park is home to more than 100 tree species, making leaf-peeping one of the best fall activities.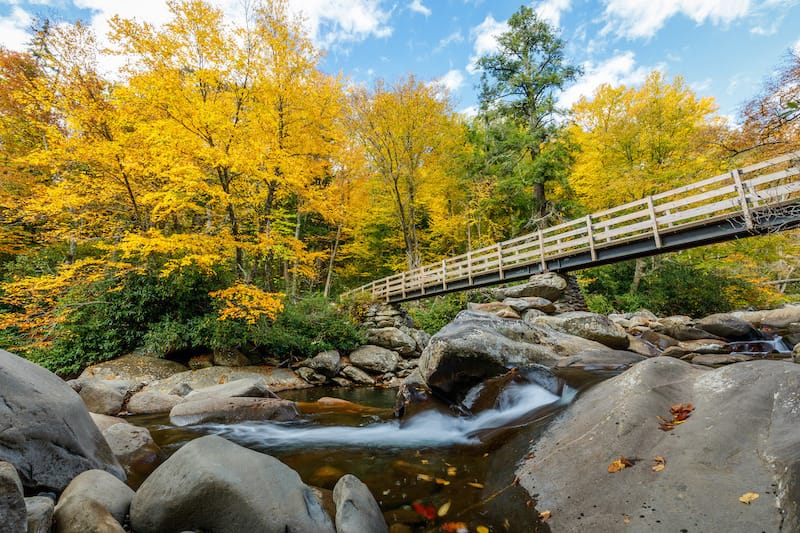 To enjoy the vibrant fall foliage, take a drive on the Blue Ridge Parkway (over in North Carolina) or the Foothills Parkway. For kayaking, paddleboarding, canoeing, visit Fontana Lake but beware that this is best done in early fall!
If you're interested in learning more about the park's history, head to Oconaluftee to tour the Mountain Farm Museum or visit nearby Mingus Mill or Cataloochee where you'll find an old school, church, and more.
Visitors can also walk along the Appalachian Trail, stay in a gorgeous rustic cabin, and enjoy various cascades and waterfalls hidden in the mountains.
If you're planning a romantic getaway in Tennessee and choose this park, there are plenty of beautiful cabins you can stay in – including many with hot tubs and stunning views!
Cataloochee Valley
One of the can't miss places for fall in the Great Smoky Mountains is in the Cataloochee Valley in the southeastern section of the US national park. The area is known for its historic buildings and elk! It used to be one of the largest settlements in the area.
The valley is a cradle of colorful views, and fall is one of the best times to travel there annually. Traveling during the fall offers something special for wildlife lovers as it is fall mating season for the elk (called 'rut').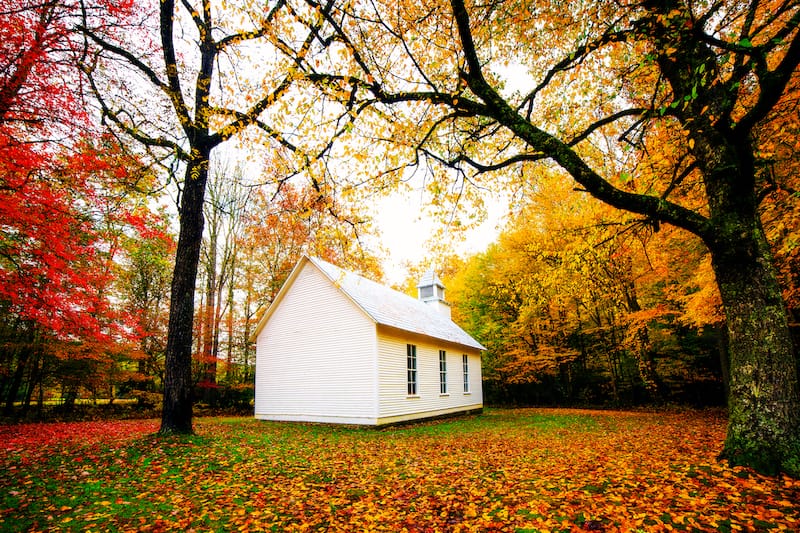 Rut season lasts from mid-September until mid-October. During this period, male elk make their famous calls to challenge other bulls and attract the female elk. It is worth witnessing, but still ensuring that you respect the animals' space.
Aside from the multi-colored views and elk rutting season, the valley offers plenty of activities like camping, fishing, and hiking. It is also a great area for a day hike!
Franklin
The city of Franklin is a mix of history and modern developments. It was founded in 1799 and named after national founding father Benjamin Franklin.
The Tennessee city used to be the trading and judicial center of the area and one of the fiercest battles of the Civil War was fought there.
Franklin is a real joy for fall adventures! The most famous fall festival in the city is the Pumpkinfest. The large festival is organized in October and offers various activities, live music, costume contests, prominent arts and crafts, and more!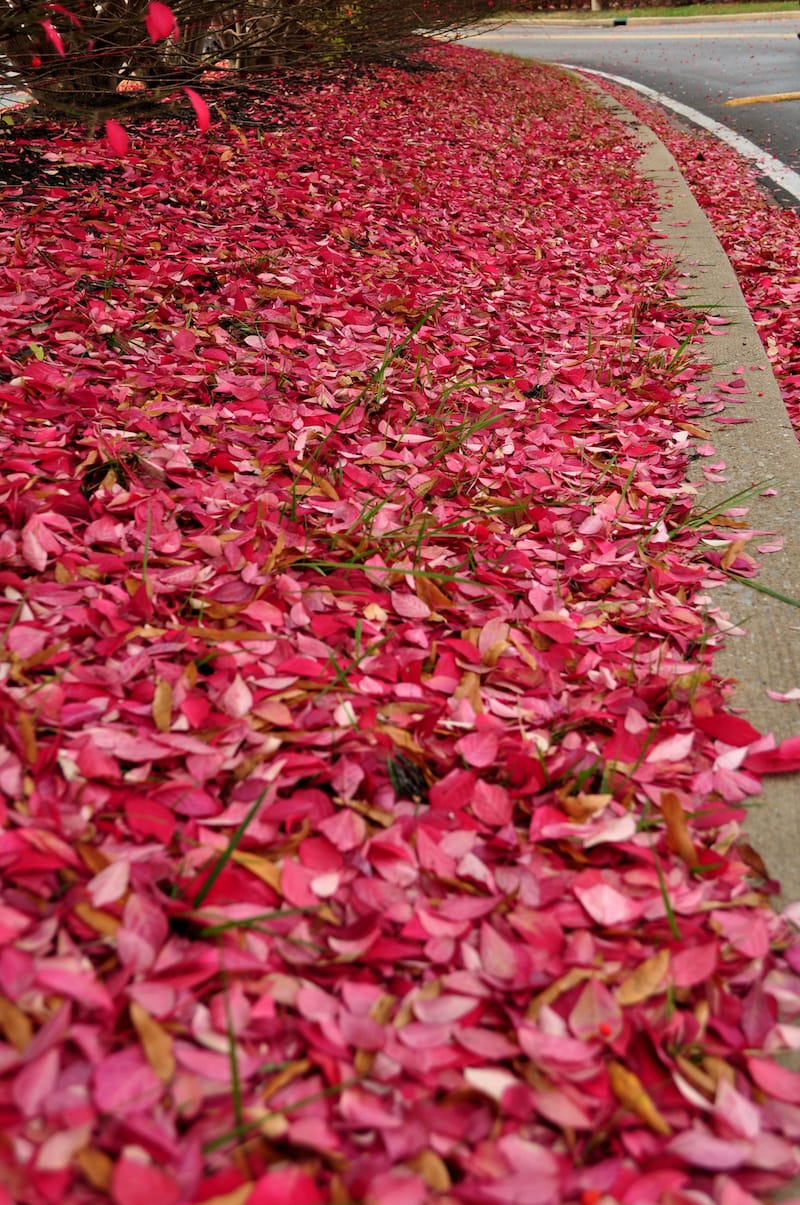 To enjoy Tennessee's fall foliage, you must head to the Natchez Trace Parkway, Owl's Hill Nature Sanctuary, and the Arrington Vineyards.
To enjoy some flavors of the season, be sure to visit the Franklin Farmers' Market, where you can find famous butternut squash, various types of pumpkins, and sweet potatoes.
Take a trip to the Mill Creek Brewing Co. where you'll be presented with seasonal Oktoberfest beer that will take you immediately to Germany, right in the middle of Tennessee!
Cherokee National Forest
This picturesque forest area is located in the southern Appalachian Mountains and spans over both North Carolina and Tennessee.
Cherokee National Forest is a bucket-list place to visit in Tennessee in fall as you'll be greeted with shockingly vibrant foliage and an array of flora and fauna within the forest.
One of the best ways to experience fall in Cherokee National Forest is to go camping! The designated park has many campsites- the most known of which are Dennis Cove Recreation Area and Indian Boundary Recreation Area.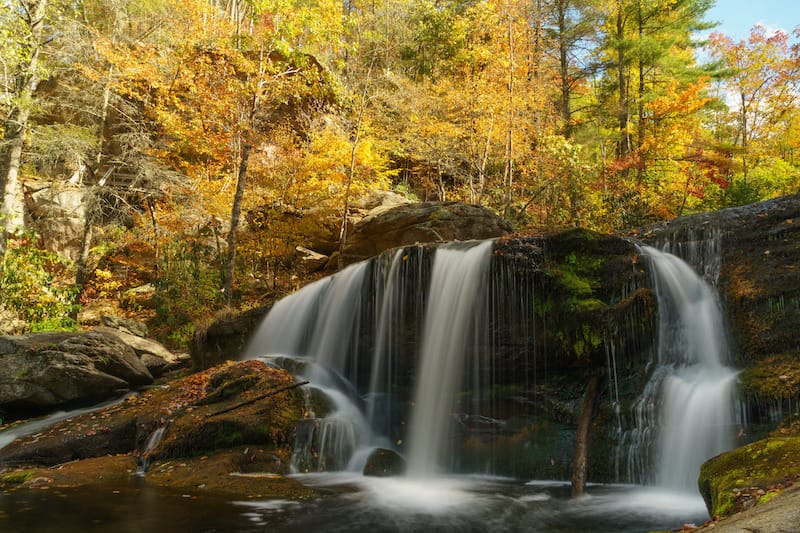 Both campsites offer electrical outlets, picnic tables, fire pits, drinking water, toilets, showers, and more! By visiting during the autumn months, you can avoid the humidity and bugs a bit, and it will not be as crowded as during the summer months.
Fall is also a great time of the year for boating. Be sure to take a trip to Watauga Lake where you can fish, camp, go boating, and more!
In addition, the cool weather of fall creates the perfect opportunity for rock climbing, so head over to Backbone Rock, Blue Hole, or Starr Mountain and enjoy your adventure.
Another activity that is popular during the fall season is birdwatching. There are 260 species of unique birds, including the Red-breasted Nuthatch, Veery, Winter Wren, Brown Creeper, Golden-crowned Kinglet that can be found here and, naturally, not all are present during the winter months so take advantage of the early fall season!
Meeman-Shelby State Park
Just 30 minutes away from Memphis you will find the gorgeous Meeman-Shelby Forest State Park. It borders the Mississippi River and has two lakes inside of it, Poplar Tree Lake and Lake Piersol.
Meeman-Shelby is one of the most visited parks in Tennessee. It boasts soaring Beech, Oak, and Elm trees, creating fantastic colorful shows when fall shows up.
To capture the fall foliage near Memphis, be sure to visit the park at the end of October!
Start your Tennessee fall trip with a bit of hiking! Meeman-Shelby Forest offers more than 20 miles of trails, stretching throughout the park. The most popular hiking trails in Meeman-Shelby State Park are the Chickasaw Bluff Trail, Pioneer Springs Trail, Woodland Trail.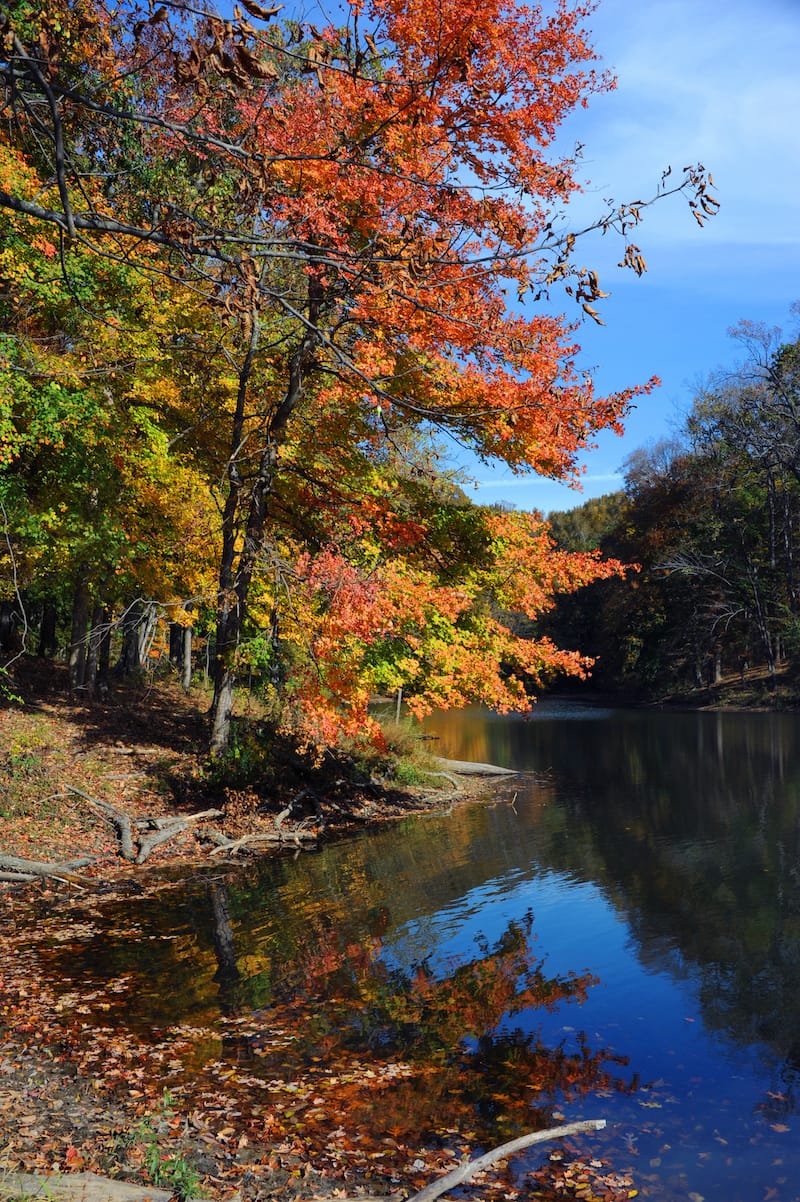 If you prefer biking, the park is packed with well-marked biking paths. This is a fantastic place for a weekend getaway for families during autumn as there are myriads of camping areas nestled within the dense forest.
You will also find over 2000 species of songbirds, waterfowl, shorebirds, and birds of prey within the part – be sure to head there in early fall to experience them! In addition to birdwatching, the park is ideal for kayaking, canoeing, and fishing.
Newfound Gap Road
This 31-mile renowned road is the lowest pass through the Great Smoky Mountains, marked by various forest ecosystems and magnificent mountain landscapes.
The road was recognized as the lowest pass by a Swiss geographer, Arnold Henry Guyot, in 1872. When this lower crossing was discovered, it got the name 'newfound'. The marvelous road is a chance to enjoy the incredible fall foliage that Tennessee has to offer!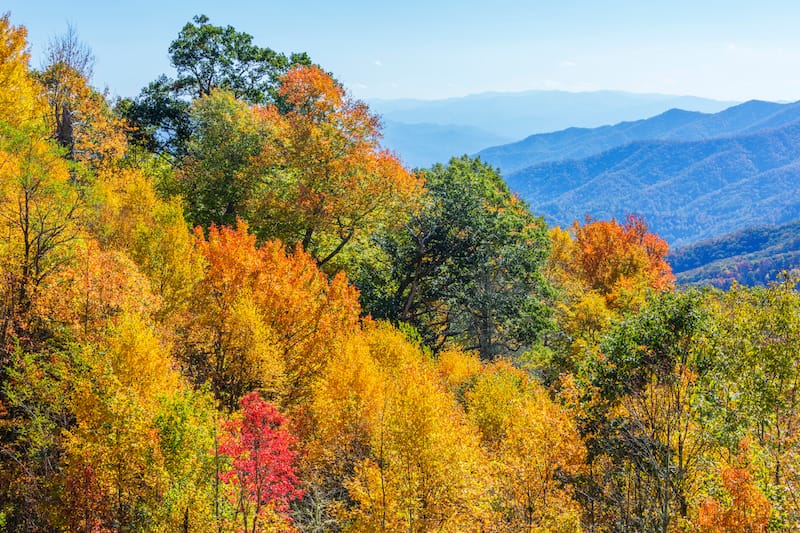 Start your driving tour from Gatlinburg. You'll travel through idyllic woodlands of pine-oak, evergreen spruce, and cove hardwoods.
The road will take you to several spots of interest, like the Oconaluftee Visitor Center and Mountain Farm Museum, the Smokemont Campground and Nature Trail, and the Web Overlook.
Because of the elevation, the temperatures along Newfound Gap Road are significantly cooler than the lower-lying areas, so be sure to take something warm, so you can enjoy yourself to the fullest!
Natchez Trace Parkway
The 444-mile long scenic road known as the Natchez Trace Parkway has an interesting historic background and is one of the most famous parkways east of the Mississippi.
The road follows the Old Natchez Trace once used as a travel corridor by Native Americans, Kaintucks, and European settlers.
Visitors can experience plenty of historical sites, stunning wildlife, magnificent waterfalls, and hikes. The parkway becomes gorgeous in fall when the hardwood turns on its colorful display to impress its visitors!
While traveling along the Natchez Trace Parkways, stop at Emerald Mound, the second-largest mound in the U.S. Also, be sure to visit Mount Locust, one of the South's most prominent sights.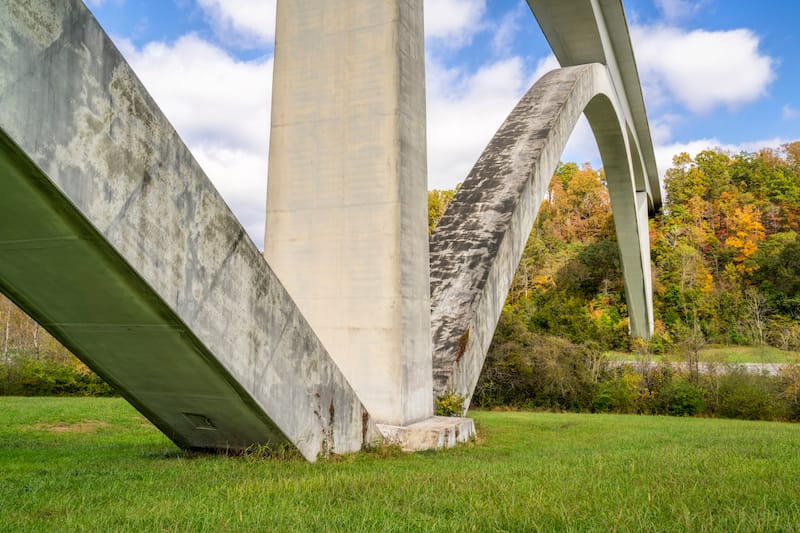 Stop at one of the most photographed places on the parkway, the Sunken Trace, a short, albeit magnificent trail attracting thousands of visitors annually.
To learn more about the parkway's history (and regional history) check out Boyd Site. Jeff Busby Site is the highest point of the trip!
Other spots along the parkway worth visiting include the Bynum Mounds, Natchez Trace Parkway Visitor Center, Pharr Mounds (with old burial mounds), Colbert Ferry, Rock Spring, Meriwether Lewis Site, Fall Hollow Trail, and the Gordon House Historic Site.
Prentice Cooper State Forest
With 6000 acres of protected land and 35 miles of hiking trails, the Prentice Cooper State Forest is an absolute mecca for nature enthusiasts.
It is situated along the Tennessee River Gorge and is often referred to as the Grand Canyon of Tennessee. The forest has ideal opportunities for recreational activities, including hiking, hunting, horseback riding, rock-climbing, and bird-watching.
Prentice Cooper State Forest is one of the best places to visit during fall in Tennessee as it is a lesser-known spot and is still home to a colorful show of fall foliage!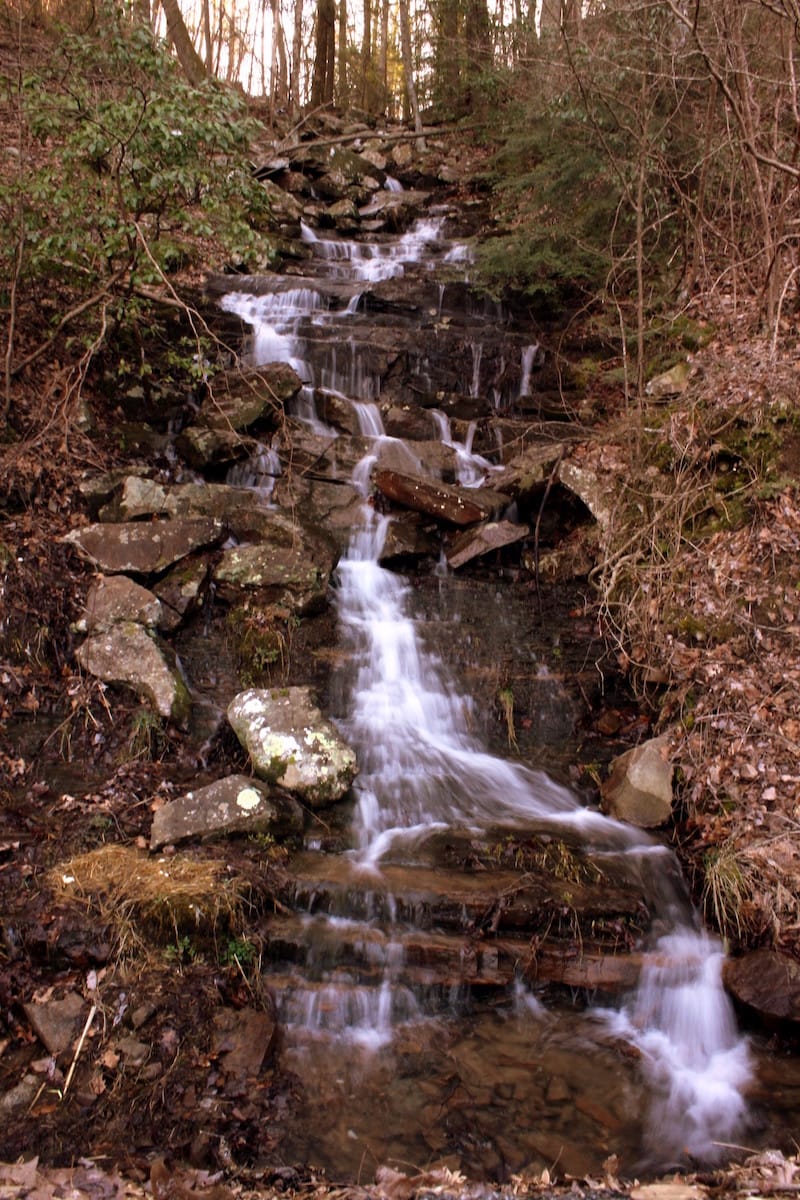 The forest offers a large network of hiking trails, including the 12-mile Pot Point Loop Trail, the 10-mile Mullen's Cove Loop Trail, and a 14-mile section of the Cumberland Trail.
Prentice Cooper is a wonderland for rock-climbers, especially along the Tennessee Wall. For those who like camping, the forest boasts campsites like Hunter's Check Station and Davis Pond.
In addition, Prentice Cooper State Forest has plenty of other highlights such as the Indian Rock House, a natural bridge along the Pot Point Loop Trail, and the ruins of Shake Rag.
Gatlinburg
Gatlinburg is a mountain resort town that is known for being the gateway to the Smoky Mountains. It's famous for its beautiful landscapes, great shopping, and rich historical heritage.
But, aside from all of that, Gatlinburg is really a wonderful place to enjoy fall in Tennessee. The town is packed with special autumn events, tasty seasonal food, and plenty of things to do (pumpkin picking, apple picking, etc).
Some of the top things you can do during fall in Gatlinburg are things we have already mentioned here as we highly recommend basing yourself in Gatlinburg.
One of the top things to do is to soak up the views from the upper elevations around Clingmans Dome and Newfound Gap.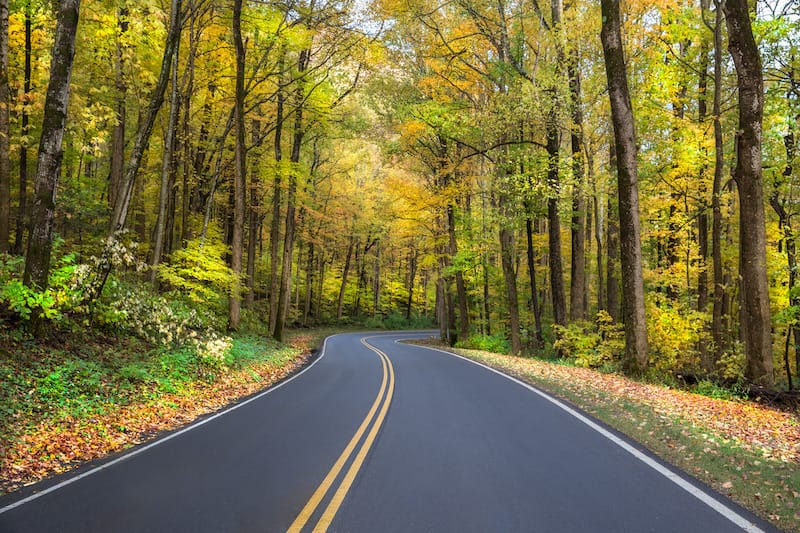 Then, take a drive over to Cherokee to see the roaming elks before visiting Gatlinburg Skylift Park for a view over the Smokies.
You can also attend Oktoberfest at Ober Gatlinburg with yodeling, brews, and schnitzel… this is a great way to feel like you're traveling abroad while staying around Tennessee!
Participate in the art and craft events organized by Great Smoky Arts & Crafts Community. To completely embrace the fall season in the city, visit Smoky Mountain Harvest Festival.
Can't visit during fall? Gatlinburg is also pretty epic in winter!
Big South Fork National River and Recreation Area
Situated along the Cumberland Plateau, Big South Fork National River and Recreation Area protects the Big South Fork River. The area boasts scenic gorges, bluffs, and historical and natural sites.
It covers areas in both Kentucky and Tennessee, offering so many opportunities for outdoorsy folks! The Big South Fork attracts thousands of visitors in the fall who come to enjoy the vibrant colors of the area. It's one of the best-known places for viewing the changing colors of the season.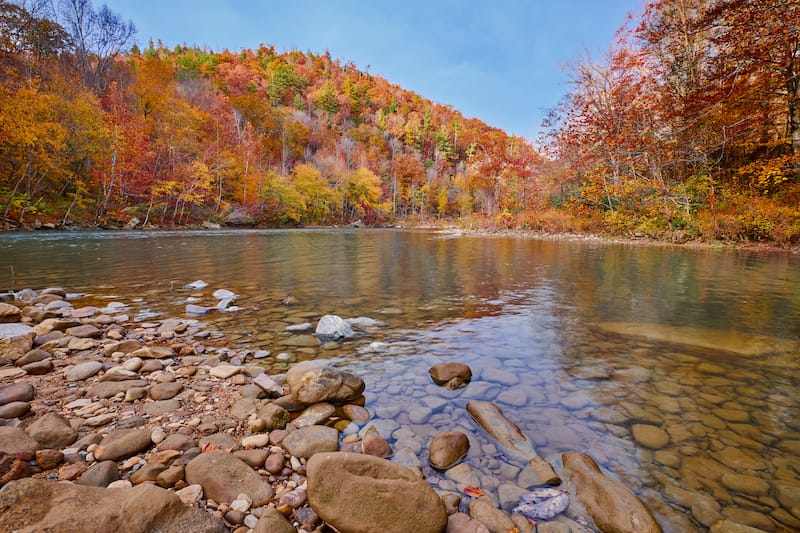 Big South Fork has five excellent campgrounds, including the Bandy Creek Campground and the Blue Heron Campground.
Enjoy more than 180 miles of hiking trails with stunning fall landscapes and 200 miles of horse trails available throughout the Big South Fork.
In addition to the hiking trails, the area has five epic trails for mountain biking, 138 miles of fishing streams with 79 species of fish, and 80 miles of perfect water sources for paddling.
Bristol
The underrated city of Bristol lies directly on the border of Tennessee and Virginia. It is best known as the Birthplace of Country Music! Bristol boasts picturesque landscapes and vistas, offering various outdoor activities and things to do.
One of the best things to do in Bristol during fall is to head over to South Holston Lake. Whether you're kayaking or motor boating, you have the perfect chance to catch the fall foliage of the surrounding mountains.
The city hosts lovely parks and campgrounds with picnic areas and hiking trails, including Washington County Park, Observation Knob Park, and the South Holston Dam.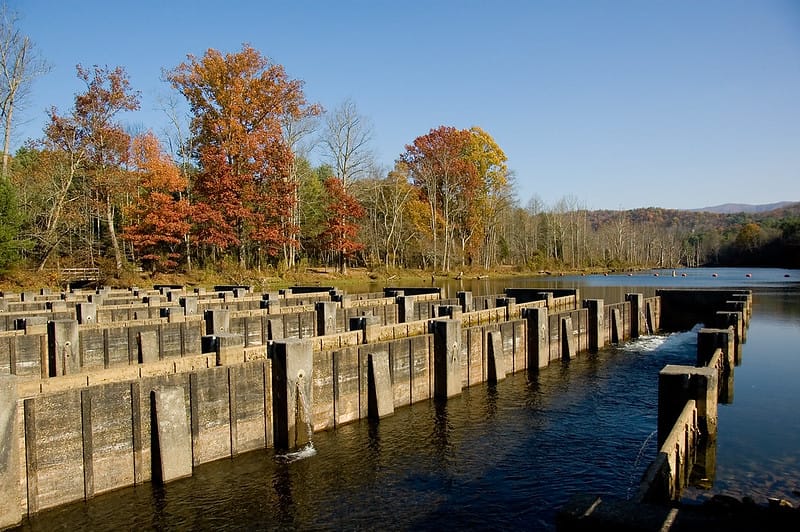 Fall is the perfect time to explore the Bristol Caverns, as well! Stop at Steele Creek Park, where the Annual Wildlife Weekend Event takes place in October, offering educational activities for kids including nature walks and seminars.
And… don't miss the chance to attend the award-winning music festival, Rhythm & Roots Reunion, organized in September in Bristol!
There are many reasons to experience fall in Tennessee and we hope that this round-up gave you an idea of some of the best places to see fall foliage in TN (and what to do in some of the destinations).
Where is your favorite place in Tennessee during fall? Let us know in the comments!
Additional Tennessee Travel Resources
Pin this Fall Foliage in Tennessee Guide