Are you looking for a weekend away and for the best weekend trips from Nashville, TN? Don't worry- we have you covered!
Are you planning your trip to Nashville last minute?
If you're traveling to Nashville last minute, you want to ensure you have lodging ahead of time! Below are some of our top picks in town!
Best Hotels in Downtown Nashville:
Best Tours and Attractions in Nashville:
There are so many fabulous places to visit near Nashville and Tennessee is brimming with gorgeous nature and cities waiting to be explored!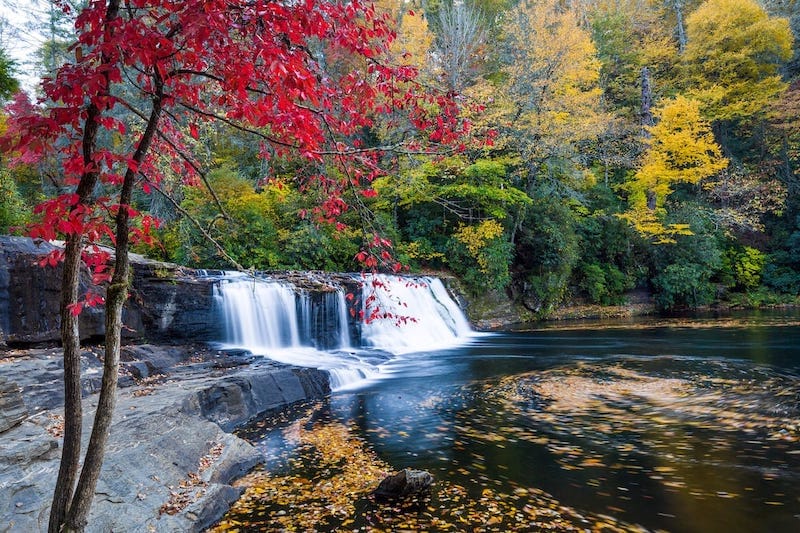 We have listed some of the best weekend getaways from Nashville on this guide. Some are familiar and some are more unexpected. We tried to mix it up with nature and cities, giving options for all types of travelers!
We hope that you find some options for wonderful Nashville weekend trips on this guide!
Did we miss your favorite place? Let us know in the comments!
Weekend Getaways from Nashville – Map
To add this map to your Google Maps account, click the 'Star' icon next to the map name. You can then view it on your cell phone or computer by heading to your Google Maps account, click the menu and add it to 'Your Places'.
Best Nashville Weekend Trips
Below, you will find some of our top Nashville weekend getaways. Some are located in Tennessee and some beyond the border! We also list the distance and driving time.
Knoxville (Tennessee)
Distance: 180 miles
Driving Time: 2 hours 37 minutes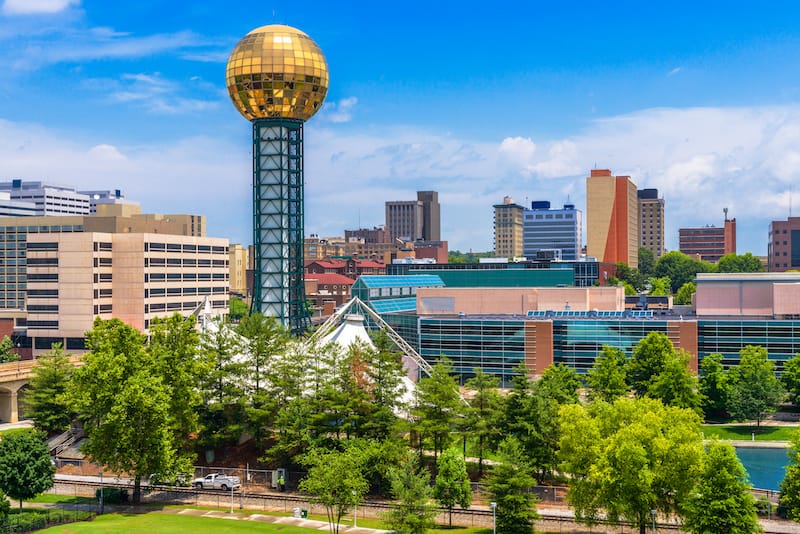 Knoxville, Tennessee has the perfect mix of history, nature, and party and is one of the best places to visit in Tennessee. With over 20 museums to pick from, there is no shortage of entertaining things to do even when the weather doesn't cooperate.
Knoxville is home to seven historical homes to top it off, and you can explore the properties and homes of important historical figures that once called the area home.
Some of the top attractions in Knoxville are Ijams Nature Center, Sunsphere, Knoxville Museum of Art, World's Fair Park, McClung Museum of Natural History & Culture, and more!
Mammoth Cave National Park (Kentucky)
Distance: 95 miles
Driving Time: 1 hour 27 minutes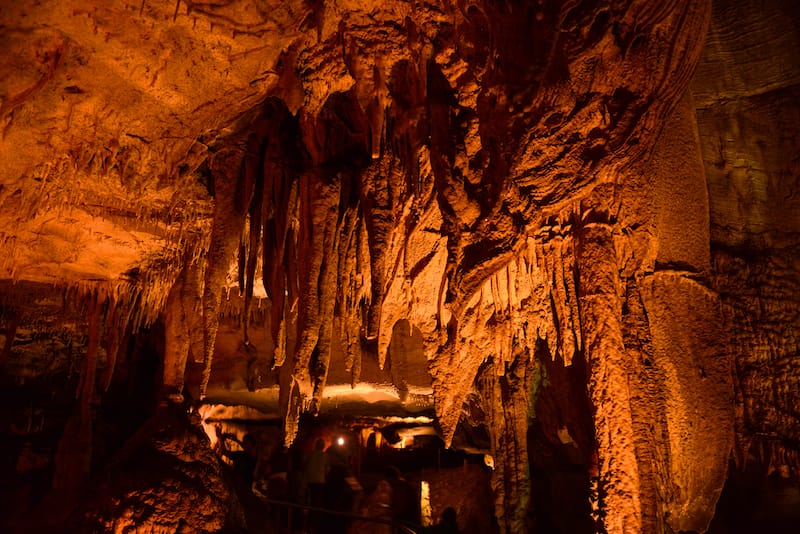 Located only 1.5 hours away from Nashville, Mammoth Cave National Park is one of the best weekend trips from Nashville and is an easy and enjoyable visit no matter who you are traveling with.
The Kentucky National Park allows you to visit the longest cave system in the world (discovered so far) and also boasts diverse nature and with rich animal and plant life calling the area home. This is also a very ancient place for human inhabitants
All of these reasons are part of what has given Mammoth Cave National Park UNESCO World Heritage Site status since 1981.
The designated national park is a paradise for spelunkers because you'll find over 400 miles of passageways that are well-mapped and marked. Inside the caves, you can see famous attractions like Crystal Lake, Rainbow Dome, and the Snowball Room.
Also, Mammoth Cave National Park offers more than 30 hiking trails that pass through gorgeous Kentucky waterfalls, mysterious caves, and lush forest.
South Pittsburg (Tennessee)
Distance: 107 miles
Driving Time: 1 hour 37 minutes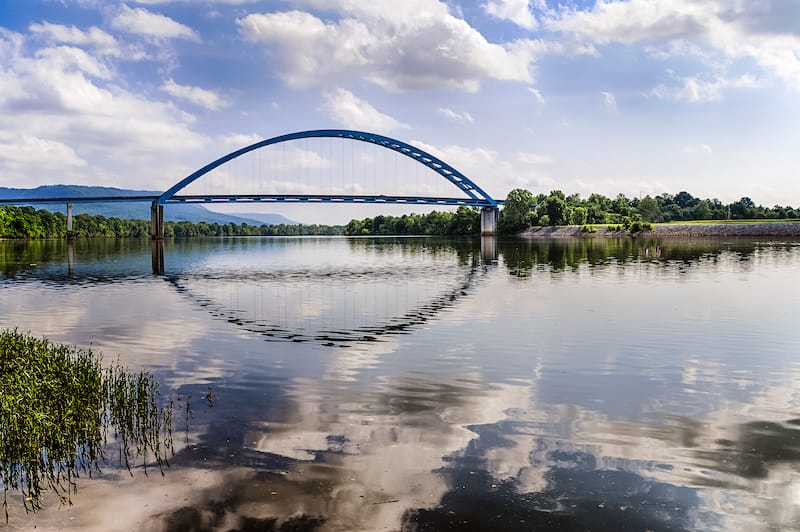 If you're looking for an excellent off-roading trail or beautiful structures and bridges, then make sure to visit South Pittsburg, Tennessee. There are more than 120 off-road trails to discover at Adventure Off Road Park and Nature Center.
From easy-going paths to courses for the daredevil within, there is something for everyone, regardless of experience level. Not only does Adventure Road Park and Nature Center have trials, but they also host about 20 different events throughout the year that you can participate in.
South Pittsburg is also home to the triangular webbed Shelby Rhinehart Bridge. When on the bridge and looking up towards the sky, you can see the triangular design that holds the steel archway together.
Shelby was built in 1981 and can take you from New Hope to South Pittsburg. The staggering 1,514 feet long bridge has a modern design and is one of the main highlights in South Pittsburg.
Memphis (Tennessee)
Distance: 212 miles
Driving Time: 3 hours 17 minutes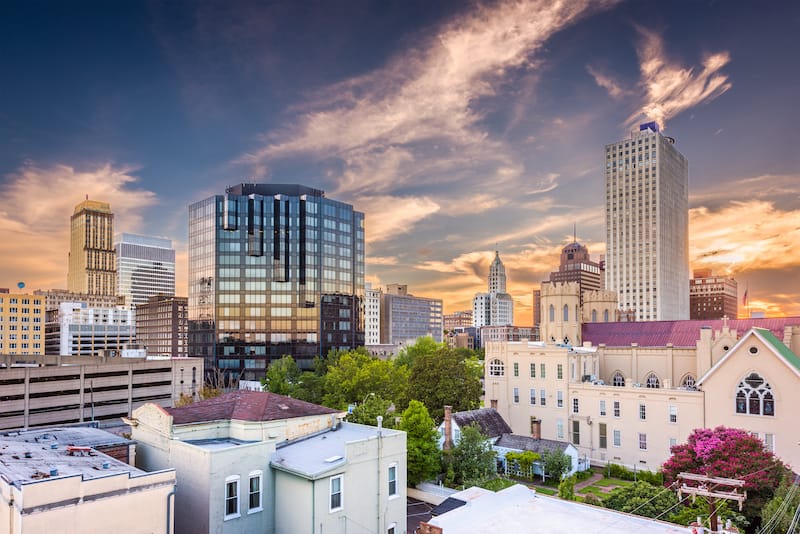 There are so many reasons to visit Memphis – from BBQ to Elvis and more! Graceland is one of the main attractions in Memphis and you can visit and get an interactive experience of how the King of Rock and Roll lived.
With an iPad guided tour, you'll get the inside scoop on the history and daily life at Graceland.
If touring Elvis's estate is not enough of the King of Rock and Roll for you, be sure to check out The Entertainer Career Museum (the biggest Elvis museum in the world), as well as the automobile museum named Presley's Memphis.
If Elvis isn't your style, or if you have more time to spare, there are other places to keep an eye out for in Memphis.
The oldest fine art museum in Tennessee, the Memphis Brooks Museum of Art, is a place worth putting on your itinerary. There is also the Dixon Gallery and Gardens for those more into impressionism art.
Cumberland Gap National Historical Park (Virginia, Tennessee, Kentucky)
Distance: 238 miles
Driving Time: 3 hours 55 minutes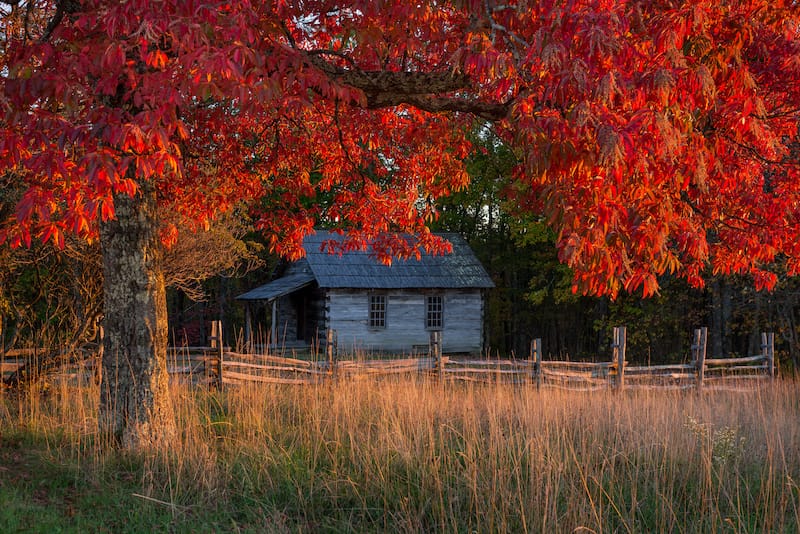 Approximately 4 hours away from Nashville, Cumberland Gap National Historical Park is a fantastic weekend getaway from Nashville.
Cumberland Gap is known as the legendary pass through Cumberland Mountains and the Appalachian Mountains and is also known for its buffalo and Cherokee Warrior history.
It is also home to many wild animals such as black bears, white-tailed deer, bobcats, and more.
The area is also known for Pinnacle Overlook, an overlook that is reached via a 7.8-mile out and back trail. It is also known for Tri-State Peak Monument, Little Congress Bicycle Museum, and many other places.
Cumberland Gap attracts active travelers because its offers 85 miles of hiking trails that pass by Sand Cave, Hensley Settlement, White Rocks, and other famous park sites.
It is one of the best national sites in Virginia, Kentucky, and Tennessee!
Pickett State Park (Tennessee)
Distance: 127 miles
Driving Time: 2 hours 3 minutes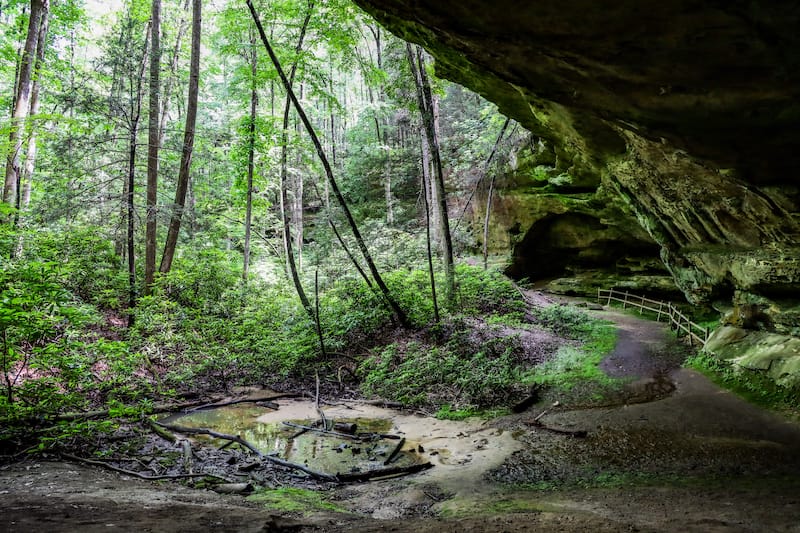 Pickett State Park is located in Jamestown and has a very rich history. The park has its own museum, called the Pickett CCC Museum. Not only does it have historical artifacts and exhibits, but there are also interactive touch screens available for a full-on experience.
These displays have heart-warming stories from the CCC workers where they talk about the park and their personal stories working there.
The park itself has over 58 different trails with breathtaking scenery. From drizzling waterfalls to exotic plant life to nature-chiseled sandstone bluff, Pickett State Park has an impressive array of things to marvel at.
There are easy trails for quick trips with young children, or for a more intense visit, there are backpacking courses that can take (but they take several days to complete).
Jackson (Tennessee)
Distance: 129 miles
Driving Time: 2 hours 11 minutes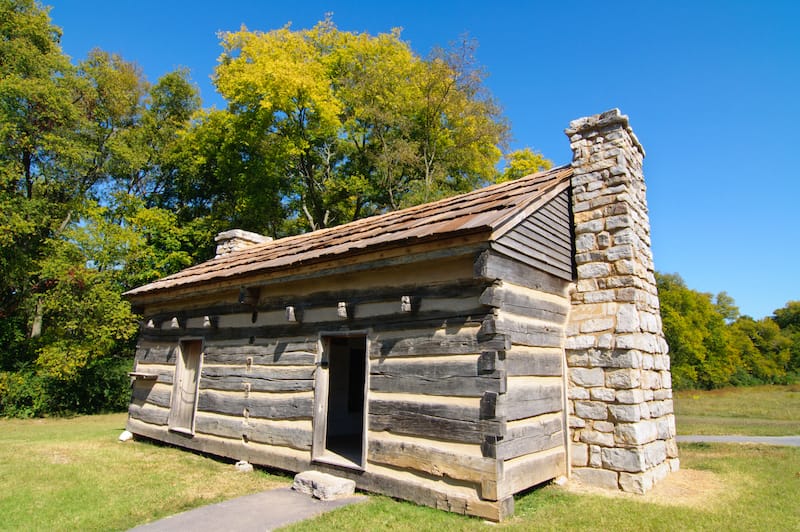 Jackson has bragging rights to being the first place to hear rock music (which was then later recorded in Memphis). This is another Elvis sight near Nashville to be sure to visit!
It is also where the first renowned Hard Rock Cafe and House of Blues originated. As if Tennessee didn't have enough musical pull, the International Rock-A-Billy Hall of Fame Museum, which gives honor to the Tennessee masters of rock, is located in Jackson.
For those who have an interest in sports, Jackson has something for you too! Jackson is known for The West Tenn Diamond Jaxx.
Not only is that a local minor league baseball team but they are also affiliated with the Seattle Mariners.
Tupelo (Mississippi)
Distance: 199 miles
Driving Time: 3 hours 30 minutes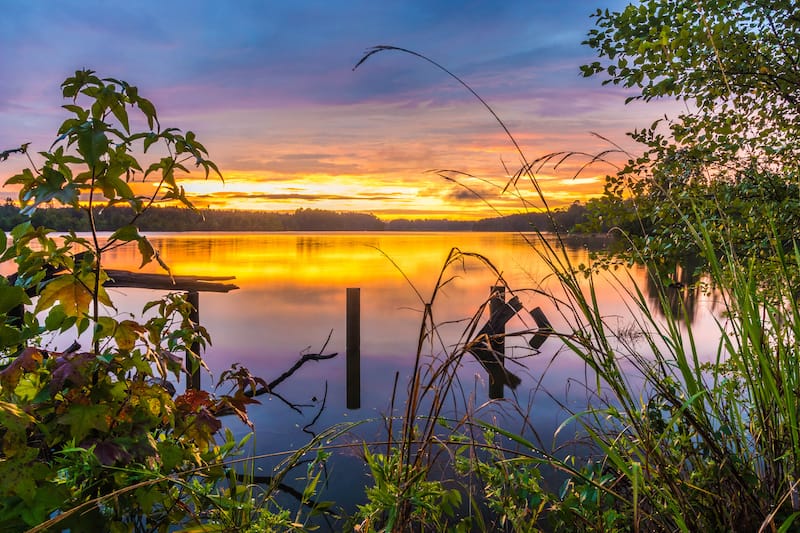 Located three and a half hours away from Nashville, Tupelo may be small but it sure is famous. Tupelo is the birth palace of Elvis Presley and thousands of travelers and fans of the great artist flock to the town annually to pay homage to their favorite artist.
Also, each year at the beginning of June in downtown Tupelo, there is an amazing festival dedicated to Elvis Presley where many artists play his songs and participate in the Ultimate Elvis Tribute Artist Competition.
Tupelo is also known for Tombigbee Lake State Park located a couple of miles away from the city where you can picnic next to Lake Lee, visit th Oren Dunn City Museum where you can learn the history of the area, and other places.
Jasper (Tennessee)
Distance: 109 miles
Driving Time: 1 hour 42 minutes
While there are many places to visit in Jasper, Fainting Goat Vineyards and Winery is one you do not want to miss. With about fourteen wines to choose from, Fainting Goats Vineyard and Winery sells handcrafted wine made from American-grown grapes.
To enjoy the full aroma, stop by on the weekend when they have live music playing to set the tone.
Other popular attractions in Jasper include the Falls at Sewanee Creek, Lookout Winery, and the Reflection Riding Arboretum and Nature Center.
Chattanooga (Tennessee)
Distance: 133 miles
Driving Time: 1 hour 59 minutes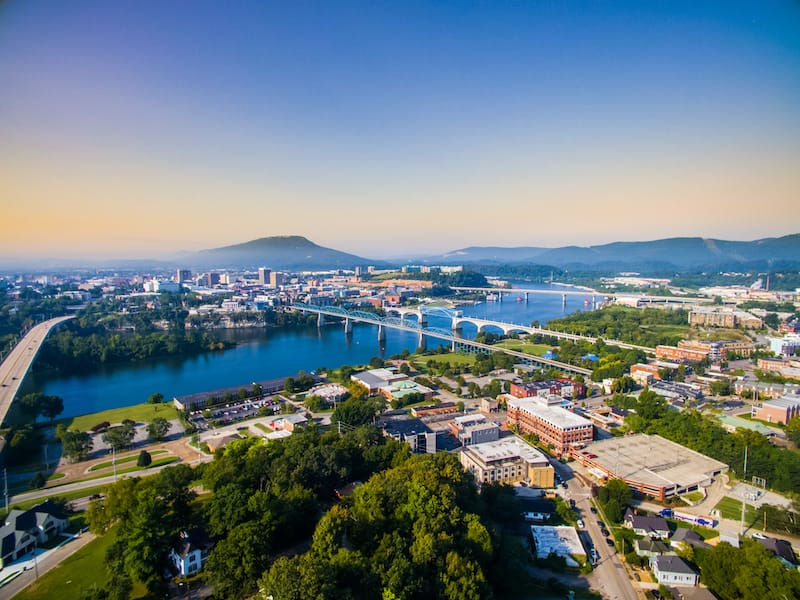 Pan for gemstones in Chattanooga, Tennessee! Located in the Appalachian Mountains, the city is a popular weekend break from Nashville (and even Atlanta, GA).
Chattanooga is home to the Raccoon Mountain Caverns & Campground. It is one of the most popular caverns in Tennessee and they offer captivating tours that are filled with beautiful sights and fun activities, such as gemstone panning.
After getting your fill of Earth's natural rock shelters, be sure to relax by a campfire and enjoy the view of Raccoon Mountain and Lookout Mountain. The area also has some of the best campgrounds near Nashville, so you can make an entire nature trip to the city!
One of the best things to do when visiting is to get active on one of the many incredible Chattanooga hiking trails. Many of them take you to some of the best waterfalls near Chattanooga (and spectacular views)!
Asheville (North Carolina)
Distance: 295 miles
Driving Time: 4 hours 42 minutes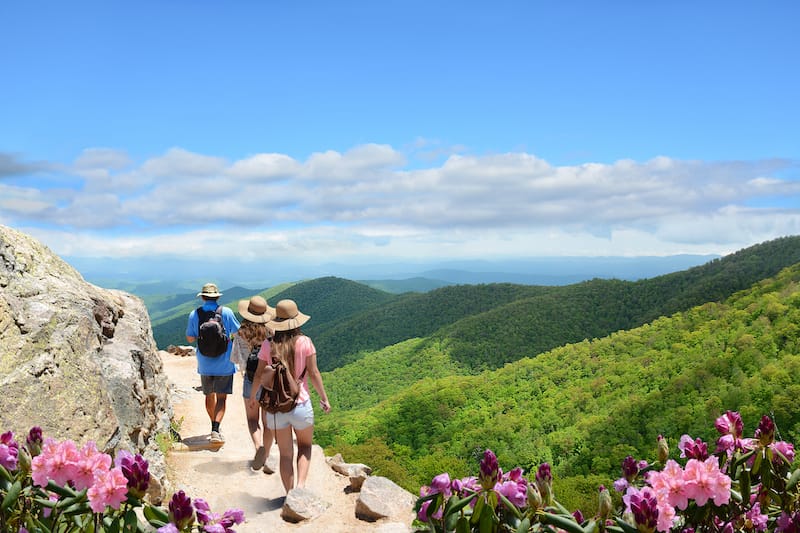 Asheville is one of the most beautiful cities to visit as a weekend trip from Nashville because it has everything from wonderful nearby attractions, several galleries, tasty restaurants, and surrounding beautiful nature. You can also check out the many Asheville waterfalls!
The city is located approximately four and half hours away from Nashville near the Blue Ridge Mountains and is known as novelist Thomas Wolfe's hometown.
In addition, it is known as "Beer City United States" where you can visit hundreds of beer breweries and try many types of beers during the Beer City Festival that takes place annually in May.
In Asheville, you can also visit the interesting Biltmore Estate, a palatial estate that was built in a Châteauesque-style. It is one of my favorite places in North Carolina in spring!
You can also take a stroll in Asheville's Botanical Garden, photograph colorful fields of different species of flowers and plants at the North Carolina Arboretum, visit Thomas Wolfe's Memorial House Museum, and enjoy many other exciting activities in Asheville.
Asheville is a great weekend trip from Charlotte, Atlanta, and Nashville… it truly is a wonderful getaway!
Athens (Tennessee)
Distance: 169 miles
Driving Time: 2 hours 48 minutes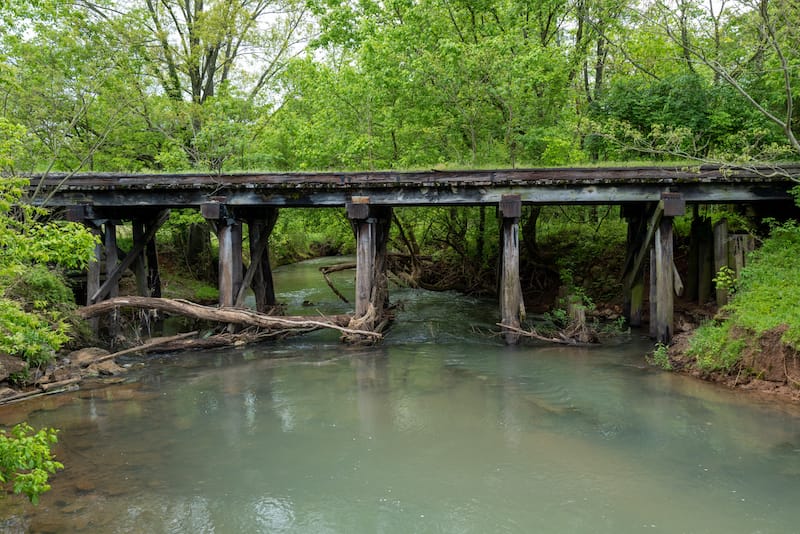 Athens is another amazing weekend getaway from Nashville. Be sure to admire Starr Mountain, the Tennessee River, and the Unicoi Mountains, all of which are fantastic highlights of the city and its surroundings.
For history buffs, there are at least two stand-out museums in Athens. The McMinn County Living Heritage Museum takes you down memory lane and dives into Athens's history and culture.
The Swift Museum has an assortment of Swift aircraft spanning from the year 1946 until the present day.
Elizabethtown (Kentucky)
Distance: 133 miles
Driving Time: 1 hour 56 minutes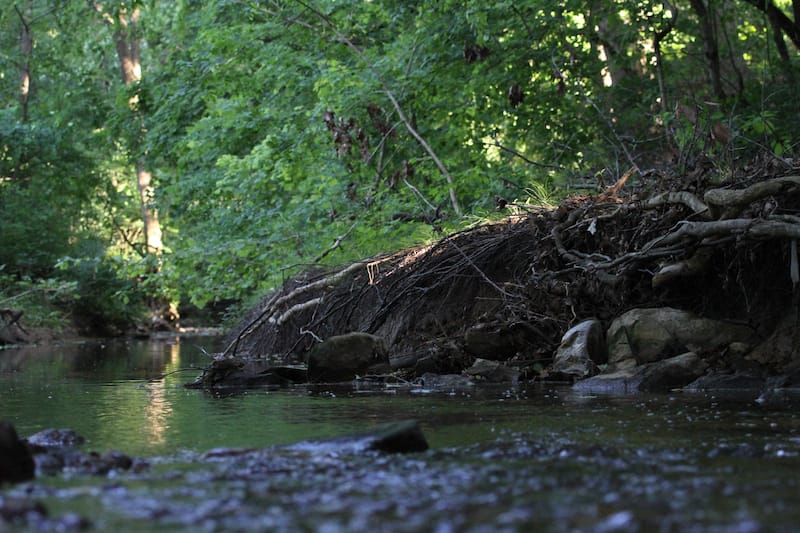 For those intrigued by history and seeing how people lived back in America's earliest days, Elizabethtown is a fantastic destination and a place to put on your Kentucky bucket list.
One of the best attractions in Elizabethtown is called the Lincoln Heritage House and it was home to Hardin Thomas. There are two houses, and Thomas Lincoln built the larger of the two, hence the name.
One cabin was burned in a fierce fire in 2009 but has been rebuilt using historically similar materials and is now open for public viewing. You can take guided tours through the homes and see what life was like for those living back in the earlier days of the United States.
Great Smoky Mountains National Park (Tennessee)
Distance: 224 miles
Driving Time: 4 hours 10 minutes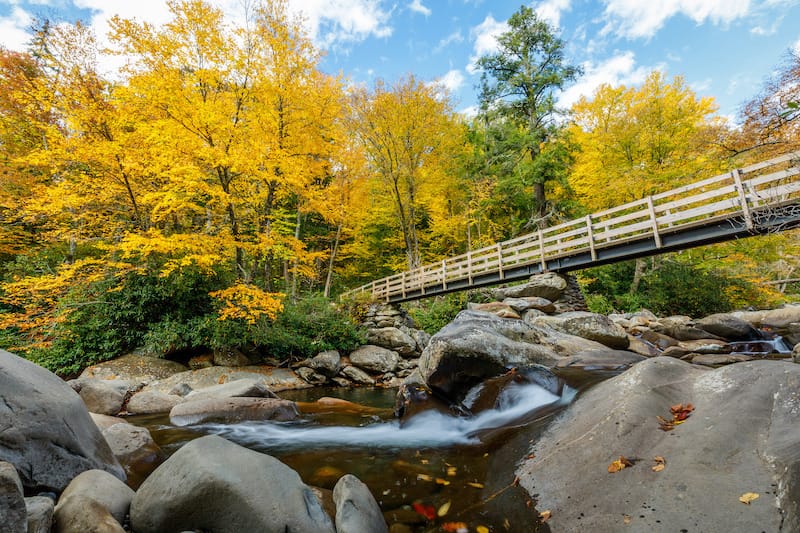 Great Smoky Mountains National Park is approximately 3 hours away from Nashville and it's another weekend getaway, especially for those looking to visit one of the best natural spots in the United States.
As the most visited national park in the United States, Great Smoky Mountains National Park receives approximately 13 million visitors annually… over double the tourists than popular places like Yellowstone, Yosemite, and the Grand Canyon!
It is home to the Southern Appalachian Mountains and a very traditional and unique culture, rich flora, and diverse fauna of Cades Cove (and more).
The area of the Tennessee National Park is 522,419 acres. There are several cool places to stay in Great Smoky Mountains National Park and many hiking trails for all skill levels.
Tuscumbia (Alabama)
Distance: 127 miles
Driving Time: 2 hours 23 minutes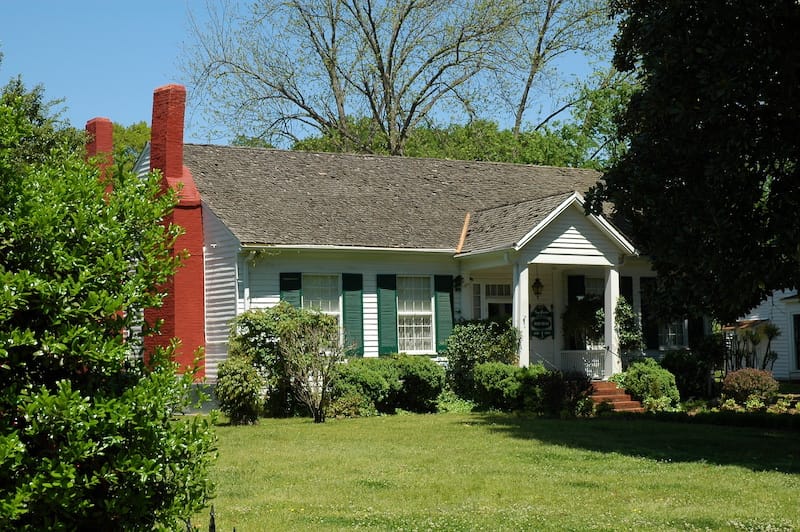 Those interested in the life of Helen Keller can visit her birthplace in Tuscumbia, AL. Feel her heart-warming story come to life as you walk the same halls she did in this 1820s home.
Not only is her house full of facts and memorabilia from her life, but there are also breathtaking outdoor structures and gardens to stroll through.
We hope that you found these weekend trips from Nashville, TN useful for planning that upcoming adventure!
What are some of your favorite weekend getaways from Nashville? Leave us a comment and let us know! And if youʻre sticking around the city, donʻt miss out on our guide to the best things to do in Nashville TN!
More Tennessee Travel Resources
Pin this Weekend Trips from Nashville Guide