It took me several years to realize that I actually had traveled to and through Kentucky quite a bit. I have been to some of the best places to visit in Kentucky and some of the lesser-known gems of the state.
This guide is dedicated to some of the coolest places in Kentucky to put on your Kentucky bucket list! It is such a natural and friendly state – and deserves a lot more attention than it receives!
What are your favorite destinations in Kentucky? Let us know in the comments! Thanks!
Best Places to Visit in Kentucky Map
To add this map to your Google Maps account, click the 'Star' icon next to the map name. You can then view it on your cell phone or computer by heading to your Google Maps account, click the menu and add it to 'Your Places'.
Kentucky Destinations
Louisville
One of the oldest cities west of the Appalachian Mountains is Louisville. It was founded in 1778 by George Rogers Clark and was named after France's King Louis XVI.
Louisville is home to the largest municipal urban forest in the United States – Jefferson Memorial Park. It covers an area of over 6,000 acres of land.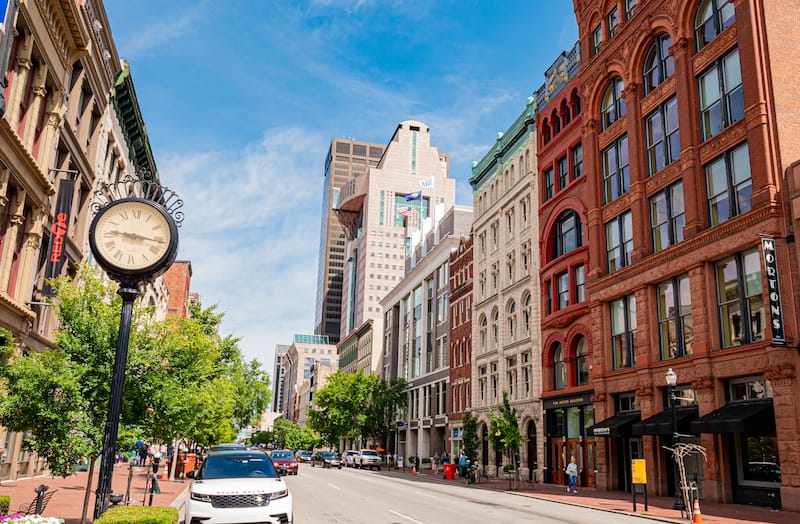 One of the most beloved attractions in the Kentucky city is Louisville's Mega Cavern, where the world's only fully underground zip line is located.
The Mega Cavern is a former limestone mine, which now serves as storage, business, recycling, and a place attracting tourists.
It offers tram-guided tours, zipline tours, a ropes course, a mountain bike park, and an annual holiday lights display.
You will find a variety of places to visit in Louisville – from some of Kentucky's most haunted destinations (perfect for Halloween!) to some of the most sophisticated cocktail bars in the state… there is something for everyone!
Lake Cumberland
One of the most famous weekend getaways in Kentucky is Lake Cumberland, a gigantic lake located in the southern part of the state.
I actually went here one time on a trip from southwest Ohio and I had an absolute blast! We rented a pontoon and drank and socialized all weekend!
The reservoir spans over 65,000 acres and is the United States' 9th largest reservoir. One of the main things to do when visiting is to go fishing – several of the state's largest fish caught were caught at Lake Cumberland.
Located close by, you will also find Lake Cumberland State Resort Park and General Burnside State Park (an island in the middle of the lake). It is a great place to visit in Kentucky!
Lexington
Home to the University of Kentucky, Lexington is an important economic and cultural center located in the heart of Bluegrass Country. The area is known for its horse breeding, and Lexington is known as the "world's horse capital."
So, if you're a horse lover and happen to be in the area, don't miss out on visiting this city!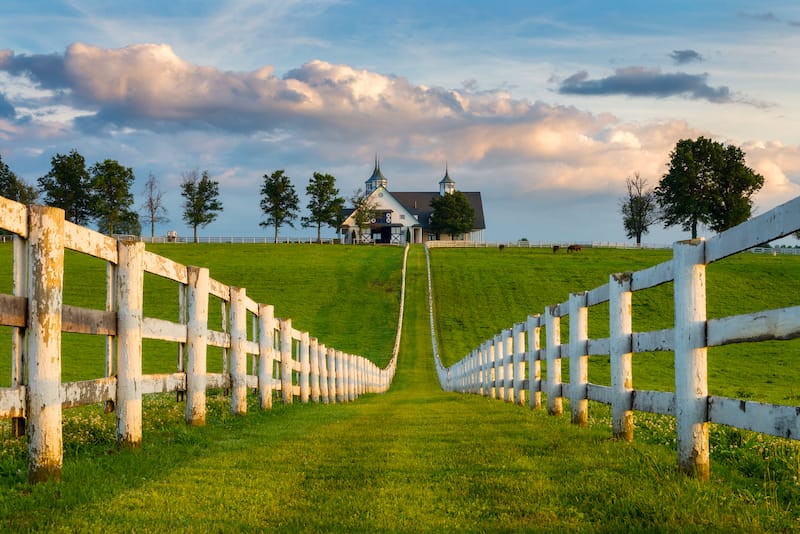 Besides the various equestrian-related activities, Lexington has various natural, historical, and cultural attractions to visit. The Mary Todd Lincoln House, for example, is one of the favorite sights in the city.
It tells the story of the powerful First Lady, while the Aviation Museum of Kentucky honors the state's long history.
Another extraordinary Lexington landmark is visiting the famous Kentucky Theatre. This theatre started and gained popularity from the times of the first "talkies," and credit is given to it as so!
Mammoth Cave National Park
Mammoth Cave National Park is the world's longest known cave system, with thousands of years of human history and an incredible array of animal and plant life.
The park welcomes a vast number of visitors each year and is especially busy during the summer months as it is a great day trip from Louisville, Frankfort, and Lexington!
The most popular thing to do at Mammoth Cave National Park is to take one of the cave tours that range from one-hour to multi-day options.
Among the list of tours, the one named "The Frozen Niagara" is one of the shortest ones (merely 1 hour) and the tour passes through a relatively wide section of the cave.
"Domes and Dripstones" tour is another good alternative, which takes a bit longer and features even more prominent cave structures.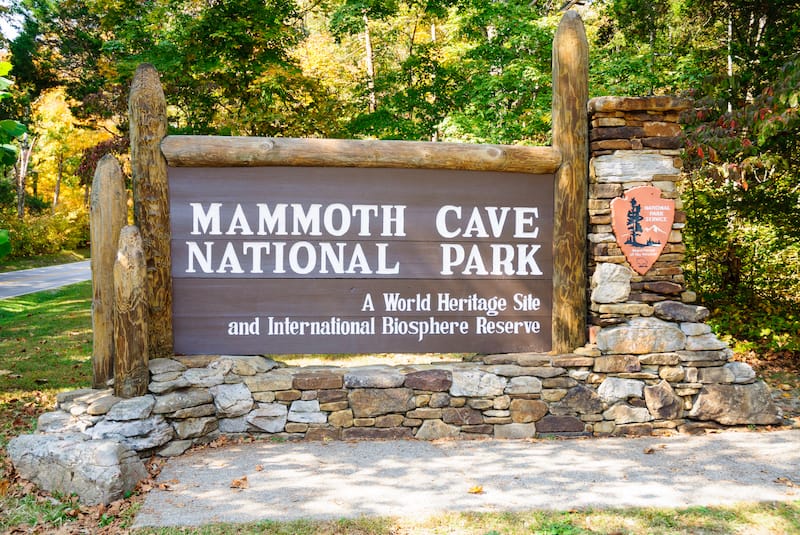 The duration and difficulty of the tours differ, so make yourself familiar with all of the offerings prior to your visit in order to find the most suitable one for you.
There are also several cool hiking trails in Mammoth Cave National Park – so this is truly one of the best weekend getaways and national parks in Kentucky!
Bowling Green
Bowling Green is a university city known for its national museums, great neighborhoods, and underground explorations of many amazing caves.
To get acquainted with the history of Bowling Green, one of the most common things to do is to visit Fountain Square Park, which is in the downtown area.
If you're a history enthusiast and also a sports car lover, the National Corvette Museum is undoubtedly a must-see.
As for outdoor activities, try exploring the underground of the city. One of the best ways to do that is to visit Lost River Cave.
It's one of Kentucky's only underground boat tours and a once-in-a-lifetime opportunity to ride a subterranean river's current.
Shelbyville
Whether you're following the Bourbon Trail or not, Shelbyville is a great place to stop in Kentucky.
You are sure to find something interesting to everyone, with food and shopping that include quaint coffee shops, antique stores, boutiques, wine tasting, and distillery visits.
Shelbyville is also known for its American Saddlebred horses and hosts an exciting horse show every year.
For more outdoorsy options, visit the Tim McClure Botanical Garden, Gallrein farm to see the petting zoo, or pick your own strawberries (when in season), or Mulberry Orchard where you can pick your own produce or just buy it freshly picked from the fields.
Frankfort
Frankfort was the only Union capital captured by Confederate forces during the Civil War. Frankfort, Kentucky's capital city, sits astride a double curve in the state's central region on the Kentucky River.
The Capital City Museum is usually one of the first choices for the best things to do in Frankfort!
Before you get there, check if there are any special exhibitions or tours going on at the museum. It exhibits a vibrant image of both political and personal life in Kentucky throughout the past 200 years.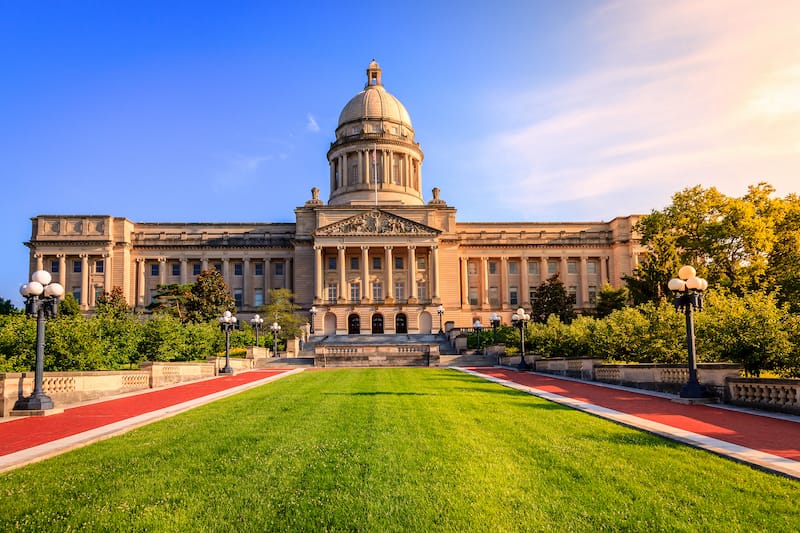 Regardless of whether you're an architecture enthusiast or not, Kentucky State University will impress you with its unique and modern design.
If you're looking to visit a religious landmark in Frankfort, visit the Church of the Ascension. Whether you're religious or not, this place is worth a stop!
Owensboro
Known for its 20-plus annual celebrations, Owensboro is renowned as Kentucky's Festival City, prominent with its distinct charm and outstanding hospitality.
On the long list of exciting places to visit in Owensboro, the Bluegrass Music Hall of Fame and Museum is definitely a must-see.
Learn about the roots and well-known musicians of this genre of music native to the area through exhibitions, galleries, and one-of-a-kind memorabilia.
When it comes to attractions designed for the whole family, Smothers Park, which was named the best playground in the world by the Landscape Architects Network, includes a splash park, "dancing" water fountains, and a relaxing waterfall feature cascading into the river.
Paducah
Paducah is located in western Kentucky, in the Four Rivers Basin, and is surrounded by several major American waterways.
Discovery centers, local eateries, and public activities such as the Paducah Farmers' Market are only a few of the downtown attractions.
The National Quilt Museum is another special spot in the center of the city for any yarn spinners.
Hundreds of vibrant artworks are on display at this nationally recognized museum and educational space. There are seriously so many things to do in Paducah that make the city such a gem in Kentucky!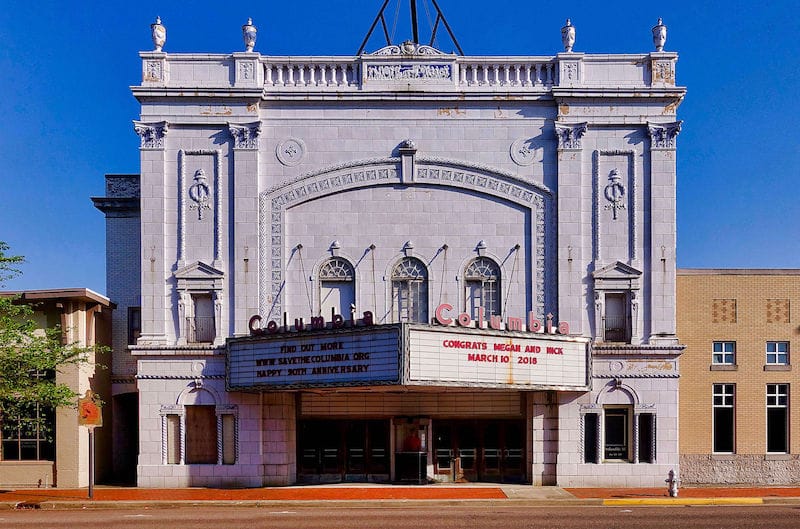 One of the most beloved things to do in Paducah is walking along the Riverwalk.
Visitors are welcomed to walk along the banks, check out local stores, watch barges or steamboats chug past, and more! So, don't forget to put this fantastic city on your Kentucky itinerary.
London
London, otherwise called the 'Cycling Capital of Kentucky', is a home rule-class city in Laurel County.
Something famous that is associated with the town is the World Chicken Festival, which takes place annually. It honors Colonel Sanders' life (founder of KFC) and features the world's largest skillet.
For outdoor recreation, London is surrounded by Daniel Boone National Forest, which offers hiking trails, hunting, fishing, and rock climbing.
If you're looking for additional things to do in London, hit up Levi Jackson Wilderness Road State Park, which is a historic site dedicated to those who bravely settled this Kentucky area.
The campground has wooded campsites with utility hookups. In the park's Mountain Life Museum, replicas of pioneer buildings are packed with pioneer tools, household, and farming equipment.
Elizabethtown
Established in 1793, Elizabethtown is a very historic and charming place to visit in Kentucky. The city is conveniently situated south of Louisville and offers a number of options for things to do.
For those interested in the city's history, get yourself to the Hardin County History Museum and the great Brown-Pusey House Museum, both of which are excellent to learn about the history of Elizabethtown and Hardin County.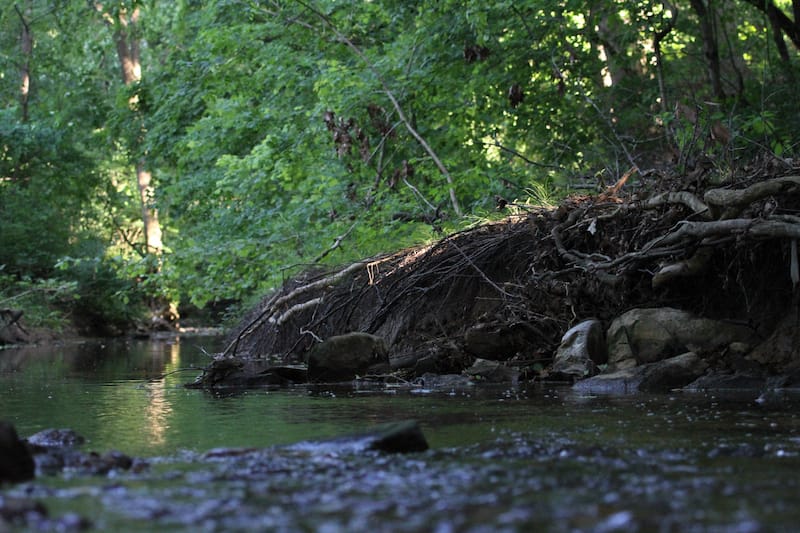 History lovers will also enjoy a walking tour of the old downtown, where they can see the State Theatre Complex and stop for lunch or dinner at the Wicked Eyed Woman Public House.
You may also want to visit Elizabethtown Nature Park's Vietnam Veteran's Memorial Wall to pay your respects to the men and women of the Armed Forces who lost their lives during the war.
Pikeville
Known for its rich cultural heritage and the Hatfield and McCoy feud, Pikeville offers a huge variety of outdoor recreation: hiking, horseback riding, kayaking, zip-lining.
Some of the most loved outdoor events are the Southlake Trail Ride at Lick Creek, Hatfield McCoy Powersports Ride the Ridge, whitewater rafting in Elkhorn City, and more.
A true must-see in the area is the Breaks Interstate Park, which is one of the most beautiful (and hidden) treasures in the US.
Apart from that, some of the most famous attractions in Pikeville are the Historic York House, Dils Cemetery, Bob Amos Park, Dueling Barrels, and more.
Cumberland Gap National Historical Park
A pass through the Appalachian Mountains' long ridge of the Cumberland Mountains, Cumberland Gap National Historical Park marks the intersection of the US states of Kentucky, Virginia, and Tennessee.
Visitors can explore and camp on 70 miles of trails in the park, as well as take tours of the historic Hensley settlement.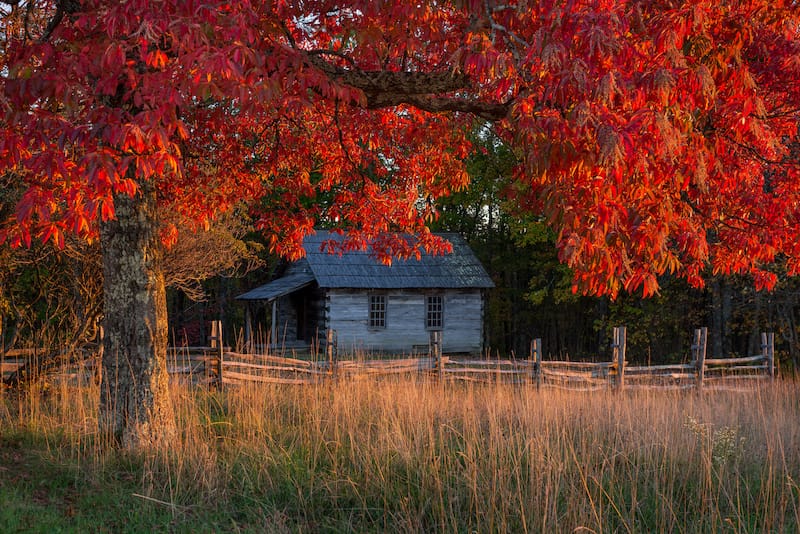 Hikers should not, in any case, miss out on exploring The Tri-State Peak Trail, known as the "saddle" of the Cumberland Gap.
It gained this name because it's located at the intersection of the 3 states mentioned above and it is spectacular regardless of when you visit (even if you visit during the winter).
This 2.2-mile trail, which was once used by Kentucky's first settlers, eventually ascends to a height of 1,798 feet and offers some really insane views from the top!
Diamond Caverns
The historic Diamond Caverns has been Kentucky's most spectacular cave for over 160 years now. The Diamond Caverns features intricate drapery deposits lining the halls in cascades of naturally colorful calcite, which are illuminated by state-of-the-art lighting.
The cathedral-like chambers are adorned with thousands of formations.
The tours at the caverns are offered on a first-come, first-serve basis, and are a half-mile long. Also, they include over 300 steps, so it would be best to wear shoes that are extra comfortable.
Diamond Caverns is excellent for children, as well, as it has a sluice mine where kids can pan for gemstones.
Red River Gorge
The Red River Gorge is a canyon system in east-central Kentucky that runs alongside the Red River.
The gorge, which is located within Daniel Boone National Forest, and the overall area, covers approximately 29,000 acres.
For some amazing imagery and beautiful landscapes, visit Natural Bridge Sky Lift. It takes you on a mile-long journey through spectacular mountain scenery and is one of the best places to visit in Kentucky for nature lovers!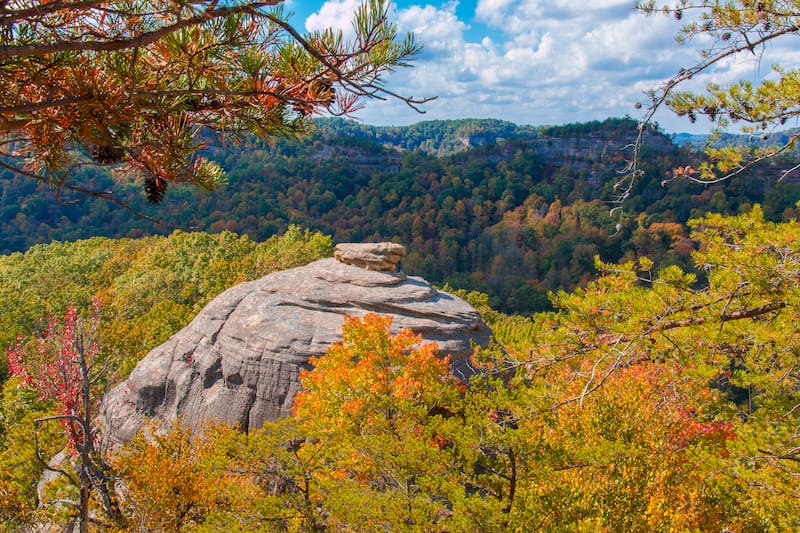 Adventurous travelers will love taking a ride along the Red River Gorge Zipline. It's a thrilling, high-flying experience for people of all ages.
Another attraction that is highly recommended is Muir Valley, which offers a breathtaking experience showcasing waterfalls, caves, and mountain streams.
Do some research before heading there as you won't want to miss the many attractions and activities!
Laurel River Lake
Featuring 5,600 acres of clear and deep water and nearly 200 miles of tree-lined shore, Laurel River Lake is located in the London Ranger District.
Relaxation is readily available along the quiet coves and cliff-lined beaches, as well as boating, fishing, skiing, and scuba diving in one of Kentucky's deepest and cleanest lakes.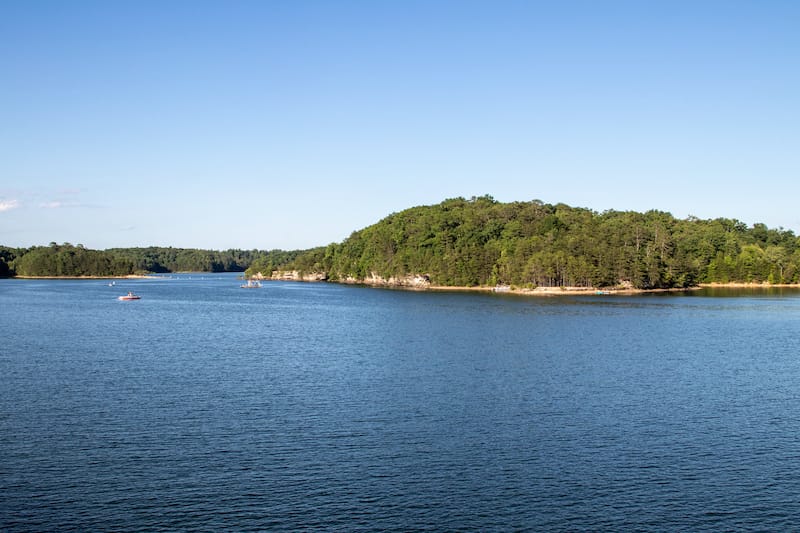 Black bass, rainbow trout, walleye, crappie, bluegill, and catfish fishing are all common. During the summer, night fishing for trout is also common.
Daniel Boone National Forest
Daniel Boone National Forest was an integral part of the Wilderness Road and is now part of the Cumberland Gap National Historical Park.
Throughout American history, it's famous for its position as one of the main passageways through the lower and central Appalachians.
One of the best things to do in the forest is to visit Eagle Falls, one of the best waterfalls in Kentucky. Even though it's not a large waterfall, people who've been there claim that the surrounding nature is unique.
There are lovely hikes in this area, caves, trails, and more. You can even swim in the pool at the falls!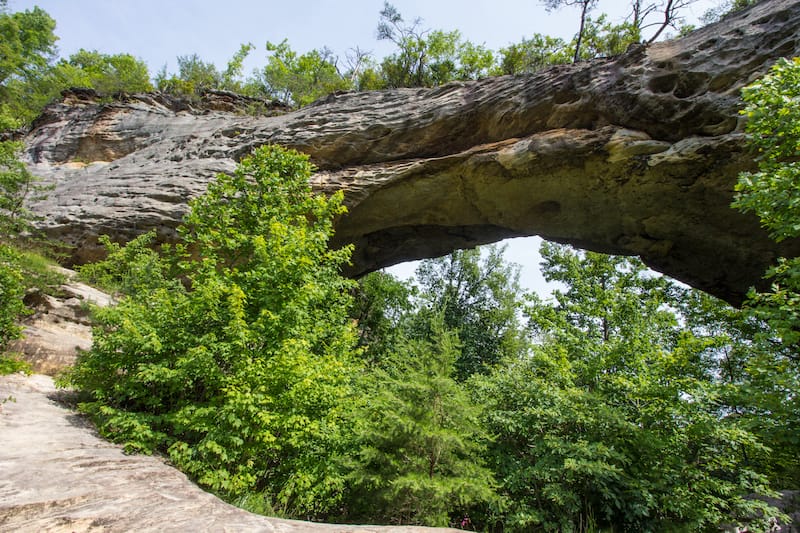 This national forest grants you the opportunity to enjoy some of the state's most outstanding scenery, including a trip to Natural Bridge State Park or hiking, swimming, and cliff diving in the Red River Gorge.
Fairmont Falls
Fairmount Falls is a one-mile, out-and-back trail with a waterfall near Louisville, Kentucky, that is suitable for hikers of all levels. Hiking, running, nature trips, and bird watching are all common activities on the trail.
This trail is also accessible for dogs, but they must be kept on a leash.
Something important to note here is that it is necessary to make a reservation.
The park of the falls only allows three cars per day at the sight, which means that you'll need to call ahead to reserve a space. Once you park in the area with your vehicle, it's about a mile hike to the falls.
Land Between the Lakes Recreation Area
Land Between the Lakes National Recreation Area is one of the largest blocks of undeveloped forest in the eastern United States.
Located in Western Kentucky and Tennessee, this area is known to contain over 170,000 acres of parks and wetlands.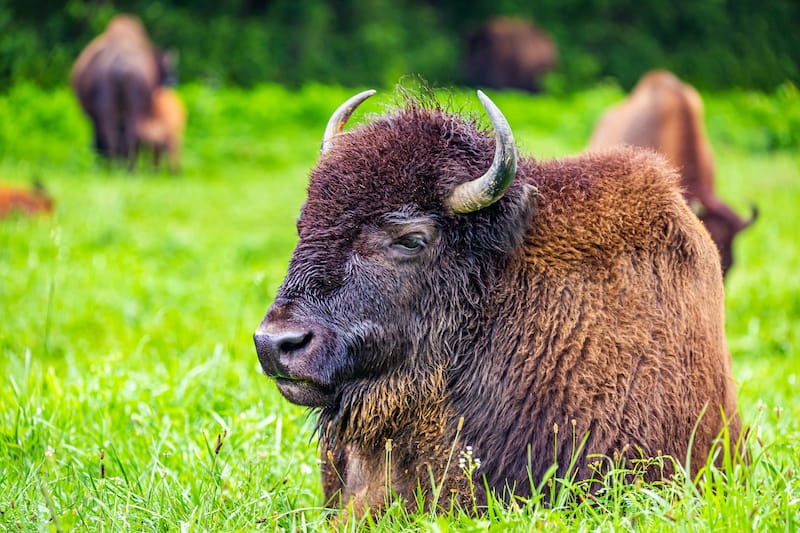 The area near the lake provides a wonderful setting for camping, picnicking, hiking, fishing, boating, wildlife watching, and water sports with 300 miles of natural shoreline.
Licensed hunters are welcome year-round to hunt for deer, turkey, squirrel, and other small animals.
Kentucky Bourbon Trail
The Kentucky Bourbon Trail, known among the locals as "the Bourbon Trail," is a program initiated by the Kentucky Distillers' Association (KDA) to support Kentucky's Bourbon whiskey industry.
No matter the amount of time you plan on spending on the tours, there is a lot of entertainment that can keep you busy and interested.
Aside from enjoying bourbon tastings and distillery tours, you also have the chance to learn a lot about the history of Kentucky.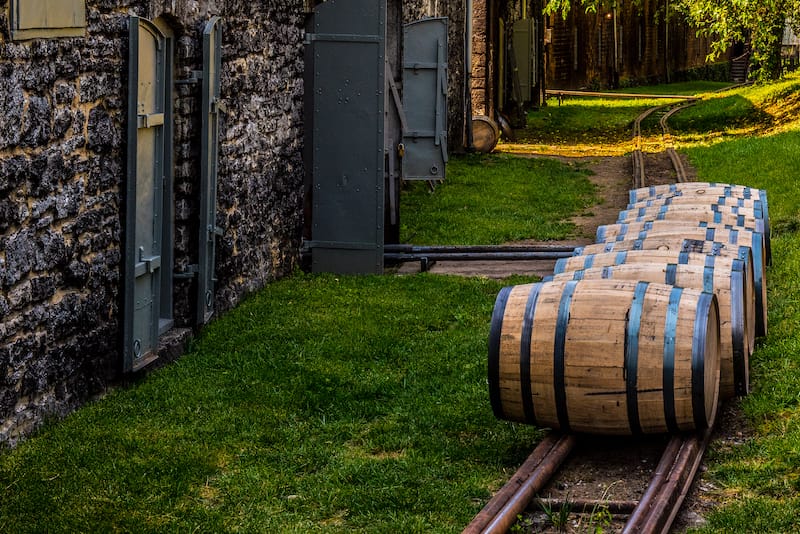 The best attractions include spending a night in an old tavern, a scenic drive through Kentucky bluegrass country through a number of horse farms, visiting Abraham Lincoln's birthplace, and more.
Natural Bridge State Park
If you're looking for a getaway where you can experience a bunch of recreational activities in the heart of nature, then don't forget to visit Natural Bridge State Park!
This is one of the most beautiful state parks in Kentucky and a must for every Kentucky bucket list!
From reserving a private cottage or lodge room to viewing fall foliage to hiking Henson's Arch and enjoying square dancing at Hoedown Island, there are seriously so many things to do in Natural Bridge State Park!
There are ten hiking trails that vary in length (from half a mile to seven and a half miles).
Visitors can also enjoy a ride on the sky lift for a more enjoyable climb to the natural bridge. It starts half a mile from the park entrance and finishes just 600 feet from Natural Bridge.
Newport
Newport was historically one of four county seats of Campbell County and was known as a city of gambling, speakeasies, and a giant flood.
Nowadays, the city has preserved some of its appearances but it has changed a lot, too. Many say that the coffee and food, in general, are extra delicious, so tourists try to go out to Newport's cafes and restaurants as much as possible to experience it all.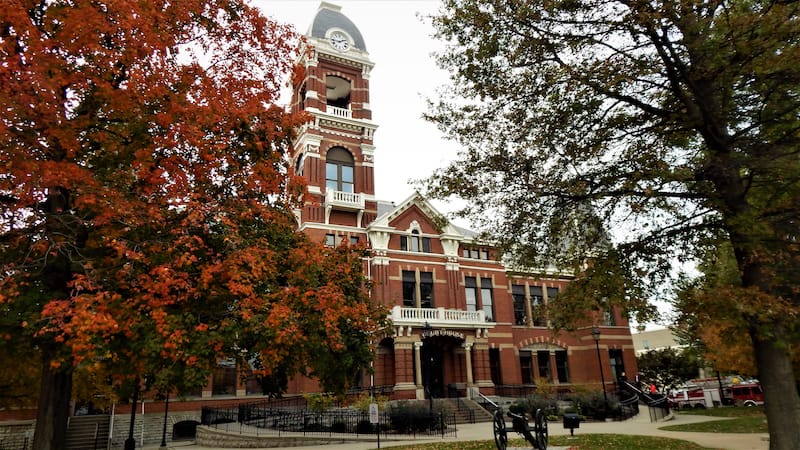 Check out La Mexicana, especially if you enjoy the Mexican comfort food. For some fantastic lunch options, visit Press on Monmouth, and for the coffee hour, Carabello Coffee, which is known to have some great ratings and reviews.
I used to take day trips there from Cincinnati when I lived in SW Ohio (it is right across the river!) to enjoy some of the exciting things to do in the city. It never failed me and I have some of the best memories there!
Dog Slaughter Falls
Dog Slaughter Falls is a 15 to 20 feet tall waterfall located at the confluence of the Cumberland River and Dog Slaughter Creek in Whitley County's London Ranger District.
It can be reached via the Sheltowee Trace Trail, which runs downstream from Cumberland Falls, or the Dog Slaughter Trail.
There are rumors that the naming of the waterfall was given for the drowning of unwanted pets or the loss of hunting dogs because of the predatory wildlife.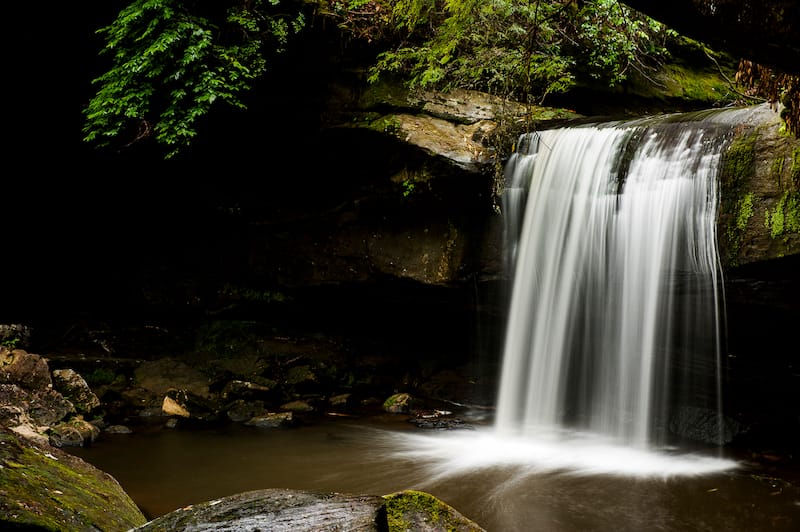 But don't let this scare you off as the hike to the area and the falls itself has some extraordinary scenery! In its own way, this is one of the most romantic natural places in the state – the hike and prize at the end are best enjoyed with someone you love!
Breaks Interstate Park
Breaks Interstate Park is a bi-state state park in the Jefferson National Forest at the northeastern terminus of Pine Mountain, located partly in southeastern Kentucky and southwestern Virginia.
It's known to be the "Grand Canyon of the South" as it features a 5-mile-wide gorge that reaches a depth of 1650 feet.
When visiting the park, spend some time taking one of the Elk Viewing Tours as it is one of the park's most exciting offerings.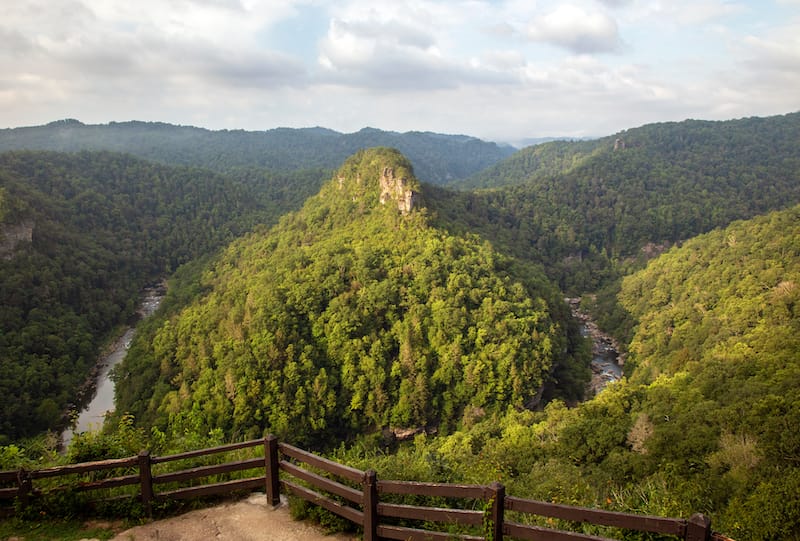 You will be able to see over 100 elk on preserved land which is very atypical in the eastern United States!
Pinnacles of Berea
With the title of the #1 hike of Kentucky, Pinnacles of Berea is absolutely amazing with its views, proximity to Daniel Boone National Forest, and convenient access to other local attractions.
You will be able to avoid the huge crowds of Red River Gorge by heading to Berea and to its numerous pinnacle trails and diverse vantages, which are also dog-friendly.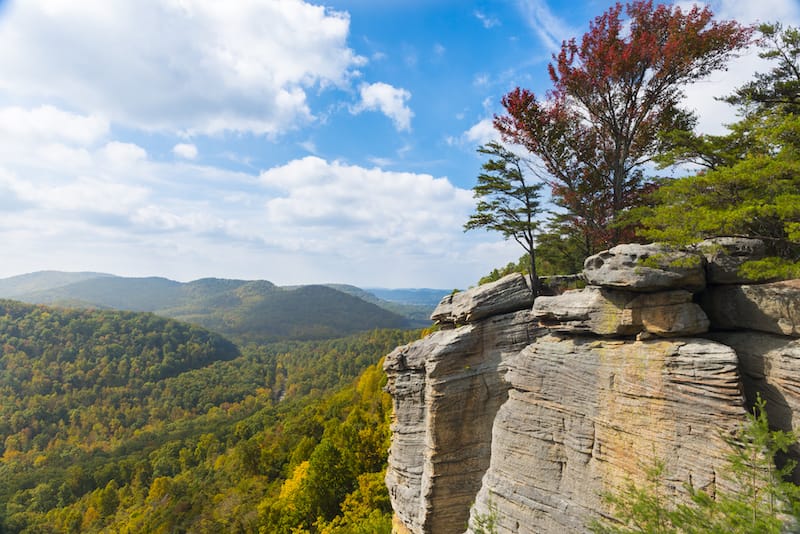 You can entertain yourself there after the hike as well. Visitors can freely check out the restaurants and local shops around the district or stay in one-of-a-kind lodging accommodations in the town.
It really is one of the most beautiful places in Kentucky!
What did we miss on this list of the best places to visit in Kentucky? Please let us know your top Kentucky destinations in the comments! Thanks!
More Kentucky Travel Guides
Kentucky Bucket List Destinations Pin