Kentucky does not always seem to be high on travel lists for the colder months, but visiting Kentucky in winter is an excellent idea and this guide breaks down why!
Despite its location in the south, Kentucky does get pretty chilly in the winter, and you'll have plenty of chances to experience the snow, too.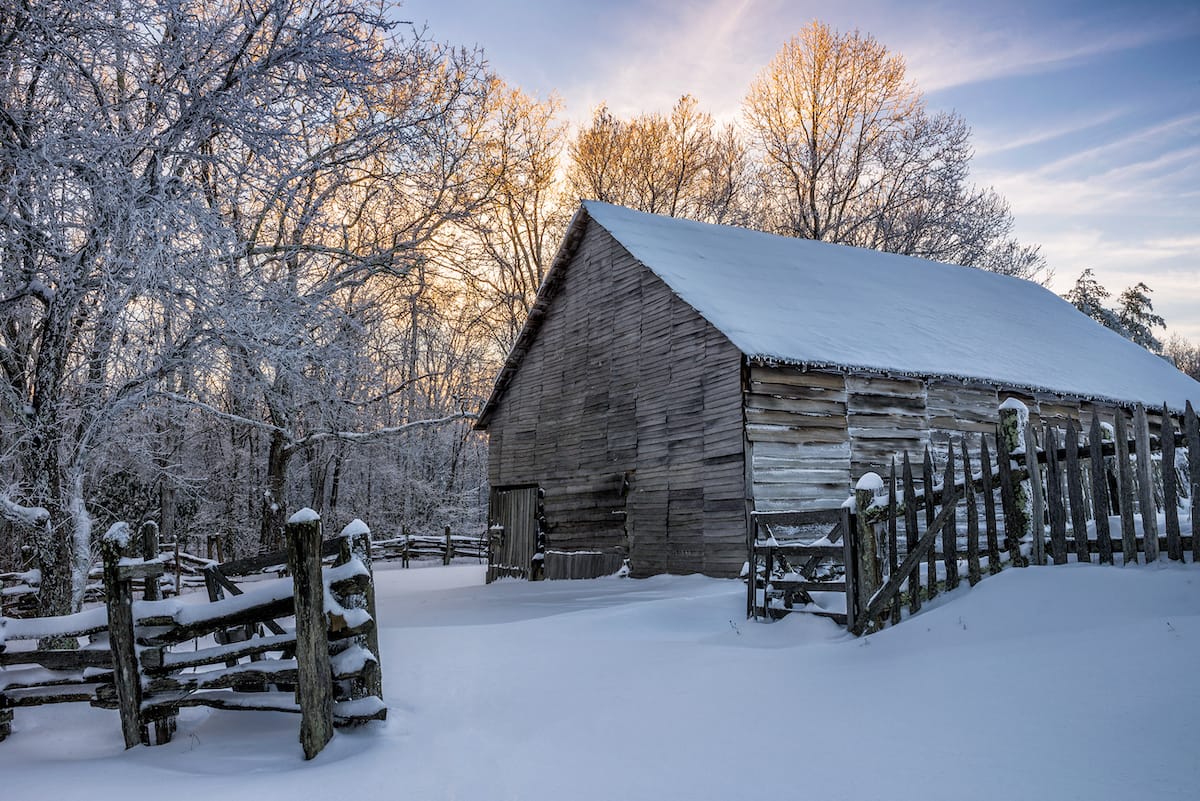 Whether you want to visit for the Christmas and New Year holidays or if you just want to experience the stunning season in all its glory, you've come to the right place!
We've picked out all the top destinations that you shouldn't miss if you're planning a winter trip to Kentucky, including light shows, festivals, towns, popular tourist attractions, and hotels that you should check out!
Did we miss any amazing things to do during winter in Kentucky? Let us know in the comments!
Average Temperatures and Snowfall in Kentucky
Contrary to what most people imagine, Kentucky gets cold in the winter, so be sure to pack some warm clothes with you during your trip!
Depending on when you visit, you'll definitely want to take equipment suitable for snowy conditions, too.
Be sure to be careful if you visit between December and February because those are the coldest months in the state.
Here are the average temperatures per month in the winter (high/low):
Kentucky in November: 55° F / 39° F
Kentucky in December: 45° F / 29° F
Kentucky in January: 24° F / 41° F
Kentucky in February: 46° F / 28° F
Kentucky in March: 56° F / 37° F
Does it Snow in Kentucky?
On average, Kentucky will see 11 inches of snow per year, which is a lot less than the average across the US, but you'll still certainly experience snowy weather and freezing conditions.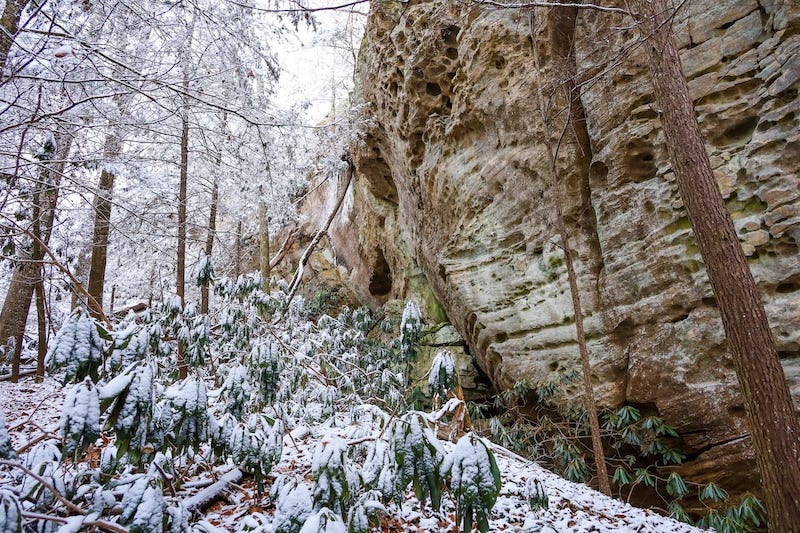 You can expect the snowiest months to be between December and February, naturally.
Things to Do in Kentucky in Winter
Go to Light Up Louisville
Head to Jefferson Square Park on November 26th for Light Up Louisville.
There will be a 45-foot Norway Spruce stationed there alongside a rainbow-colored festive light display to celebrate Christmas.
Themed lights will also be there celebrating Kwanzaa, Hanukkah, and all the special holidays that the season offers.
Santa Claus will also be there to make his way to the entertainment stage and turn on the millions of lights.
As the night goes on, a firework show will follow.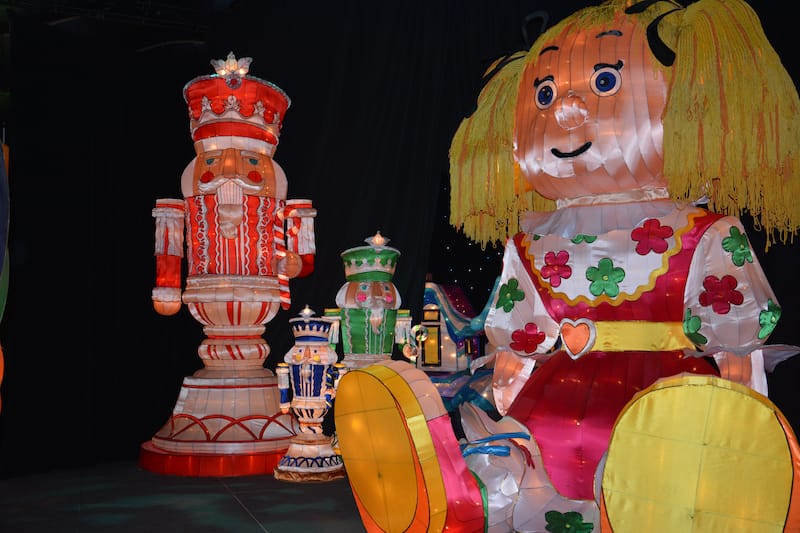 The city's largest event also offers Vendor Village, which will be available for children and families to pick up some cookies and holiday crafts.
The little ones can also write letters to Santa and veterans through the Honor Flight program.
A photo booth is also offered with different background options for some holiday family pictures with Santa.
On the west lawn of Metro Hall, there will be a DJ performing. This definitely is the spot to be during winter in Louisville!
Visit Patti's 1880's Settlement
Patti's 1880's Settlement offers a delicious restaurant, shops, and walkways. If you're visiting in the winter months, look forward to enjoying the lights around the property.
Patti's 1880's Settlement has more than a million lights to get you into the winter spirit. Take a stroll in the park and experience the winter wonderland.
The lights will be on from November 6 until the second week of January.
This beautiful display features a wide range of lights and figurines, ensuring that there is something for everyone in the family to enjoy.
View this post on Instagram
Entry is free, and you don't need a reservation; however, if you also want to eat at their restaurant, a reservation is required.
It is a must to visit the award-winning dining at Patti's and order their famous pork chops, flowerpot bread, and a slice of mile-high pie.
At Patti's, visitors can also shop for adult's and children's clothing and toys, home decor, and Christmas decorations. Santa also visits from 4 pm to 7 pm daily.
Check Out Bardstown at Christmas
Named the most beautiful small town in the country, Bardstown is a magical place to be in during the holiday season and is an easy day trip from Louisville.
Visit My Old Kentucky Home, which is a 200-year-old mansion magically decorated for the holiday season. While there, you'll go back in time and enjoy Christmas during Victorian times.
Watch a "Christmas Carol" unfold as you tour the rooms of the mansion. The house also has six 12 foot Christmas trees, each decorated with its own Kentucky theme.
There is also a special Culinary tour where guides wearing clothes from the 1850s lead you to the historic kitchen, where you'll have apple cider and cookies.
View this post on Instagram
Since the city is known as the bourbon capital, many distilleries participate.
For example, Barton's 1792 Distillery hosts a "Making Spirits Bright" candlelight tour during the holiday season.
Santa also visits the Old Nelson County Courthouse on Saturdays.
You can also meet him in the Kentucky Railway Museum during Santa Express excursions.
Head to the Bardstown Community Theater to watch a show where you'll get to meet the elves and learn more about Mrs. Claus's mystery disappearance.
Visit Lexington in Winter
Head to the Ice skating rink located in Triangle Park. The rink is open from mid-November until mid-January.
An hour of skiing will cost you $12. You'll find hot chocolate at the cafe near the rink if you're feeling cold.
Drive to the magical Horse Park where the Southern Lights are presented.
From November 26 until December 31, you can drive through the millions of twinkling lights. The drive is over 4 miles.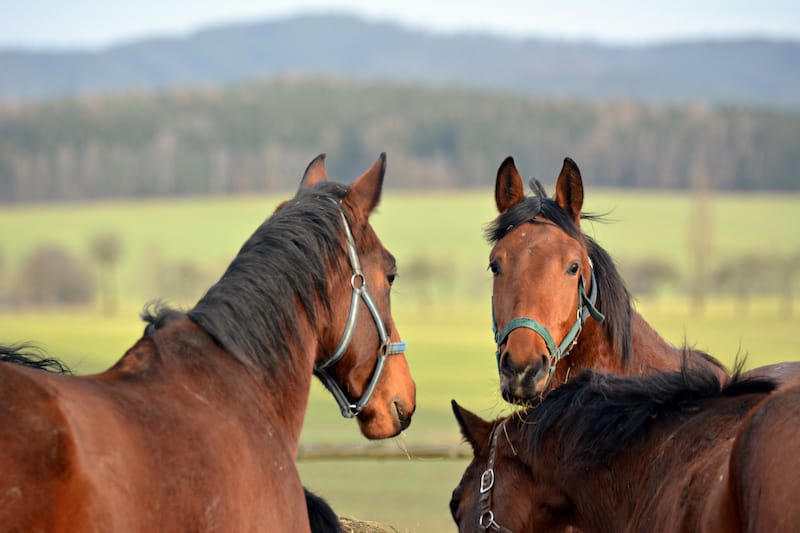 After finishing it, explore the Holiday Festival attractions, including the Kentucky Horse Park Gift Shop, craft vendors, holiday music, a mini train, and pony rides. There are plenty of things to do in Lexington to keep you occupied!
Admission per car is $15 and $25 on Fridays and Saturdays and for vans is $30.
If you want to enjoy a holiday show, head to the Lexington Opera House to watch the Nutcracker.
You can also take a 45-minute train ride from Woodford County Park on December 17 and 18, where you'll enjoy holiday scenes, elves, and the countryside. The tickets range from $12 to 19$.
Explore Mammoth Cave National Park in Winter
Winter months are the perfect time to explore Mammoth Cave National Park since you'll avoid busy tours at that time. The chances are higher for you to walk along Broadway without anyone else, which is a magical experience.
The limestone-carved Mammoth Cave is the world's longest cave system with more than 400 miles of recorded corridors and is one of the best national parks in Kentucky.
You can take the Domes & Dripstones tour, which will show you the best spots like Frozen Niagara and part of Grand Avenue.
If you want to explore more, check out the longer tours to visit the underground "hospital" from the mid-19th century.
Hikers can also enjoy a hike around the park since it has 85 miles of rugged and backcountry treks.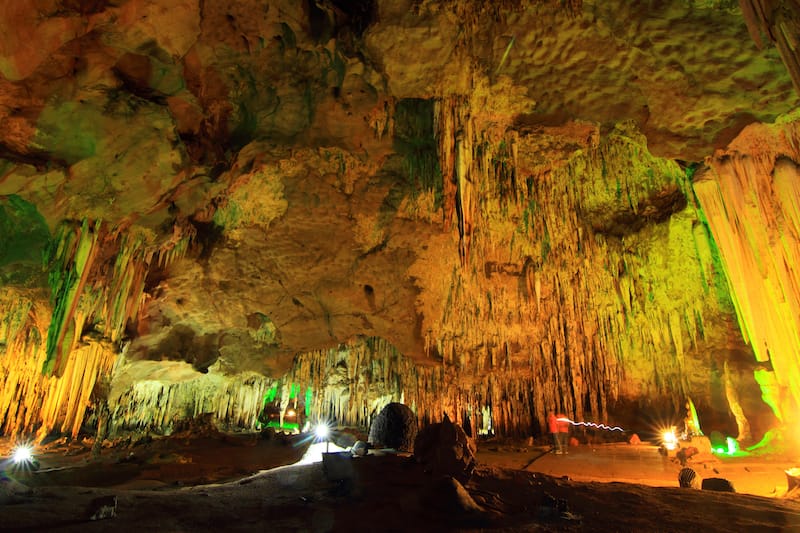 A short distance from the Visitor Center is the Big Hollow Trailhead, which provides access to various trails, including the magnificent Big Hollow North Loop.
Other one-mile-long trails such as the Echo River Springs and Sinkhole Trails are also great places to enjoy the crisp winter air.
If you don't mind camping during the winter months, head to the Houchin Ferry Campgrounds. They offer 12 campsites with picnic tables and tent pads alongside Green River.
Take to Nature at Red River Gorge
While visiting Red River Gorge, start by taking a scenic drive. Start your journey from the Nada Tunnel and cross through Daniel Boone National Forest and Sky Bridge Road.
During the winter, the perks of visiting are that you'll spot an abundance of arches that are typically hidden in the warmer months.
Hike lovers would enjoy a hike on the 600 miles of trails in Daniel Boone National Forest.
Wear your snowshoes and enjoy Daniel Boone National Forest's Red River Gorge, a beautiful site where you'll spot some frozen waterfalls as well.
Pack your cameras, too, since you'll pass by some breathtaking nature works.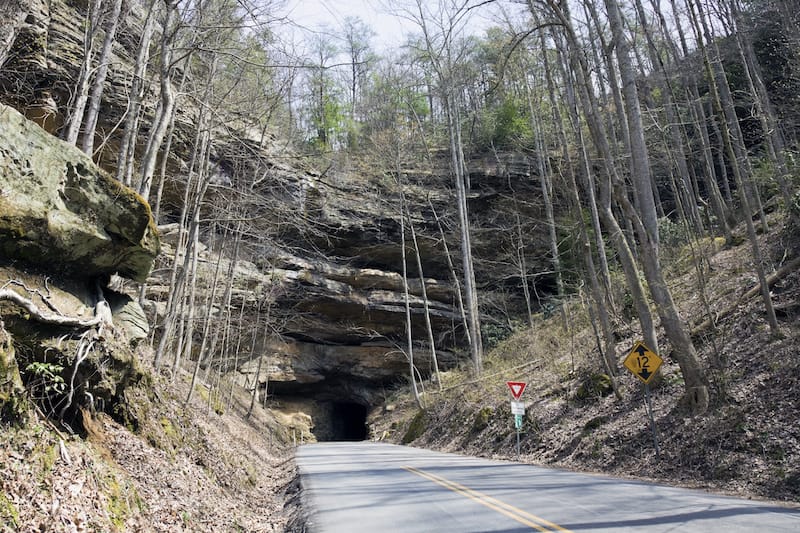 For an adrenaline rush, head to the Red Gorge Zipline tours. Five zip lines cover nearly 5,000 feet.
The guides will make sure that you're safe and that you'll enjoy your trip through the trees.
You'll be mesmerized by the sweeping views throughout the Gorge, and the temperature will only add to the fun.
The 2-hour adventure costs $99.99.
Wrap up your day with a delicious meal at the Sky Bridge Station.
The restaurant offers 12 local beers, gourmet hot dogs, and quesadillas. Live music is also provided.
Visit Colorful Paducah
Hike lovers should head to one of Paducah's local parks or regional natural areas if they want to experience a brisk hike.
By visiting Ohio River Boat Launch, anglers also have the chance to go fishing in local lakes and rivers for bass and crappies.
Head to Noble Park during the holiday season, where Paducah Power System's Christmas covers the park in half a million Christmas lights from November 24 until December 31.
Enjoy a drive through the holiday display where the event is free.
You can also check out the Broadway parade "It's a SUPER Christmas" in Paducah.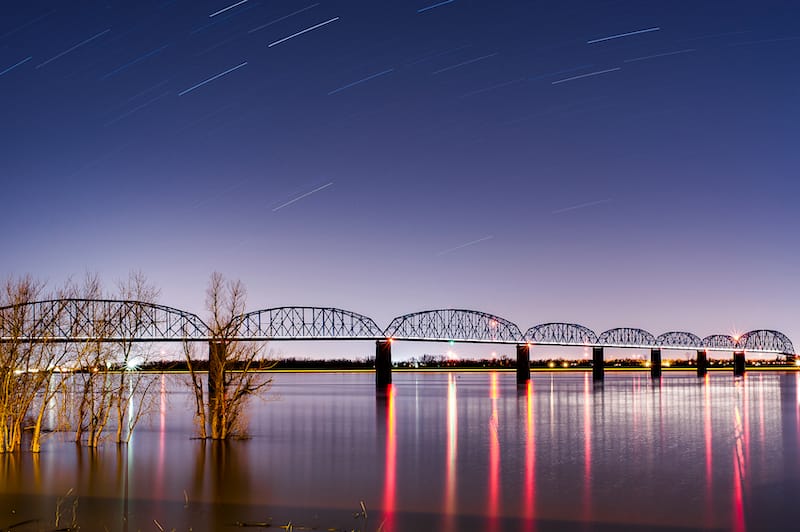 This year's theme honors both real-life and fictional superheroes.
The parade will start at Broadway and 14th Street and go down Broadway to 2nd Street.
As for some indoor activities, the National Quilt Museum is worth a visit when you're in Paducah. The 13,000 square foot museum features stunning quilts and other fine fiber artworks.
Train enthusiasts should visit the Paducah Railroad Museum.
The museum explores the rich railway heritage that has helped to shape the city. It contains a wide range of displays, models, and artifacts of the locomotive age.
Stay at Willis Graves Bed & Breakfast Inn
Located in northern Kentucky, Willis Graves Bed & Breakfast Inn is an award-winning oasis of luxury and comfort.
It is a cozy hideaway spot, and winter is pleasant by the fire. It really is one of the most romantic places in Kentucky!
Guests will be treated to an unforgettable country breakfast next to a fire, and they will wake up to the aroma of fresh-brewed local-roasted coffee, making it truly the best weekend getaway during winter!
View this post on Instagram
The Inn offers five different types of lodgings, each with its own charm, rustic elegance, and practical facilities.
The suites feature a separate living and sleeping area and include a fireplace.
Go Winter Hiking in Kentucky
Hike buffs should take a trip to the Princess Arch Trail located in the Red River Gorge.
The 0.9 miles outback trail will take you to the beautiful Princess Arch, where you can explore the arch underneath and top.
Woodland Walk Route is approximately a mile long, moderately busy round trail with a lake suitable for all skill levels.
It passes through wooded areas of Land Between the Lakes National Recreation Area.
This trail is also open to dogs, although they must be kept on a leash.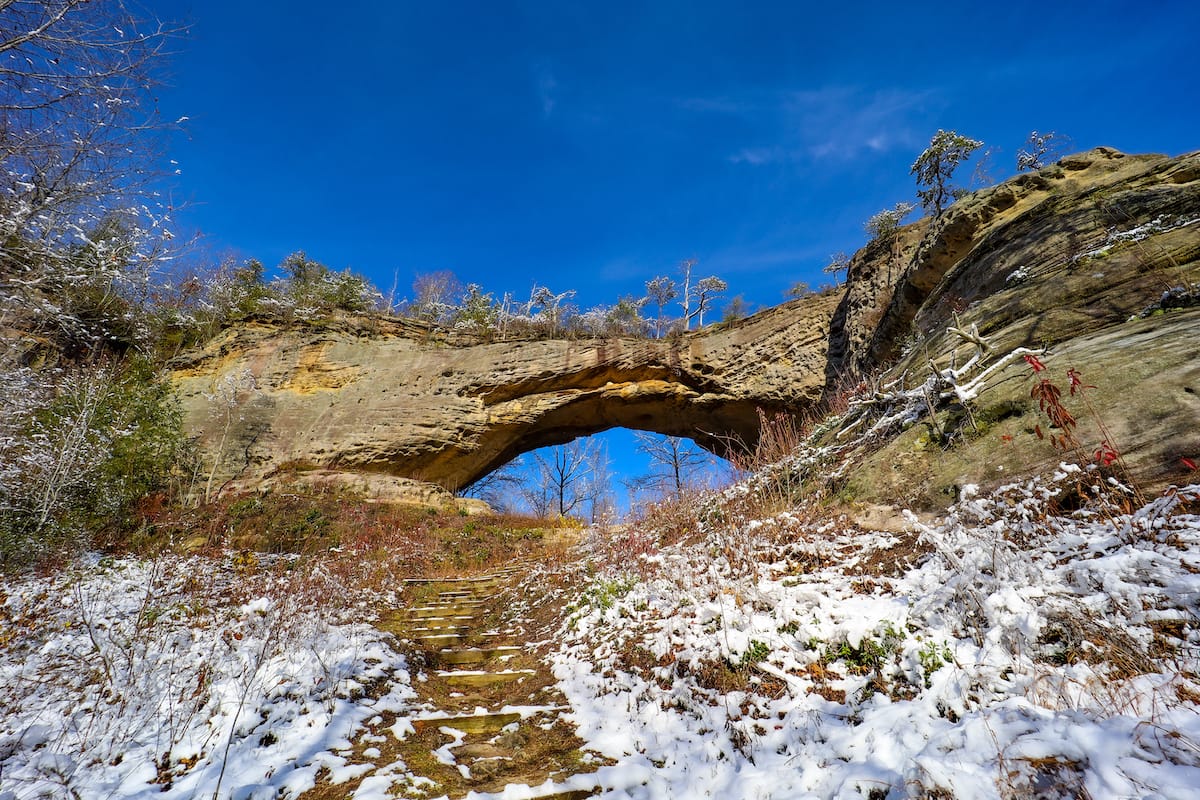 The unique Carter Caves State Resort Park natural bridge is one of a kind in supporting a paved highway in Kentucky. It is a 0.5-mile trail with magical geological wonder.
High Point Loop is a 0.5-mile trail suitable for all skill levels. The track features beautiful wildflowers that showcase the beauty of the Bernheim Forest in Clermont.
The short boardwalk at an elevation of 75 feet, Canopy Walk, is also located here.
Angel Windows Trail is another trail where you can enjoy birdwatching.
The 0.7-mile trail is suitable for all skill levels and has impressive natural arches known as the Angel Windows.
Spend Winter at Kentucky Lake
Kentucky Lake is the perfect place for a bit of a holiday getaway. Visit the Kentucky Opry Country Christmas Show.
When the Kentucky Opry performs its annual show "A Country Christmas," the sights and music of the holiday season come alive.
Biblical stories of Christ's birth are also told during the show. The show fee ranges from $7.50 to $16.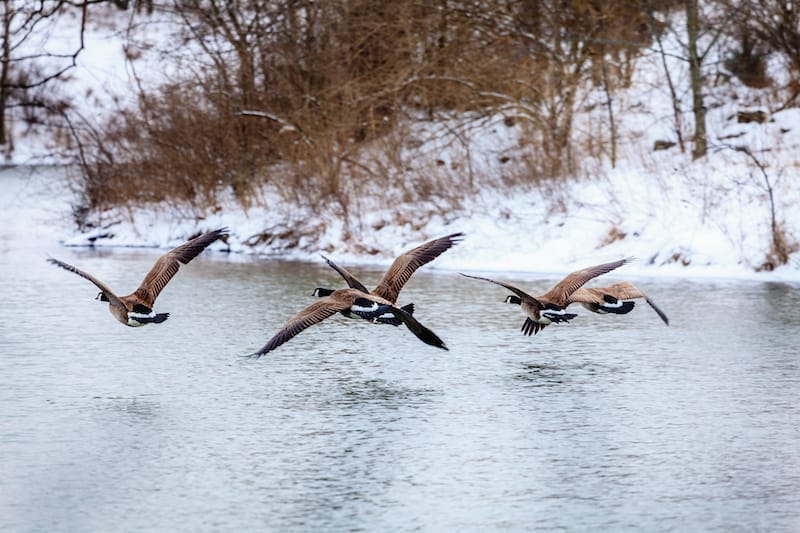 Patti's Festival of Lights in Grand Rivers is packed with magical lights all around. It starts on the first weekend of November until January. The festival features over one million lights.
The Badgett Playhouse's Musical Christmas show, one-of-a-kind presents at unique boutiques, and warm lodging options are all part of the Grand Rivers Christmas celebration.
Dickens Christmas Festival and Lighted Parade is another event to enjoy. It will take place on December 8 in Benton, Kentucky.
Guests will decorate ornaments and meet Santa himself alongside other famous Christmas characters.
A light-up parade will also be featured, as well as a Power Wheels car show.
What are your favorite things to do in Kentucky in winter? Let us know your winter in Kentucky tips in the comments!
More Kentucky Travel Guides
Pin this Winter in Kentucky Guide