One of the most underrated places to visit in Kentucky is the city of Paducah. These are some of the best things to do in Paducah KY for first-time visitors!
Are you planning your trip to Paducah last minute?
If you're traveling to Paducah last minute, you want to ensure you have lodging ahead of time! Below are some of our top picks in town!
Top hotels in Paducah (and nearby!)
🚗 Looking for the best way to get around Kentucky? Click here to check rental car rates for Kentucky!
Paducah doesn't quite get the love it deserves. People from Kentucky know it – but it really is one of the coolest small cities east of the Mississippi and is definitely one of the best places to visit in KY!
It is creative, has several hip small businesses, and there are many nature opportunities nearby (and even within the city itself). Even visiting during the winter is a great idea!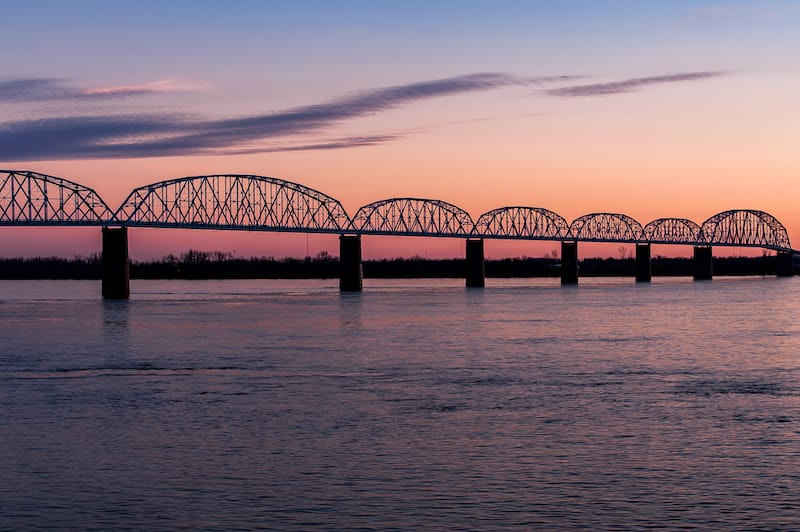 Let us know your favorite things to do in Paducah in the comments and share some of your favorite Paducah attractions and businesses with us! Thanks!
Best Things to Do in Paducah KY
National Quilt Museum
Located in the UNESCO Creative City of Paducah, the renowned National Quilt Museum is a paradise not just for art enthusiasts but also for those keen to discover art from a new perspective.
The Museum houses a huge collection of contemporary fine artworks, including over 500 fiber and quilt works by world-renowned quilt artists.
Exhibits in the Museum change 8-10 times throughout the year, so each time you come, you can see something new.
The 7000-square-foot area offers 3 galleries full of mesmerizing masterpieces with creative touches, which are displayed during thematic exhibitions.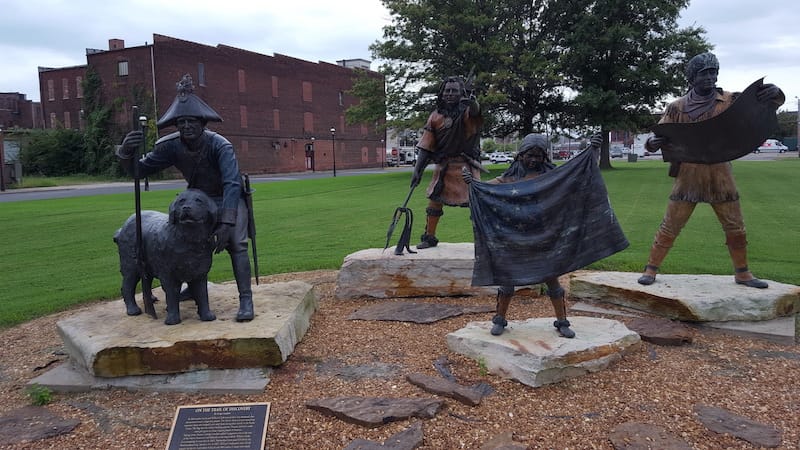 The latter also features traditional and not traditional quilt-making approaches, which will leave you in awe!
Visitors can also take part in various educational programs of an array of topics organized at the National Quilt Museum, which are taught by master quilters and are suitable for all skill levels.
Address: 215 Jefferson St, Paducah, KY
Website: https://quiltmuseum.org/
Clyde F. Boyles Greenway Trail
Spanning for more than 5 miles, the Clyde F. Boyles Greenway Trail is an ideal destination for getting away from the city and enjoying a scenic trail without a car.
The Greenway connects Paducah's residential neighborhoods to Perkins Creek Nature Preserve, the 3 parks of Stuart Nelson, Noble, and Schultz, and the riverfront of the Ohio River.
It offers its visitors the perfect path for walking, cycling, or rollerblading amidst stunning natural landscapes. Cross over scenic bridges while strolling on the Greenway and admire various cultural attractions and scenic points lined along it.
Take a break in Stuart Nelson Park by visiting the dog park or enjoy playing disc golf with your friends on the disc golf courses.
When reaching the end of the trail, you can continue your hike to get to River Front Park or downtown Paducah.
Fort Massac State Park
Travel back in time at Fort Massac State Park amidst serene nature where you can experience the real vibes of early American living.
Considered to be Illinois's first state park, Fort Massac dates back to 1908 and has been preserved in the same conditions since then.
It overlooks the stunning Ohio River and offers all the conveniences along with little details for you to experience the complete process of bringing the past back to life.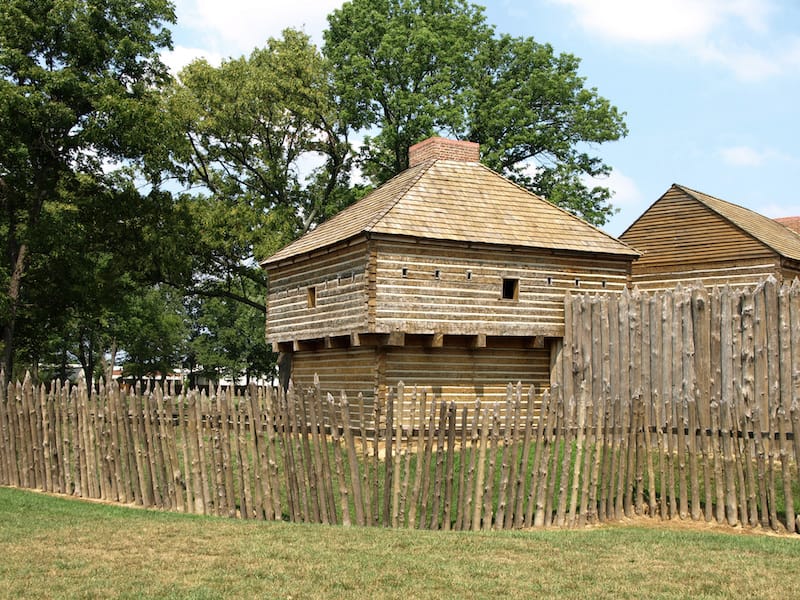 The historic fort area includes two barracks, officer quarters, a well, three blockhouses, and a fraise fence. Throughout the park's 1,500-acre area, besides the fort, various outdoor recreational activities such as camping, fishing, hiking, boating, picnicking, and hunting await you for family fun.
You can also enjoy playing disc golf on an 18-hole disc golf course. Throughout the year, various special events are organized in the Kentucky state park highlighting early American history, but each October, you can take part in a one-of-a-kind Fort Massac Encampment festival, which will definitely make your trip an exciting and memorable one.
Address: 1308 E 5th St, Metropolis, IL
Website: https://www2.illinois.gov/dnr/Parks/Pages/FortMassac.aspx
Red's Donut Shop
Family-owned and operated since 1955, Red's Donut Shop in Paducah is a can't-miss for those that love donuts (or just supporting a fantastic local business)!
All donuts are made from scratch and you will find both yeast and cake donuts. They are affordable and make everything fresh, every single day!
Some of the exciting flavors they have are Apple fritters, Blueberry cake, and Raspberry jelly puffs.
Address: 2800 Jackson St, Paducah, KY
Website: https://redsdonutshop.com/
Whitehaven Welcome Center
Located near the state border with Illinois, Whitehaven Welcome Center is one of Kentucky's finest Classical Revival architectural buildings. It is considered the only historic residence that serves as an interstate tourist welcome center.
The Center is the perfect spot that introduces its visitors to the whole pack of Paducah's powerful history and rich culture.
In this restored 2-story brick mansion, you can witness 1860s-era furnishings, historic exhibits along with fascinating memorabilia of Alben Barkley, Vice President to Harry Truman.
The inviting outdoor area offers ample walking space, picnic tables, and a butterfly garden. Visitors can have an educational break, explore all the artifacts showcased inside of this historic building, and get acquainted with the mansion's remarkable history by taking part in regularly scheduled free guided tours.
Address: 1845 Lone Oak Rd, Paducah, KY
Paducah Wall to Wall
Capturing Paducah's rich history and creatively highlighting its powerful heritage, Paducah Wall to Wall murals offer its visitors mesmerizing scenery that will forever be engrained in their minds.
All of the authentic and vibrant paintings are on the concrete floodwall, which overlooks the Tennessee and Ohio Rivers' confluence and separates the latter from the downtown.
Wall to Wall murals play their crucial role in the artistic landscape of the UNESCO Creative City of Paducah. Each vivid painting has a story to tell about Paducah's past, and viewers simply won't be able to pass by without appreciating each detailed masterpiece.
View this post on Instagram

The public art of more than 50 murals is accessible for visitors throughout the day, and through self-guided tours, you can discover for yourself the influence of the rivers on the city's rich culture.
The magnificent murals artwork was done by renowned muralist Robert Dafford and the Dafford Murals Team, who are also famous for their stunning masterpieces throughout the US, England, France, and Belgium.
Address: 200-298 S Water St, Paducah, KY
Website: https://www.paducahwalltowall.com/
Visit the Downtown
Pay a visit to downtown Paducah to discover historic downtown's cultural heritage, architectural wonders, and creative spirit.
Paducah's beautiful streets offer various entertainment options and you'll find many of the best things to do in Paducah in the downtown area (and many romantic options for a date night)!
You will certainly get a great dose of creativity at Yeiser Art Center which features works of local artists or in the National Quilt Museum, offering colorful fiber and quilt art.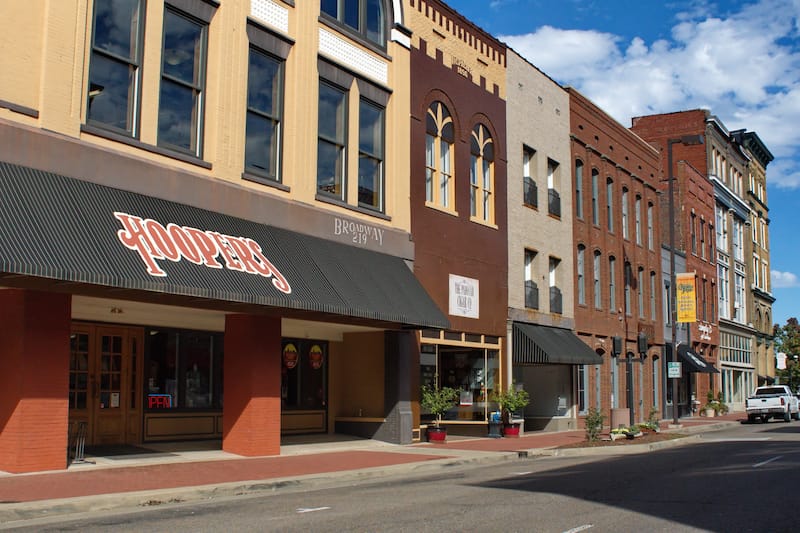 Visit the William Clark Market House Museum to get an idea of what a 19th-century drugstore looked like or to witness chairs used by Lincoln in the Museum's Civil War Room.
It has been 5 decades since the award-winning Market House Theater has been offering its guests outstanding live performances, comedies, dramas, and many more in the heart of the downtown.
Get a table in locally-owned Kirchhoff's Deli & Bakery to experience the full taste range of Paducah's delicious cuisine.
Movie enthusiasts will certainly appreciate enjoying a wide range of independent, classic, or foreign movies at the Maiden Alley Cinema and Gallery.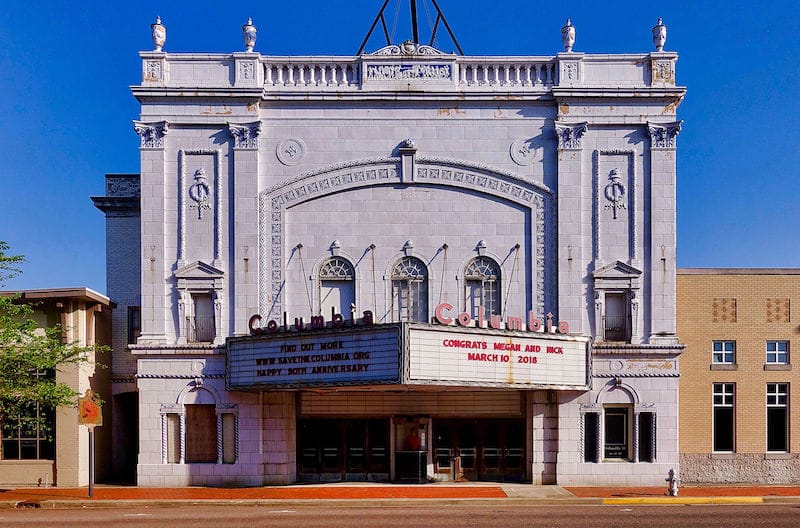 Shawnee National Forest
Located close to Paducah and one of the best day trips from Paducah is the Shawnee National Forest, a recreation area located in southern Illinois.
Those who are really into hiking will certainly appreciate the Garden of the Gods, full of scenic rock hills to climb, or Pomona Bridge featuring a natural land bridge.
Explore the area's spectacular flora and fauna in Cave-in-Rock, famous for its limestone cathedral, or visit Heron Pond, where the floating boardwalk will grant you access to hypnotic views of surrounding lush greenery and wetlands.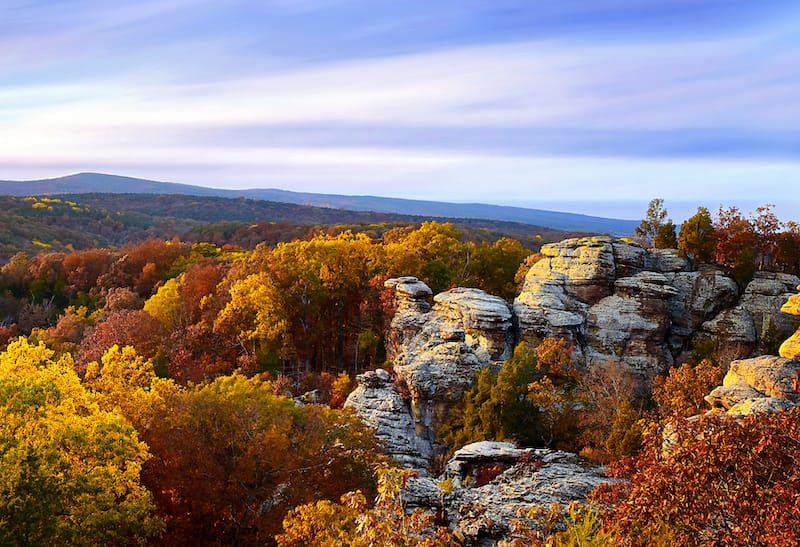 A variety of lodging and camping options are available to help you recharge before exploring the rest of the National Forest.
Get the taste of Illinois's winemaking in nearby wineries, or take a stroll through the vineyards to learn more about the grapes used to produce those unique wines.
Get your daily dose of adrenaline while enjoying Shawnee National Forest's exciting opportunities: kayaking, fishing, biking, ziplining, canoeing, and much more.
River Discovery Center
If you want to have a one-of-a-kind experience while also enriching your knowledge about rivers, then you should definitely pay a visit to the River Discovery Center.
The Center highlights the story of this river city through the significance and history of the Four River Basin encompassing rivers of the Mississippi, Tennessee, Cumberland, and Ohio.
Experience something exciting behind the wheel of a steamboat in the five-monitor Boat Simulator, which offers you real-life panoramic audio and video replica of the boat's surrounding waters. The Center is full of interactive exhibits and various displays, which will certainly make you appreciate Kentucky's rivers.
Stroll in the River Discovery Center's galleries to see historic steamboats, river basins, and rainwater, and discover the water's crucial role in the Civil War.
Make sure to take part in various educational programs and special events organized inside the Museum, most noteworthy of which is the annually organized Paducah Dragon Boat Festival.
Address: 117 S Water St, Paducah, KY
Facebook: https://www.facebook.com/riverdiscoverycenter/
Freight House
If you're looking for some of the best food in Paducah, look no further than Freight House. Run by chef and proprietor Sara Bradley (from Top Chef), the restaurant is a unique dining experience in Western KY and it combines southern flavors with a modern spin.
View this post on Instagram
The restaurant uses local partners, fresh ingredients, and locally sourced meats. The experience is truly one-of-a-kind and it'll leave your palette satisfied and returning for more!
Address: 330 S 3rd St #102, Paducah, KY
Website: https://www.freighthousefood.com/
Land Between the Lakes National Recreation Area
Land Between the Lakes National Recreation Area is one of the largest blocks of undeveloped forest in the eastern United States.
Located in Western Kentucky and Tennessee, this area is known to contain over 170,000 acres of parks and wetlands.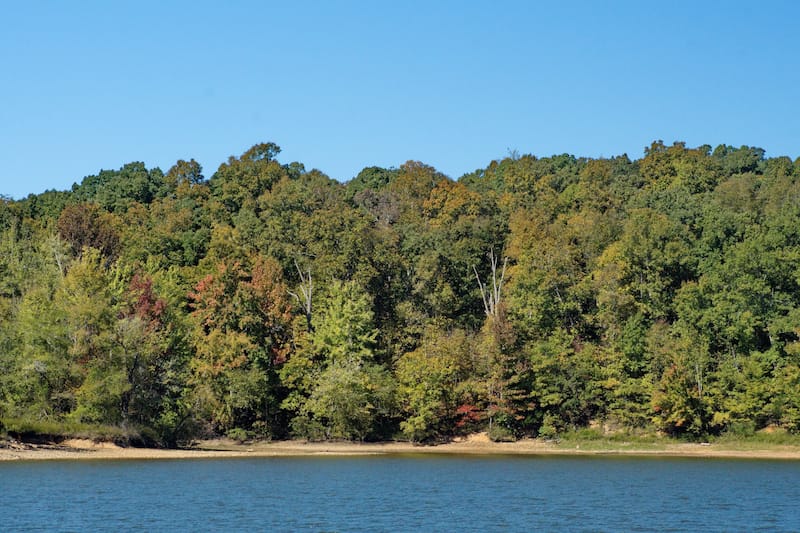 The area near the lake provides a wonderful setting for camping, picnicking, hiking, fishing, boating, wildlife watching, and water sports with 300 miles of natural shoreline at the TN and KY national recreation area.
Licensed hunters are welcome year-round to hunt for deer, turkey, squirrel, and other small animals.
Purple Toad Winery
One of the most renowned wineries in Kentucky is the Purple Toad Winery and it is absolutely one of the best places to visit in Paducah when you're there!
After a trip to Napa in 1998, June and Allen Dossey (and their son, Steven) were hooked on the idea of growing their own grapes, and eventually, that led to Purple Toad opening on July 1, 2009.
View this post on Instagram
They have been successful ever since and have become the largest winery in the entire state! Visiting Purple Toad Winery is one of the best things to do in Paducah.
Address: 4275 Old US Hwy 45 S, Paducah, KY
Website: https://purpletoadwinery.com/
Etcetera Coffeehouse
A must-visit place in Paducah is Etcetera Coffeehouse and they have two locations you can stop by! One is located on N. 6th Street and the other is located at 118 S. Second Street. Not only do they have some of the finest coffee in Paducah, but they also have bubble tea.
The original location on N. 6th Street opened in 2006 by high school teachers Johanna and Allan Roads and has grown into a city favorite over the years.
They pride themselves on responsible business practices and being an integral part of the community. They are also known for their exceptional treatment of the staff and the passion shows!
Address: 320 N 6th St, Paducah, KY and 118 S. 2nd St, Paducah, KY
Website: https://www.etccoffeehouse.com/
Pipers Tea and Coffee
Located in the historic Coke plant in Paducah is Pipers Tea and Coffee, one of the best places to visit in the Kentucky city!
View this post on Instagram
At Pipers, you will find specialty coffee, a roastery, and unique tea blends. Founded in 2012 by Peter and Amber Barnett, the Paducah cafe eventually brought on head roaster Robert Dowell and the rest is history. This is an essential place to visit in Paducah for coffee and tea lovers!
Address: 3121 Broadway Street, Paducah, KY
Website: https://www.cupofpipers.com/
Craving the Curls Rolled Ice Cream
I admit that I am an ice cream lover and got nuts for the stuff. Craving the Curls is a unique ice cream shop in Paducah where you can get fresh ice cream with a bit of a Paducah twist.
View this post on Instagram
A family-run business by a husband and wife (Randy and Renee Hayden) and their daughters, they bring rolled ice cream to Paducah in their vibrant and creative shop. They truly love what they do and putting a smile on customers' faces!
Address: 113 Market House Square, Paducah, KY
Facebook: https://www.facebook.com/cravingthecurls/
Branch Out Foods
If you're a plant-based eater or just want a taste of something different when visiting Paducah, look no further than Branch Out Foods.
This vegan restaurant was started by Daniel and Gabrielle Dodd, a husband and wife team who saw limited options in Paducah for vegans and vegetarians (and those on a gluten-free diet).
View this post on Instagram
You'll find a robust menu ranging from pastries to Korean bibimbap to salads and more. The food is exceptional and their menu can be found on their website.
Address: 713 Kentucky Ave, Paducah, KY
Website: https://www.branchoutfoods.com/
Craft Beer in Paducah
One thing I used to love doing when traveling was to hunt down the best spots for beer in a town. I don't drink quite so much anymore, but I still love supporting small businesses and local beer breweries and bars.
Two amazing places for craft beer in Paducah are Dry Ground Brewing Company and Paducah Beer Werks. If you're into beer, definitely check them both out!
What are your favorite things to do in Paducah KY? Let us know what to do in Paducah in the comments if you have been or are a local and have some tips! Thanks so much!
More Kentucky Travel Guides
Pin this Paducah Things to Do Guide