One of the most iconic sights in the Eastern United States from Georgia all the way to New England are covered bridges. These are the most famous covered bridges in Kentucky.
Did we miss any of Kentucky's covered bridges? Let us know in the comments! Thanks!
Covered Bridges in Kentucky Map
To add this map to your Google Maps account, click the 'Star' icon next to the map name. You can then view it on your cell phone or computer by heading to your Google Maps account, click the menu and add it to 'Your Places'.
Covered Bridges in KY – List
Bennett's Mill Covered Bridge
Built in 1855, the 195-foot long Bennett's Mill Covered Bridge was once considered the oldest and longest-covered wooden bridge in the world.
Located in northeast Kentucky, near South Shore town, the bridge crosses Tiger Creek and is open to foot and vehicle traffic. Many of the bridge's original footings and frame remain undamaged, making it one of only 13 bridges in Kentucky still left intact.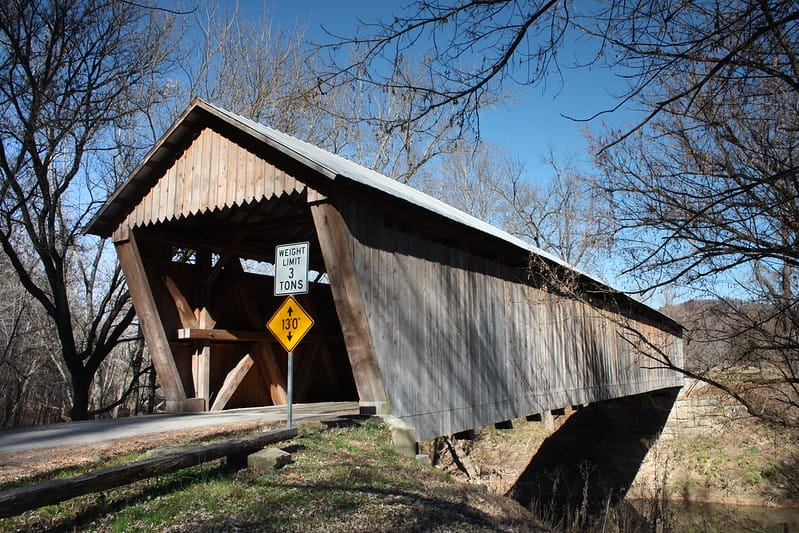 It has never been painted, and its current rustic appearance is the product of years of surviving major flooding. This one-span-covered bridge is the only example of the US's Wheeler truss-style still standing.
It was built by the Bennett brothers with the primary purpose to accommodate customers at the nearby mill. Make sure to visit the bridge during June to take part in Dinner on the Bridge, which is a one-day event, and enjoy your rustic-style dinner!
Cabin Creek Covered Bridge
Located in the northwestern part of Lewis County, the 114-foot long Cabin Creek Covered Bridge was constructed in 1867.
Heavy storms left the bridge inaccessible for foot and vehicle traffic; thus, it was closed in 1983, but it reopened to small vehicle traffic in early 2014 following extensive reconstruction.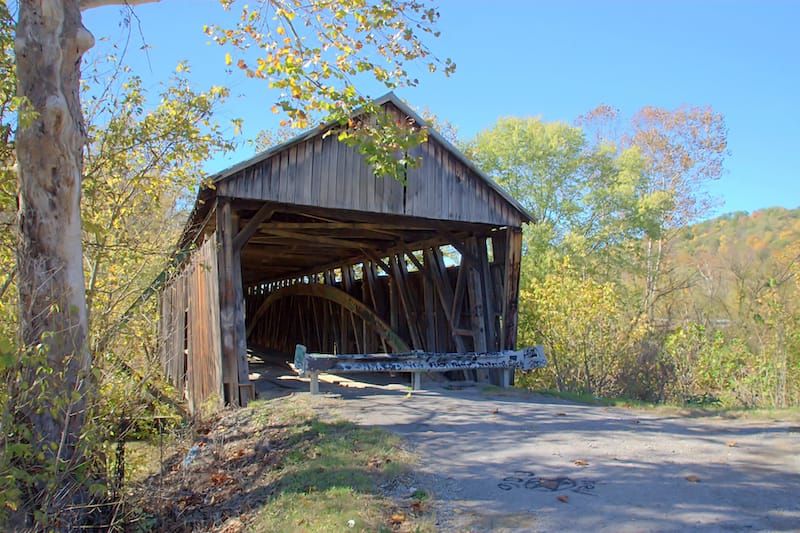 This single-span-covered bridge spans Cabin Creek about 4.5 miles northwest of Tollesboro.
Also known as Rectorville Bridge or Mackey-Hughes Bridge, it is considered one of Kentucky's still-standing covered bridges built in multiple kingpost style.
Colville Covered Bridge
At 124 feet long and 18 feet wide, Colville Covered Bridge was built in 1877 in Bourbon County and is a must-visit place for those obsessed with creepy stories.
It spans Hinkson Creek approximately four miles northwest of Millersburg, Kentucky, and is famous for its (rumored) three tragedies that left a mark on the bridge.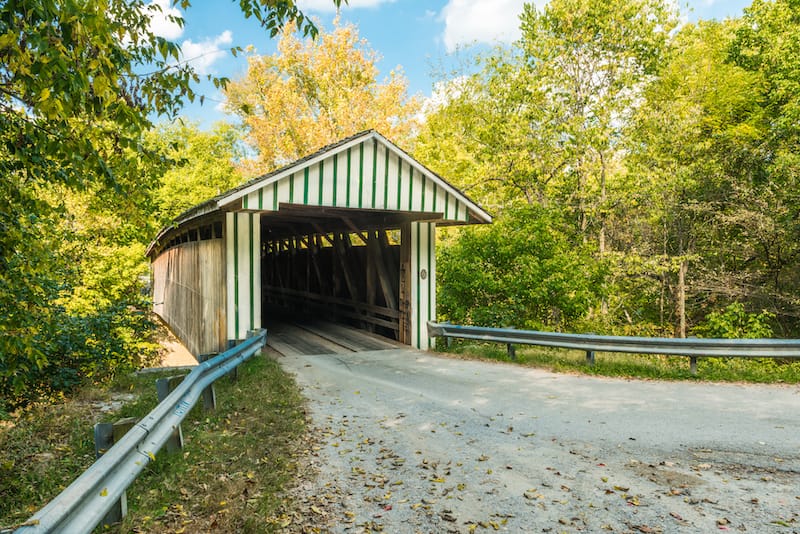 The bridge was heavily restored after being destroyed by flooding in 1997 and was recently reopened to vehicle traffic, making it one of only a few drive-through-covered bridges.
The Kentucky covered bridge is constructed in Burr truss design, which consists of multiple kingposts made of yellow poplar for its stability and panel posts spaced about 10 feet apart.
After its construction, the wood shingle roof was installed back in place as well as the trass camber. The bower green and white portal details were added to the bridge to make the bridge's appearance as close to the original as possible.
Goddard Covered Bridge
Goddard Covered Bridge, also known as the Goddard White Covered Bridge, is one of KY's remarkable structures and its original construction date is unknown.
It spans 63 feet over Sand Lick Creek and is located in southeast Flemingsburg in Goddard, Kentucky. It was initially located approximately one mile south of Goddard, but then the reconstruction of the Highway in 1933 resulted in its current location.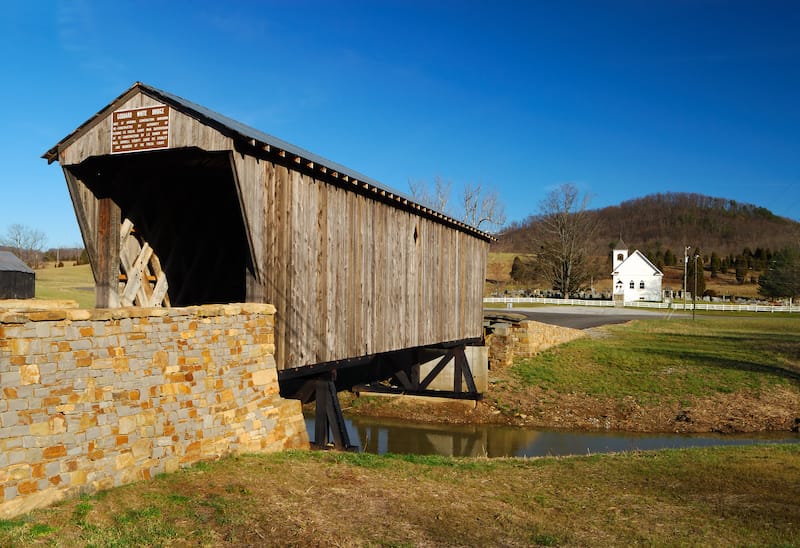 Visit the bridge to get a chance to witness Kentucky's only remaining example of the Ithiel Town Lattice design.
The bridge is open for daily foot and vehicle traffic. It was restored in 1968 with the aim of preserving as much of the original roofing, bracing, and siding as possible. ]
Visitors will certainly appreciate the interior lattice design of the bridge, which perfectly frames the county church situated just beyond the bridge.
The bridge has its own place in the list of the National Register of Historic Places.
Hillsboro Covered Bridge (Grange City)
Located in southeastern Fleming County in south Hillsboro, the Hillsboro Covered Bridge, also known locally as Hillsboro-Grange City Covered Bridge, is a covered Burr arch-truss that spans Fox Creek.
The bridge's original completion date is believed to be in the 1860s, but later, in 1968, its construction was discontinued and about 46 meters were replaced by a concrete bridge.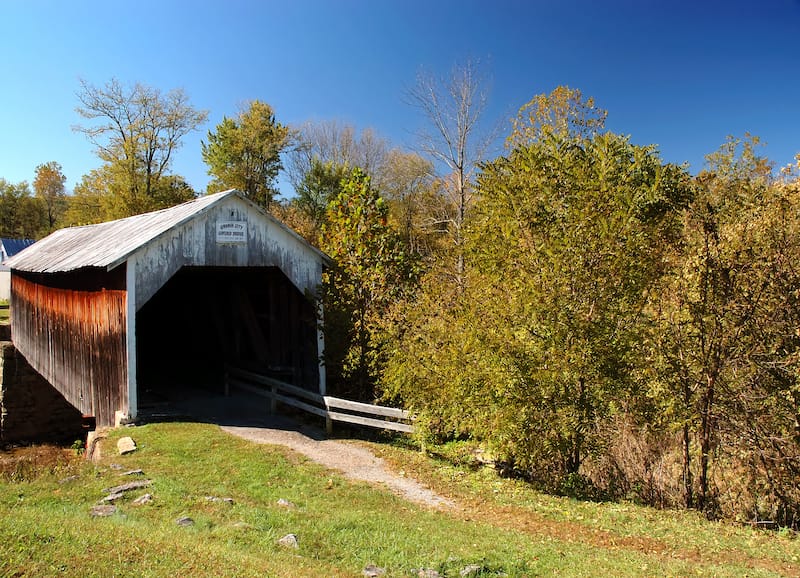 The bridge is a great example showcasing 1814's patented truss design of Theodore Burr, which involved the use of multiple kingposts. The construction of this 86-feet-long covered bridge featured yellow pine timber along with double-shouldered braces.
The withered roof and rustic siding were replaced in 1984 by oak planking and a metal roof, making the bridge more durable to sunlight and weather surprises.
Visitors will certainly notice the unique watermark on the siding, which was left by a heavy flood in 1997 and still gives an impression as it was created yesterday and is particularly gorgeous during winter in Kentucky.
Johnson Creek Covered Bridge
Built in 1874, the 114-foot long and 16-foot wide Johnson Creek Covered Bridge is located in the north of Blue Licks Battlefield State Park on the southern edge of Robertson County.
It is one of Kentucky's 13 still-standing covered bridges; unfortunately, it is no longer in use.
However, the bridge stands out from others due to its unique Robert Smith's truss style, which is the only example in Kentucky. It is the only covered bridge known to be constructed by Jacob N. Bower.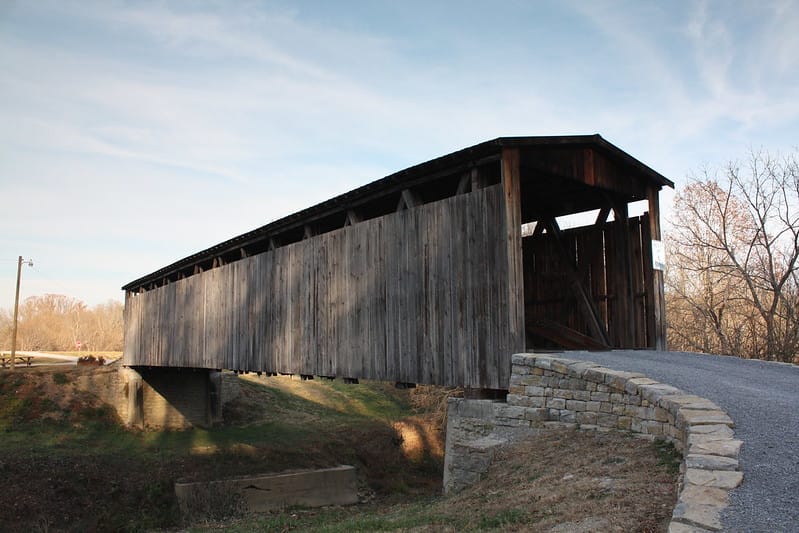 In 1912, arches were added on both sides of the bridge by Jacob Bower's son to support the heavy traffic. The bridge crosses Johnson Creek and is known for its challenges over the years.
In 1966, the bridge was closed to vehicle traffic due to a new bypassing alignment; in 1968, a severe arson attack nearly damaged the entire bridge; and in 1997, heavy floods dislocated the foundation of the bridge, deforming it in the process.
Lee's Creek Covered Bridge (Dover)
As Kentucky's oldest covered bridge, the historic 61-foot long Lee's Creek Covered Bridge crosses Lees Creek and is located in the northwestern part of Mason County near Dover.
It was built in 1835 with the primary goal of serving as a toll bridge. It stands out with its unique queen post truss design and is still open to traffic.
During its lifespan, the bridge has undergone many renovations- the first in 1926 by the Bower Bridge Company and the other one in 1966 by the Kentucky Highway Department.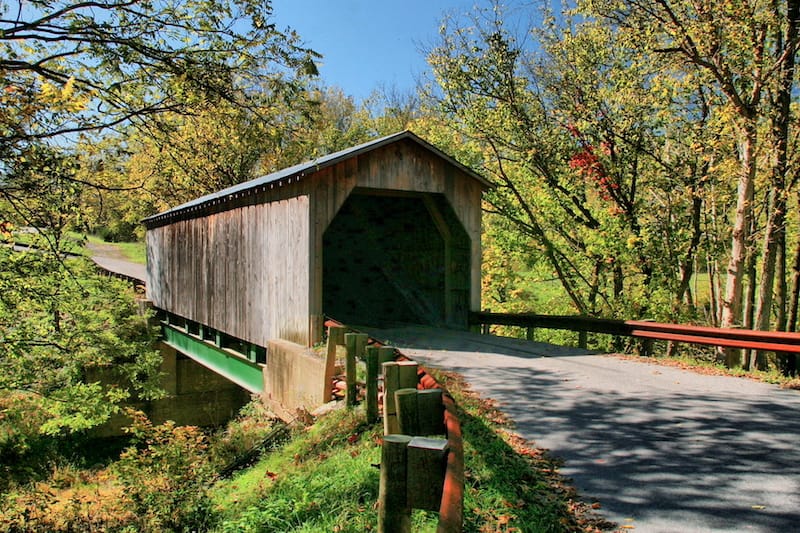 Its last renovation was done in 2001, during which the iron support beams were added on the sides of the bridge's foundation to make it withstand the weather changes and heavy traffic. In 1976, it was added to the list of National Register of Historic Places.
Oldtown Covered Bridge
The 192-foot Oldtown Covered Bridge, located near Oldtown on the northern edge of Carter-Grayson County, carries Frazer Branch Road over the Little Sandy River.
This is a two-span and brace bridge in Burr arch truss-style, which was built in 1880. The renovation was completed in 1999 with the intention of making it look as close to the original as possible.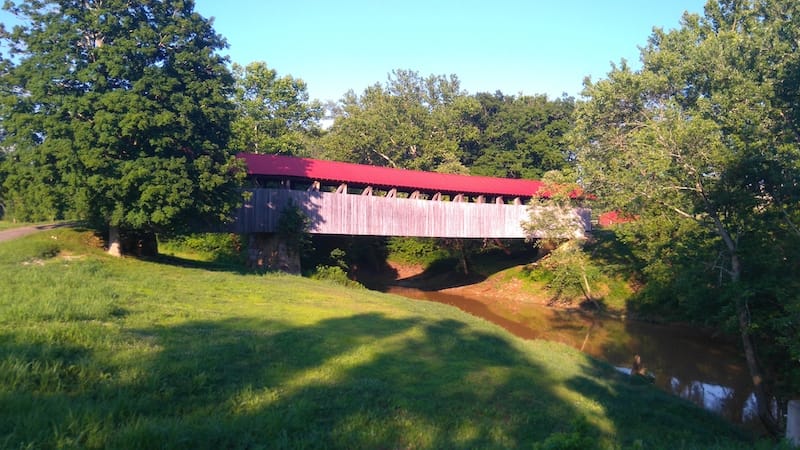 However, for rebuilding this heavily withered structure, extra durable materials were needed, which definitely altered its original appearance.
Currently, the bridge is closed to vehicle traffic but is accessible for pedestrians. Since 1976, this bridge has its own unique place in the list of the National Register of Historic Places.
Ringos Mill Covered Bridge
Located near Ringos Mills in the southeastern part of Fleming County, Ringos Mill Covered Bridge was built in 1869 over Fox Creek.
The 90-foot long, single-span bridge was constructed in Burr truss style and features multiple kingposts with no arches. It served as a link with a nearby gristmill in the 1800s, from which it got its name.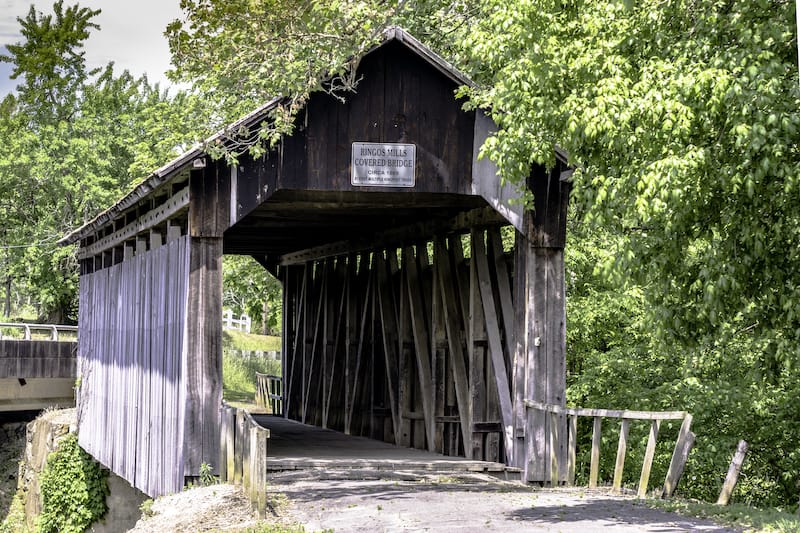 The bridge is no longer accessible for vehicles but is open to foot traffic. It has clerestory openings in upper side parts for ventilation and sunlight, and its timbers are made of yellow pine.
Switzer Covered Bridge
The historic 120-foot long Switzer Covered Bridge is Franklin County's only covered bridge and it is a true survivor. It was damaged and restored a few times but in 1977, heavy floods completely dislocated and damaged the bridge's foundation.
Major reconstruction in 1998 managed to fix the salvageable bridge back to its original state with few added modern touches. It was built in 1855 by George Hockersmith in Howe truss design.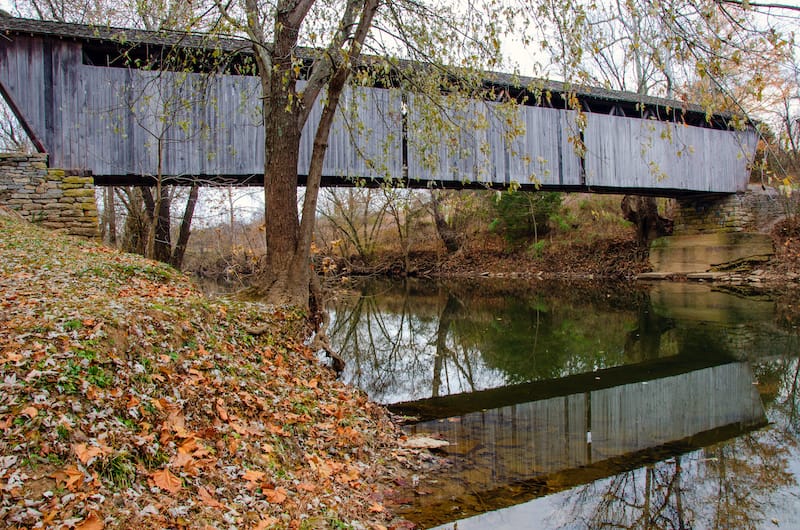 Spanning North Elkhorn Creek, the bridge is located in Switzer and is currently closed to vehicle traffic. Since 1974, the bridge has been listed on the National Register of Historic Places.
Walcott Covered Bridge
The only covered bridge in Bracken County, Walcott Covered Bridge was built in 1824 and is nestled in Walcott on the northern part of Brooksville.
It was rebuilt in 1881 and remained at its original site until 1999.
However, the bridge was heavily damaged by severe flooding in 1997 and 1998 and engineers decided that relocating it 400 feet east of its original location would improve the bridge's chances of survival.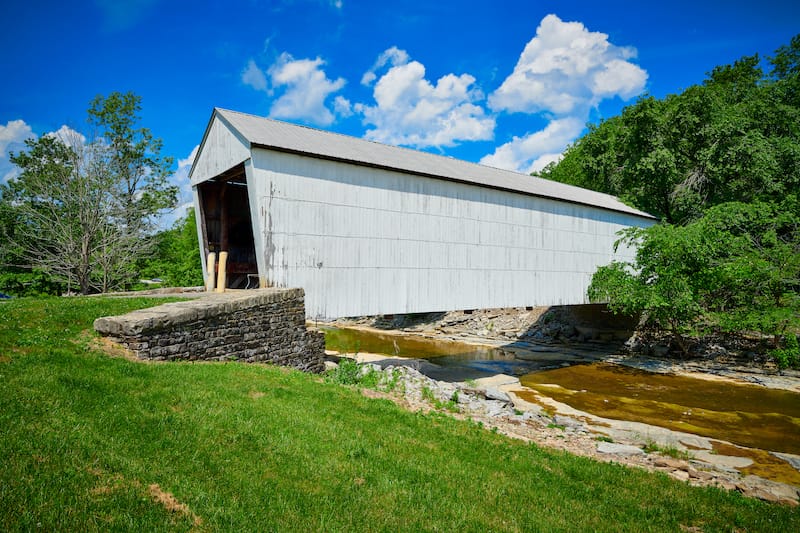 Extensive usage and heavy flooding made the bridge wither, which was recently restored in 2002 and is currently only accessible for pedestrians.
Crossing Locust Creek, the bridge is also known as the White Bridge due to its white siding and is a great example illustrating king and queen post truss design. This 74-foot-long bridge served a crucial role in the Raid on Augusta during the Civil War.
Did we miss any covered bridges in Kentucky that you think should be on the list?
Have you visited any of Kentucky's covered bridges? Let us know in the comments!
More Kentucky Travel Resources
Pin this Kentucky Covered Bridges Guide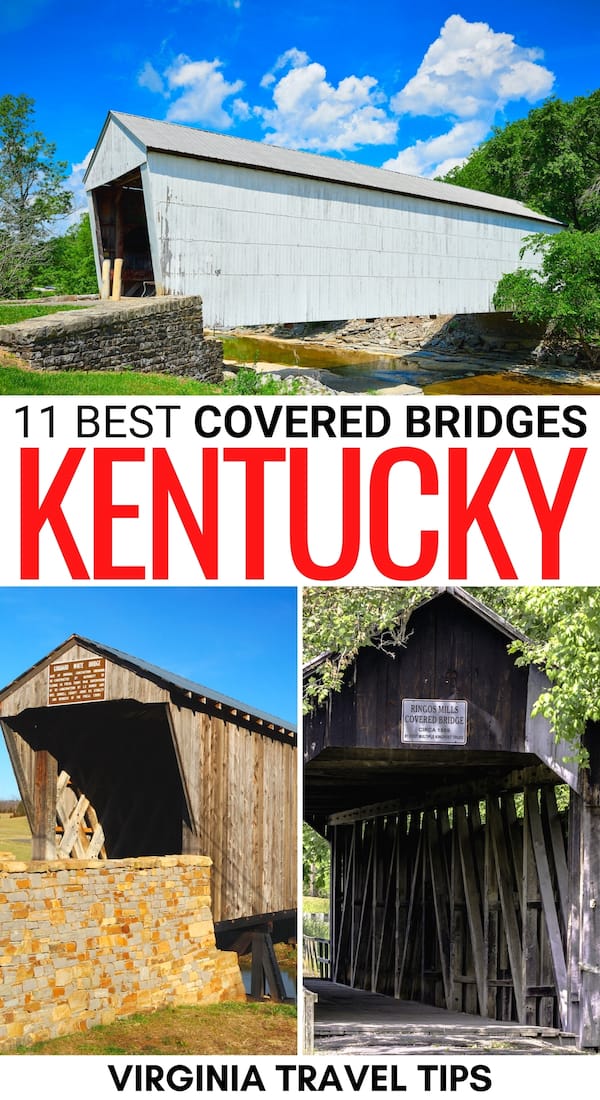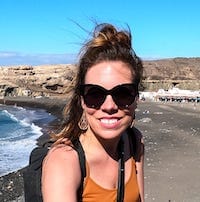 Megan is a travel blogger and writer with a background in digital marketing. Originally from Richmond, VA, she has lived all around the world (including Germany, Finland, Norway, etc) but her heart always finds its way back to Virginia. This blog is to help encourage travelers to explore the great state of VA… and its wonderful neighbors! Megan has written for or been featured by National Geographic, Forbes, Lonely Planet, Fodor's Travel, the New York Times, and more. She has visited 45 US states and 100+ countries… and wholeheartedly believes that Brunswick Stew is probably the greatest food to ever exist.