One of the best ways to get in touch with nature and have a fun family-friendly adventure is to go apple picking! This guide details the best apple orchards in Kentucky that you can enjoy this fall!
When the harvest starts, orchards welcome visitors every year who can go pick their own fresh fruits and sometimes vegetables.
You can even check out festivals or entertainment depending on the time of year you visit. Most orchards are open from the spring to the fall, so be sure to plan accordingly.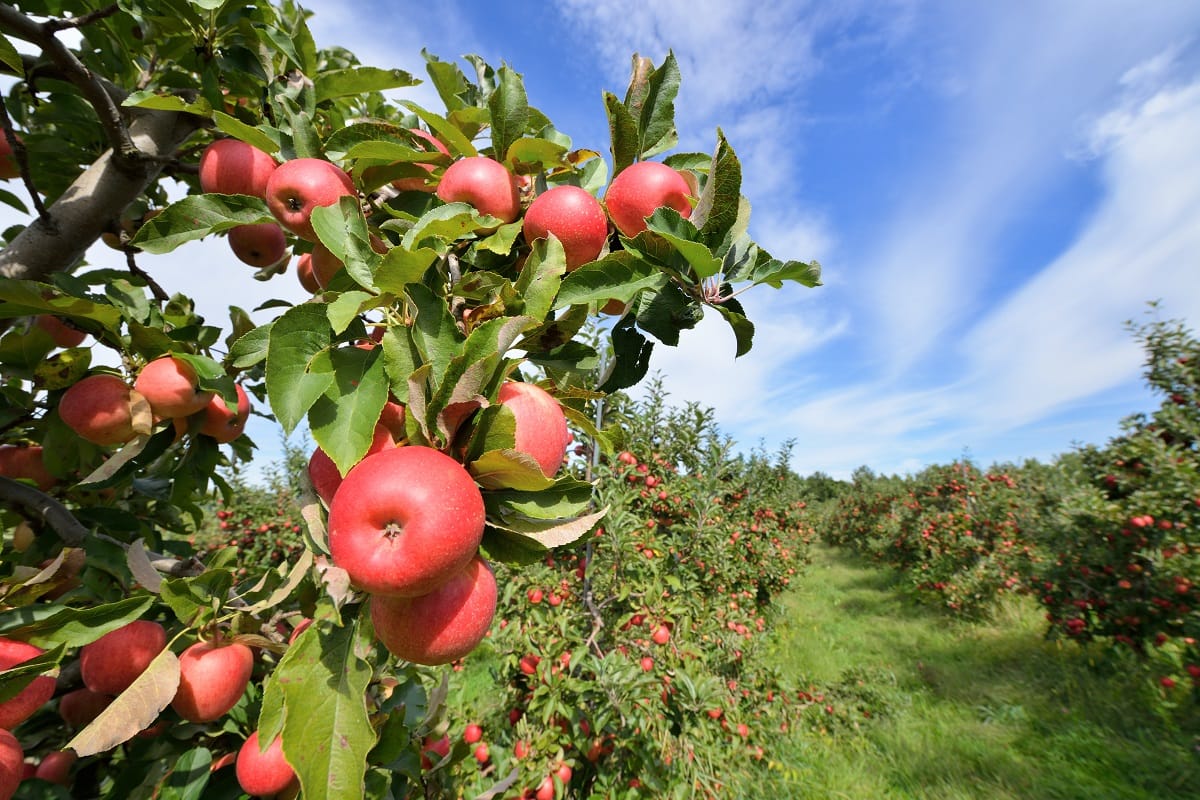 With all of its beautiful nature and surroundings, Kentucky is home to dozens of apple orchards that are not only home to freshly grown apples, but also peaches, blueberries, pears, and even pumpkins.
If you're looking to add this very American adventure to your bucket list, you've come to the right place!
Here is our list of the top apple orchards in Kentucky to check out. Did we miss any amazing places to go apple picking in Kentucky? Let us know in the comments!
Best Apple Orchards in Kentucky
James Bennett's Orchard
James Bennett's Orchard in Kentucky is all about naturally grown, extra-tasty fruit. Not only is the fruit top-quality, but the staff is also very friendly and welcoming.
The orchard has a large base of loyal customers who come back year after year because they love the apples and peaches that grow here.
You'll be sure to leave the orchard with bags overflowing, at very reasonable prices to boot!
While visiting in the autumn will give you trees laden with fruit, it's well worth a stop in the spring, as you will be able to see the beautiful trees in full bloom.
Address: 591 Bennett Rd, Buffalo, KY 42716
Reid's Orchard
When Scotland native Allan Reid moved to America in 1873, he fell in love with peaches and apples so much that he wanted to start his own farm. Thus, Reid's Orchard was born.
The farm has been passed down through the Reid family over generations.
Thousands of people from Owensboro and beyond have enjoyed tons of fruit and gallons of cider during its 140-year history.
This orchard is one of the first in Kentucky to adopt high-density apple farming, with trees producing 800-1000 bushels per acre.
Currently, the farm now grows strawberries, apples, peaches, blackberries, pears, cherries, and a variety of vegetables. Also, don't miss the Apple Festival!
Started by the Reid family as a community event in 1986, the Apple Festival now attracts 25,000 people every third weekend in October.
Its popularity has soared and the festival was selected as one of the Top 10 Festivals in Kentucky.
Address: 4818 KY-144, Owensboro, KY 42303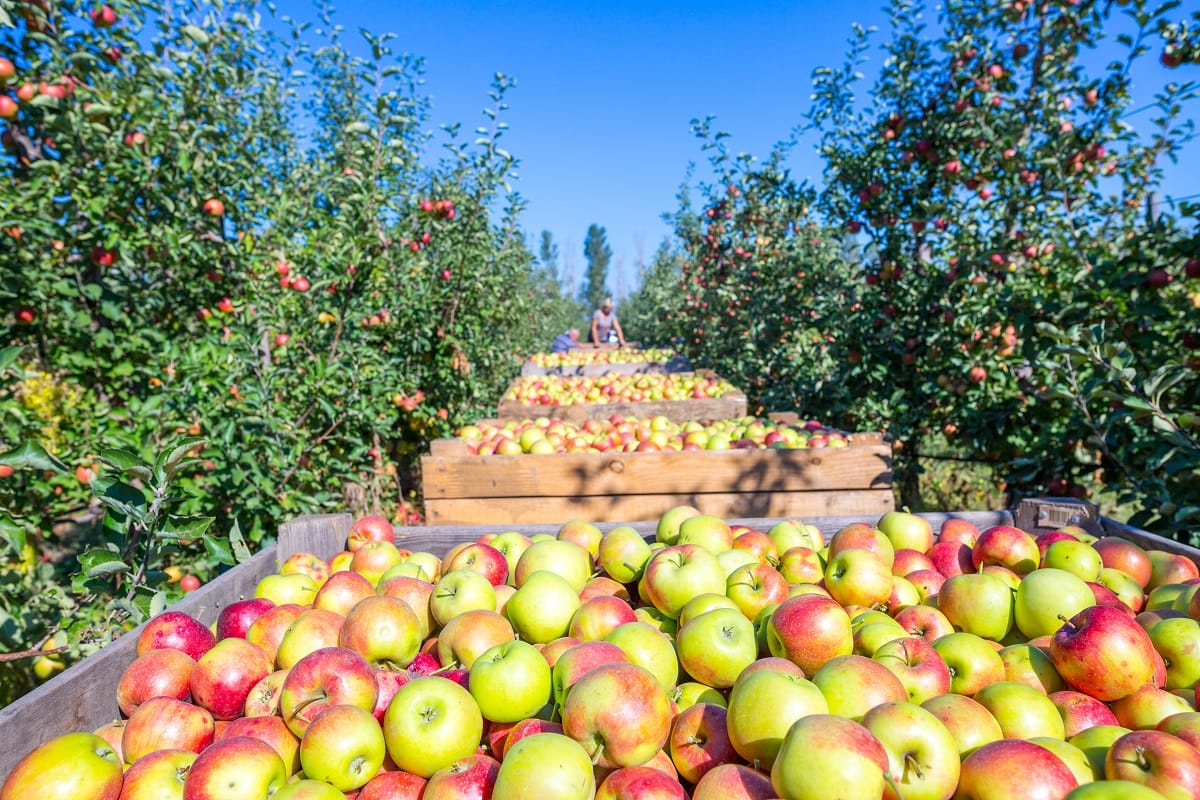 England's Orchard & Nursery
England's Orchard & Nursery was established in 1960 when many kinds of fruit and nut trees were planted on a farm in southeastern Kentucky.
This orchard is set apart from others in the region because, although the land is naturally very suitable for growing trees, the owners developed improved propagation strategies.
These strategies are largely based on extensive research and data obtained from the agricultural community through the University of Kentucky in Lexington.
There are many different types of trees available for order, like scion wood, grafted pawpaw, pawpaw seed, Asian pear, hawthorn, persimmon, and quince.
Also, note that while you're more than welcome to visit, you'll need to make an appointment beforehand.
Address: 2338 State Hwy 2004, McKee, KY 40447
High Hill Orchard
The mission of High Hill Orchard, a welcoming farm located in Henderson County, is to grow healthy, fresh food in a sustainable manner.
One loved feature of this orchard is its U-Pick Berry patch. It opens in early June and runs through mid-August.
If you enjoy berries, especially blueberries, make sure to plan your trip so that you visit High Hill during the right season.
On the list of available things here, you'll also find fresh jam, eggs, and pork.
Also, note that the orchard hours are seasonal, and to participate in a farm tour you'll need to make an appointment.
Address: 1018 Alves Ferry Rd, Henderson, KY 42420
Jackson's Orchard & Nursery
This fruit orchard and nursery has a long history in Kentucky, operating for more than 100 years.
The high elevation and rich soil serve as an excellent spot for growing some of the tastiest apples in the whole state.
Jackson's Orchard & Nursery currently has more than 7,000 trees consisting of apples, peaches, and cherries. Other specialties here include honey and all-natural apple cider.
Plus, let's not forget the festivals too: Jackson's Orchard & Nursery hosts some great ones, like the Pumpkin Festival, Peach Festival, and Apple Fest.
To get the grand tour and learn some insider insight about the farm, this orchard offers 2-hour guided tours.
The tours include a hayride to the pumpkin patch, a pumpkin to take home, access to the children's play area and the Goat Ranch petting area, and much more.
Address: 1280 Slim Island Rd, Bowling Green, KY 42101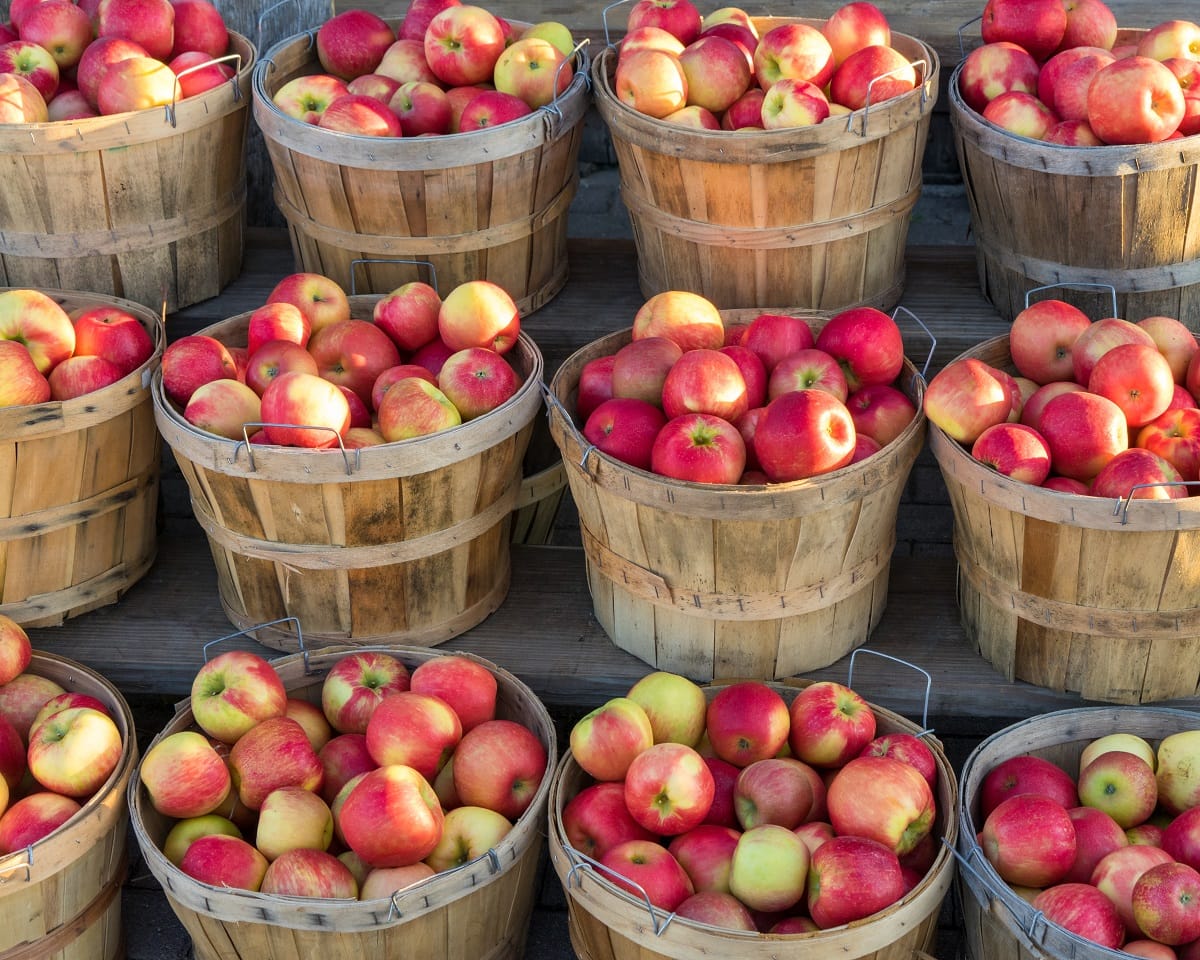 McGlasson Farms
Operating for more than six generations and a source of mouth-watering apples, McGlasson Farms definitely should be on your list of apple orchards to visit.
During the months of July to November, the freshly-picked harvest from the farm is sold at their roadside stand.
They mostly offer their products through their stand, but there is also a chance to pick-your-own produce, although this is only available during certain times of the year.
Apart from apples, a few of the specialties from McGlasson Farms are home-grown tomatoes, potatoes, green beans, peppers, and peaches in the summer, and pumpkins, sweet potatoes, and apple cider in the fall.
You can also check out the fall music festival on weekends in October.
Address: 5832 River Rd, Hebron, KY 41048
Evans Orchard and Cider Mill
Evans Orchard and Cider Mill is not only an orchard but is also a place that boasts a variety of activities you can enjoy.
It's a very family-friendly place where you can bring your kids, let them play, then enjoy a homemade fried apple pie, cider slushies, and much more.
The farm is spread out over 300 acres with 20 acres of apple, peach, and pear orchards, as well as more than 20 acres of fresh-picked vegetables that are available at their Farm Market and Gift Store.
At the Farm Market, you have a wide selection, which includes fresh fruits and vegetables, honey, homemade jams and jellies, and fresh-pressed apple cider.
If you feel hungry during your visit, make sure to visit the Sweet Apple, their original sale shed that has been converted into a delicious café.
Address: 198 Stone Rd, Georgetown, KY 40324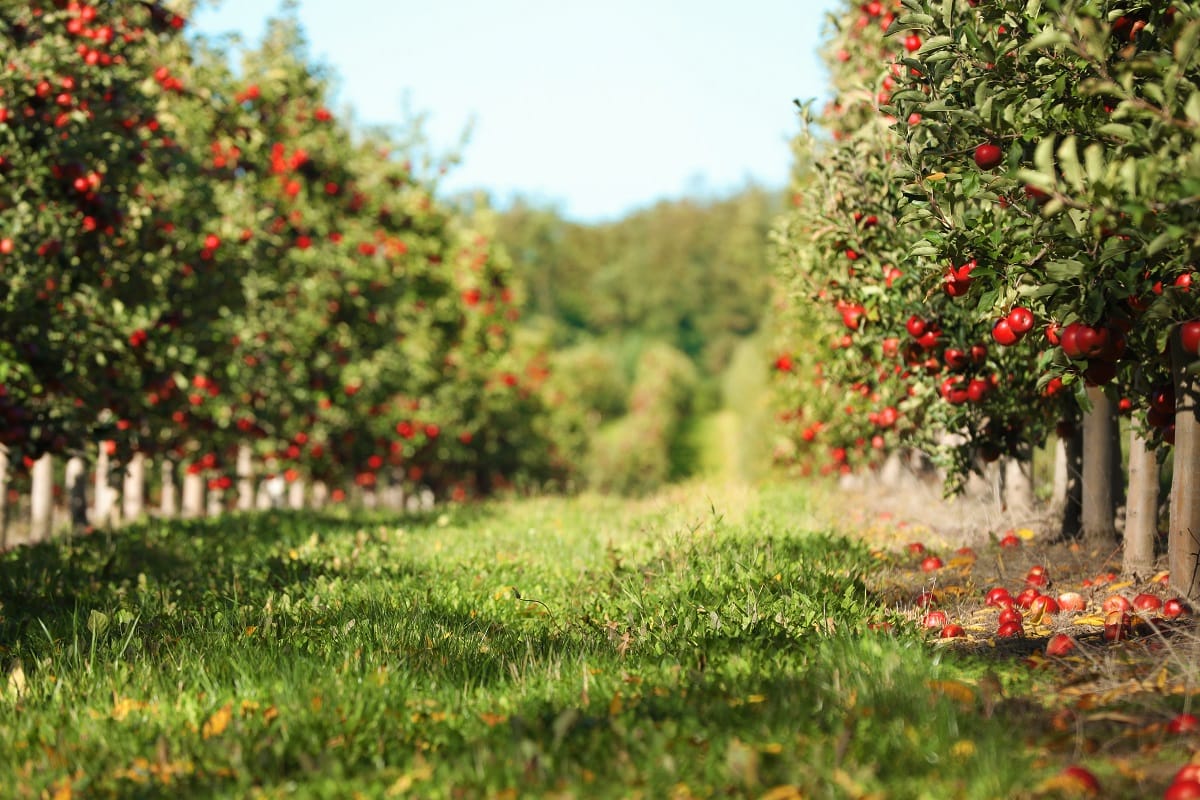 Sandusky's Orchard
Sandusky's Orchard is the source of Casey County Apples, which are grown with love and sold with Sandusky family charm.
This orchard is famous for growing unique apple varieties like Arkansas Blacks.
The fantastic harvest quality and taste have brought back regular customers for years on end. The farm has been successfully harvesting for more than 40 years.
Something to keep in mind while planning your visit – the apples are so popular that sometimes they are sold out for the season… so make sure to call ahead!
Address: 488 Sharp Rd, Liberty, KY 42539
Hidden Hollow Orchard
Situated at the border of a major urban area, Hidden Hollow Orchard has rich wildlife, which combined with its great location near Oldham and Jefferson counties, makes this orchard unique.
The orchard has a beautiful wooded country setting and offers heirlooms and other varieties of U-pick apples. It also has a spacious picnic area where visitors can enjoy the beauty of nature as well as visit the rescue horses that live there.
One pleasant aspect of this orchard is that you will get the authentic family experience without the commercialized feel.
Everything is authentic, close to nature, and charming!
Address: 3200 Apple Hill Rd, Louisville, KY 40245
Berrylicious Orchard
Berrylicious Orchard is a veritable heaven of raspberries, blueberries, and blackberries.
It has a high rating as a berry-picking farm, where people come to harvest their quality berries in big quantities. The harvest season starts around mid-May and lasts until mid-July.
The berry picking process is quite easy, so don't worry if it's your first time, as it's not too challenging. The orchard is very well-kept.
Most families visit with children, creating a memorable and tasty day both for parents and kids in the small KY town!
In addition to all this, the owners are very friendly and welcoming and sell their produce at great prices.
Address: 531 Clay Starks Rd, Woodburn, KY 42170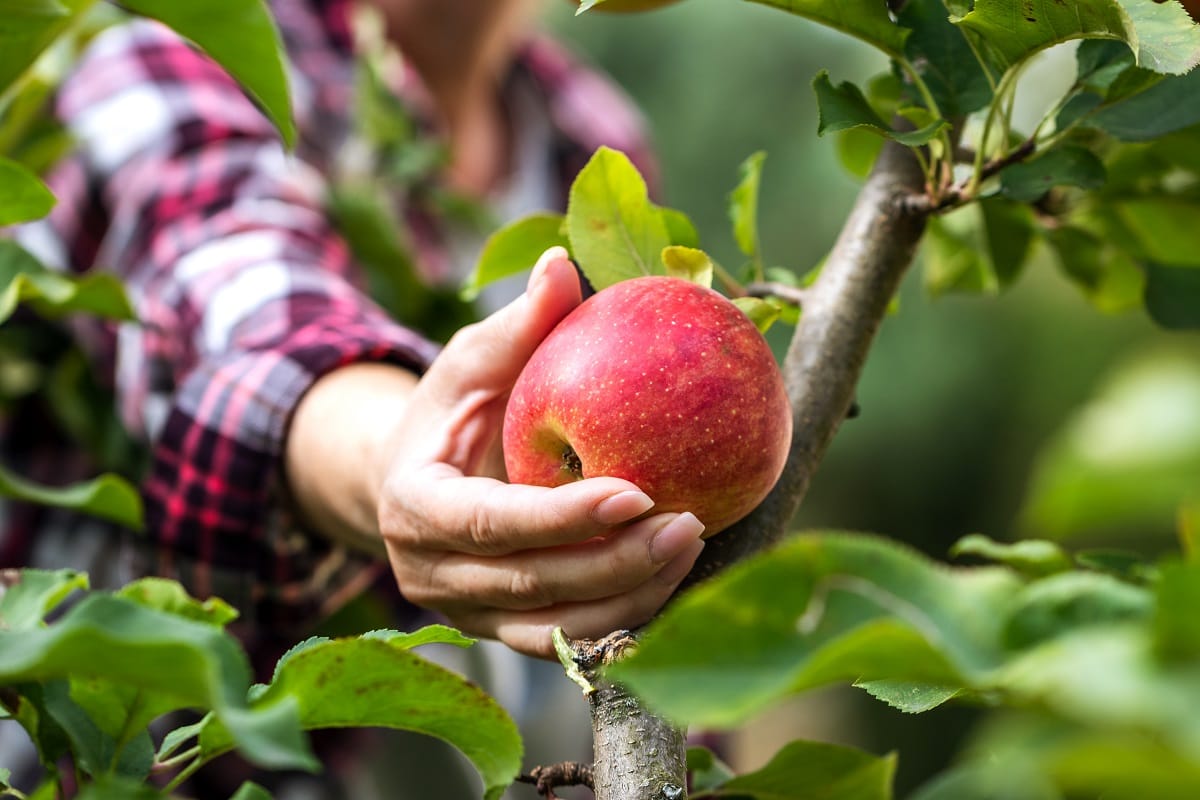 Haney's Appledale Farm
Located in the small community of Nancy, Haney's Appledale Farm has become a well-recognized orchard in south-central Kentucky. The farm started operating in the 1870s.
One prominent feature of this place is that the Somerset-Pulaski County Chamber of Commerce announced Haney's Appledale Farm as Pulaski County's oldest business in continuous operation.
For many years, their roadside fruit stand has been a staple of fresh fruit for people of the Lake Cumberland region.
The farm covers more than 450 acres and offers 25 varieties of apples, and 10 varieties of peaches, pears, and nectarines.
At certain times of the year, the orchards are open for visitors to harvest fruit by themselves.
They also have many sugar-free products and seasonal produce in the form of jams, jellies, gourmet cheeses, special sauces, and much more.
Address: 8350 KY-80, Nancy, KY 42544
Hinton's Orchard & Farm Market
Hinton's Orchard & Farm Market is the ultimate place in the state to shop for flowers, fresh produce, baked goods, and gift items.
Fresh produce is available here from April through late fall in November.
In addition to growing vegetables, berries, flowers, and Christmas trees, the farm also produces burley tobacco and soybeans.
When visiting, you can pick your own strawberries and pumpkins and enjoy the play area of Hinton's FarmLand, hayrides, corn mazes, and farm festivals.
This orchard participates in the Kentucky Proud program as well as the Kentucky Farm Bureau's Certified Farm Market Program.
Hinton's Orchard has also been named Best in Kentucky for Agritourism Sites by Kentucky Living magazine readers and as the best pumpkin farm in the area.
All of these awards, plus the superb quality of the crop, make this orchard a must-visit in Kentucky.
Address: 8631 Campbellsville Rd, Hodgenville, KY 42748
Did we miss any incredible apple orchards in Kentucky on this guide?
Let us know your favorite places for apple picking in Kentucky in the comments. Thanks!
More Kentucky Travel Guides
Pin this Apple Picking in Kentucky Guide