Kentucky is such a green and picturesque state. And these waterfalls in Kentucky make it an even more exciting place to visit!
This list of Kentucky waterfalls is not conclusive as there are several throughout the state, but we tried to gather our top picks, including some of the best waterfall hikes in Kentucky.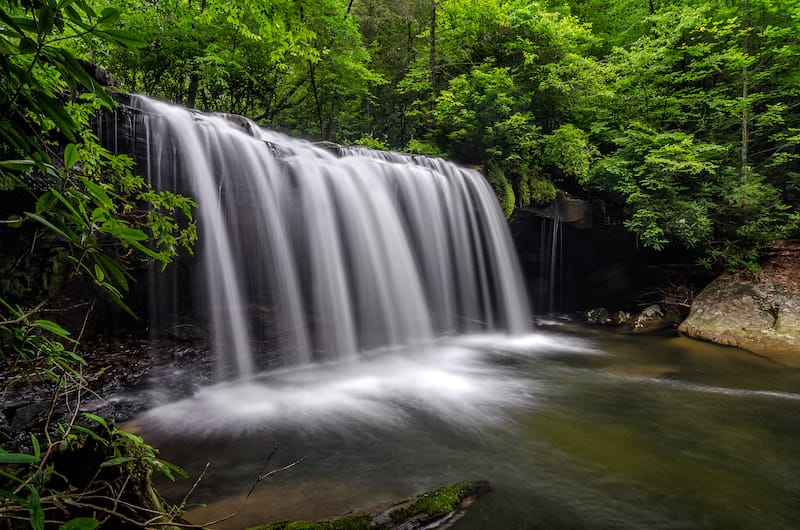 Did we miss one of your favorite waterfalls in KY? Let us know in the comments! Thanks!
Waterfalls in Kentucky Map
To add this map to your Google Maps account, click the 'Star' icon next to the map name. You can then view it on your cell phone or computer by heading to your Google Maps account, click the menu and add it to 'Your Places'.
Best Kentucky Waterfalls – The List
Cumberland Falls
Location: Cumberland Falls State Park
Height: 69 feet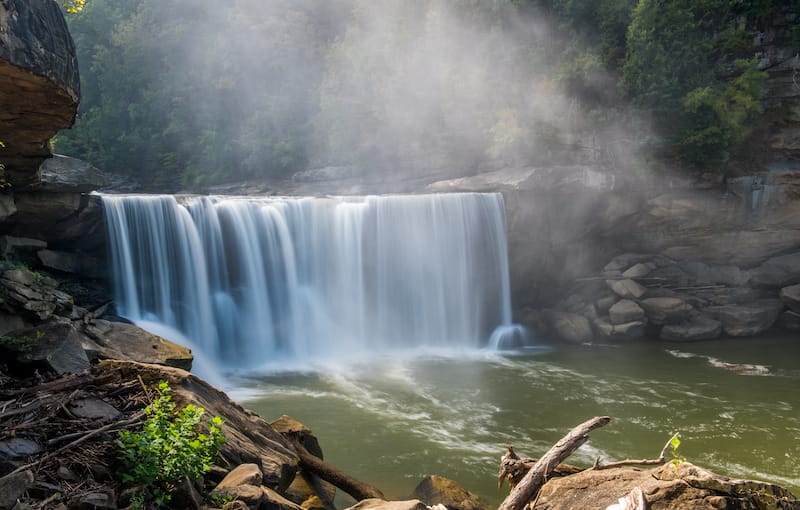 Known for being one of the greatest and most scenic waterfalls in Kentucky, the 69 feet tall, 125 feet wide Cumberland Falls is located in Cumberland Falls State Park.
Due to its size, it is also named the "Niagara of the South," which definitely makes it stand out from others. This gorgeous waterfall plunges down straight into a rocky gorge providing breathtaking scenery followed by a thunderous crashing sound.
Visit the falls during the full moon and increase the chances of witnessing one of nature's rare phenomena, the stunning moonbow forming over the waterfall due to the mist produced.
Visitors can also find various lodging, hiking, fishing, swimming, camping, gem mining, and other recreational activities while in the Kentucky state park. This is one of the absolute best places to visit in Kentucky!
Princess Falls
Location: Daniel Boone National Forest
Height: 13 feet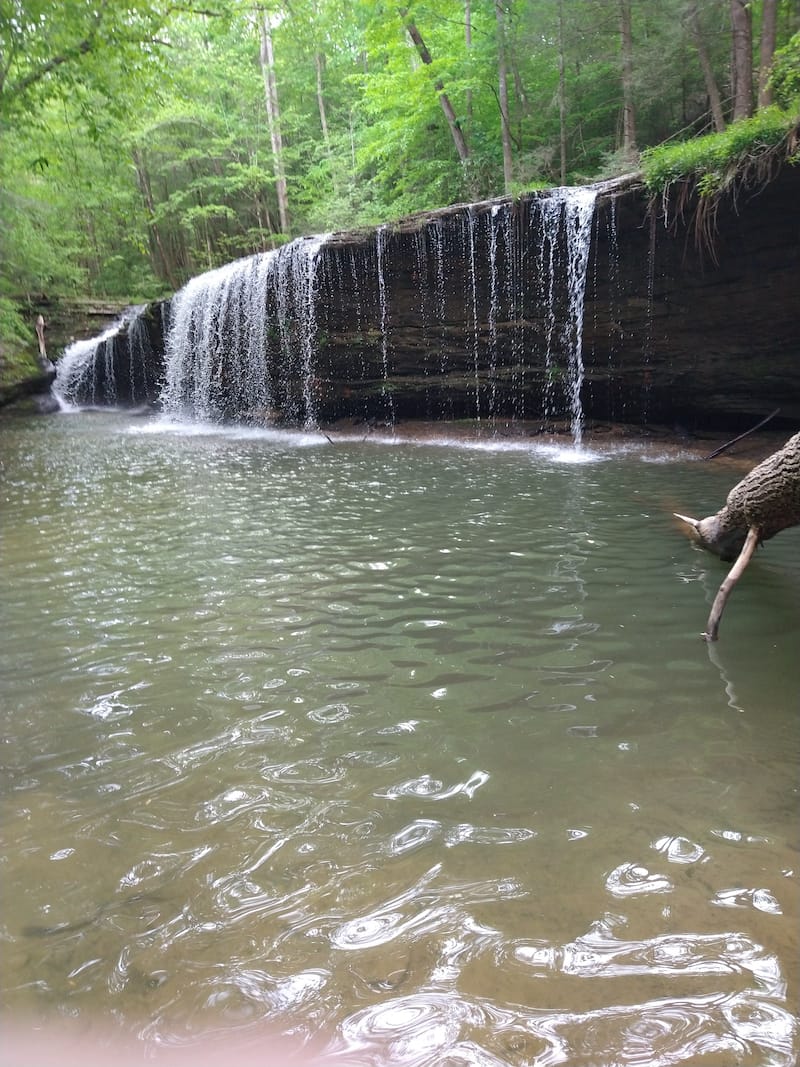 Princess Falls on Lick Creek, located in McCreary County (in Daniel Boone National Forest), will make you feel like you're in a paradise. Plan your trip to Yamacraw Day Use Area of the Big South Fork National River and Recreation Area, get on the 2-mile long Sheltowee Trace Trail, and reach gorgeous Princess Falls.
The trail offers a moderate hike for all age groups and is perfect for walking, birdwatching, or simple nature trips. Get a view from the top of the waterfall or from a side or head to the bottom of the falls to enjoy some rock climbing.
Nearby, you will find a great picnic location in a rocky sitting area where you can catch up on reading your favorite book around a campfire.
Town Creek Falls
Location: Monticello
Height: 54 feet
Monticello's secret gem, Town Creek Falls, offers its visitors mesmerizing views amidst greenery and rocky boulders.
The stream flows over several small cascades along the upper section before getting to a 50-foot drop on the steepened creek's slopes. You can hike a trail to discover the base of the falls. Feel free to put your feet in the serene pool… but be aware of slippery rocks!
Eagle Falls
Location: Cumberland Falls State Park
Height: 44 feet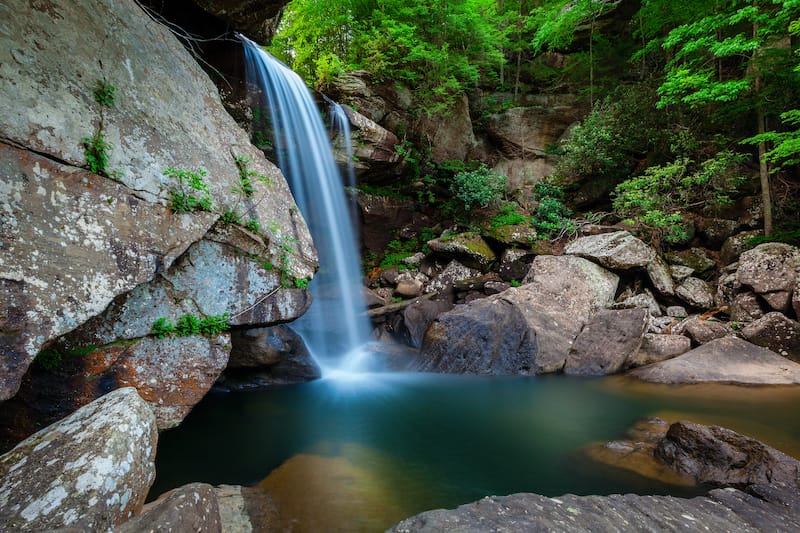 Fed by Eagle Creek and located in Cumberland Falls State Park, the 44-foot high Eagle Falls is Cumberland Falls' small neighbor. It flows down into a rocky pool that flows directly into the Cumberland River.
A 3-mile loop trail will get you to the Kentucky waterfall, ensuring awe-inspiring views of overhanging rocks, panoramic views of the scenic gorge, and a sight of the giant Cumberland Falls along the way.
If you are lucky and there haven't been any recent flooding, you can get behind the Falls, which will offer you unrivaled surrounding views. Make sure to enjoy the recreation opportunities offered in Cumberland Falls State Park when there!
Flat Lick Falls
Location: McKee
Height: 33 feet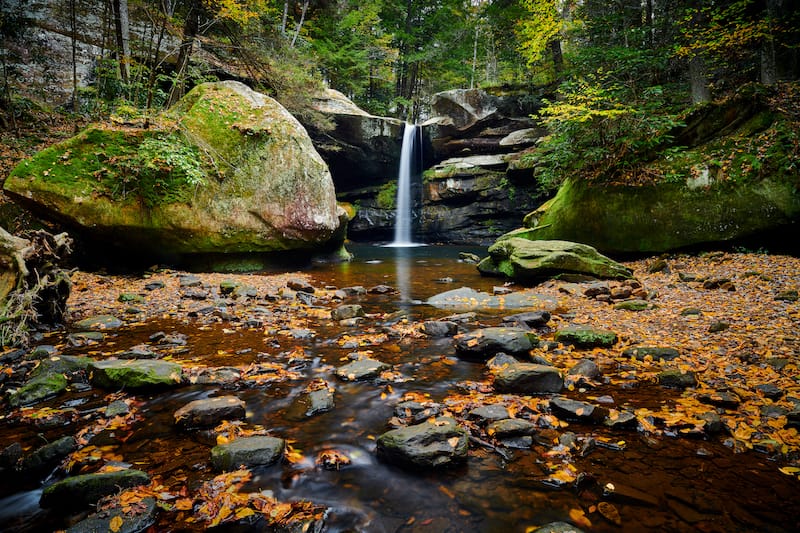 Flat Lick Falls, located 7 miles south of McKee in the Flat Lick Falls Recreational Scenic Park, is one of the lesser-known of Kentucky's waterfalls but it still awes visitors with its breathtaking views and nearby caves.
Flat Lick Falls Trail is a short family-friendly hiking trail that grants access to the 33-foot tall waterfall and is perfect for walking, birdwatching, and admiring the surrounding nature.
Be prepared to take a shot of the falls' scenic views from multiple viewpoints, which are accessible throughout the hike. Continue the hike down the dirt road to get a better view of the waterfall plunging straight into a splash pool amidst rocks and forest.
Bad Branch Falls
Location: Whitesburg, KY
Height: 60 feet
Visit Bad Branch Falls State Nature Preserve in Letcher County and witness its hidden secret, the 60-foot tall Bad Branch Falls. The falls are situated in the heart of the preserve on the southern side of the Pine Mountains and cascade down over sandstone cliffs into a magnificent rocky gorge, ensuring mesmerizing scenery.
A moderate, mile-long scenic hiking trail will lead you down an old timber hall path constructed in the 1930s and get you to the waterfall. Until you come upon the waterfall, the trail will take you on a journey exploring the area's stunning flora and fauna.
This 2500-acre nature preserve is also home to Kentucky's only pair of nesting ravens.
Anglin Falls
Location: McKee
Height: 75 feet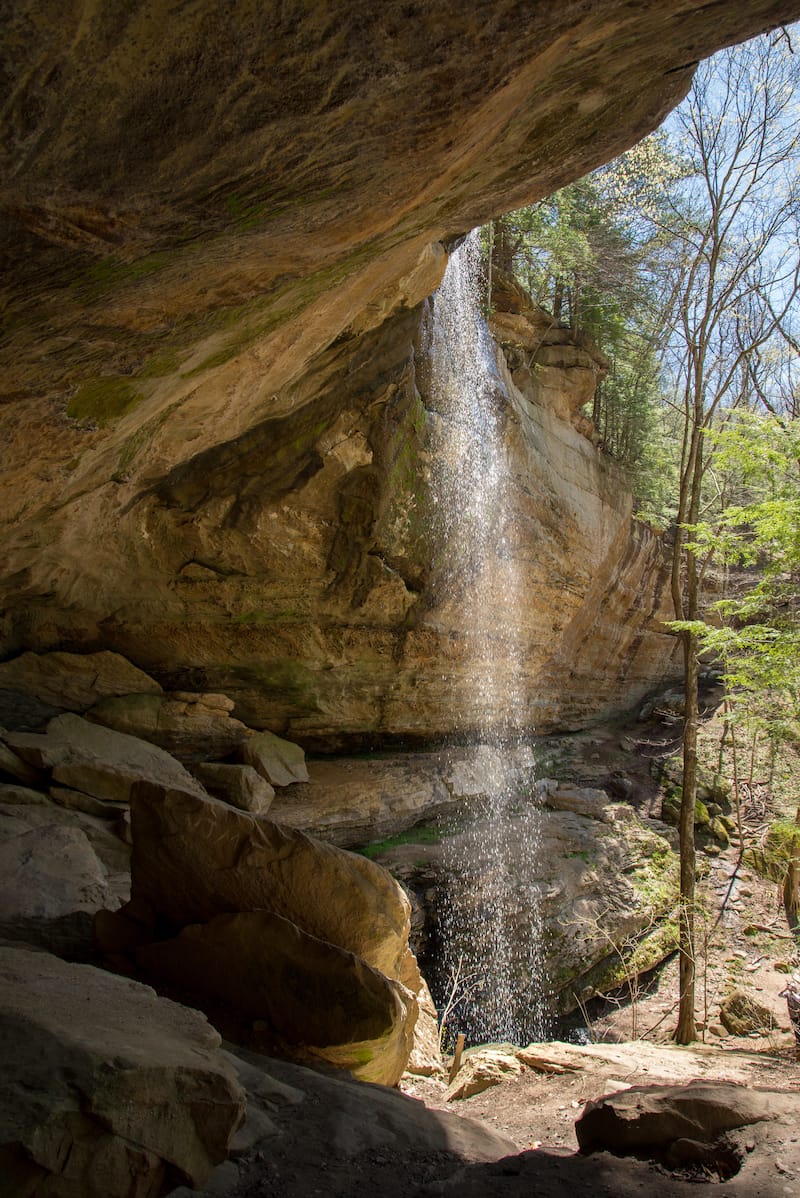 The 75-foot high Anglin Falls is fed by Anglin Creek and is a hidden gem of the John B Stephenson Memorial Forest and State Nature Preserve.
Spring is the perfect time to visit the Kentucky waterfall since you will get the chance to admire a powerful state after the snow melts and wildflowers blossom around it.
A 0.7-mile moderate hike with two creek crossings will get you to the stunning waterfall, which cascades down over massive boulders into a rocky pool.
The hike along the trail will offer you breathtaking scenery of cliffs and surrounding natural wonders, and you will surely want to revisit time and time again!
Yahoo Falls
Location: Big South Fork National River and Recreation Area
Height: 113 feet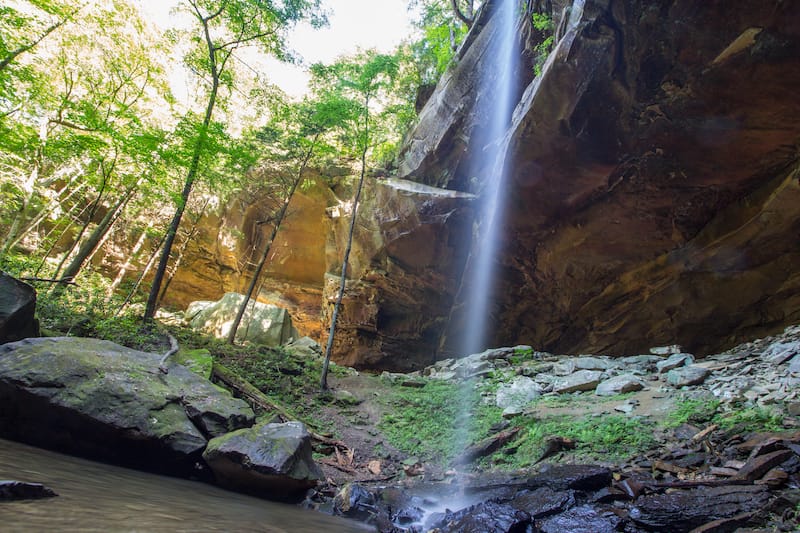 At 113 feet tall, Yahoo Falls is considered one of the tallest waterfalls in Kentucky (some say it is the tallest but others state it isn't).
This seasonal waterfall is located in Big South Fork National River Recreation Area in Whitley City and offers a 4.2-mile out and back hike to get to the falls, with an extra 0.75 miles along the same trail leading you to Yahoo Arch.
Make sure to visit the waterfall during spring since the dry summer months reduce the flow, and your hike will not be as worth the effort.
When visiting Yahoo Falls, try your best to get the views from above, below, and behind it in order to get the complete panoramic view of the falls and its gorgeous surroundings. This is a great weekend trip from Nashville and other parts of Tennessee, as well!
Torrent Falls
Location: Campton
Height: ?
Please note: This is a private waterfall and can currently NOT be visited unless you head to a rock climbing park.
Torrent Falls is located on the Middle Fork of the Red River adjacent to the Red River Gorge Geologic Area in the spectacular Red River Gorge area.
Torrent Falls is most powerful during the spring and it is located in the middle of Daniel Boone National Forest close to Torrent Falls Resort, famous for its hiking, climbing, birdwatching, and mountain climbing opportunities.
The vivid colors of the forest during fall make this place even more majestic and while you can't visit the falls currently, the surrounding area is worth a visit!
The area is famous for its medium to hard rock-climbing opportunities, making it an ideal destination for those looking for a challenging trip. This waterfall is part of the former Torrent Falls Climbing Adventure park (now Southeast Mountain Guides).
Honeymoon Falls
Location: Pine Mountain State Resort Park
Height: 25 feet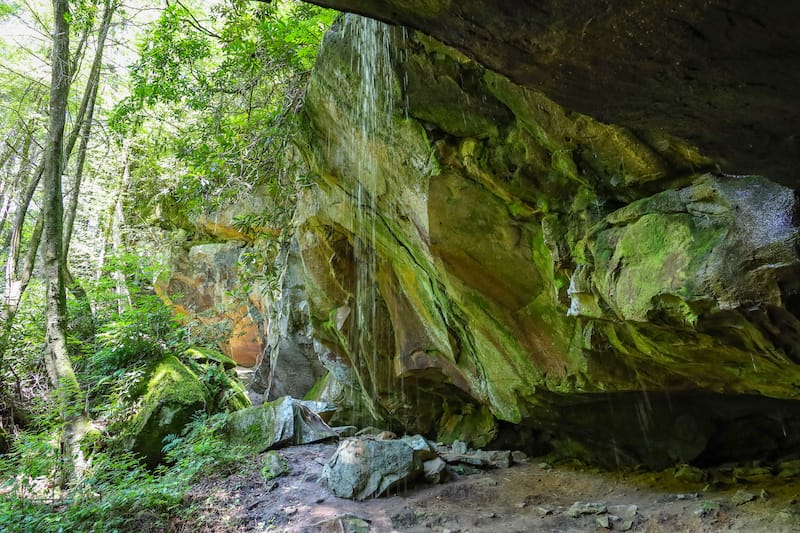 Honeymoon Falls is a well-known hiking destination in southern Kentucky, not only for couples but also for adventure lovers. The falls received its name from being a popular honeymoon destination in the past.
A short but challenging, well-maintained trail in Pineville's Pine Mountain State Resort Park will lead you to a 25-foot-tall, gorgeous waterfall.
Along your scenic hike, you will enjoy numerous rock formations as well as a diverse flora of rhododendron and wildflowers.
Heavy rains add to the intensity of the stream, which can be admired from both in front of and behind the falls. Feel free to take a break, dip your toes in the water, and enjoy a snack to recharge before returning on the same beautiful trail back to the parking lot.
Greasy Creek Falls
Location: Cumberland Falls State Park
Height: 2 cascades
Cumberland Falls State Park's third gem of a waterfall is Greasy Creek Falls and it is not inferior to the other two giants and should not be overlooked while visiting the Kentucky State Park!
Visitors will have the opportunity to admire its full charm during the spring months, which makes its flow much more powerful. It cascades down over sandstone cliffs into a serene pool, where you can take a dip and enjoy the surrounding scenery.
Dog Slaughter Falls
Location: Daniel Boone National Forest
Height: 15-20 feet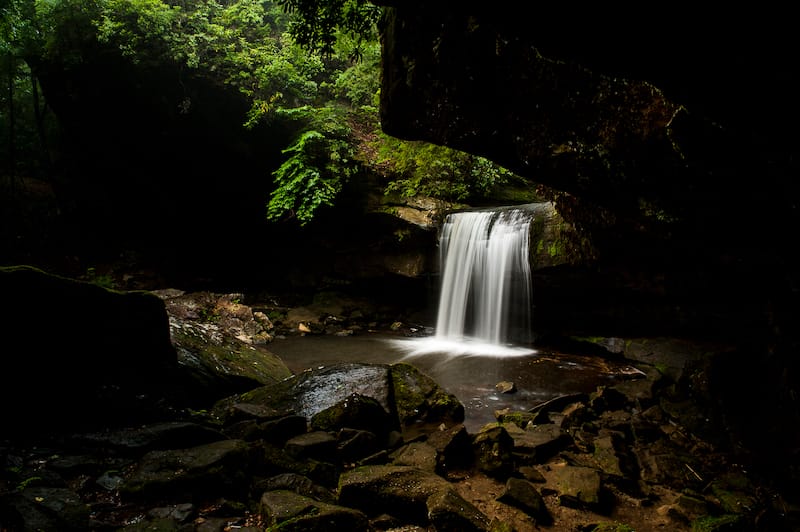 One of the most famous waterfalls in Kentucky is Dog Slaughter Falls, a waterfall that cascades down anywhere from 15-20 feet in Daniel Boone National Forest.
This scenic waterfall was named for unwanted pets or hunting dogs that had drown there (how dismal… geez). But, the area is anything but grim. It is truly a spectacular waterfall and the hike to get there is mesmerizing.
The waterfall is at the confluence of Dog Slaughter Creek and the Cumberland River in the Ranger District of the forest. You can reach it by hiking along the Sheltowee Trace Trail or the Dog Slaughter Trail. It is one of the most picturesque Kentucky waterfall hikes.
Tioga Falls
Location: Fort Knox
Height: 130 feet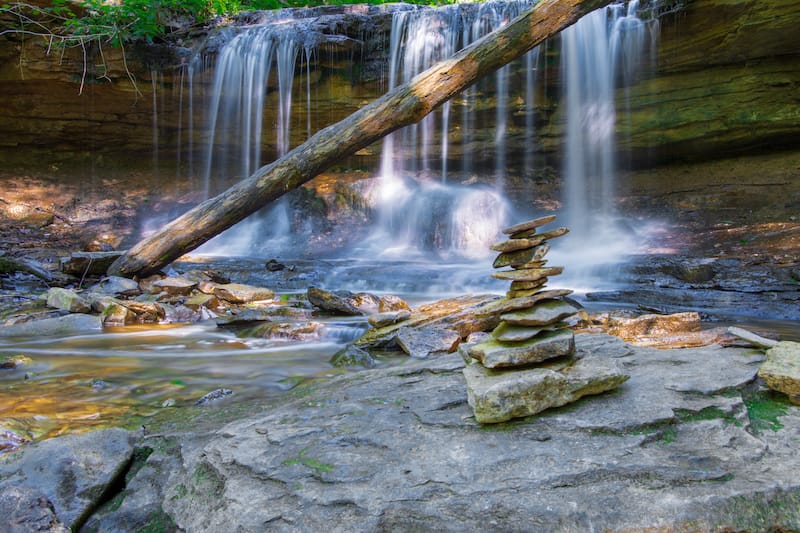 The 130-foot-tall Tioga Falls is another one of the tallest waterfalls in Kentucky. Fed by Tioga Creek, it consists of a few drops cascading down Muldraugh Hill's slope over stair-stepped boulders into a rocky pool.
The mile-long, moderate hiking trail will get you to this breathtaking waterfall. It is located in West Point city close to Louisville and is set on territory belonging to the US Army, which makes the falls occasionally not accessible.
Since the falls flow over Fort Knox's military grounds, hiking on the trail is subject to strict regulations, and no climbing on the falls is permitted.
76 Falls (Seventy Six Falls)
Location: Seventy Six, KY (near Lake Cumberland)
Height: 84 feet
Located in Seventy Six (hence where the falls got its name!), 76 Falls is where Indian Creek meets Lake Cumberland. The picturesque falls is the perfect spot to enjoy the local scenery and have a picnic.
Located in the middle of rocky cliffs, the waterfall plunges into Lake Cumberland, which offers you to discover the falls up close by taking boat trips on the lake (I rented a pontoon at Lake Cumberland one time, actually).
The Kentucky waterfall hike will get you to the falls easily, but for the 'full panorama', boat tours are recommended. However, keep a safe distance when admiring it and avoid climbing the slippery cliffs.
What are your favorite waterfalls in Kentucky? Let us know the most beautiful Kentucky waterfalls that you've seen in the comments! Thanks!
More Kentucky Travel Guides
Pin this Waterfall Hikes in Kentucky Guide