Although there is plenty to do in Louisville, Kentucky, what better way to make the most out of your vacation than to go on a day trip? This guide details the best day trips from Louisville, Kentucky!
Are you planning your trip to Louisville last minute?
If you're traveling to Louisville last minute, you want to ensure you have tours and lodging booked ahead of time! Below are some of our top picks for both to help you plan!
Best Tours in (and from!) Louisville:
Where to Stay in Downtown Louisville:
🚗 Looking for the best way to get around Kentucky? Click here to check rental car rates for Kentucky!
Whether you want to check out the beautiful nature, go to an amusement park with your family, or immerse in history at some local museums, you're bound to find plenty to do in the area.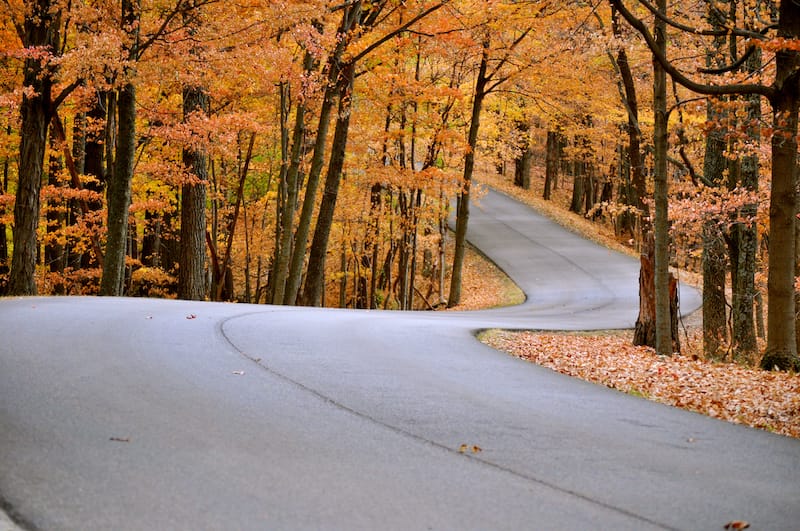 Did you know that there are tons of amazing and unique sights to see within driving distance of Louisville? Indiana, Tennessee, and even other destinations in Kentucky are certainly worth visiting no matter what your interests are.
Here are some of the best Louisville day trips- and the best part is, most are less than 3 hours away!
Best Day Trips From Louisville
1. French Lick
State: Indiana
Driving distance from Louisville: 1 hour and 15 minutes (57.8 miles)
French Lick has always been a tourist attraction offering family-friendly activities like hiking, zip-lining, snowboarding, and snowmobiling. In this bustling town, you'll find plenty of museums and sites to explore.
West Baden Museum depicts the casino history of the town with 150,000 pieces on display and the world's biggest circus diorama.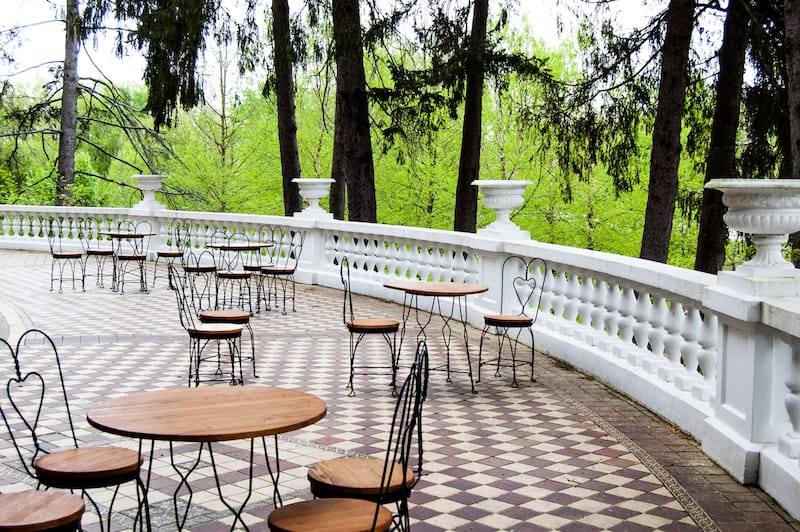 Another historical spot is the Scenic Railway, an unusual museum providing a fun ride through the past. You also must visit French Lick Resort and Casino, which includes two historic hotels, stables, several golf courses, and a casino.
Visitors can have a perfect vacation day at Big Splash Adventure Indoor Waterpark & Resort or attend one of the top golf courses in Indiana, Donald Ross.
To try local flavors, stop at the family-owned 33 Brick Street Restaurant.
2. Spring Mill State Park
State: Indiana
Driving distance from Louisville: 1 hour and 10 minutes (57.6 miles)
Spring Mill State Park boasts endless recreational opportunities, offering cave tours, nature activities, hiking, mountain biking, swimming.
Attend four interpretive facilities of the park- Pioneer Village, Nature Center, Grissom Memorial, and Twin Caves Boat Tour- and see how settlers shaped nature and how nature shaped their lives.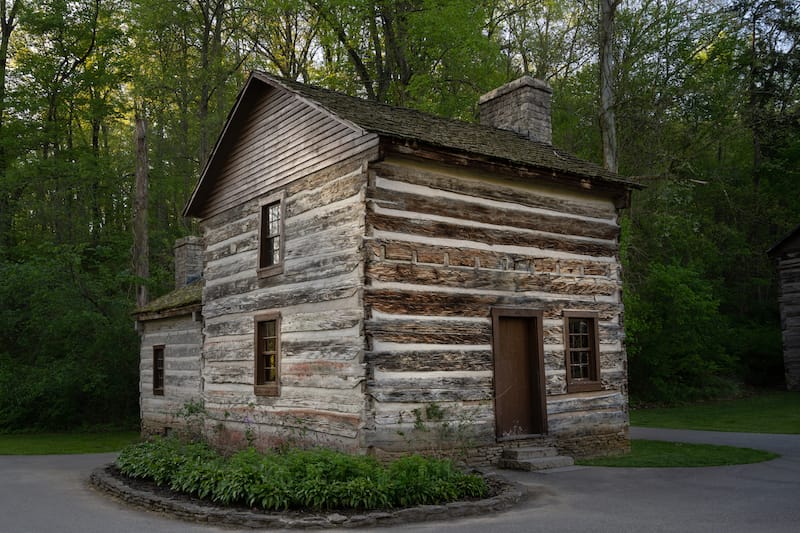 The staff offers various public programs and special events as well. The cave boat tour is 30 minutes and provides a journey through a stream passage while exploring cave formations.
Pioneer Village was established in 1814 and includes 20 historic buildings, the most attractive of which is the still-operating limestone gristmill. At the Nature Center, visitors will find exhibits on the area's natural history.
The Grissom Memorial features the life story of the famous Gus Grissom and honors his contribution to the space program.
3. Red River Gorge
State: Kentucky
Driving distance from Louisville: 2 hours and 15 minutes (140.2 miles)
A must-see destination fascinating visitors with sandstone arches, rock shelters, naturally formed bridges, waterfalls, and jagged cliffs is Red River Gorge in Kentucky.
Nowadays, the location of the earliest native Paleoindian civilizations makes a great spot for extreme sports lovers and enthusiasts exploring the area.
Red River Gorge offers fantastic opportunities for rock-climbing, encompassing three main climbing areas: Bald Rock Recreational Preserve, Miller Fork Recreational Preserve, and Pendergrass-Murray Recreational Preserve.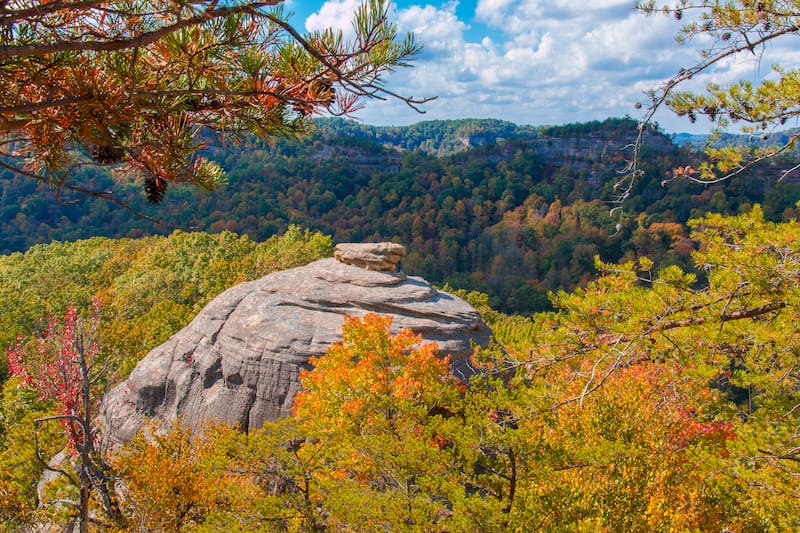 Those who don't like vertical traveling can follow one of the multiple hiking paths of the Red River Gorge.
Major trails include Indian Staircase and Indian Arch, Double Arch, Arch of Triumph, Star Gap Arch.
But the most popular trail with incredible scenery, where you might even meet a wedding couple, is Gray's Arch. In addition, don't miss the opportunity to take an underground kayaking tour through a cave.
4. Bardstown
State: Kentucky
Driving distance from Louisville: 46 minutes (41 miles)
Visit the capital of bourbon and immerse in local history, culture, and attractions. Your trip to Bardstown must start by exploring the city's distillery scene.
Check out Barton 1792 Distillery & Visitor Center, Willett Distillery, Maker's Mark Distillery, and Bardstown Bourbon Company.
Don't miss your chance to catch the six-day Kentucky Bourbon Festival in September, packed with entertainment, food, and bourbon. Did you get acquainted with all the aroma and flavor of bourbon?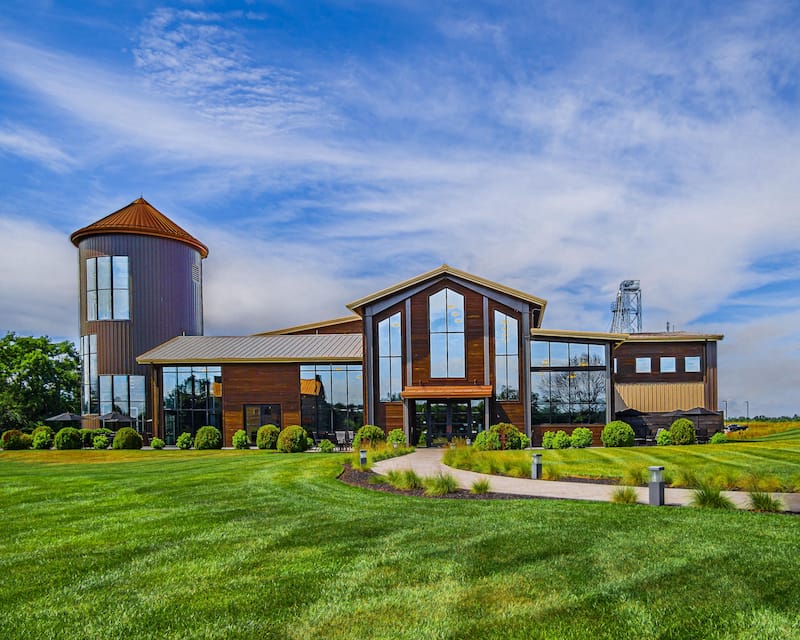 Head to the historic district and take a walking tour through the must-see attractions.
Stop at My Old Kentucky Home State Park, featuring the Federal Hill mansion, the Civil War Museum near ten colonial buildings at Old Bardstown Village, and My Old Kentucky Dinner Train.
The city's downtown also provides opportunities for dining, shopping, ghost tours, and horse-drawn carriage ride trips.
5. Brown County State Park
State: Indiana
Driving distance from Louisville: 1 hour and 20 minutes (83.2 miles)
Take a day trip to Indiana's largest state park, Brown County State Park. With 16,000 acres of rugged hills, ridges, and gorges, Brown County State Park offers breathtaking scenic vistas.
The park hosts large campgrounds, mountain biking trails, hiking trails, and guided horse rides. Picnickers will find plenty of areas with shelters and fireplaces close to restrooms, playground equipment, and drinking water.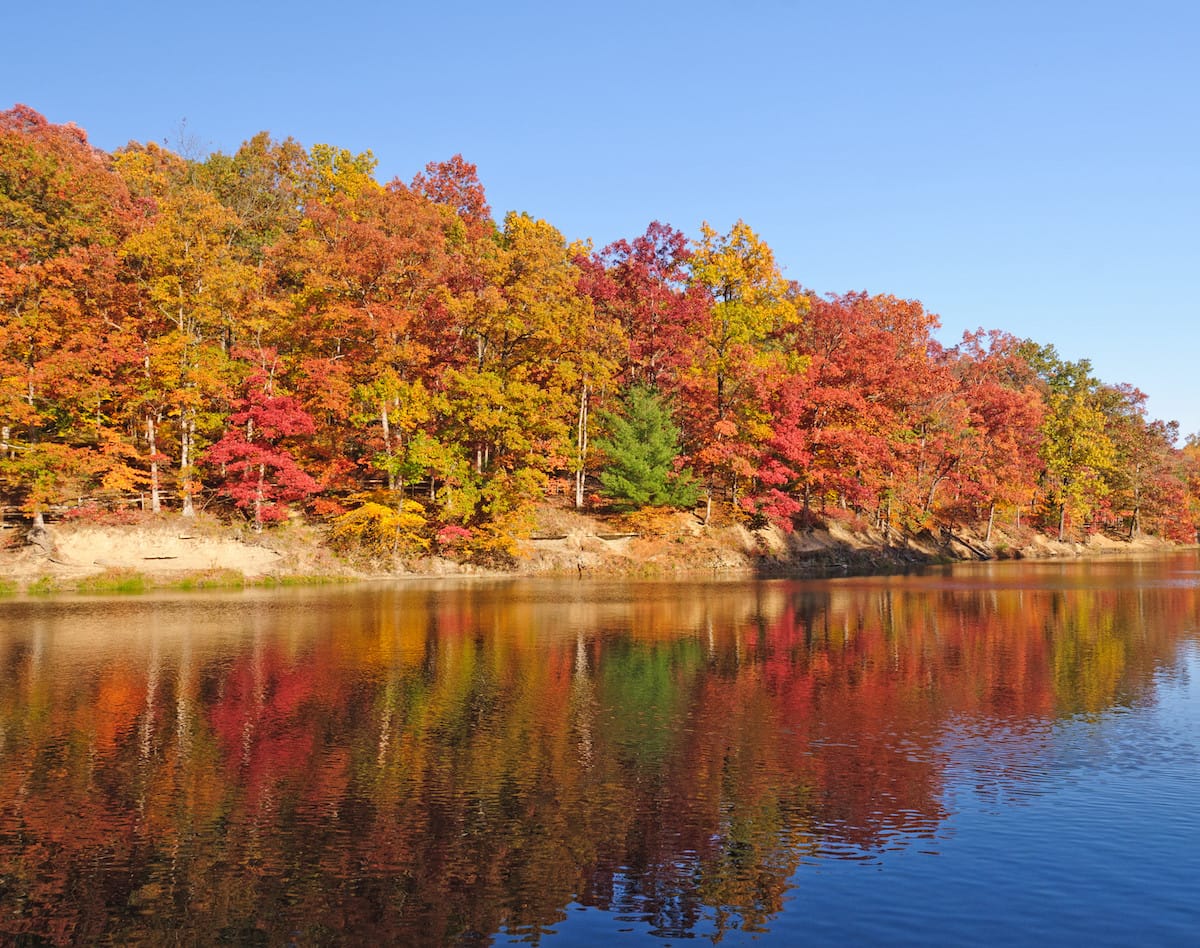 For those interested in kayaking, boating, or canoeing, the area has two lakes – Strahl and Ogle. Rowboats and electric motors are allowed on Ogle Lake, while Strahl Lake isn't accessible to boats.
Fishing is permitted on both lakes. Visitors can also enjoy a swimming pool or join year-round activities and programs organized by the Nature Center.
6. Petersburg
State: Kentucky
Driving distance from Louisville: 1 hour and 45 minutes (108.6 miles)
Discover this Kentucky small town on the Ohio River, attracting visitors from all over the country. One of the most famous sites in this town is an old shipwreck originally used by the US Navy and later turned into an Ohio river cruiser.
Today, the ship is difficult to access because of the surrounding trees. Nature is gradually reclaiming its territory here.
Another attraction in Petersburg is the Creation Museum. Stroll through the site and see how the pages of the Bible come to life.
Explore unique exhibits, botanical gardens, planetarium, and zipline courses. At the heart of the museum, the Seven C´s depicts biblical history in seven chronological parts.
7. Corydon
State: Indiana
Driving distance from Louisville: 32 minutes (25.8 miles)
Just a short drive from Louisville, the small town of Corydon used to be the state capital of Kentucky. Nowadays, Corydon attracts nature enthusiasts with its variety of outdoor activities, ranging from hiking to ziplining.
Visit Haywood Nature Reserve and Harrison Crawford State Forest to enjoy an outdoor adventure for all ages. Take a history trip at the Capitol State Historic Site Museum and the Battle of Corydon Battlefield.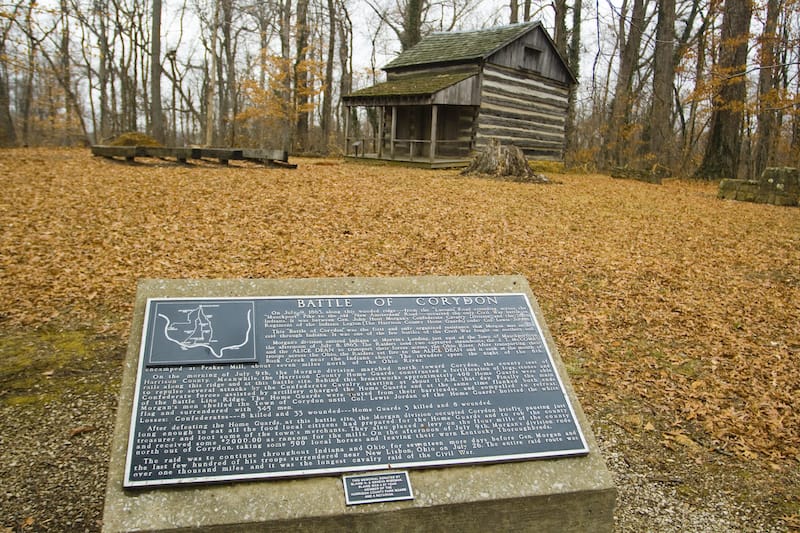 For history buffs, the well-preserved historic downtown with old buildings is a real treasure. If you're not into history, you'll love Croydon's Turtle Run Winery, which offers an unforgettable wine-tasting experience.
After your adventure, stop at Kent Java Bar and try their amazing coffee.
8. Cumberland Gap
State: Kentucky/Tennessee/Virginia
Driving distance from Louisville: 3 hours and 24 minutes (208.7 miles)
Cumberland Gap National Historical Park covers about 20,000 acres with 70 miles of hiking trails and offers scenic vistas of rushing waterfalls, colorful forests, and magnificent caverns.
While this is longer distance away, it definitely is one of our favorite weekend trips from Louisville (we recommend staying overnight).
Hit the trails and discover Kentucky's wilderness. Start your adventure at the park's visitor center, stroll through the museum, and enjoy Appalachian arts at Cumberland Crafts.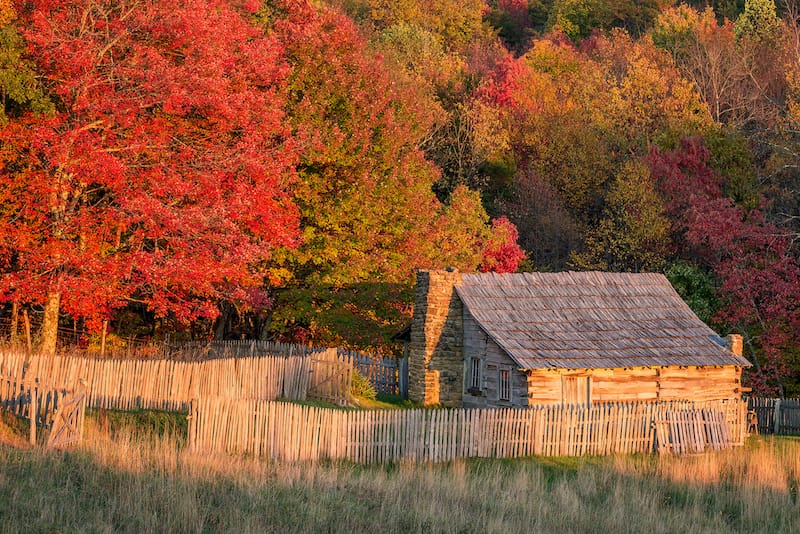 Take a tour of a 20th-century mountain community, Hensley Settlement. Explore Gap Cave and learn about cave system formation.
Take the Wilderness Road Trail and follow the history of Native Americans, early settlers, and Civil War Soldiers.
Cumberland Gap also houses a 2,400-foot pinnacle, where visitors can enjoy views of Kentucky, Tennessee, and Virginia all at once. It actually is one of the best romantic getaways in the state for nature lovers!
9. Frankfort
State: Kentucky
Driving distance from Louisville: 57 minutes (54.7 miles)
Welcome to the heart of Kentucky, Frankfort, a small city with rich history and famous Southern hospitality. Situated on the banks of the Kentucky River, Frankfort pleases its visitors with plenty of attractions.
Explore the town's old and new capitol buildings with stunning architecture. Check out Thomas D. Clark Center for Kentucky History and Liberty Hall Historic Site to learn about the 200-year history of the town.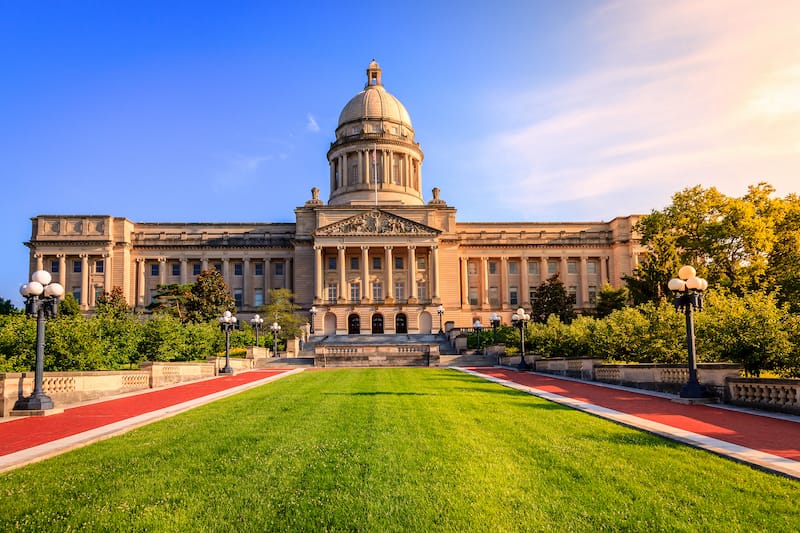 Be sure to visit the Old Governor's Mansion, the oldest American official residence still in use, and see the Kentucky Vietnam Veterans Memorial, a tribute to the Kentuckians who fell in Vietnam.
If you have time for active adventures, head to Cove Springs Park, one of the best day trips from Frankfort.
The park with waterfalls, streams, wetlands, forests, ravines, and the limestone overflow tower offers great options for hiking and picnicking.
10. Cave City
State: Kentucky
Driving distance from Louisville: 1 hour and 18 minutes (85.5 miles)
Cave City is a unique tourist destination, offering visitors attractions on and under the surface. It boasts restaurants, shops, museums, and thousand-year-old underground formations, rivers, and caverns.
When visiting, you should first explore the famous caverns. Take a guided tour to Diamond Caverns, located near Mammoth Cave National Park. It features beautiful limestone rock formations.
Another spectacular site is Onyx Cave, a wet cave packed with stalactites, columns, flowstone, and cave coral.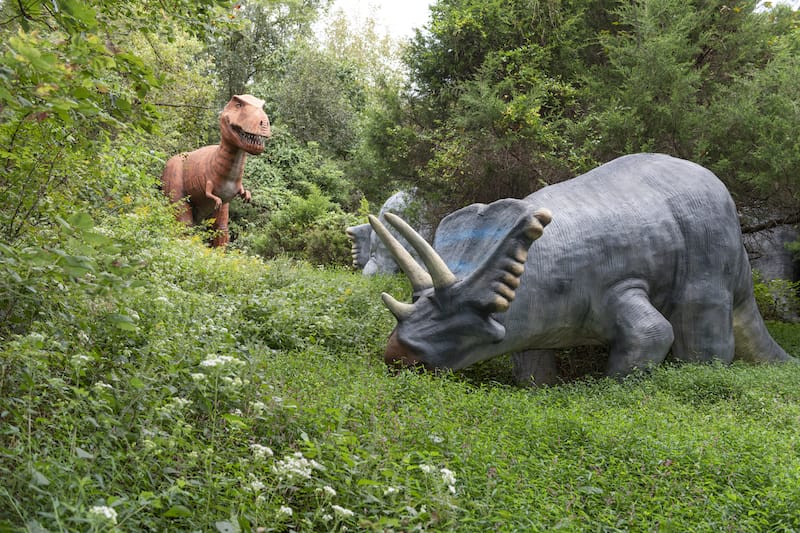 Another must-see is Hidden River Cave and the American Cave Museum, which focuses on the history of the cave and the geology of the area.
Afterward, visitors can enjoy the city's on-the-surface attractions. Check out Dinosaur World, a great spot to spend time with your youngsters. For outdoor family recreation, visit Kentucky Action Park.
11. Abraham Lincoln Birthplace Historical Park
State: Kentucky
Driving distance from Louisville: 56 minutes (58.1 miles)
Visit the first memorial built to honor Abraham Lincoln at Abraham Lincoln Birthplace Historical Park and discover how history comes alive. The park offers something for everyone to enjoy with hiking trails and picnic areas.
It covers two farm areas: Lincoln's birthplace and his boyhood home. Visitors can check out a 19th century Kentucky cabin, symbolizing the one Lincoln was born in at the birthplace site.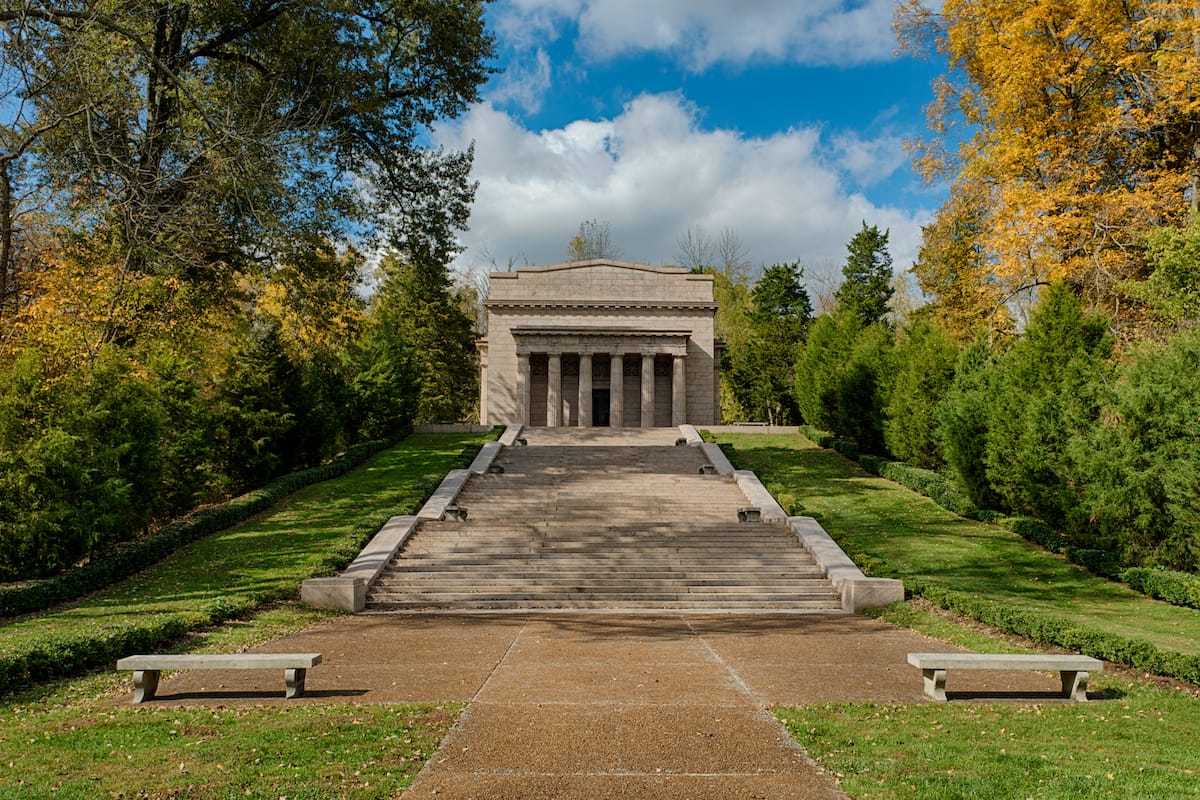 At the boyhood home site, you can see Knob Creek Farm, which is where the 16th president lived with his family.
The best place to start your trip at the memorial is the Visitor Center, which provides special programs, exhibits, and general information on the park.
Your trip will be incomplete without seeing Sinking Spring. Situated below the hill where Lincoln was born, it served as the family's daily water supply.
12. Lexington
State: Kentucky
Driving distance from Louisville: 1 hour and 20 minutes (77.9 miles)
Lexington, known as the horse capital of the world, is a vibrant city worth visiting. Surrounded by 450 horse farms, you can find dozens of ways to see horses.
Visit Kentucky Horse Park, Keeneland Race Course, or the Thoroughbred Training Center. Lexington is also a cosmopolitan area boasting a wide variety of dining and shopping options.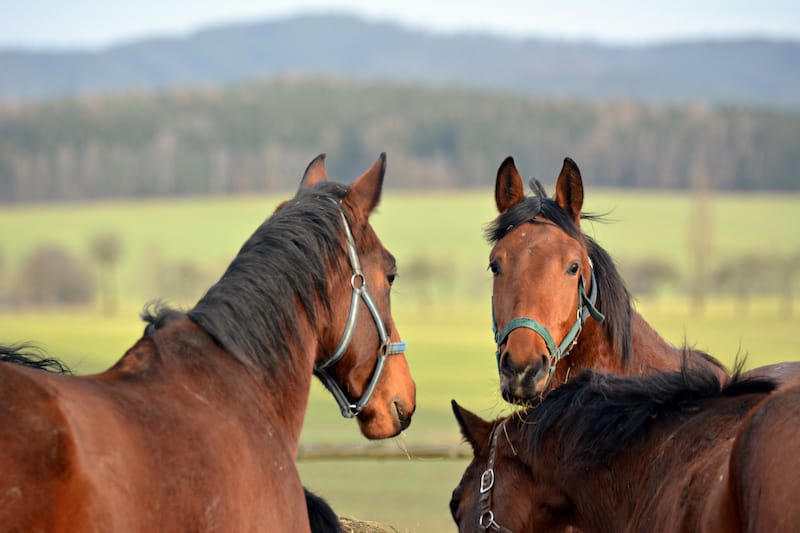 The town also has something for history buffs, including Transylvania University, the Mary Todd Lincoln House, and Latrobe's Pope Villa.
Don't miss your chance to attend Bourbon distilleries located several minutes from the center. Enjoy their quality products and explore the local wine industry.
Check out Woodford Reserve, Four Roses, Buffalo Trace, and Wild Turkey on the way, too. They are all some of the places to visit in Lexington that will urge you to come back for more (bourbon)!
13. Cincinnati
State: Ohio
Driving distance from Louisville: 1 hour and 38 minutes (99.5 miles)
A day trip packed with plenty of sites, history, shopping, and art awaits you in Cincinnati. Enjoy family entertainment, great food, city parks, and free attractions.
Explore the museums of the city, including Cincinnati Art Museum, Taft Museum of Art, Cincinnati Reds Hall of Fame and Museum, and the Museum of Natural History & Science.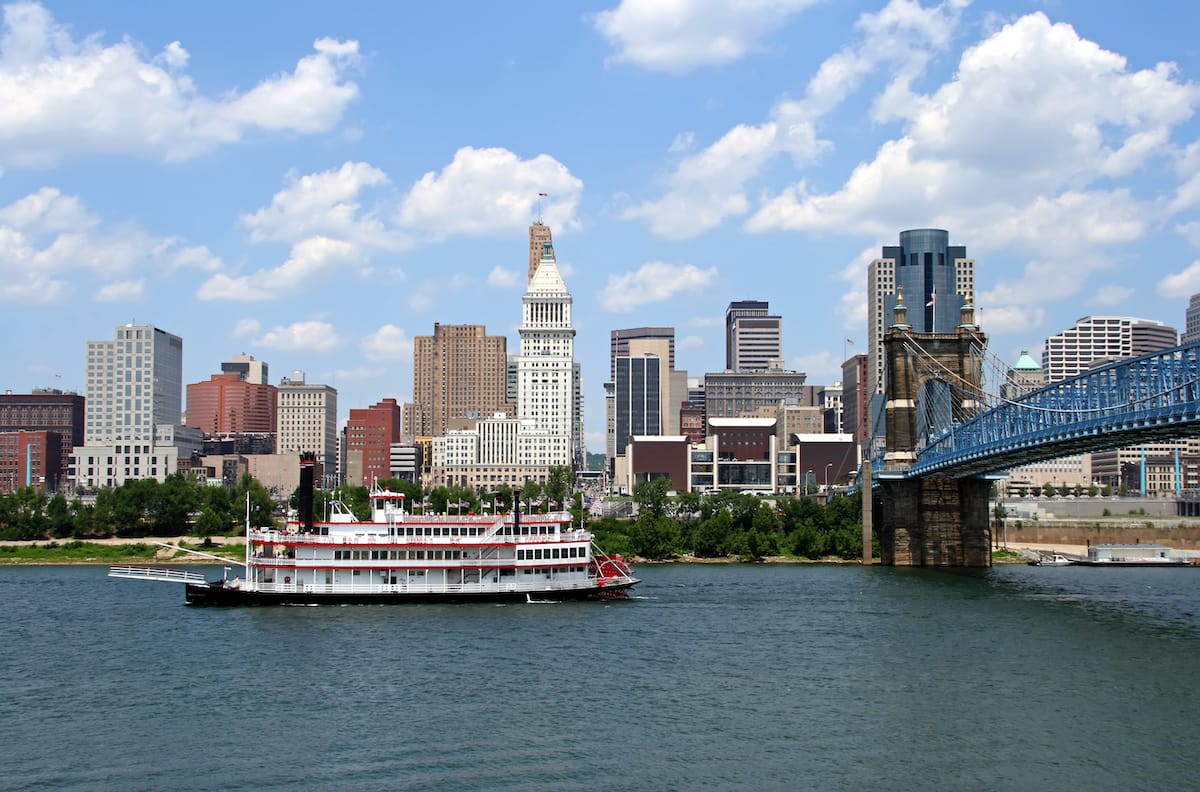 Youngsters will like visiting the Duke Energy Children's Museum with interactive exhibits, displays, exploration, play, and discovery areas. Attend the symbol of Cincinnati, the John A.
Roebling Suspension Bridge, built in 1866. Don't miss your chance to see the 19th-century observatory that is still operating.
Another popular place located in the heart of Cincinnati, boasting unique restaurants, shops, and hotels, is Fountain Square. Various events, free concerts, and programs are organized here throughout the year.
14. Cumberland Falls
State: Kentucky
Driving distance from Louisville: 2 hours and 47 minutes (179.2 miles)
Located in Cumberland Falls State Resort Park, this scenic KY waterfall proudly bears the title of Niagara of the South. The waterfall is 68 feet tall and 125 feet wide, and it flows into a gorge, creating a dramatic sight day or night.
But visitors will only be able to see a moonbow at night during a full moon, which makes for a unique and unforgettable experience.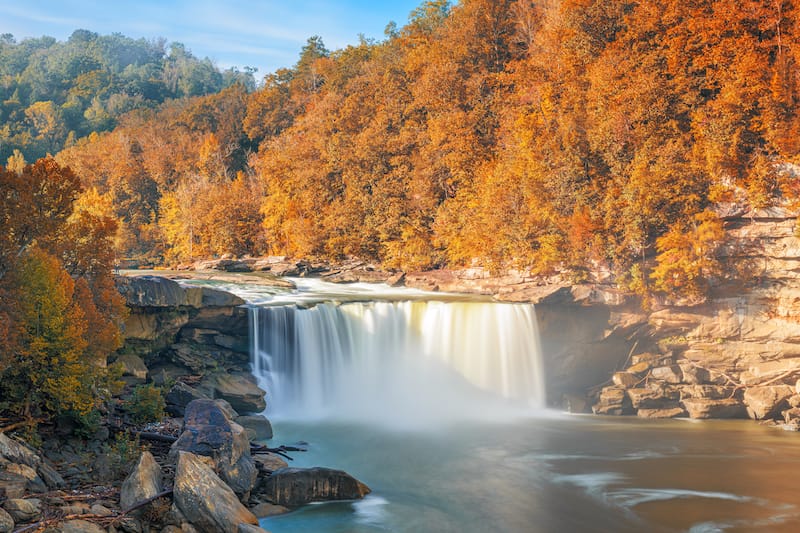 The falls are the only site in the Western Hemisphere where this unique phenomenon can be seen regularly.
The area is also a top destination for water-sport lovers, offering canoeing, white water rafting, and other water activities. After a day full of outdoor adventures, travelers can find a great retreat at the historic Dupont Lodge.
Built of hemlock beams and knotty pines, it provides breathtaking scenes of the Cumberland River Valley.
15. Holiday World
State: Indiana
Driving distance from Louisville: 1 hour and 17 minutes (73.6 miles)
Find two world-class attractions, a theme park and a water park, in one place. Head to Holiday World and have a day of family entertainment.
The theme park consists of four sections, celebrating Christmas, Halloween, Thanksgiving, and the 4th of July.
It contains three wooden roller-coasters: The Raven, The Legend, and The Voyage. Visitors can find the world's longest water coasters in the safari-themed water park: Wildebeest and Mammoth.
Holiday World is a real treasure for family fun, offering family raft rides, water slides, two water-slide areas for children, two wave pools, and a lazy river.
In addition, visitors can enjoy Free Parking, Free Soft Drinks, Free Sunscreen, and Free Wi-Fi. Live entertainment events include music and magic shows, Santa's Storytime, and a high-dive show.
Overall, Holiday World will provide a day full of fun for all!
16. Mammoth Cave National Park
State: Kentucky
Driving distance from Louisville: 1 hour and 30 minutes (93.1 miles)
The most popular attraction in Kentucky was established to preserve the cave system and scenic valleys of the Green and Nolin rivers and it is called Mammoth Cave National Park.
A wide range of activities await visitors, including cave tours, hiking, biking, horseback riding, camping, picnicking, canoeing, and fishing.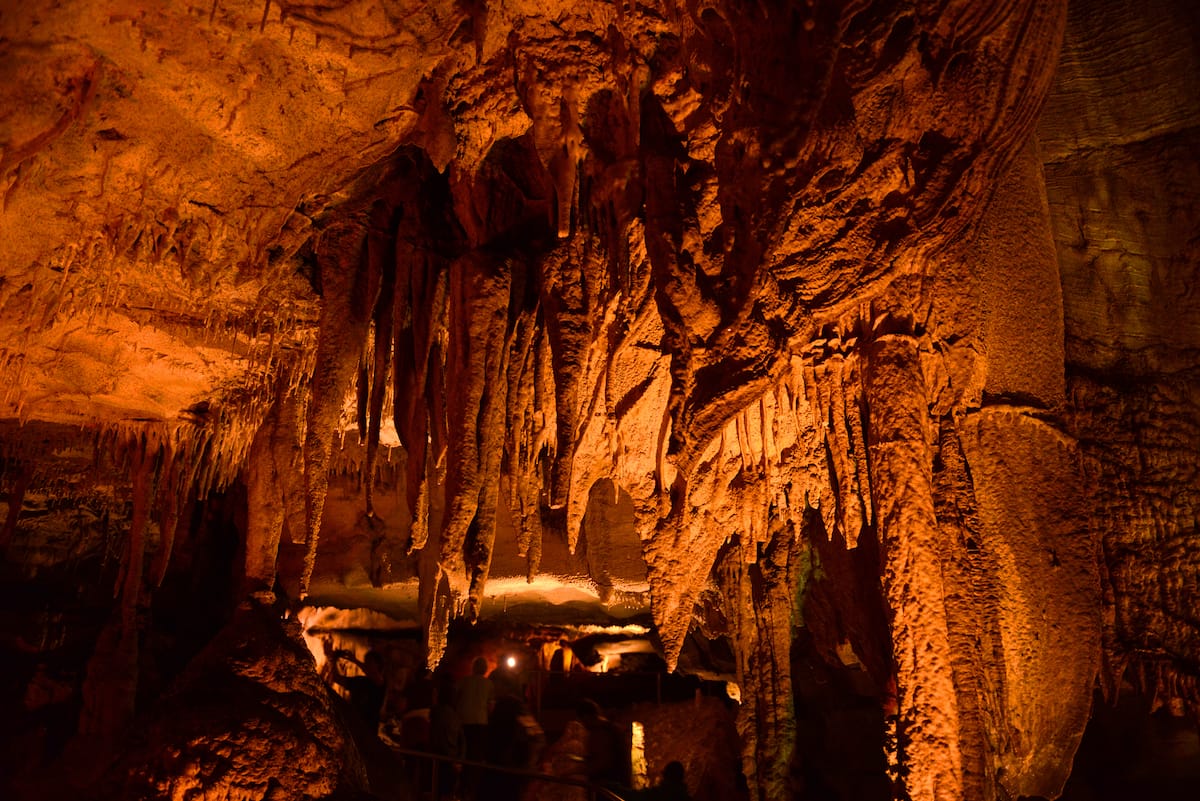 The park also hosts campgrounds and hotel facilities for an overnight adventure. Several guided tours are available for those who want to explore Mammoth Cave.
The rich history of the cave goes back to the Indigenous people of North America.
With the arrival of western Europeans, the cave gradually became a tourist destination. Admission to the national park is free, but a fee is required for cave tours and camping.
17. Harland Sanders Cafe and Museum
State: Kentucky
Driving distance from Louisville: 2 hours and 27 minutes (161.7 miles)
The famous historic restaurant, Harland Sanders Cafe, is located in North Corbin. This is the place where the story of KFC begins.
Colonel Harland Sanders ran the restaurant from 1940-1956 and created his known KFC secret recipe right here.
Back in 1930, the colonel served meals for travelers at the service station. In 1937 he built Sanders Café, which was destroyed by a fire two years later.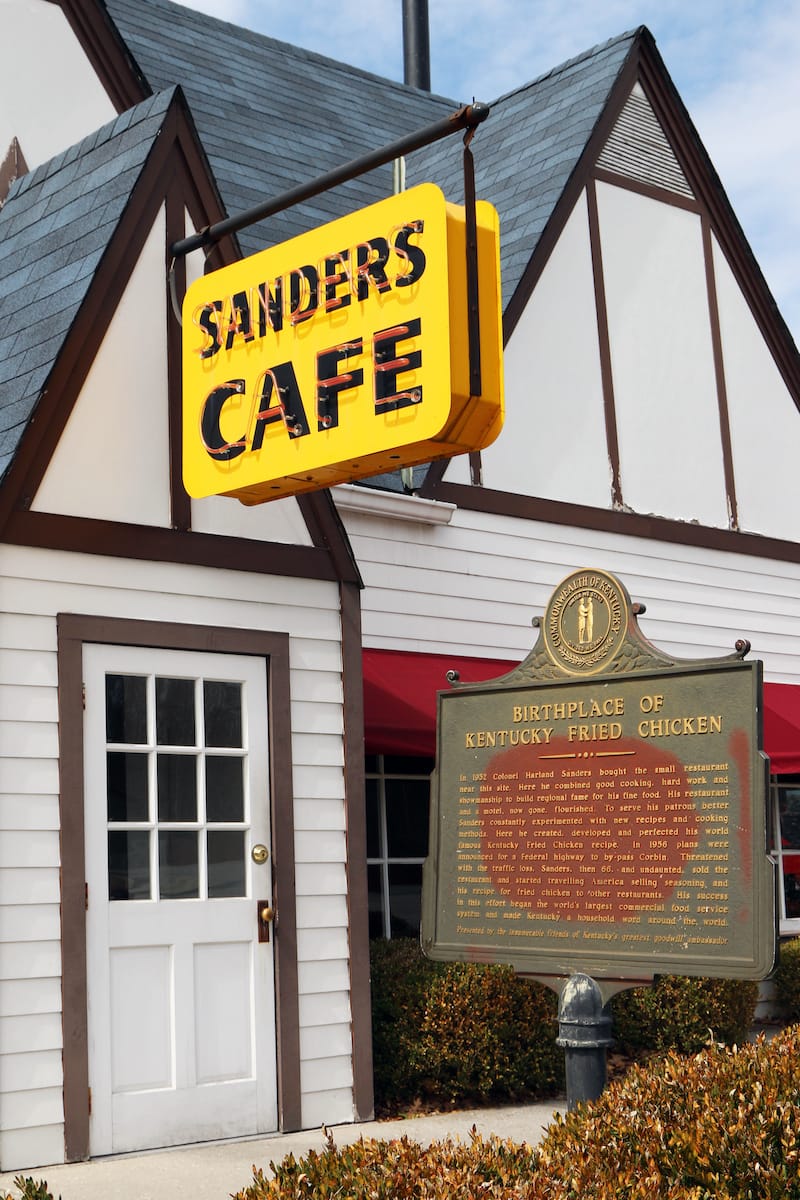 In 1939 the present-day cafe and a motel were constructed. Later, Sanders sold it and devoted himself to franchising his fried chicken throughout the country.
Check out the birthplace of the KFC with the museum featuring KFC memorabilia, artifacts on display, and the colonel's office.
18. Huber's Orchard, Winery, and Vineyard
State: Indiana
Driving distance from Louisville: 31 minutes (22.1 miles)
Simon Huber emigrated to the US in 1843 from Germany, bringing with him knowledge and years of experience in fruit growing and winemaking.
The 80-acre humble piece of land has expanded into a 600-acre farm. Today, his family continues to live and work there.
This family-owned and operated winery boasts 18 different varieties of grapes, producing 400,000 pounds of grapes per year.
View this post on Instagram
Huber's Orchard combines old-world winemaking with the most modern technology to achieve the highest quality goods. It makes over 30 brands of wine, brandies, ports, and infusions.
Visitors can explore the orchards and vineyards or pick fruits and vegetables from the farm fields. You must also check out the gambrel barn, where you can taste and purchase the famous wines.
Have you ever been to any of these places that are the best day trips from Louisville? Let us know your top Louisville day trips in the comments!
Also – there are any weekend trips from Louisville beyond 3-4 hours, let us know your picks in the comments too! Thanks!
More Kentucky Travel Guides
Pin this Louisville Day Trips Guide