Louisville is Kentucky's largest city and most well-known for the annual Kentucky Derby Race and its baseball traditions. You will find many other amazing things to do in Louisville KY, as well!
Are you planning your trip to Louisville last minute?
If you're traveling to Louisville last minute, you want to ensure you have tours and lodging booked ahead of time! Below are some of our top picks for both to help you plan!
Best Tours in (and from!) Louisville:
Where to Stay in Downtown Louisville:
🚗 Looking for the best way to get around Kentucky? Click here to check rental car rates for Kentucky!
The Kentucky city has a lot to offer visitors whether you enjoy sports or you simply want a relaxing vacation to explore a unique city that's likely off your radar.
The city offers all kinds of museums, theaters, parks, and more for you to explore and have a memorable trip. You will find attractions in Louisville for all types of travelers and this guide details some of the best!
And, if you have extra time in the city, you can even check out some of these incredible day trips from Louisville!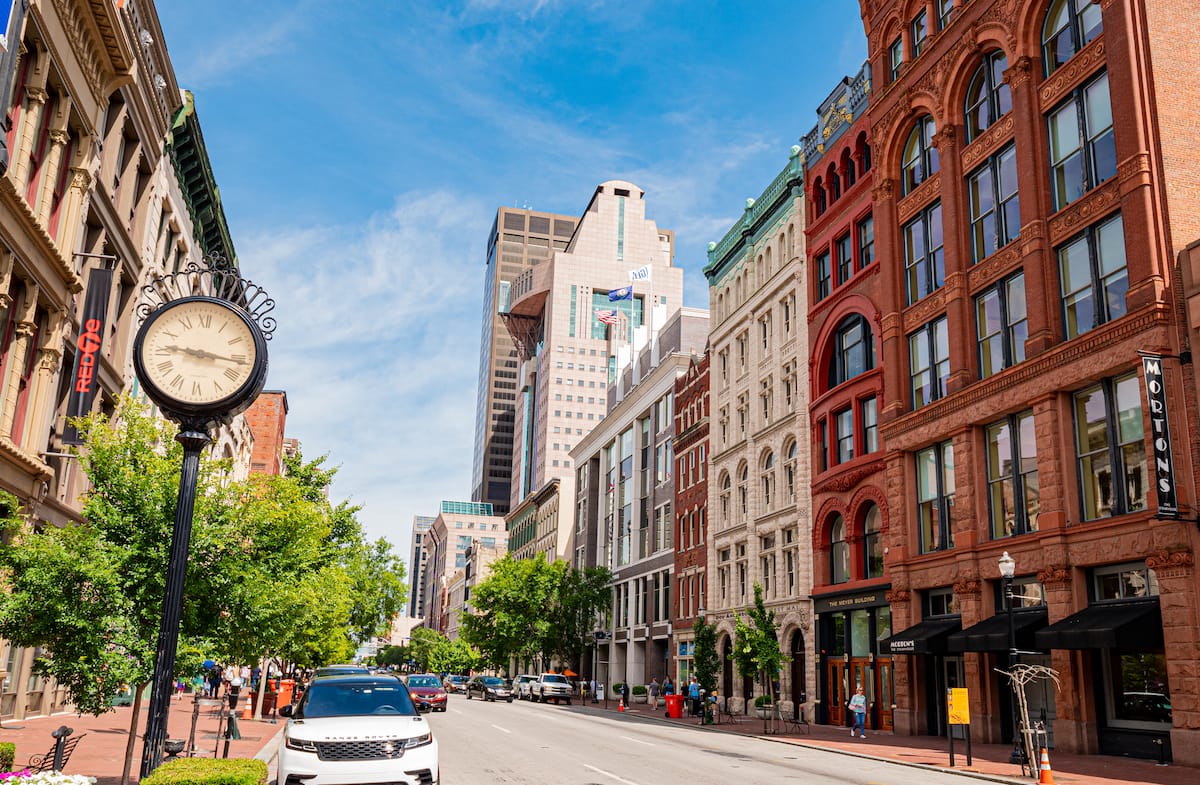 Let us know your favorite Louisville landmarks and places to visit in the comments. Thanks!
Best Things to Do in Louisville KY
Louisville Slugger Field
Louisville Slugger Field is the home turf of the minor league baseball team where even those who aren't fans of minor league baseball will want to watch a game while visiting the town. Kids can also enjoy it since the facility offers a playground.
Baseball enthusiasts who would like to learn more about the game's history in Louisville and have a behind-the-scenes look at the field can also take a stadium tour.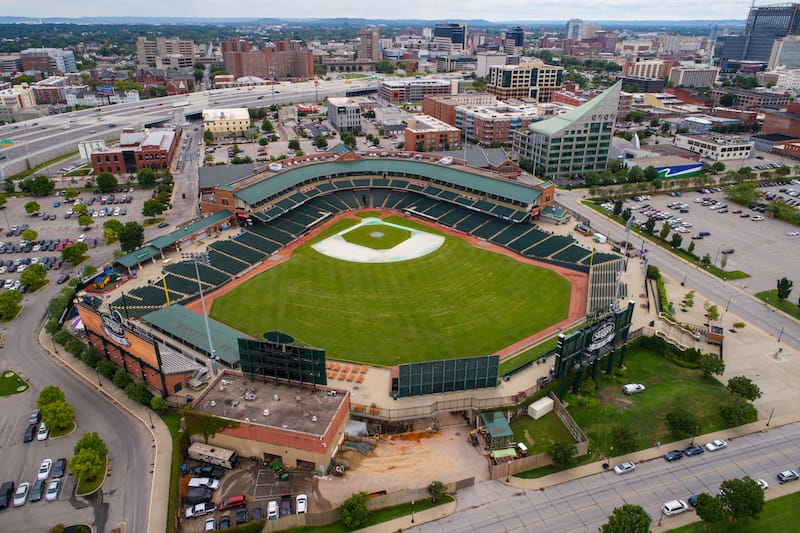 The tours cost $1 per person and are offered when the team is out of town.
Address: 401 E Main St.
Louisville Waterfront Park
Louisville Waterfront Park is an 85-acre park full of experiences for everyone. The park holds numerous events and festivals overlooking the Ohio River.
History buffs who like learning about culture can enjoy celebrations honoring writers such as Hunter S. Thompson, and environmentalists can participate in events such as the Mighty Kindness Earth Day Hoot.
If you're just in town for a visit, be sure to stroll around the park and explore the gardens and water fountains. Here, there is also plenty of space to have a picnic.
Families can bring their kids to Adventure Playground and the numerous play areas.
If you're looking for a local meal, though, be sure to dine on the deck at Joe's Crab Shack, which offers mouthwatering seafood (at an affordable price) and river views.
Address: 129 River Rd.
Kentucky Science Center
When in Louisville, be sure not to miss out on the Kentucky Science Center, Kentucky's largest hands-on science museum. It is located on Louisville's "Museum Row" downtown.
The museum has two main buildings offering three floors of exhibits that provide interactive science fun for the entire family.
The science education wing also has workshop labs. Visitors can enjoy fantastic films in the 4-story, 3D digital theater.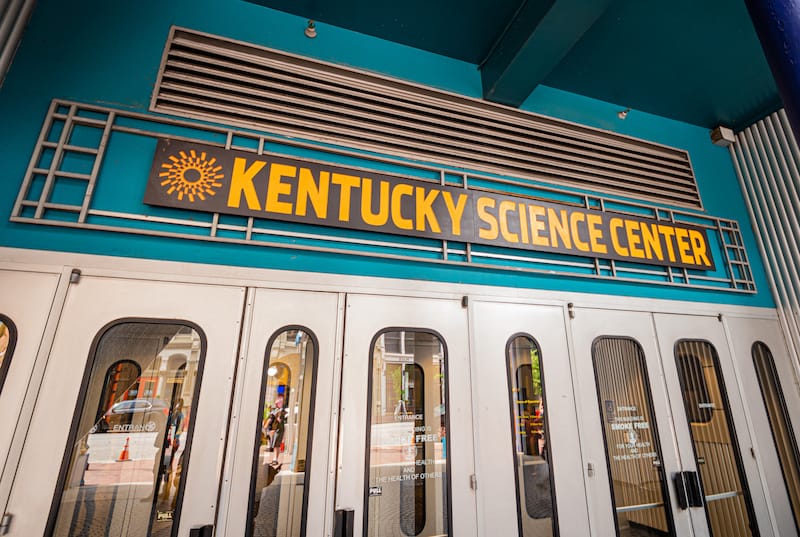 Exhibits are self-guided, and films typically start every hour. If you want to only check out the exhibits, tickets cost $17 for adults and $13 for children.
If you're going to check out the exhibits and watch a movie, tickets are $20 for adults and $16 for children.
Address: 727 W Main St.
The Bard's Town
Enjoy your time at the Shakespeare-inspired diner concept, The Bard's Town. It has everything you could ask for, including great food, excellent theater, and a relaxing lounge.
The diner also features a Shakespeare-inspired menu that offers delights such as "Juliet Burger," "Sir Francis BBQ Bacon," and the "Rigate Diabolo."
They also have a bar that has specialty-themed cocktails. The theaters offer great live entertainers, including actors, comedians, and musicians. Every weekend they hold karaoke nights hosted by Gruncho.
Address: 1801 Bardstown Rd
Belle of Louisville
The Steamer Belle of Louisville is the oldest Mississippi River-style riverboat in the world, having been built in 1914.
It is a National Historic Landmark with cruises that offer magnificent views of downtown Louisville.
It is a chance to explore and enjoy a living, operating museum on a beautiful river, and it grants you access to the past in an extraordinary way.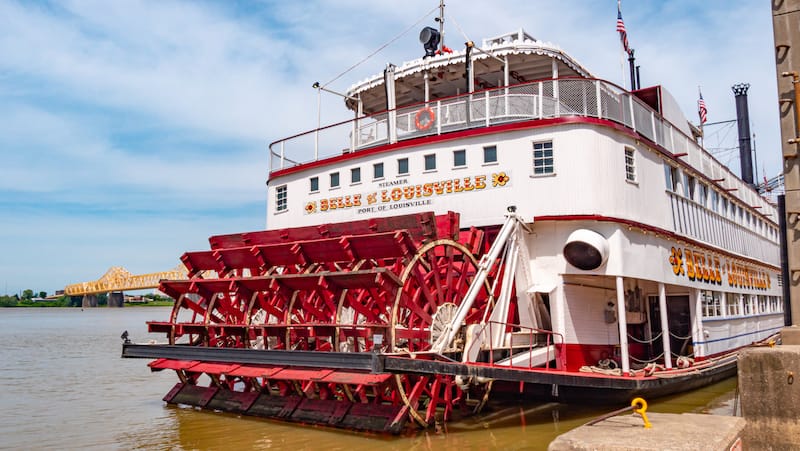 People who want to go back to the 1900s can hop on board and enjoy a lunch or dinner cruise. Live music or interesting events also frequently take place here.
Address: 401 W River Rd.
Louisville Mega Cavern
Louisville Mega Cavern was once a limestone mine that turned into a major tourist attraction, offering tram-guided tours, mountain bike park, and zipline tours. It has approximately 100 acres.
Mega Tram excursions take visitors on guided underground expeditions that cover geology, mining, green building technology, and recycling, as well as the history of the cavern.
Visitors will have the chance to see early cavern formations and explore a historic replica of a bunker from the Cold War.
The zipline tours are the only underground zipline adventure in the world where guests can explore six different routes.
Address: 1841 Taylor Ave.
Churchill Downs
Churchill Downs is a horse racing complex in south Louisville known for holding the annual Kentucky Derby since 1875.
The Kentucky Derby, also known as "The Run for the Roses," is one of the most prized traditions in the state.
Every year, the Kentucky Derby Festival lasts for two weeks, culminating in the thrilling race, where three-year-old Thoroughbreds race each other during the "Most Exciting Two Minutes in Sports."
The racing track is 147 acres with a seven-furlong turf racecourse and an oval-shaped one-mile dirt racetrack.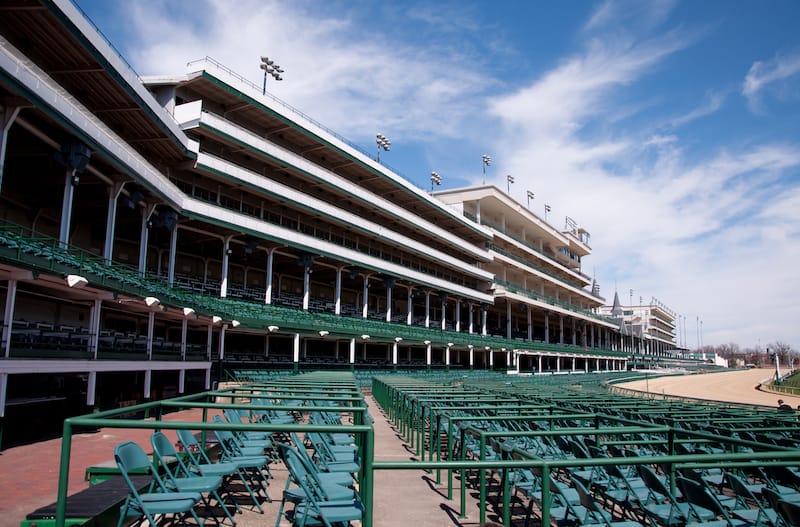 On Derby day, over 165,000 racing fans fill the stadium and cheer for their favorite filly. People can also bet on horses however much they want to make watching it more exciting.
On days when there are no races, people can book a tour to see behind-the-scenes. On this tour, visitors will tour places where celebrities "do Derby."
They'll also access private areas like dining rooms and private balconies overlooking the track.
Address: 700 Central Ave.
Beckley Creek Park
Located in downtown Louisville, the 22-acre egg-shaped lawn at Beckley Creek Park is a beautiful place to play soccer, throw frisbees, and fly kites.
You can also check out the numerous festivals that take place every year in the park.
Hikers will also be able to get a lot out of the park. They can enjoy nature and go for a hike on the Black Willow Trail, Fisherman's Trail, Valley of the Giants Trail, and many more.
If you want to have some fun on the water, you can also go kayaking and canoeing in the two paddling areas.
Finally, Marshall Playground and Sprayground is ideal for children to let off steam while their parents rest or enjoy the walking loop.
Address: 1411 Beckley Creek Pkwy
The Big Four Bridge
The Big Four Bridge spans the Ohio River and is a six-span former railroad truss bridge. It was built in 1895 and turned into a route for bikers and pedestrians in 2014.
The bridge offers a picturesque view of the river, city, and Waterfront Park.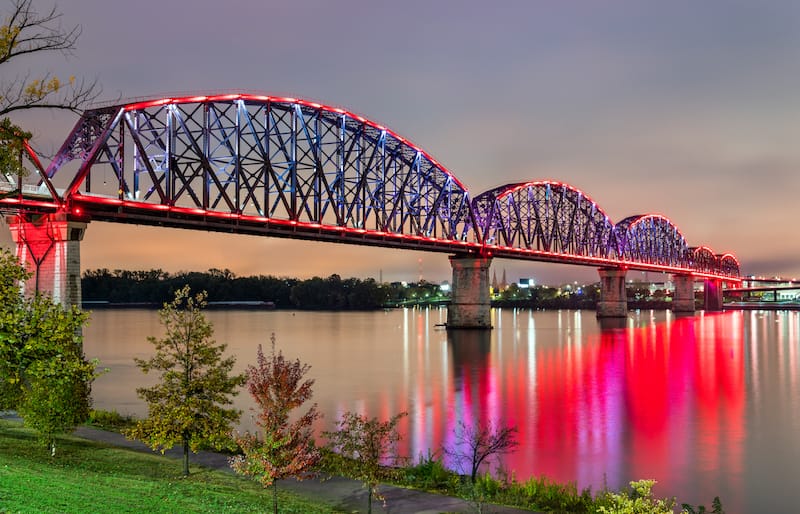 At the beginning of the bridge, visitors will find a covered picnic area and a playground. There is also a field space where people can fly kites and throw frisbees.
It has an LED lighting system that makes the bridge turn into a colorful wonderland at night.
The lights can be set to create a rainbow effect, emphasizing the bridge's beauty.
Address: 1101 River Rd.
Whitehall House & Gardens
Whitehall House & Gardens are vibrant gardens that also feature a mansion visitors can explore. The estate is an Italianate-style, 19th-century antebellum building that stands on 20 acres of land.
Built by John Marshall in the 1850s, the home passed between many influential figures in Kentucky before being given to the Historic Homes Foundation in 1992.
If you want to visit the mansion, Whitehall offers guided tours on Monday through Friday. The tours are 30 minutes and cost $5.
The gardens featured on the property are free to visit for everyone from sunrise to sunset. Explore the Arboretum, Specimen Garden, or Formal Florentine Garden, and the Woodland Fern.
It's a place that every history lover would enjoy.
Address: 3110 Lexington Rd.
Kentucky Derby Museum
The Kentucky Derby Museum is an American Thoroughbred horse racing museum that honors the Kentucky Derby's heritage, history, hospitality, and pride.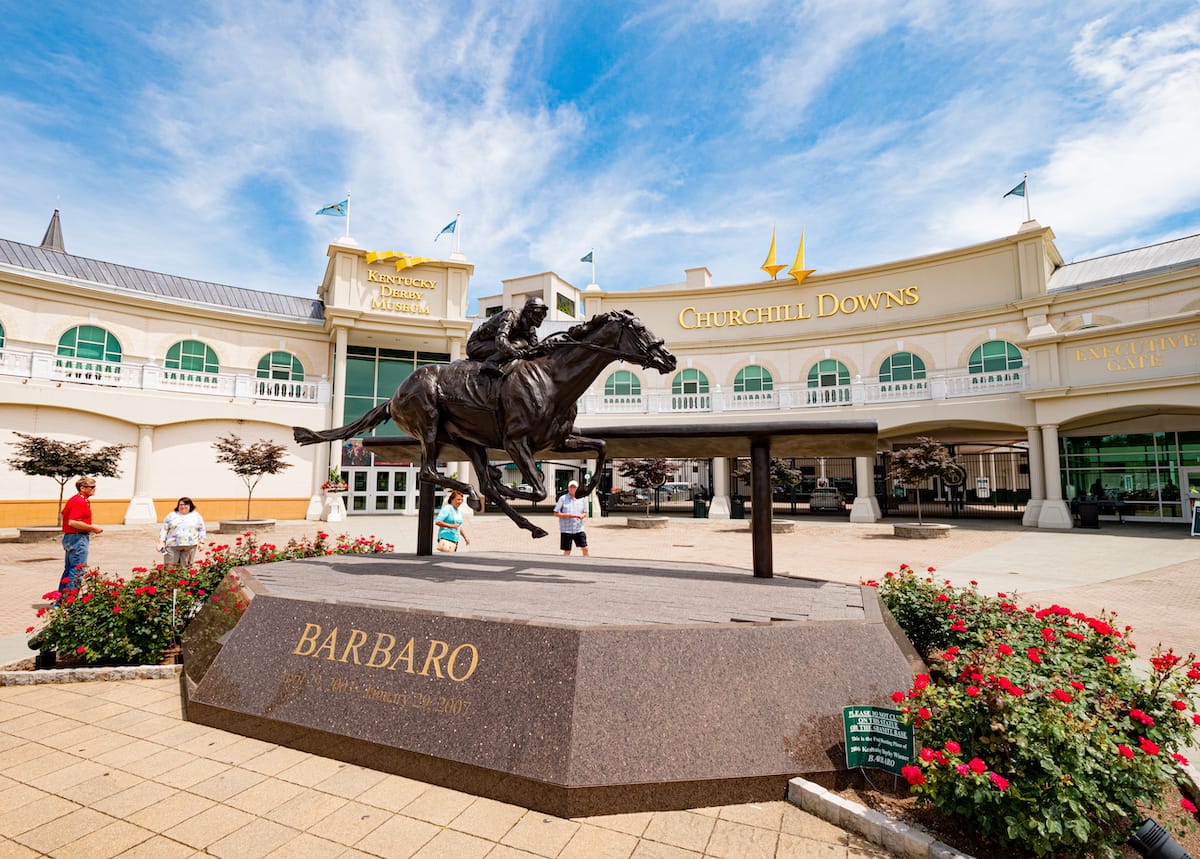 The Kentucky Derby Museum it allows people to learn more about the care of racehorses and see how they are treated.
BOOK HERE: General Admission to the Kentucky Derby Museum
You'll have the chance to see world-class exhibits such as the Guinness World Records Largest Horseshoe, Resident Thoroughbred, Miniature Horse, and the World's Greatest Race.
The visit includes a historical walking tour of the Churchill Down Racetrack, the Greatest Race exhibition, a state-of-art 360-degree high definition film, and access to permanent and temporary exhibits.
Address: 704 Central Ave.
Frazier History Museum
Located on Museum Row, Frazier History Museum documents and reinterprets historical events using relics, gallery talks, and live interpretations written and performed in costume.
Be sure to book a tour at the museum, where you will be able to see world-famous figures and events, as well as learn and hear stories about the people from the Bluegrass State and beyond.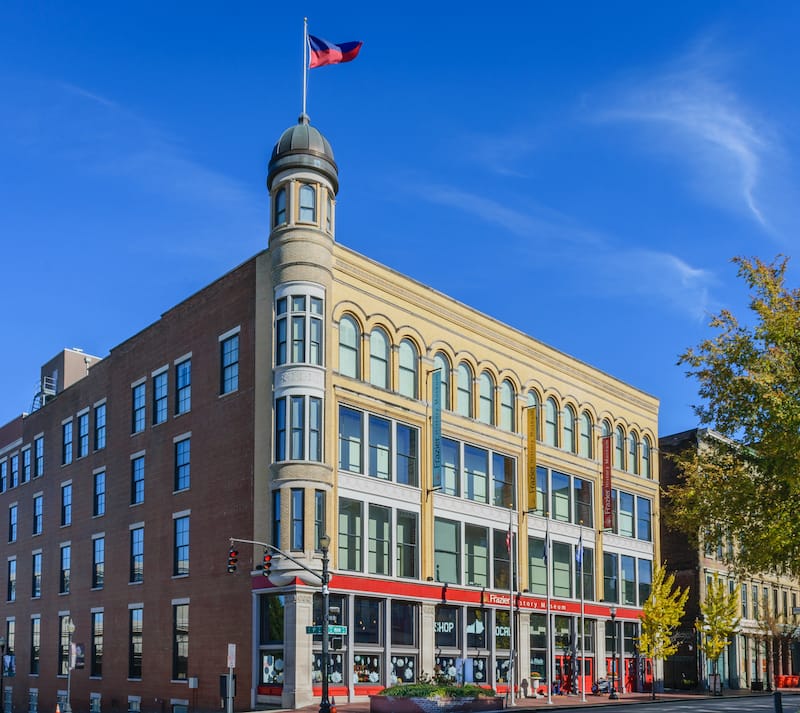 The museum also offers bourbon tasting events. It opened the Kentucky Bourbon Trail® Welcome Center in collaboration with the Kentucky Distillers' Association.
Located on the museum's first level, this free exhibit is open to the public.
Address: 829 W Main St.
The Louisville Palace
The Louisville Palace is a historic theater that opened in 1928. Located on South Fourth Street in downtown Louisville's theater district, the theater accommodates a wide range of live performances, including local, national, and international acts.
Stars that have appeared there include B.B King, Tom Jones, Prince, and the Beach Boys.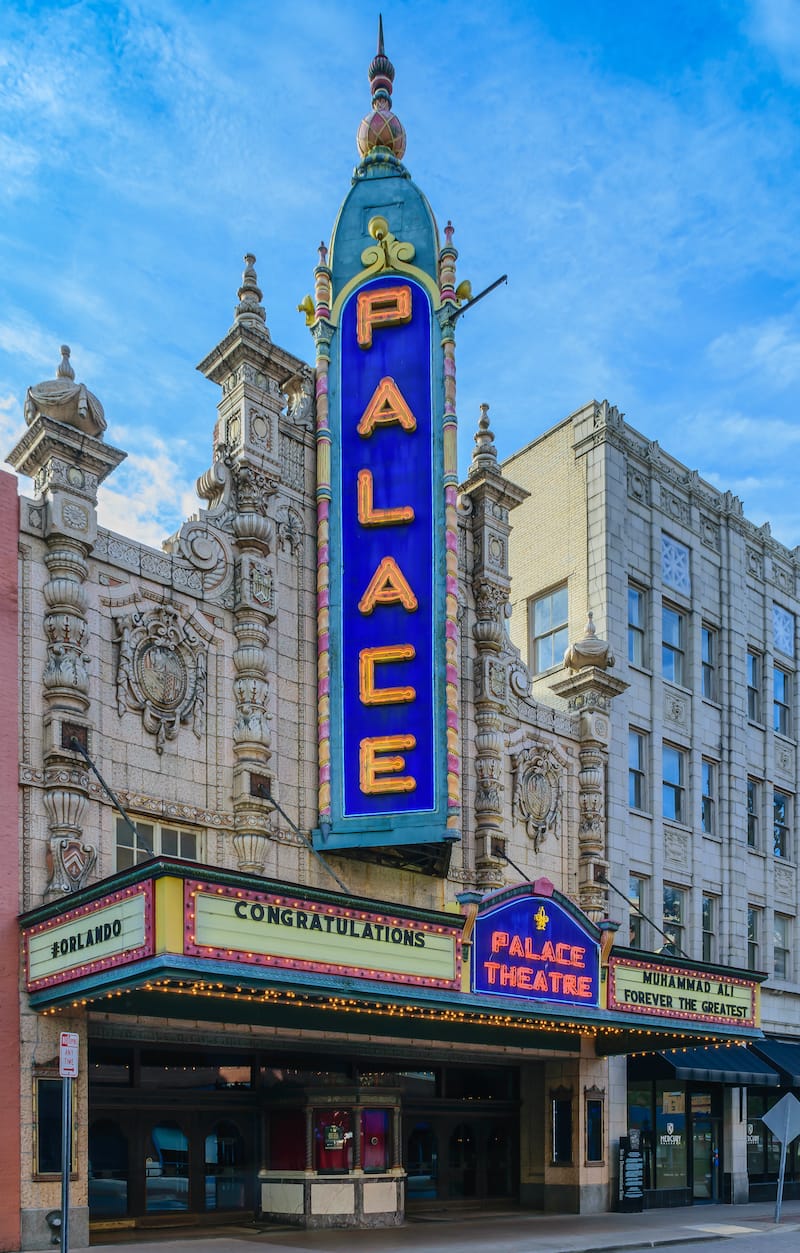 The theater has 2,800 seats and offers events of all types, from Broadway performances to stand-up comedians, R&B, and country artists.
The construction is in Spanish Baroque style, and the interior is stunning, especially the lobby, which is adorned with 139 sculptures of notable historical figures' faces.
Address: 625 S 4th St.
Old Louisville
Old Louisville is a lively community full of Victorian-era mansions and free concerts and festivals, including Kentucky Shakespeare in Central Park.
People who are interested in the mansions can book a tour where they will see the most stunning Victorian architecture, and several premier mansions, townhouses, and historic buildings will be on display with art and antique collections.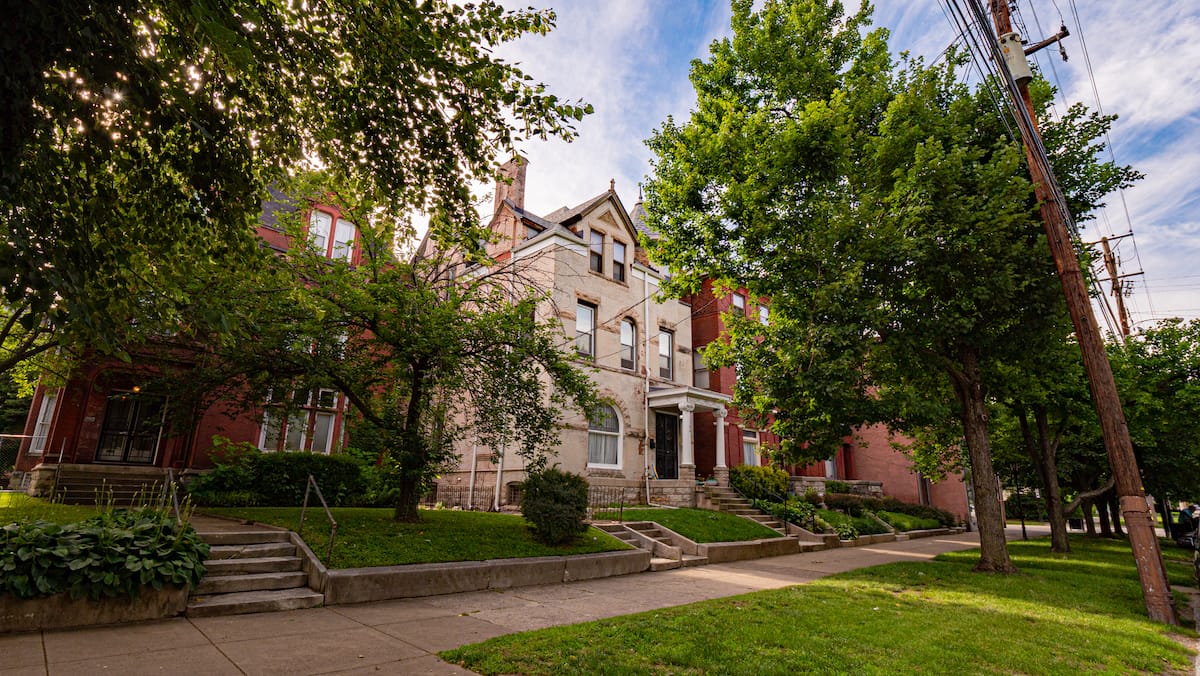 Mansion tour tickets are $30 per person. The Speed Art Museum also shows Kentucky art, Native American artifacts, and contemporary works.
You should also check out the cuisine in Old Louisville. Restaurants range from premium farm-to-table favorites to informal BBQ joints and artisan brewers that border historic streets.
Address: 1340 S 4th St.
Historic Frankfort Avenue
Historic Frankfort Avenue is a road that connects some of Louisville's historic and old-world lanes. The route runs through St. Matthews, Clifton, and Crescent Hill and is regarded as one of the city's brightest streets.
Along this railroad-lined route, you'll find historic homes and buildings, tree-lined lanes, alfresco eating, and locally-owned stores.
Once you're there, take a stroll on the Crescent Hill Reservoir and Gatehouse, where on the last Fridays of the month, there are free trolly rides that take you to shops, restaurants, and galleries in Crescent Hill, Clifton, and Butchertown.
Address: Frankfort Ave.
Locust Grove
Historic Locust Grove is a 55-acre 18th-century farm complex in eastern Jefferson County and a National Historic Landmark.
It tells stories about the many people who took part in the site's history, emphasizing the experiences of George Rogers Clark, who was a Revolutionary War commander.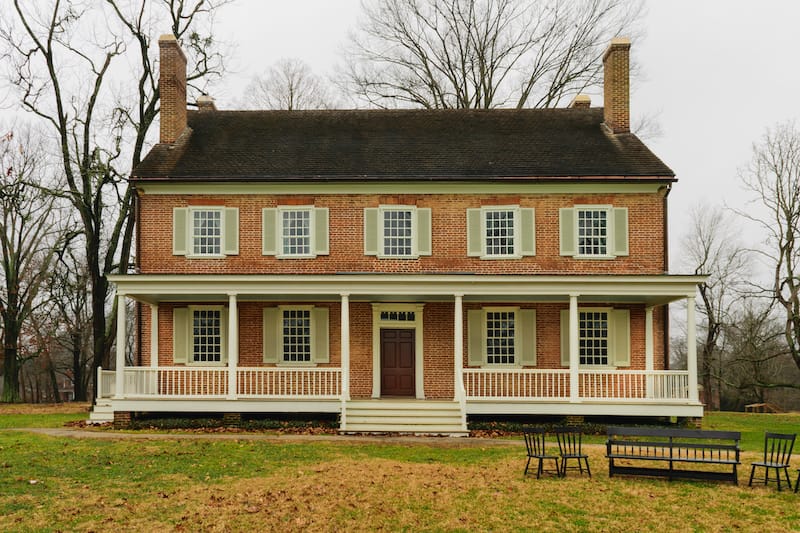 Visitors will also learn about the farm's founders, Willam and Lucy Clark. It was also visited by several US presidents, including James Monroe and Andrew Jackson, and artist James Audubon.
The Visitor Center, which includes a gift shop, museum, and conference space, is located adjacent to the estate.
Address: 561 Blankenbaker Ln
Angel's Envy Distillery
Angel's Envy Distillery is located on Main Street in Louisville. It offers a tour where visitors can explore the heart of distilling.
You can experience a fully operational urban distillery and observe the distillation process from start to end, from raw material to barreled spirit.
After that, you will be able to get a taste inside the Finishing Room. Since the distillery is a family-owned business, visitors will also learn about the family's history and the present traditions that distinguish Angel's Envy.
Address: 500 E Main St.
Muhammad Ali Center
In 2005, the Muhammad Ali Center in Louisville was established as a non-profit museum and cultural center honoring boxer Muhammad Ali.
The museum is about Ali's six basic principles of confidence, conviction, dedication, giving, respect, and spirituality. Muhammad Ali lived all his life according to these principles and inspired many worldwide.
When visiting the center, you can check out a theater that presents Ali's life. It also features a mock boxing ring, which is based on his Deer Lake Training Camp.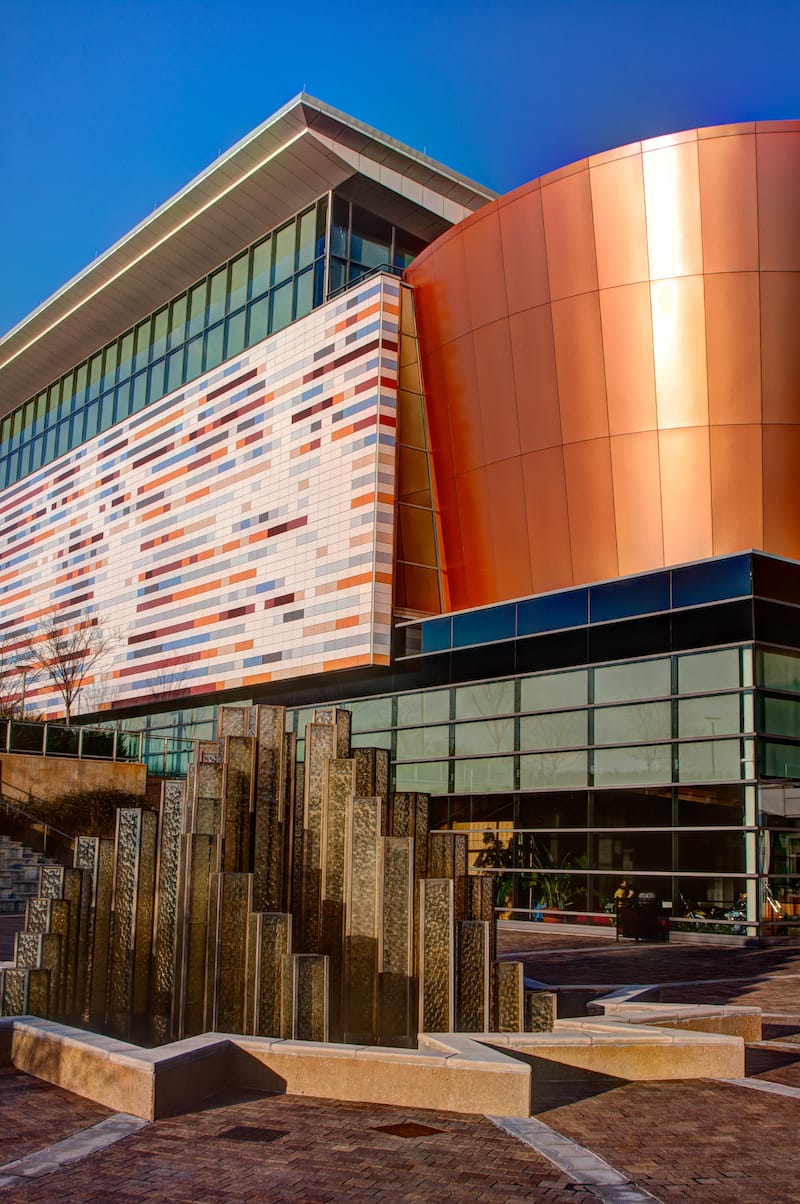 The museum also offers Ali's memorabilia and history. The film The Greatest is projected onto a full-size boxing ring projector.
Visitors can also watch highlights of Ali's most famous fights on video-on-demand terminals, including pre-and post-fight interviews.
Address: 144 N 6th St
Mint Julep Experiences
If you have plenty of time in Kentucky and don't know where to start, Mint Julep offers custom or public tours.
Visitors who want a custom tour will build their own must-see lists of distilleries, horse farms, sightseeing locations, and more with the help of the experts at Mint Julep.
The public tours are pre-planned tours to distilleries, horse farms, landmarks, and foodie experiences.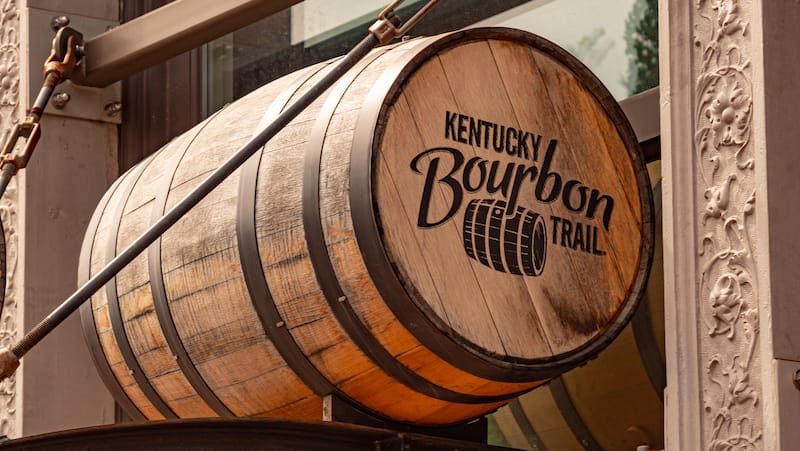 They also have tours of the famous Kentucky Bourbon Trail, where you'll visit 14 member distilleries and learn about the making of world-famous bourbons and taste them.
The family-owned tour company provides hassle-free transportation for groups of any size and it is one of the best things to do even if you're looking for a romantic date night in Louisville!
Address: 210 W Liberty St.
The Conrad-Caldwell House Museum
The Conrad-Caldwell House Museum is a historic Victorian home in the center of Old Louisville.
It was built in 1895 by architect Arthur Loomis as a Richardsonian Romanesque castle and is now an ornament to the city.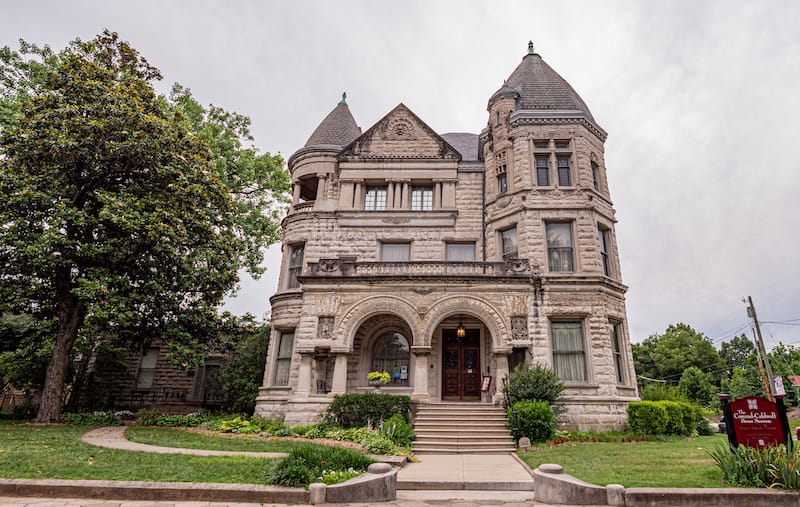 Historic home lovers would enjoy a tour here. The house has been meticulously restored to resemble the Edwardian era, and it now houses a collection of Conrad and Caldwell family heirlooms as well as many magnificent historical artifacts.
Learn more about the period and the families that once called this mansion home as you go back in time during the tour.
Address: 1402 St James Ct.
Flame Run Glass Studio and Gallery
For people interested in glassmaking, Flame Run Glass Studio and Gallery offers the ability to see masters shape a formless piece of glass into a work of art right before your eyes.
They offer glass blowing and glass art through art glass gallery tours, hot glass demonstrations, exhibitions, and community classes.
The location is unique and well-known for its spontaneous creative streak, passion for art, and an extensive collection of glassware and blown-glass items.
They also provide patrons with the opportunity to try their hand at blown glass by collaborating with an artist to create a piece of their own.
Address: 815 W Market St.
Where to Stay in Louisville
Are you looking for the best places to stay in Louisville (particularly in the downtown area!), here are some of our top picks:
Did we miss any of the best things to do in Louisville KY? Let us know your tips in the comments! Thanks!
More Kentucky Travel Guides
Pin this Louisville Attractions Guide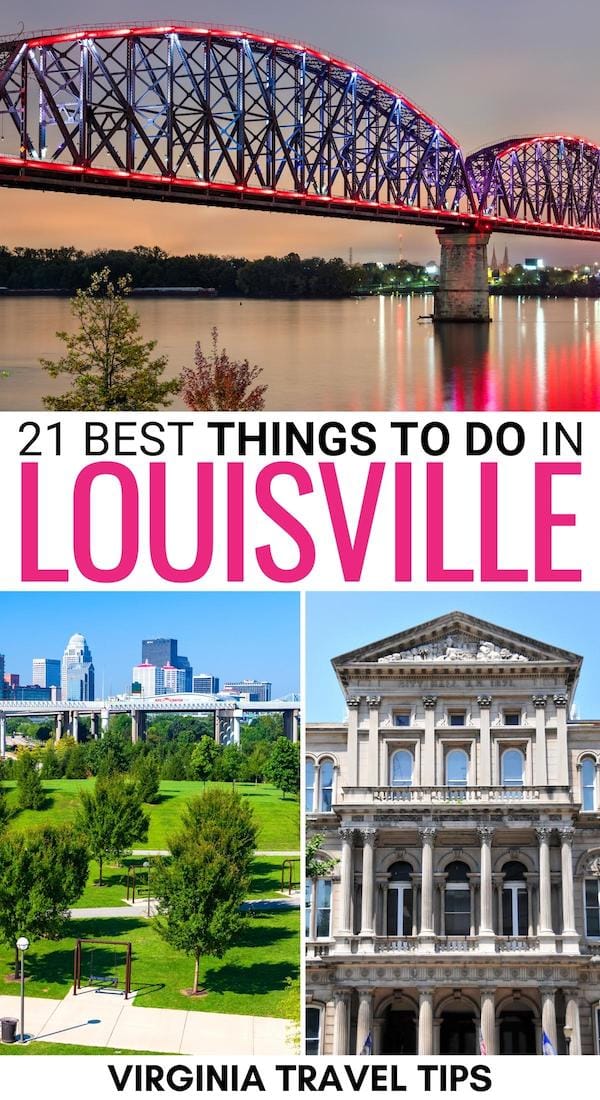 ** Photos via 4kclips* & Thomas Kelley** on Shutterstock and Deposit Photos.