The Bluegrass State is known for its rich history and beautiful landscape. Bordered by the Appalachian Mountains and three rivers, it comes as no surprise that there are many outdoor activities and national parks in Kentucky.
In addition, visitors can learn more about the state's history during a visit to any of the Kentucky national parks and historical trails, which commemorate events such as Abraham Lincoln's birth and Civil War battles.
In short, every history buff and outdoor fanatic can certainly find something they'll enjoy at any of Kentucky's national parks. Here are our top picks for national parks in KY that you should not miss during your trip to Kentucky.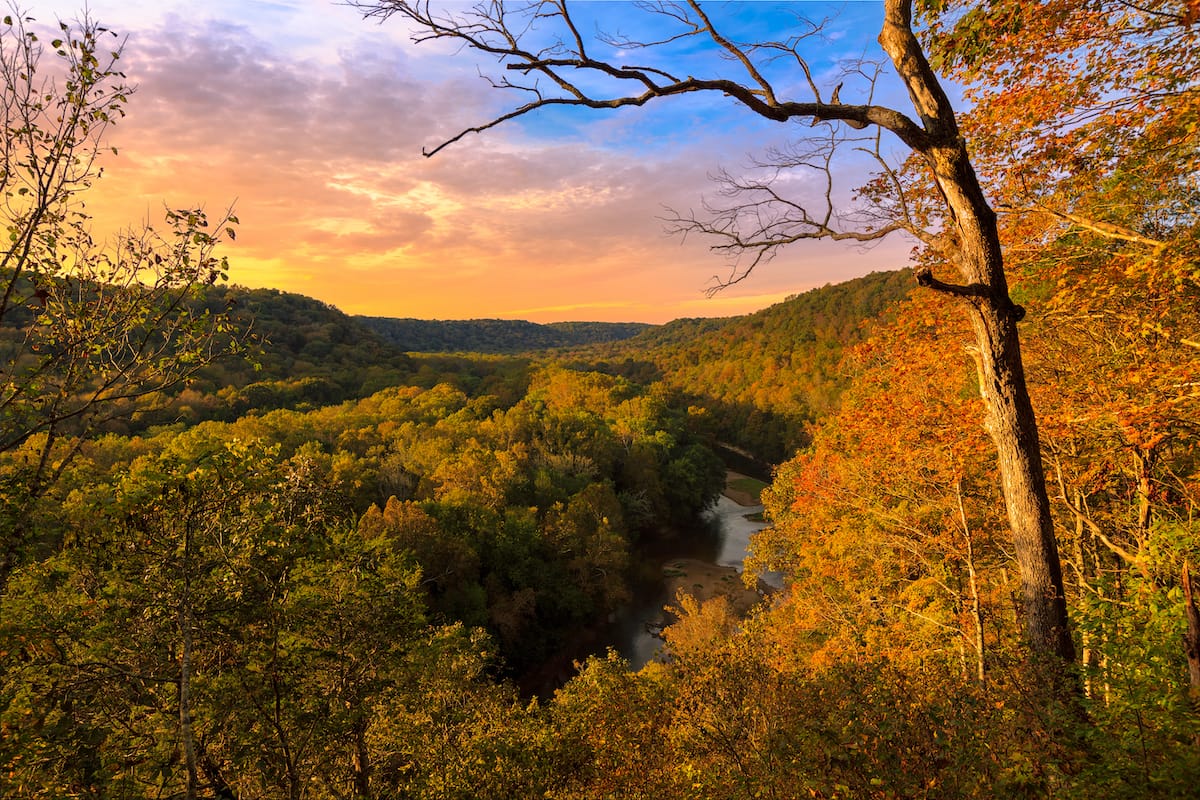 Historical Sites & National Parks in Kentucky
Abraham Lincoln Birthplace National Historical Park
Location: Hodgenville
Official Website
Located in rural central Kentucky, Abraham Lincoln Birthplace National Historical Park is a memorial that honors the 16th US President.
The area consists of the birthplace and the boyhood home sites where Abraham Lincoln lived during his childhood. Visitors can check out a cabin that symbolizes one where Lincoln was born.
At his boyhood home, a Knob Creek Farm tour is available to show visitors where Lincoln grew up between the ages of 2 and 8.
Hiking trails and picnic areas are available at both sites. So, it is recommended that you wear sturdy footwear if you want to hike in the beautiful park.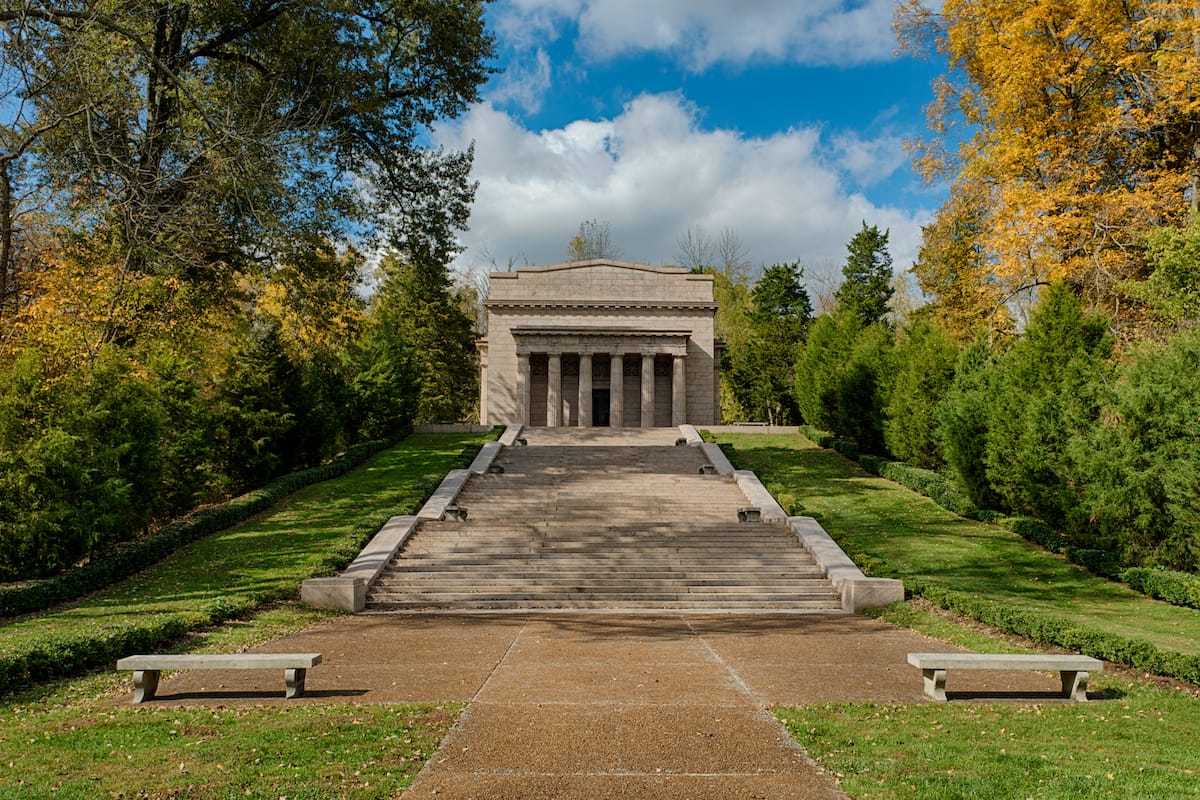 Before beginning your day in the park, stop by the Visitor Center for general information, unique exhibits, and special programs.
A must-see place for visitors is Sinking Spring, located beneath the hill. Lincoln probably had his first drink in the spring since his family relied on this spring for water.
The park is open for visitors from 9 AM to 5 PM seven days a week. Keep in mind that the park is closed during holidays, so before planning your trip, visit the website for detailed information. In addition, there is no fee associated with visiting either portion of the park.
Big South Fork National River & Recreation Area
Location: Southeastern Kentucky
Official Website
Based on 125,000 acres of rugged gorges and scenic forests, Big South Fork National River & Recreation Area offers a wide range of outdoor recreational activities for its visitors.
The Big South Fork of the Cumberland River and its main streams- Clear Fork, North White Oak, and New River- give visitors a chance to try some whitewater paddling sessions.
There are different stretches for different skill levels since sometimes, it can be dangerous. Visitors who love an adrenaline rush also have the opportunity to rock climbing in the hundreds of miles of cliffs available.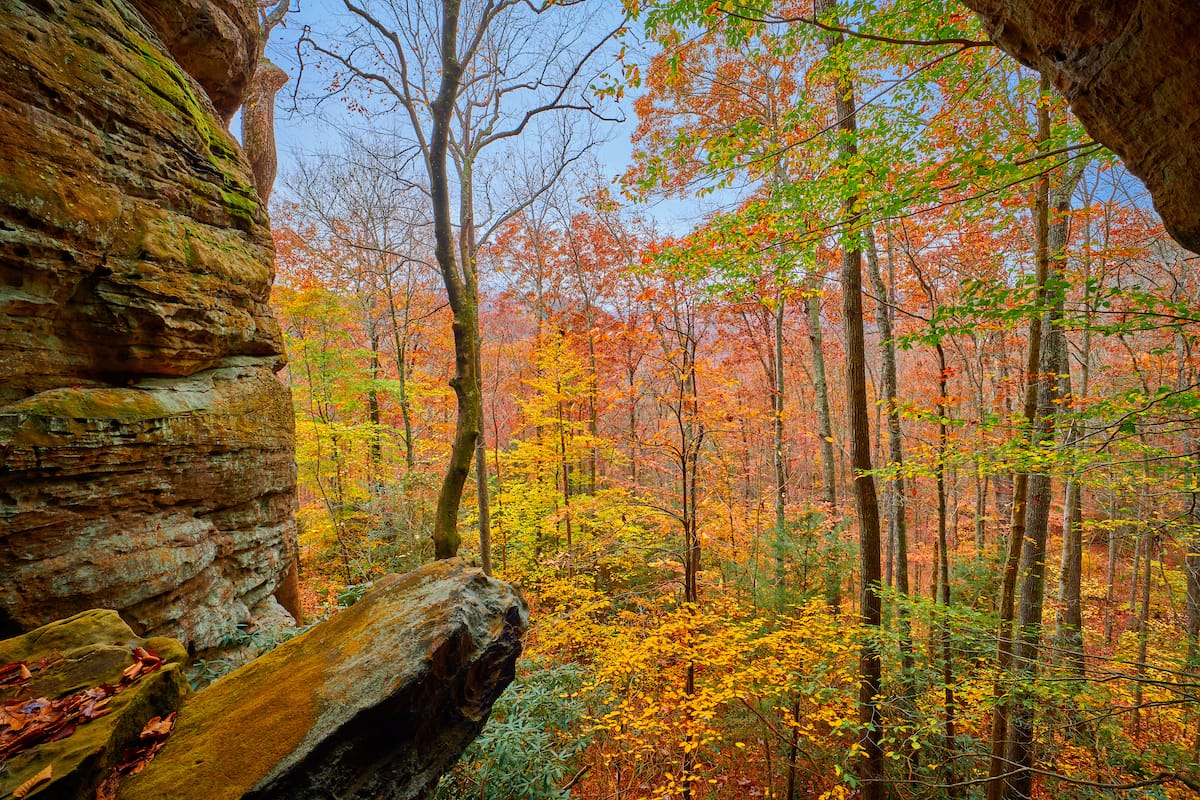 However, it is hazardous, and climbers should have the requisite safety equipment and knowledge.
Big South Fork is primarily famous for its hiking trails that take you into the heart of the park. The park has a map describing trail systems, split into nine detailed maps of all route uses.
Trails for all age groups and skill levels are available, from short and accessible hikes to long and adventurous ones. Backcountry camping is also available in Big South Fork for those who want to enjoy multiple days of experience.
The park is accessible every day for 24 hours. In addition, there are no entrance fees for Big South Fork.
Camp Nelson National Monument
Location: Nicholasville
Official Website
During the Civil War, Camp Nelson at first served as a primary base and hospital for the United States Army.
It later became a massive recruitment and training facility for African-American soldiers and a refugee camp for their wives and children.
Nowadays, Camp Nelson National Monument is a park unit, and it's the first national monument in Kentucky. Visitors can check out the Visitor Center and museum to learn more about the historical events that occurred here.
Visitors can also have the chance to check out how big of a role Camp Nelson played as a military installation, supply depot, hospital, recruitment center, and refugee camp.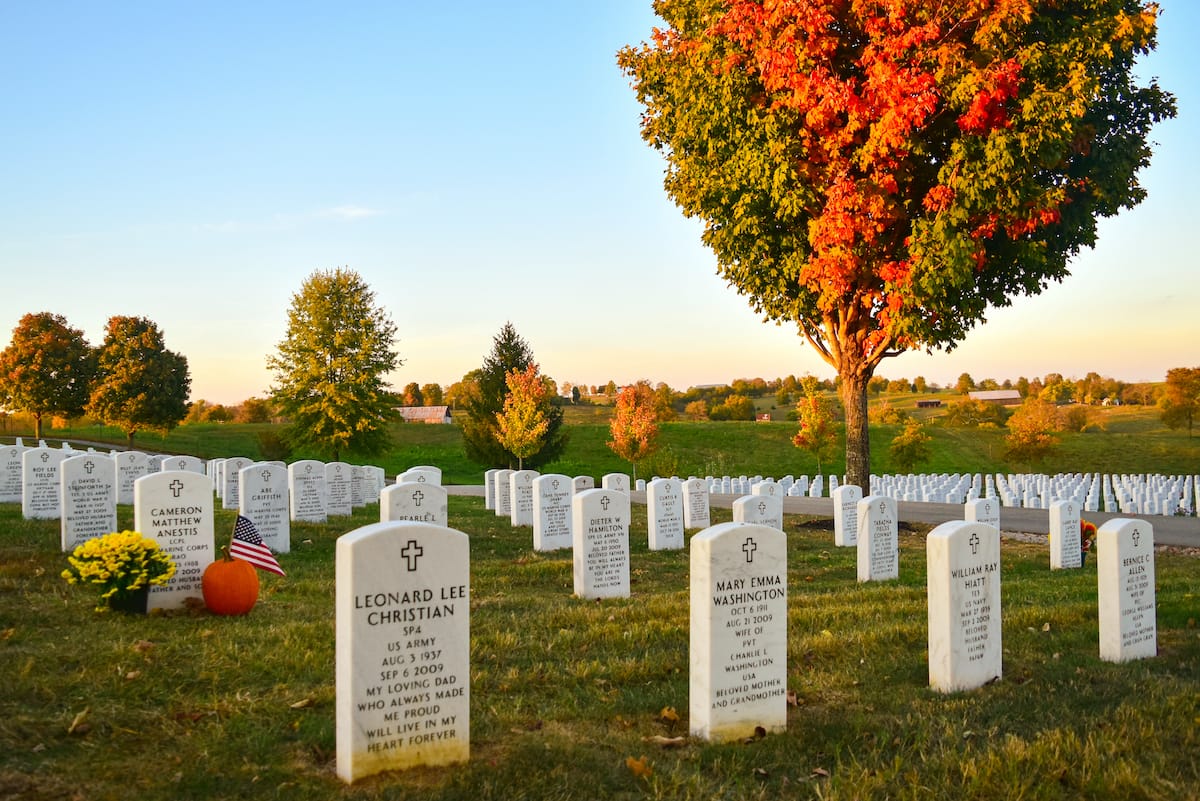 Many hiking trails are also available throughout the park, where visitors can walk in the footsteps of the soldiers to understand the site's importance.
You can also visit the Camp Nelson National Cemetery, where 1,615 soldiers are buried, which was established in 1866. A small church is also located in the area.
It was named after John Fee, who dedicated his life to creating educational opportunities for African-Americans.
The Visitor Center and Museum are open Wednesday to Friday from 9 AM to 5 PM. The hiking trails and the National Monument are open from sunrise to sunset every day.
There is no entrance fee for visiting the park.
Cumberland Gap National Historical Park
Location: Southeastern Kentucky
Official Website
Located where the borders of Tennessee, Kentucky, and Virginia unite, Cumberland Gap National Park has a lot to offer, including a rich history, breathtaking scenery, gorgeous panoramas, and an abundance and diversity of plant life.
Back in the day, Native Americans traveled through it along a game trail where in the 1700s, they carved out Wilderness Road.
The park is the perfect place for adventure lovers since it offers a variety of activities.
You can go hiking on more than 85 miles of trails, where you will explore groves of hemlock, fields of breathtaking wildflowers, and meadows of rhododendron and fiddle greenery.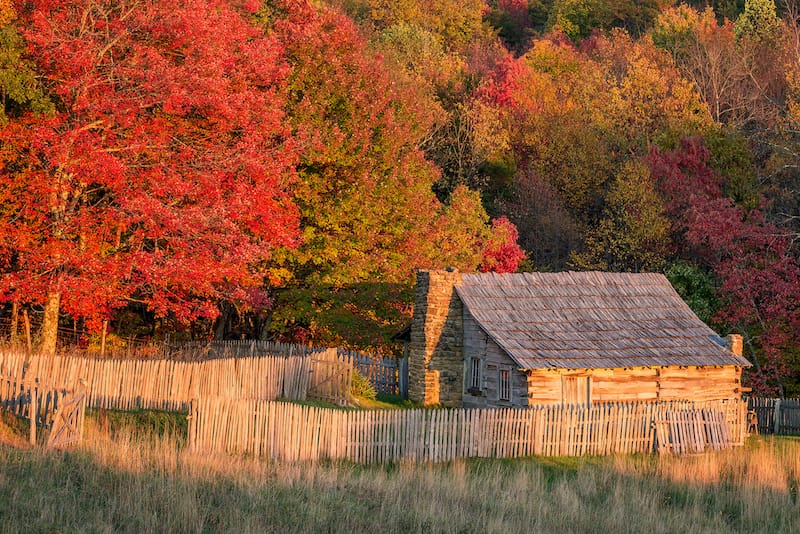 There is also a Gap Cave, a magical underground cave where park rangers lead tours around the cave.
This stunning part of nature is popular among visitors, so make sure you call beforehand and secure your place. Cycling is also welcomed on park grounds.
Cumberland Gap National Park is open 24 hours every day and has no entrance fees.
Fort Donelson National Battlefield
Location: Calloway County
Official Website
Located atop a high mountain surveying the Kentucky Lake, Fort Heiman was one of three Civil War forts that protected the Tennessee and Cumberland Rivers. It also served as a key rail line.
During a 1.5-hour battle, Confederate soldiers overpowered the Union to resign and flee to escape.
The victory was short-lived since the Union forces surrounded the fort in the following days, resulting in the Union victory at Fort Donelson.
Fort Donelson is known as one of the great historical treasures of the Kentucky Lake area. It is a national park with a beautiful view of the Cumberland River.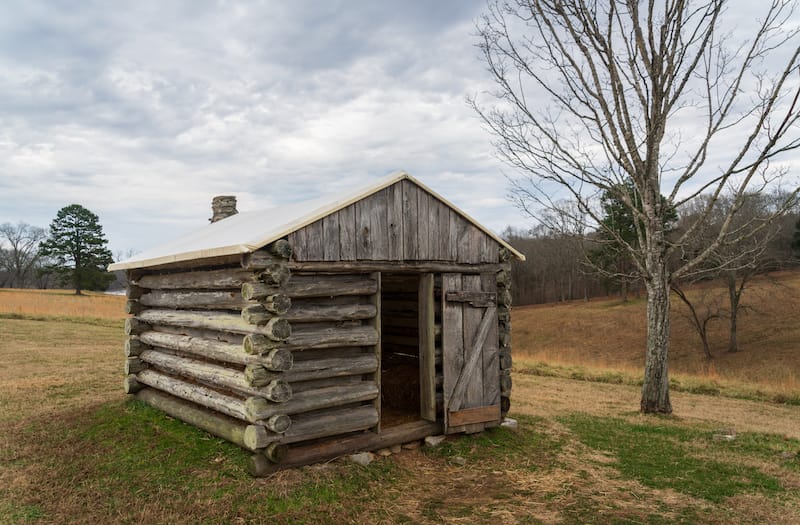 Many soldiers took their last breath here. Nowadays, it provides an educational experience for every age group.
On-site visitors can have a Fort Donelson Autotour, which is an excellent way to learn more about the historic site.
Guests can also look at the artillery batteries built by the Confederates for the defense of the Cumberland River.
A 19th-century hotel is also available on-site, with one room open to the public. Their visitors can read interpretive exhibits and watch short films about the significance of the battle's structure.
The park is open every day from 8 AM to 4:30 PM, and there are no entrance fees.
Lewis & Clark National Historic Trail
Location: Various states
Official Website
The Lewis and Clark National Historic Trail stretches 4,900 miles from Pittsburgh, Pennsylvania, to the Columbia River's mouth near Astoria, Oregon.
It follows the historic outbound and inbound routes of the Lewis and Clark Expedition, as well as the preceding section from Pennsylvania to Wood River, Illinois.
Congress built the trail in 1978, and it connected 16 states. Visitors can hike through the park and explore its meadows and forests. Horseback riding is also an option if you're not a fan of hiking.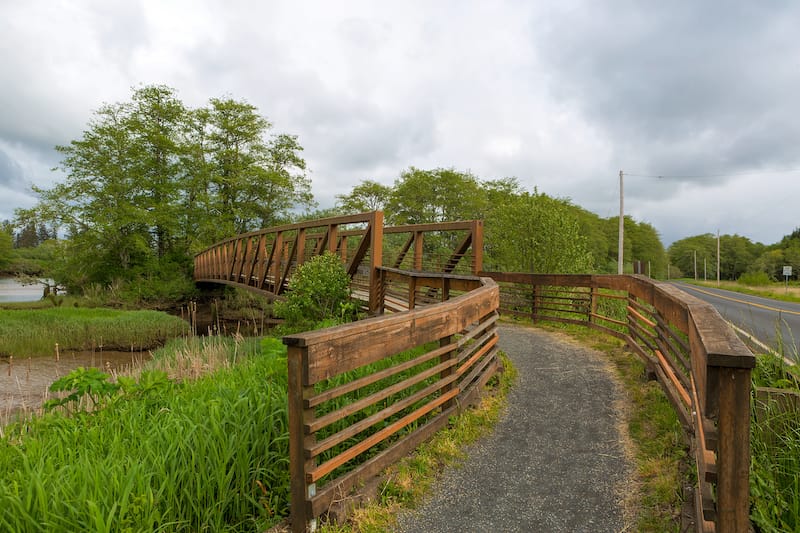 Many people also enjoy whitewater rafting and canoeing. There are truly endless activities to enjoy here. In the winter, visitors can go skiing or snowshoeing to discover the trail. Cyclists can also explore Lewis and Clark's rugged paths.
The Lewis and Clark Trail is open every day from 9:30 AM to 5 PM. The park does not charge an entrance fee, but some of their partners do. For more detailed information, visit their website.
Mammoth Cave National Park
Location: close to Bowling Green
Official Website
Mammoth Cave National Park was founded in Kentucky to safeguard the world's largest underground cave system, as well as the rolling hills above it and the Green River Valley.
It is almost 53,000 acres and one of the most popular attractions in Kentucky. It is the perfect destination for adventure lovers since the park offers the chance to partake in a wide variety of activities such as hiking, camping, canoeing, picnicking, and cave tours.
The prices for cave tours range from $12 to $66 depending on your age group and the type of tour you want.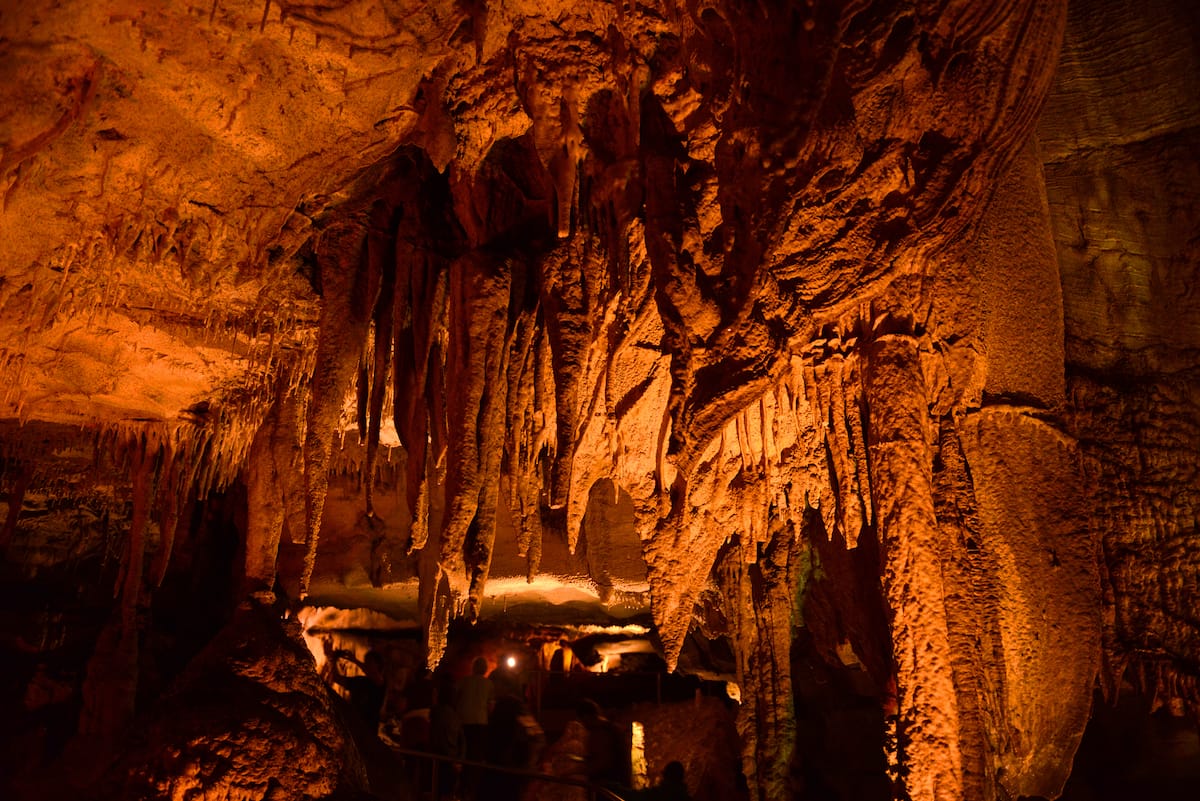 Visitors can also reserve a picnic shelter in the park. Each has ten tables and a fireplace. The open picnic shelters cost $55 a day, and the enclosed ones cost 80$ a day.
In the park, visitors can find three campgrounds, but keep in mind that the campgrounds are not free. The campgrounds' prices range from $20 to $50 depending on the site and size you choose.
Anglers and canoers have the chance to enjoy their day along the Nolin River. Visitors can also find many hiking and biking trails to explore the park.
The park is open every day, 24 hours a day.
Mill Springs Battlefield National Monument
Location: Nancy
Official Website
The Mill Springs Battlefield National Monument is the site of the Battle of Mill Springs, which took place in 1862. This is where the Union had its first victory during the Civil War. In 1993, it became a US National Historic Landmark.
In the park, you can check out the Mill Springs Battlefield Visitors Center and Museum, where you can learn more about the history of the battle. A short film is also shown about the Battle of Mill Springs in the center.
The museum is open from 10 AM to 4 PM Wednesday through Sunday. The Mill Springs Battlefield Association offers driving tours consisting of 10 stops marked with informative signs to learn more about the area's significance.
Visitors can also hike along a trail with more than 14 interpretative signs.
The Brown-Lanier House, which served as headquarters for three generals during the battle, and the newly renovated West-Metcalfe House, which was utilized as a hospital after the conflict, are located in Mill Springs and open for tours Fridays and Saturdays from 10 AM to 4 PM.
It costs $2 per person to go on these tours.
Trail of Tears National Historic Trail
Location: Western Kentucky
Official Website
The Trail of Tears was where nearly 16,000 Native Americans were forcefully removed from their indigenous lands. In 1838, people from Tennessee, Alabama, North Carolina, and Georgia were sent to the territory today known as Oklahoma.
Many perished as a result. The trail where they perished was preserved to honor the memory of the members of the Cherokee tribe who died.
Nowadays, the park offers camping, hiking, a lake, a swimming beach, picnicking areas, and an accessible overlook of the Mississippi River.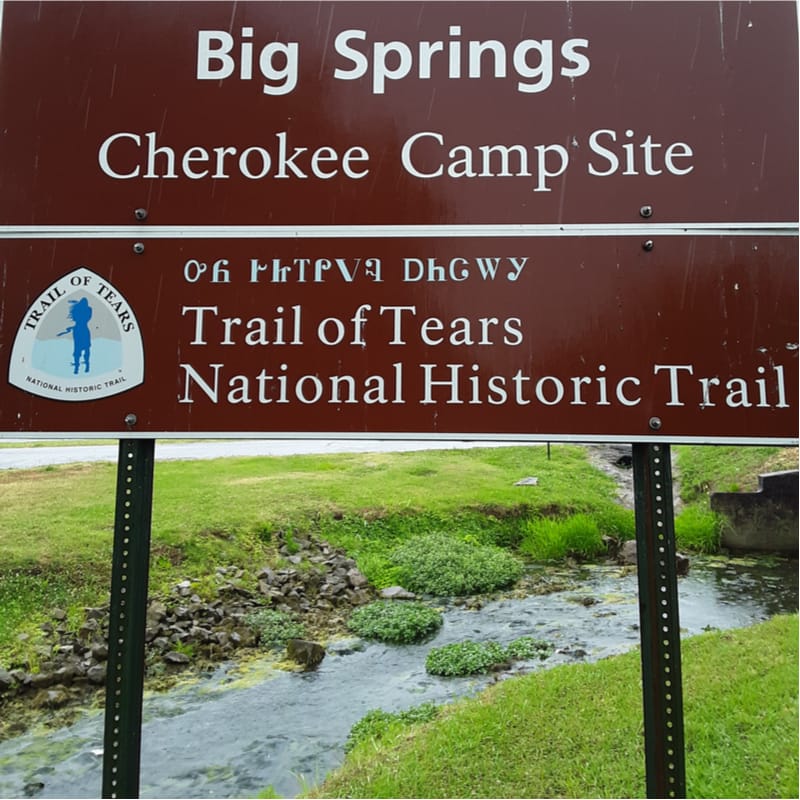 The park has many hiking trails where visitors can stroll around the sacred sites that tell the story of suffering and intolerance, but one of survival as well.
There is no entrance fee for the Trail of Tears National Historic trails, but there might be some at trail-related, state, or locally-owned historic sites.
Did we miss any of your favorite national parks in Kentucky? Let us know which Kentucky national parks are your favorites in the comments!
More Kentucky Travel Inspiration
Pin this Kentucky National Parks Guide