Memphis is one of the most happening cities east of the Mississippi and you will find a plethora of things to do when there.
However, you will also find several cool day trips from Memphis, making this a fantastic city to visit!
Are you planning your trip to Memphis at the last minute?
If you're traveling to Memphis last minute, you want to ensure you have lodging and tours ahead of time! Below are some of our top picks in town!
🇺🇸 Top Tours in Memphis:
🛌 Top Hotels in Memphis:
Big Cypress Lodge (located within the Pyramid!)
Hyatt Place Memphis Wolfchase (Has a pool!)
🚗 Looking for the best way to get around Memphis? Click here to check rental car rates for Tennessee!
We have listed day trips that can also be done as weekend trips from Memphis in an effort to encourage travelers to slow down and stay a while!
What are your favorite Memphis day trips? Let us know in the comments! Thanks!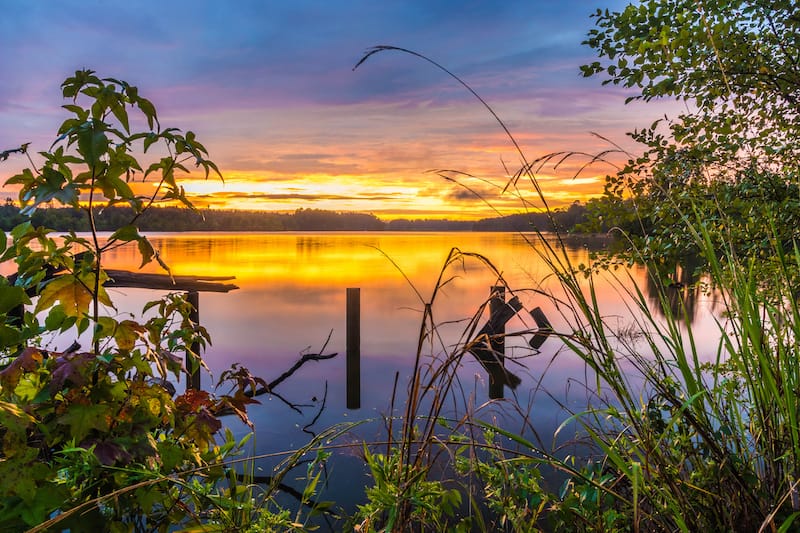 Best Day Trips from Memphis
1. Jackson
State: Mississippi
Distance from Memphis: 209 miles (2 hours, 53 minutes)
The city of Jackson was founded in 1821 and named after General Andrew Jackson, who would later become the President of the US.
Today, it is the capital of Mississippi with a rich historical background, which you'll find vivid proof of throughout the city's many museums and historical sights.
The Mississippi city is the perfect place for a weekend trip from Memphis if you're on the hunt for family adventures and interesting tours.
When there, be sure to stop by the Mississippi Museum of Natural Science that provides natural history through exhibitions and installations – it is perfect for traveling families!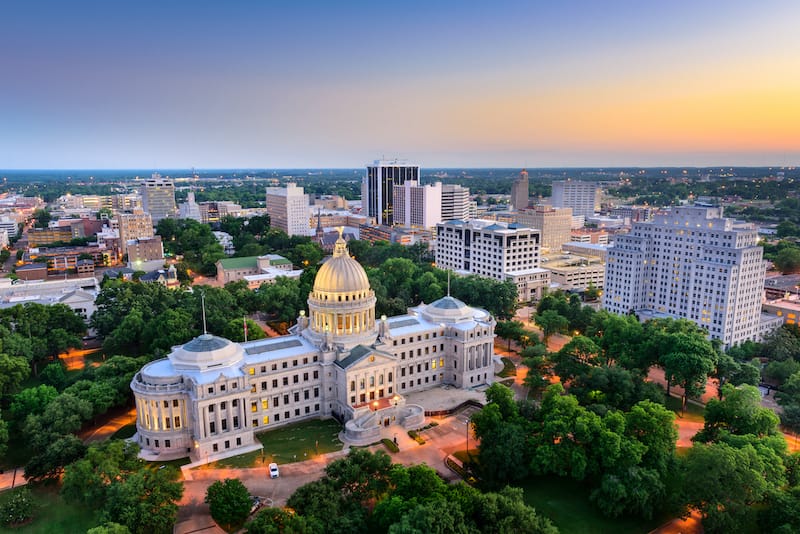 The Old Capitol Museum is also a must-see in Jackson and is the former seat of state government. Youngesters will also enjoy a trip to the Mississippi Children's Museum.
Other popular things to do are to visit the Mississippi Petrified Forest, the Civil Rights Museum, Museum of Art, Eudora Welty House and Garden, and LeFleur's Bluff State Park.
2. Heber Springs
State: Arkansas
Distance from Memphis: 132 miles (2 hours, 26 minutes)
Heber Springs was founded by Max Frauenthal in the mid-19th-century and was formerly named Sugar Loaf. In 1882, the town was renamed to honor Dr. Heber Jones, an advocate of the healing powers of the springs located in the area.
Today, Heber Springs is the gateway to Greers Ferry Lake and the Little Red River, offering picturesque landscapes, outdoor recreation, and a historical experience.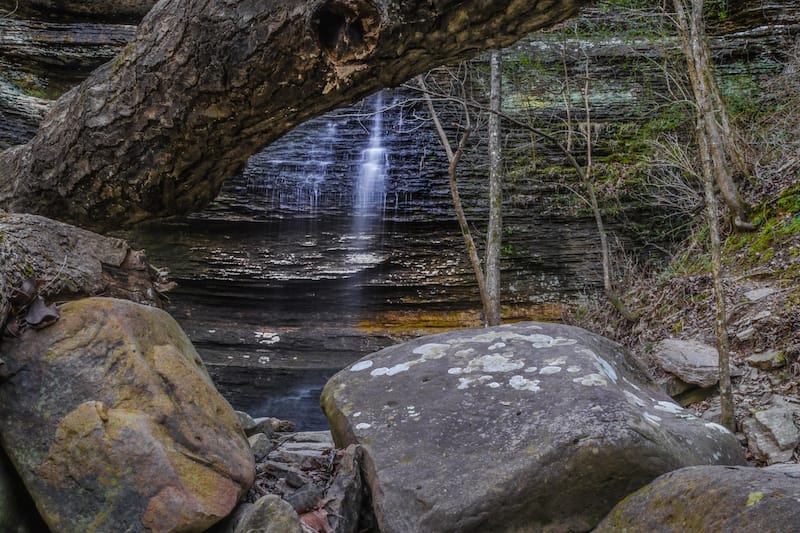 Some must-visit places in and around Heber Springs include Collins Creek Cascade and Trout Stream (a new wild trout fishery), Magness Lake (you will find a large population of Trumpeter swans), and Dam Site Marina (for watersports)!
Some other fantastic things to do in the area are to visit the Ozark Country Market of organic and homemade products, the Ruland Junction Toy Train Museum, and the Vintage Market Home and Garden Decor. Don't pass up a trip to the wonderful Ellen Hobgood Gallery, either!
3. Clarksdale
State: Mississippi
Distance from Memphis: 78 miles (1 hour, 20 minutes)
Visit the birthplace of blues music – Clarksdale! It is located along the Sunflower River and was named after John Clark, the founder of the city. Today, Clarksdale is a bustling trading and agricultural center and one of the best day trips from Memphis for music lovers.
Here, you can enjoy live music, visit plenty of museums, stay at rustic places, and enjoy plenty of outdoor attractions.
Get acquainted with the history of blues by visiting the Delta Blues Museum, the Rock and Blues Museum, and the Delta Cultural Museum.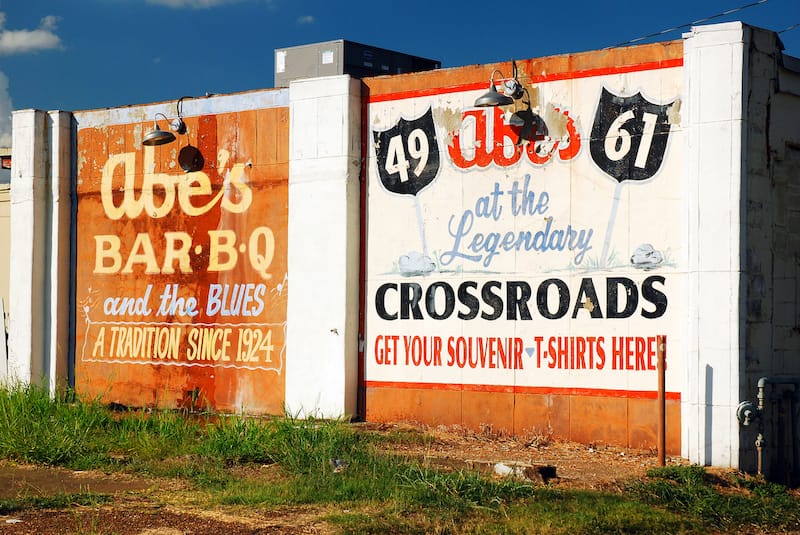 And of course, you must check out a live music show – head to Reds Lounge, Ground Zero Blues Club, Hambone Art and Music, or the Shack Up Inn to do so.
In addition, be sure to stop by the Carnegie Public Library or enjoy a canoeing trip down the Mississippi River.
4. Blanchard Springs Caverns
State: Arkansas
Distance from Memphis: 164 miles (3 hours, 4 minutes)
Blanchard Springs Caverns is a constantly growing limestone cave system in the Ozark–St. Francis National Forest. Situated 200 feet below ground, it's one of the most visited caves in the country.
Several guided tours are available depending on the weather. The Dripstone Trail will take you to two huge rooms filled with stalactites. The Cathedral Room has a 70-foot column, 55-foot draperies, and a natural bridge.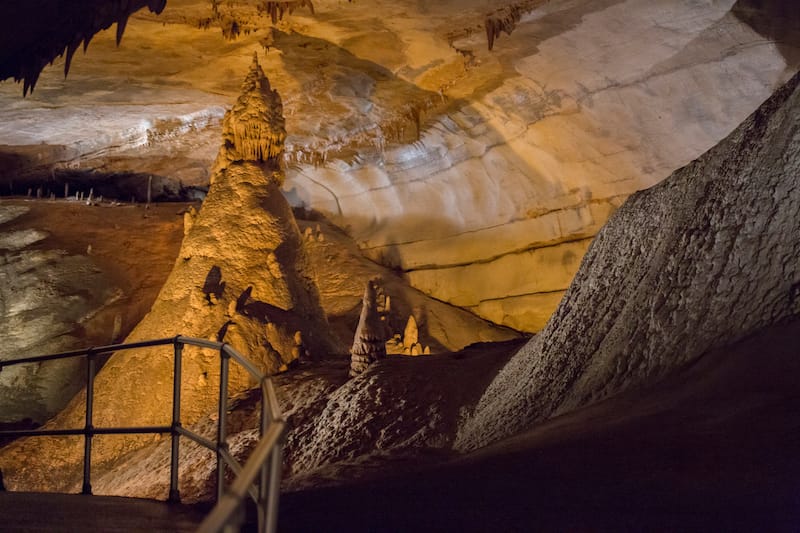 The Discovery Trail includes a little climbing and lots of walking. It's called 'discovery' because it passes through the cave's natural entrance, where the explorers once entered.
The tour will lead you to the lower parts of the cave where you will have a chance to see the stream, and maybe meet some bats! The Tennessee caverns offer 30 campsites, hiking trails, and plenty of amenities nearby (especially food)!
5. Hatchie National Wildlife Refuge
State: Tennessee
Distance from Memphis: 56 miles (50 minutes)
This Tennessee wildlife refuge was established in 1964 to provide a habitat for migrating waterfowl.
Situated along the scenic Hatchie River, Hatchie National Wildlife Refuge spans over 11,556 acres. It boasts rich wildlife, including songbirds, waterfowl, shorebirds as well as various species of mammals, reptiles, and fish.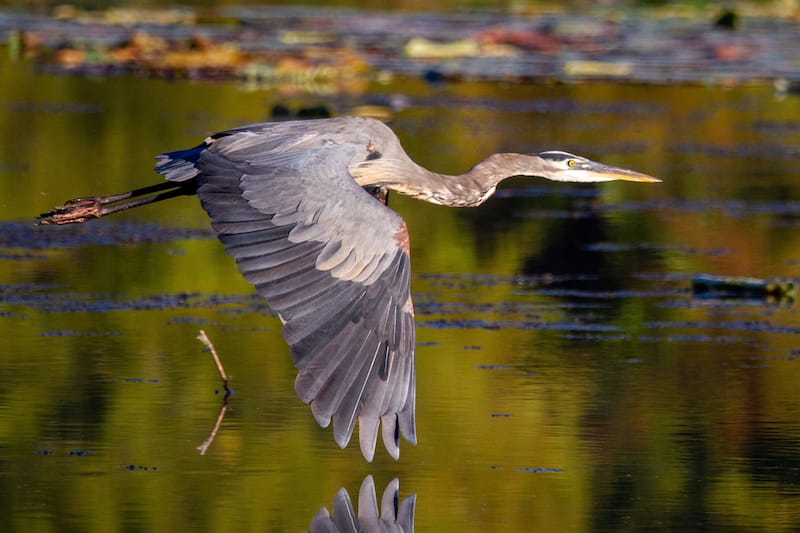 It also helps to preserve the diminishing bottomland hardwood forests. Hatchie National Wildlife Refuge is the perfect place for a family getaway from Memphis and other places nearby.
Once at the refuge, you will find many guides, volunteers, exhibits, signs, and more that aims to educate you about the Tennessee refuge.
The refuge offers various fishing and hunting opportunities. Every year it hosts an annual youth fishing rodeo in June, on Free Fishing Day. Fishing is permitted in Oneal and Oxbow Lakes.
6. Hardy
State: Arkansas
Distance from Memphis: 131 miles (2 hours, 36 minutes)
A small mountain town that was founded in 1883, Hardy, is located on the Spring River in Arkansas.
The area got its name in honor of railroad contractor James A. Hardy. Hardy emerged as the result of the construction of the Kansas City, Springfield, and Memphis Railroad. In the twentieth century, the small Arkansas town became a popular tourist destination.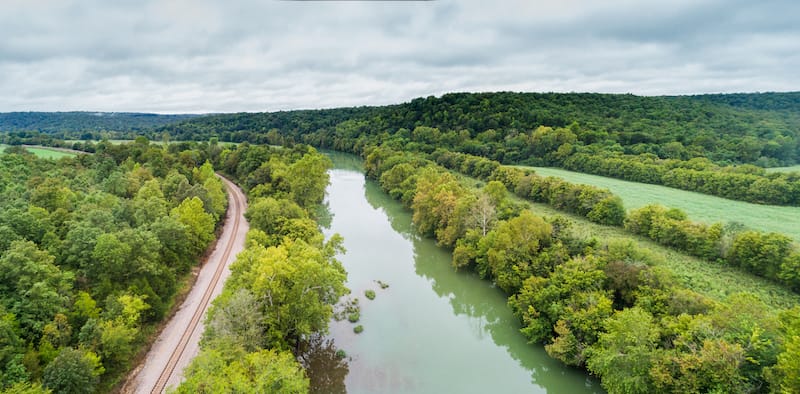 Hardy offers a variety of attractions for its visitors and we mention a few of them below!
Griffin Park features zip-lining, paintball, horseback riding for the adventurous guest. The Vintage Motorcar Museum boasts over 60 vintage automobiles for car lovers.
Powhatan Courthouse State Park includes the actual historic courthouse in the region and is a fantastic landmark to check out for history buffs.
Lake Charles State Park has campsites, hiking trails, swimming beaches, and playgrounds and is one of the most popular reasons to visit the town. The Ozark Classic Crafts Mall is home to many craft artists and offers several shops for customers – great for souvenir shopping!
7. Chickasaw State Park
State: Tennessee
Distance from Memphis: 80 miles (1 hour, 26 minutes)
Chickasaw State Park was named for the Chickasaw Tribe that once settled in the area. The 1,400 acres of land became a Tennessee state park in 1955.
Located on higher terrain in West Tennessee, it offers myriads of outdoor adventures and is a perfect place for a day trip from Memphis. Lakes Placid and La Joie provide water recreation if you're heading there during the summer months.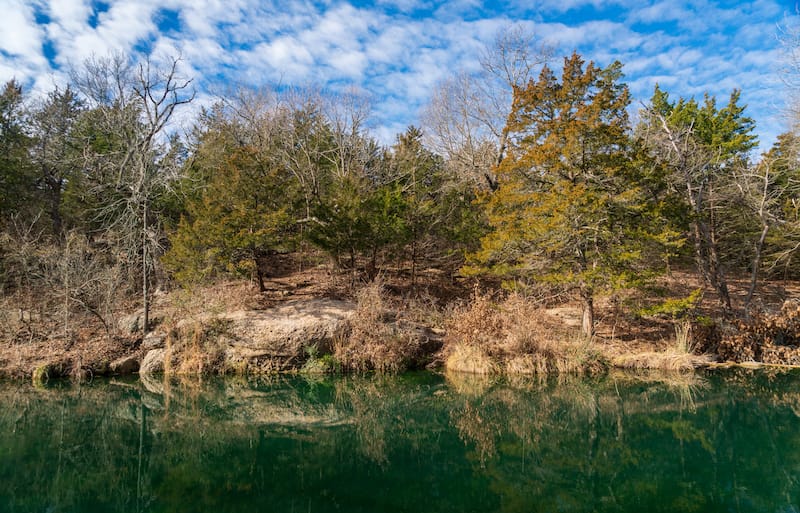 If you enjoy golfing in a peaceful area, consider hitting the links at Chickasaw Golf. Various picnic spots are located throughout the park, with grills and picnic tables available.
The park boasts three camping areas: the RV, the Tent, and the Wrangler campgrounds. Chickasaw is also known for its cabins, swimming, hiking, boating, horseback riding, and fishing.
8. Jonesboro
State: Arkansas
Distance from Memphis: 70 miles (1 hour, 5 minutes)
Jonesboro is the fifth-largest city in Arkansas and it's situated on Crowley's Ridge and was established in 1859.
Today, the city is known for museums, art centers, shops, entertainment complexes, and natural attractions. Start your trip at the Arkansas State Museum, where you can partake in historical, cultural, and educational programs.
Visit The Bradbury Art Museum which houses a fine collection of contemporary art.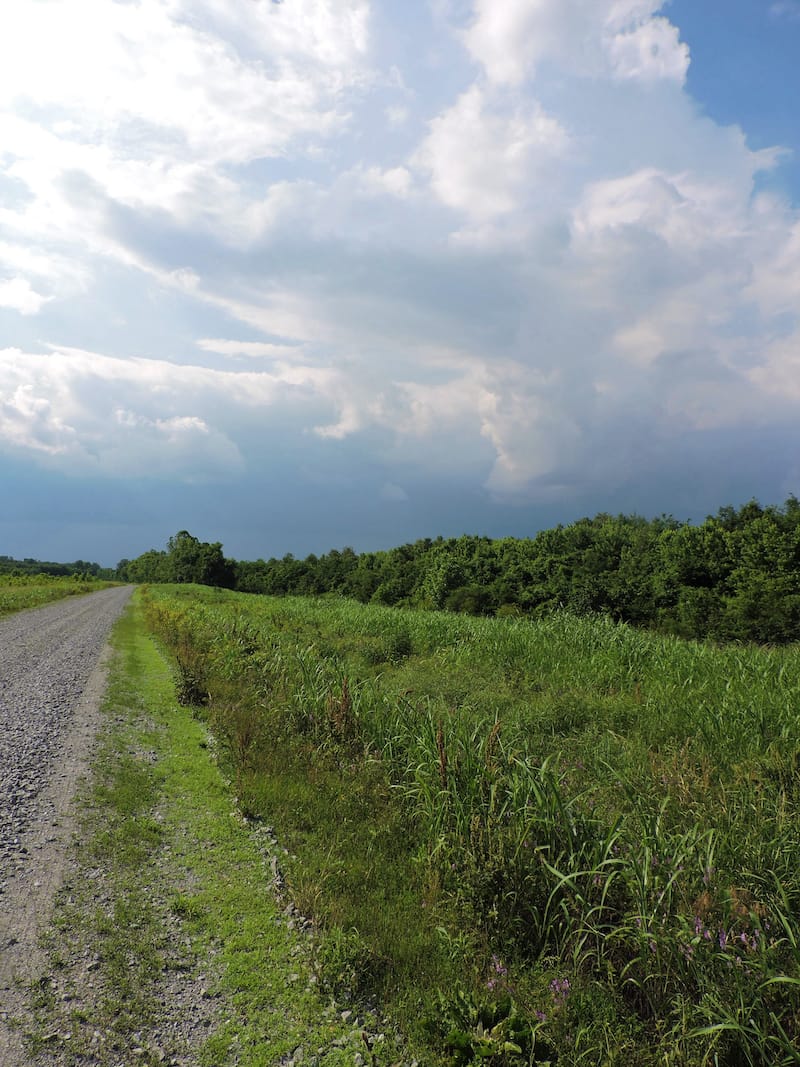 To enjoy the natural environment, there are plenty of parks and nature centers close to Jonesboro including the Forrest L. Wood Crowley's Ridge Nature Center, Craighead Forest Park, Lake Frierson State Park, Ultimate Air Trampoline Park, and Lake Charles State Park.
Jonesboro is also home to two stadiums- the Centennial Bank Stadium and Tomlinson Stadium, both must-sees for sports lovers. To experience culture and history, go to the Fancy Attic Antique and the Skirmish at Jonesboro.
9. Oxford
State: Mississippi
Distance from Memphis: 85 miles (1 hour, 18 minutes)
Oxford is often referred to as the Cultural Mecca of the South. This small Mississippi town has inspired many famous musicians, artists, and writers throughout the years.
The town is home to William Faulkner, Larry Brown, and Barry Hannah. Today, Oxford boasts the University of Mississippi, unique architecture, history, tasteful food, and a lot of green space.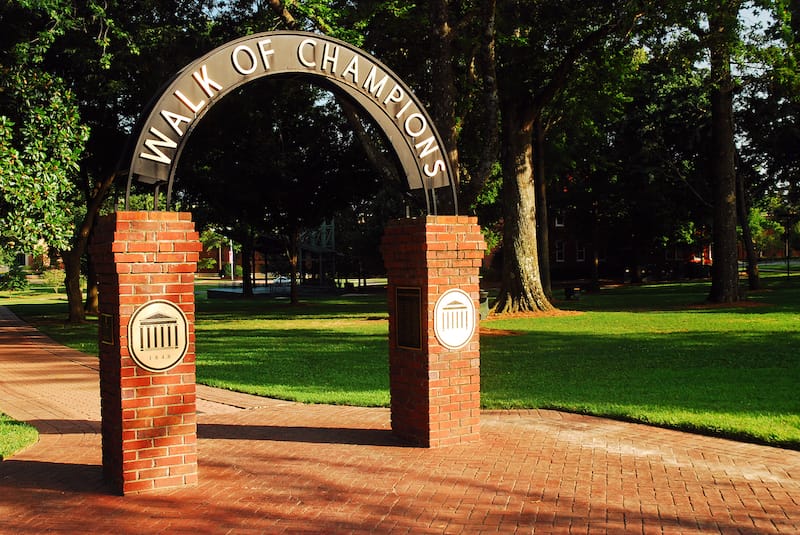 Visit the University of Mississippi (Ole Miss) and check out the University Museum. Explore the town's art galleries, the Oxford Treehouse Gallery, Southside Gallery, Gallery 130, Oxford Art Crawl, and the home of William Faulkner called Rowan Oak.
Check out the Burns-Belfry Museum and Multicultural Center, Holly Springs National Forest, Sardis Lake, Avent Park, the L.Q.C. Lamar House, and College Hill Presbyterian Church when you're there to see some of Oxford's most famous landmarks.
10. Tupelo
State: Mississippi
Distance from Memphis: 115 miles (1 hour, 38 minutes)
Welcome to the birthplace of Elvis Presley! Situated in the Mississippi Hills region, the city of Tupelo depicts American architecture, history, music, and literature.
It is the place where the 444-mile historic Natchez Trace Parkway headquarters is located and the area was incorporated in 1866. The name derives from the Native American term Tuh Pu Lah, meaning to scream.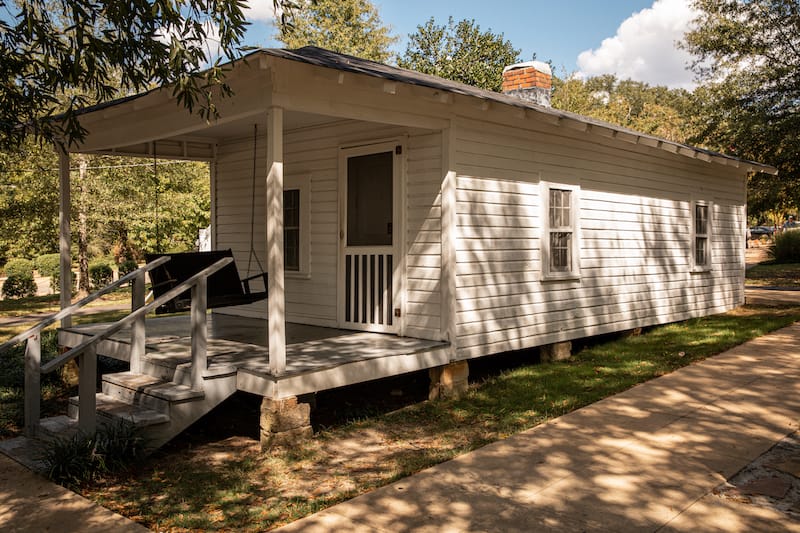 Undoubtedly, your first destination should be the Elvis Presley Birthplace and Museum. Then you can enjoy visiting the Tupelo Veterans Museum, Oren Dunn City Museum, the Tupelo National Battlefield, and the Relics Antique Market Place.
If you're a nature lover, be sure to check out Tombigbee State Park, Trace State Park, Elvis Presley Lake, and the local ampground.
Tupelo hosts many festivals and special events, including the Annual Tupelo Elvis Festival and Frank's Labor Day Annual Balloon Race Festival.
11. Tuscumbia
State: Alabama
Distance from Memphis: 148 miles (2 hours, 28 minutes)
Located on the Tennessee River, Tuscumbia was one of the early centers for agriculture, industry, and commerce. The city was founded in 1817 and was formerly called Ococoposa. Later, it was renamed Tuscumbia in honor of a Cherokee chief.
Today, Tuscumbia is a popular tourist destination with plenty of things to do and to see! It is one of the most popular Memphis day trips due to Helen Keller and receives a lot of tourism even today.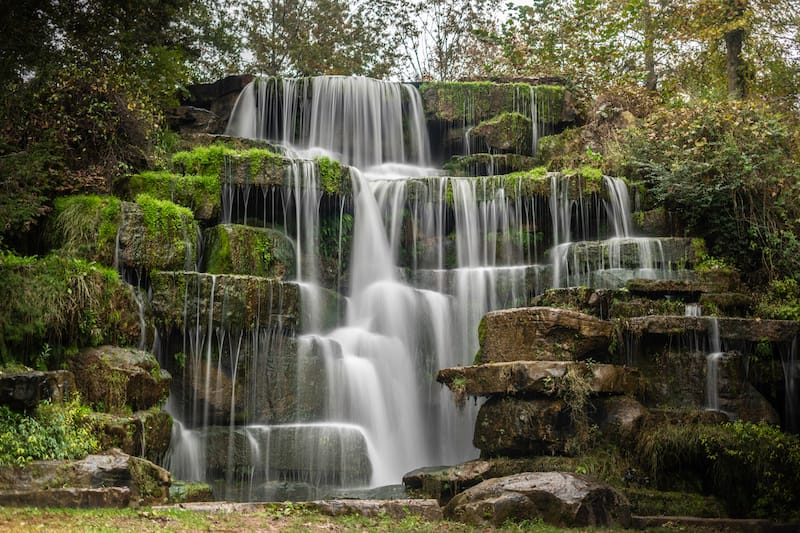 Some must-visits include Ivy Green, the birthplace of Helen Keller (built in 1820), the Alabama Music Hall of Fame, FAME Recording Studios, Belle Mont Mansion, the Tuscumbia Railroad Depot Museum, Rattlesnake Saloon, the Palace Ice Cream and Sandwich Shop, Rosenbaum House, and the Old Railroad Bridge.
For recreational activities and a little bit of nature, you can check out Spring Park, Cane Creek Canyon Nature Preserve, and Deibert Park.
12. Nashville
State: Tennessee
Distance from Memphis: 211 miles (3 hours, 3 minutes)
It may be the most obvious place on this list, but if you're new to Memphis, you must definitely take a day trip to Nashville (okay… or a weekend trip). Nashville truly is a musical haven.
The city was founded in 1779 and named after Francis Nash, a general of the Continental Army. Due to its location, Nashville became an important port and railroad center.
Modern Nashville boasts streets filled with music studios, concert halls, clubs, museums, and gorgeous landscapes. Visiting the city in winter is also a great idea!
If you're visiting Nashville for the first time, below are some of our recommendations to check out on a day trip (or weekender).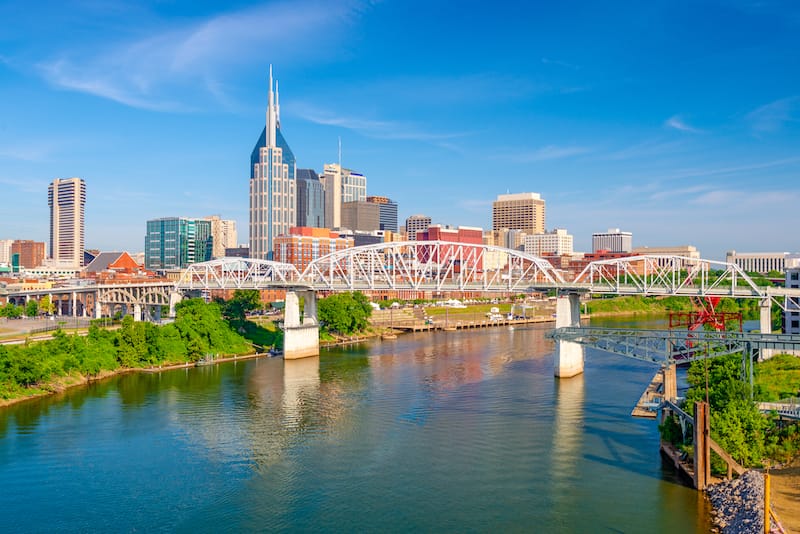 Be sure to check out Broadway where you'll find many clubs, restaurants, shops, and saloons. It is a must for any Nashville itinerary!
The most famous street in the city is Music Row and this is where several country music record labels and production companies are located.
You should also check out the Grand Ole Opry where regular concerts take place, the Country Music Hall of Fame and Museum, the Hermitage, the Parthenon, the Tennessee State Museum, and the Adventure Science Center.
There are a lot of campgrounds near Nashville if you're looking to escape from the city and stay overnight in the area and make this more than just a day trip from Memphis.
13. Meeman-Shelby Forest State Park
State: Tennessee
Distance from Memphis: 15 miles (23 minutes)
Just 13 miles away from Memphis, you will find Meeman-Shelby Forest State Park one of the most beautiful places in Tennessee in the fall, and the rest of the year. It is a great Memphis day trip if you're looking to escape the hustle and bustle for some raw nature.
It covers 12,539-acre hardwood bottomland areas. Situated on the Chickasaw Bluffs, it boasts various types of trees like large oaks, American beech, hickory, as well as two National Champion Trees. This land is protected and home to many species of animals.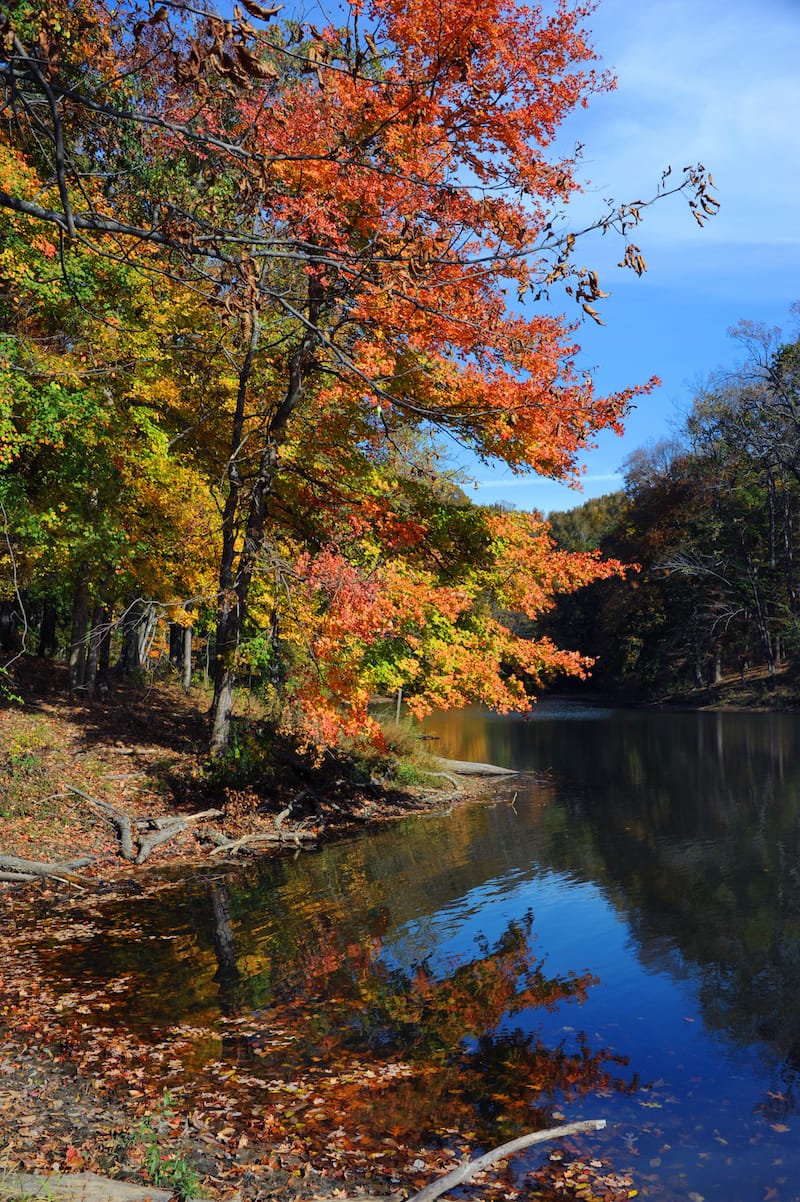 The park offers many opportunities for outdoor adventures. If you like hiking, it has 20 miles of hiking trails, stretching throughout the heavy forest areas.
For wildlife spotters, the park is home to over 200 species of songbirds, waterfowl, as well as deer, turkey, beaver, fox, otter, and bobcats.
The park has a 36-hole golf course for professional and amateur players. For fishing, kayaking, canoeing, stop at Poplar Tree Lake where you will find several water opportunities for adventurers.
14. Mississippi River State Park
State: Arkansas
Distance from Memphis: 61 miles (1 hour, 5 minutes)
Mississippi River State Park is located in the eastern part of Arkansas in the St. Francis National Forest. It has access to the Mississippi River, the St. Francis River, and many lakes.
The forest covers 22,000 acres and features two scenic byways passing through it- the Great River Road National Scenic Byway and Crowley's Ridge Parkway National Scenic Byway.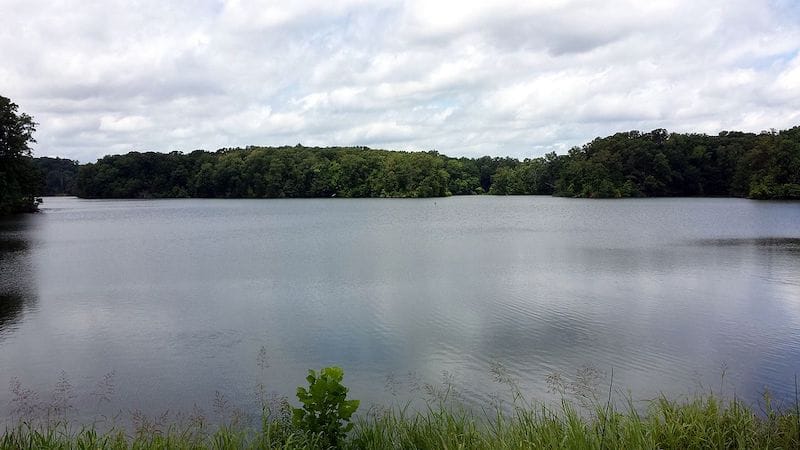 Take a drive along either of these roads and spot the wildlife, including whitetail deer, wild turkey, squirrels, and raccoons. Stop at the park's visitor center where you can learn more about the famous river and its use over the years.
15. Wolf River
State: Tennessee
Distance from Memphis: 35 miles (37 minutes)
The Wolf River begins in Holly Springs National Forest, flowing into Tennessee as it travels 100 miles westward, and enters the Mississippi River in downtown Memphis.
The river is thought to be 12,000 years old and had various names like the Chichica, the Margot, and the Nashoba. It covers 90-miles of wetlands and forest is home to some of the state's most famous wildlife.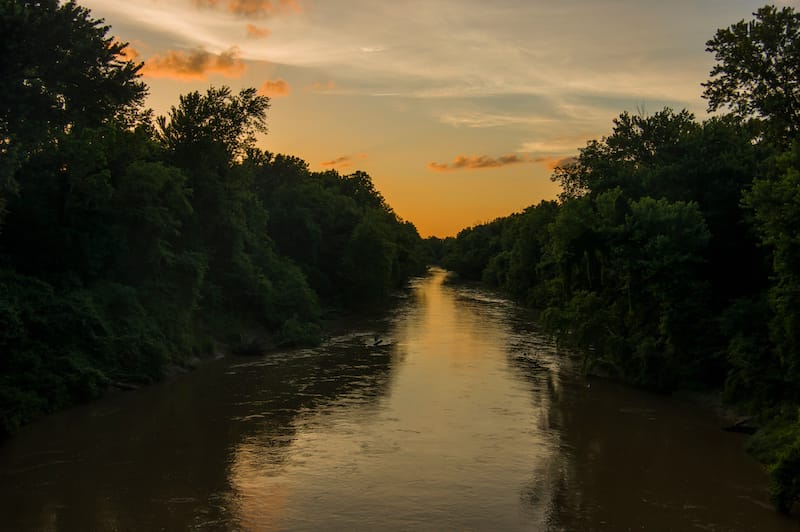 The Wolf River plays a vital role in providing residents with fresh drinking water, as well as recreational opportunities (and fishing). You can also sign up for a paddling trip organized by the Wolf River Conservancy.
In addition, be sure to stop by the Wolf River Wildlife Education Area, located near the river and the perfect place for kids to learn a bit more about their surroundings.
16. Sardis Lake
State: Mississippi
Distance from Memphis: 92 miles (1 hour, 28 minutes)
A short drive away from Memphis, you'll find Sardis Lake. It is a 98,520-acre reservoir located along the Little Tallahatchie River in Mississippi.
The lake was originally built for flood control and was named after the town of Sardis.
Today, it has become a popular tourist destination providing various recreation opportunities for visitors. Sardis Lake is divided into upper and lower areas.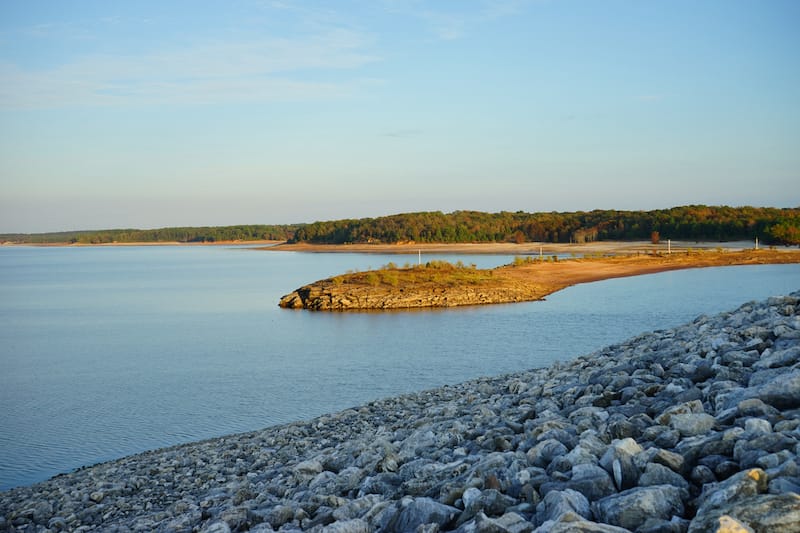 The lake is a true gem for anglers keen to catch blue catfish, white river catfish, crappie, largemouth bass, and white bass.
Boat ramps are provided at almost all available recreation areas. Visit John W. Kyle State Park which offers campsites, a recreation center, and a golf course. Sardis Lake is also well known for its sand beaches!
17. Little Rock
State: Arkansas
Distance from Memphis: 137 miles (1 hour, 59 minutes)
Little Rock is located along the Arkansas River, at the base of the Ouachita Mountains. The city was incorporated in 1831 and received its name from a rock formation called little rock by French explorer Jean-Baptiste Bénard de la Harpe.
It is the largest city in Arkansas, as well as its capital and economic center. On the streets of the city, you'll find historical sites, renowned museums, and lovely parks.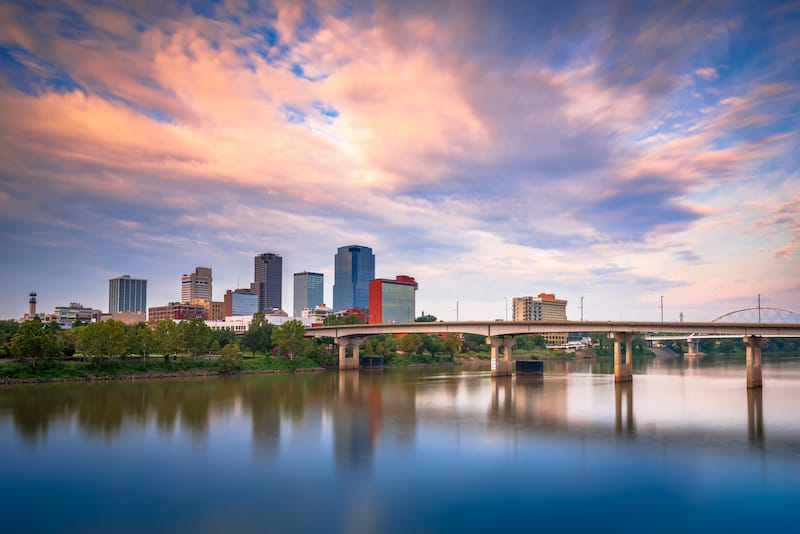 There are so many places worth visiting in Little Rock and some of the top sights include the Arkansas State Capitol, Big Dam Bridge, Central High School National Historic Site, the William J. Clinton Presidential Library, the Museum of Discovery, the Historic Arkansas Museum, Old State House Museum, Esse Purse Museum and Store, Heifer Village, the Arkansas River Trail, Riverfront Park, and the Rock Town Distillery.
There are plenty of reasons to take a day trip from Memphis to Little Rock but I do suggest booking an overnight and staying a bit longer if you have time!
Did we miss any of the best day trips from Memphis here? Let us know your favorite Memphis day trips in the comments. Thanks!
More Tennessee Travel Guides
Pin this Memphis Day Trips Guide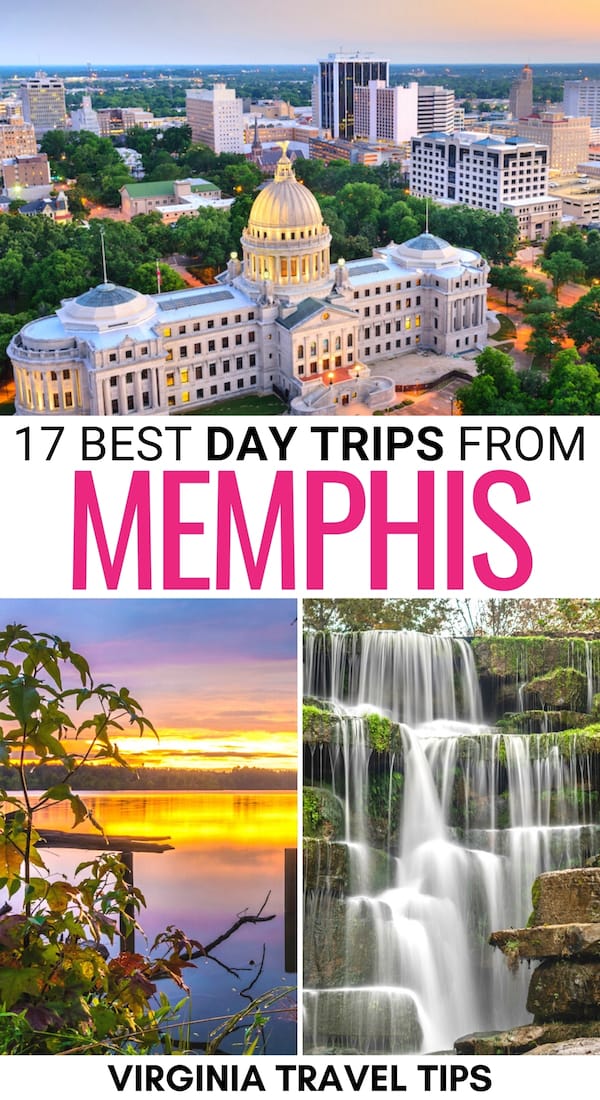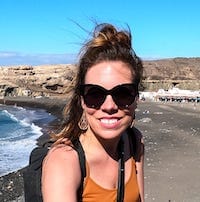 Megan is a travel blogger and writer with a background in digital marketing. Originally from Richmond, VA, she has lived all around the world (including Germany, Finland, Norway, etc) but her heart always finds its way back to Virginia. This blog is to help encourage travelers to explore the great state of VA… and its wonderful neighbors! Megan has written for or been featured by National Geographic, Forbes, Lonely Planet, Fodor's Travel, the New York Times, and more. She has visited 45 US states and 100+ countries… and wholeheartedly believes that Brunswick Stew is probably the greatest food to ever exist.