Fall is a fantastic time to visit Virginia. And one of the best things to do is to visit the pumpkin patches in Virginia!
This guide discusses some of the most popular Virginia corn mazes and pumpkin patches to enjoy during fall. Let us know if we missed any of your favorite VA pumpkin patches in the comments! Thanks.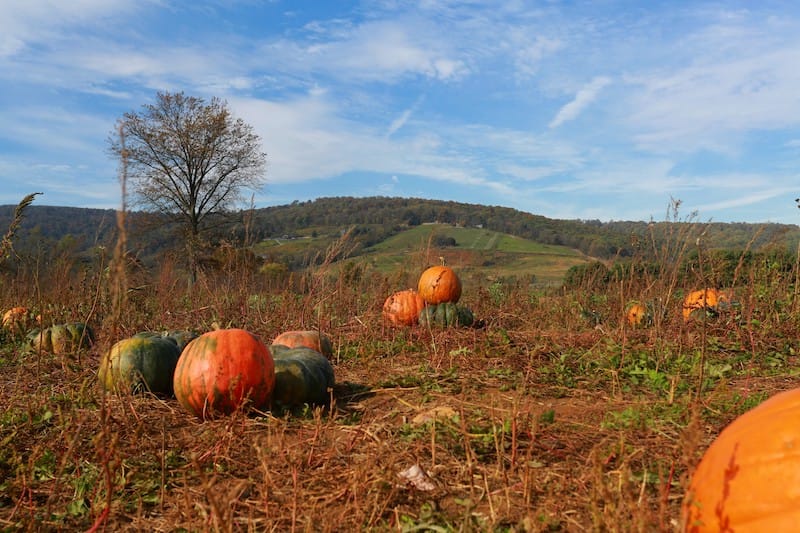 Best Pumpkin Patches in Virginia (+ Corn Mazes)
Cox Farms
Location: Centreville
Website: https://coxfarms.com/
Open to the public from late September through early November (Friday to Monday), Cox Farms will definitely turn your family trip into an exceptional one thanks to its 90 acres of fun in lovely Centreville, VA.
Countless adventures await you this Halloween season, ranging from fun straw tunnels, mountains, a castle, and volcano slides, to farm chores and hayrides in the stunning pumpkin patch.
View this post on Instagram
If fright is your thing, then you definitely need to check out the attractions at the Fields of Fear, which will provide the thrill to your adrenaline-packed adventures, guaranteed!
It features a spooky half-mile hike into the woods at "The Forest: Back 40", a creepy trip at both "Cor Nightmare" and "The Firegrounds" and a terror ride on "Dark Side Hayride" where you'll encounter the Lost Circus.
Tickets can be purchased online or at the entrance. The standard ticket price is $11 but can vary depending on the day of your visit.
Crab Orchard Museum
Location: Tazewell
Website: https://www.craborchardmuseum.com/corn-maze
Crab Orchard Museum is open from October through November, offers family fun adventures mixed with educational programs.
Make sure not to miss the tours in the Crab Orchard Corn Maze that are organized in various themes, which change every year, all of which relate to the history and culture of Appalachia and Southwest Virginia.
View this post on Instagram
Then head to the Pisgah Pumpkin Patch filled with 40 varieties of plump pumpkins to grab your perfect pumpkin for Halloween. Children will undoubtedly enjoy wagon rides, face painting, playing on kids' knoll, and shopping in the Maze Retail Barn.
Try your luck at the giant "Punkin' Chunkin'" by slingshotting your pumpkin onto the target and, if lucky, winning your fun award.
Admission to the maze costs $10 for adults and $5 for kids, with museum admission being 50% off if you visit during the maze season.
Belvedere Plantation
Location: Fredericksburg
Website: https://belvedereplantation.com/
Make your way to Fredericksburg to visit the Belvedere Plantation and pick your perfect pumpkins for cooking, decorating, or carving for the spooky season.
You can take a wagon ride to the Great Pumpkin Patch, where you can either go pumpkin-picking or take part in a unique family tradition: all-you-can-carry for $29.99.
View this post on Instagram
The Plantation is open from late September through early November (closed only on Mondays) and offers more than 30 fun activities for the whole family, including Zippitydoo, Maize Maze, Olde Barnyard, Fun Barn, Pumpkin Mountain Slide, Trike Track, the Candy Cannon Show, and many more.
You can purchase tickets online, which range from $13 to $20, depending on the day of your visit. For a small extra fee, you can also participate in Pumpkin Painting, Pumpkin Plunkin', or Paint the Pest.
On your way out, quickly stop by the Plantation Market to take some fresh produce and local goods with you. There are also many other cool things to do in Fredericksburg if you're looking to make a whole day of it!
Doe Run Farm
Location: Ararat
Nestled in Ararat, Doe Run Farm is the perfect location for a memorable family weekend and has something to offer to each member. It opens its doors for the public only on weekends from late September through the end of October.
The Farm offers 6-acres of a picture-perfect sunflower maze, hayrides to the pumpkin patch with an abundant variety of pumpkins, a bounce pad, apple launchers, a corn hole, hay maze, swings, and slides, as well as plenty of space for kids to run around and play.
View this post on Instagram
Spice up your visit by competing with your loved ones at the Pumpkin Bowling Lanes or head to the sunflower field for an unforgettable pick-your-own experience.
Don't forget to grab some fresh produce, your perfect pumpkins, corn stalks, birdhouse gourds, and other fall decorations.
When hungry, try the best apple pies or peanut butter delights, and on your way out, take a few Sunflower Maze T-Shirts as souvenirs to remind you of those sweet memories.
Coverly Farm
Location: Amelia
Website: https://coverlyfarm.com/
Coverly Farm in Amelia County will amaze you with its charming pumpkin patch filled with a wide variety of pumpkins and gourds, in addition to a corn maze, farm animals, 5 miles of trails, and 3 miles of creek and river frontage.
The Farm's mission is to preserve its rich agricultural past and offer an unparalleled pumpkin patch experience every weekend in October.
View this post on Instagram
The Farm still has several features for history lovers, such as Civil War period earthworks and 19th-century architecture.
For extra family bonding, take a barrel cart train trip to the challenging corn maze or get on hayrides to the picture-perfect pumpkin patch to pick out your Halloween pumpkins.
Ashland Berry Farm
Location: Beaverdam
Website: https://www.ashlandberryfarm.com/
Plan your next family weekend to the Ashland Berry Farm to pick your perfect pumpkins for Halloween from the 30-acre pumpkin patch! This is one of the best fall day trips from Richmond, in my opinion.
You can visit the Farm during October, except for Mondays, to partake in various fall activities, take free hayrides and bring home as many pumpkins as you can carry for $20.
View this post on Instagram
Load them in your arms, take 3 steps, and all those plump pumpkins are yours. Thrill-seekers will certainly enjoy the haunted experience at Terror on the Farm, which features 4 haunts for $30 that will target chilling you to the bones.
When hungry, stop by their donut shop to try homemade fresh donuts and other delicious snacks.
Let the kids loose at Fort Pumpkin, open only on weekends, where they can get up close with farm animals, get lost in the straw maze, and have fun on inflatable obstacle courses.
Berkeley Plantation
Location: Charles City
Located in Charles City, Berkeley Plantation is the perfect spot for the entire family to mix up a fun pumpkin picking weekend with an educational and history-filled trip.
The area is open to the public from October 1st until the end of November. It has colorful gardens, a river shore, a historic mansion, a museum, and exhibits showcasing Berkeley's past and the enslaved people that lived there.
View this post on Instagram
Plus, of course, they also have a pumpkin patch where you can pick your favorites and try to make your way out through a corn maze. Tours of the onsite corn maze are available at $15 for adults and $7 for children, with an extra charge for taking pumpkins home.
Take a daily tour inside the mansion led by knowledgeable guides dressed in period costumes to learn a little bit more about Berkeley's past.
Liberty Mills Farm
Location: Somerset
Website: https://www.libertymillsfarm.store/
Home to Virginia's largest corn maze (25 acres of land), Liberty Mills Farm is located in Somerset and offers 8 acres of pick your own pumpkin patch, where you can stroll around, enjoy a hay wagon ride, and find your special pumpkin for this spooky season.
The pumpkin patch opens up to the public from late September through mid-November (only closed on Tuesdays). Make sure to check out the strawberry fields in May, the LOVE sign, and the Farm Market before leaving.
View this post on Instagram
At the latter, you can try some delicious pumpkin ice cream, strawberry salsa, homemade fudge, fresh popcorn, and other mouth-watering treats.
The VA Corn Maze offers 4 trails, with the final one being especially for adventure lovers since it provides no map, so you're truly on your own to reach your final destination while finding all of the stations along the way.
Hickory Ridge Farm
Location: Chesapeake
Website: https://jrpx28.wixsite.com/hickoryridgefarm
Are you looking for a one-of-a-kind fall festival experience for the entire family? If so, then Hickory Ridge Farm in Chesapeake has you covered. The fall season at the farm is all about pumpkins, which you can grab from a pumpkin patch full of abundant varieties.
The Virginia Pumpkin Patch is open from mid-October through the Halloween season and offers 6 acres of pick-your-own pumpkins experience right off the vine.
View this post on Instagram
The Farm also has a playhouse city, meeting and greeting friendly farm animals, a pumpkin decorating station, a barrel train, hay bales to climb, a children's corn maze, a picnic area, and much more.
If hunger strikes while you are on the farm, enjoy some out-of-this-world pumpkin cheesecake along with a glass of iconic peach or apple cider.
The farm and pumpkin patch are free to visit but additional fees are charged for the play area, hayrides, pony rides, and barrel train rides. This is one of the best fall day trips from VA Beach!
Critzer Family Farm
Location: Afton
Website: https://critzerfamilyfarm.com/
From April to October, bring your family to Critzer Family Farm in Nelson County to experience the real atmosphere of farm life and to try the healthiest and freshest produce straight from the farm.
For each season, there is always something ripe and ready for picking!
While there, you can pick your own strawberries, blackberries, Drumheller Orchard apples, peaches, local vegetables, and herb plants or stick to your pre-picked pumpkins ready for you to take home, perfect for both cooking and carving.
View this post on Instagram
If your stomach starts growling, try their delicious home-churned ice cream made from strawberries, pumpkins, and other farm-grown fruits; the kids will certainly love it.
When visiting during fall, you will have a chance to enjoy Critzer's apple cider, fresh pumpkins, and mums. The Farm also has a kids' space where they can learn more about agriculture and farm life.
Dickie Brothers Orchard
Location: Roseland
Website: https://www.dickiebrothers.com/
Located in the Appalachian Mountains in the eastern part of the Blue Ridge Mountains, Dickie Brothers Orchard is one of Virginia's oldest family farms.
The Farm grows its own fresh seasonal produce that ranges from 15 different varieties of apples to nectarines, blackberries, peaches, pumpkins, sweet potatoes, and many other fruits and veggies.
View this post on Instagram
Take a wooden cart and head over to the stunning pumpkin patch, open from mid-October through early November (closed Mondays through Wednesdays), to pick as many pumpkins as you want for the spooky season.
While on the Farm, you can also visit the retail shop to try their quality products made exclusively from their own fresh produce, such as apple butter, jams, jellies, apple cider, peanuts, gourds, apple sauce, freshly roasted chestnuts, and many more.
Lloyd Family Farms
Location: Rockville
Website: https://lloydfamilyfarms.com/
If you are looking for a family weekend location that has various fun activities and pumpkins, then Lloyd Family Farms in Rockville is the place for you.
Visit their pumpkin patch from late September through October 31st on weekends, Friday included, to grab your perfect pumpkin for cooking, carving, or decorating.
They have 500 acres of land that offers pumpkin picking, a corn maze, hayrides, straw castle, meeting and greeting farm animals, a giant pinball field, a pipe slide, and various yard games.
View this post on Instagram
Admission to the Farm costs $10 but if you are going for a family fun package, you can pay $30 for four people ($40 value).
Make sure not to miss the local food vendors, such as Good Doggy, John Williams, Hungry Hungry Arrow, or Kona Ice, for a delicious filling meal.
Did we miss your favorite corn mazes and pumpkin patches in Virginia? Let us know in the comments!
More Virginia Fall Resources
Pin this Virginia Corn Mazes & Pumpkin Patches Guide