Most people that visit Virginia Beach stay in Virginia Beach.
However, there are some really amazing day trips from Virginia Beach that you should consider if you have more than merely a couple of days in the coastal city!
Are you planning your trip to Virginia Beach last minute?
If you're traveling to VA Beach last minute, you want to ensure you have lodging and tours ahead of time! Below are some of our top picks in town!
Best Hotels in Virginia Beach (including oceanfront options!):
Top Tours in Virginia Beach:
Sunset Dolphin Kayak Tours (Top rated!)
Virginia Beach Indoor Skydiving (Popular tour!)
🚗 Looking for the best way to get around VA? Click here to check rental car rates for Virginia!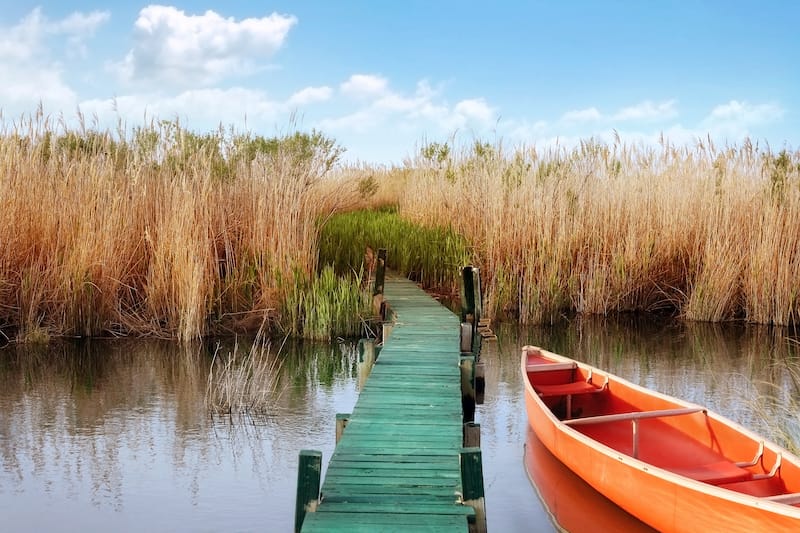 This guide details some of my favorite Virginia Beach day trips, including wildlife refuges, Eastern Shore escapes, and more!
We include a map, attractions and things to do in the destination, and how long it takes to get there from VA Beach.
We have left out some obvious places like Norfolk, Hampton, and Portsmouth and opted for an array of natural places, smaller towns, and historical sights.
Let us know what your favorite day trips from VA Beach are in the comments! Thanks!
Best Day Trips from Virginia Beach – Map
To add this map to your Google Maps account, click the 'Star' icon next to the map name.
You can then view it on your cell phone or computer by heading to your Google Maps account, click the menu and add it to 'Your Places'.
Virginia Beach Day Trips
Cape Charles
Distance: 43 miles
Driving Time: 54 minutes
Located on the Eastern Shore of Virginia, Cape Charles, spanning over a 2817-acre area, has evolved so much over the years that it now provides its visitors various leisure options for an unforgettable trip.
Nestled on Chesapeake Bay's shorelines, it offers mile-long public beaches where you can relax and catch the sun.
Make the most out of your stay while staying in town's best B&Bs, summer rentals, and level up your dining experience in waterfront restaurants.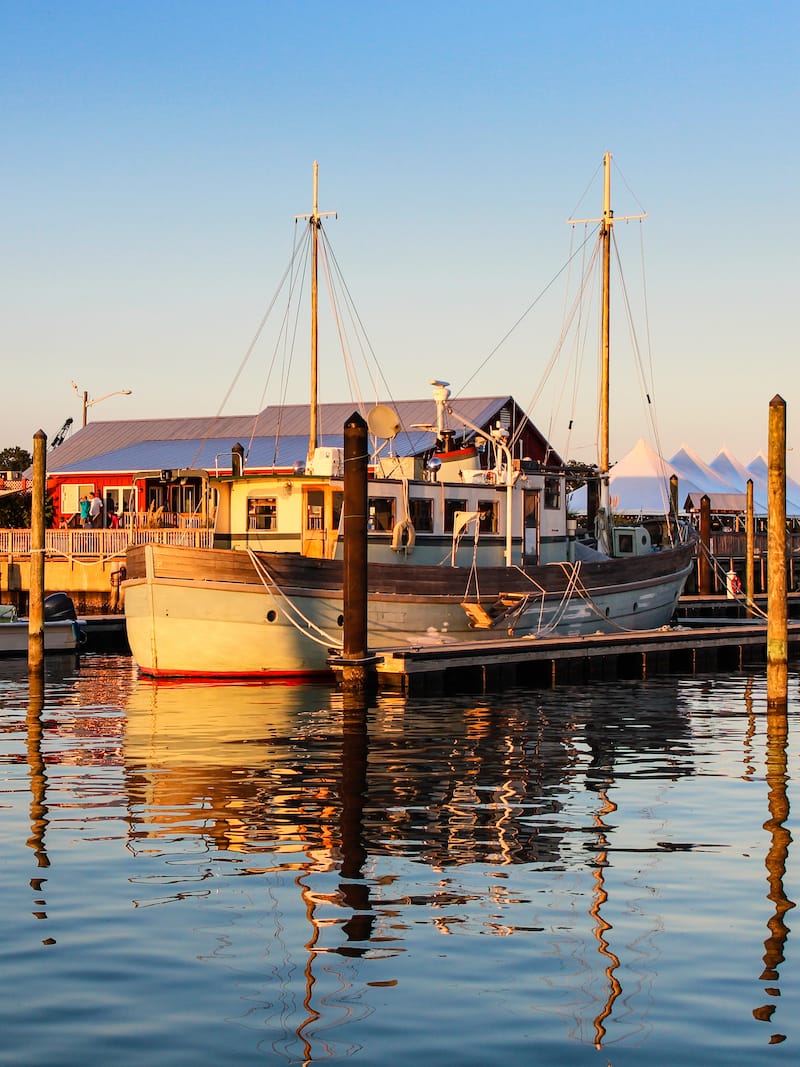 Enjoy the gorgeous views from the marina, discover the town's unique history at the museum or simply seize your day while enjoying all the entertaining activities the town has to offer: shopping spots, golf courses, sport fishing, horseback trail rides, and theater.
To be honest, Cape Charles is one of my favorite destinations in Virginia and it certainly is one of the best value day trips from Virginia Beach (although you do need to cross the Chesapeake Bay Bridge-Tunnel in order to get there).
Back Bay National Wildlife Refuge
Distance: 17 miles
Driving Time: 31 minutes
About 9200 acres of abundant and rich biodiversity make up the Back Bay National Wildlife Refuge.
It is located along the Atlantic Coast near Virginia Beach, and its main habitats are composed of freshwater marshes, woodlands, beaches, and maritime forests.
When you're in the Refuge, which also is home to False Cape State Park, one of my favorite places to visit in Virginia Beach, you can witness plenty of mammals, reptiles, amphibians, birds, and various threatened species comfortably settled there.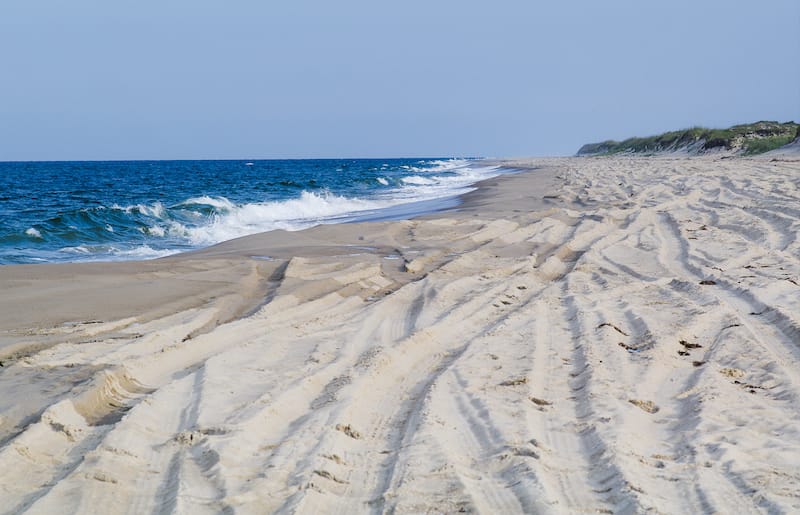 Besides fishing and hunting opportunities, canoes and kayaks are also accessible for discovering the NWR from the water.
Back Bay NWR also offers educational programs, a Visitor Center, and a few beautiful trails for hiking and bicycling.
Great Dismal Swamp
Distance: 57 miles
Driving Time: 1 hour 5 minutes
Spanning over 112000 acres, the Great Dismal Swamp is a real gem nestled in between two states – Virginia and North Carolina, with the primary purpose of protecting the surrounding ecosystem.
It is the perfect spot to admire the untouched wilderness, hike, fish, and capture the true beauty of nature through photography.
Stroll on the trail in the swamp's forests and discover along your way countless unique species of wildlife that you had no idea about before.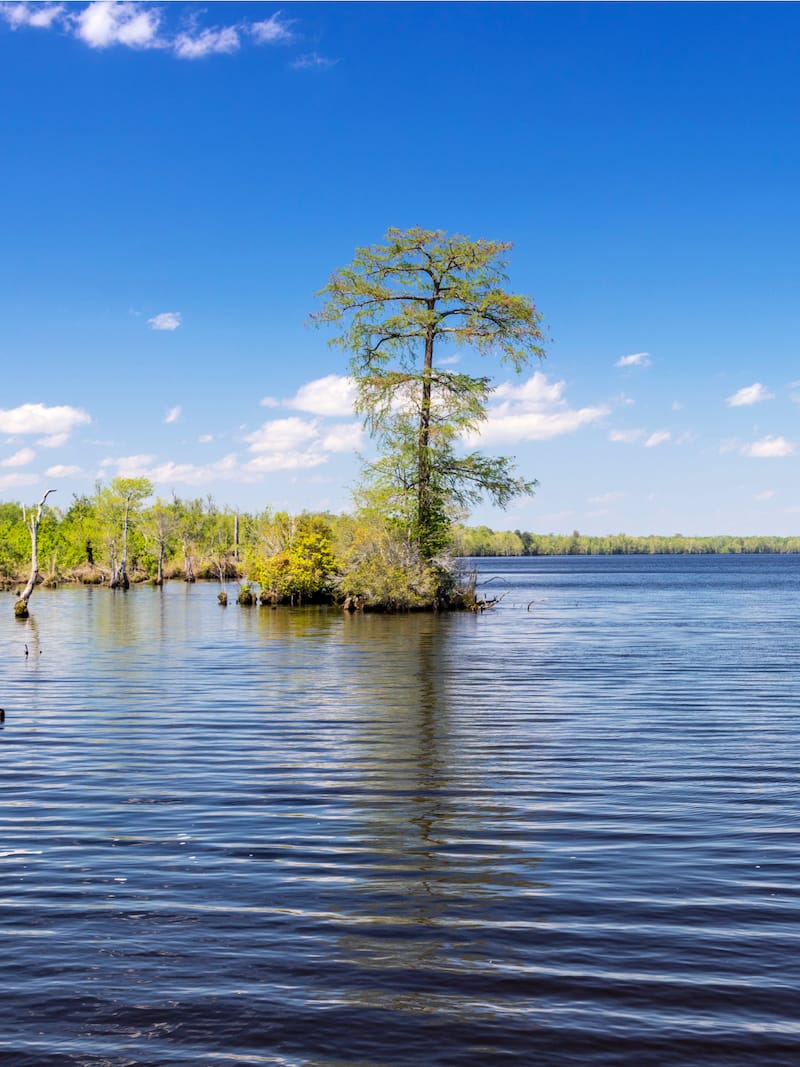 You will also have access to guided kayaking and paddling tours through which you can reach the enchanting Lake Drummond.
Annual events such as running marathons are organized at the Great Dismal Swamp to ensure a memorable experience.
Colonial Williamsburg
Distance: 60 miles
Driving Time: 59 minutes
Travel back in time and feel the real vibes of 18th-century living while exploring over 300 acres of Colonial Williamsburg's historical sites.
You will feel like the town is stuck in time since everything there is still operating quite the same way as it was before (okay, so it is created that way but it is still worth it!).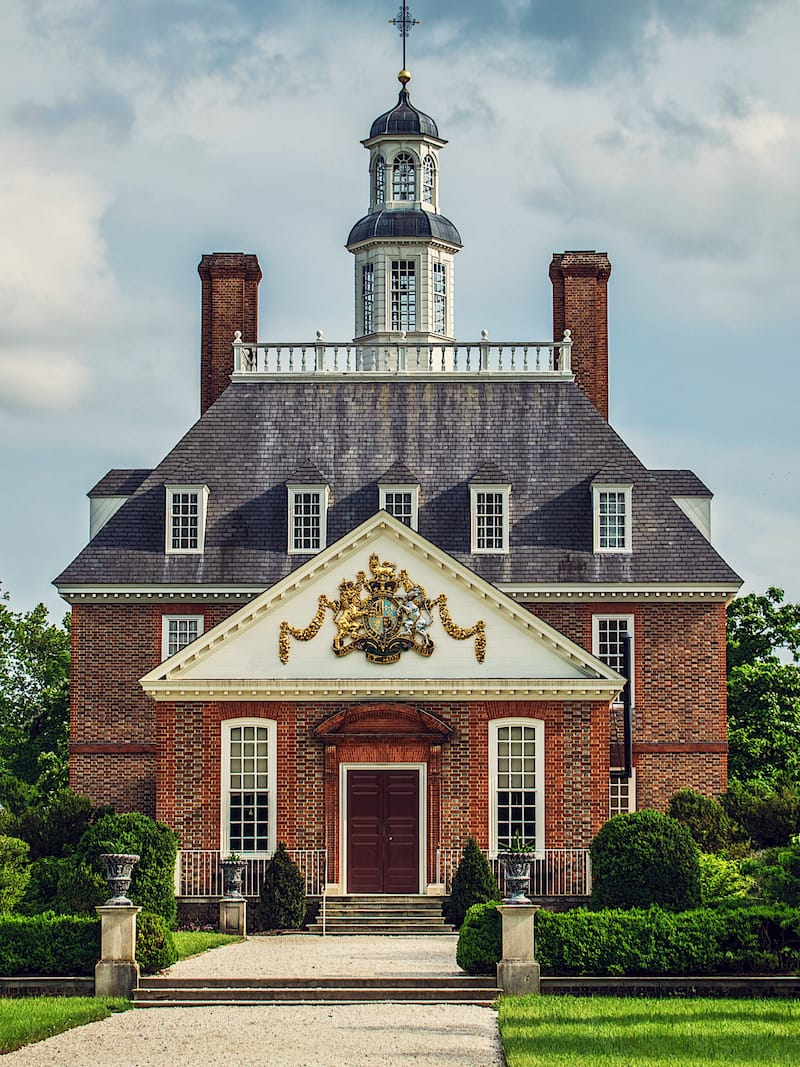 You can learn about 18th-century jurisdictions in the restored courts and explore antiques and art in the DeWitt Wallace Decorative Arts Museum which is one of the best places to visit in Williamsburg VA.
Do a little shopping for Colonial-era dinnerware and jewelry, dine in 18th-century style at unique restaurants, witness horse-drawn carriage rides on the streets, or get acquainted with real tradespeople: gunsmith, cooper, weaver, etc.
Be sure to take a ghost tour in the haunted house of Peyton Randolph when you're there! This is also one of the best day trips from Richmond.
Jamestown
Distance: 65 miles
Driving Time: 1 hour 7 minutes
Pay a visit to historic Jamestown, the settlement that was America's first English colony located on the shores of the James River.
At the archeology museum of Voorhees Archaearium, you can witness Jamestown Fort's excavations from 1607 along with numerous other 400-year-old archeological discoveries through educational tours.
This was one of the first field trips I remember taking, actually.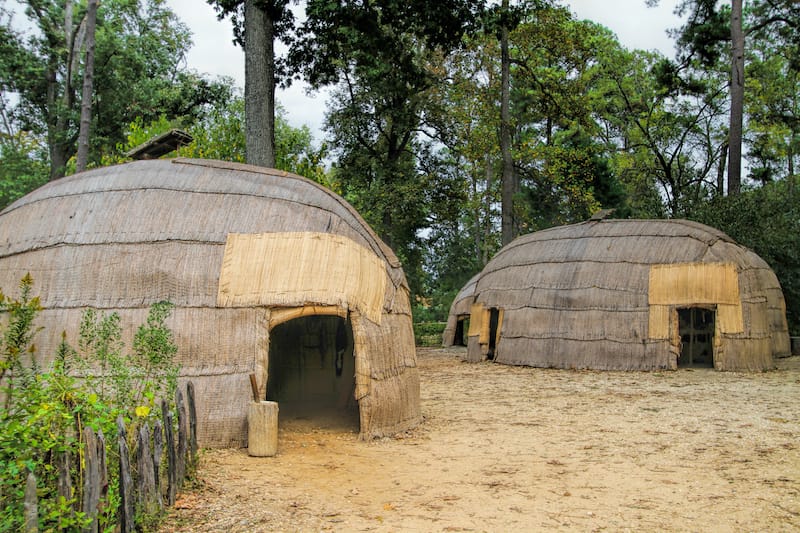 You'll have a chance to climb on the ships that played their crucial role in the settlement of Virginia's first colonists. In the nearby Glasshouse, you can observe the glassmaking process, which is believed to be one of the first industries of Jamestowne.
Jamestown settlement is another must-visit spot in the area, where you can get acquainted with the rich history and lifestyle of Jamestown at a world-class living history museum… and it definitely is one of the best Virginia Beach day trips, especially if you're visiting from out-of-state!
Yorktown
Distance: 50 miles
Driving Time: 52 minutes
Plan a trip to historic Yorktown, where you can appreciate 18th-century architecture along with its battlefields, and be sure to return with memories that will last a lifetime.
Yorktown played its vital role in the Revolutionary and Civil Wars, making the sight a great visit for history lovers.
You can stroll on the fishing pier, unwind on sandy beaches, or wander along old streets to shop fine art pieces in nearby boutiques.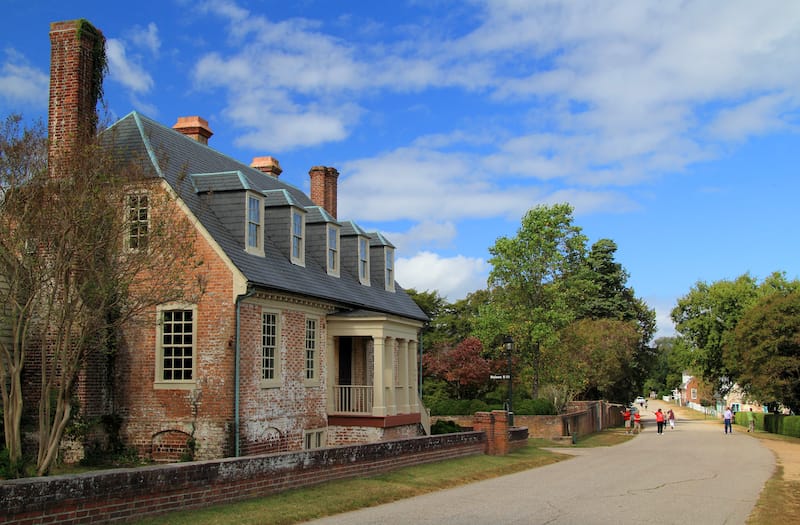 Take your dining experience to another level in town's fine dining restaurants with a view of the York River.
Yorktown's American Revolution Museum will certainly make you step back in time while you explore the living museum with imitations of Revolution-era farms, Continental army campsites, and other exhibits.
Various outdoor activities are organized on-site all year round, such as concerts, wine festivals, and artwork exhibitions.
Currituck Co. (North Carolina)
Distance: 50 miles
Driving Time: 53 minutes
Currituck County, located on the northernmost tip of Outer Banks, was believed to be the base of North Carolina's first ports.
This place will demand your attention with its rich agricultural products, scenic historical sights, and gorgeous NC beaches!
While visiting, you can visit Currituck National Wildlife Refuge – home to abundant wildlife.
It provides various activities for exploring Haywood Bell House's historical sites, the glorious Currituck Beach Lighthouse (one of North Carolina's most beautiful lighthouses), and Currituck County Library.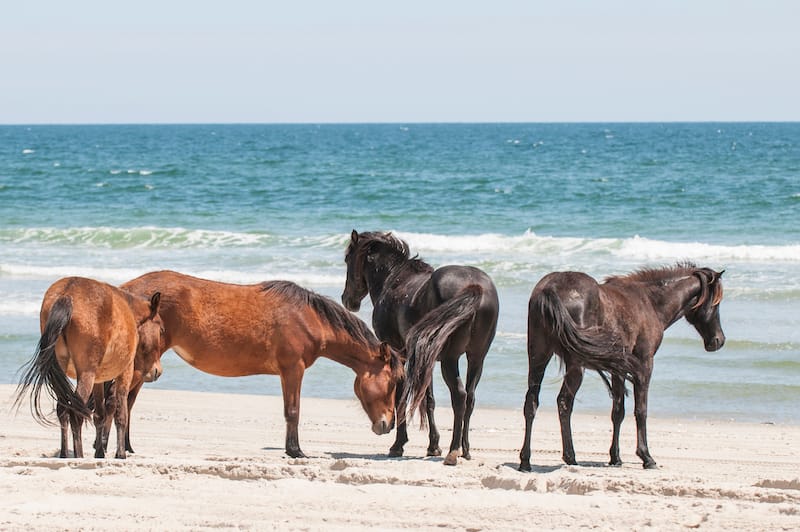 Make your trip a memorable one while taking part in wild horse adventures, backcountry safari tours, and corolla jeep adventures, visiting Corolla Adventure Park, or learning about the region's ecosystem at the Outer Banks Center for Wildlife Education.
Smithfield
Distance: 45 miles
Driving Time: 53 minutes
Nestled in Isle of Wight County, Smithfield is a true gem for both locals and tourists. Whether you are an art or history enthusiast, epicure, or nature lover, this charming small town in Virginia will ensure your exceptional experience.
Take a stroll on Main Street and admire the unique Gothic and Colonial architectural style buildings along with their history.
Foodies will have an outstanding selection of fine dining restaurants to choose from, while art enthusiasts can appreciate locals' vibrant art in galleries and gift shops.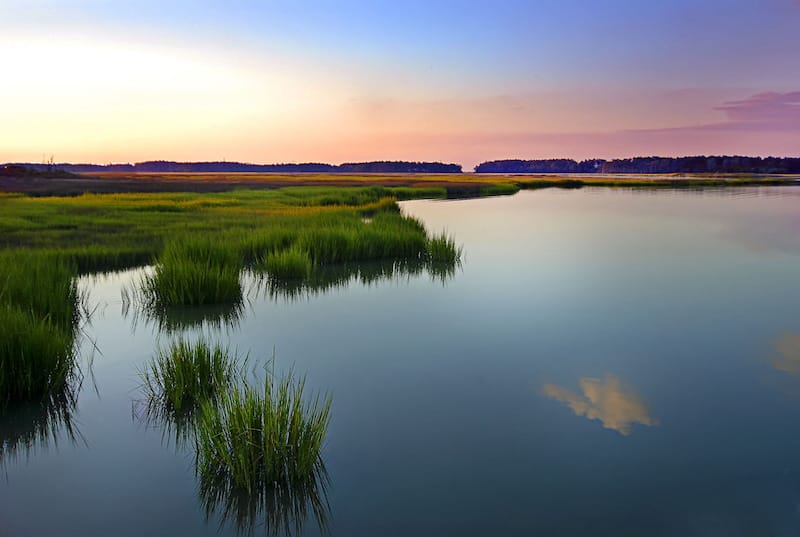 The city is known as the ham and peanut capital of the world – so be sure to try some of both when you're there!
Smithfield also features kayaking, paddle boarding, boating activities, trails for hiking and biking, and offers different lodging options for visitors.
Kilmarnock
Distance: 91 miles
Driving Time: 1 hour 43 minutes
Despite being one of Virginia's River Realm's eight small towns, lively Kilmarnock offers much-needed modern amenities and comfortable settings amidst a serene location.
Pay a visit to Compass Entertainment Complex – the town's key source of entertainment, and enjoy go-karts, arcades, miniature golf courses, a one-of-a-kind movie theater, and many other interactive kinds of things to do.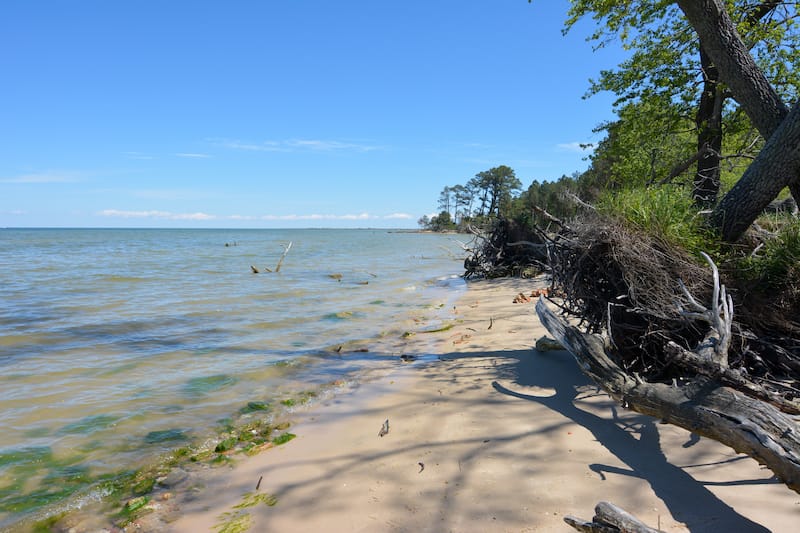 Nearby, you can taste the local wines at the Chesapeake Bay Wine Trail's most impressive wineries, dine at delicious restaurants, or go shopping in luxurious fashion boutiques.
Organize picnics and attend concerts or festivals in Kilmarnock Town Centre Park, where you can also find entertainment for kids, such as splash parks and ample playgrounds.
Mackay Island National Wildlife Refuge (North Carolina)
Distance: 29 miles
Driving Time: 43 minutes
The 8219-acre Mackay Island National Wildlife Refuge is a wildlife sanctuary located on Knotts Island in the northeastern section of Currituck County.
At Mackay, you can observe various birds, reptiles, amphibians, along with many other rare and endangered species that have made themselves at home there. Besides the obvious activity of wildlife observation, other common activities at the Refuge are fishing, crabbing, kayaking, hunting, and boating.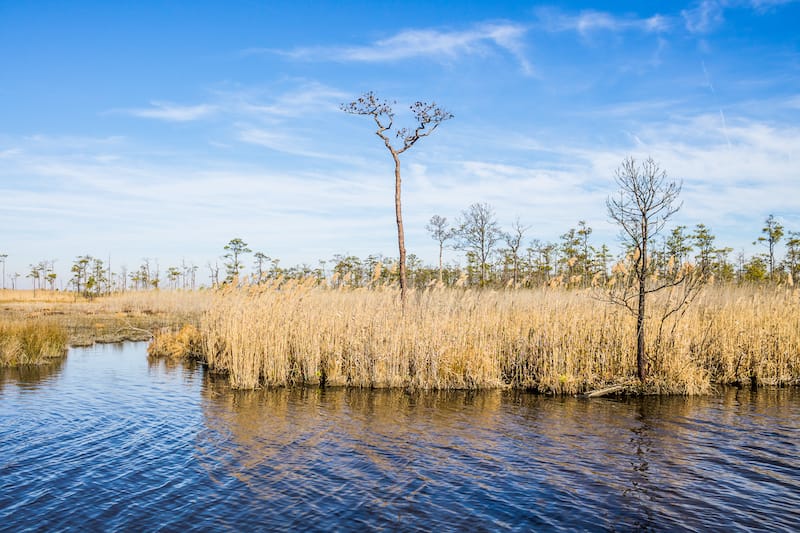 It offers the perfect environment for photography enthusiasts to capture magical moments. Nearby, you can find several nature trails with scenic views accessible for biking and hiking.
Seasonal special events and tournaments along with educational programs are organized at Mackay Island to ensure an entertaining and educative trip. This is one of the best day trips from Virginia Beach for those looking to get into nature and learn about the local ecosystem.
This gorgeous wildlife refuge is one of the best places to visit in North Carolina.
Westmoreland State Park
Distance: 129 miles
Driving Time: 2 hours 23 minutes
Spanning over 1321 acres, Westmoreland State Park is the ideal destination for those eager to take a trip that offers the chance to immerse themselves in nature.
Admire the panoramic views of Potomac River sprawling long into the horizon from gorgeous Horsehead Cliffs. The park features a Visitor Center, gift shop, and various educational history and nature programs.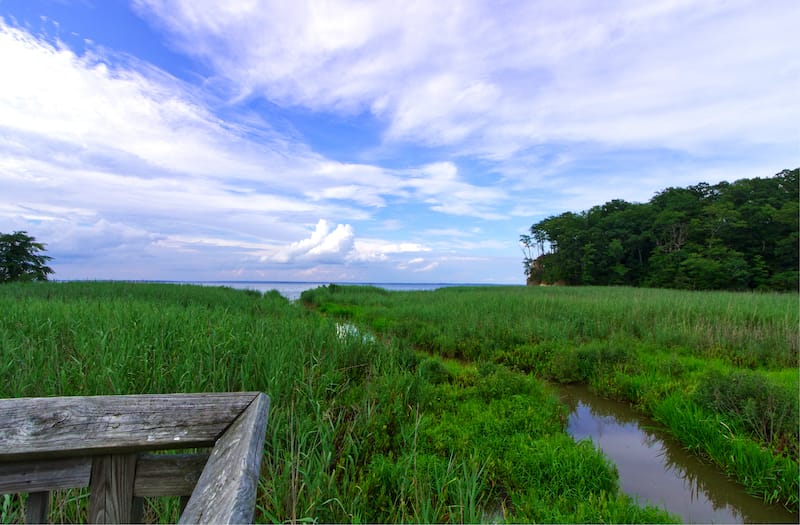 Stroll on a beach trail along the Potomac's shores and explore the remnants of different marine organisms trapped there for centuries.
Cabin rentals in scenic settings are available in the park, where thrill-seekers can stay overnight and enjoy boating, hiking, fishing, and camping opportunities during the day.
There are many amazing day trips from Virginia Beach – these are just a few of our favorites and ones that are very family-friendly. Let us know your top picks for Virginia Beach day trips in the comments! Thanks!
More Virginia Beach Travel Guides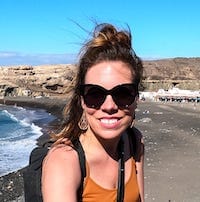 Megan is a travel blogger and writer with a background in digital marketing. Originally from Richmond, VA, she has lived all around the world (including Germany, Finland, Norway, etc) but her heart always finds its way back to Virginia. This blog is to help encourage travelers to explore the great state of VA… and its wonderful neighbors! Megan has written for or been featured by National Geographic, Forbes, Lonely Planet, Fodor's Travel, the New York Times, and more. She has visited 45 US states and 100+ countries… and wholeheartedly believes that Brunswick Stew is probably the greatest food to ever exist.