One of my favorite places to escape to during the summer (and winter!) months is Virginia Beach. This is a guide on the best way to spend a weekend in Virginia Beach.
While many may head to VA Beach to lounge on its shores, there are so many things to do in Virginia Beach that you will never get bored… regardless of your age!
Are you planning your trip to Virginia Beach last minute?
If you're traveling to VA Beach last minute, you want to ensure you have lodging and tours ahead of time! Below are some of our top picks in town!
Best Hotels in Virginia Beach (including oceanfront options!):
Top Tours in Virginia Beach:
Sunset Dolphin Kayak Tours (Top rated!)
Virginia Beach Indoor Skydiving (Popular tour!)
🚗 Looking for the best way to get around VA? Click here to check rental car rates for Virginia!
This Virginia Beach itinerary is fantastic for two days but it allows you to incorporate extra time if you are looking to chill on the beach throughout your trip.
If you have more than 2 days in Virginia Beach and are not a beachgoer, you can always take some amazing day trips from Virginia Beach to occupy the rest of your time (or simply eat lots and lots of seafood)!
What activities and attractions would you recommend for someone visiting Virginia Beach for the weekend? Let us know in the comments! Thanks!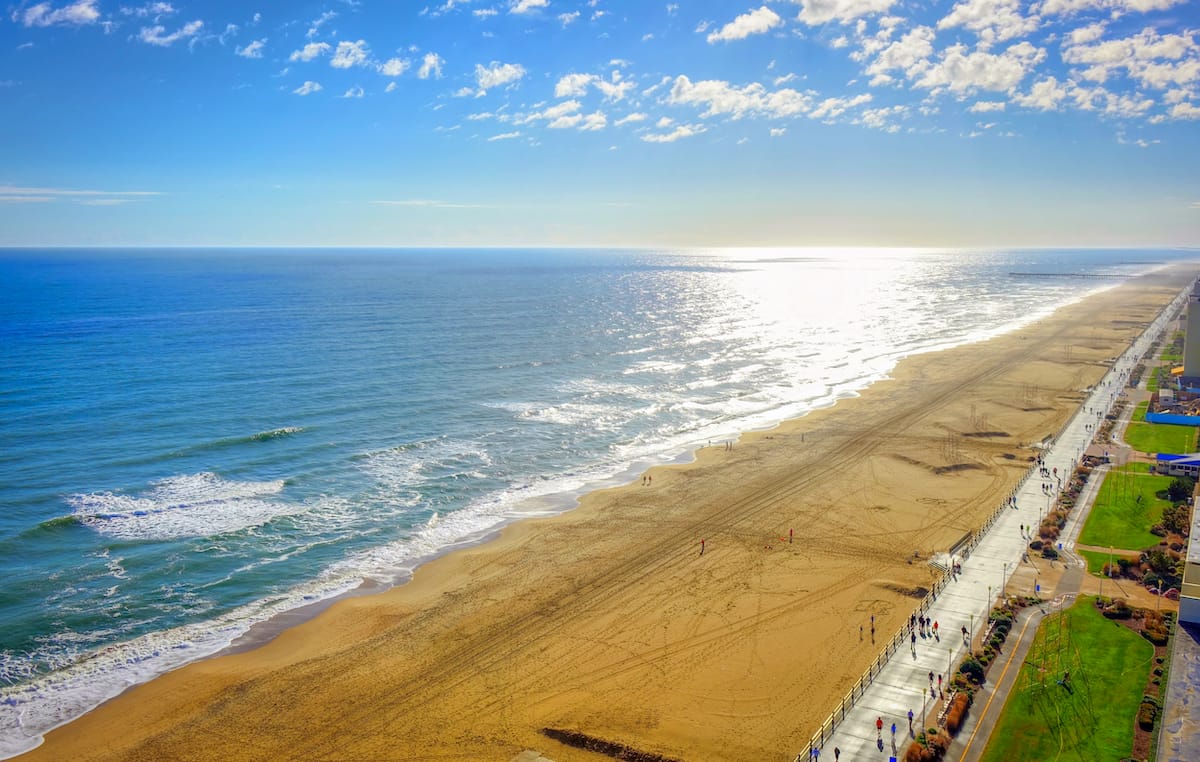 Weekend in Virginia Beach Itinerary
Best Time to Visit Virginia Beach
The best time to plan to visit Virginia Beach dramatically depends on what you intend to do while there.
If you are a beachgoer and want to soak in the sun and enjoy the waves, then July-September is your best best for the hottest weather and warmest water.
Spring and fall make a great time to hike, enjoy weekend festivals and explore the oceanfront boardwalk during the offseason.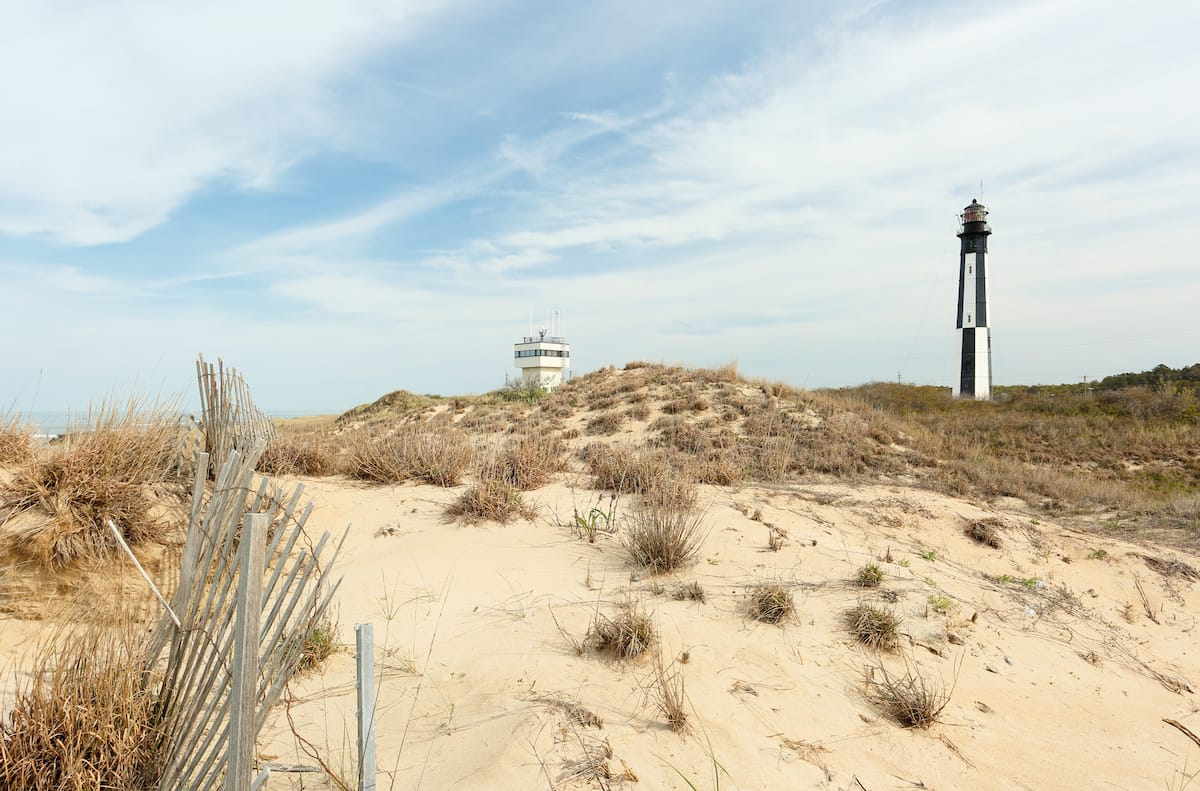 During most of the winter, Virginia Beach is still a terrific destination, especially if you want to see humpback whales spouting off the coast of Virginia Beach.
Winter is also a great time to see all the holiday decorations, including the nighttime light display along the boardwalk.
How to Get to Virginia Beach
To get to Virginia Beach from Northern Virginia and Washington, D.C., it will take around three-and-a-half hours to drive south on I-95 and east on I-64.
Beware, you will have to head through the Hampton Roads Bridge-Tunnel, which is always backed up and slows your journey down.
If you are coming from the south, travel on Route 460 off I-95 at Emporium. Take Route 460 to I-64 to Virginia Beach.
Once in Virginia Beach, the easiest way to get around town is to drive. However, if you visit between May and September, some busses and trollies run along the oceanfront south to the Virginia Aquarium and north to First Landing State Park.
Cheries Bike and Blades rents bikes, skates, and surreys at multiple locations up and down the resort strip. You can choose to rent by the hour, day, or week.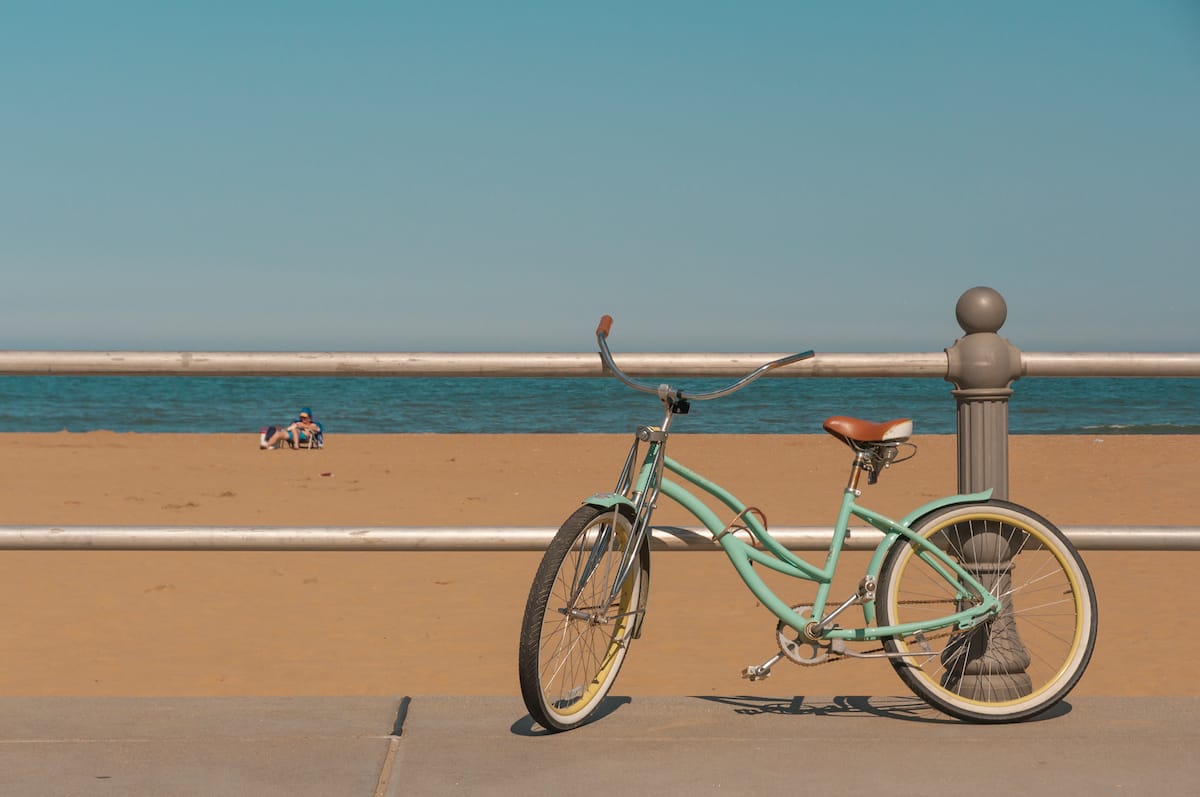 Where to Stay in VA Beach
First Landing State Park (Budget / Camping)
First Landing State Park, located at the northeast corner of Virginia Beach, is Virginia's most popular state park.
The park not only offers 1.25 miles of sandy shoreline but 205 campsites, 20 cabins, and four yurts. Pets are even welcome to join you here during your stay.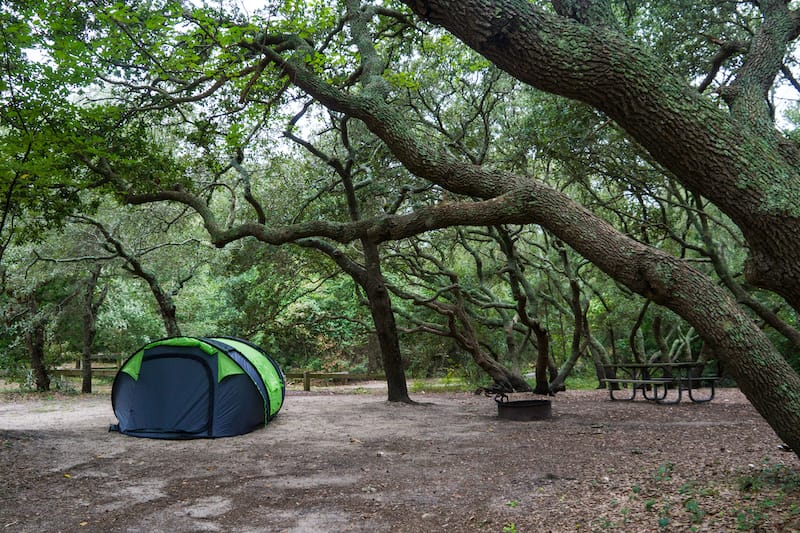 Comfort Suites Beachfront (Mid-Range)
At 23rd Street, you will find the casual all-suite Comfort Suites Beachfront along Atlantic Avenue. The suite will give families a bit of extra room to spread out during your stay at the oceanfront.
The oceanfront rooms offer a chance to enjoy the sunrise from your balcony. The hotel also has a game room, a sundeck with firepits, a gym, and a complimentary breakfast.
Cavalier Hotel and Beach Club (Luxury)
When looking for a luxurious stay during your trip to Virginia Beach, head to the refurbished 100-year-old Cavalier Hotel.
The Cavalier has had many honored guests, including Frank Sinatra, Judy Garland, and 10 U.S. presidents. The amenities include an indoor splash pool, the Chesapeake Bay Distillery, and a 6,200 square-foot spa.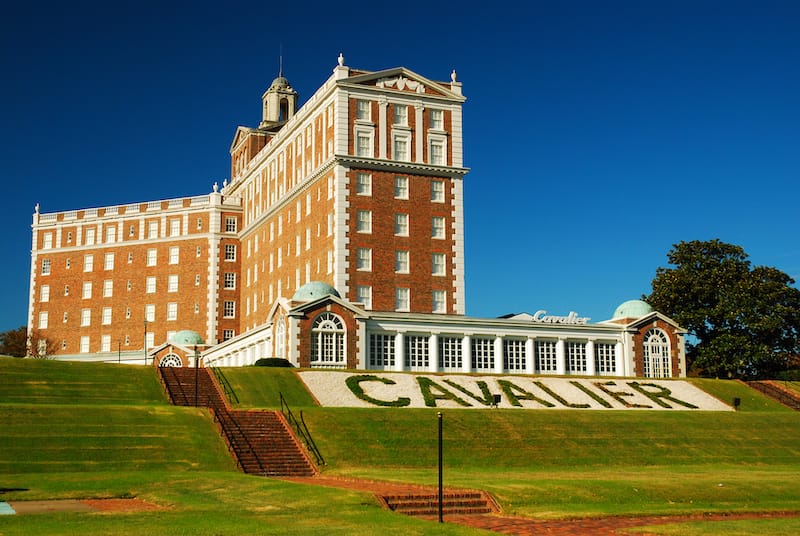 Day 1: Overview
Breakfast at The Pocahontas Pancake House
Dolphin or Whale-Watching Tour with Rudee Tours or The Virginia Aquarium and Marine Science Center
Hike or Bike First Landing State Park
Climb Cape Henry Lighthouse
Dinner at Dough Boy's Pizza
Have an evening Putt-Putt Tournament
Get a cold treat at Kohr Brothers Frozen Custard
Breakfast at The Pocahontas Pancake House
The Pocahontas Pancake House has been treating locals and vacationers alike to their famous short stack of pancakes since 1974. The menu features 12 kinds of pancakes, with the pecan pancakes being an all-time favorite.
They also have ten types of Belgian waffles, over two dozen variations of omelets, and five types of French toast.
During the busy summer tourist season, the line waiting for a table often stretches onto the sidewalk. Don't let this deter you, the food is worth the wait.
Take a Whale-watching or Dolphin-watching Cruise
When you are interested in seeing whales or dolphins up close in their environment, take a boat tour out onto the water with either Rudee's Tours or the Virginia Aquarium.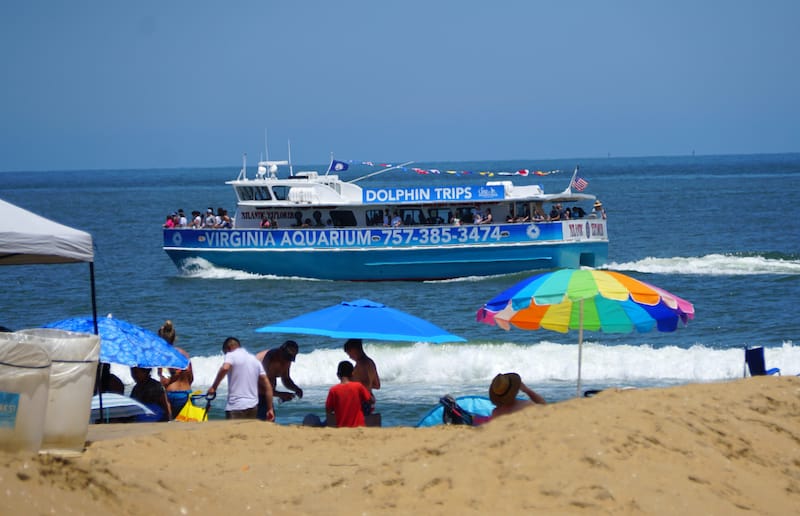 The dolphin tours go out from April through October and are 90 minutes long.
From December through March, the humpback whales visit the region as they migrate from Canada to warmer waters, and both tour groups conduct between two and a two-and-a-half-hour whale watching excursion.
Explore First Landing State Park
Just a few miles north of the Virginia Beach resort strip, you will find the woodsy First Landing State Park. Take time to explore this park on foot, bike, or on the water.
They have plenty of ranger programs throughout the summer that include walking in the swamp, catch and release crabbing, night hikes, and campfire programs with s'mores.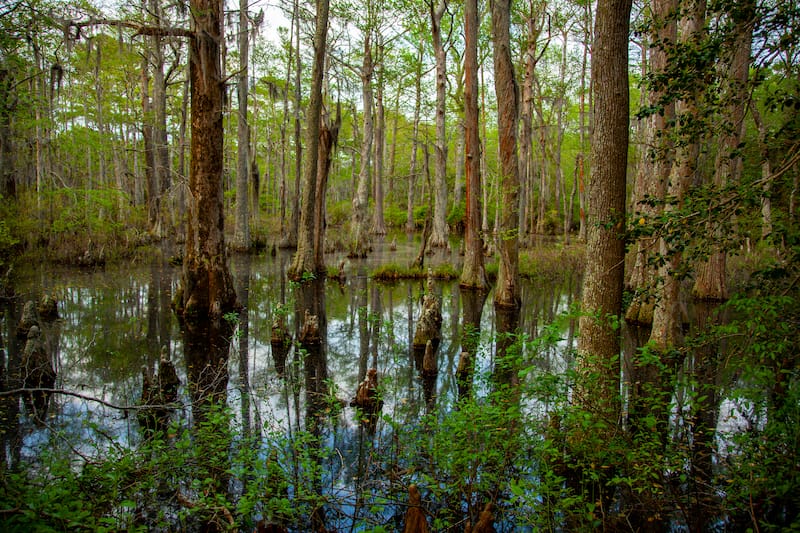 The park also has over a mile of sandy beachfront along the Chesapeake Bay, where you can play in the water that is both warmer and calmer than the Atlantic Ocean.
First Landing also features more than 20 miles of trails to bike or hike. Rent a bike at the oceanfront for the day, ride the bike path to 64th Street, and then into the park.
You can also rent kayaks and paddleboards at this entrance to enjoy a day on flatwater in Linkhorn and Broad Bay.
Climb to the Top of Cape Henry Lighthouse
The Cape Henry Lighthouse sits at the northeastern tip of Virginia Beach, where the Atlantic Ocean and the Chesapeake Bay meet. Here you will find two lighthouses.
The original 1792 lighthouse is the country's fourth oldest and is open for climbing. After climbing the 191 steps, you will have a magnificent 360-degree view of the ocean, bay, and the many ships that enter the port.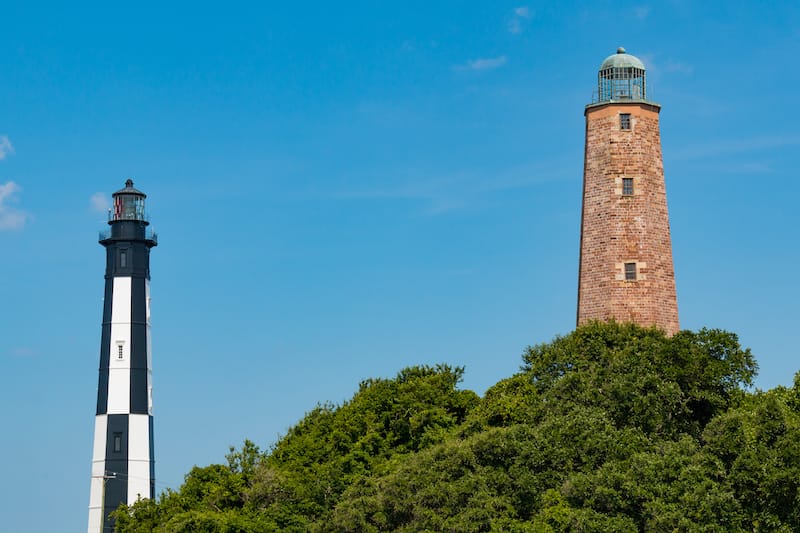 Just 350 feet away, you will also see the 157-foot black and white lighthouse built in 1881. This lighthouse remains in service and is not open for visits.
NOTE: The Cape Henry Lighthouse is on the Fort Story Army Post. To visit, all adults must have an ID (driver's license, passport, or military) to pass through the gate.
Dinner at Dough Boy's Pizza
Since 1989 the family-owned Dough Boy's restaurants have been serving delicious pizza.
Not only is it a local favorite, but they have three locations along Atlantic Avenue at 17th, 24th, and 33rd Streets. Choose between a pepperoni, Hawaiian, meat lovers, spinach and feta, and many more.
You will also have to choose between a Sicilian, white, or hand-tossed crust. If you visit the 17th or 33rd Street restaurant, get your picture taken outside at their LOVEworks sign.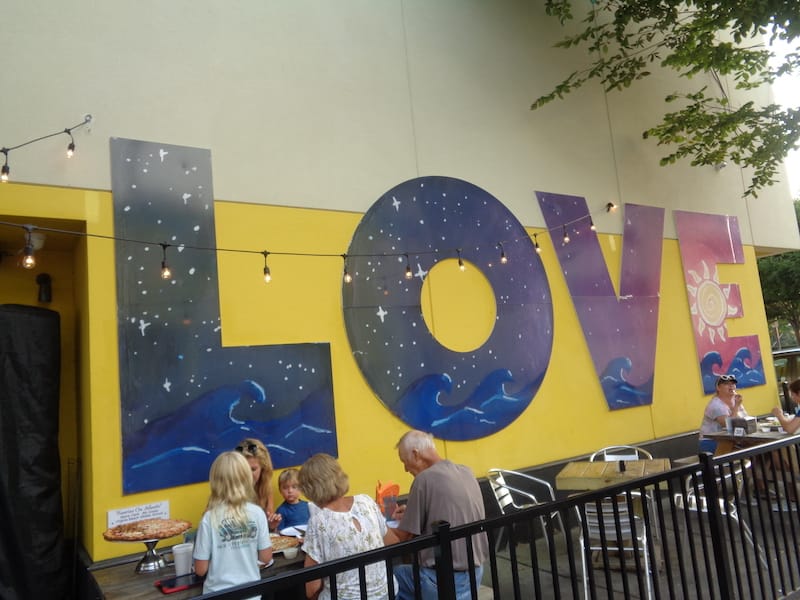 Have an Evening Putt-Putt Tournament
What could be better fun than a putt-putt mini-golf tournament? Spend the evening checking out one or more mini-golf courses along the Virginia Beach resort strip.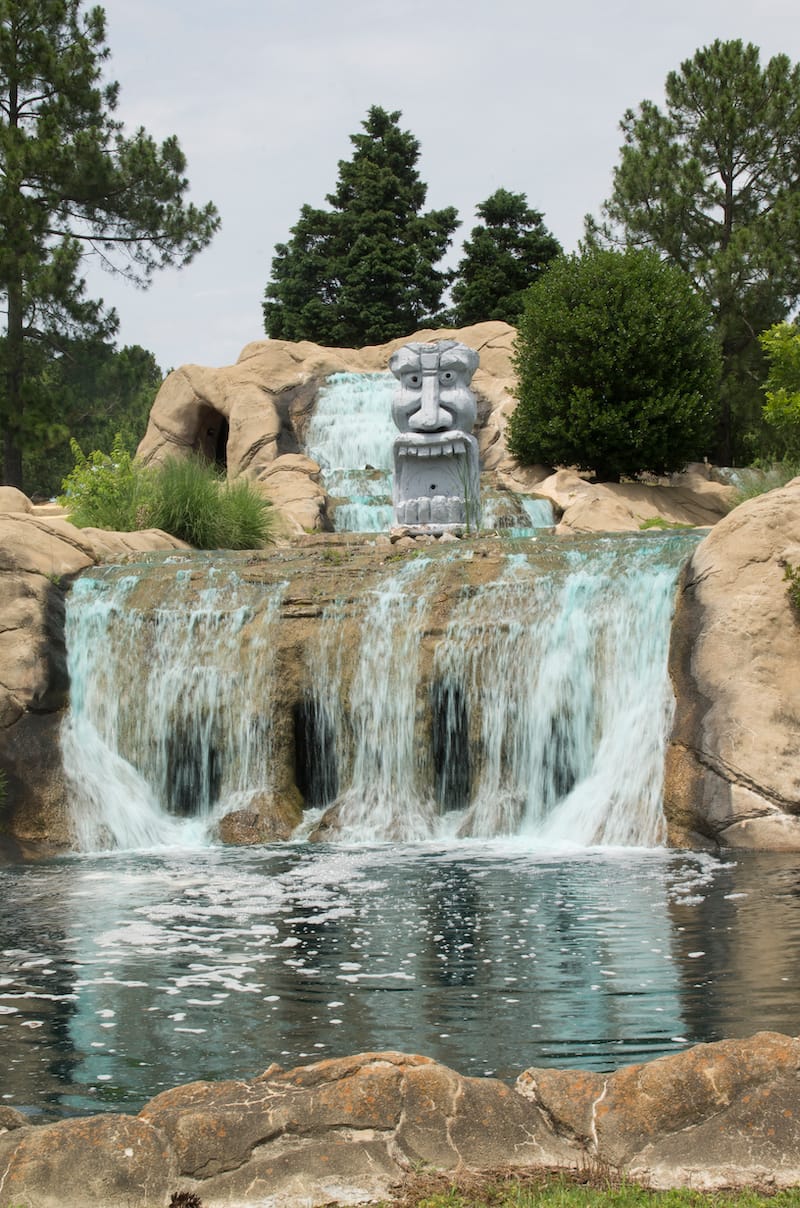 You can choose between indoor and outdoor courses.
Outdoor Courses
Indoor Course
Kohr Brothers Frozen Custard
Kohr Brothers are well known along Virginia Beach's resort strop for their old-fashioned frozen custard.
They have three locations along Atlantic Avenue between 15th and 22nd Streets to get a twist of two of their flavors or a vanilla cone.
Day 2: Overview
Breakfast at The Bee in the Biscuit
Virginia Military Aviation Museum
Explore the Boardwalk
Dinner at Waterman's Surfside Grille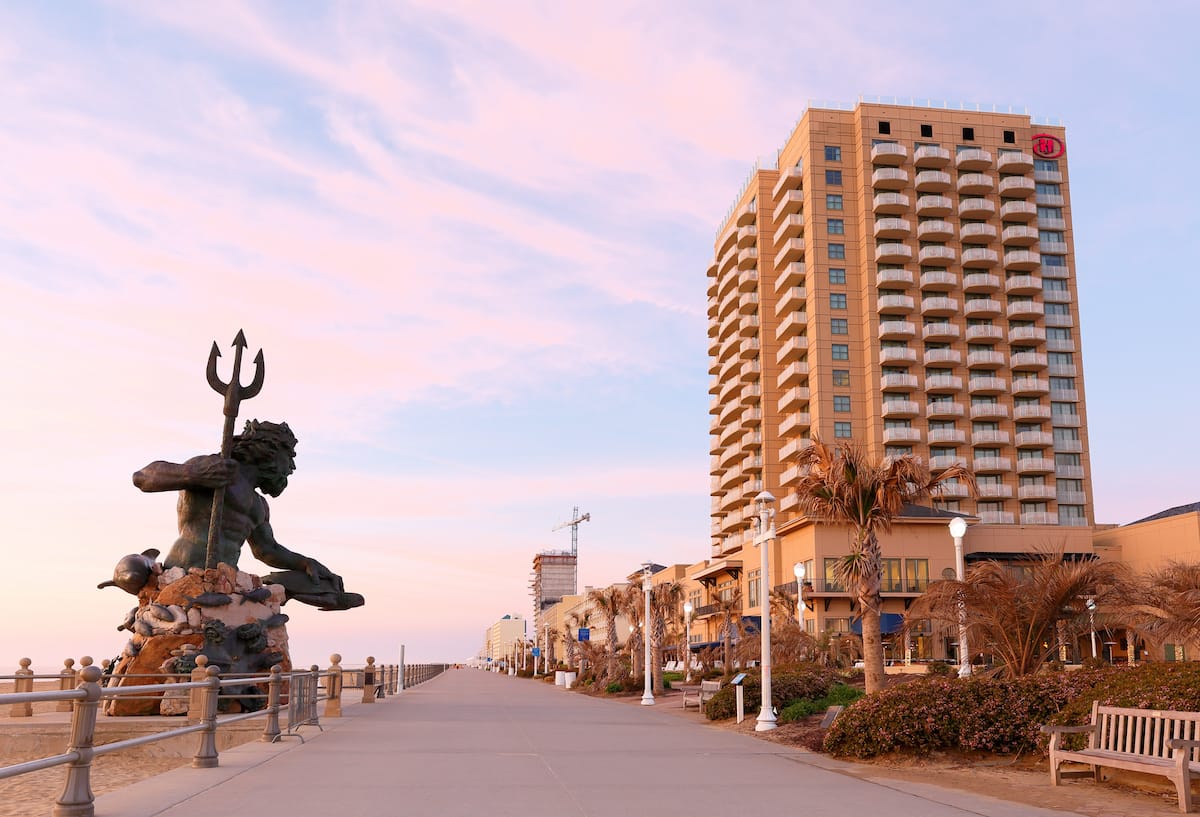 The Bee and The Biscuit
In Virginia Beach's Pungo Village, you will find one of Reviews.org's top Virginia restaurants in 2019, The Bee and The Biscuit. It is also featured on Only in Your State.
The cottage-turned-restaurant only offers valet parking and does not take reservations. So as you wait for your table to become available, sit in their lovely garden, play games, and get a mimosa from the outside bar.
Once you are seated on the sun porch, outdoor deck, or in front of the fireplace, choose between their berry, orange zest biscuits with country ham, JJ's eggs benedict with grilled asparagus, or a humongous melt-in-your-mouth cinnamon roll.
I usually get one of these to go for breakfast the following day.
Virginia Military Aviation Museum
Spend the morning exploring one of the largest private WWI and WWII military aircraft collections at the Virginia Military Aviation Museum.
In the Army Hanger, you will find a P-51 Mustang, the B-25 Mitchell, and three Polikarpovs. While the Navy Hanger is where you will find the PBY Catalina, Skyraider, and the DeHavilland Dragon Rapide.
If the timing is correct and you visit on the right Saturday in June, they have an airshow with many of the planes flying.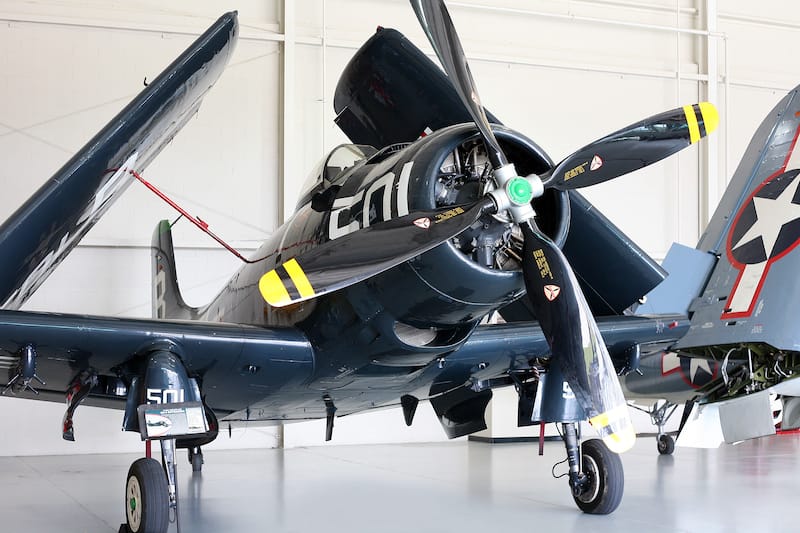 For the dinosaur enthusiasts in your party, stop at the Jurassic Park collection of dinosaur sculptures at the entrance.
You can even book a flight from late April through October and fly over the Intracoastal Waterway, Back Bay Wildlife Refuge, and rural Virginia Beach in an authentic WWII aircraft.
Explore the Boardwalk
Spend the afternoon soaking in the sun, relaxing in the sand, and playing in the water along the Virginia Beach Oceanfront.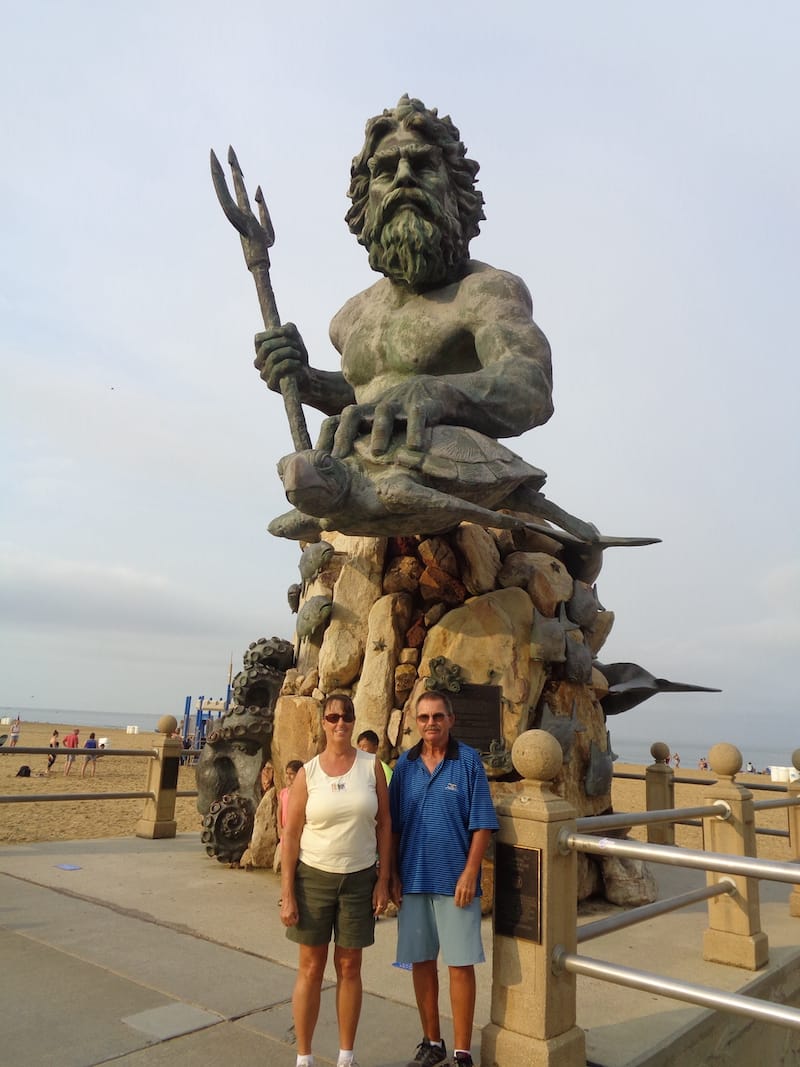 While here, don't miss the chance to stroll or bike along the three-mile boardwalk. Stop to explore some of the monuments and famous VA historical sites along the way.
Naval Aviation Monument – 25th Street and the Atlantic Avenue
Norwegian Lady Statue – 25th Street and the boardwalk – During the summer, there is a storyteller who tells the story of the Norwegian Lady and the sinking of the Dictator.
Navy Seal Monument – 38th Street and the Boardwalk
The King Neptune Statue at 30th Street and the Boardwalk is where you will get your Instagram picture.
Virginia Beach Surf and Rescue Museum – 24th Street and the boardwalk
Ride the Ferris Wheel at the Atlantic Fun Park at 15th Street and the boardwalk
Sit in the LOVE chairs at Oceans 14 – 14th Street and the boardwalk
Atlantic Wildfowl Heritage Museum – 11th Street and the boardwalk
If your plans have you visiting during the summer, check out Live! On Atlantic. This is where you will find the boardwalk events scheduled throughout the summer.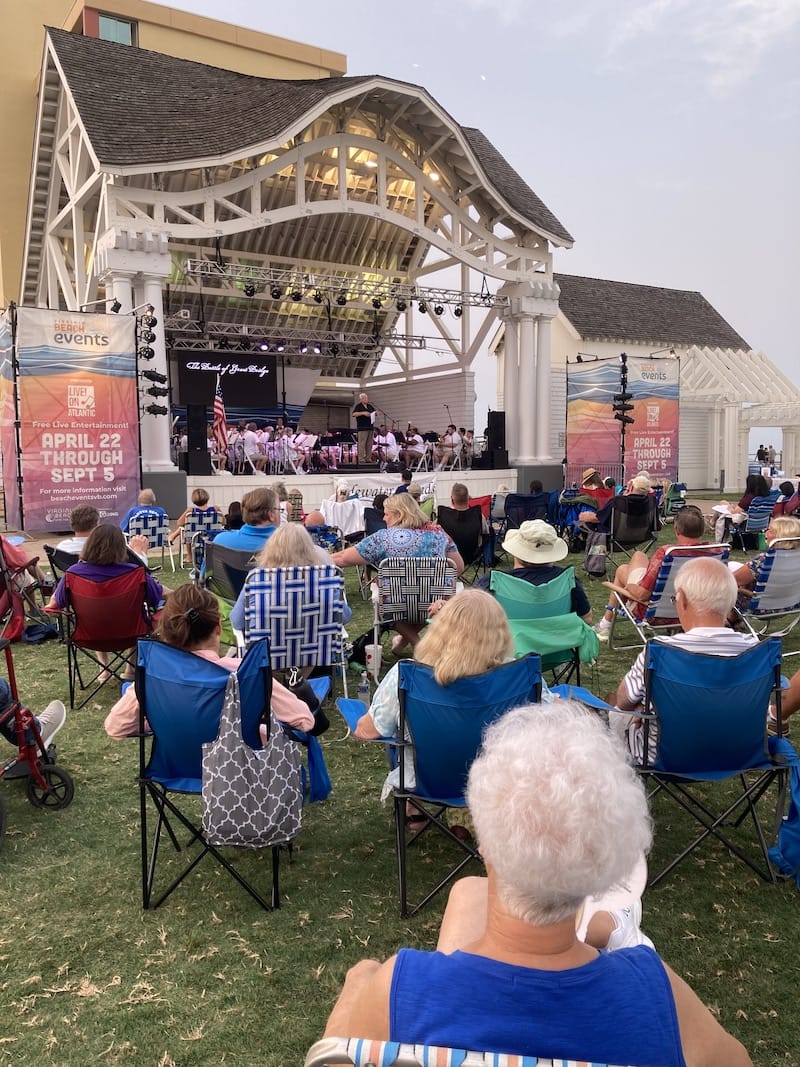 Waterman's Surfside Grille
Head to Waterman's Surfside Grille for dinner for a gorgeous view of the ocean while dining on crab cakes, flounder, jumbo shrimp, or ribs. Their signature drink of more than 30 years is the Orange Crush.
What did we miss on this weekend in Virginia Beach itinerary? Leave us some of your favorite VA Beach spots in the comments. Thanks!
More Virginia Beach Travel Guides
Pin this 2 Days in Virginia Beach Itinerary