From the miles of soft sand and comfortable southern Virginia ocean temperatures to the city's famous boardwalk, Virginia Beach has grown to be one of my favorite beachside getaways.
Are you planning your trip to Virginia Beach last minute?
If you're traveling to VA Beach last minute, you want to ensure you have lodging and tours ahead of time! Below are some of our top picks in town!
Best Hotels in Virginia Beach (including oceanfront options!):
Top Tours in Virginia Beach:
Sunset Dolphin Kayak Tours (Top rated!)
Virginia Beach Indoor Skydiving (Popular tour!)
Virginia Beach offers the right mixture of relaxation and fun. No matter who you travel with, there are affordable activities and a variety of excursions perfect for everyone in your group.
Because Virginia Beach is such a fun place to be (and home to some of the best beaches in Virginia), you'll want to choose the accommodation that matches the greatness of this city.
There are endless accommodation options available throughout Virginia Beach, however, Virginia Beach timeshare resorts offer a long list of in-room and on-site amenities that cannot be found anywhere else!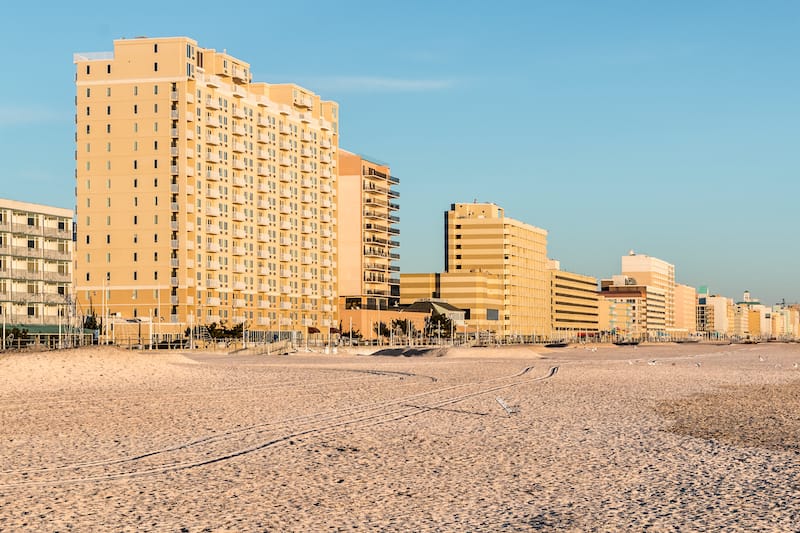 For years, the only way to enjoy these luxury suites was to sit through a high-pressure timeshare presentation but now it's possible to book Virginia Beach timeshare rentals through private owners at affordable prices. You'll get to enjoy a wealth of amenities all for a price typically less than a standard hotel room….which is awesome!
But, where exactly are these timeshare units even located? Most people have no idea that many of the resorts on Virginia Beach's coastline are, in fact, timeshare resorts.
With all of this in mind, I decided to create a list of the top 7 resorts in Virginia Beach I think you will absolutely love (and bonus, you can rent suites at all of them)! These make for the perfect getaway from Richmond and Washington DC!

Top Timeshare Resorts In Virginia Beach
Here you'll find the best resorts in Virginia Beach that we think you should consider for your next oceanside trip to the Old Dominion state!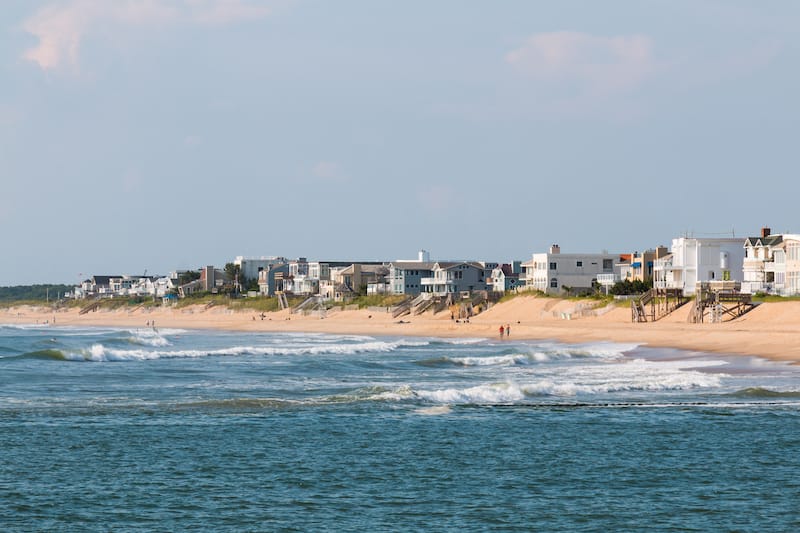 When you think about a Virginia Beach vacation, the memorable Atrium Resort probably comes to mind! Atrium Resort is just a short walk to the shoreline and a favorite for those who want a true Virginia Beach experience.

The property has recently completed renovations to its 90 one-bedroom vacation suites which can sleep up to four people or can be utilized as a two-bedroom lock-off and sleep up to eight for larger groups.

In addition to the updated furniture and fun coastal colors, you'll also find comfort in the many potential in-room features like full kitchens, king beds, separate living areas, sofa beds, air conditioning, and free WiFi!
On-site, you can take advantage of the spacious lobby, indoor pool, indoor hot tub, tanning booth, convenient beach parking, masseuse services, and a full activities program.
If your goal on vacation is to wake up to breathtaking ocean views, the Beach Quarters Resort is the place for you. This oceanfront property is everything you want and more when it comes to the location with the sand, restaurant, and shops just a few steps away!

Studio, one-, and two-bedroom suites that can fit anywhere from two to eight guests make Beach Quarters Resort the ultimate getaway for any size group of vacationers.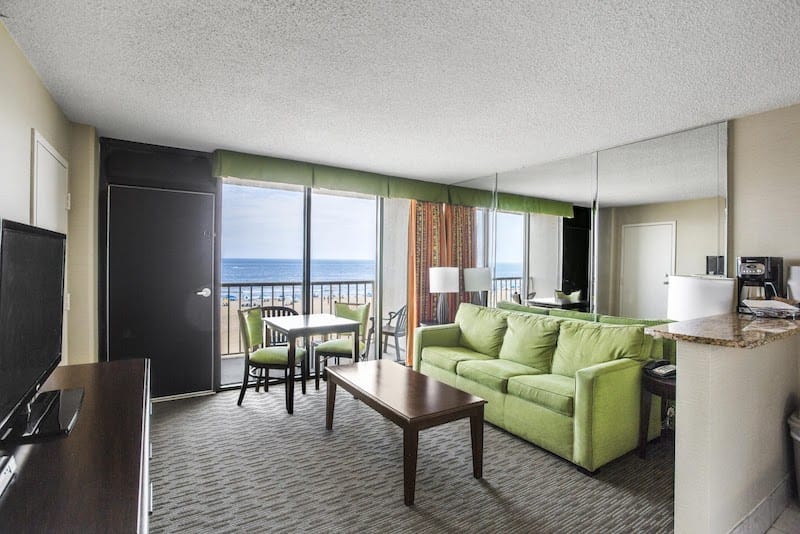 Not only are these rooms known for being spacious, but also for their amenities which often include ocean views, private balconies, jacuzzi tubs for relaxing, full kitchens, as well as living and dining areas.
The features of this property extend far past the room amenities to make your vacation even more memorable. Be sure to also take advantage of the rooftop pool, the health club, the massage therapy services, and the snack and drink bar!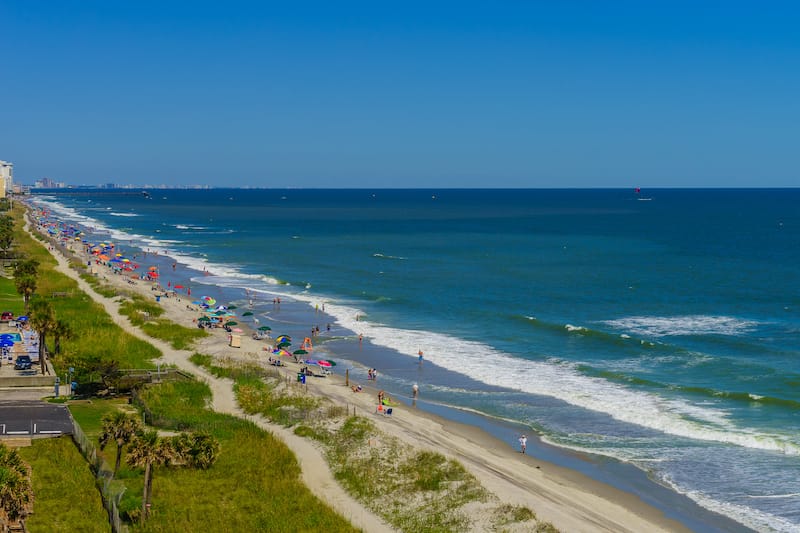 Located one block from the beach is the beautiful Ocean Key Resort, perfect for travelers looking for an oceanside getaway where all of the area's best restaurants, bars, and shops are just a short distance away.

The 142 suites range from one- to two-bedroom options and sleep four to six guests with neutral tones, comfortable furnishings, and space to spread out.

The one-bedroom options typically have amenities like kitchenettes, queen beds, living rooms, and dining areas while two-bedrooms have slightly more room to usually include two bathrooms, multiple bedding options, and private balconies.

When you just want to enjoy what the resort has to offer, there's plenty to do and see! Included on-site is a restaurant and bar, an indoor pool, a hot tub, tanning facilities, a full fitness center, an activities program, a game room, and masseuse services.
OceanAire at Ocean Beach Club is the resort property of your dreams! Situated on the boardwalk, you're never far from all of your favorite Virginia Beach activities like swimming, sunbathing, shopping, dining, biking, water excursions, and more!
Partial and ocean view studio, one-, and two-bedroom suites can fit four to six guests with modern furniture and decor, upgraded finishes, and updated appliances.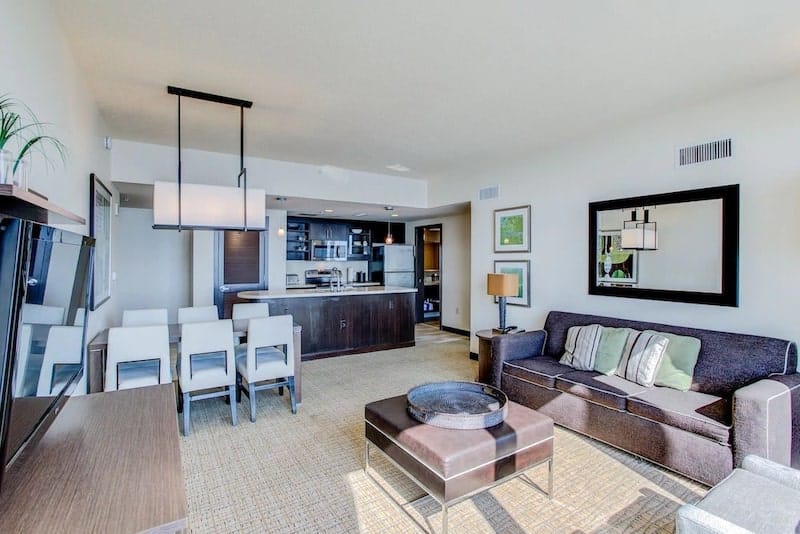 Smaller rooms have kitchenettes, private balconies, full bathrooms, and flat-screen TVs while the larger units swap out kitchenettes for full kitchens, two bathrooms (two-bedroom), living areas, dining areas, and multiple flat-screen TVs.

The property makes you want for nothing, too! There are multiple pool options which include an indoor adults-only pool and deck area, an indoor family-friendly heated pool, a shallow-entry kiddie pool, and an incredible outdoor pool on the beach.
Additionally, there is a cafe and bar, kids' game room, ocean-view fitness center, and guest laundry facility.
It's no wonder why so many vacationers love to call Ocean Beach Club their home away from home and it has everything to do with what the property has to offer! Whether you strictly stay on-site or explore further into the city which is literally a few steps away, you'll never be bored.

There are a variety of studio, one-, two-, and three-bedroom suites that can comfortably fit two to eight people, which means all types of vacationers can find a space they love while visiting.

Depending on the size of the room, you'll likely find kitchenettes or full kitchens, living areas, dining areas, private balconies, full bathrooms, and incredible Atlantic Ocean views.

If the rooms weren't enough for you to fall in love with the property, the on-site amenities will do the trick! Ocean Beach Club offers beach access, four pools which include an infinity pool as well an indoor pool, a 10th-floor sundeck, a fitness center, a spa, the Ultra Craft Cocktails Lounge, the Tortugas Cafe and Tiki Bar, and so much more.

Whether you're searching for a vacation spot for your family, as a couple, or a group of friends, Turtle Cay Resort will provide you with the amenities and accommodations needed to make those sweet beachfront memories with those you love most!
Four to six vacationers can find a studio, one-, or two-bedroom suite that fits their specific vacationing needs with colorful decor and spacious floorplans.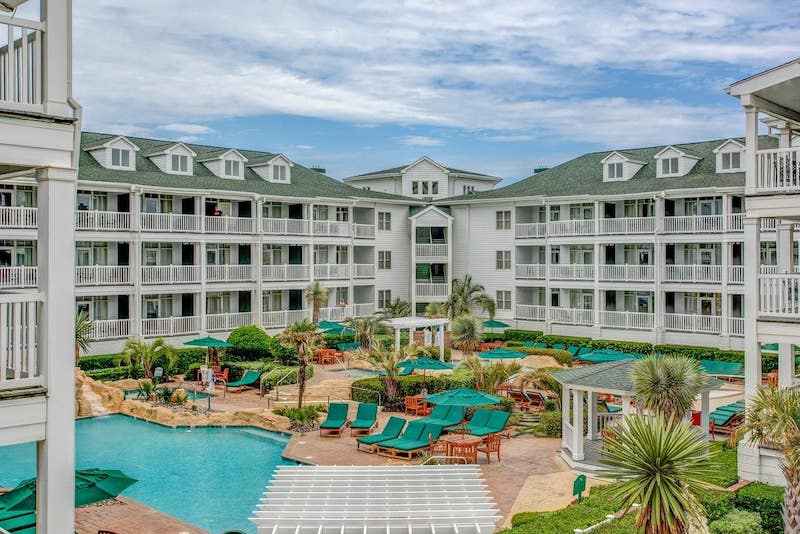 In addition to the resort's impressive square-footage, staying in a Turtle Cay studio or suite means having potential amenities like kitchenettes or full kitchens, living areas, dining areas, fireplaces, and private balconies.
Turtle Cay Resort offers you a quiet retreat from the hustle and bustle of the dynamic boardwalk just outside your front door with a private courtyard in the center of the property that features a nine-foot waterfall, two outdoor pools, two hot tubs, an expansive sun deck, concierge services, free guest parking, and free WiFi.
If your idea of a great vacation is spending time in the center of a beach city with all of the best activities and attractions at your fingertips, you don't have to look any further than the Villas at the Boardwalk on Virginia Beach!
Villas at the Boardwalk offers an admirable number of unit options for visitors including studio, deluxe studio, one-, two-, and three-bedroom suites that sleep two to ten guests- ideal for travel groups of all sizes!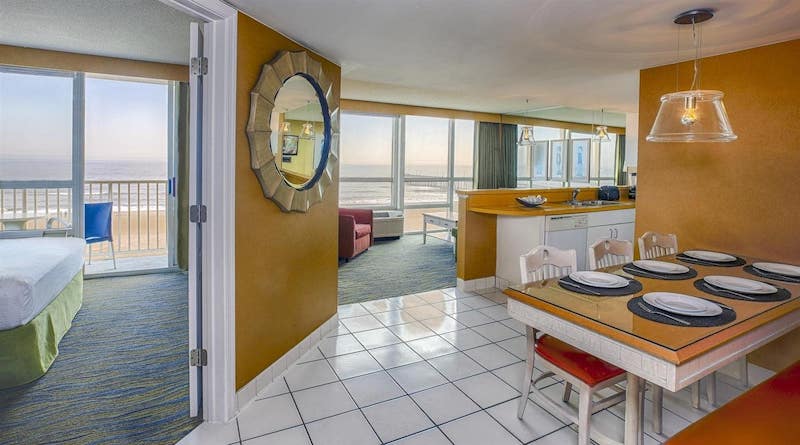 The studios will include sitting areas, partial kitchenettes, full bathrooms, ocean or city views, and queen beds while the suites might have items like full kitchens, living areas, dining areas, private balconies, multiple bathrooms, ocean or resort views, sofa beds, and more.
Though direct beach and boardwalk access is the property's biggest feature, it offers so much more!
Hang out at the indoor oceanfront swimming pool and hot tub, grab a bite to eat at Rockfish Bar and Sea Grill, utilize the fitness center, and don't forget to take in those beautiful ocean sunsets without ever having to leave the property!
We hope that our list of the best timeshare resorts in Virginia Beach will help you find the perfect accommodations for you and your loved ones as you enjoy everything this preferred destination has to offer!

If there are any Virginia Beach timeshare resorts you think we forgot to mention, please let us know in the comments below!
Additional Virginia Beach Travel Resources
Pin this Virginia Beach Time Shares Rentals Guide