This guide details everything you need to know about First Landing State Park camping options, including yurts, camping plot, and cabin options. It also answers some of your frequently asked questions about camping at First Landing State Park.
This is truly one of the best places to go camping in Virginia Beach (and one of the best campgrounds near Richmond VA), so we hope you have a trip planned there!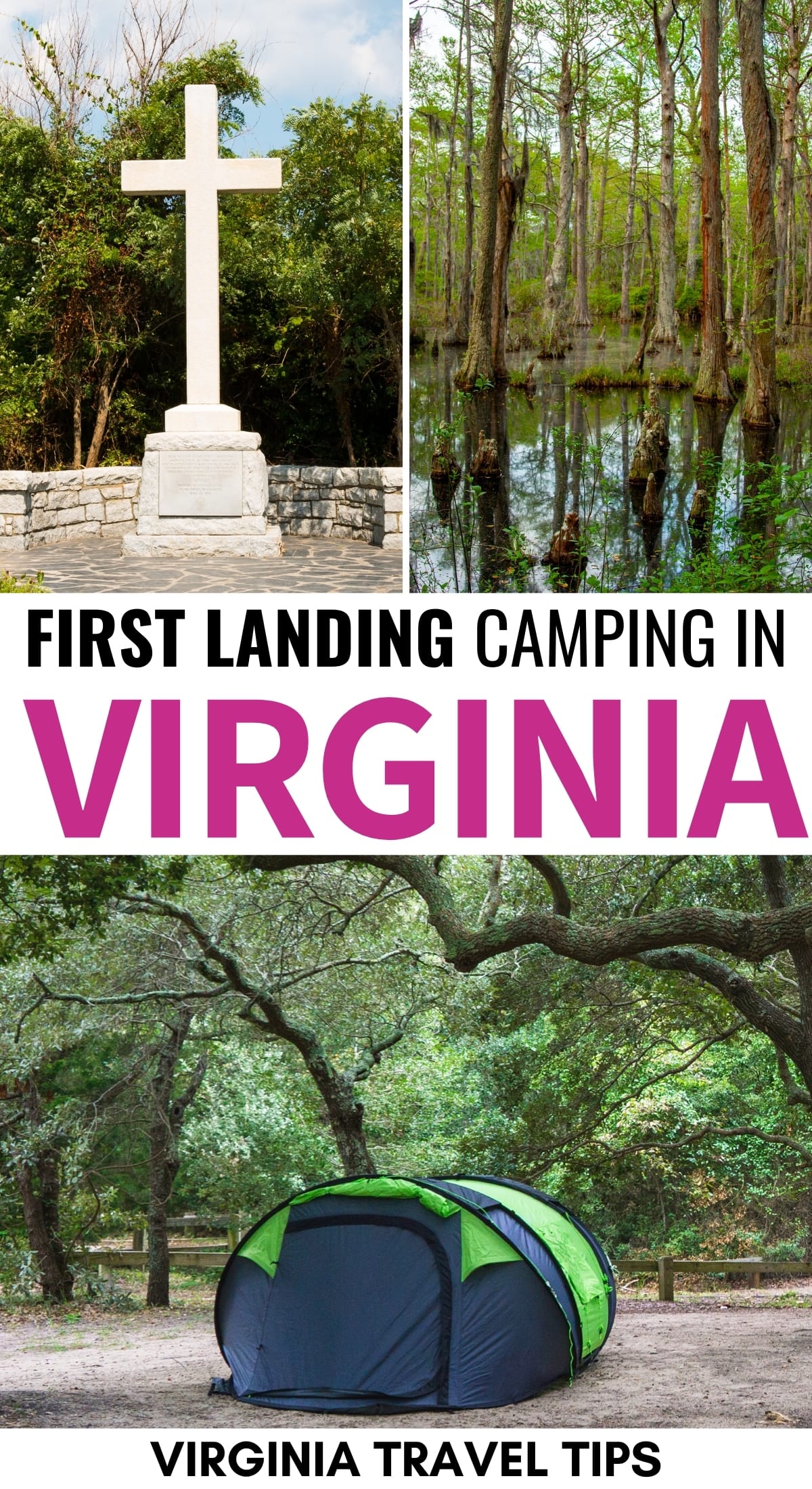 Should You Camp at First Landing State Park?
Camping in First Landing State Park is one of the best ways to explore its incredible natural beauty. Camping provides you with the unique opportunity to experience the park after most visitors leave.
There is nothing better than waking up early and breathing in the clean morning air scented by the forest, before heading to the beach and watching the sunrise over the Atlantic Ocean.
As the crowds start to emerge, spend the day enjoying the many things to do at First Landing State Park. As the sun begins to set, the peacefulness returns to the park and its time to settle down to the noises of the wild as you cook food and enjoy the warm Virginian evenings.
With over 200 hundred different overnight spots, First Landing State Park offers three different main types of accommodations: cabins, yurts, and camping plots.
This First Landing State Park camping guide will take you through everything you need to know about the experience, including some FAQ. Let us know if you have any questions!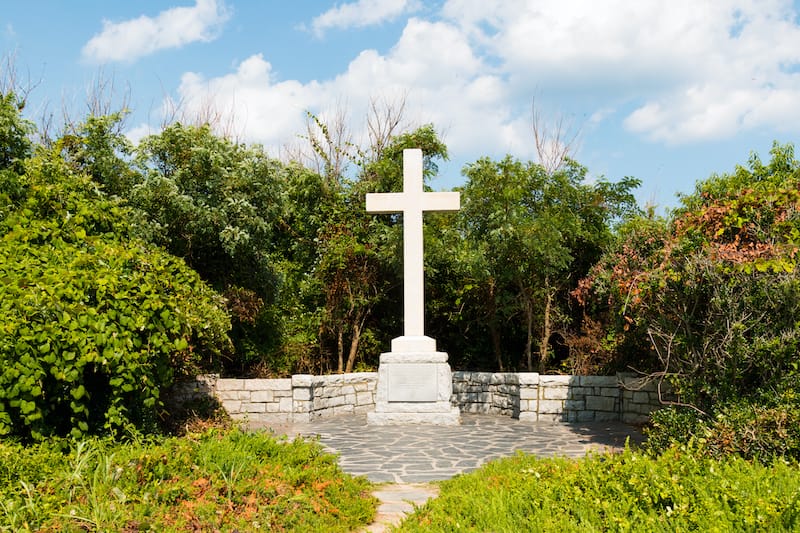 First Landing Camping Options
There are three main options for staying within the park, from large comfortable cabins to basic camping spots. Depending on your needs, choosing the right accommodation is paramount.
Camping Plots
Over 200 camping spots within the park are split between five different types, depending on both size and amenities. Three of the plot types have both electricity and running water. These plots are divided into the following:
» E/W-20ft: Plots have electricity (20 amp service) and water. They can be used for both tents and RVs up to 20ft long.
» E/W-30ft: Plots have electricity (20, 30, and 50 amp service) and water. They can be used for both tents and RVs up to 30ft in length.
» E/W-50ft: Plots have electricity (20, 30, and 50 amp service) and water. These plots are only for large RVs, between 32 and 50ft in length. These spots need to be reserved by phone.
The last two camping types are for tents only and do not include electricity or water.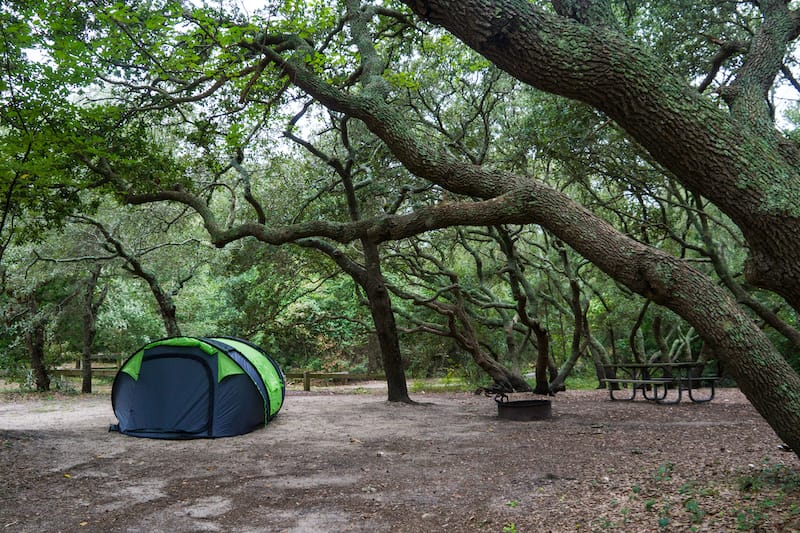 » Std-20ft: For tents only and no amenities, this is the most common type of plot in the state park.
» Group Camping: For large groups looking to camp close to each other. A minimum of three spots will need to be booked with a maximum occupancy of six people.
All the camping plots come with a fire pit, where you can grill, and a picnic table. There are shared communal bathrooms with hot showers where you can clean up. First Landing State Park camping season is from March to the first weekend of December.
Yurts
For a more comfortable, yet outdoorsy experience, there are four yurts located along the Chesapeake Bay. The yurt's interior is comfortable and sleeps up to four people with a queen-sized bed, a twin pull out trundle bed, sofa, and dining table.
While the yurts are slightly more luxurious than tents, there is still no running water, electricity, or indoor cooking facilities.
However, the magic of the yurts is on the outside, where each yurt has a large wooden deck with tables and deck chairs where you can chill out in the evenings while you cook on the grill provided.
Water and washing facilities can be found at the nearby bathhouses. The yurts also sit directly in the sun, but shade can be found under the elevated decking.
Yurt Four is universally accessible. You will need to bring sleeping bags or bed linens with you as these are not provided. It is the perfect stop after a long day on the Virginia Beach hiking trails in this park.
First Landing State Park yurts can be rented between the first weekend of March to the first weekend of December.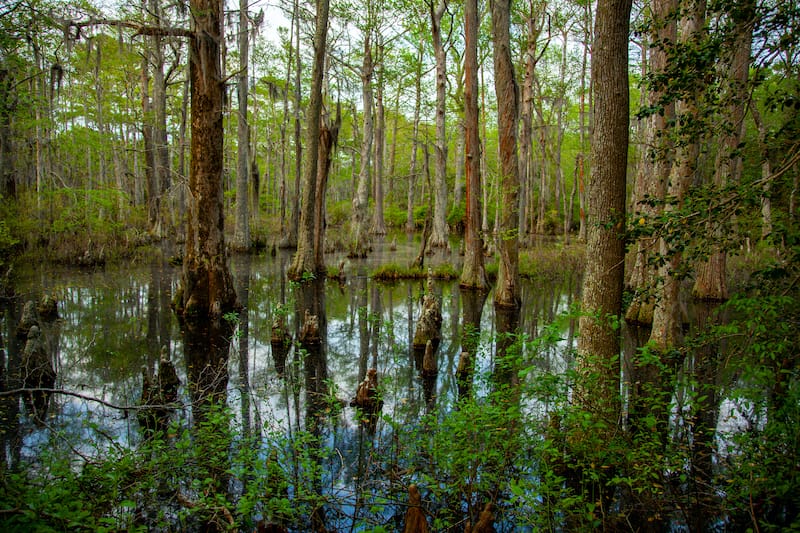 First Landing State Park Cabins
Cabins provide a much more luxurious option than camping or yurts. The two-bedroom cabins contain everything you need for a comfortable stay, including a fully equipped kitchen, living areas, and bathrooms.
While the inside of the cabin is fully airconditioned, there are beautiful outside areas where you can relax and cook out in the warm summer evenings.
The cabins sleep between 4-6 people; in some cases, it may be possible to add more beds to the cabin for an additional cost.
You will need to bring your own linen or sleeping bags as they are not included. There is a minimum rental period of a week during the height of summer, starting on a weekend.
As the year progresses, the minimum rental period is reduced to a minimum of two nights. The First Landing State Park cabins are available to rent throughout the year.
First Landing State Park FAQ
How can I make a First Landing State Park reservation?
To book a stay at First Landing State Park, you will need to book through This Website. For those looking to book the E/W-50ft, you will need to call the park directly to reserve your spot.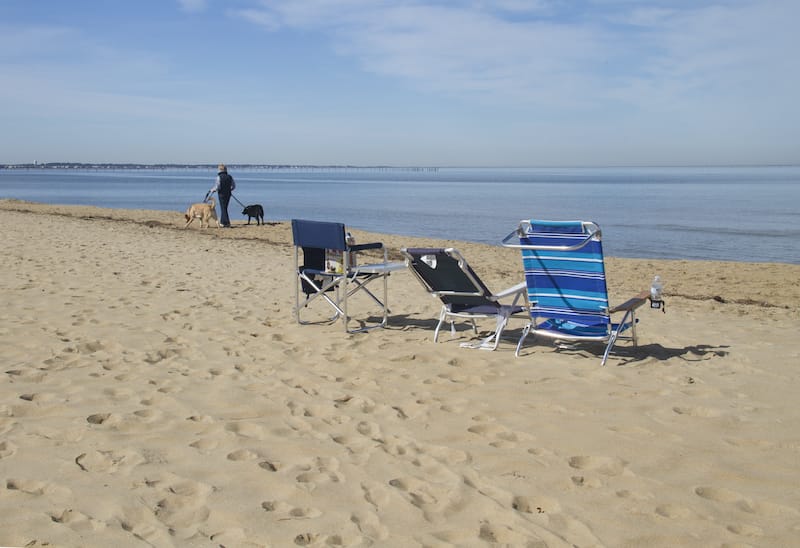 Are pets allowed to overnight at First Landing State Park?
Yes, pets can join you on your vacation to the park, for a cost per night and pet. Sadly, pets can not join you in the yurts unless they are a service animal.
Are campfires permitted at FLSP?
Yes, each campsite, yurt, and cabin comes with a fire ring and grill. However, you must purchase firewood from the Bay Store as bringing your own is not allowed.
Using your own firewood is banned due to the risk of bringing in foreign tree diseases. It is also not allowed to forage for firewood within the park.
Are there private bathrooms at First Landing State Park?
For camping plots and yurts, there are shared bathroom facilities where you can shower and clean up. Cabins have their own bathroom facilities.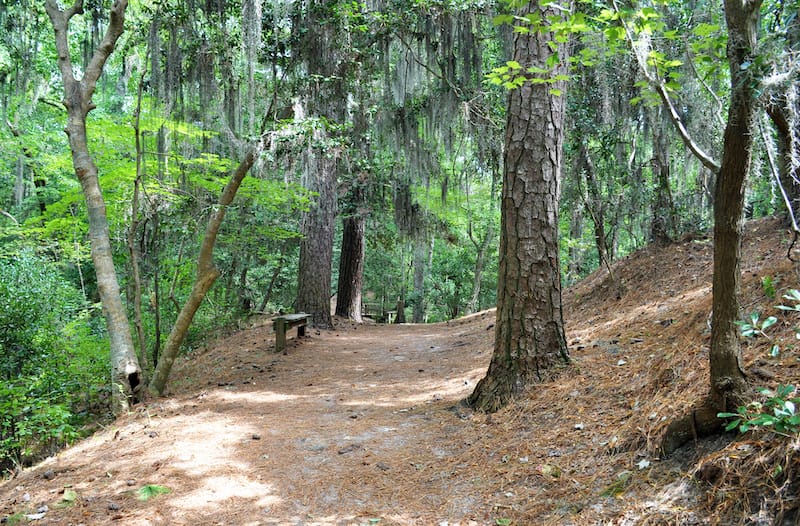 What's the First Landing State Park parking situation?
Each site has space for two vehicles. Any additional cars will need to be parked in the overfill car park for an additional cost. Parking passes should be displayed at all times.
Can I bring my boat with me?
Yes. A free boat launch is included with every overnight stay.
Is the camp accessible throughout the night?
Yes. While the park closes for day visitors at dusk and opens at 8 am, overnight guests can access the park throughout the night.
This is perfect for those looking to go out for dinner in Virginia Beach. However, it is crucial that the quiet hours between 10 pm and 8 am are observed.
First Landing State Park Packing Essentials
I recommend bringing the following items with you to make you as comfortable as possible.
Bug Spray: Given the swampy terrain, mosquitoes and other hungry insects are prevalent in the park. There is nothing worse than being bitten continuously by determined insects.
Bug spray will keep many of the bugs away and stop you from being eaten alive.
Klean Kanteen: If you are in a camp without running water, I recommend bringing a couple of Klean Kanteens with you to store water for the night. Given Virginia's hot weather, it is essential to stay well hydrated.
Fire starter: For those camping, the most convenient way to cook is over the outdoor grill. A decent fire starter will keep your fires going and will last far longer than a lighter.
Along with lighting a fire for cooking needs, the fire starter will help you keep a campfire roaring into the night when temperatures can drop.
Sleeping Bag: You will need to bring a decent sleeping bag with you for all camping options. Since Virginia remains temperate, a durable four-season sleeping bag will keep you warm and cozy during the night throughout the year.
We hope this quick guide to First Landing State Park camping tips and options helped you plan your trip there and encouraged you to visit and make the most of the scenic outdoors there!
Be sure to read our guide to First Landing State Park before heading there if you're looking for all the wonderful reasons to visit!
Additional Virginia Beach Travel Resources
PIN IT FOR LATER!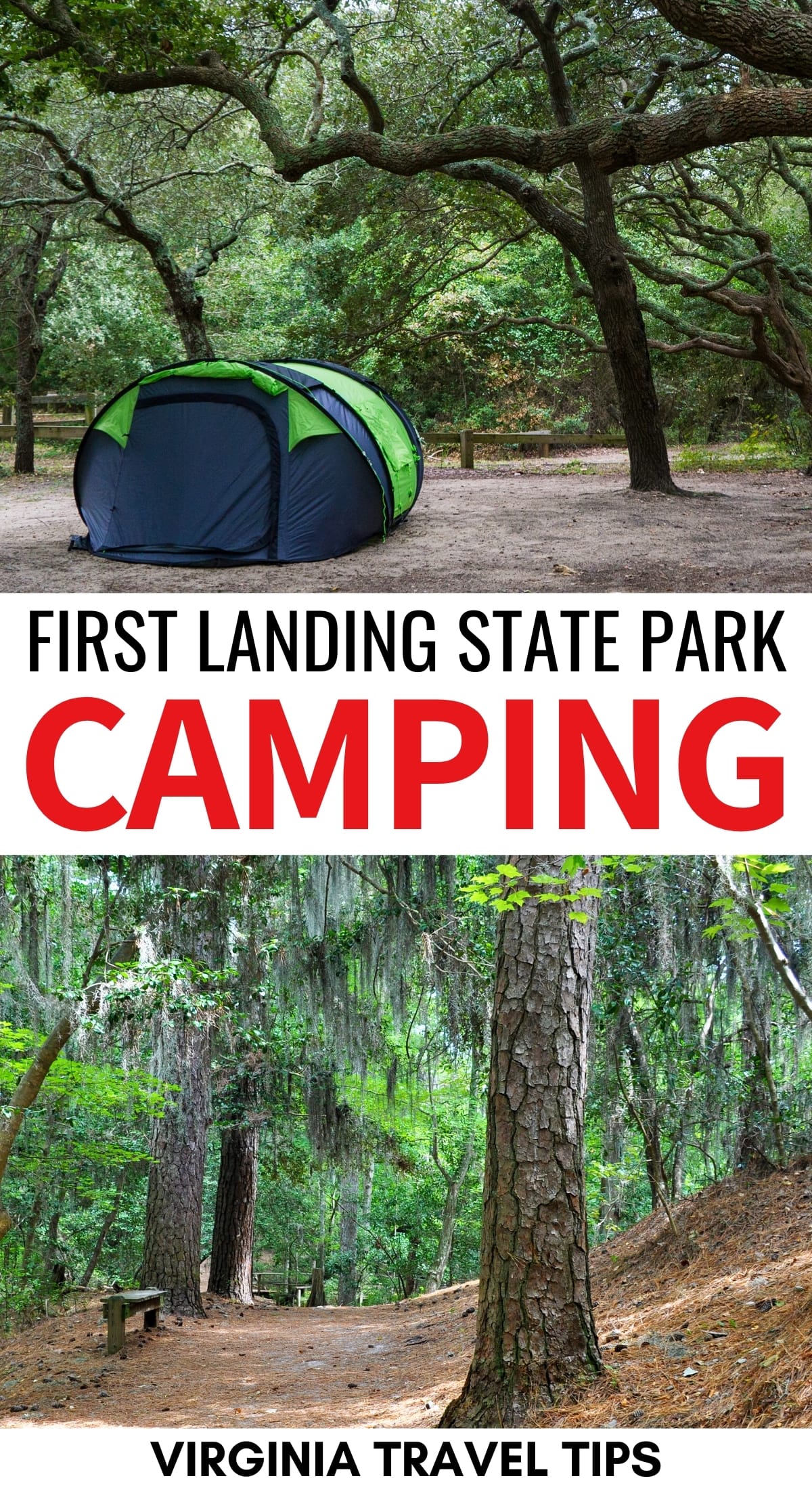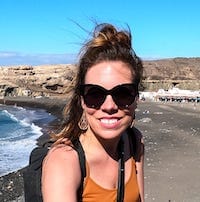 Megan is a travel blogger and writer with a background in digital marketing. Originally from Richmond, VA, she has lived all around the world (including Germany, Finland, Norway, etc) but her heart always finds its way back to Virginia. This blog is to help encourage travelers to explore the great state of VA… and its wonderful neighbors! Megan has written for or been featured by National Geographic, Forbes, Lonely Planet, Fodor's Travel, the New York Times, and more. She has visited 45 US states and 100+ countries… and wholeheartedly believes that Brunswick Stew is probably the greatest food to ever exist.