Are you looking for some of the most famous historical sites in Virginia for an upcoming trip? We've got you covered!
This guide lists some of the top Virginia historical sites, including battlefields, notable parks, and other historic landmarks in Virginia.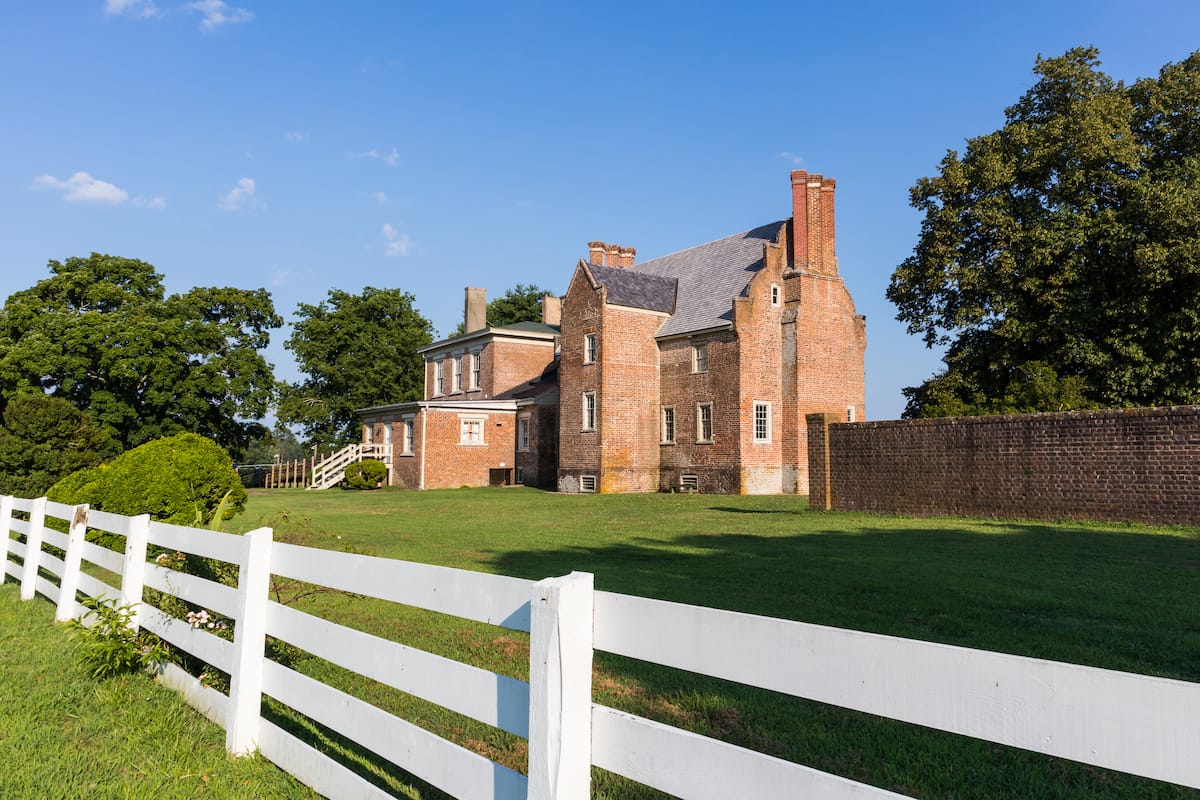 Did we miss any well-known historical sites in VA? Let us know in the comments!
Famous Historical Sites in Virginia
Cape Henry Lighthouse
Address: 583 Atlantic Ave, Fort Story, VA 23459
Website
Unfortunately, this lighthouse built way back in 1881 remains closed to the public today. It was first authorized by U.S. President George Washington and overseen by Alexander Hamilton.
The Cape Henry Lighthouse was the first federally funded public works project by the United States Government and is located near the "First Landing" site where English settlers set foot for the first time on their journey to Jamestown.
For nearly 100 years, sea travelers were guided to safety by this famous Virginia lighthouse!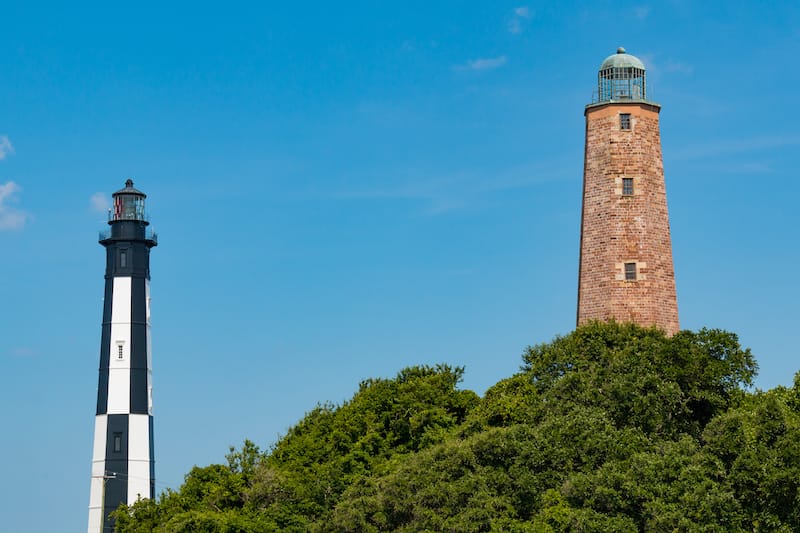 Visitors can, however, see the lighthouse from Monday to Sunday from 10am to 5pm.
Ticket prices range from $8 to $14 depending on age and whether or not you're a student.
Monticello
Address: 931 Thomas Jefferson Pkwy, Charlottesville, VA 22902
Website
Famous as the former home of Thomas Jefferson, this UNESCO World Heritage Site is one of the best places to visit in Virginia for history lovers.
Monticello is located right outside of Charlottesville, it is notable because of its unique architecture, a lot of which was associated with Jefferson at the time.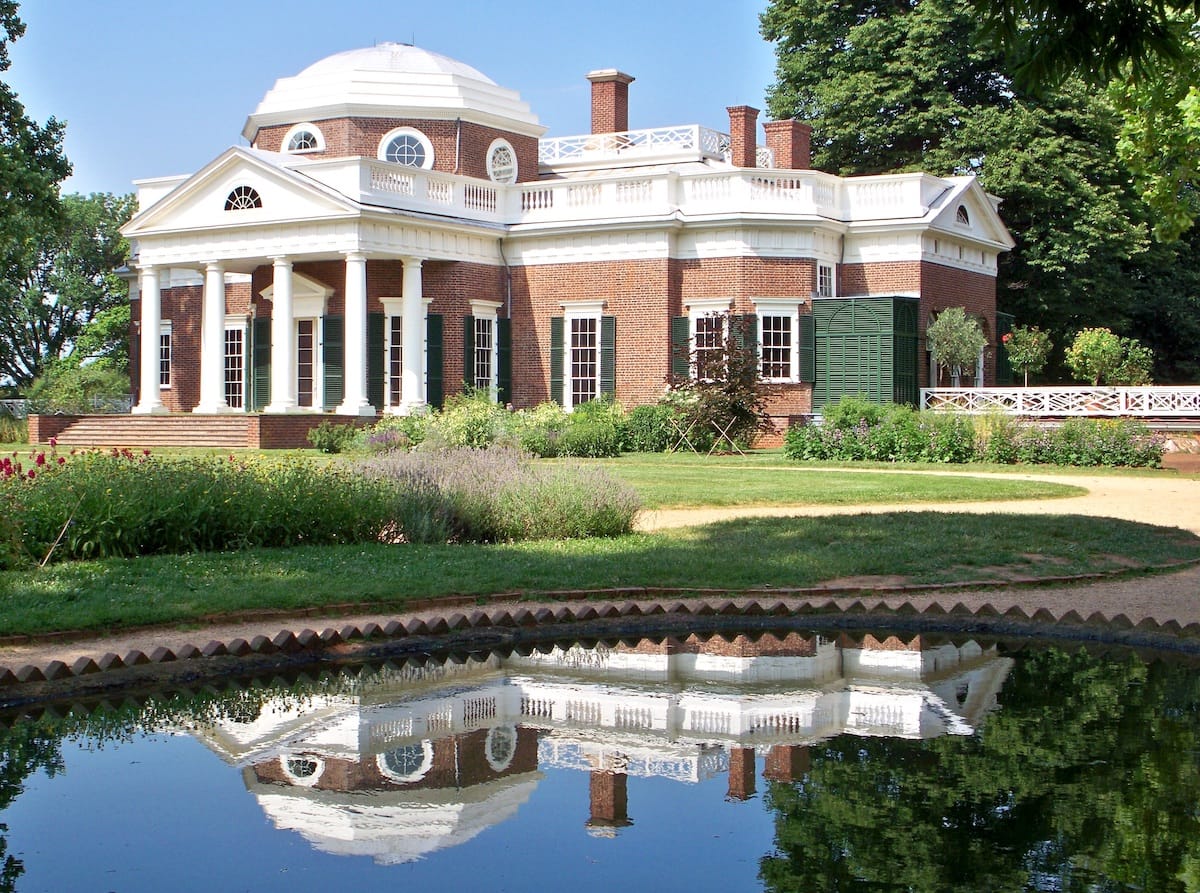 The National Historic Landmark was operated and built by enslaved people, primarily for the cultivation of tobacco and (later on) wheat.
You can even see a picture of Monticello on the backside of the US nickel.
The Virginia historic site dates back to 1772 and is one of the best places to visit on a trip to Charlottesville (or if you're driving along I-64).
First Landing State Park
Address: 2500 Shore Dr, Virginia Beach, VA 23451
Website
English colonists first landed here in this park in 1607 (hence the name!), where its cypress swamps were a source of fresh water for merchant mariners, pirates, and military ships during the War of 1812.
Many modern cargo ships, Native American canoes, and even Colonial settlers have navigated First Landing State Park's waters. There's even a legend that Blackbeard hid in the Narrows area of the park.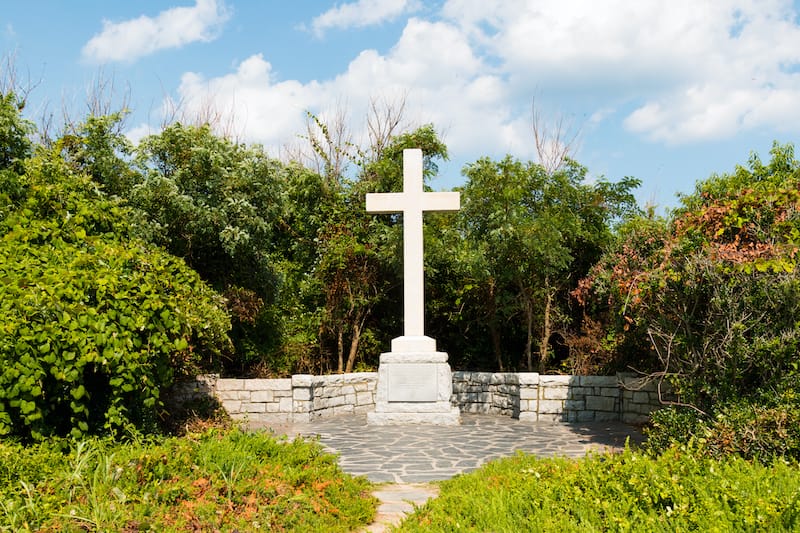 Today's park is a National Natural Landmark on the National Register of Historic Places. Visitors can be inside the park from 8 a.m. to dusk, with overnight areas accessible 24 hours a day.
The park has various admission fees depending on the type of activity you plan on doing, whether camping, hiking, or hosting a picnic in a shelter, so it's best to book through the website.
Bacon's Castle
Address: 465 Bacons Castle Trail, Surry, VA 23883
Website
Bacon's Castle was built for Arthur Allen and his family in 1665, making it the oldest brick dwelling in North America!
During the famous uprising called Bacon's Rebellion, Nathaniel Bacon's men stayed inside the house for several months in 1676.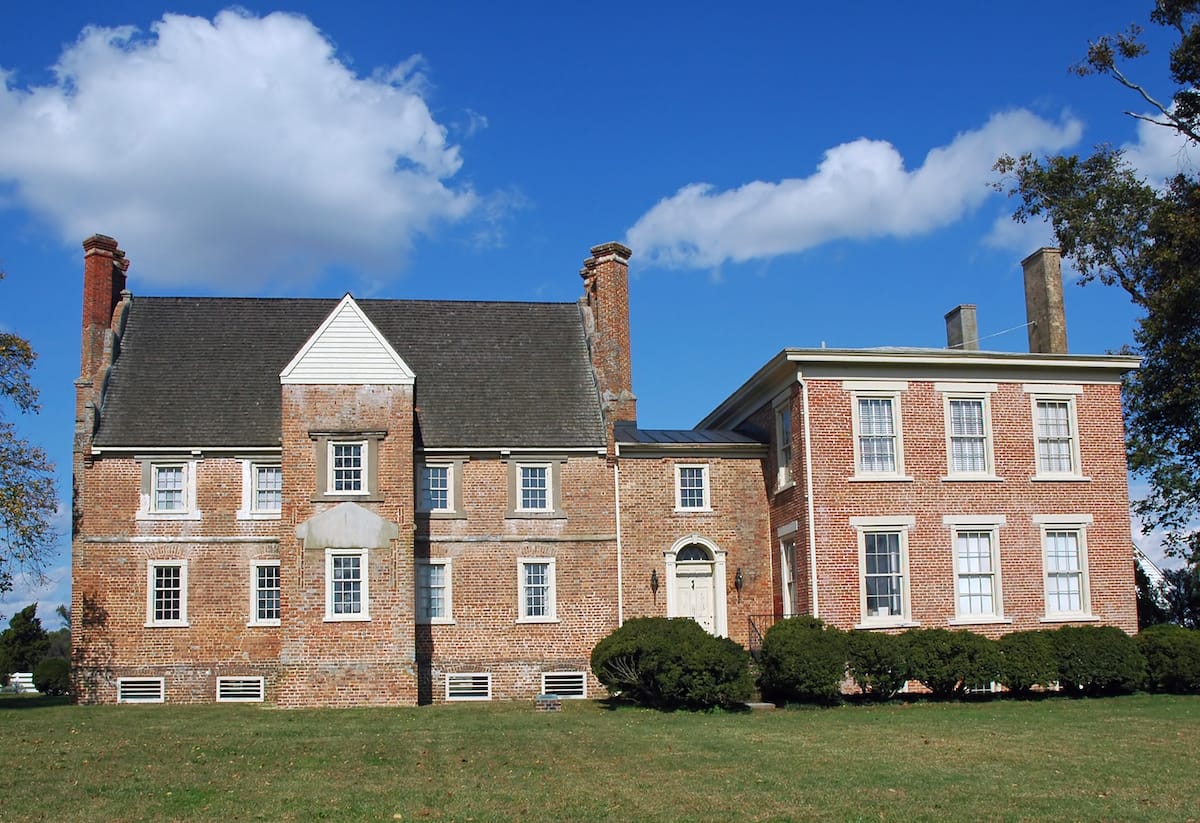 This VA historical site is also a rare example of High Jacobean architecture, featuring a reconstructed 17th-century English formal garden, later restored by The Garden Club of Virginia.
Tours for the public are available on Fridays and Saturdays from 10am to 5pm and on Sundays from 12pm to 5pm.
Ticket prices range from $8 to $15 for students, adults, and senior citizens.
Colonial Williamsburg
Address: 101 Visitor Center Dr, Williamsburg, VA 23185
Website
The largest outdoor living museum in the United States is undoubtedly Colonial Williamsburg (which was restored in 1926).
Today, the Williamsburg museum houses restored and historically preserved buildings, with 88 of them being original.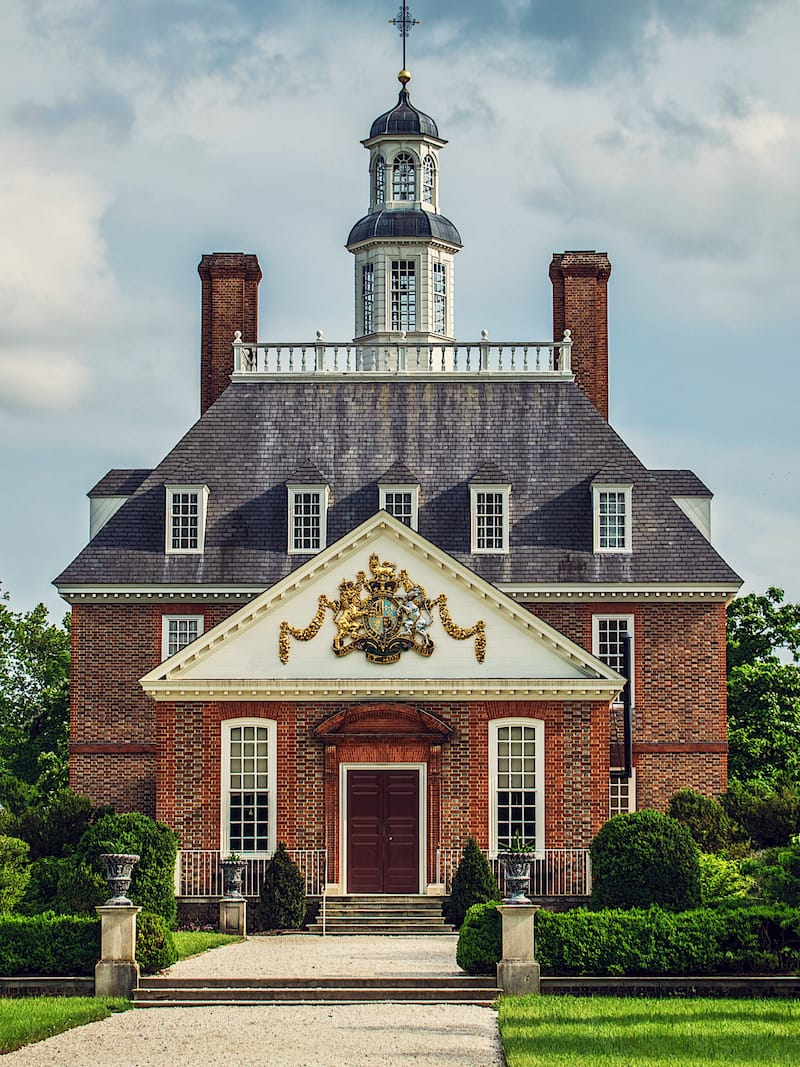 The museum features a historic area, art museums, carriage rides, evening programs, an arboretum and gardens, historical trades, archaeology, and various gift shops.
A single date ticket for children ages 6-12 costs $25.99 and $46.99 for adults.
Yorktown Victory Center
Address: 260 Water Street, Route 1020, Yorktown, VA 23690
Website
The Yorktown Victory Center is for you if you're thrilled to discover and see America's evolution from colonial status to nationhood.
It is chronicled uniquely through a blend of timelines, film, thematic exhibits, and outdoor living history.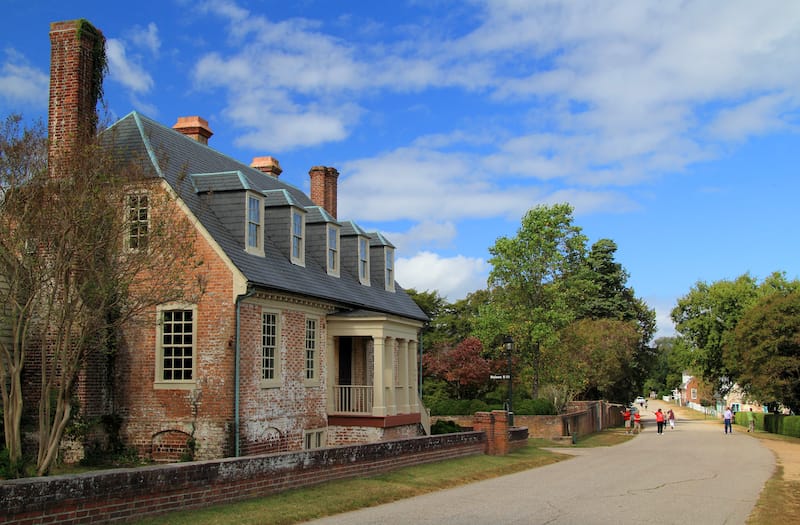 Some indoor exhibition galleries portray how the Revolutionary War affected several men and women and describe the experiences of soldiers and Yorktown's overall importance in the 18th century.
A re-created farm made to mimic the 18th century is also available to the public, which shows how Americans lived after the end of the Revolutionary War.
Yorktown is open Monday to Friday from 8am to 5pm and on Saturdays from 10am to 4pm.
Jamestown Settlement
Address: 2110 Jamestown Road Williamsburg, VA 23185
Website
Being home to the ruins of the first permanent English settlement in North America, the Jamestown Settlement features the remains of the 18th-century Ambler Mansion, artifacts from the region's settlers, which are on display in the museum, and even recreations of a 17th-century fort and a Powhatan Native American village.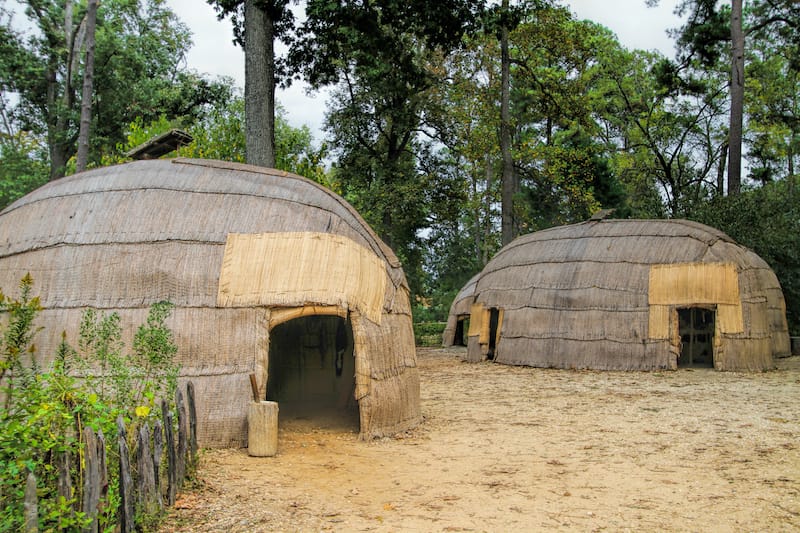 Jamestown Settlement is a living-history museum with multiple exhibitions and galleries, a continental army encampment, a revolution-era farm, and other displays.
Admission rates are $18 for adults and $9 for children.
The museum is open every single day from 9am to 5pm except on certain holidays.
White House of the Confederacy
Address: 1201 E Clay St, Richmond, VA 23219
Website
The White House of the Confederacy was originally a mansion and home for Confederate President Jefferson Davis and his family from 1861-1865. It was first built in 1818 and is a National Historic Landmark.
People visit this museum today to explore and discover the lives and activities of those living in that mansion and it is perfect for history lovers with a weekend in Richmond.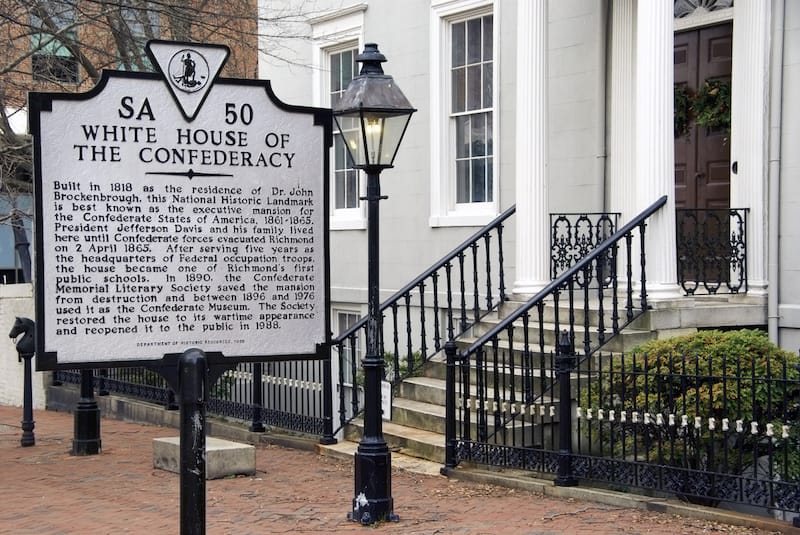 Visiting hours vary depending on the day you'd like to see, with different time slots offering group and individual tours.
Ticket prices range from $8 for children and can total up to $49 for adults, depending on the specific package rate you purchase.
John Marshall House
Address: 818 E Marshall St, Richmond, VA 23219
Website
The John Marshall House was the 1709 residence of the United States' fourth Supreme Court Chief Justice and his family and 8-16 enslaved servants at any given time until 1835!
The museum's mission is to educate visitors about the life and legacies of the Great Chief Justice, his home in Richmond, and inform those of the enslaved people who worked in the house.
A wide range of African American history is displayed inside the museum, featuring artwork that tells the complex stories of enslaved African Americans.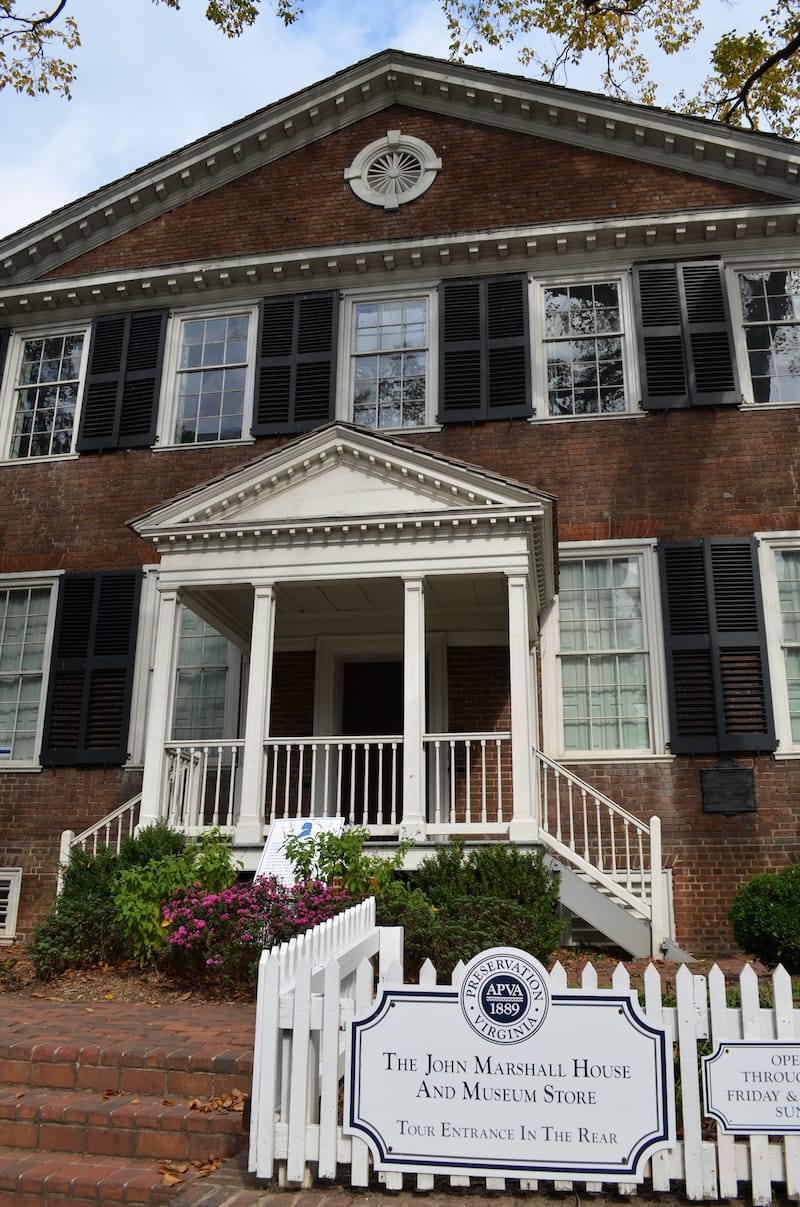 The museum is open to the public from Wednesdays through Sundays at different times, so check out the time slot in advance.
Ticket prices range from $8 for children and can total up to $49 for adults, depending on the specific package rate you purchase.
Manassas National Battlefield
Address: 6511 Sudley Rd, Manassas, VA 20109
Website
Two armies clashed for the first time on the fields overlooking Ball Run on July 21, 1861, which didn't turn out to be a war.
The plains of Manasses were filled with Union and Confederate armies for the second time in August 1862, with the Confederates winning a solid victory, thus bringing them to the height of their power.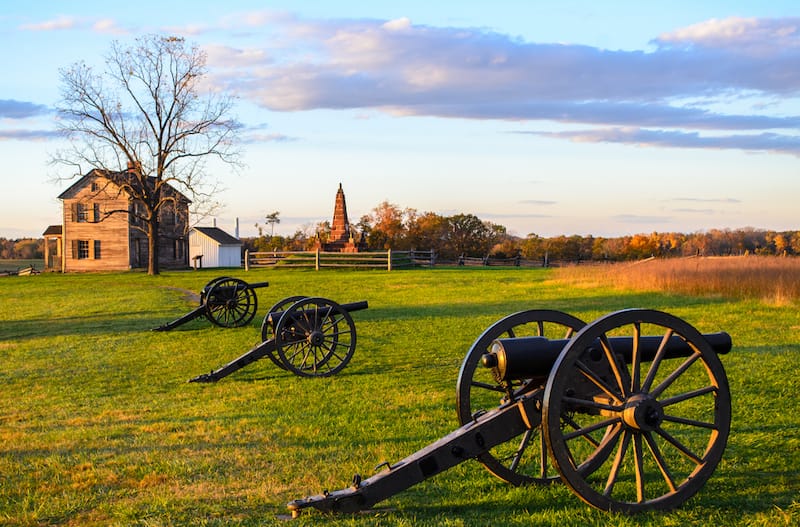 Tourists can see various armors used during this battle out on the field and participate in different guided tours learning about the 160th anniversary of the Manassas, including a bus tour following the route of Stonewall Jackson's flank march, and even learn about some of the current and past landscape rehabilitation projects at Manassas.
Manassas National Battlefield is open to the public from dawn to dusk.
However, certain centers are available at specific hours and days of the week, so it is best to check the website in advance. There is no entrance fee to enter the park!
Lee Chapel
Address: 100 N Jefferson St, Lexington, VA 24450
Website
Robert E. Lee, who once served as president from 1865-1870 of what was once Washington College, requested for this very chapel to be built in 1867.
Lee attended weekday worship services at the Chapel as the lower level was his office, the treasurer's office, and the YMCA center.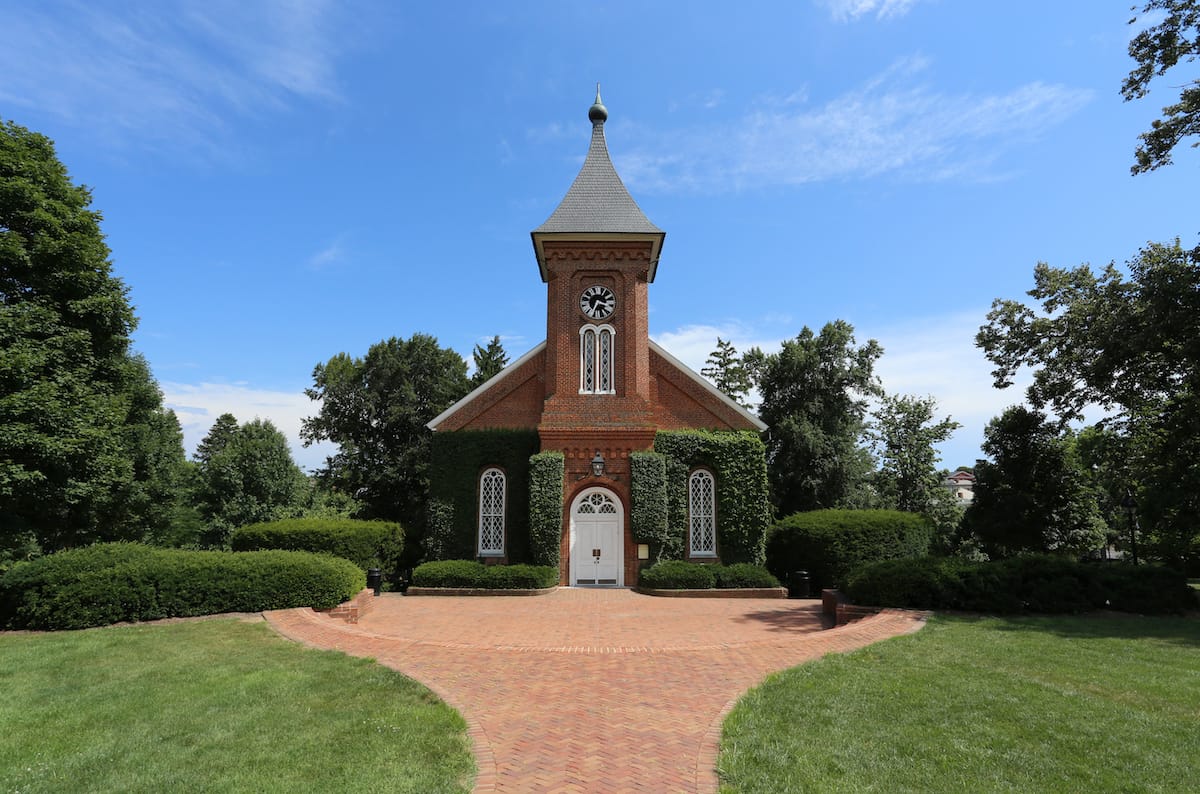 Years later, the university added a memorial sculpture of "Recumbent Lee" and a family crypt on the lower level where his remains were.
Later, his wife, mother, father, children, and relatives were also buried in this chapel.
The Lee Chapel has been a National Historic Landmark since 1961 and was restored in 1962 and again in 1998.
Arlington National Cemetery
Address: 1 Memorial Avenue Fort Myer, VA 22211
Website
The grounds of the Arlington National Cemetery honor those who have served the United States and provide a sense of beauty and peace for guests and visitors.
This cemetery is 639 acres and is one of the country's oldest national resting grounds, covering more than 14,000 graves, including those who also fought in the Civil War.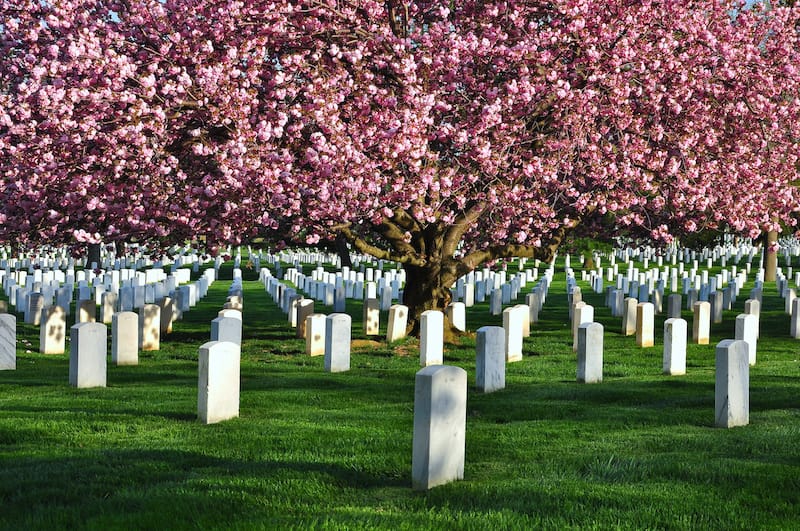 The retired Armed Forces Retirement Home residents are also bound to rest in this cemetery. Arlington National Cemetery is open to the public every day from 8am to 5pm.
Visitors can trek or hike specific trails or take a tour bus to learn more about the cemetery. It is an easy place to visit when on a trip to Arlington or Northern VA.
American Revolution Museum at Yorktown
Address: 200 Water St, Yorktown, VA 23690
Website
At this museum, one can learn about the nation's founding from the beginning of the colonial period until the end of the Constitution and beyond.
You can find many period artifacts inside the gallery and watch various films, including "The Siege of Yorktown."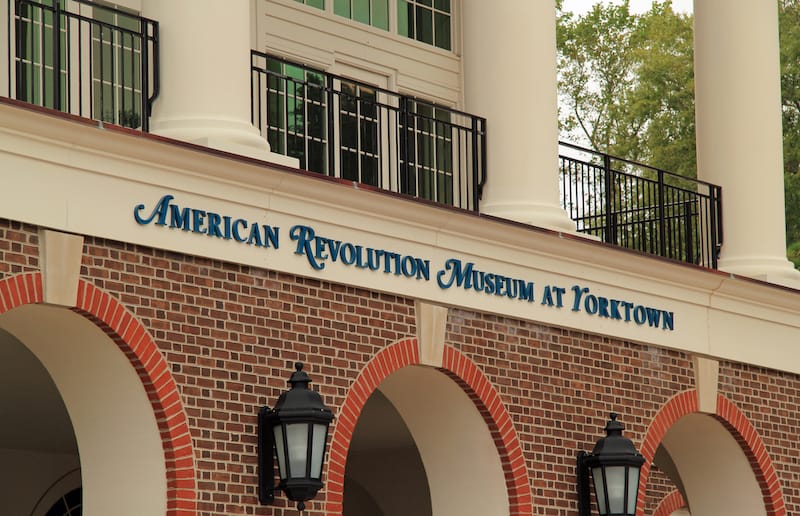 And in the outdoor area, you can visit a recreated Continental Army encampment and learn about the lives of soldiers and how they went through camp life, how to cook, the medical treatment that was offered to them, and even explore a Revolution-era farm based on a real-life 18th-century family.
Yorktown's American Revolution Museum is open year-round from Mondays to Sundays from 9am to 5pm.
Children up to 5 years of age are free to enter without any admission cost, whereas adults may purchase different packages ranging from $15- $30.
St. John's Church
Address: 2401 E Broad St, Richmond, VA 23223
Website
In the 1770s, Virginia held a series of meetings to organize its protests against the mother countries as several arguments became tense between the colonies and Great Britain.
The Church was initially called Henrico Parish Church in 1775, where the Second Convention was held where Patrick Henry declared the famous words embodying the spirit of the Revolution: "Give me liberty or give me death!"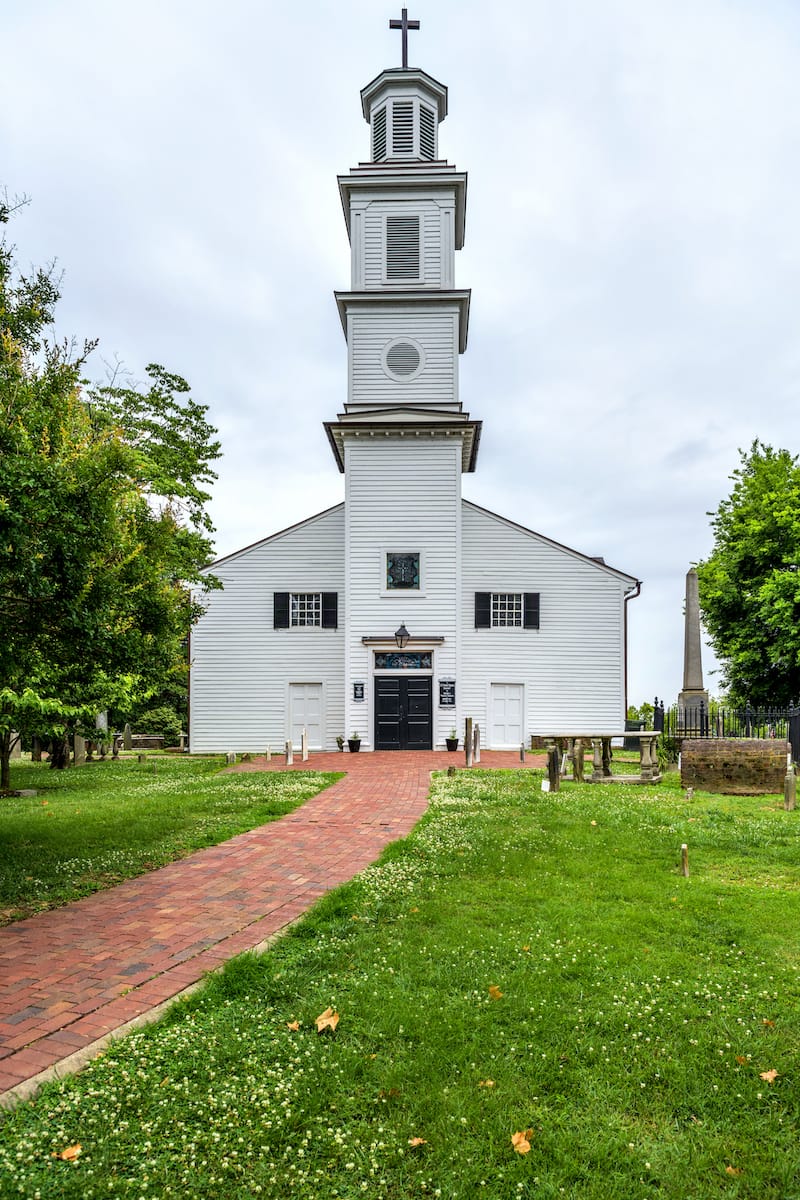 St. John's Church is literally where history happened as the delegates on that day made an important decision that changed the course of history and lit the spark of the War for Independence.
The Church is open to the public four days a week from 10am to 4pm on Fridays, Saturdays, and Mondays and from 12pm to 4pm on Sundays.
You can visit in groups with an admission fee of $9 if at least 20 people are in the group. It is one of the top places to visit in RVA (for history lovers).
Edgar Allan Poe Museum
Address: 1914 E Main St, Richmond, VA 23223
Website
James Howard Whitty, an Edgar Allan Poe collector and researcher, and many other literary enthusiasts, met in the hometown of Edgar Allan Poe- Richmond, Virginia to create the state's first museum of the famous poet.
The museum was established nearly a century ago! It was indeed a struggle to receive public support to develop the museum, but with much effort and a decade later, the group succeeded in saving the Southern Messenger Building, the birthplace of Poe's journalism career.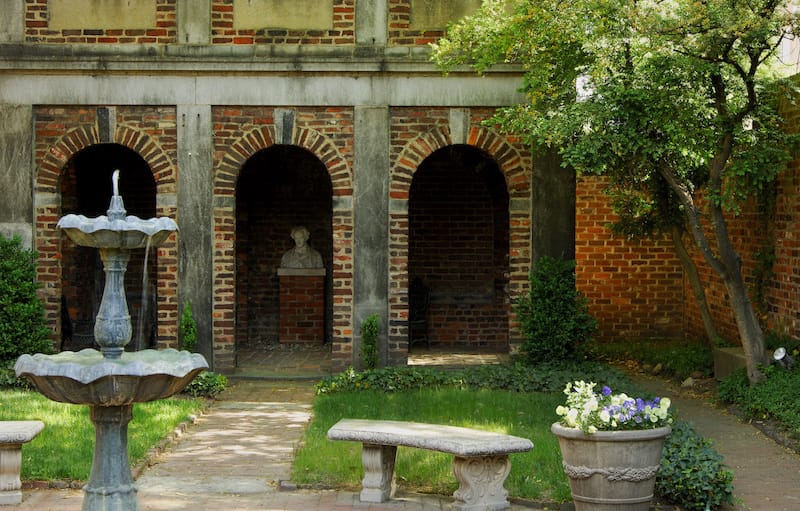 You can visit the Edgar Allan Poe Museum from Tuesday through Saturday from 10am to 5pm, and on Sundays from 11am to 5pm.
Ticket prices are $10 for adults, $7 for seniors and children aged 7-17, and $3 for veterans.
A.P. Carter Museum
Address: 3449 A. P. Carter Highway Hiltons, VA 24258
Website
The Carter Family Fold Museum is a non-profit organization that serves fans and supporters of old-time country and folk music by giving weekly presentations of performances at the Carter Family Fold in Hiltons, Virginia.
It also honors the memory of the first family who ever performed country music – the legendary Carter Family, who gave birth to the commercial country music industry back in 1927.
The Memorial Music Center was founded by Jannette Carter, the daughter of A.P. and Sara.
The Memorial Music Center is open only on Saturdays from 6pm to 10pm, or otherwise noted by following their official Facebook page.
Ticket prices vary depending on the particular show you wish to attend.
Peyton Randolph House
Address: 100 W Nicholson St, Williamsburg, VA 23185
Website
The Peyton Randolph House is notable for learning about the paradox of American slavery and how enslaved household members struggled to be treated as humans and simultaneously fought for freedom by those who owned them.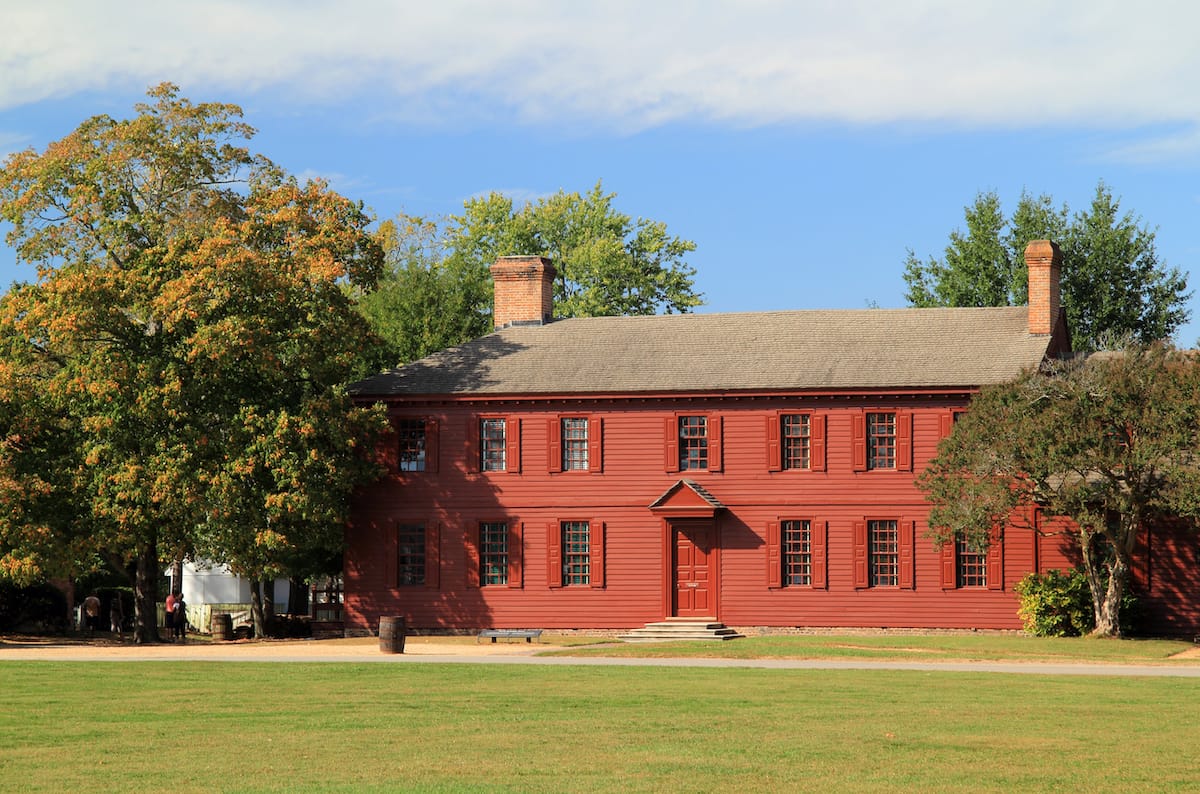 While visiting the Randolph Property, you can explore and learn about some of the places the enslaved people lived and worked.
The Peyton Randolph House is currently closed and not available to the public for visits, but it is an important part of Colonial Williamsburg.
Mount Vernon
Address: 3200 Mount Vernon Memorial Hwy, Mt Vernon, VA 22121
Website
Mount Vernon was the former home of George Washington – the first president of the United States.
Before becoming its sole owner in 1761, their family acquired the land in 1674, then expanded the estate by leasing it in 1754. The entire property consists of 500 acres.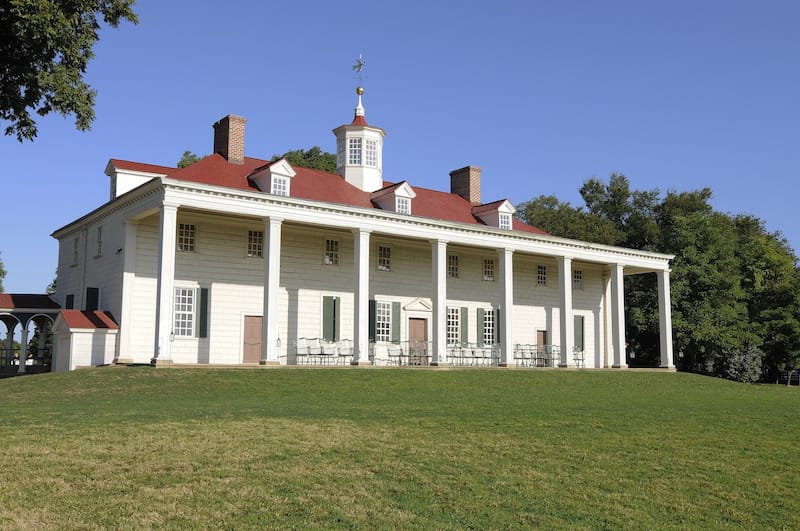 One can view the whole mansion, consider the historical area, and the vast array of gardens, and spend time learning about American history in the museum and educational centers.
The historic site introduces a visitor to more than a dozen landmark outbuildings that feature the work of enslaved men and women during their time in captivity.
The plantation is open almost every day from 9 am to 5 pm, and the admission fee costs $28 for adults and $15 for children aged 6-11.
Parking is free in this area as well… and it is an easy journey from nearby Alexandria.
Humpback Bridge
Address: Midland Trail, Covington, VA 24426
Website
It is said to be that Humpback Bridge is the oldest of Virginia's remaining covered bridges located in Alleghany County, just west of Covington.
It was built in 1857 and was part of the James River and Kanawha Turnpike and succeeded three other bridges at the site. The first structure, built in the 1820s, was unfortunately washed away by a flood, and the second structure also fell victim to a surge in 1842.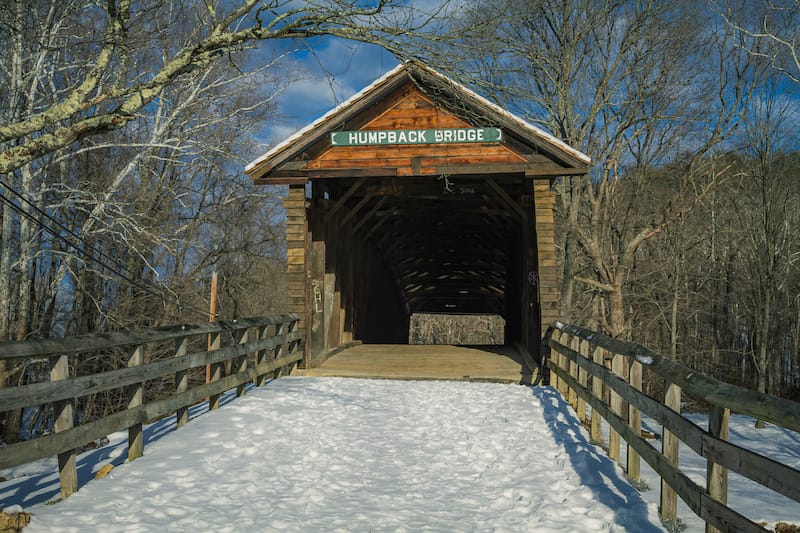 Since it is 100 feet long and has a single span structure higher than 4 feet at its center than at either end. Thus it was named "Humpback."
Humpback Bridge has been open to the public since 1954. It can be reached from Interstate 64 if you take exit 10 to Route 60 and travel one-half mile east or take Route 60 west from Covington.
Did we miss any of the best historical sites in Virginia to put on your bucket list? Let us know in the comments!
More Virginia Travel Guides
Pin this Historical Landmarks in Virginia Guide