Are you a lover of lighthouses? This guide walks you through the seven lighthouses in Virginia and details their history and how to visit them (if you're permitted to do so).
We have omitted Virginia lighthouses that are completely off of the land or unable to be visited or seen visibly. If you have a favorite lighthouse in VA, please leave a comment letting us know!
This guide is divided into three different sections: lighthouses on the Eastern Shore of Virginia, Tidewater and coastal Virginia lighthouses (and Virginia Beach lighthouses), and the river one that is still in operation in the north.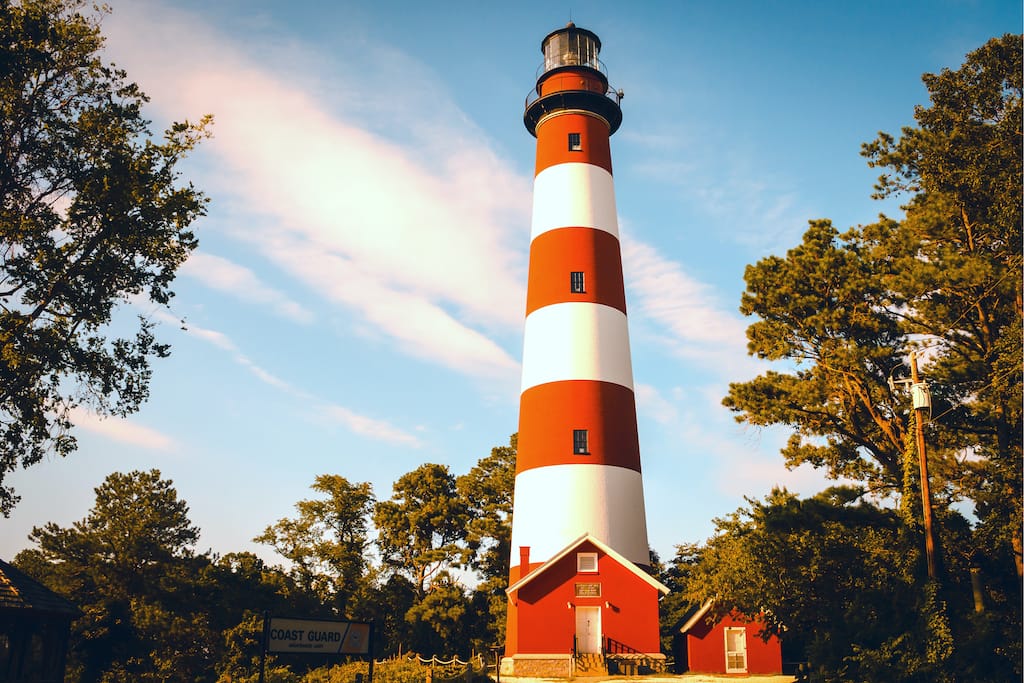 Best Lighthouses in Virginia – The List
Here is a quick list of the lighthouses in Virginia that are covered in this guide:
Cape Charles Lighthouse
Assateague Lighthouse
Old Point Comfort Lighthouse
New Point Comfort Lighthouse
Old Cape Henry Lighthouse
New Cape Henry Lighthouse
Jones Point Lighthouse
Map of Lighthouses in Virginia
We have marked all of the VA lighthouses mentioned in this post into a map for your own planning. As you can see, all lighthouses are along the coast except for Jones Point, which is a river lighthouse in the Potomac.
You can visit these lighthouses as day trips from Richmond, Virginia Beach, or maybe a long day trip from Washington DC.
To add this map to your Google Maps account, click the 'Star' icon next to the map name. You can then view it on your cell phone or computer by heading to your Google Maps account and going to 'Your Places'.
How Many Lighthouses are in Virginia?
Well, it really depends. There are several that are off the coast and inaccessible but still fall into 'Virginia waters'. I don't really count them as lighthouses. So, for the sake of the creation of this guide, we will say that there are 7 lighthouses in Virginia.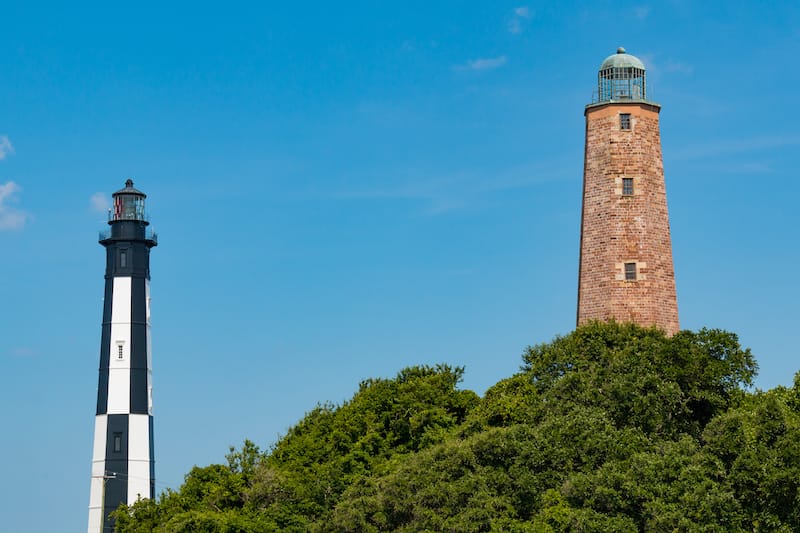 Eastern Shore Lighthouses
Cape Charles Lighthouse
Location: Smith Island off the coast of Cape Charles (Eastern Shore)
Located on Smith Island at the mouth of the Chesapeake Bay, Cape Charles Lighthouse is the tallest lighthouse in the state of Virginia and the second tallest one in the United States.
The massive and impressive lighthouse was the replacement of the 55-foot (17 m) tall, old Cape Charles Lighthouse that was built with the order of Congress in 1828.
The new Cape Charles Lighthouse, again by the Congress order, was constructed in 1864 and has a 150-foot (46 m) height octagonal cast-iron skeleton.
Located approximately 600 feet away from the shoreline and almost a mile away from the old lighthouse, the massive construction was painted white with brown accents on some of the pieces holding it up.
The midsection has a red band that offers better visibility during daylight hours. Unfortunately, this lighthouse has been removed from service in 2019, but you can still see it from afar!
There is also a water tower in Cape Charles that resembles a lighthouse – it fooled me and I was corrected by a reader here when I had a photo of it listed as the actual lighthouse!
And, Cape Charles is one of my favorite destinations in Virginia– so take a trip there!
Assateague Lighthouse
Location: Chincoteague (Eastern Shore)
Erected in 1867 from red brick, the 142-foot-tall (43 m) Assateague Lighthouse is located on Virginia's Eastern Shore on beautiful Assateague Island in Chincoteague.
It belongs to U.S. Fish and Wildlife Service which has been keeping the lighthouse in operation until today. The lighthouse was fully automated in 1933.
It was built as a replacement to an old, 45-foot-tall (14 m) that was significantly shorter than the then-new one and was not fully serving its purposes at the time. The new Assateague Lighthouse has a conical architectural design and was consequently painted red and white colors for better visibility.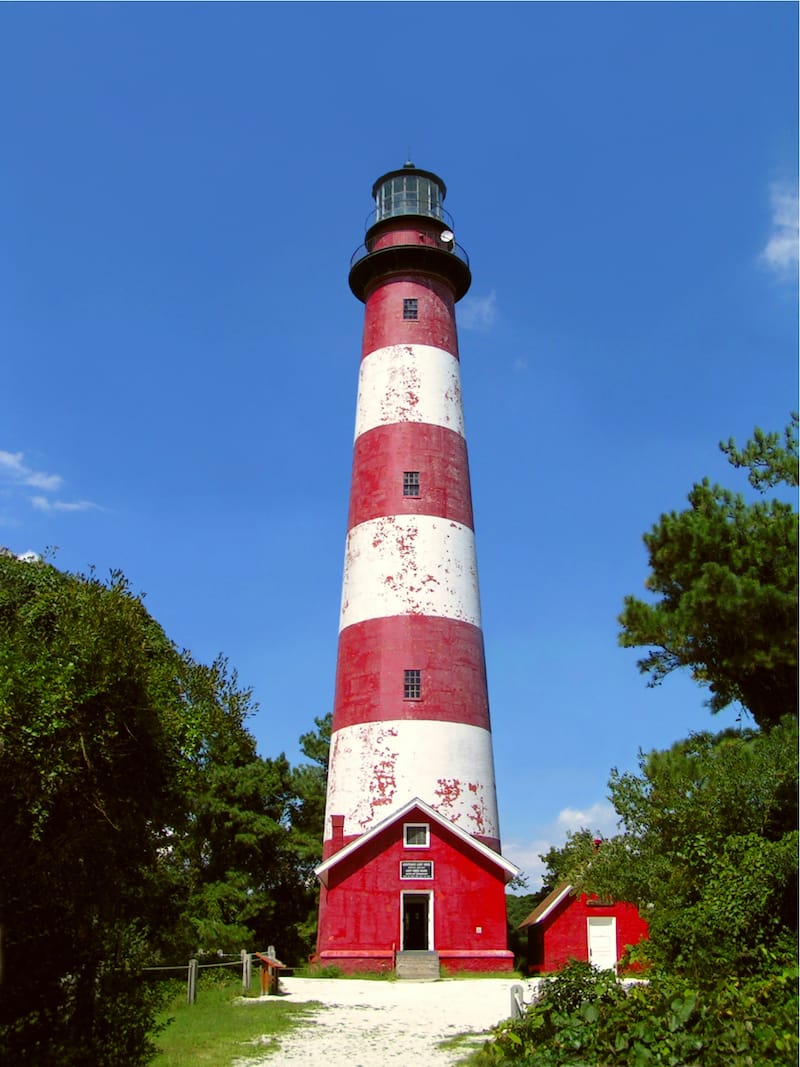 It's possible to access and drive to the lighthouse by passing through Chincoteague National Wildlife Refuge where is it located. I visited in 2018 and it was really a fantastic place to visit in Chincoteague and on the Eastern Shore.
Because of the importance of the lighthouse, the government invested approximately 1.5 million dollars to renovate the beautiful historical monument which is still in operation.
You can visit the Assateague Lighthouse and it is open for visitors every weekend from April until November. The hours it is open are from 9am to 3pm (closed from 12pm-12:30pm for lunch).
Admission is free, but donations are accepted. The lighthouse is a short walk or drive away from many of the best Chincoteague Airbnbs.
Chesapeake Bay and Virginia Beach Lighthouses
Old Point Comfort Lighthouse
Location: Fort Monroe in Hampton
The second oldest lighthouse in the bay and the oldest lighthouse that is still in operation is Old Point Comfort Lighthouse is located on Fort Monroe's grounds in Hampton, Virginia.
This Virginia lighthouse is of great historical value to the state and the lighthouse is included on the National Register of Historic Places.
The old lighthouse was constructed in 1803 by Elzy Burroughs and is 54 feet (16.5 meters) tall, and it became fully automated more than one and a half centuries later in 1972. It's maintained by and belongs to the U.S. Coast Guard.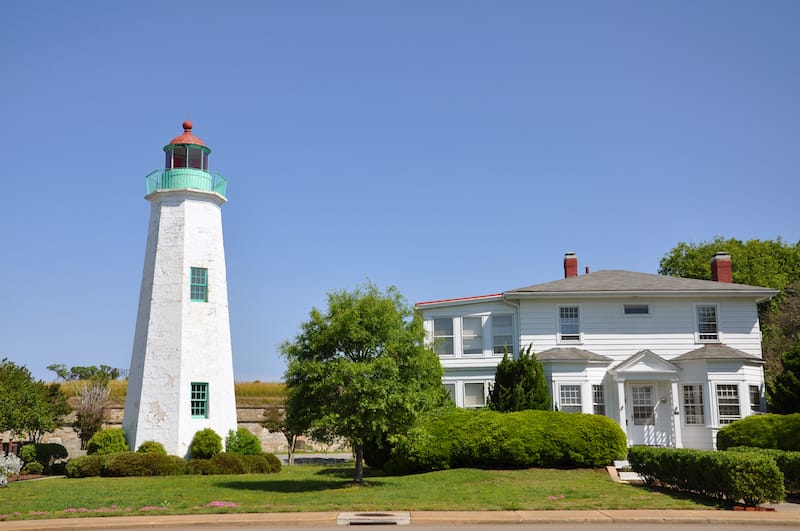 During the War of 1812, the British army used the lighthouse to gain an advantage over Washington DC.
The Old Point Comfort Lighthouse is an easily reachable place to drive to and it located one 4 miles (13 kilometers) away from Hampton city at Fort Monroe, Virginia.
Fort Monroe is a very historical place to visit and one of the National Sites in Virginia. You can take in the view of the lighthouse and walk around the grounds near it as well as have a picnic there.
New Point Comfort Lighthouse
Location: Off the middle peninsula at Port Haywood (Mathews county)
New Point Comfort is photogenic and epic looking because of its location. The New Point Comfort Lighthouse is situated a the tip of the Middle Peninsula on the lower part of the Chesapeake Bay in VA.
Separated from Mathews County, the New Point Comfort Lighthouse is located 21 miles, or 34 kilometers, away from the Old Point Comfort Lighthouse.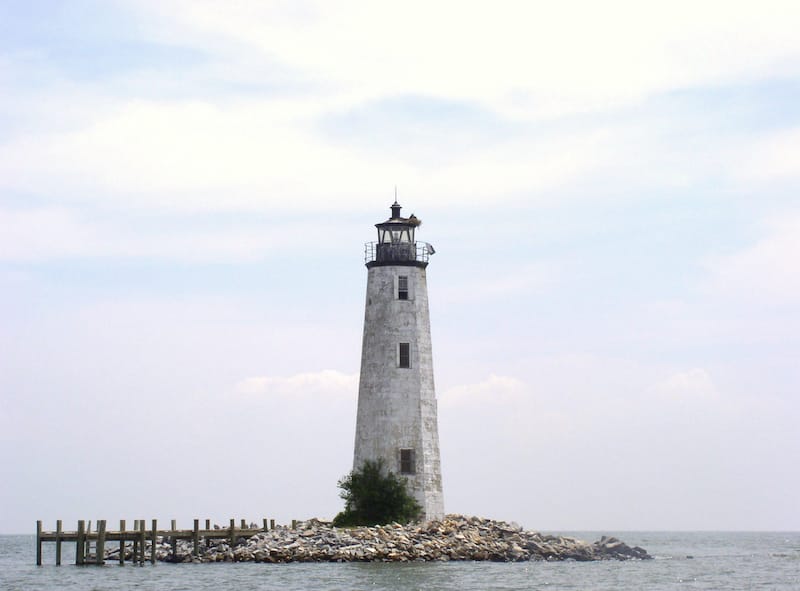 The construction of the lighthouse began in 1803 and was finished in 1805 and is 59 feet (18 meters) tall. It is located off the mainland on a tiny island.
It's possible to reach the New Point Comfort Lighthouse by driving to the very tip of the peninsula to New Point Comfort Natural Area Preserve.
There is an observation walkway that starts there and will give you great views of the lighthouse, low-country landscapes, and pelicans that call the area home. It is possible to do boat tours or kayak to the lighthouse area.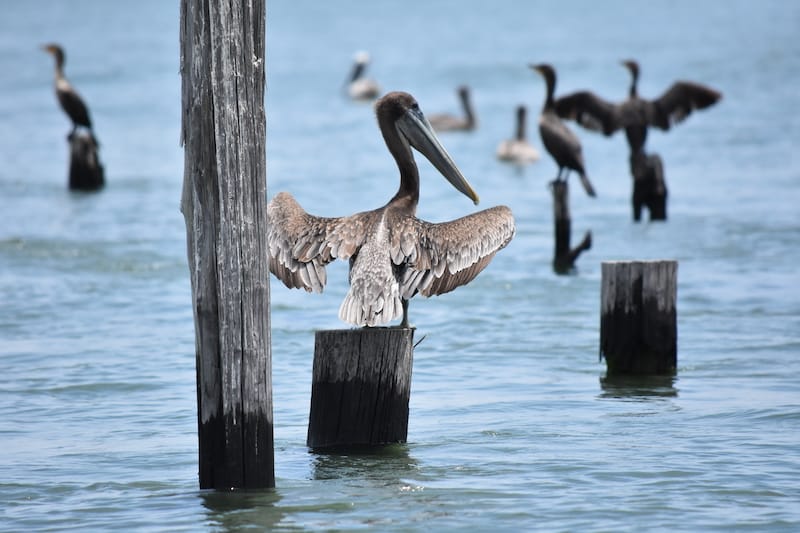 Click here for more information or to book a kayaking tour. For the scenery alone, New Point Comfort is definitely one of the best lighthouses to visit in Virginia.
Cape Henry Lighthouse (Old)
Location: Fort Story (VA Beach and Norfolk)
The old Cape Henry Lighthouse was built in 1792 by the US government due to the demanding necessity to help navigate heavy traffic from ships coming and going in the area.
An interesting fact about the old Cape Henry Lighthouse is that it was officially the first federal project that was built under the Consitution that the US Government authorized and the cost of the tower, including the lighthouse, was $17,700 and one of the main architects was John McComb Jr.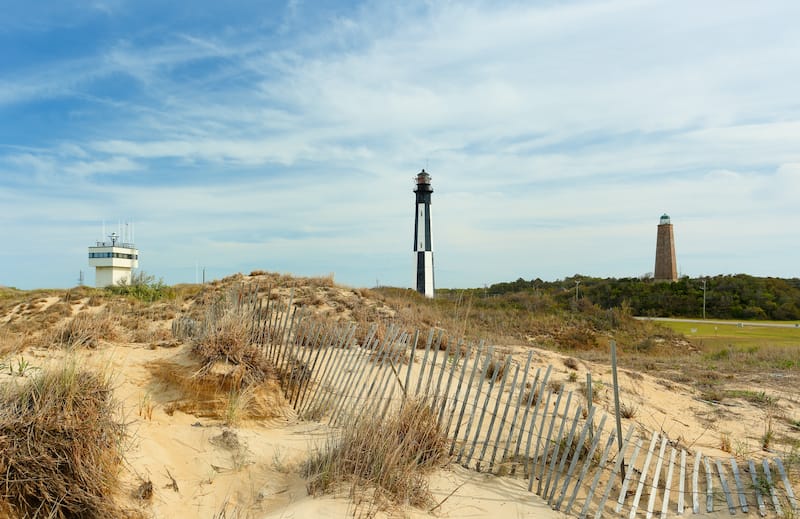 The reason that the new lighthouse was built next to it decades later was that lightning struck the structure, causing multiple, sizeable cracks on the walls. This led to a decision to just rebuilt rather than renovate.
The old Cape Henry Lighthouse was designated as National Historic Landmark in 1970 and is one of the top historical sites in virginia.
To visit, you will need to go to this website and look at the times of shuttles that allow visitors without government or military IDs onto Fort Story.
Cape Henry Lighthouse (New)
Location: Fort Story (VA Beach and Norfolk)
The location of where the new Cape Henry Lighthouse was built is strategically important because it helped navigate ocean-going ships that were coming to port for decades.
Cape Henry Lighthouse was built in 1881 and replaced the old one right next to it after a lightning strike caused structural damage to the original one.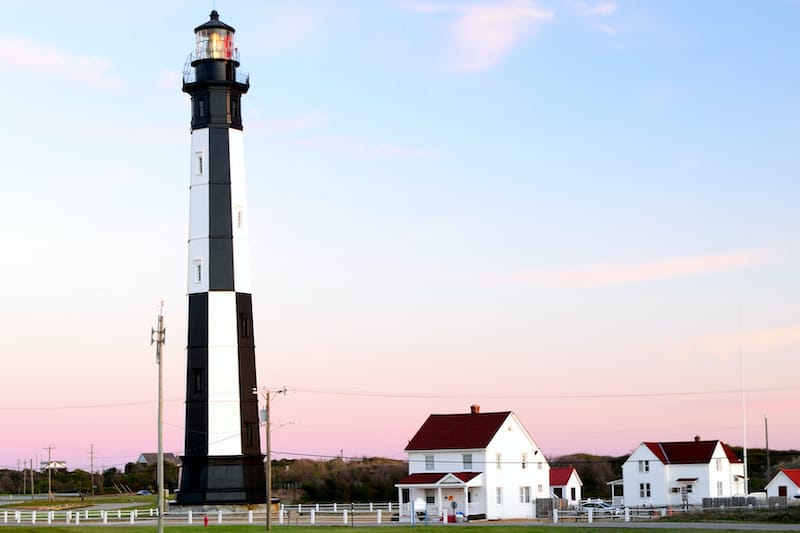 This lighthouse was much larger at 157 feet (48 m) tall and became fully-automated in 1983.
In 1970, Cape Henry Lighthouse was designated as a National Historic Landmark and you can add it to your list of things to do when visiting Virginia Beach (be sure not to miss nearby First Landing State Park!). Be sure to reserve your spot through this website in order to be allowed on Fort Story to visit.
Unique Virginia Lighthouses
Jones Point Lighthouse
Location: Alexandria on the Potomac River
If you are looking for things to do in Alexandria, definitely check out Jones Point Lighthouse, a river lighthouse that is situated in a scenic spot in Northern Virginia.
The small, one-story Jones Point Lighthouse has a lantern on top that resembles a house more than a traditional lighthouse. It was built in 1856 and the primary material that was used for construction was wood.
It was mostly operating as a lighthouse with a mission to warn the naval ships that were approaching Washington Navy Yard.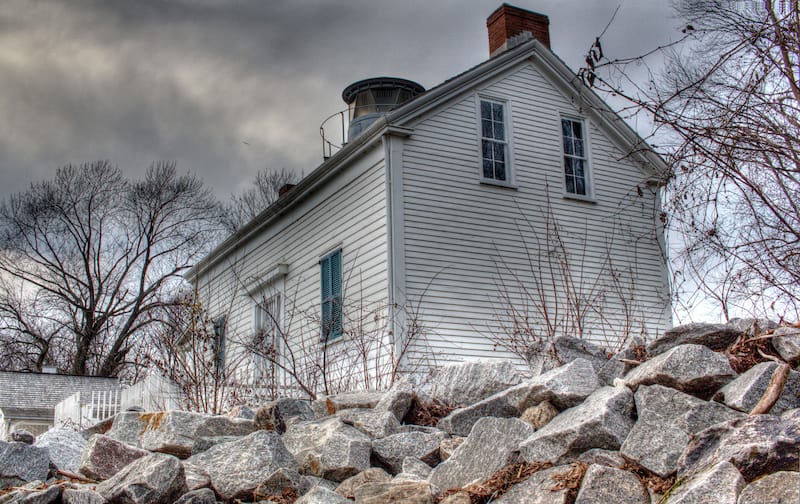 The Jones Point Lighthouse was fully automated in 1919 but was discontinued in 1926 and instead of that, a small steel tower was built to replace it. Eventually, that was, too, discontinued after ten years of use.
Over the decades there were many attempts to 'relight' the Jones Point Lighthouse but for now, the nearest lighthouse is the Fort Washington Point Lighthouse, located on the Potomac River.
We hope are you inspired to add some of these lighthouses in Virginia to your bucket list! Let us know your favorite Virginia lighthouse in the comments!
You Might Also Like:
PIN IT FOR LATER!