Is Chincoteague on the top of your Virginia bucket list? If so, here are the best things to do in Chincoteague for first-time visitors!
Chincoteague, Virginia was a place that I became familiar with almost immediately after moving to Virginia as a child.
I partially blame my school's librarian for introducing me to 'Misty of Chincoteague', a popular children's book about a wild horse there.
I also partially blame my obsession with places that seem far removed from where I was living (and this VA beach town fits the bill!).
Nevertheless, I always pined to visit Chincoteague and I finally had my chance a few years ago and I was kicking myself the entire time for not planning the trip sooner!
Here is my guide to essential things to do in Chincoteague for those planning their first trip to the Virginia town on the Eastern Shore.
If you have any tips for what to do in Chincoteague, please leave a comment and let us know what they are!
Reasons to Visit Chincoteague
There are so many reasons to visit Chincoteague but I have always found that most travelers flock to the island off the Eastern Shore because of the wild horses. However, there is so much more to love about the Virginia town than just its wild horses!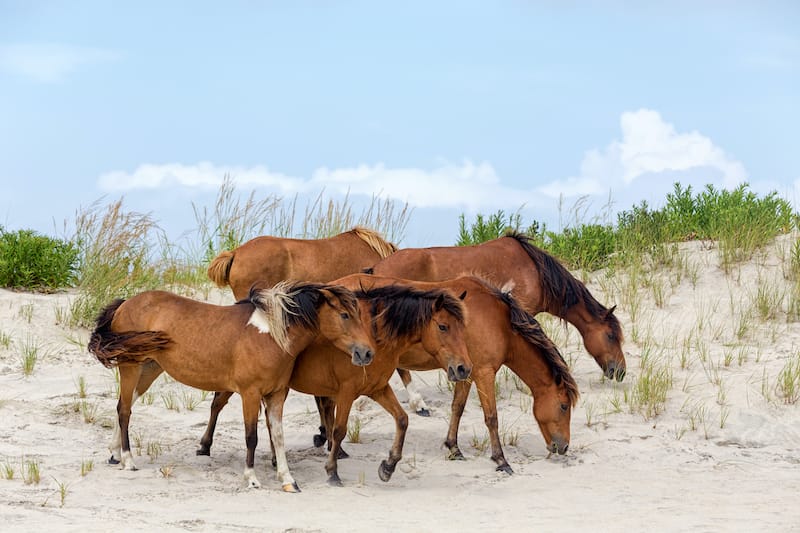 The seafood in Chincoteague is phenomenal. You can find some of the freshest oysters on the East Coast right there and there are plenty of outstanding restaurants in Chincoteague where you can enjoy them at an affordable price.
Another awesome reason to travel to Chincoteague is that you're right beside Wallops Island, a NASA facility that launches rockets into space. Many Americans think that Florida is the only place to see rocket launches, but you can actually see them in Virginia on occasion too!
Chincoteague has some of Virginia's best beaches, hands-down. The beaches on Assateague National Seashore and Chincoteague National Wildlife Refuge are completely natural and worth visiting.
And, of course, the wild horses are the main Chincoteague attraction. As noted above, 'Misty of Chincoteague' really drew attention to the island after Marguerite Henry's 1947 book about a pony there and the two children who cared for her.
Best Time to Visit Chincoteague
It depends on what you're visiting Chincoteague for, but if you're heading for the annual Pony Swim, you will need to visit in late July.
If you're visiting to explore the community and for a laid-back vacation, I would opt for spring or fall, personally. I was there during the middle of summer and it was hot and rather crowded (although not as crowded as other places in Virginia (ie: Virginia Beach).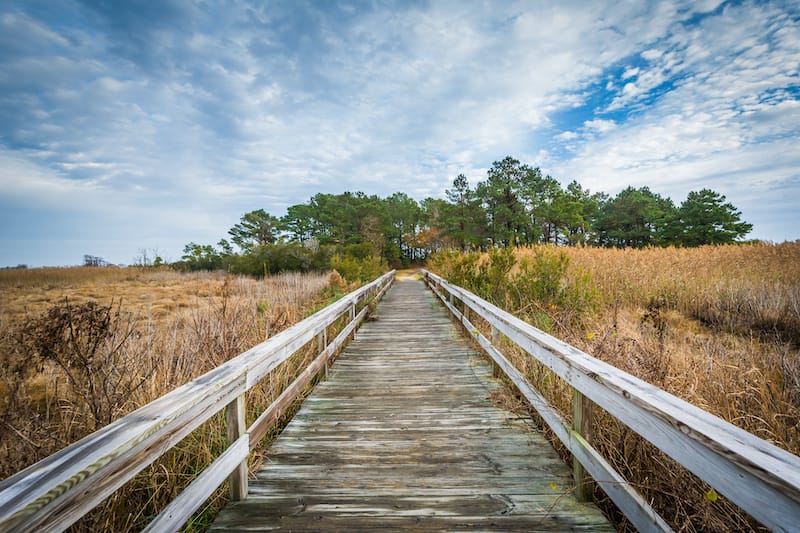 One thing worth noting is that if you're visiting Chincoteague in summer, the mosquitoes are ruthless. The trails at the wildlife refuge were brutal for them, so if mosquitoes love you the same way they love me, plan ahead! If you're visiting Chincoteague in winter, your biggest concern will be the temperatures.
Here are some of the average temperatures in Chincoteague throughout the year:
January: High of 46F, low of 32F (approx 8 rainy days)
April: High of 62F, low of 48F (approx 7 rainy days)
July: High of 84F, low of 71F (approx 8 rainy days)
October: High of 69F, low of 55F (approx 6 rainy days)
How to Get to Chincoteague
Chincoteague is rather removed from other parts of Virginia being on the Eastern Shore. The best way to get there from mainland Virginia is to take the Chesapeake Bay Bridge-Tunnel, a 17.6-mile-long bridge-tunnel that you can pick up in between Norfolk and Virginia Beach. This engineering marvel is one of only 11 bridge tunnels in the world (three of which are located in Virginia).
The price to take the Chesapeake Bay Bridge-Tunnel across to the Eastern Shore is $14 (one-way) during off-peak periods and $18 (one-way) during peak periods. Peak periods are Friday through Sunday during May 15 – September 15.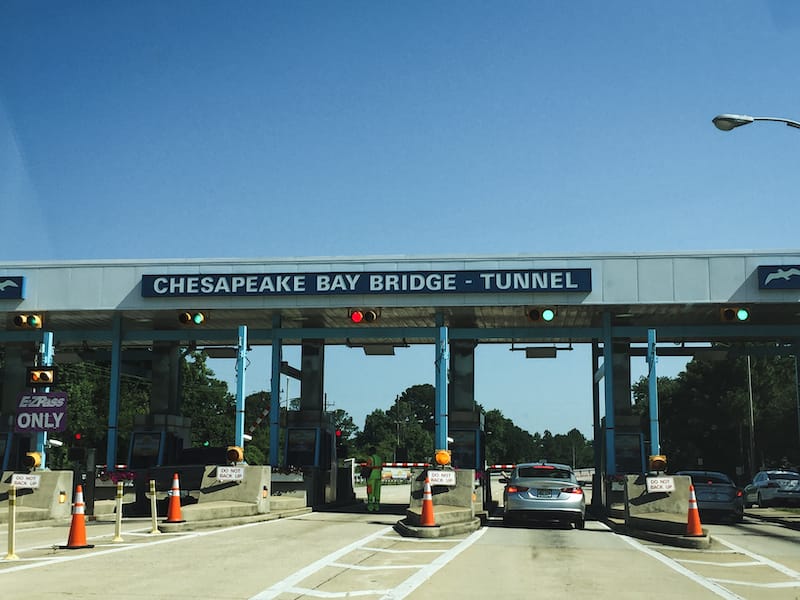 If you make a round-trip visit to the Eastern Shore within a 24-hour period, the return trip is only $6 during off-peak and $2 during peak period (yes, you read that correctly).
If you are visiting Chincoteague from Maryland or Delaware, you won't need to cross the Chesapeake Bay Bridge-Tunnel and can merely come down off the mainland via Hwy 13 which starts just south of Pocomoke City, MD.
Alternatively, you can travel down Rt 12 from Maryland which changes into Rt 679 once you cross the Virginia border and it is merely a few miles after arriving in VA.
Chincoteague Things to Do Map
To add this map to your Google Maps account, click the 'Star' icon next to the map name. You can then view it on your cell phone or computer by heading to your Google Maps account, click the menu and add it to 'Your Places'.
Best Things to Do in Chincoteague
If you're traveling to Chincoteague with kids or simply solo, you will find so many cool activities and attractions. Here are some of the best things to do in Chincoteague for those visiting for the first time.
1. Go on a Chincoteague Kayaking Adventure
If you're an active traveler and are looking for something exciting to do when visiting Chincoteague, definitely head out on the salt marshes and water with Assateague Adventures! They offer Chincoteague kayaking tours, kayak rentals, paddleboard rentals, and more!
I am a newbie kayaker, so I tend to be more attracted to tour options. The owners will be your guides and you will have a chance to go for a 9am morning tour or an evening sunset one.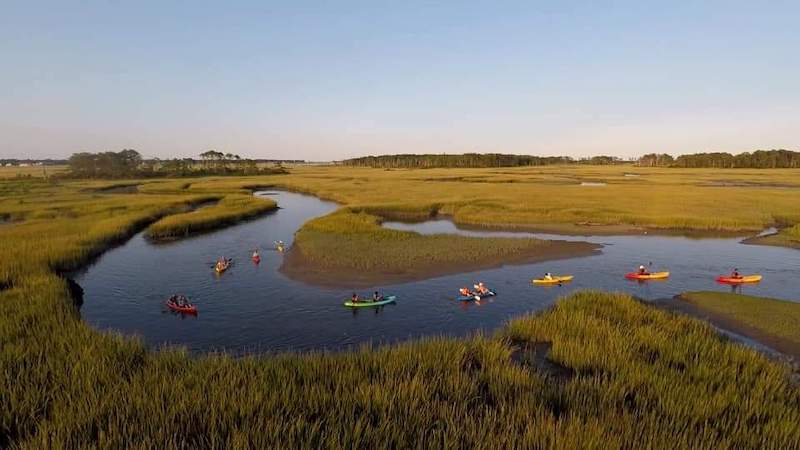 The area can be windy and the kayaking can require a bit of stamina, so do ensure that you're able to keep up or the person you go with can keep up!
If you're keen to rent a kayak in Chincoteague, you can do so with Chincoteague Kayak Rentals.
This is a great option if you want to explore independently and they will even drop off the kayaks to you, free of charge! They also will provide life jackets and paddles for your trip and you will have a chance to soak up the best of the island!
2. Visit the Assateague Lighthouse
The Assateague Lighthouse is located on Assateague Island on Virginia's Eastern Shore. It is one of the most well-known lighthouses in Virginia and you can climb to the top of it on your Chincoteague trip and be gifted with a panoramic view of the whole island.
The original lighthouse was constructed way back in 1833 but the one that you will see now is 142 feet high with a base diameter of 27 feet. The lights can be seen over 19 miles out to sea!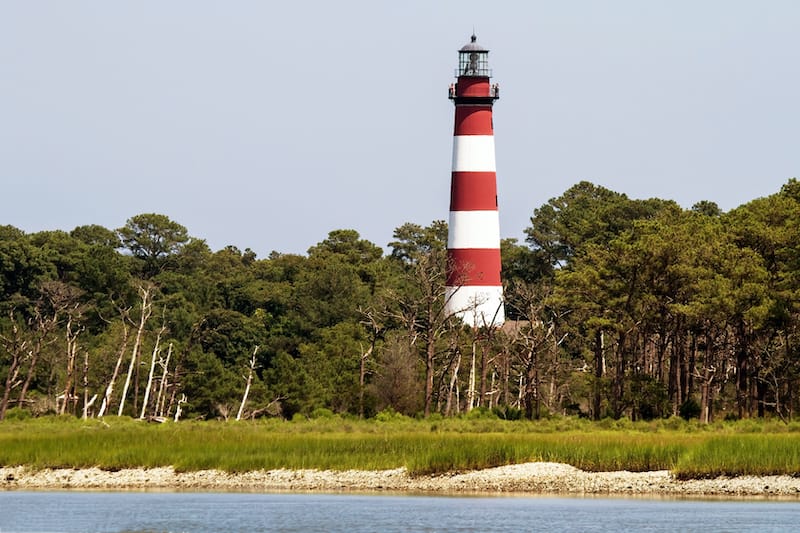 It was built between 1860 and 1867 and still works as an active navigational aid. In 1993, electric lights were introduced; at first, there was a candle lantern.
Opening hours for the Assateague Lighthouse is every weekend from April to November from 9am-3pm (with a half-hour lunch break from 12-12:30pm. Entrance is free, but donations are kindly accepted. Click here to learn more.
3. Take the Pony Express Nature Cruise
If you visit Chincoteague Island, then you must take this cruise operated by Assateague Explorer! It is one of the best things to do in Chincoteague.
The tour boat known as 'Misty' is certified by the U.S. Coast Guard and it departs from the island daily. You may be greeted by dolphins when you're on your boat ride and you can get somewhat close to the wild horse family groups known as 'bands'. You will also have the opportunity to spot some migratory birds.
The duration of the cruise rise varies between 90 to 120 minutes. They also have other options that may include a combo tour with kayaking or other adventurous activities in Chincoteague.
This Chincoteague tour is a must for wildlife enthusiasts and photographers. The boats will take you to places where you can do a bit of bird watching and photograph the migratory sea birds, wild horses, bald eagles, and more.
>> Click here to book your tour with Assateague Explorer
4. Stop by the Museum of Chincoteague
If you're interested in the history of Chincoteague Island, definitely make a stop by the Museum of Chincoteague.
Everything inside of the museum has been preserved and is in place to inform and educate visitors on the interesting history of the place and how it has transcended into modern times.
You can check out the First Order Fresnel Lens from the lighthouse that is now on display in the Chincoteague Museum. You will also see many statues and replicas dedicated to Misty and Stormy inside.
In addition, you can check out the models of vessels that sailed the waters near the islands inside, too. The artifacts inside really tell the story of the town and the Eastern Shore of Virginia and visiting is one of the best things to do in Chincoteague on a rainy day… or a sunny one!
The Museum of Chincoteague is located at 7125 Maddox Blvd in Chincoteague. Tickets are $5 and can be purchased here in advance. The museum is closed on Sundays and Mondays.
5. Visit NASA Wallops Visitor Center on Wallops Island
One of the main attractions on the Eastern Shore of Virginia is the NASA Wallops Flight Facility on Wallops Island.
Situated right across the water from Chincoteague, the renowned facility offers opportunities for visitors to stop by and learn all about the past, present, and future of NASA and space exploration in the United States.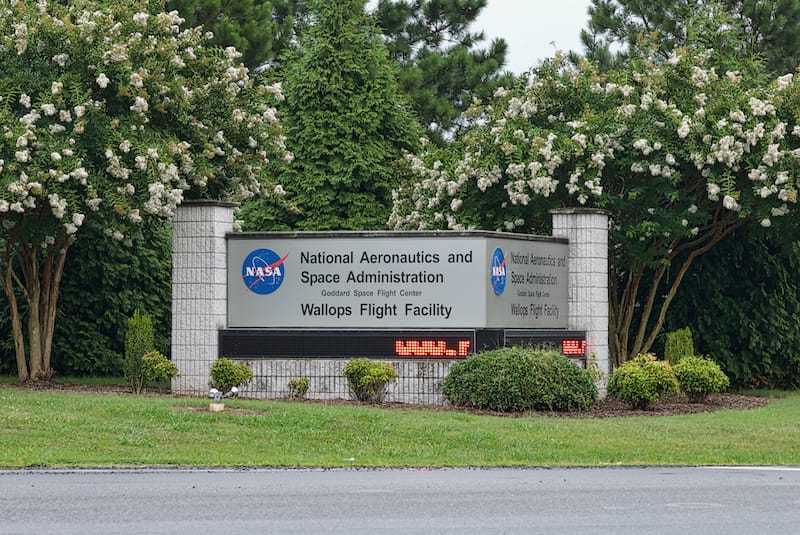 Inside the facility, there is an auditorium along with exhibitions about orbital and suborbital rockets, aeronautics, scientific balloons, and the current missions of NASA.
There are chances to take group tours and join public programs when they take place. Whenever there is a rocket launch, the visitor center transforms into a viewing area for the spectators. You can purchase souvenirs and gifts such as models, games, and clothing from the on-site gift shop.
6. Go to the Beach
One of the best reasons to visit Chincoteague is to go to the beach! Assateague Island National Seashore is 37 miles long and renowned for its wild horses and sandy beaches while Chincoteague is only 7 miles long and better known for its marshes, dunes, forests, and more.
At the Chincoteague National Wildlife Refuge, you will find Toms Cove Hook, also referred to as OSV (Over-sand Vehicle Zone).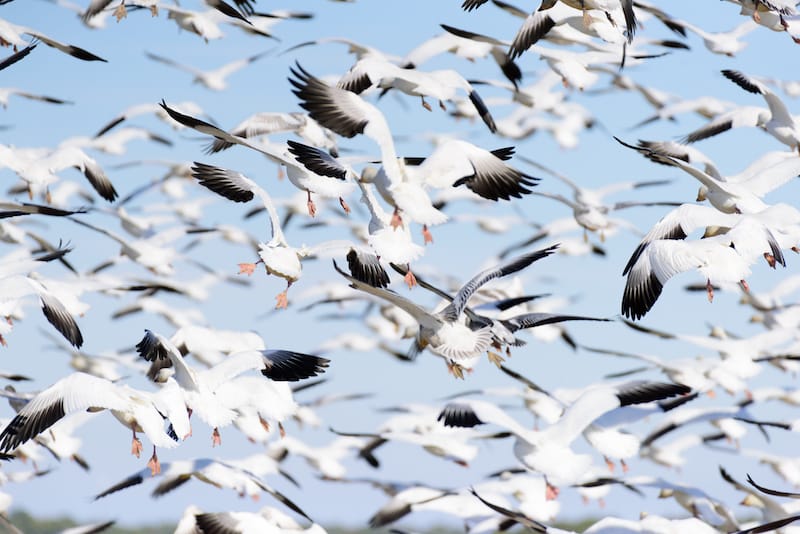 There are many activities aside from sunbathing on these Eastern Shore beaches– you can go kayaking and canoeing or even horseback riding.
Another popular thing to do in the areas near the beach is to rent a bike and ride through the many bike trails that hug the beaches.
7. Check out the Chincoteague National Wildlife Refuge
If you want to experience the wildlife of this unique area up close, you should start by visiting the Herbert H. Bateman Educational and Administrative Center to learn more about the island and the wildlife programs available to visitors.
Not only will you learn more about these programs, but you will also be able to ask volunteers and the staff your questions while having the opportunity to check out videos. There is also a souvenir shop on-site.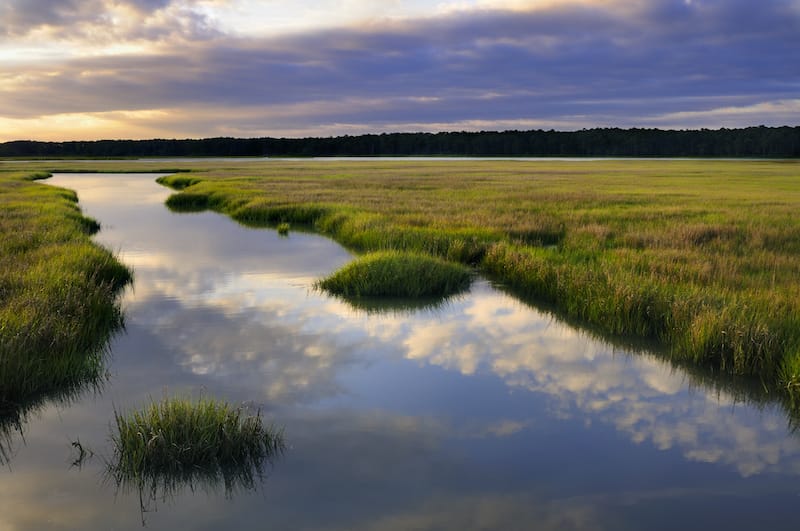 From there, you should head out and explore! You can either hike the many trails through the National Wildlife Refuge or you can rent a bike and cycle them. The trails run through woodlands and marshes and you will have the chance to spot several species of birds and other animals (and mosquitoes).
You can find the Herbert H. Bateman Educational and Administrative Center in Chincoteague and it is $10 per vehicle to enter the Refuge.
The Chincoteague Wildlife Refuge is open 7 days a week and its hours are:
5:00 A.M. – 10:00 P.M. from May through September
6:00 A.M. – 8:00 P.M. the months of April and October
6:00 A.M. – 6:00 P.M. from November through March
The Herbert H. Bateman Educational and Administrative Center can be found at 8231 Beach Road on Chincoteague Island and its hours are as follows:
9:00 A.M. – 5:00 P.M. in the Summer
9:00 A.M. – 4:00 P.M. in the Spring, Fall, and Winter
It is closed December 24, 25, 31, and January 1. Click here to learn more.
8. See the Historic Main Street Merchants
The Historic Main Street Merchants can enhance your enjoyment and can provide unique experiences for those traveling to Chincoteague!
They are a group of businesses located on the main street in the town that partners together for the pleasure and satisfaction of those visiting from out-of-town. They host events such as scavenger hunts, Death by Chocolate, Search for Shamrocks, and more.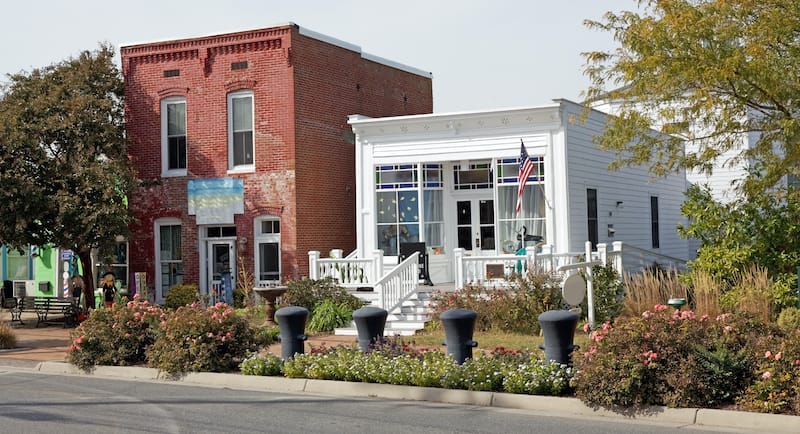 There are also markets and other cool events throughout the year and it is crucial to check what is on their calendar during your Chincoteague trip!
9. Enjoy a Seafood Feast at Ray's Shanty
Ray's Shanty is one of the best restaurants near Chincoteague and they have some absolutely tasty shrimp and local seafood. The restaurant offers dine-in options, as well as to-go options.
One thing to note is that you can reserve a table until 5:30pm in the evening but beyond that, it is first-come, first-serve.
Ray's has been open and serving hungry patrons for over 30 years and they have a variety of dishes and things to offer from sandwiches to beer and more. Be sure to try the Shanty specials 'Steamed by the Pound' and 'The Shrimp Trawler'. It is Virginia dining at its best!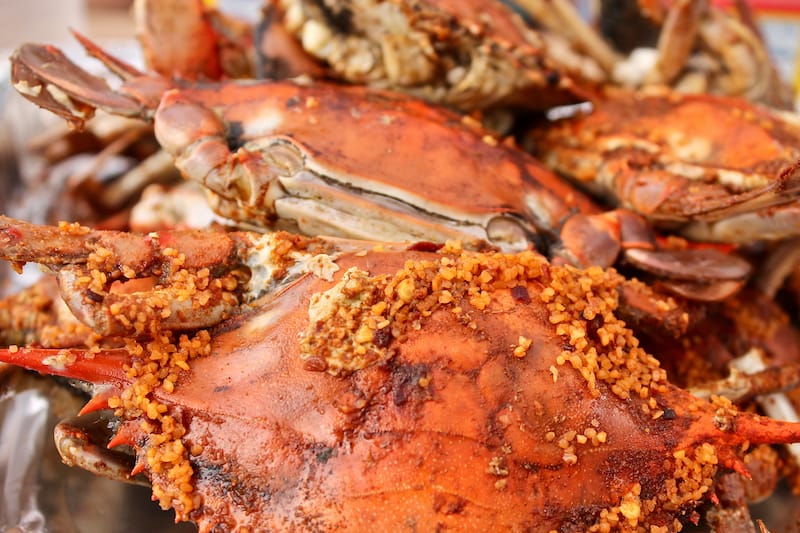 Please note that Ray's is NOT located on Chincoteague Island but before you cross over into the island at 32157 Chincoteague Rd in New Church. Check out their Facebook for additional information.
10. Enjoy Craft Beer in Chincoteague
If you're a beer lover and want a taste of something local, don't miss out on stopping by Black Narrows Brewing Company!
They brew local beer from local farms and excel at it! They were the first craft brewery on the Eastern Shore and they treat their customers like friends and that is why everyone continues going back. Black Narrows sources 83% of their ingredients locally and the brewery is located in an old oyster shuckin' house.
They are open to customers Thursdays through Saturdays from 4pm until 10pm. Stop by and enjoy a pint! You'll find them at 4522 Chicken City Road in Chincoteague. Check out their website for additional information.
Other Attractions Near Chincoteague
If you're planning an entire trip to the Eastern Shore of Virginia, you have a lot to see! Here are some of my favorite places to visit near Chincoteague and along the ES.
Kiptopeke State Park
Tangier Island (requires a ferry and is in the middle of the Chesapeake Bay)
Onancock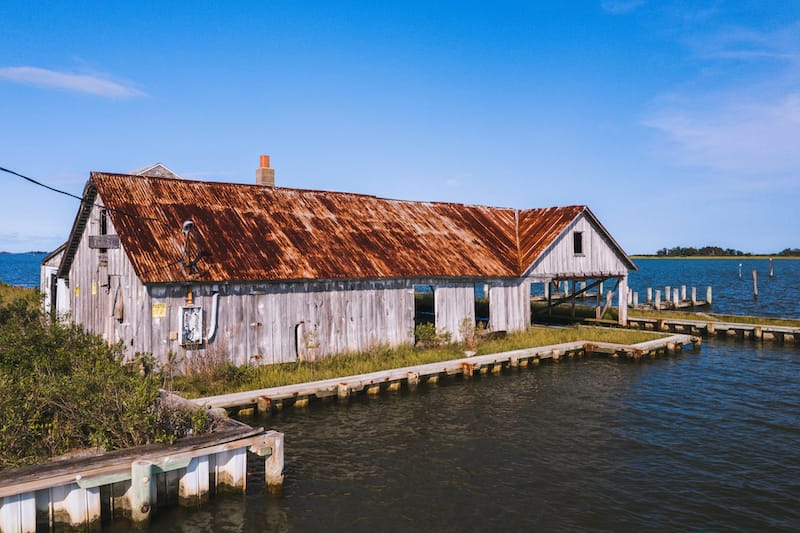 Places to Stay in Chincoteague
There are so many amazing Chincoteague lodging options for those visiting for a few days (or even just one night!). Here are our top picks for hotels, Airbnb home rentals, and campsites.
Chincoteague Hotels
Here are some of the top choices for hotels in Chincoteague:
Chincoteague Airbnb and Home Rentals
If hotels are not your cup of tea, there are some fantastic home rentals in Chincoteague on Airbnb that you may find suit your needs better. They are also great options for those that enjoy cooking and wanting to save a bit of money while on their trip to Chincoteague.
Here is our list of the top Airbnbs in Chincoteague for your Eastern Shore trip:
Camping in Chincoteague
If you're an outdoorsy person and keen to do a little camping in Chincoteague, there are plenty of options for you along the Eastern Shore of Virginia. If you're camping and are not a member of Hipcamp, also be sure to use our code here to receive $10 off your first booking!
Here are some of the top Eastern Shore and Chincoteague campsites as well as the price for each (we picked both camping and glamping options):
Should You Plan a Trip to Chincoteague Island?
If you're from in-state, you know how cool Chincoteague is. However, if you're not from Virginia, you probably have an idea or haven't properly heard of the town. But, believe me, it is a fantastic and unique place and worth a visit.
We hope you find this guide of the best things to do in Chincoteague useful for planning your first trip there (or your first trip to the Eastern Shore!)
Please let me know if you have any questions or recommendations that I missed on this guide. Thanks!
Pin This Guide for What to Do in Chincoteague