Charlottesville, Virginia is one of the best places to visit in the state and you will find no shortage of things to do in Charlottesville regardless of what your travel desires are.
This guide showcases the finest Charlottesville attractions, landmarks, hiking trails, and historical sights.
It also contains a few tips for what to do in Charlottesville for nature lovers (and beyond).
Did we miss any key Charlottesville landmarks? Let us know in the comments. Thanks!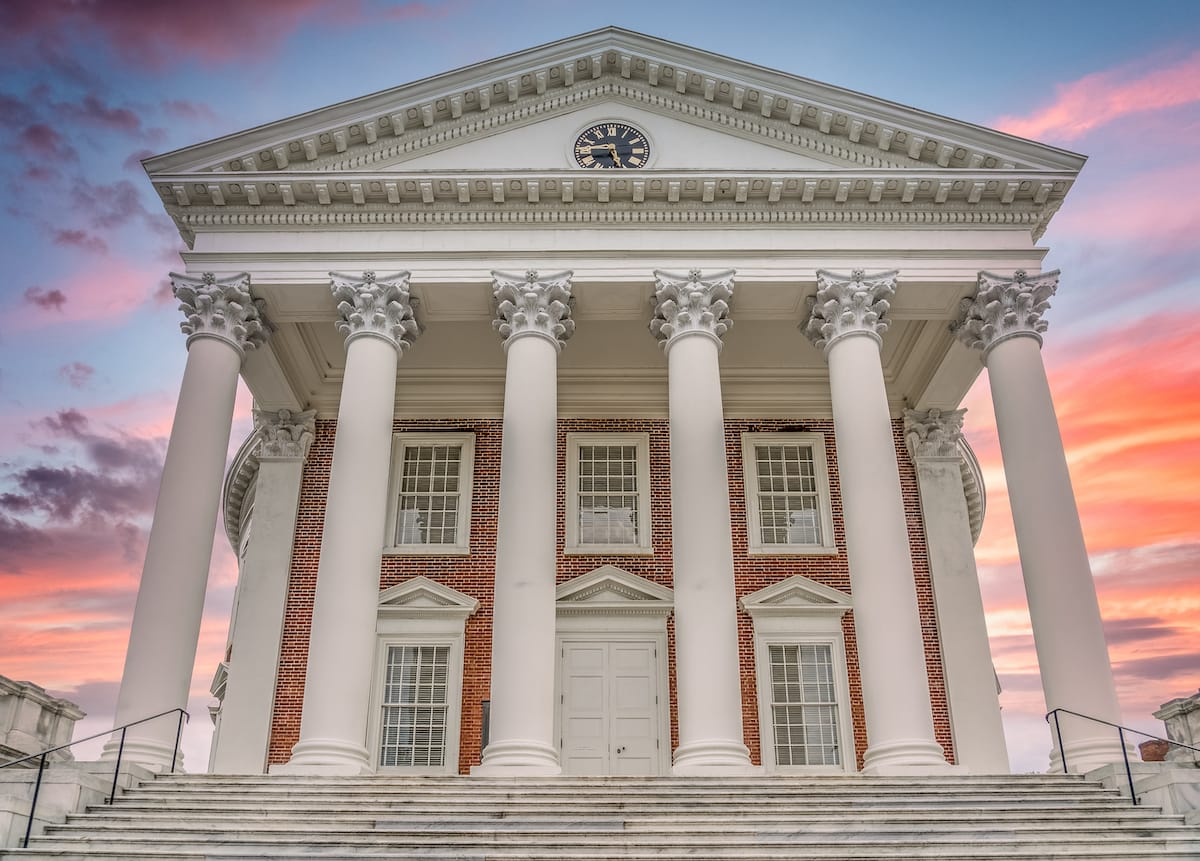 Best Things to Do in Charlottesville VA
1. Visit Monticello
It would not be right to begin this list with anything other than Monticello.
This is the architectural masterpiece of Thomas Jefferson, which is the US's only home recognized by the United Nations as a World Heritage Site.
You can tour the house throughout the year to dig deep into Jefferson's world to discover his interests, ambitions, and talents, while the outside garden is available from April to October.
Inside, you can witness the neoclassical design inspired by Italian Renaissance artist Andrea Palladio combined with Jefferson's own unique ideas.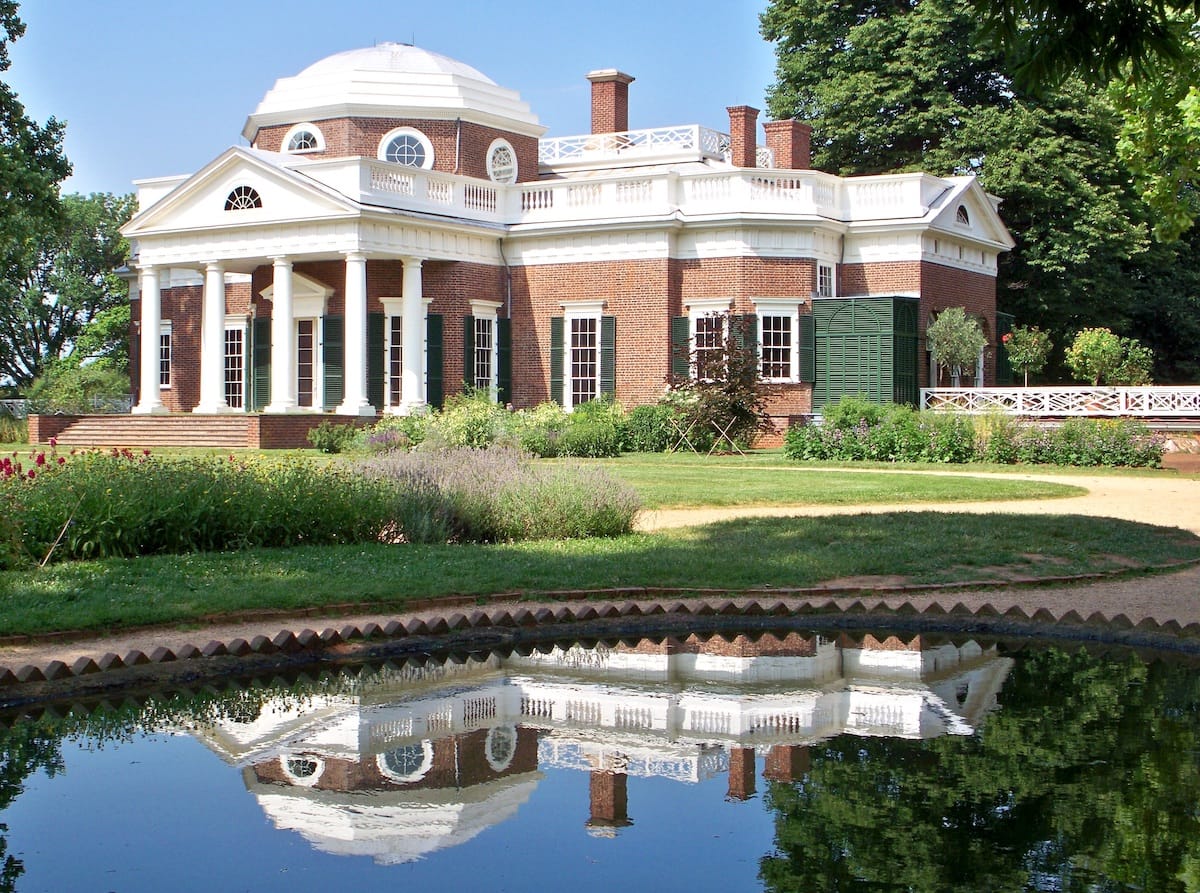 The total area also encompasses a small mountain, a farm, a plantation, and a diverse community.
2. Take a James River Batteau Tour
One of the coolest things to do in Charlottesville is to hop on a batteau boat (a flat-bottomed boat) and cruise down the James River, Virginia's longest river.
Back in the 1700-1800s, these boats were essential in trade throughout the state and played such a big role in VA's history (as well as the US' history)!
With James River Batteau Co., you can head out on a river tour, a sunset cruise, or a private charter on one of these boats and get to experience Central VA a little bit differently than you're used to!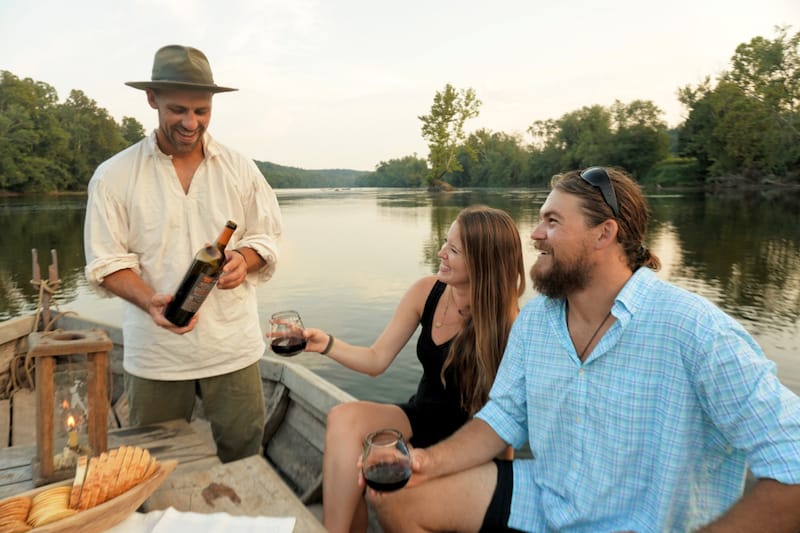 All tours leave from Scottsville (just south of C-ville) and each offers a unique experience:
River Tour (2 hours, mid-day boat ride)
Sunset cruise (2 hours, sunset cruise with charcuterie boards and live acoustic music)
Private charter (just as it sounds – great for intimate settings and small groups of friends)
>> Click here to check James River Batteau Tour rates and availability
3. Enjoy the Virginia Discovery Museum
The Virginia Discovery Museum is the place to visit if you're traveling with your little ones. This non-profit children's museum has been in operation since 1981 and offers a fun and educational journey for kids ages 1 to 8.
An interactive play environment makes for the perfect conditions for your children to engage their minds, solve challenging tasks, excite their imagination, and discover their surroundings.
The Charlottesville museum also features many educational programs and organizes various fun events throughout the year, such as Discovery Dash in May, Santa Pancake Breakfast in December, Kid*Vention in February, and Boo Bash in October.
4. Stroll along the Downtown Mall
Located in historic downtown Charlottesville, the Downtown Mall offers limitless opportunities for those after a historic experience combined with leisure and entertainment.
Lined up around old Main Street, you will find many unique boutiques, art galleries, live music venues, nightclubs, and countless dining options to suit any taste.
The Mall has more than 120 shops and over 30 restaurants and cafes nestled in vibrant historic buildings.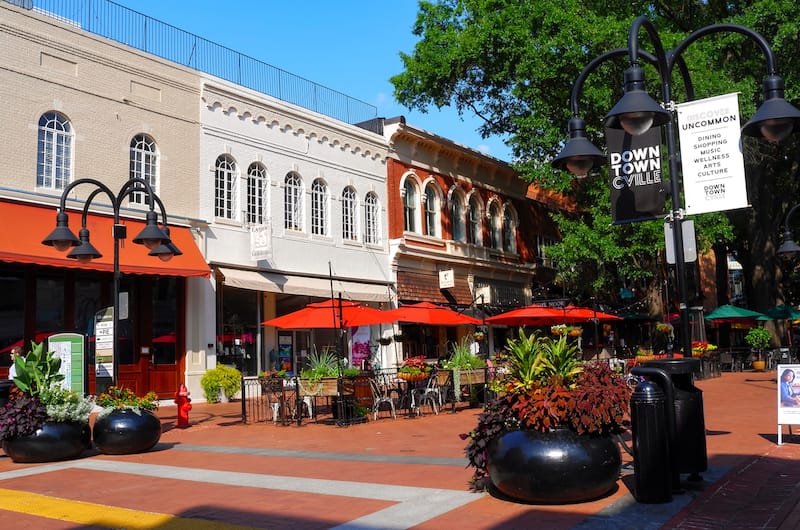 Take part in ghost tours if you're down to get into a spooky mood, visit art galleries for some inspiration, or check out Saturday Farmer's Market to taste the area's fresh produce.
Spend an evening with your special someone watching a movie in a historic cinema or enjoy a play at one of the finest theaters in Charlottesville.
5. Go to Carter Mountain Orchard and Country Store
Carter Mountain Orchard offers the best way to experience the dramatic vistas of the Virginia countryside year-round and enjoy sun-ripened peaches and delicious apples right from the orchard.
Plan your visit from mid-August to mid-December to see how the orchard overflows with sweeter-than-heaven apples, which you can pick on your own or find already-picked ones in the Country Store.
The latter also features local veggies, fresh peach cider donuts, cider slushies during the summer months, and more! You can shop while getting loaded with fresh-pressed apple cider and apple pies during the beautiful VA fall.
Fall festivals give the orchard extra charm by transforming it into a field packed with pumpkins, gourds, and diverse harvest decor, which can be discovered via a hayride.
6. Check Out the Fralin Museum of Art at UVA
If you are into art and thirsty for some creativity and inspiration, then you should definitely check out the Fralin Museum of Art at the University of Virginia.
The UVA Museum showcases 14,000 objects, including marvelous paintings created by famous American and European artists, photography, African, Asian, Pre-Columbian, and Native American art, etc.
Joanne B. Robinson Object Study Gallery provides a spacious area for showcasing the museum's expanding collection, while the Print Study Gallery holds the museum's most significant assets, such as prints, photographs, and drawings.
The finest items are even available for online browsing and studying to support the museum's academic mission.
7. Take a Day Trip to Luray Caverns
Head to Luray Caverns in nearby Luray, Virginia to discover Eastern America's largest and most popular caverns, which have been in the making for 4 million centuries!
Paved walkways will lead you to a 10-story high massive room where you can observe gigantic stone formations and natural wonders at every turn.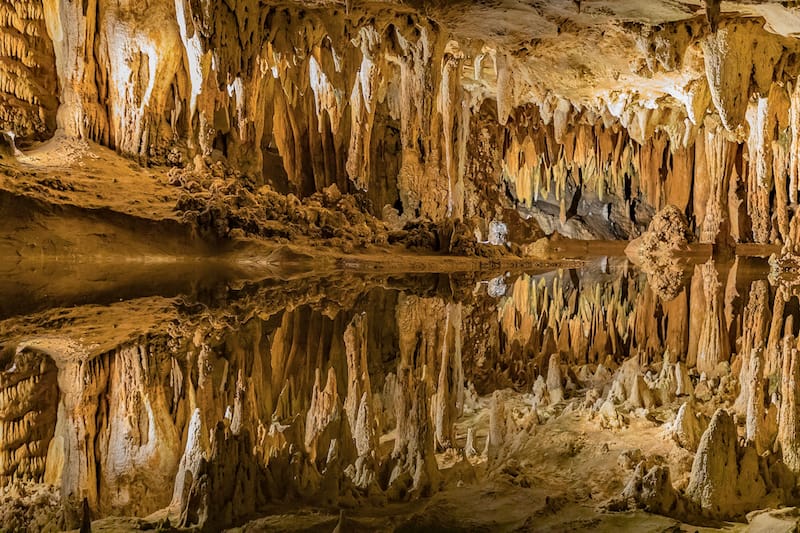 Explore the huge chambers which serve as an exhibition hall for towering stone columns, glistening draperies, and crystal clear pools.
The Great Stalacpipe Organ is there to provide you with the most mesmerizing "concert" you have ever witnessed in your life. Just a tap is all this magical organ needs to make the surrounding cave formations create haunting sound waves.
There are many show caves in Virginia but Luray Caverns is the most visited and famous.
8. Escape to McIntire Park
Escape the city's hustle and bustle in McIntire Park, one of Charlottesville's most famous parks. The park will reward you with the most stunning views of the nearby mountains and the lush forests that Virginia is known for.
On the western part of the park, you can enjoy the surrounding natural beauty by taking a stroll along the scenic nature trails near picnic shelters.
A wonderful VA golfing experience will be guaranteed in a nine-hole sand green golf course, nearby which you can also find a skateboard park, a large playground, and a wading pool.
Make sure not to miss the Annual Dogwood Festival held every April as it is one of the best festivals in VA during the spring.
9. Eat at The Virginian
Get a real taste of Virginia's history at The Virginian, Charlottesville's oldest restaurant, in operation since 1923.
This historic location offers the area's best burgers, sandwiches, and signature crab cakes served by lovely and professional staff. Here, you will definitely feel the local vibes while enjoying their mouthwatering dishes in rustic-style, little cabins.
The restaurant also offers an outside sitting area where you can do some people-watching and admire the central streets. Don't forget to try their famous Mac N Cheese with a potato cake on top of it… you will undoubtedly come back for another portion.
10. See the Kluge-Ruhe Aboriginal Art Collection at UVA
Explore the Indigenous Australian art and culture outside of Australia at the Kluge-Ruhe Aboriginal Art Collection at UVA.
Here, you can stroll around and witness a world-class collection of more than 2000 objects, which are available for scholarly research and study.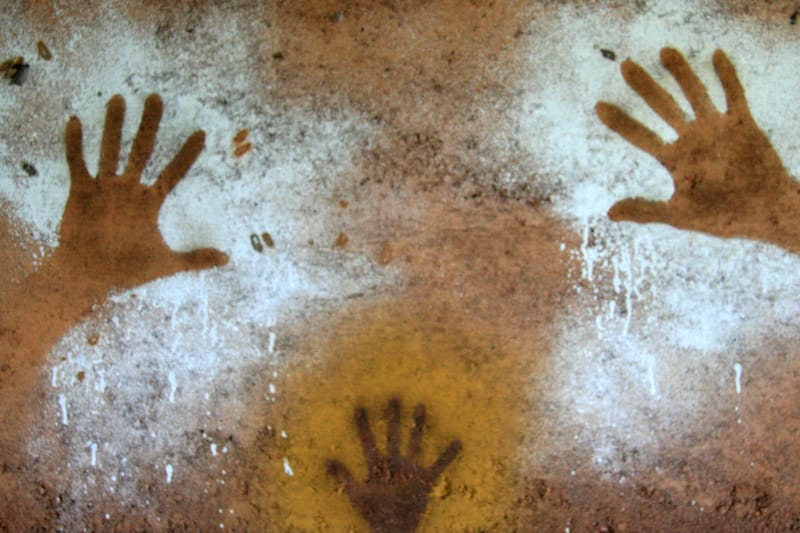 Get ready to marvel at many bark and acrylic paintings, including some noteworthy ones of the Papunya Tula movement and Arnhem land artists, photography, prints, sculpture, artifacts, etc.
The UVA Museum highlights the rich diversity of Australia's Indigenous people and allows you to expand your perspective by discovering the deep connection of unique art and culture to their sacred land.
11. Visit Daedalus Books
Daedalus Books is a true heaven on earth for book enthusiasts to make reading a truly artful experience.
It is a 3-story temple of secondhand literature that offers many out-of-print books and allows you to choose your favorite one from more than 100,000 bestsellers, classic, and overlooked gems.
Daedalus Books has served as the premier source for bibliophiles since 1980 and offers most of the remaindered books in limited quantities.
Here, you can find all those books which have the potential of lasting value. Friendly and knowledgeable staff will help you place an order which you will get within 24 hours.
12. Marvel at the Rotunda
Nestled in the northern part of the University of Virginia's campus, the Rotunda is the central masterpiece of Jefferson's "academical village."
Anyone familiar with Western architecture will certainly find similarities with the ancient Roman Pantheon, which was actually the main inspiration behind Jefferson's idea to build the latter's half-sized version.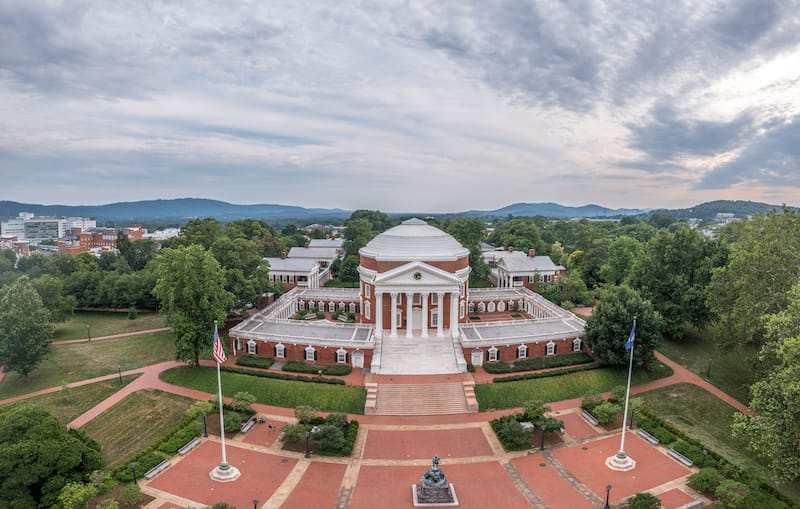 This signature Charlottesville landmark has an entirely secular nature, embodies Thomas Jefferson's views concerning the separation of church and education, and highlights his devotion to lifelong education and architecture.
Once housing the University library, now the Dome Room serves as a venue for dinners and lectures.
13. Get Cozy at MarieBette Cafe and Bakery
MarieBette Cafe and Bakery is one of the most visited bakeries and cafes in Charlottesville, perfect for people who appreciate good food.
Visit to try their European-inspired fare and enjoy delicious brioche, croissants, and donuts made with the finest ingredients, such as high-quality flour, natural milk, and full-fat butter.
Trust me, their crunchy daily-made fresh bread and brioche feuilletée are a must-try! All these mouth-watering treats are finished off with time-proven methods and practices.
In the cafe area, you can order their signature healthy sandwiches and salads, pastries, and coffee for a takeaway or enjoy them on the go.
14. Go Fly Fishing in Charlottesville
If you're an adventurous soul and want to take to the outdoors, fly fishing is a good place to start!
With Middle River Outfitters, you can head out from anywhere in the Shenandoah Valley (including Staunton, Waynesboro, Lexington, Charlottesville… and beyond!) for a trip into the lush wilderness and the chance to go fly fishing with an expert!
This region of VA is home to several species of fish, and most notably brook, brown, and rainbow trout.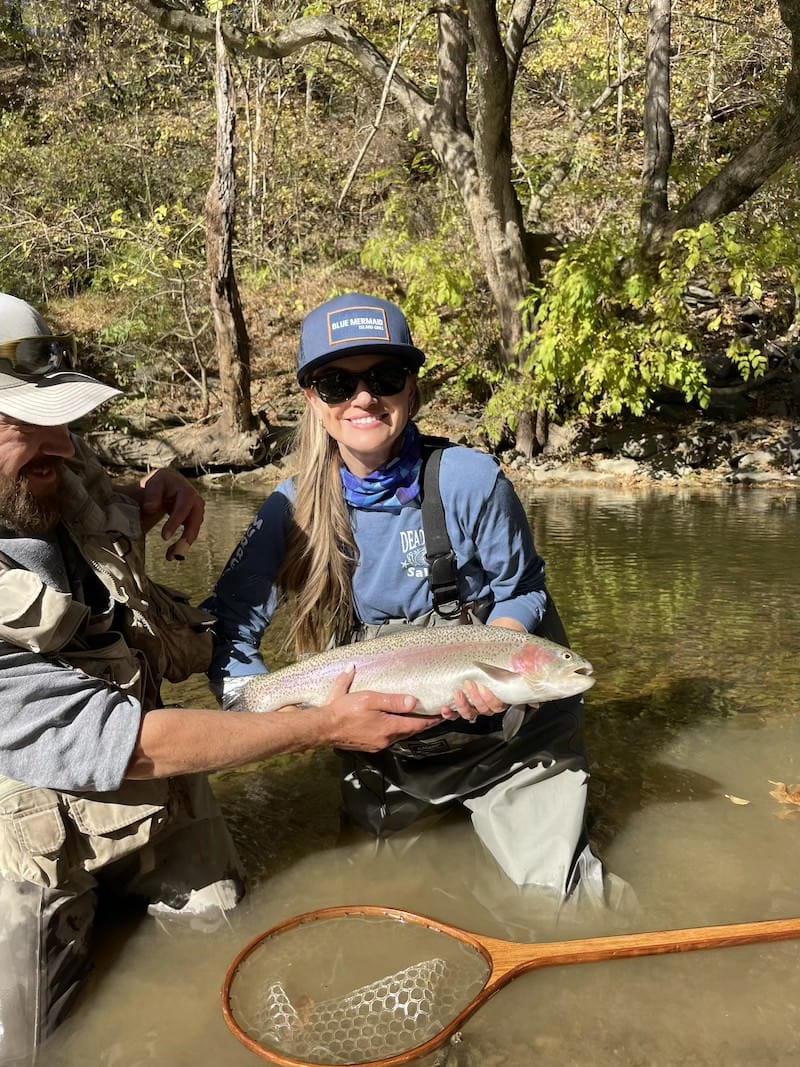 You can customize a trip to the South Fork of the Shenandoah River (that spans over 96 miles) where fly fishing is super popular or somewhere a bit more off the path in the region.
Middle River also organizes trips for catching smallmouth bass in the Shenandoah Valley.
Click here to find out more about fly fishing in Charlottesville!
15. Hike the Saunders-Monticello Trail
Spanning over 4 miles, the Saunders-Monticello Trail is a scenic trail that will get you to Monticello through breathtaking scenery.
The Charlottesville trail begins in Kemper Park, near the base of Carter Mountain, and occupies 89 acres of land along Thomas Jefferson Parkway.
Be ready to marvel at hypnotic vistas of hardwood forests, valleys, and the gorgeous Blue Ridge Mountains along the way.
The trail is open to the public daily, features rustic woodland paths, gravel walkways, boardwalks, and is perfect for walkers, cyclists, and is even wheelchair accessible. Just note that while on the trail, dogs must be kept on a leash at all times.
16. Cruise along Skyline Drive in Shenandoah National Park
Taking a scenic drive on Skyline Drive is an experience you will never forget. Nestled along the crest of Virginia's Blue Ridge Mountains, this is a 105-mile picturesque byway that runs through the entire Shenandoah National Park.
Hit the road and take advantage of breathtaking lookouts that will reward you with panoramic vistas of Shenandoah Valley and the Virginia Piedmont region.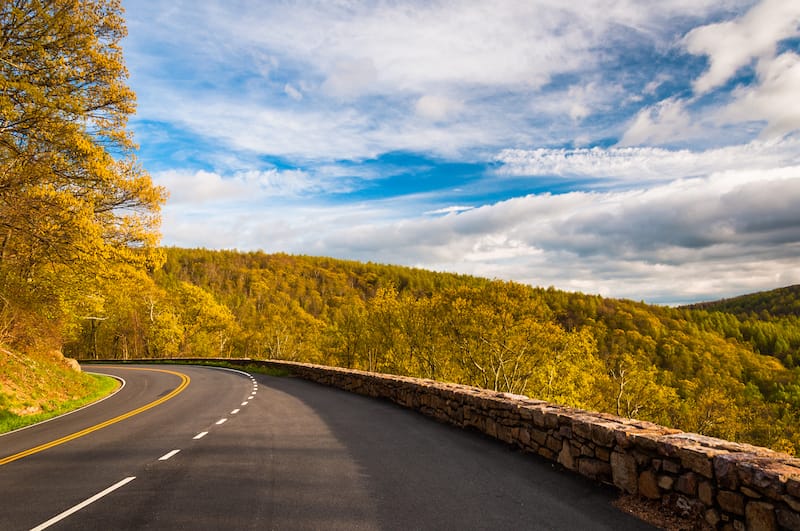 Skyline Drive has you covered whether you want the ultimate spring drive to admire colorful wildflowers or foliage road trip to marvel at the vibrant fall foliage in Virginia.
The road also offers 75 overlooks that connect you with the park's campgrounds, major visitor centers, picnic areas, most trailheads, etc. The road trip will also lead you to some of the best waterfall hikes in VA!
17. Relax in Greenbrier Park
Nestled in the Greenbrier neighborhood, Greenbrier Park offers 28.3 acres of land for you to discover a small portion of Charlottesville's unspoiled beauty.
Go hiking and biking along Meadow Creek to enjoy the stunning views of Sycamore groves, wetlands, and Greenbrier Marsh, one of the Piedmont region's few remaining natural marshes.
The park becomes even more magical during the spring and fall seasons when many migrant bird species return to their natural havens.
The easy access to the park starts with Rivanna Trail, along which you can admire the finest habitats, such as wet fields, alluvial floodplain forest, shrub and floodplain swamp, oak-hickory forest, etc. It is one of the best things to do in Charlottesville for nature lovers.
18. Eat Dinner at Public Fish & Oyster
Level up your dining experience at Public Fish & Oyster, where you can expect to enjoy the highest quality oyster-based meals expertly prepared by professional chefs.
A perfect setting, mouth-watering dishes, exquisite service, and friendly staff will make sure you have one of the most memorable dining experiences in your life.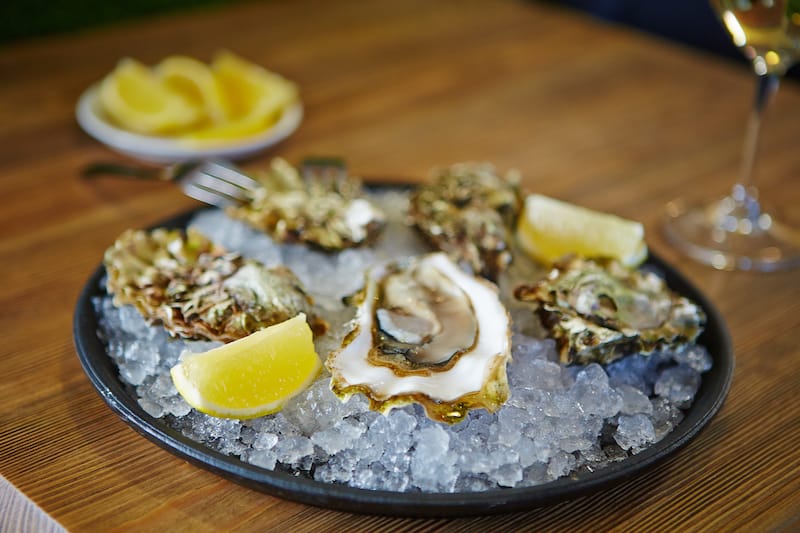 Here, you can try the freshest East Coast seafood, local craft beer, and delicious cocktails. This small restaurant also offers in-season patio seating to enjoy their famous lobster rolls with a view.
Be sure to make reservations before visiting (especially on weekends), as this place fills up with oyster enthusiasts pretty quickly!
19. Head to the Glass Palette for Interactive Glass Art
If you are fascinated with glass art and are after some art-seeking adventures, then visiting the Glass Palette should be on your bucket list.
Here, Maria DiMassimo and her daughter Cara DiMassimo will introduce you to the wonderful world of glass art.
This Interactive Glass Art Studio organizes various classes and workshops for both adults and younger children to help them get started in glasswork, discover many exciting new techniques and enjoy the interactive creative experience.
You can sign up for a wide variety of projects suitable for every skill level and learn from working with fused glass and glass enamels to mastering "crackle," "cold-combing," and many other techniques.
20. Rejuvenate Yourself in Kemper Park
Reconnect with nature in Kemper Park nestled along the Thomas Jefferson Parkway. Spanning over 89 acres of unspoiled land is the perfect place for walking, jogging, biking, and bird watching.
Take your hiking partner with you and head to hiking Saunders-Monticello Trail that we mentioned above or many other rustic trails, which circle the breathtaking pond and lead to the Secluded Farm.
The park's main features are Carter Overlook, offering stunning vistas of Charlottesville and the Blue Ridge Mountains, an Arboretum, showcasing Albemarle County's native flora, and Palmer Woodland Theater, serving as an outdoor classroom surrounded by centuries-old white oak trees.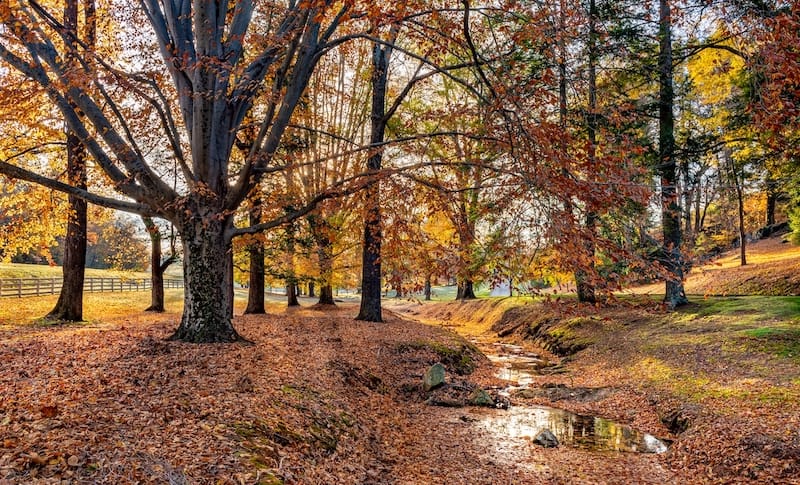 Please note that dogs must be kept on a leash and under control at all times.
21. Enjoy Delicious Virginia Cider at Bold Rock
As you already know, VA is an epicenter for cider production, so plan your next hard cider vacation to Bold Rock, a stone's throw away from Monticello, to taste their award-winning craft cider.
Discover the real art of cider made from locally sourced, refreshing apples grown by family farmers in the Blue Ridge Mountains and North Carolina.
Bold Rock is a great outing for people of all ages and the perfect place to enjoy locally produced fresh cider and breath in the majestic views of the Blue Ridge Mountains.
Professional staff will help you learn more about this unique process and share their insightful stories with you.
22. Try Virginia Wine at the Gabriele Rausse Winery
If you are in the mood for wine, then the Gabriele Rausse Winery should be your top pick!
Known for its elegant European-style wines, the Charlottesville winery has allocated 16 acres of land on the historic Redlands Farm to grow grapes exclusively for producing their signature wines.
Here you can discover the story of "the father of Virginia wine" and enjoy hand-crafted authentic wines that will satisfy even the most demanding wine lover.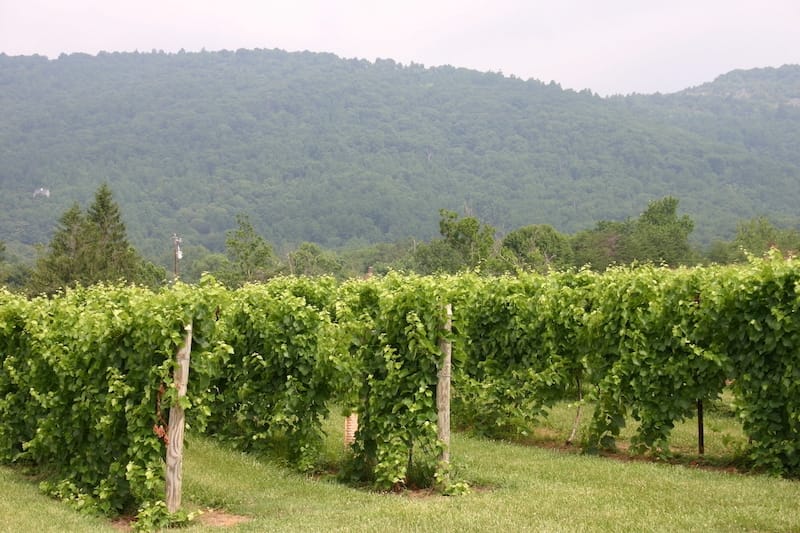 The vineyards are also home to Chasselas Doré, which was one of the first grape varieties brought by Thomas Jefferson to Monticello. It is one of the top wineries near Shenandoah National Park, as well!
23. Visit James Monroe's Highland
Adjacent to Thomas Jefferson's Monticello, you will find James Monroe's Highland, the former home to the US's fifth president and his family for over 25 years.
Visit to delve deep into the mystery surrounding the area for years, explore the untold stories of enslaved people that lived there, and learn more about the fire that destroyed the mansion.
The Highland is open to the public daily and offers guided and even augmented reality tours to explore the residence without even stepping on the grounds.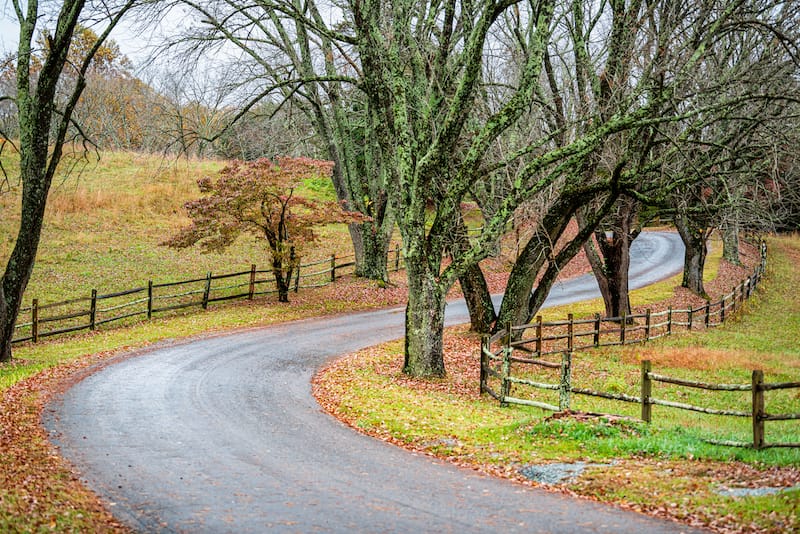 Before leaving, check out the museum shop that includes the Virginia Artisans Room, where you can find Monroe memorabilia, 19th-century authentic souvenirs, and Virginia-made honey and hickory syrup.
24. Book a Stay at Keswick Hall
When it comes to accommodations, Charlottesville offers the most convenient setting for luxury lovers. A stay at Keswick Hall boutique hotel promises an unparalleled experience to enjoy contemporary comforts and an elegant ambiance.
Sophisticated rooms will make you indulge in luxury, unwind and get up refreshed, ready to enjoy Marigold's delicious cuisine, or head to Full Cry golf course, tennis center, and the impressive Horizon Pool.
You can even celebrate special events amidst stunning valleys and mountain vistas to create timeless memories.
Round off your day by relaxing by the stone fireplace, chatting with other guests, or playing petanque in a picture-perfect backdrop.
>> Click here to book your stay at Keswick Hall
25. Grab a Bagel at Bodo's
Your Charlottesville trip won't be complete without paying a visit to Bodo's, the king of bagels in Charlottesville.
Serving as a Charlottesville institution since 1988, Bodo's is the place to go for a quick bite or morning hangout.
It has become a favorite breakfast and lunch corner for UVA students, kids, families, office workers, and tourists to try their signature bagels topped off with mouth-watering sandwiches with avocado, egg and cheese, BLT, etc.
Friendly and professional staff, affordable prices, and charming atmosphere will guarantee your delicious experience, making you want to return every time you visit Charlottesville!
26. Go Horseback riding with Indian Summer Guide Service
Indian Summer Guide Service is a horse lovers' dream destination that offers a variety of equestrian adventures for all levels of riders.
Experience the majestic beauty and tranquility of the area by having safe and exciting trail rides through Central Virginia and the Blue Ridge Mountains.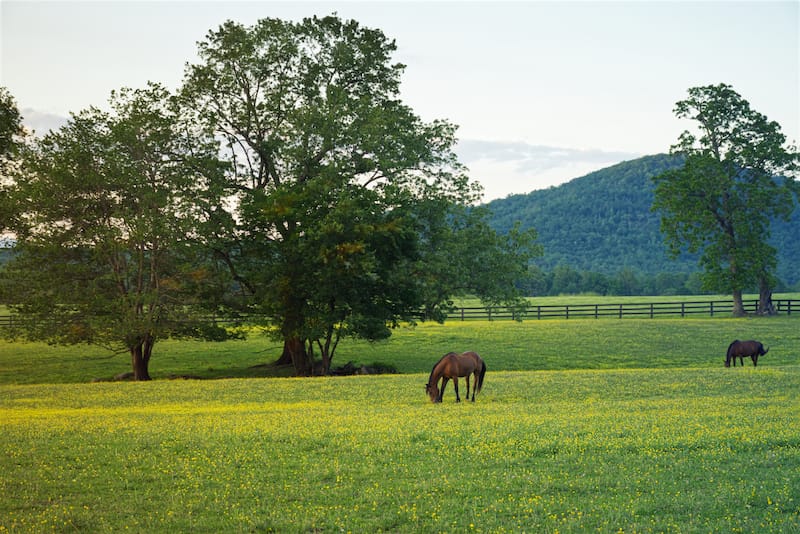 Guided horseback rides will take you through stunning vineyards and wineries, such as Cunningham Creek Winery, Pollak Vineyards, Keswick Vineyards, open meadows, blooming orchards, and help you explore the ridgeline and bubbling creek.
Hour-long customized trail rides with trained and calm horses promise unforgettable riding experiences tailored just for you.
>> Click here to book a horseback adventure with Indian Summer
27. Visit the Leander McCormick Observatory
Exploring the night sky at Leander McCormick Observatory on the first and third Friday nights of every month is truly a one-of-a-kind stargazing experience.
Operated by the Department of Astronomy of the University of Virginia, it was once considered the world's second-largest telescope back in 1885.
Be ready to get up close and personal with the authentic exhibits, tour the Observatory, marvel at celestial objects through the historic 26" McCormick Refractor or many other smaller telescopes, and get goosebumps by listening to astonishing presentations held by the astronomers.
28. Check out Wineries along the Monticello Wine Trail
Head out and explore the Monticello Wine Trail to dive deep into the real history of grape growing and winemaking inspired by Thomas Jefferson.
Over 40 wineries will introduce you to Virginia's winemaking heritage and offer you to discover the secrets of award-winning wines.
Visit Burnley Vineyards, one of Monticello Viticultural area's oldest vineyards to taste their signature wines, or check out family-run wineries such as Flying Fox Vineyard, Cunningham Creek Winery, and Knight's Gambit Vineyard.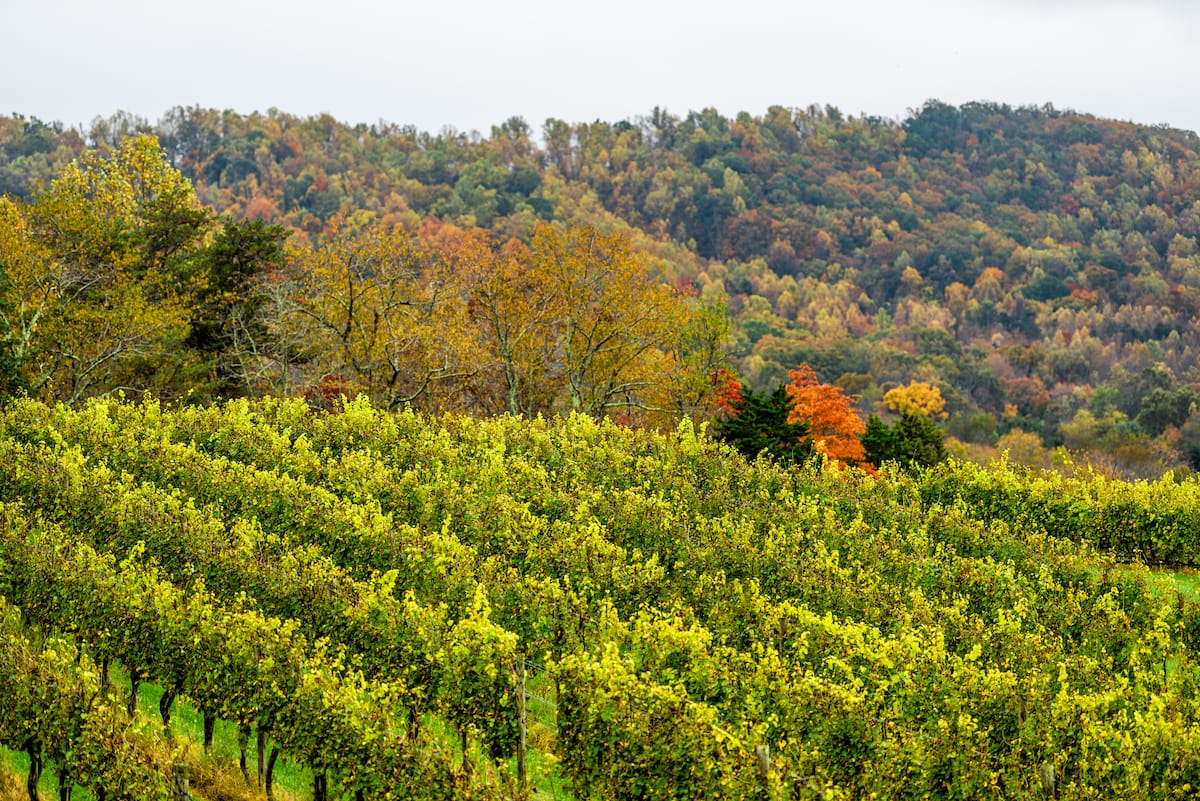 To enjoy authentic Virginia wines with lush vineyard views, pay a visit to King Family Vineyards, Keswick Vineyards, or Kilaurwen Winery nestled in the foothills of the stunning Blue Ridge Mountains.
29. Go Back in Time at Michie Tavern
Get a real taste of the 18th century at Michie Tavern, where a rustic tavern setting, servers in period attire, and Southern recipes will ensure you experience a feeling that you've stepped back in time.
Here, you can try typical 18th-century Southern cuisine, which includes hickory-smoked pork barbecue, stewed tomatoes, marinated baked chicken, black-eyed peas, etc.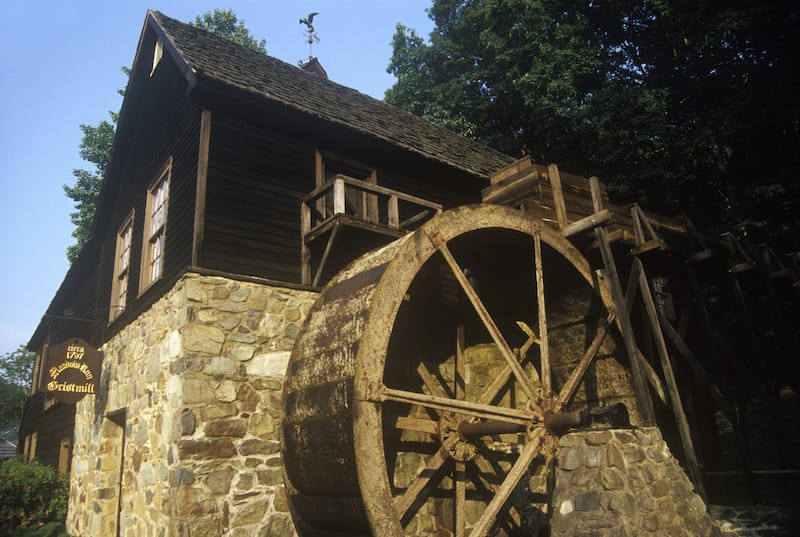 Head to The 1784 Pub, the oldest section of Michie Tavern, to try their finest local beers, wines, and hard cider. Before leaving, make sure to check out their four unique shops housed in period buildings where you can pick an authentic souvenir or two for your loved ones.
30. Visit the Gorgeous Crabtree Falls
Located six miles off the scenic Blue Ridge Parkway, Crabtree Falls is one of the most photogenic vertical-drop cascading waterfalls in Virginia.
This 70-foot gorgeous waterfall features 5 major cascades and a few other small ones. The Crabtree Falls Trail is a scenic 2.5-mile short loop trail that will lead you to the Falls by also making you admire lush greenery from a few outlooks suitable for all skill levels.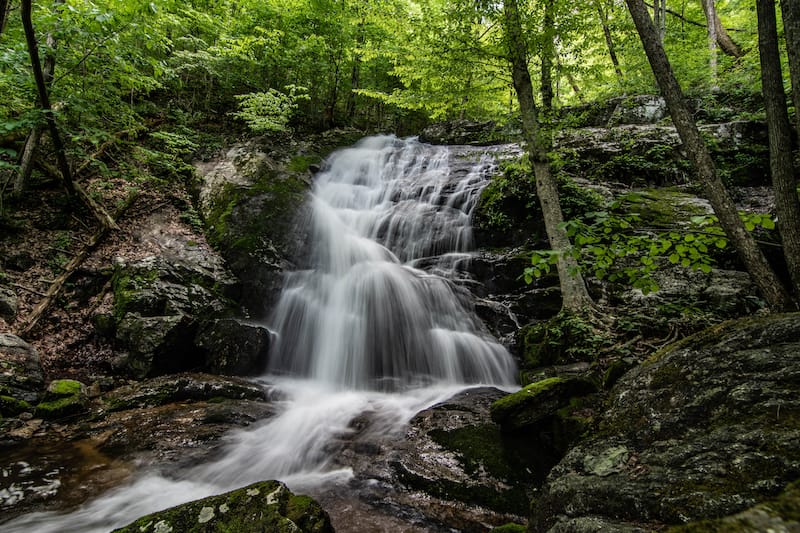 Adventure lovers can continue hiking for an extra 3 miles to get to experience the mesmerizing beauty of Crabtree Creek Falls and take in gorgeous vistas of Tye River Valley from four other overlooks.
Things to Do in Charlottesville (On a Map!)
🗺️ HOW TO USE THIS MAP: You can use your fingers/mouse to zoom in and out. To get more info about a place, simply touch/click the icons. Want to save this map for later use? Click the '⭐' by the map title and it will add it to your Google Maps account (Saved > Maps or 'Your Places').
Where to Stay in Charlottesville
There are plenty of options for places to stay in Charlottesville (and nearby!) and the following are some of our favorites:
What are your favorite things to do in Charlottesville? Let us know what to do in Charlottesville (for first-time visitors!) in the comments below. Thanks!
More Charlottesville Day Trips + Travel Guides
Pin this Charlottesville Things to Do Guide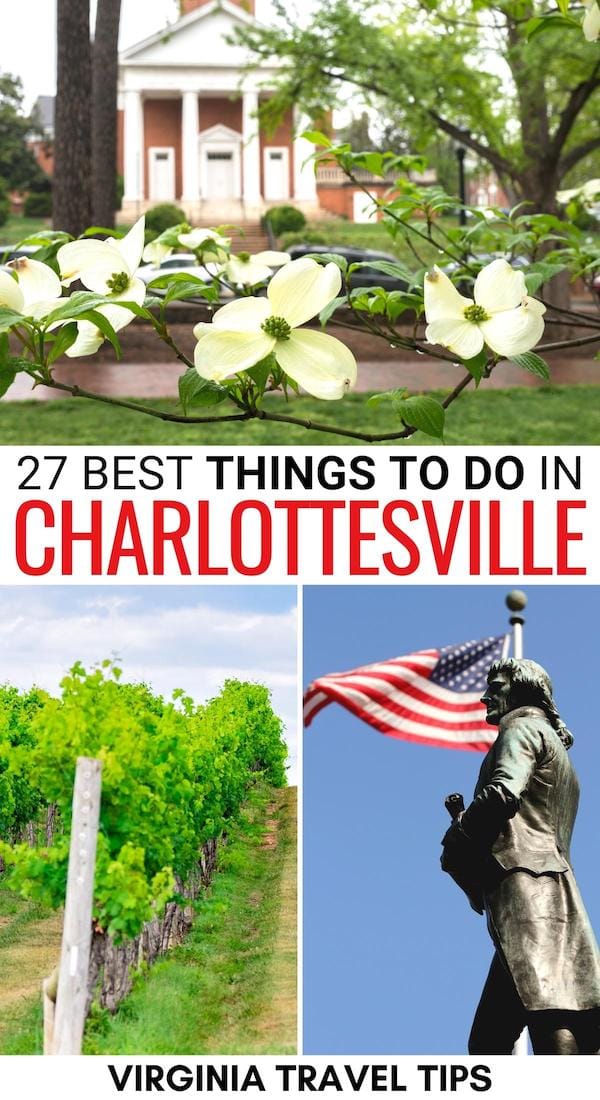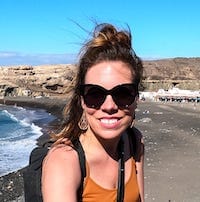 Megan is a travel blogger and writer with a background in digital marketing. Originally from Richmond, VA, she has lived all around the world (including Germany, Finland, Norway, etc) but her heart always finds its way back to Virginia. This blog is to help encourage travelers to explore the great state of VA… and its wonderful neighbors! Megan has written for or been featured by National Geographic, Forbes, Lonely Planet, Fodor's Travel, the New York Times, and more. She has visited 45 US states and 100+ countries… and wholeheartedly believes that Brunswick Stew is probably the greatest food to ever exist.