It's no secret that I love coffee! These are the best coffee shops in Charlottesville, VA. These Charlottesville cafes have something for everyone, but most importantly, they serve up a great cup of joe!
Did we leave one of your favorite cafes in Charlottesville off of this list? Please let us know in the comments! Thanks!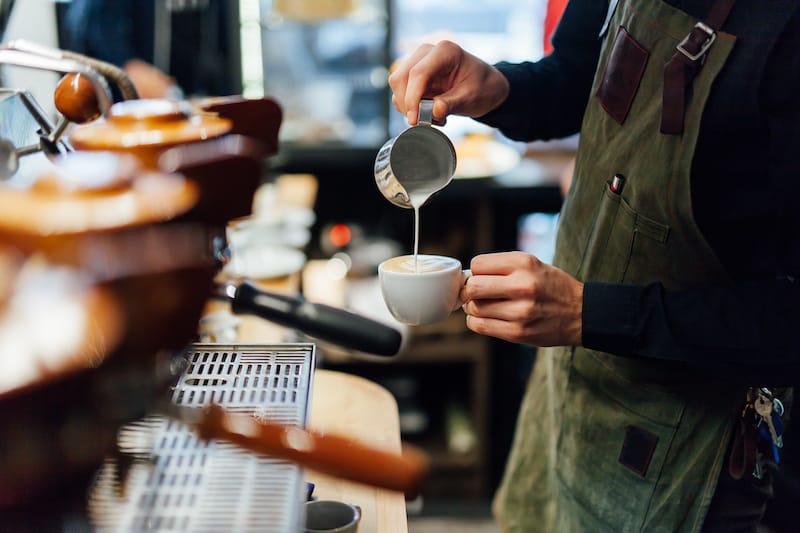 Best Coffee Shops in Charlottesville
C'Ville Coffee & Wine
C'ville Coffee & Wine is a popular cafe in Charlottesville that specializes in, as the name suggests, coffee and wine.
There is an extensive food menu that offers delicious breakfast and lunch items to patrons. Their breakfast sandwiches are affordably priced and they also have homemade granola. For lunch, you can create your own sandwich.
View this post on Instagram

Paired with their coffees and wine options, this is definitely one of the coolest cafes in Charlottesville.
Be sure to check their website for current hours as they fluctuate due to the current situation. They are closed on Sundays.
Address: 1301 Harris Street
Website: https://www.cvillecoffee.com/
MarieBette Cafe & Bakery
If you're seeking European inspired breakfast, brunch, lunch, and coffee, you will absolutely love MarieBette Cafe & Bakery in Charlottesville.
They have two locations within the city and you can find the addresses below.
This is a black-owned business and it was named after chef and owner Jason Becton and his husband who met at the French Culinary Institute. It is named after their daughters.
View this post on Instagram

While they do use La Colombe coffee and not a local roastery, they do have exceptional food that makes the stop in totally worth it. Be sure to take home some of their Virginia sourdough!
Address: MarieBette Cafe & Bakery (700 Rose Hill Drive), Petite MarieBette (105 E. Water St)
Mudhouse Coffee Roasters
A renowned Charlottesville coffee roastery is Mudhouse Coffee Roasters.
They have three medalist coffees from the Golden Beach Roasting Championship and are a fantastic place for coffee lovers in Charlottesville!
The owners, John and Lynelle met when they were young and even lived together in Alaska in an old VW van by the river. They eventually came to Virginia and Mudhouse was later born.
View this post on Instagram
They sell many products, including their own beans, and they are the perfect Charlottesville souvenir if you're simply visiting the city. They have three locations – two in Charlottesville and one in Crozet.
They serve baked goods and small eats alongside one of the region's best cups of coffee!
Address: 213 W. Main Street and 116 10th Street NW
Website: https://mudhouse.com/
Shenandoah Joe Coffee Roasters
Another popular coffee roastery and Charlottesville coffee shop is Shenandoah Joe.
The company started as a small-batch coffee roaster in the Virginia city all the way back in 1993 and they currently offer over 25 varieties of specialty coffee using the finest Arabica beans sourced from various parts of the world.
View this post on Instagram

In Charlottesville, they have three cafes. There is the Preston Espresso Bar (home of the roastery), the Ivy Coffee Bar, and Corner Joe. They also have a coffee shop in Harrisonburg.
Address: Preston Espresso Bar (945 Preston Ave), Ivy Coffee Bar (2214 Ivy Road), Corner Joe (1325 W. Main Street Shop C)
Website: https://shenandoahjoe.com/
Grit Coffee
Grit Coffee was originally called Para Coffee and the company was founded in 2008.
, they have three locations in Charlottesville (and one in Richmond and Crozet)… and they are one of the best places for specialty coffee in Charlottesville!
View this post on Instagram

They roast their own beans and have a variety of blends and single origins that you can take home with you, or enjoy right in the cafe. You can also sign up for a subscription with them.
Address: Pantops (610 Riverside Shops Way #100), Stonefield (2035 Bond Street 185), and Downtown (112 Main Street).
Website: https://gritcoffee.com/
Lone Light Coffee Co.
One of the most popular coffee shops in Charlottesville is Lone Light Coffee Co.
This company roast their own beans and has been proudly serving thirsty customers since 2016.
They believe in quality, simplicity, and consistency and their passion for their work and final products can be tasted in every sip of their coffee.
View this post on Instagram

You can visit them at their roastery cafe (do check to see if it is open) where they offer a rotating selection of coffees in-house alongside some small eats.
Alternatively, you can visit their downtown location in a space that they share with The Pie Chest.
Address: Roastery Cafe (1518 E. High St) and Downtown (119 4th St NE)
Website: https://www.lonelightcoffee.com/
Milli Coffee Roasters
Charlottesville has no shortage of amazing coffee roasters and Milli Coffee Roasters is a prime example of that!
Opened in 2012, this coffee shop aims to be a place where people of all walks can join together and celebrate their love for delicious coffee. They also serve Liege-style Belgian waffles, paninis, soups, and more.
You will also find wine and beer there.
View this post on Instagram

In 2015, Milli's roastery opened and they enthusiastically love preparing espresso drinks with their exciting single origin coffees. Definitely stop in and show them some love if you're looking for awesome Charlottesville coffee shops.
Address: 400 Preston Ave #150
Website: https://www.millicoffeeroasters.com/
Greenberry's Coffee Co.
Previously voted Charlottesville's Best Local Coffee Shop by Charlottesville Family Favorite Magazine, Greenberry's has been a local favorite since they opened in 1992. They love serving tasty coffee in a relaxing and friendly atmosphere.
View this post on Instagram
They have quite a few locations throughout Virginia and seven of them are in Charlottesville.
They also have locations in Japan and Saudi Arabia. You can see their locations here.
Website: https://greenberrys.com/
Rocket Coffee
In Midtown, you will find Rocket Coffee, a local favorite that serves tasty coffee alongside delicious baked goods (and more)!
Initially founded in Crozet in 2018, Rocket Coffee moved to Charlottesville only in 2020 and have already built a loyal customer base since!
They support local businesses and use a local roaster for their beans and even have their own signature product.
View this post on Instagram

Their baked goods are locally-made at Albemarle Baking Company and they have everything from bagels to pastries and more.
Address: 598 W. Main St.
Website: https://rocketcoffee.us/
Atlas Coffee
A cozy and social place to grab a cup of coffee and sit with friends is Atlas Coffee. They are known for partnering with Shenandoah Joe and Albemarle Baking Co. in order to bring patrons the tastiest beans and baked goods.
View this post on Instagram
Atlas Coffee is also a pup-friendly place and they will provide a water bowl and biscuit for your furry companion!
Address: 2206 B Fontaine Ave
What are your favorite coffee shops in Charlottesville? Let us know which ones we missed in the comments! Thanks!
More Virginia Travel Resources