Virginia is home to one of the best wine regions in the United States and a lot of the recognition comes from the land close to Shenandoah National Park.
These are eight of the best wineries near Shenandoah National Park.
One of them is down in Bedford, but we wanted to list a reputable winery in that area for those traveling back south and wanting to break up the trip a bit.
Are you planning your trip to Shenandoah at the last minute?
If you're traveling to Shenandoah last minute, you want to ensure you have lodging booked ahead of time! Below are some of our top picks to help you plan!
Best hotels near Shenandoah:
🚗 Looking for the best way to get around VA? Click here to check rental car rates for Virginia!
There are over 35 wineries in and around Shenandoah National Park. It is literally a paradise for those that want to combine active traveling and hiking with relaxation in the evenings.
Not to mention, the wineries are also very kid-friendly and you can bring the entire family!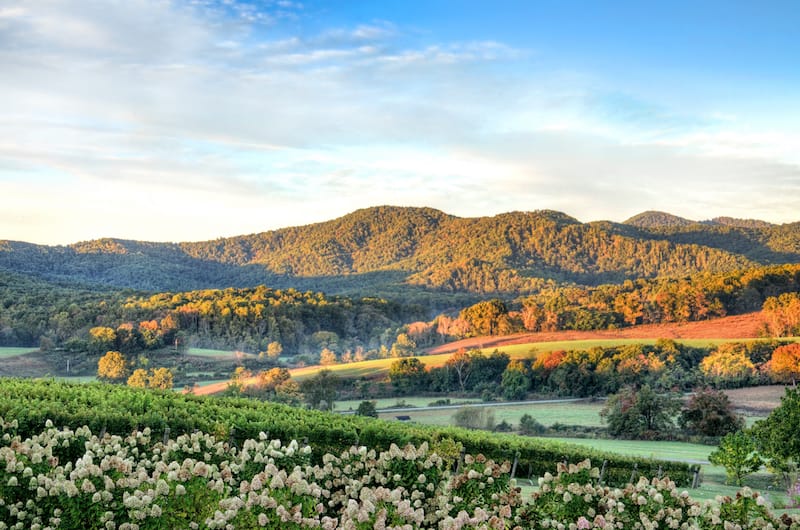 Of course, this list is not conclusive so we hope you will leave a comment with some of your top picks too!
Wineries near Shenandoah National Park
To add this map to your Google Maps account, click the 'Star' icon next to the map name. You can then view it on your cell phone or computer by heading to your Google Maps account, click the menu and add it to 'Your Places'.
Little Washington Winery
Address: 65 Clark Ln, Washington, VA 22747
Website: https://www.littlewashingtonwinery.com/
From its name, you can probably guess two things about this winery; it is little and it is located in Washington. Little Washington Winery is one of the numerous wineries near Shenandoah National Park.
This winery repeatedly wins awards for having top-quality wine and vineyard experiences! One of its winemakers, Carl Henrickson, also consistently wins accolades for being one of the top winemakers in Virginia.
This place is perfect for an intimate get-together as the little space does not allow for too many people.
The winery also offers a spectacular view of the Blue Ridge Mountains, adding more warmth and serenity to the ambiance.
View this post on Instagram
The winery got its name from the town's nickname of Little Washington. They also carry a portfolio of wines from beyond their own vineyard!
Even though they offer wines from outside their vineyards, they still give special attention to the wines they produce. One of Little Washington Winery's special blends, George, was rated the top red wine in Virginia.
And, on an even cooler note, they also specialize in producing top-rated craft beer!
The winery is open from 11:00 AM to 5:00 PM from Thursdays to Monday. Stop in and have a glass (or take home a bottle)!
Early Mountain Vineyards
Address: 6109 Wolftown-Hood Rd, Madison, VA 22727
Website: https://www.earlymountain.com/
Early Mountain is actually a winery located just 30 minutes away from one of Shenandoah's entrances (Swift Run Gap). This winery is designed to have a rustic feel combined with modern and award-winning wines.
Early Mountain was named the number one tasting room not just in Virginia but in the entire United States in recent years. There are wooden chandeliers, classic lounge chairs, and a central fireplace.
View this post on Instagram
The wine at Early Mountain is made exclusively from its vineyard, which covers a massive 55 acres of land. It's best visited with a group or a couple of friends as it also offers an outdoor patio that overlooks the Virginia mountains.
The winery is open Fridays to Saturdays from 11:00 AM to 7:00 PM and on Sundays from 11:00 AM to 5:00 PM. They also offer tasting flights for $20 per person.
Chester Gap Cellars
Address: 4615 Remount Rd, Front Royal, VA 22630
Website: https://www.chestergapcellars.com/
This gorgeous winery is located close to Shenandoah's Northern entrance and offers a jaw-dropping view of the Front Royal valley.
This small winery offers some of the best wines around Shenandoah National Park as the goal is to produce small batches of top-quality.
The winery was recently featured on ABC 7's 'Road Trippin' series and you can also stay overnight at the vineyard.
This is definitely one of the coolest wineries near Shenandoah National Park and a totally viable alternative to staying at a Shenandoah Airbnb.
View this post on Instagram
The wine selection at Chester Gap Cellars is diverse and rich. Two of the winery's most popular offerings are Petit Maneng and Vinter's Red, both of which have rich and refreshing tastes to suit every wine lover's taste buds.
The tasting cost at Chester Gap is $10 per person and the winery is open from Friday to Sunday from 11:00 AM to 6:00 PM.
DuCard Vineyards
Address: 40 Gibson Hollow Ln, Etlan, VA 22719
Website: https://ducardvineyards.com/
This amazing vineyard is just a few minutes' drive from Old Rag and Oak Canyon's parking lots. Both Old Rag and Oak Canyon are two popular hikes in Shenandoah National Park and a great thing to do before heading to DuCard to unwind!
DuCard Vineyards is located at the base of the Shenandoah Mountains giving it quite a peaceful ambiance amid the mountainside's rugged nature.
You can enjoy an evening wine tasting with your friends after a rigorous day hiking the mountains.
View this post on Instagram
Some of their most popular wines include the red Petite Verdot and Viognier. The winery is open daily but is less crowded during the week, so plan accordingly.
The prices are quite reasonable and the tasting price starts at just $10. DuCard has won several awards, including the Virginia Governor's Gold Medal Award for select wines and they are also the top-rated winery in Central VA according to Tripadvisor reviews.
Narmada Winery
Address: 43 Narmada Ln, Amissville, VA 20106
Website: https://narmadawinery.com/
Narmada Winery is one of the best wineries near Shenandoah National Park. The winery is just a few minutes drive from Shenandoah Park's Thornton Gap entrance, so if you feel the need to go on a hike and indulge a little afterward, Narmada Winery is the perfect place to keep in mind to do so!
View this post on Instagram
This exquisite winery is owned by a couple that immigrated from India to Virginia named Pandit and Sudha Patil. They have used their roots to provide diversity in their menu, from serving Indian dishes to adding distinctive spices to give their wines an exotic and unique taste.
Narmada offers a range of diverse wines from the popular and award-winning Mom to Yash-Vir. Tastings are every Friday at 6 pm. Narmada Winery offers a special tasting of 6 wines for $10 per person and 16 wines for $30 per person.
Wisteria Farm and Vineyard
Address: 1126 Marksville Rd, Stanley, VA 2285
Wisteria Farm and Vineyard has such beautiful scenery that naturally draws visitors in. Despite being a small winery on the western part of the Blue Ridge Mountains, its wines are all grown, harvested, and processed on the farm.
View this post on Instagram
There are picnic tables and chairs behind the vineyard that opens up to a spectacular view of the Shenandoah Valley. Tastings in the winery are quite affordable at $8 per person for eight wines.
See their Facebook page for more information.
Peaks of Otter Winery
Address: 1218 Elmos Rd, Bedford, VA 24523
Website: https://www.peaksofotterwinery.com/
With probably the most beautiful views in all of Shenandoah Valley, Peaks of Otter Winery also offers some of the best wine in the valley. It is located at the foot of the Peaks of Otter, hence its name. The Virginia winery also offers roughly thirty different wines made from the Winery's vineyard.
There is always a breathtaking view regardless of the season you visit in. While summer offers hiking trails and berries, fall offers apples and foliage.
View this post on Instagram
The peaceful ambiance of the vineyard combined with the mountain views provides a relaxing and rejuvenating experience. The winery was established way back in 1941 and has been a local Bedford favorite ever since!
Please note that Bedford is a bit further away from Shenandoah National Park, but if you're heading home somewhere south of the Virginia National Park, it is a great place to stop along the way!
CrossKeys Vineyards
Address: 6011 E Timber Ridge Rd, Mt Crawford, VA 22841
Website: https://crosskeysvineyards.com/
CrossKeys Vineyards is a family-owned vineyard and was started in 2001. Located in the Shenandoah Valley, tastings at the winery started in 2008.
There are several wines available at CrossKeys and they even offer lunch and dinner from 11:00 am to 6:00 pm from April to October. Some of the wines served at CrossKeys include a number of Virginia Governor's Cup Medalists.
View this post on Instagram
Though it is family-owned, it is well-maintained and continuously modified for better production. Currently going through an extension to produce about 15,000 cases per year, this winery offers more than just wine.
With its location, you get an all-around view of the mountains surrounding you, making the trip well worth it!
What are some of the best wineries near Shenandoah National Park, in your opinion?
There are so many fantastic ones to choose from that we definitely missed some of the great Shenandoah wineries! Please chime in down in the comments section! Thanks!
More Shenandoah National Park Travel Content