If someone asks what one of the most popular activities in Virginia is, I will repeatedly tell them it is kayaking.
This is a guide to the best places to go kayaking in Virginia Beach (and nearby).
Are you planning your trip to Virginia Beach last minute?
If you're traveling to VA Beach last minute, you want to ensure you have lodging and tours ahead of time! Below are some of our top picks in town!
Best Hotels in Virginia Beach (including oceanfront options!):
Top Tours in Virginia Beach:
Sunset Dolphin Kayak Tours (Top rated!)
Virginia Beach Indoor Skydiving (Popular tour!)
🚗 Looking for the best way to get around VA? Click here to check rental car rates for Virginia!
This guide is aimed at first-timers or people looking for accessible places.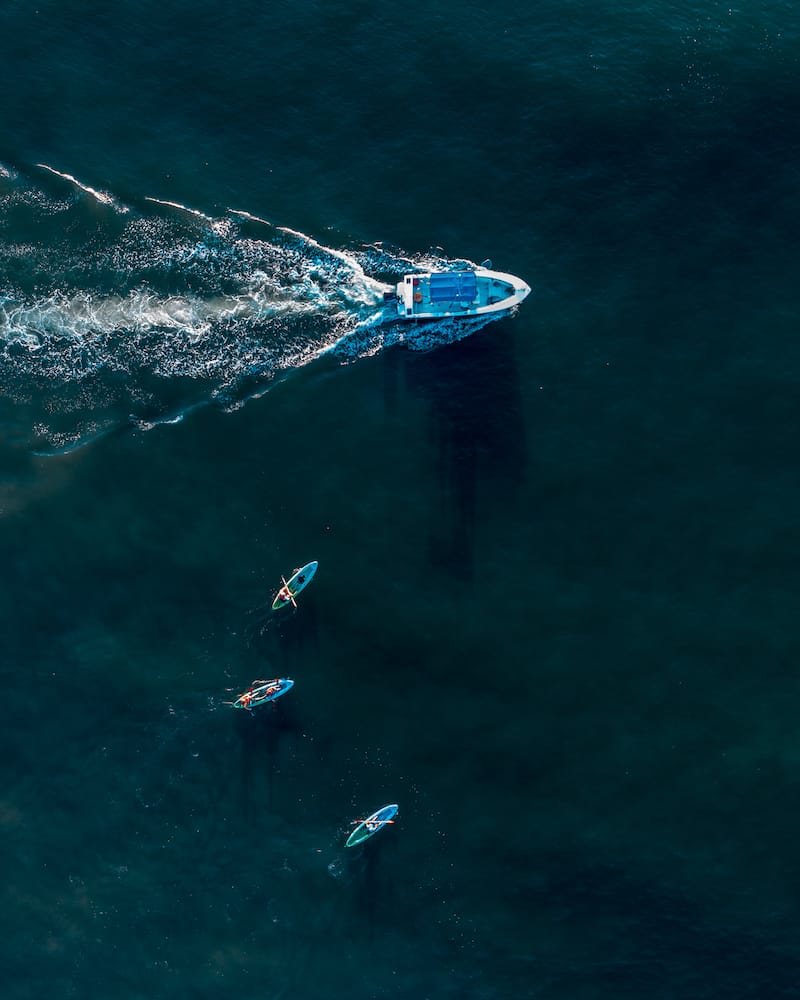 Virginia Beach and the Tidewater area has a lot of easy, flatwater kayaking on the salt marshes and it is the perfect place to enjoy the scenery
Did we miss and great Virginia Beach kayaking spots? Let us know in the comments! Thanks!
Places to Go Kayaking in Virginia Beach (and Nearby)
Back Bay National Wildlife Refuge
Located in Sandridge near Virginia's Outer Banks, Back Bay National Wildlife Refuge offers 8,000 acres of freshwater perfect for exploring the surrounding breathtaking wild nature through kayaking.
You'll launch at Horn Point freshwater creek; from there, you can kayak through freshwater swamps, tree tunnels, and brackish waters to South Muddy Creek, Cypress Alley, or Ashville Bridge Creek towards North Bay.
Make sure to take part in Blue Pete's Tour offered by Blue Pete's Surf and Adventure Company, which will guarantee your one-of-a-kind dinner experience in Blue Pete's restaurant, a well-known Pungo mainstay since 1972, for only $60.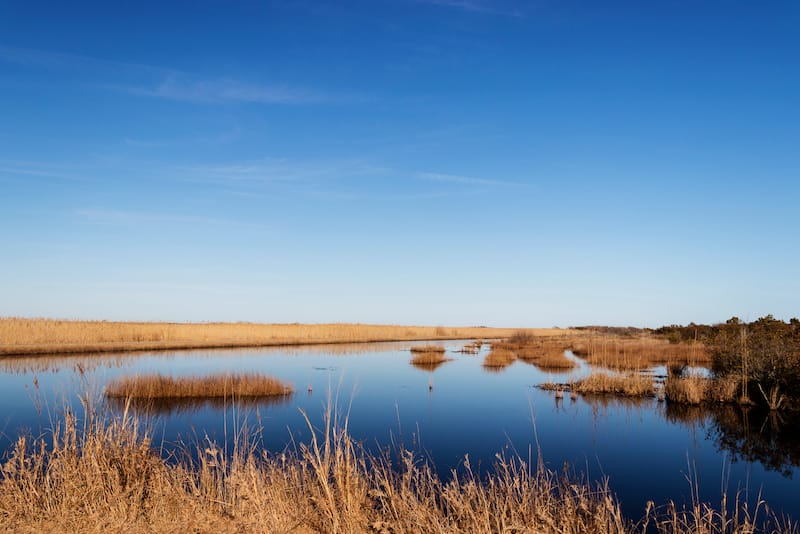 The tour will take you through rich flora and fauna to your final destination, where you will enjoy your dinner amidst a pristine setting. It really is the best way to spend a weekend in VA Beach!
Besides the dinner tour, S&A also provides kayaking gear and offers 2-hour Back Bay Eco guided tours for all skill levels for only $55 for adults and $25 for kids, plus kayak fishing and sunset tours.
Also, small boat launches are available in Back Bay NWR, and ocean tours from Little Island Parks await experienced kayakers.
If you're making a weekend out of this, be sure to enjoy some of the trails at Back Bay! The wildlife refuge is home to some of the best hiking spots in VB!
Lynnhaven River
Paddling on the Lynnhaven River, a gorgeous natural area that runs throughout the Tidewater region, not only allows you to enjoy the serene waters but also provides an unmatched educational experience for all ages.
Offering nearly 150 miles of shoreline, the Lynnhaven River is home to the world's second-largest oyster reef restoration program and fully encourages general environmental exploration.
While there, you will get a chance to learn about the watershed's historical, ecological, and cultural significance, as well as witness a few historical landmarks. Go deeper along the river, and you will witness the luxurious side of Virginia Beach.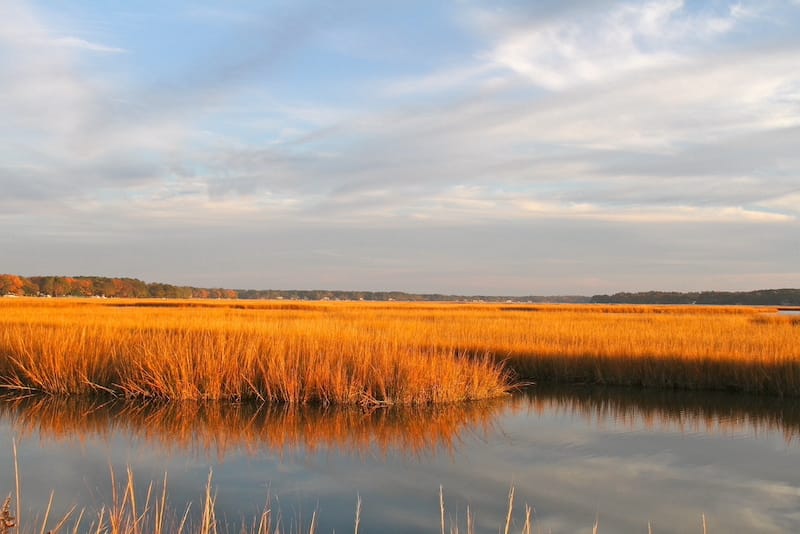 Take your binoculars with you when kayaking on the Lynnhaven River in order to spot unique wildlife at every corner but be careful since wind and tides can change the depth of water dramatically.
The river offers the best conditions for kayaking, fishing, crabbing, boating, ecotourism, and other educational activities and observations.
Check out the Lynnhaven Inlet or Crab Creek Boat Ramp, which offers three boat ramps and one small watercraft ramp ranging from $6 to $12 and grants you access to the Chesapeake Bay and the Atlantic Ocean.
Broad Bay / Linkhorn Bay / The Narrows
Bordering First Landing State Park, the Narrows, as locals call it, is a constricted waterway that connects Broad Bay and Linkhorn Bay.
It has low traffic and features calm waters, making it the perfect location for kayakers of all ages and abilities. While kayaking on the Broad Bay, you will undoubtedly feel like traveling back in time due to the undisturbed wildlife around you.
Every season brings a unique character to Broad Bay, so no matter when you go kayaking there, you will indeed witness something exceptional and memorable!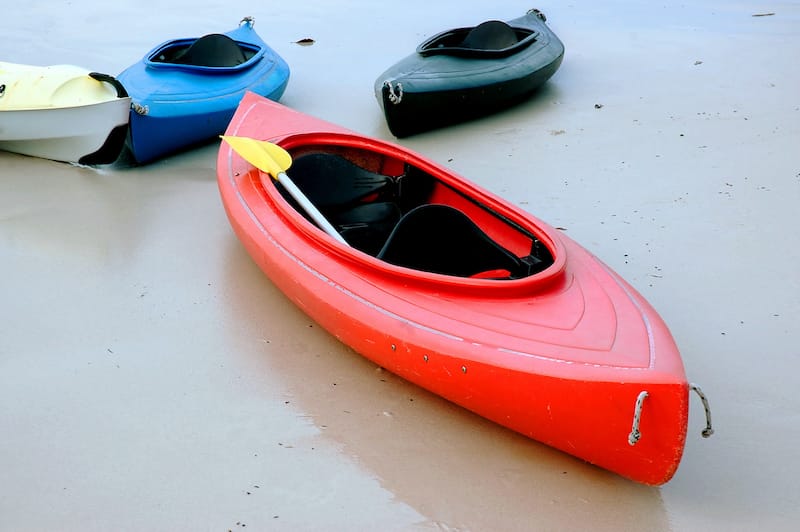 Chesapean Outdoors provides guided kayaking tours for small groups to take in the mesmerizing sunset views, while Gokayak! offers guided tours for admiring natural wonders and getting up close and personal with marine life, especially dolphins.
If you decide not to take tours, you will need to launch from Birdneck Launch, which will grant you access to all the natural wonders that Linkhorn Bay has to offer.
Paradise Creek Nature Park
Paradise Creek Nature Park is a true heaven on Earth, which was restored and brought back to life thanks to the Elizabeth River Project.
It was once heavily polluted and didn't support wildlife at all, but now it not only serves as a substantial part of the ecosystem growth but also offers 11 acres of wetlands to explore by kayaking or canoeing.
Paddle through restored marshes, native grasses and get ready to spot herons, osprey, egrets, red wing blackbirds, and even otters along the way.
Get in the serene waters of Paradise Creek or the Elizabeth River while being surrounded by lush greenery and nature sounds, and experience the sincerest connection with nature.
Guided tours are organized for those 16 and over individuals who want to paddle Virginia's largest restored wetlands, which cost $10 for Elizabeth River Project members and $20 for non-members.
West Neck Creek
Eager to paddle among wetlands and spot plenty of wildlife along the way? If so, then you have found your spot!
The gorgeous West Neck Creek near Virginia Beach offers almost 4 miles of out and back creek trail to North Landing River to explore the natural waterways through kayaking, canoeing, and other water-based activities.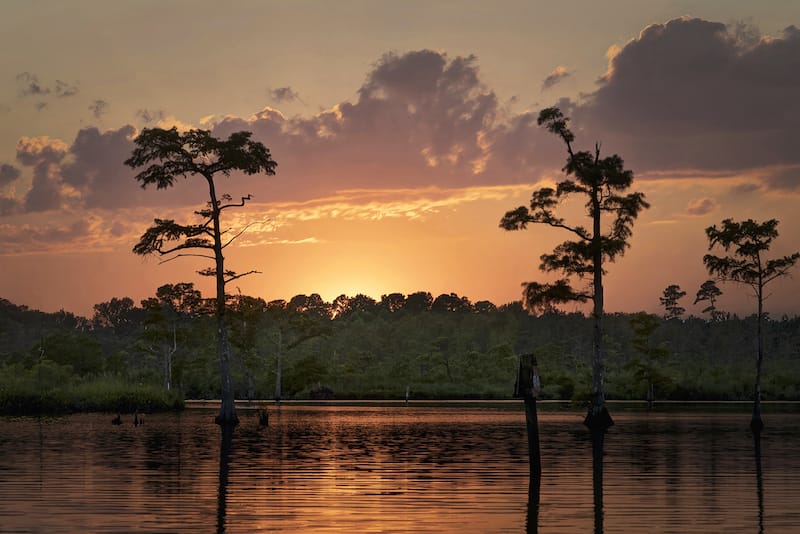 The best spot to launch your kayaks is West Neck Marina; park your car in the nearby car park and head straight into the creek. Prepare to admire the unique scenery of partially submerged trees along the way and enjoy surrounding wildlife, such as orioles, eagles, nutria, otters, osprey, deer, fish, and many others.
The picturesque creek is suitable for everyone, regardless of their skill level.
If you didn't tote along your kayaking gear or need a guided tour, the family-owned Adventure Kayak Tours company has your back with its kayaking tours and rentals.
Atlantic Ocean
More experienced kayakers will certainly enjoy riding the waves of the Atlantic! Your launch point will be either the Rudee Inlet Marina or Little Island Park in Sandbridge, from where you will make your way to the Atlantic Ocean.
Kayak Nature Tours is nestled on the northern edge of the Virginia Beach Oceanfront, offering guided tours towards the Chesapeake Bay, where you will take in the breathtaking scenery while swimming with dolphins.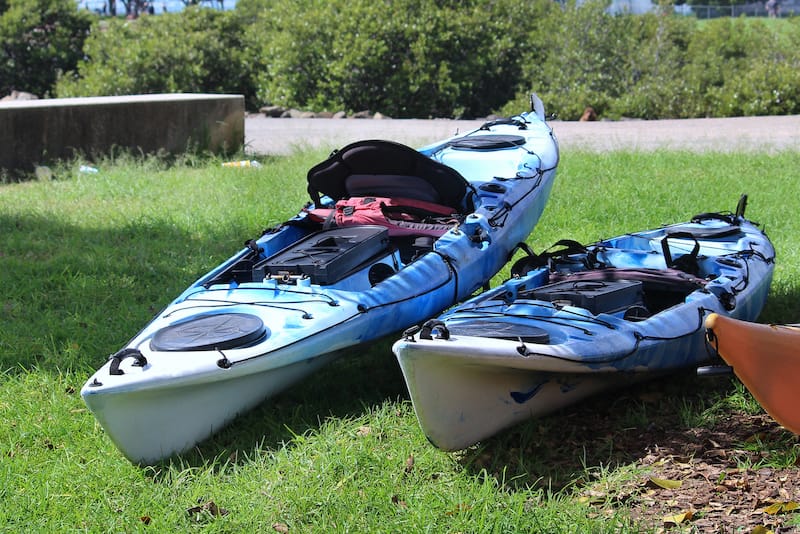 Tours are family-friendly and range from dolphin tours to all-day trips from $62-$120/person. Rent the needed kayaking gear at Rudee Inlet Parasail & Water Sports and explore the Atlantic Coast at its finest.
Fishing enthusiasts can top-off their gear at Ocean Rentals, paddle through Hutton Circle, Dozier Bridge, Owl Creek Boat Ramp, and Birdneck Launch, and bet on catching a real treasure in the waters of the Atlantic, such as bluefish, stripers, or tautog.
Rudee Inlet
Enjoy the serene waters of Virginia Beach with your loved ones while paddling in Rudee Inlet, located on the Atlantic. The Inlet is also accessible via the Owl Creek Boat Ramp on General Booth Boulevard.
Those who are new to kayaking and have no experience should start at Lake Rudee since it has calmer waters and is ideal not only for beginners but also for people of all ages and abilities.
Water junkies can rent their favorite gear in Rudee Inlet Stand Up Paddle Board and Rudee Inlet Jet Ski and head out exploring the scenic sights of Rudee Inlet.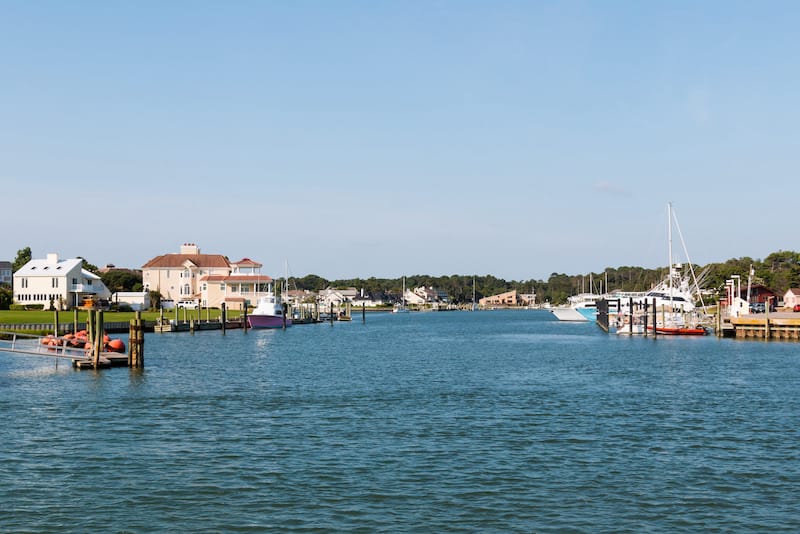 It is the perfect place to spend a whole day in the water kayaking, banana boating, jet skiing, stand-up paddleboarding, or just boating around to enjoy the mesmerizing views of the Virginia Beach Oceanfront along the way.
Kayak fishing is another popular activity in Rudee Inlet which welcomes fishers of all skill levels. There are many amazing things to do in VA Beach, and a lot of them are located at Rudee Inlet!
Chesapeake Bay
The Chesapeake Bay features comparatively calmer waters, thus offering the perfect conditions for kayakers of all skill levels. Kayaking in the Chesapeake Bay will guarantee amazing memories, especially when you hit the water during mesmerizing sunset hours.
Besides seeing historical landmarks such as the Cape Henry Lighthouse along the way, you will also admire Atlantic Bottlenose dolphins accompanying you while kayaking.
Your launch point will be either boat ramps or Chic's Beach, Bogles Wharf, First Landing State Park, from where you will head to the Bay exploring the rich marine life.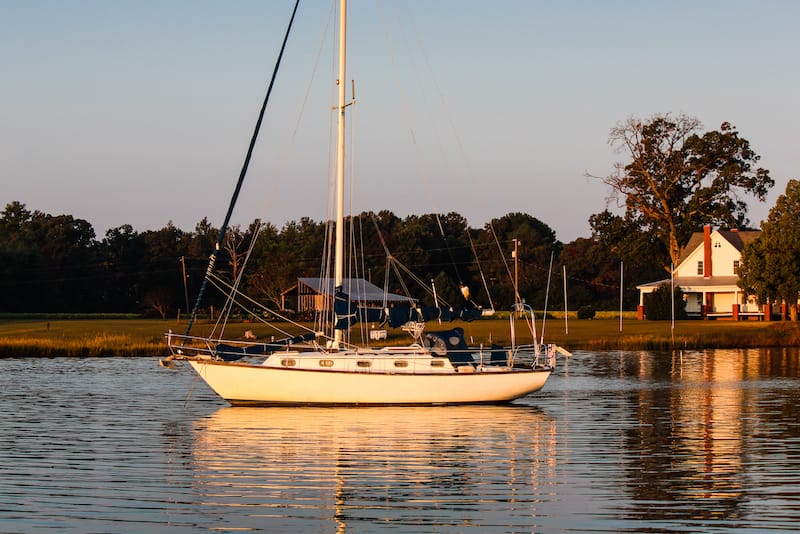 If you are keen to explore the waters even further away, then make sure to paddle to Chesapeake Bay Bridge Tunnel for some sightseeing or take a rest while discovering Ingleside, a stunning mansion dating back to the 18th-century.
Fair-weather conditions make the Chesapeake Bay a real paradise for both experienced and beginner kayakers, and the calm waters of the Bay also give way to kayak fishing opportunities.
Tula Adventure Sports and Chester River Kayak Adventures in Rock Hall, MD are there to offer guided tours to kayak with dolphins and take in the breathtaking scenery of natural surroundings.
First Landing State Park
Plan your next kayaking trip to the historically significant location, First Landing State Park, nestled between the Chesapeake Bay and the Atlantic, to paddle through serene waters and explore the abundant birdlife and other marine species, such as kingfishers, ospreys, blue herons, bald eagles, egrets, cow nose rays, or dolphins.
Feel free to bring your own kayak or rent a solo or tandem one from First Landing State Park, which can be rented for about 1-4 hours.
Your launch point will be Broad Bay (noted above), and you will paddle along a 3-mile route towards Linkhorn Bay. Kayak Nature Tours and Chesapean Outdoors offer guided tours for groups of up to 4 people for $55/person to paddle through a unique tidal area, take a hike through the forest to explore natural surroundings, and get back to the shoreline to see oyster beds.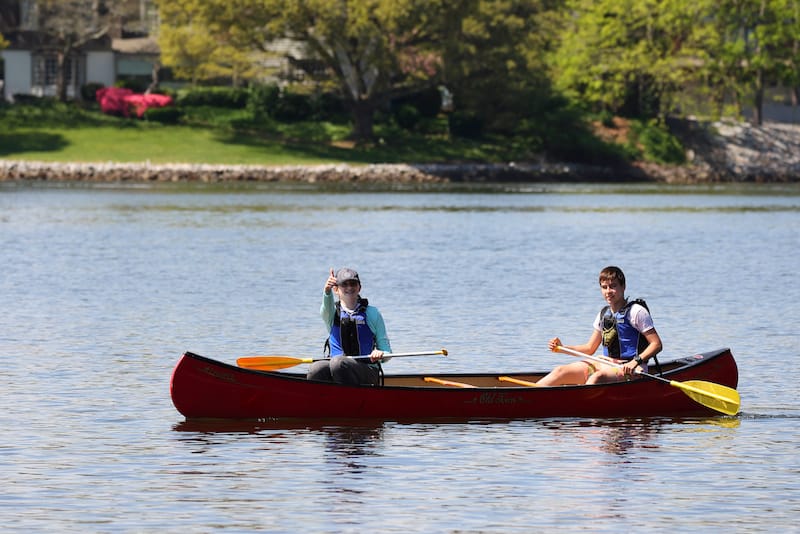 If the tides are not too high, you can paddle to White Hill Lake, where you will witness an ancient dead forest that surrounds the lake.
You can also rest on one of the beaches, take a swim and get back to paddling to your launching point. Boat trips to the Atlantic for $4 are also available through Broad Bay, Lynnhaven Bay, and the Chesapeake.
In addition, First Landing State Park is a fantastic day trip from Virginia Beach even though it is located in the city! You can spend your night camping there if you want a true getaway!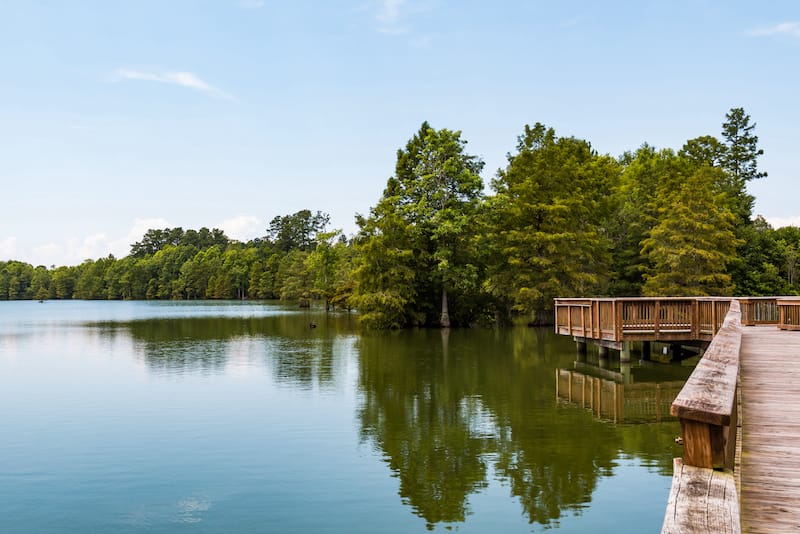 Where are your favorite places for kayaking in Virginia Beach? Let us know your top VA Beach kayaking spots in the comments! Thanks!
Pin this Virginia Beach Kayaking Guide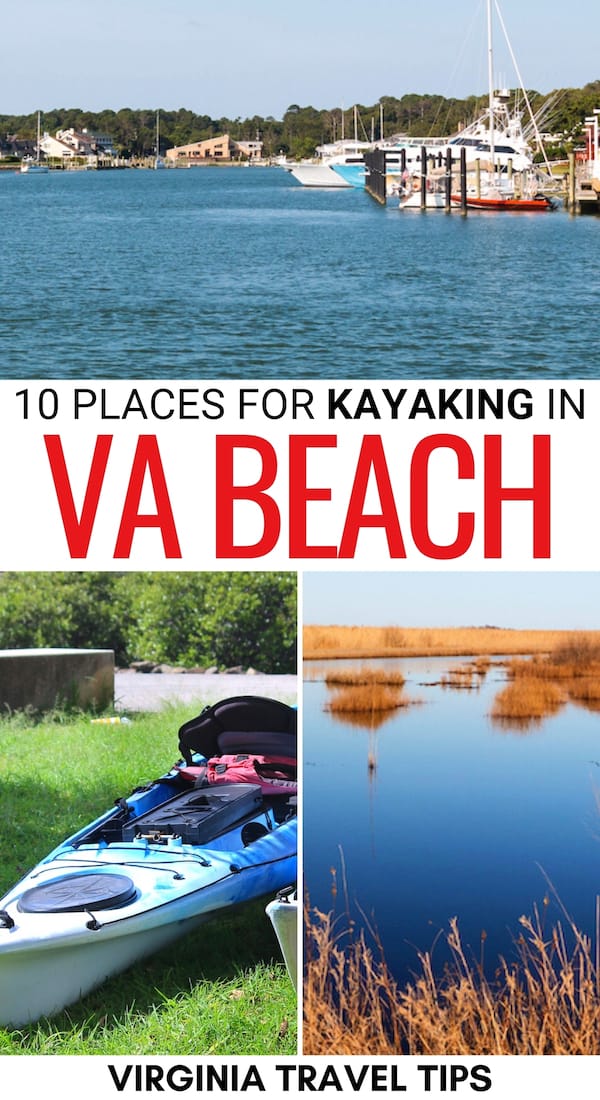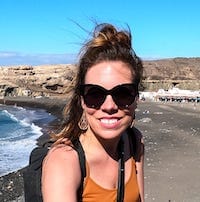 Megan is a travel blogger and writer with a background in digital marketing. Originally from Richmond, VA, she has lived all around the world (including Germany, Finland, Norway, etc) but her heart always finds its way back to Virginia. This blog is to help encourage travelers to explore the great state of VA… and its wonderful neighbors! Megan has written for or been featured by National Geographic, Forbes, Lonely Planet, Fodor's Travel, the New York Times, and more. She has visited 45 US states and 100+ countries… and wholeheartedly believes that Brunswick Stew is probably the greatest food to ever exist.