If you're on the hunt for the perfect intimate escape with your loved one, look no further than Virginia! These are the most romantic getaways in Virginia.
With its rolling mountains and beach-front resorts, Virginia has everything you need to escape from your daily life and enjoy some special time together.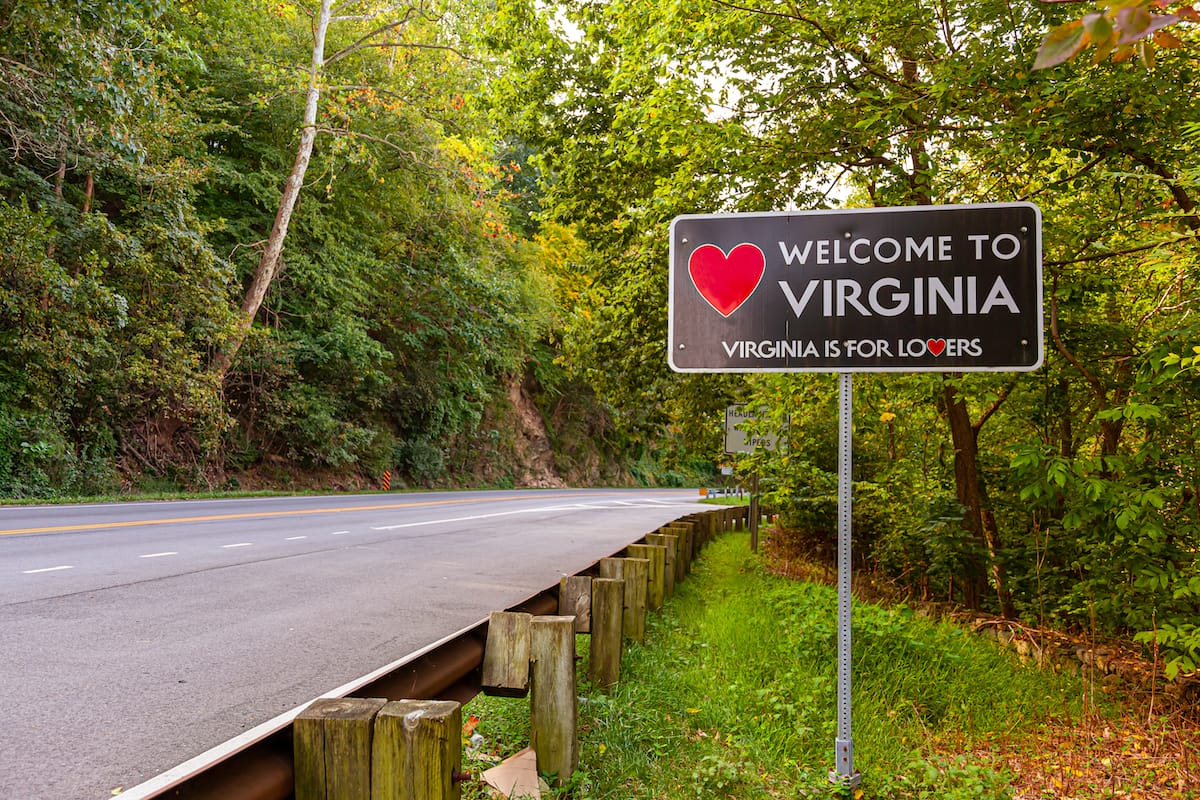 In this article, we've compiled a list of all the different towns and resorts you shouldn't miss during a romantic trip to Virginia. I mean… Virginia really is for Lovers!
No matter what your interests are, you're sure to find something that will spark your romance once again this Valentine's Day or for your next anniversary. If we missed your favorite romantic spot, be sure to let us know in the comments!
Most Romantic Getaways in Virginia
1. Cape Charles
Head to the Chesapeake Bay Bridge, an 18-mile bridge-tunnel complex known as one of the world's engineering wonders.
The tunnel allows vehicles to cross under or over the water between Southeastern Virginia and the Delmarva Peninsula all the way to beautiful Cape Charles, one of my favorite small towns in Virginia.
Couples can enjoy the Scenic Overlook, where they'll admire the breathtaking views of the Bay.
Kiptopeke State Park provides recreational access to the Chesapeake Bay as well as the opportunity to explore a unique coastal habitat that serves as a significant migratory bird flyway.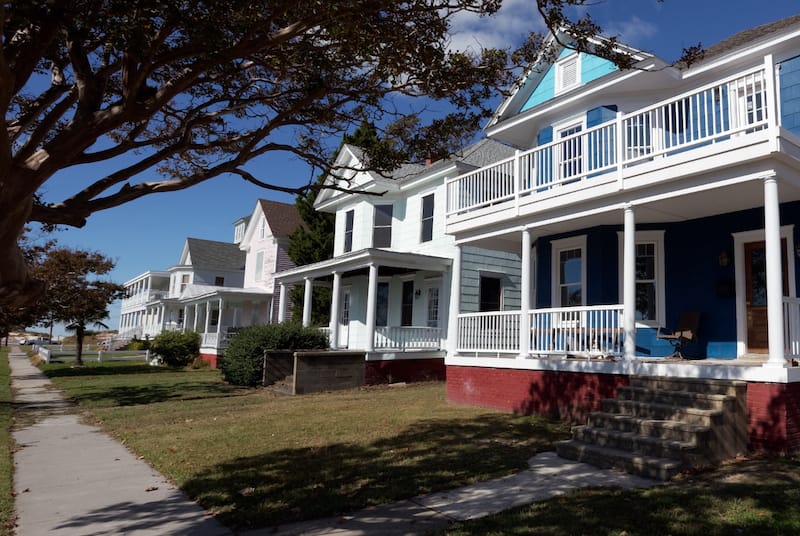 The Charles City park also offers lodges and cabins. The beach is also perfect to go for a hike and explore Kiptopeke's dune formations. Couples can also bike along the park.
Eastern Shore Boat Tours is another ideal activity for couples. Explore the Virginia Eastern Shore on a private boat tour such as a Virginia Barrier, Islands Explorer Ecotour, and Seaside Sunrise Cruise.
Adventure lovers can enjoy a day in Poseidon Watersports, where there are jet skies and tours. They also offer kayak, paddling board, and bike rentals to experience the Chesapeake Bay waters with your loved one.
Gull Hummock is a great place to enjoy the rest of your day. It offers fine wines, cheeses, craft beer, artisan bread, chocolates, and delectable food.
2. Lansdowne Resort and Spa
Location: Leesburg
BOOK HERE
Lansdowne Resort and Spa offers a variety of on-site activities for couples. For some memorable times, couples can enjoy tennis or a basketball session.
They offer a Troon golf course with 45 holes along the rolling landscape and the Potomac River.
After a day full of activities, join the Spa Minérale for a romantic retreat. The spa has 14 treatment rooms, of which two are perfectly designed for couples.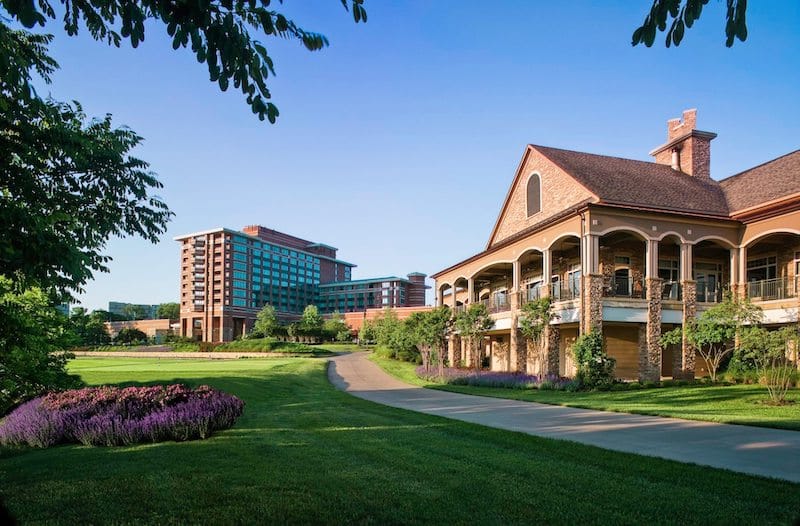 They offer relaxation lounges with infused water stations and herbal tea offerings, as well as steam rooms, dry saunas, and whirlpools.
Have a romantic dinner at Piedmont's overlooking the Greg Norman Golf course and the Potomac River. They offer modern American cuisine and the ideal atmosphere with a stone fireplace and a sun-dappled terrace.
If you want to enjoy some drinks, head to Piedmont's Pub and enjoy locally distilled spirits, craft brews, and wines.
>> Click here for rates and availability
3. Lexington
Head to the Fox Hill Bed & Breakfast Suites, where you can enjoy a suite in this 38-acres of paradise.
You can enjoy the day with your loved one in front of a glowing fireplace or take a romantic stroll on the country roads and paths while enjoying scenic views.
The B&B offers Valentine's treats such as couples massages, chocolates, and flowers.
If you and your date are history buffs and will enjoy exploring the town more, head to the Lexington Carriage Company, where you'll discover the rich history of Lexington.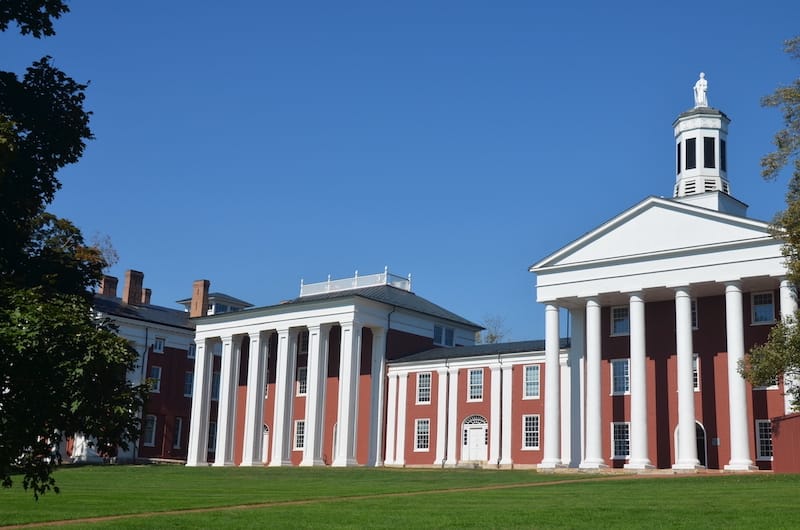 The carriages drive through Lexington's unique historic residential and business areas at the pace and rhythm of hoofbeats, with experienced tour guides pointing out points of interest along the way.
If you want to enjoy a scenic view with your date, head to the Natural Bridge. It rises 215 feet and spans a stream-carved valley.
For a relaxing time with your significant other, stroll the leafy Cedar Creek Trail, which rolls beneath the arch and leads to a 20ft high waterfall.
Climb the summit of Humpback Rocks with your lover to greet the sunrise or enjoy the sunset. Another place for lovely sun views is the Beaver Creek Reservoir.
The little lake is a hidden gem with incredible Blue Rise views and kayaking/canoeing opportunities.
4. The Tides Inn
Location: West Irvington
BOOK HERE
The Tides Inn is the ideal place For romantic getaways. The newly renovated guest rooms with picture windows and magnificent views are excellent for couples.
The Spa at the Tides Inn is a serene and intimate setting that provides a variety of therapeutic, calming, and revitalizing treatments for couples. They offer massages, body treatments, and skincare sessions.
Enjoy fresh, locally sourced foods with your loved one for breakfast, lunch, or dinner in Chesapeake Restaurant & Terrace, where you can also enjoy the scenic views.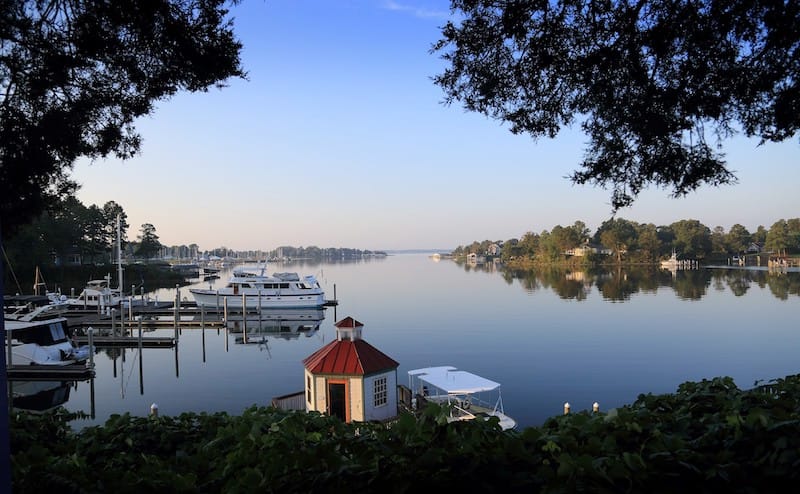 Couples can also enjoy some golfing around a 50-acre lake. The Golden Eagle Golf Course includes a driving range, clubhouse, and thrilling elevation variations, and well-placed bunkers for golfers of all ability levels.
Take a romantic stroll and enjoy Virginia's winery tours. Chesapeake Bay Wine Trail features warm hospitality and tastings along the way.
A private culinary class would be a great activity to do with your lover. An interactive space for hands-on learning where you'll learn cookie decorating, pasta making, oyster shucking, and more.
>> Click here for rates and availability
5. Martha Washington Inn & Spa
Location: Abingdon
BOOK HERE
If you're looking to combine history with luxury lodging – look no further than the Martha Washington Inn & Spa in Southwest VA's gorgeous Abingdon.
This beautiful historic hotel dates back to 1832 when it was a private residence for General Francis Preston and Sarah Buchanan Preston (along with their large family of 9 kids)!
The elaborate, yet inviting decor will take you back in time and pieces like the Dutch-baroque grandfather clock will transport you into another world!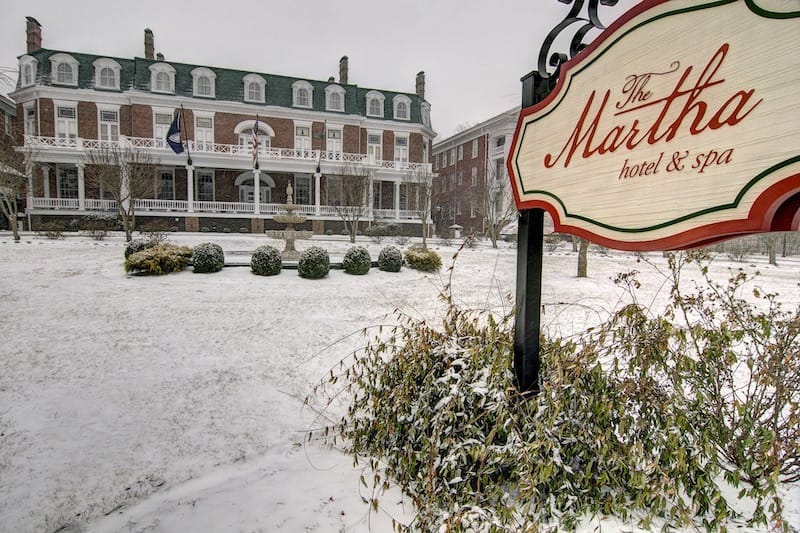 This is a fantastic romantic getaway in Virginia for those looking to get deep into history while exploring Abingdon, one of my favorite cities in Virginia!
If you're in Virginia for Valentine's Day and looking for a retreat somewhere with your loved one, the Inn offers couples packages that include massages and more.
You can follow a relaxing day in their spa with a tasty dinner of duck breast with a Bordeaux cherry reduction at their in-house restaurant, Sisters American Grill.
>> Click here for rates and availability
6. Loudoun County
If you and your date enjoy adrenaline rushes, head to the Autobahn Indoor Speedway in gorgeous Loudoun County. It's a 40,000 square European-style indoor go-karting facility that will get your heart racing.
Make your way to Chase Run Stables to enjoy a romantic horse riding experience. You and your date can lease horses for a "Trail Ride" on the scenic W&OD Trail.
For a romantic and unforgettable date experience, why not head out on a Virginia wine tour with DCAcar? Their luxury vehicles and professional drivers will ensure that your date is nothing short of extraordinary with DCAcar.
Since Loudoun County is home to some of the most beautiful wineries in the area, a personal chauffeur will take you on a scenic journey to some of the best ones!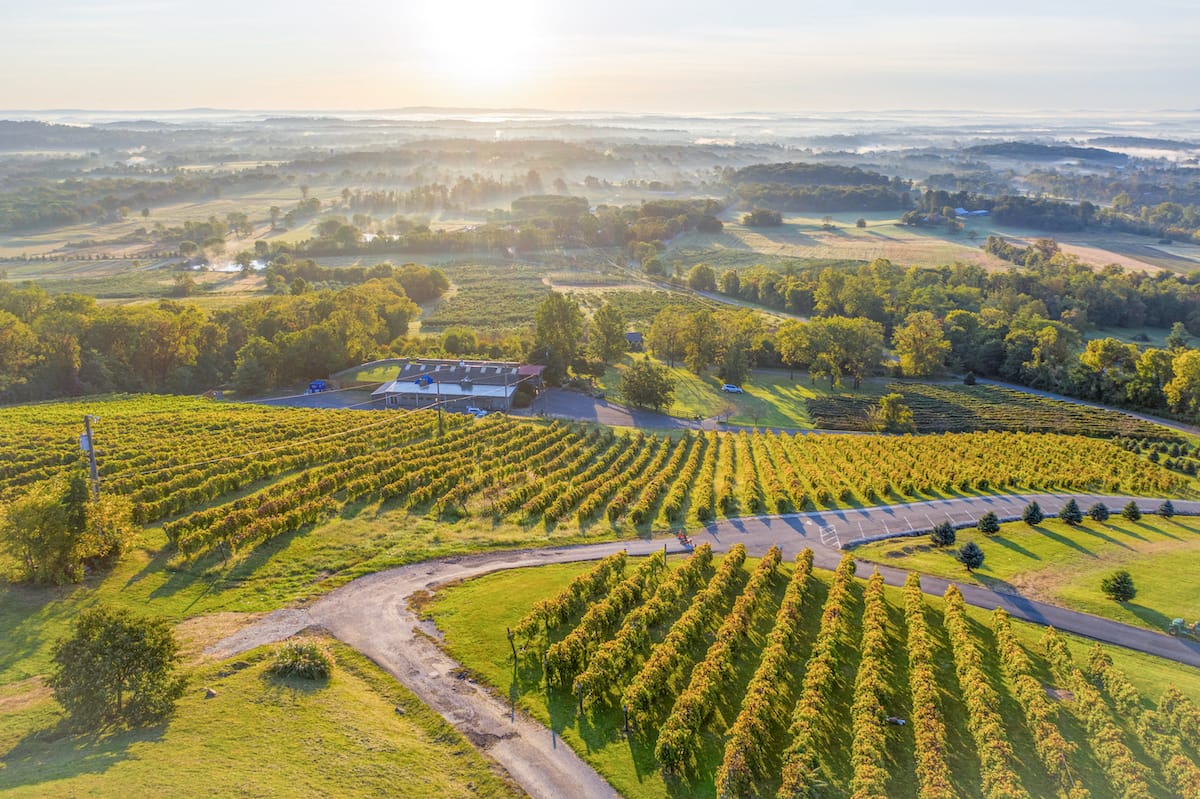 If you want to splurge with your significant other, head to Patowmack Farm. On a clear night, you may view 1,000 stars from this glass conservatory overlooking the Potomac River.
It is a fine-dining restaurant offering everything from mushrooms to beets, beef as well as catfish. The natural landscape of the farm creates the perfect romantic atmosphere.
7. Staunton
Take a scenic drive to Barren Ridge Vineyards, where you can have a romantic picnic and some local wine. You can sit on the patio and admire the sunset.
Ox-Eye is another vineyard that features a diverse collection of red and white wines that you can sample with your date.
Hold hands and take a stroll at the Staunton Farmers' Market. Delight your loved one with a seasonal bouquet, stock up on munchies for later, or simply relax and enjoy Staunton's friendly atmosphere.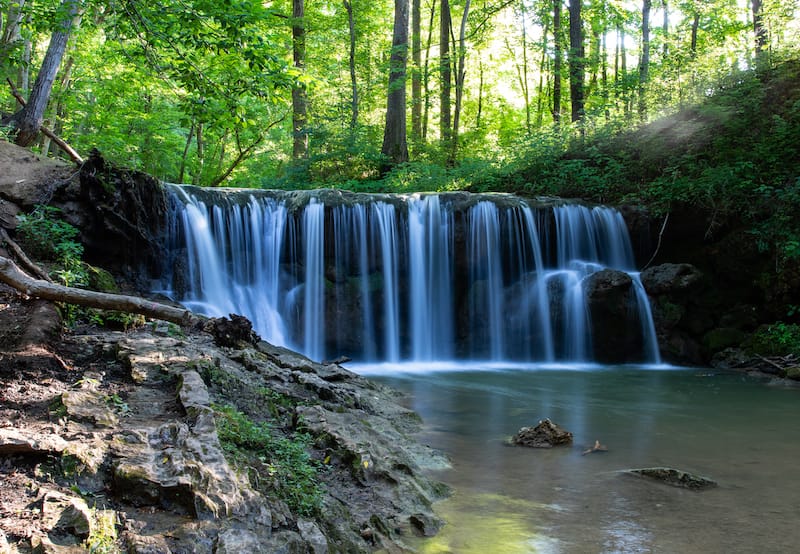 For a pleasant movie-like restaurant atmosphere, head to Emilio's Italian Restaurant, which serves classic and fresh meals that combine the mouth-watering Italian recipes and freshness of local ingredients.
Another place for a nice dinner would be the Mill Street Grill. It is a cozy restaurant that offers a wide variety of delectable food.
If you and your date are Shakespeare fans, don't miss a visit to the American Shakespeare Center. It is the reconstruction of the original Shakespeare theatre and offers top performing arts venues.
Seeing a performance at the American Shakespeare Center's Blackfriar Playhouse is the ideal way to organize a romantic weekend with your sweetheart.
8. Salamander Resort and Spa
Location: Middleburg
BOOK HERE
Salamander Resort & Spa is a 340 acres five-star destination resort with plenty to offer.
One of the things they offer is a luxurious spa experience.
Arrive early with your significant other and enjoy an aroma-infused steam room, experiential showers, heated loungers, and whirlpool. Couples can also enjoy themselves in the relaxation lounge and outdoor hot tub.
Have a romantic dinner in the resort's signature restaurant, Harrimans Virginia Piedmont Grill.
They offer a romantic atmosphere with the help of the fire pits and scenic views of the rolling greens.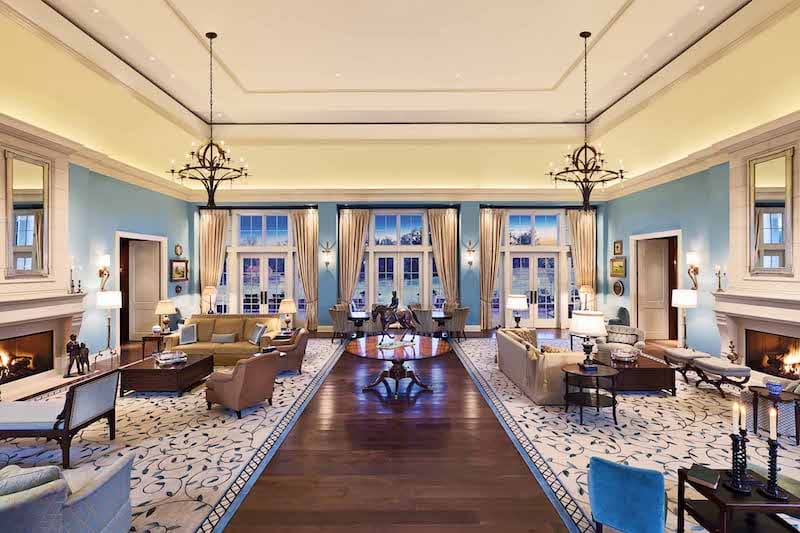 They offer mouthwatering meals and cocktails for some fun times. You can also enjoy diverse wine choices with your loved ones. Middleburg sky is full of stars.
After having your meal, head outside and enjoy stargazing. Salamander provides Celestron Sky Scouts telescopes and stargazing experiences.
Adventurous couples can also enjoy the zip line tours offered by the resort. You can fly over 20 acres of trees and countryside offered by the five zip lines.
>> Click here for rates and availability
9. Tangier Island
If you and your significant other love getting lost in history, then visit the Tangier Island History Museum. The museum displays historical artifacts and offers an excellent overview of the island and its life.
Tangier Island, particularly for soft-shell crabs, is one of the best spots on the Chesapeake Bay for fresh, local seafood. So head to the Chesapeake House to enjoy some locally made seafood dishes with your date.
One of the prettiest places to visit with your loved ones is Tangier Island Beach. Its white sand and clear blue water are ideal places to take a romantic stroll and marvel at sunset.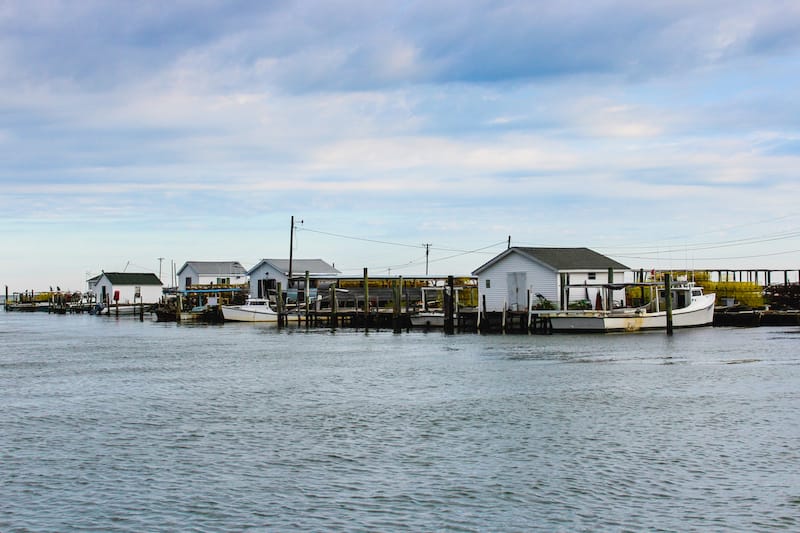 Unlike other beaches, Tangier is incredibly remote and unknown, which will be perfect for a relaxing date. To get to the beach, you need to take a ferry, after which you can rent a bike or get a golf-cart taxi to explore the beautiful town.
Spend your days in Brigadune Inn that will take you back to a time when life was simpler.
Take a stroll with your loved one on the nearly deserted beach, which is only minutes away from the Inn, and watch the sunset over the water.
10. Williamsburg Inn – A Colonial Williamsburg Hotel
Location: Williamsburg
BOOK HERE
From November 1 until February 28, Williamsburg Inn – A Colonial Williamsburg Hotel offers a romantic getaway for two with a special package.
The couple's getaway package, includes two-night accommodations at Colonial Williamsburg Resorts, Up to 2 lengths of stay admission tickets, breakfast for two, and a carriage ride ticket for two in the historic area.
As a welcoming amenity, the hotel provides a bottle of champagne, chocolate-dipped strawberries, chocolate truffles, and seasonal macarons.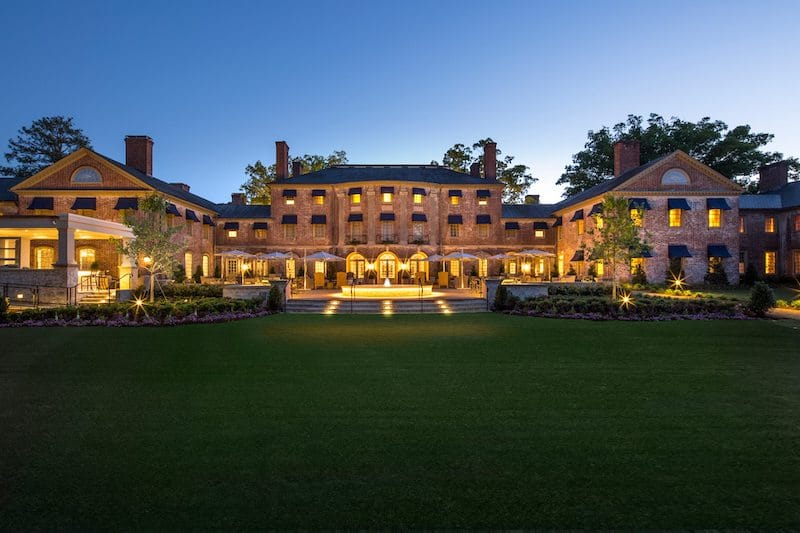 There are plenty of dining places to choose from in Colonial Williamsburg. Head to the King's Arms Tavern, where you'll go back in time to the 1700s and dine under the pewter candlesticks.
To satisfy your sweet tooth, head to the Raleigh Tavern Bakery. Grab a root beer or a cup of cider and enjoy your date under the smell of homemade cookies, muffins, and baked goods.
The Colonial Williamsburg Resorts, located in the center of old Williamsburg, offers outstanding spa vacations for couples, including the only Forbes Four-Star spa in Williamsburg, all set in a peaceful romantic backdrop of Colonial Williamsburg.
>> Click here for rates and availability
11. Charlottesville
One of the best places to visit for a romantic Virginia getaway is beautiful Charlottesville. There are plenty of things to do that make this small city a worthwhile escape!
Root 29 Craft Kitchen & Bar is the perfect place to take your date to dine together in a quality restaurant. Root 29 Craft Kitchen & Bar offers everything from carefully crafted dishes to mouthwatering burgers and sandwiches.
They also provide regional wines, signature cocktails, craft beer, and an extensive choice of bourbon.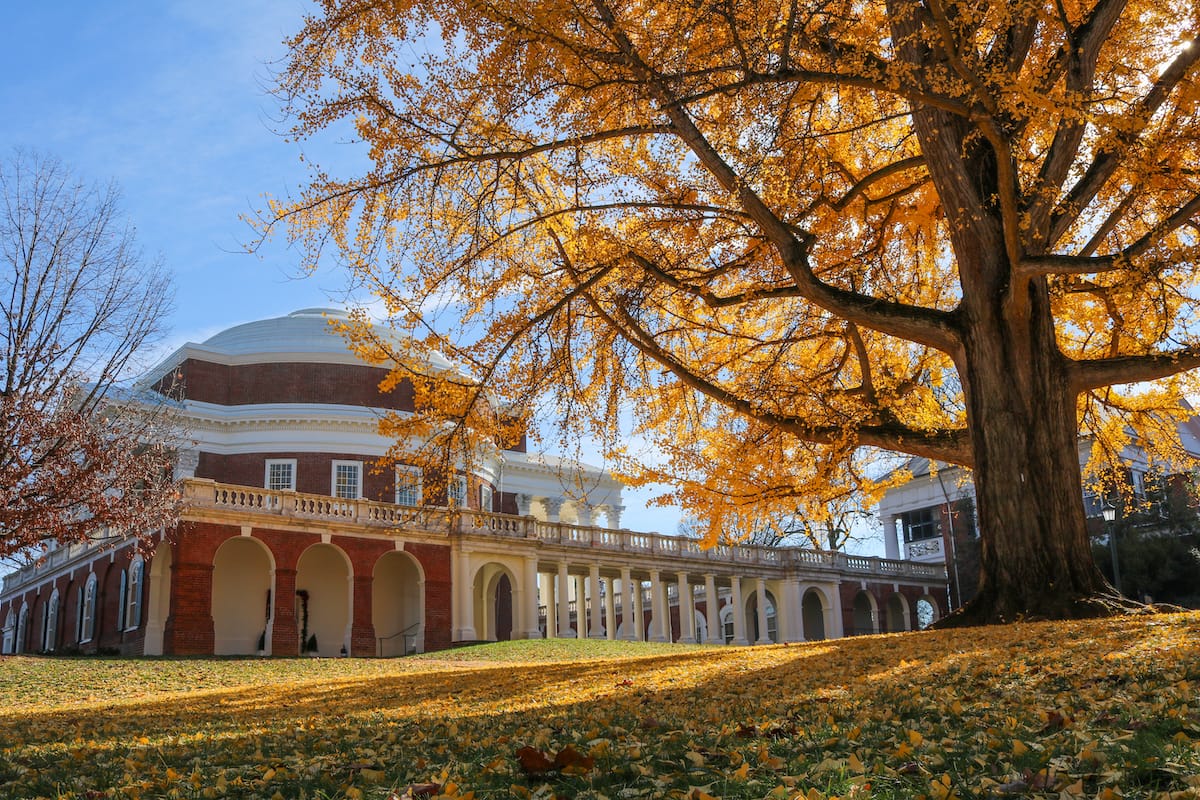 Nature-loving couples can enjoy a romantic hike at the Ivy Creek Natural Area. 119 acres will be waiting for you to explore, which are full of woodlands, open fields, and streams.
Glass Palette is a unique place to go to with your loved one. Enjoy some couple activities and create memories by registering for classes or workshops or simply creating glass objects together.
A fun way to spend your getaway will be picking fruits at Carter Mountain Orchard. They provide a beautiful setting to choose your own fruit. They also offer breathtaking views of Charlottesville, Piedmont, and the Blue Ridge mountains.
Take a romantic hike to the woods in Saunders-Monticello Trail. The trail offers gravel paths and wooden bridges where you can enjoy the views and a great conversation in.
Enjoy delicate wines in one of the highest awarded Virginia wineries, Jefferson Vineyards. Drink some wine and enjoy some views with your date.
12. The Historic Powhatan Resort
Location: Williamsburg
BOOK HERE
If you and your significant other show a love for history, then The Historic Powhatan Resort would be the perfect getaway location. The 256 acres of rolling woodland hills offer a manor house that seizes the spirit of Colonial surroundings.
You and your partner can explore Colonial Williamsbug and the historical landmarks that the area provides. You'll also have the ability to learn about the past through the ancestral homes of Indigenous American Indian tribes.
Couples can also play tennis or mini-golf and there is an outdoor and indoor pool available to make some fun memories.
Wrap up your day in The Powhatan Bar & Grille, where you'll enjoy mouth-watering meals made with the finest ingredients. You can dine in a romantic ambiance surrounded by magnificent colonial history with the restored Manor House and postcard vistas.
>> Click here for rates and availability
13. Primland Resort
Location: Meadows of Dan
BOOK HERE
Primland Resort is a 12,000-acre mountain estate surrounded by forest-cloaked peaks and sun-dappled valleys. They offer upper floors Lodge where there is a fine-dining restaurant, serene spa, and observatory tower.
Or you can choose a suite in Pinnacle or Fairway Cottages. However, the most romantic space on the property is the three designer Treehouses, situated on the lip of the Dan River Gorge.
From their king-size bedrooms, luxurious bathrooms, and gorgeous wooden patios, treehouses provide panoramic views of the majestic Kibler Valley.
Each offers unequaled privacy for only two guests in the actual embrace of one or more gigantic trees and is just a short drive from the Lodge.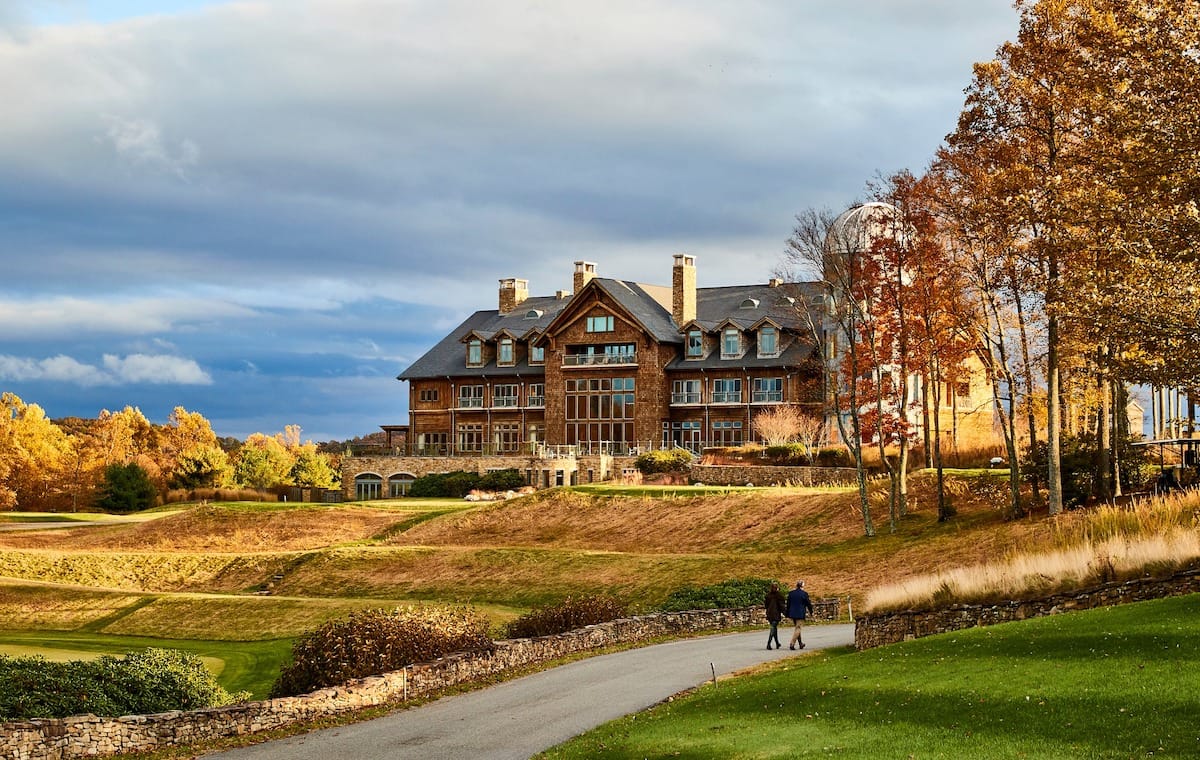 Enjoy a luxurious dining experience at the Elements, where you'll enjoy the scenic views of the mountains and mouth-watering meals. At night the fireplace glows, setting the ideal atmosphere.
Enjoy a scenic hike with your date on Primland Resort's private trails that lead hikers to the most scenic spots full of an abundance of flora and fauna along the way.
Sip some of the best regional wines and put brush to canvases with your loved one. The resort offers painting classes where you'll learn about techniques and painting tricks. It's a great activity for couples who want to be creative together.
>> Click here for rates and availability
Did we miss any of the best romantic getaways in Virginia? Let us know your top romantic places in VA in the comments! Thanks!
More Virginia Travel Guides
Pin this Romantic Places in Virginia Guide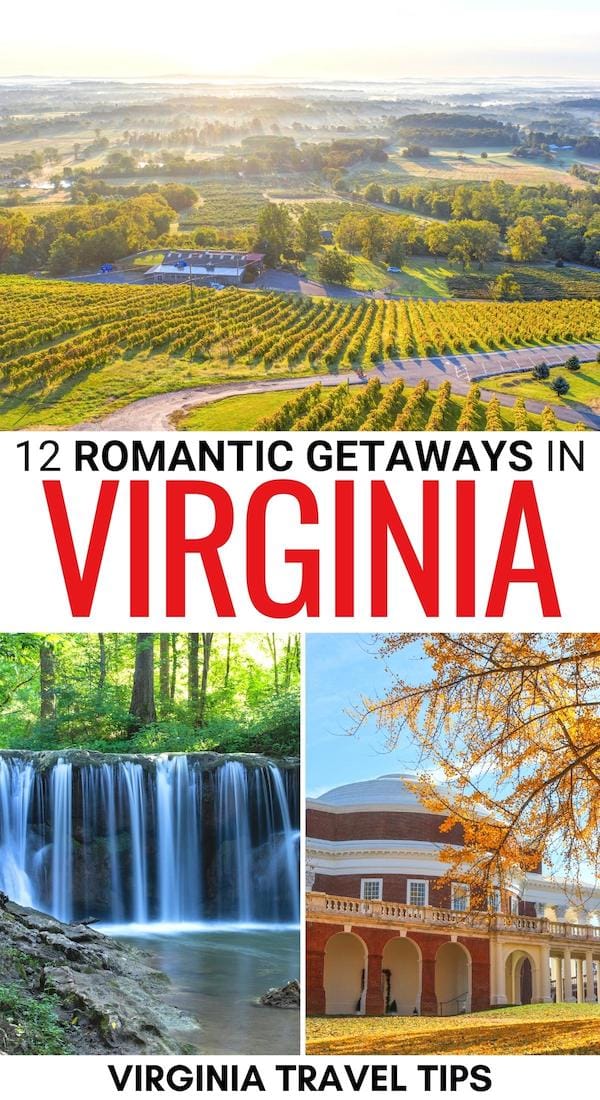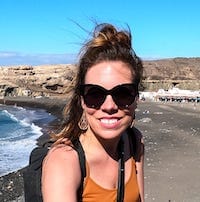 Megan is a travel blogger and writer with a background in digital marketing. Originally from Richmond, VA, she has lived all around the world (including Germany, Finland, Norway, etc) but her heart always finds its way back to Virginia. This blog is to help encourage travelers to explore the great state of VA… and its wonderful neighbors! Megan has written for or been featured by National Geographic, Forbes, Lonely Planet, Fodor's Travel, the New York Times, and more. She has visited 45 US states and 100+ countries… and wholeheartedly believes that Brunswick Stew is probably the greatest food to ever exist.