There are so many incredible reasons to travel to Alexandria, Virginia (and coffee is one of them)! These are the best coffee shops in Alexandria, VA.
We have included a diverse array of Alexandria cafes and hope that we didn't leave your favorite off of the list! Hitting up the cool local businesses is definitely one of the best things to do in Alexandria!
Let us know your favorite Alexandria coffee shops in the comments! Thanks!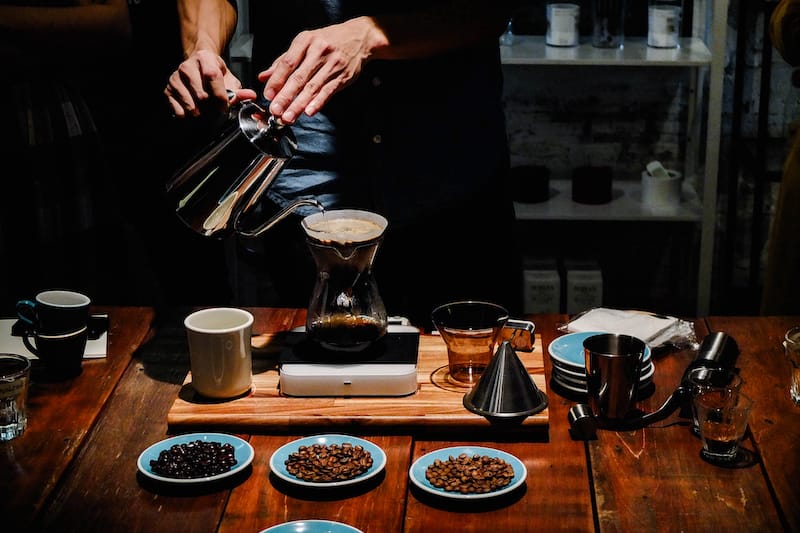 Best Coffee Shops in Alexandria VA
Misha's
One of the premier coffee roasters in Alexandria is Misha's Coffee. The cafe has an open floor plan that gives a feel of spaciousness yet with a cozy vibe. There is a community table inside and the roaster is located on-site.
View this post on Instagram
They also sell bags of roasted coffee to go! You can find everything from a city roast (medium roast) to a French roast (darker). Be sure to take a bag home with you!
Address: 917 King St, Alexandria, VA 22314
Website: https://mishascoffee.com/
Coffee In Landsdowne
A new coffee shop located in Alexandria that is worth a stop is Coffee In at the Landsdowne Center.
Having opened in May 2022, the Turkish-owned cafe offers delicious Turkish coffee (we highly recommend it!) as well as specialty coffee in various forms. You can find everything from tasty lavender lattes to passion fruit green tea.
But, their beans are fantastic and they source them from Cervantes Coffee Roasters nearby in the Springfield area.
View this post on Instagram
If you're looking for a tasty bite to fill you up while you sip on your coffee, check out their signature item – their waffles!
The Alexandria coffee shop is open from 7am until 6pm (weekdays) and 7am until 4pm (weekends).
Address: 6434 Landsdowne Centre Drive
Facebook
Grounded Coffee Shop
Located in the Shops at Telegraph Road, you will find Grounded Coffee Shop, an Alexandria favorite for those that love a cozy atmosphere with the smell (and taste!) of deliciously, freshly-made baked goods.
View this post on Instagram
Address: 6919 Telegraph Road, Alexandria, VA 22310
Facebook: https://www.facebook.com/GroundedCoffeeALX/
Swing's Coffee Roasters
Located since 2013 inside of a building on East Monroe, Swing's has an art-deco design and is one of the best coffee shops in Alexandria, hands-down!
They have a cafe, roastery, wholesale, coffee training, and much more. They aim to provide the entire coffee experience (with their top-quality espresso machine!) and even have a cupping lab that locals can use as a resource to learn more about the product and its intricacies.
On Fridays, they have public coffee cuppings at 10am (please check before going to ensure it is still taking place).
View this post on Instagram
As a result of their success, Swing's has opened up branches in Washington DC (14th Street and G Street NW).
Address: 501 East Monroe Avenue, Alexandria VA 22301
Website: https://swingscoffee.com/
Project Buna
Okay… so this is not perhaps a coffee shop in Alexandria as much as it is a place to purchase delicious coffee… so I definitely still think it earns a spot on this list.
Project Buna was an idea and brand conceived by Mike Madrid and Bonny Brazeal when they were serving together on a US Navy destroyer.
View this post on Instagram
Along with other crew members who were passionate about coffee, they formed a club where they each ordered in beans from their top 2-3 roasters. The social connection was built and eventually, this provided inspiration for Project Buna.
Buna means coffee in Amharic (one of Ethiopia's official languages). Today, you can purchase whole bags of beans from them either online or in person. Check out their website to find out more and get started ordering some beans!
Website: https://www.projectbuna.com/
Via Volcan Coffee
One of the newest additions to the Alexandria VA coffee scene is Via Volcan, a fantastic coffee shop and micro-roastery located on S. West Street in the Old Town.
View this post on Instagram
The most interesting thing about Via Volcan is that they grow their own single-origin coffee on a family farm in Panama… so you are getting the utmost transparency from the source to the end-user.
They are closed on Mondays.
Address: 110 S West St, Alexandria, VA 22314
Website: https://www.viavolcan.com/
St. Elmo's Coffee Pub
Another fantastic Alexandria coffee shop to stop into for a cup of joe is St. Elmo's Coffee Pub. They have two locations – one in Del Ray and the other in Old Town North.
The Del Ray coffee shop was the original and it opened its doors in 1996. They have a spacious outdoor terrace and even heaters for the winter months. You will get delicious coffee or wine, a variety of pastries, breakfast sandwiches, and so much more at the location!
View this post on Instagram
St. Elmo's Old Town North is the newer location and it just recently opened. It also has baked goods, soups and sandwiches, craft beer, and more.
Address: 2300 Mount Vernon Avenue & 529 Montgomery Street
Website: https://www.stelmoscoffeepub.com/
Buzz Bakeshop
Buzz Bakeshop is a fantastic bakery in Alexandria that specializes in tasty treats and delicious coffee.
They have locations in Alexandria and Arlington both and even the Washington Post stated that they have 'Downright Outrageous Pastries'. So, basically, this place is a must-visit if you have a sweet tooth!
View this post on Instagram
While they are renowned for their pastries and cakes, they also have a savory menu that is perfect for a lunch date with friends. There are vegan, gluten-free, and vegetarian options available on the menu.
Address: 901 Slaters Ln, Alexandria, VA 22314
Website: https://buzzbakeshop.com/
Abyssinia Market & Coffee House
This coffee shop is a fantastic option for those wanting some deliciously roasted Ethiopian coffee. They serve Yirgacheffe coffee and also have a wide selection of craft beer from around the world.
View this post on Instagram
Another perk of visiting Abyssinia Mart? They have food! You can enjoy an Ethiopian coffee roasted right in front of you after devouring Gomen Wot or Shiro atop homemade injera.
This is a black-owned business in Alexandria and they have some amazing Nitro coffee! Pop in!
Address: 720 Jefferson St, Alexandria, VA 22314
Facebook
For Five Coffee Roasters
If you're looking for one of the top coffee shops and cafes in Alexandria, definitely don't overlook For Five Coffee Roasters!
They have quite a few locations along the east coast and even one in Chicago and LA and Athens!
Founders Stefanos Vouvoudakis and Tom Tsiplakos met in grade school in Queens and opened their first cafe right in Times Square in 2016, and have been serving New Yorkers and others ever since!
View this post on Instagram
The Alexandria cafe opened at the end of 2019 and has a fantastic food program by Scheyla Acosta, the executive chef. There are gluten-free, dairy-free, and vegan options available for patrons.
Address: 1800C Diagonal Rd, Alexandria, VA 22314
Website: https://forfivecoffee.com/
Sisters Thai Alexandria
Okay, so definitely not a cafe but rather a restaurant, but Sisters Thai has tasty coffee and definitely deserves a spot on the list!
While their specialty may be Thai food (and they truly offer everything from Pad Thai to Pik Khing and more), they also have a nice array of coffees and you can order a flat white or opt for one of their specialty lattes, such as a purple potato latte or a rose tea latte.
View this post on Instagram
Address: 503 Montgomery St, Alexandria, VA 22314
Website: https://www.sistersthaialexandria.com/
Stomping Ground
If you love hearty and flavorful biscuits alongside a cup of coffee, be sure to check out Stomping Ground in Alexandria.
The Del Ray coffee shop offers everything from plain buttermilk biscuits to the 'Southern Frenchie' that has salty ham, cultured butter, and cornichons. This place is seriously out of this world.
View this post on Instagram
They have other menu items and also a great coffee menu. You can find cortados, drop coffee, flat whites, and much more at Stomping Ground.
Address: 2309 Mt Vernon Ave, Alexandria, VA 22301
Website: https://www.stompdelray.com/
What are your favorite coffee shops in Alexandria VA? Let us know your top picks for cafes in Alexandria VA in the comments!
Looking for More than Alexandria Cafes?