West Virginia's capital city might be one that you've overlooked when planning your summer itinerary, but it's certainly one that you should consider visiting! This guide is about the best things to do in Charleston, WV.
The West Virginia city offers plenty of activities for visitors of all ages, especially those who enjoy history.
You can plan a nice weekend trip to be able to see all the city has to offer, as well as check out some of its museums, restaurants, markets, and more.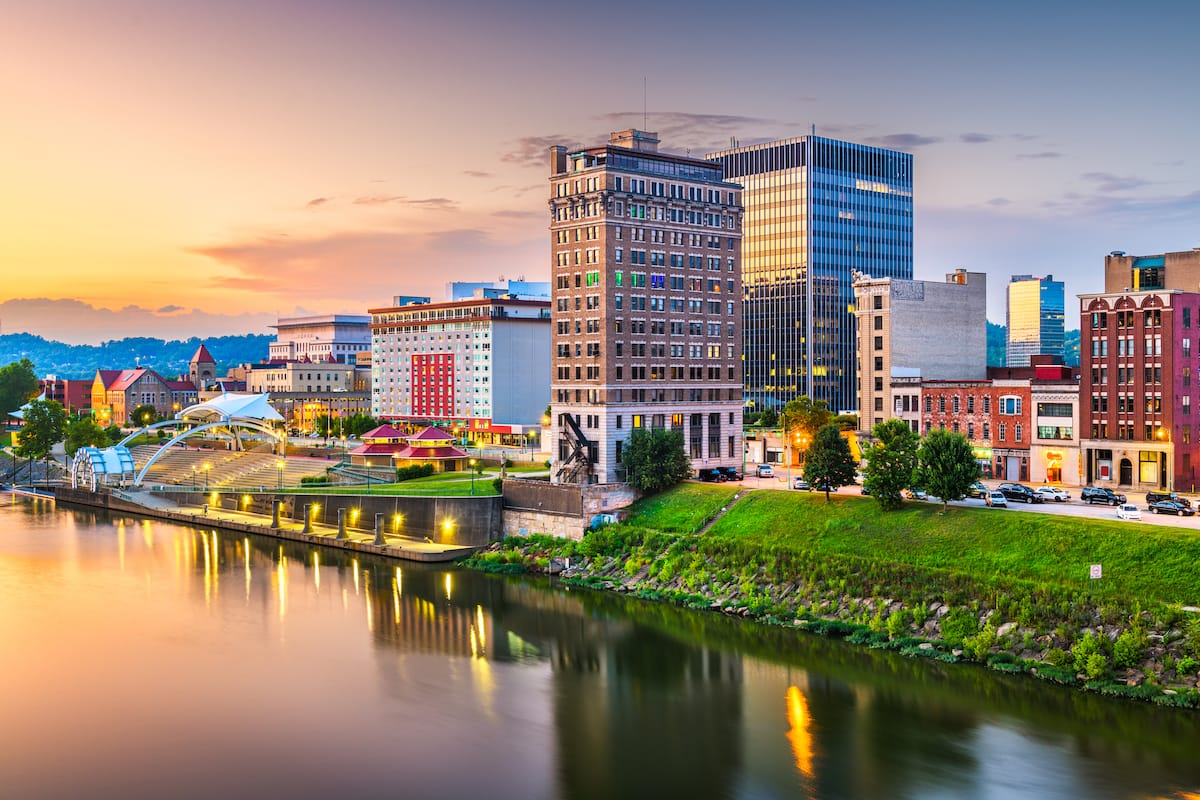 When in Charleston, don't forget to check out the State Capitol, East End, and Capitol Market.
Want to know what else there is to see? Keep on reading to find out our top picks! Let us know if we missed any of the best things to do in Charleston WV!
Best Things to Do in Charleston WV
Check Out the WV State Capitol
When in the capital, of course, you have to visit the West Virginia State Capitol! After being moved around since 1863, it has finally settled in its current location in Charleston today.
Their hours vary in the summer so make sure to call beforehand.
However, the hours are usually 9:30am-3:30pm, Monday to Friday. On Saturdays, the hours are 1:00pm-4:00pm and tours are on the hour.
Tours on the weekdays are approximately thirty minutes.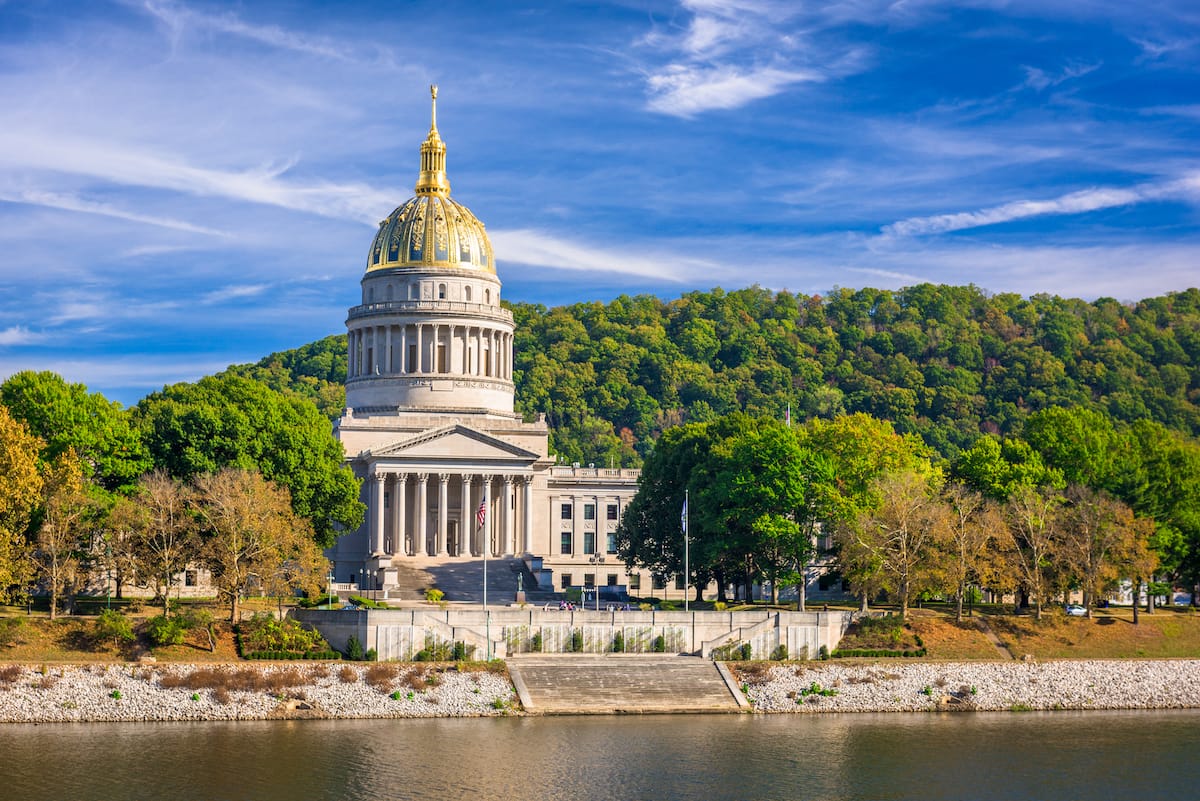 However, if you would like to visit the Governor's Mansion, you do have to make a reservation, and schedules are formed on a first come first serve basis.
The tours are on Thursdays and Fridays starting from 9:00am and the last tour can be scheduled at 11:30am.
Address: 1900 Kanawha Boulevard East, Charleston, West Virginia
Take a Stroll Through Haddad Riverfront Park
Located at the banks of the Kanawha River, the Haddad Riverfront Park is home to artists and welcomes all.
The Haddad Riverfront Park is the ideal place for you if you like to attend concerts or hang out with your friends – or both!
It serves as a platform for the city's free concert series live on the Levee.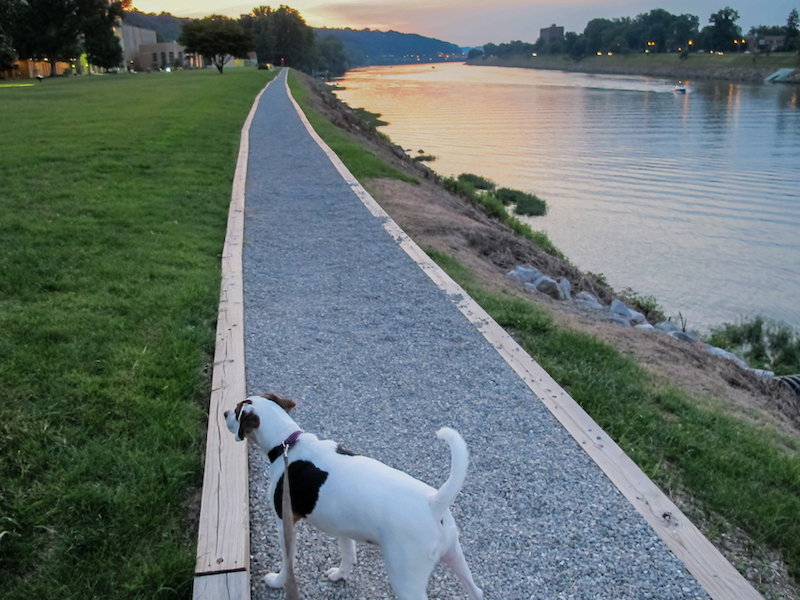 If you like to meet new people and want to spend a day unleashing your inner extrovert, then head on down to the Haddad Riverfront Park.
There, you may discover new artists and perhaps find a new genre that you will end up loving!
The events and concerts are held annually but there are also occasional private gatherings.
The amphitheater holds up to 2,500 people and the view is absolutely amazing as the river and downtown Charleston are beautifully portrayed.
Visit Ruffner Cabin and Daniel Boone Park
Daniel Boone Park is well-known for both being home to Ruffner Cabin and also having some of the most rugged terrain west of the Appalachian Mountains.
With its narrow ravines, steep forested slopes, and sandstone cliffs, the park has over 708,000 acres of forest and over 600 miles of trails ready for you to explore!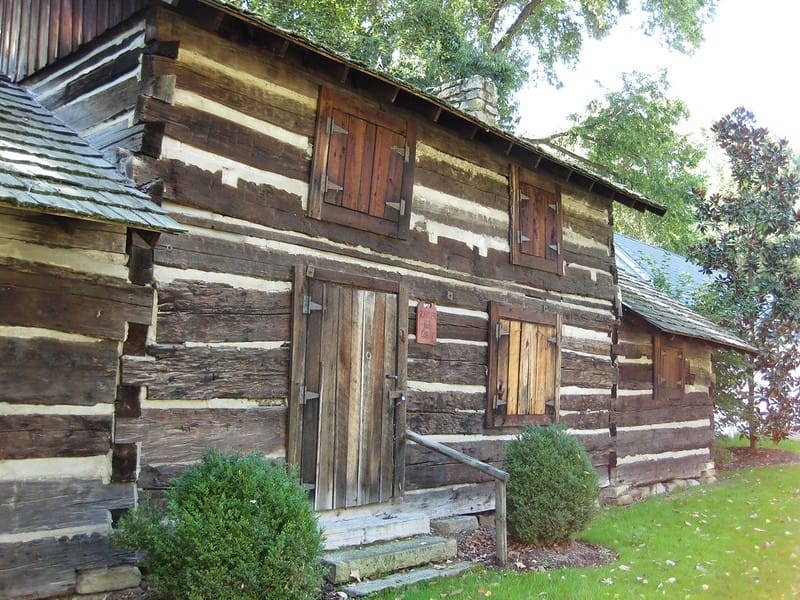 The Ruffner Cabin was built in 1803 and was the home of Joseph Ruffner and then, altered in 1827, became the home of Joel Ruffner.
The property was once called Rosdale, and then eventually changed.
Now, the home is listed as one of the Historic American Buildings (Library of Congress).
If you are in Charleston and want to do an outdoor activity like hiking but are also interested in all things history, then make sure to stop by the Ruffner Cabin as well!
Hang Out at the Avampato Discovery Museum
At the Avampato Discovery Museum, you can indulge in the various activities available for visitors.
With over three floors of hands-on discovery exhibits, the museum covers many areas of development while also making the experience fun!
You can splash around in the WaterWorks or learn all about the science surrounding sound at the Maier Foundation Music Studio.
You can also climb up to a healthier life at Ashton's Climbing Structure!
Also, if you're looking for a little diversity and spice, the Mylan Explore-atory gallery features limited-time exhibitions from all over the country!
They also have different programs for visitors to take part in, so make sure to check out their website to be informed about them.
The Avampato Discovery Museum also does birthdays and rentals for other occasions.
Address: 1 Clay Square, Charleston, WV 25301
Indulge at Pies and Pints
When in the mood to hang out in a chill place with your friends, visit Pies and Pints!
There, you have a variety of foods you can choose from like sandwiches, salads, and, of course, pies.
The pies are what they're known for the most – hence the name, Pies and Pints.
Some of their most notorious dishes are definitely the Pizza Pie and the Chipotle Chicken Pie!
View this post on Instagram
The uniqueness of their dishes alongside the chill environment gravitates people to their place – and does not disappoint!
And, their beers are also definitely worth stopping by for. You can also order in if you'd like as that's also an option.
They also have a catering service if you're interested in serving their food at a party or event you may be hosting!
Address: 222 Capitol St, Charleston, WV 25301
Head to the Clay Center for the Arts and Sciences
For artists and visitors alike, the Clay Center for the Arts and Sciences invites you to broaden your horizons to different forms of self-expression.
The Clay Center is open Thursdays to Saturdays from 10am to 5pm and Sundays from 12pm to 5pm.
Reservations are not required, so feel free to pop in whenever you'd like and experience a wonderful world of the arts!
Some of the activities you can take part in when visiting are stopping by the Art Museum where you can see the works of various artists nationwide.
There is also a planetarium and theater where the best of both worlds crash together and create a wonderful masterpiece.
And of course, there are many performances from artists we all know and love!
Address: 1 Clay Square, Charleston, WV 25301
See the Governor's Mansion
The Governor's Mansion was completed in 1925 and has welcomed many VIP guests.
Many ambassadors, national and global dignitaries, corporate leaders, and public officials have been welcomed into the Governor's Mansion in the past.
The tours in the place are available and are free, but remember, you do have to make a reservation prior to visiting.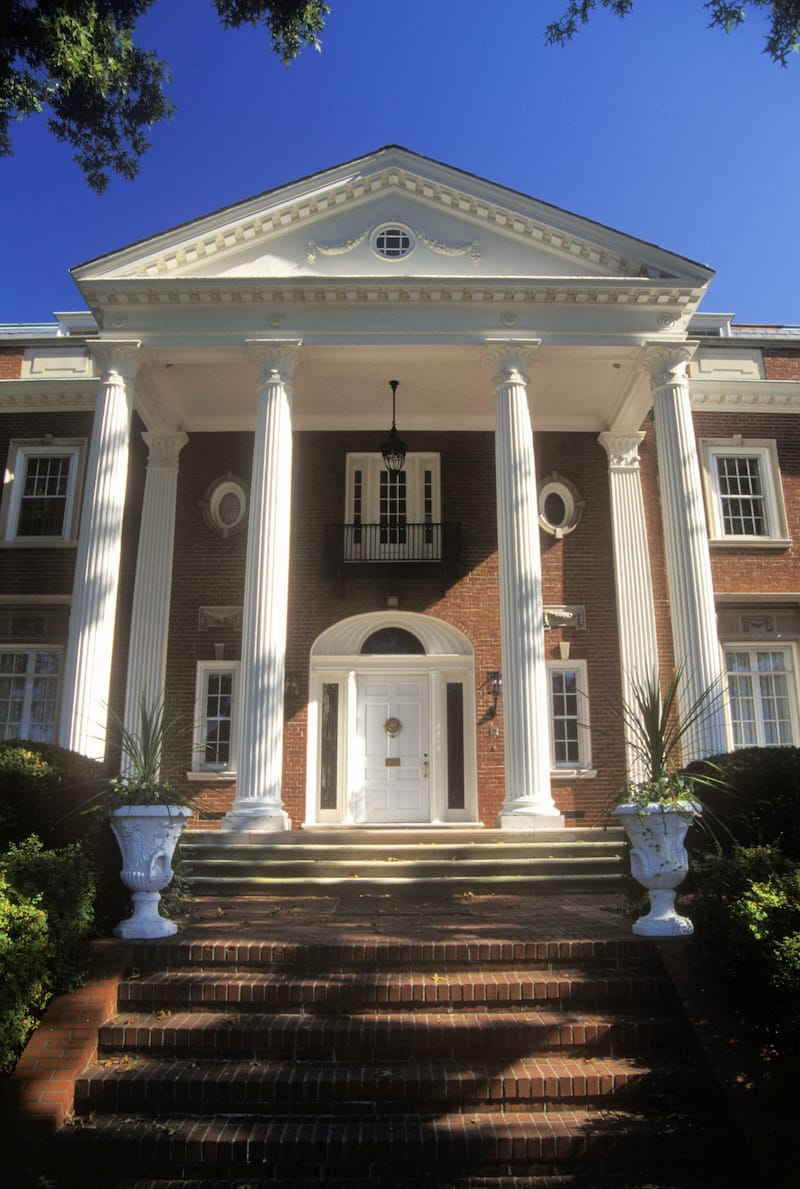 One of the most notable features of the place is the checkerboard floors made with white Tennessee and black Belgium marble.
Another cool attribute is that the drawing room wall is painted with trompe l'oeil, or "trick of the eye", to create an illusion of raised panels.
Visit the Governor's Mansion when in Charleston to experience a taste of history and culture!
Address: 1716 Kanawha Blvd E, Charleston, WV 25305
Visit the Charleston Civic Center
The Charleston Civic Center is the center of all things representing the city! It is also home to many educational as well as artistic events and programs.
You can visit the Center and explore the different aspects of Charleston's culture. The beautiful building has a number of different activities and things to see.
For example, for the arts, there are over 50,000 square feet of exhibit space and there is a ballroom which is over 25,000 square feet.
There is also an in-house theater where you connect with your inner drama enthusiast along with a ton of meeting spaces and conference rooms if you're looking to get some work done.
If you're planning on visiting, make sure to buy the tickets beforehand.
Address: 200 Civic Center Dr, Charleston, WV 25301
Educate Yourself at the West Virginia State Museum
If you want to explore West Virginia for all it stands and all that's led up to it today, then stop by the West Virginia Department of Arts, Culture & History's West Virginia State Museum.
The exhibitions change all the time, but what remains is the soul and core reason for doing it all.
They have made it their goal to portray all those who have contributed to the culture and development of the state.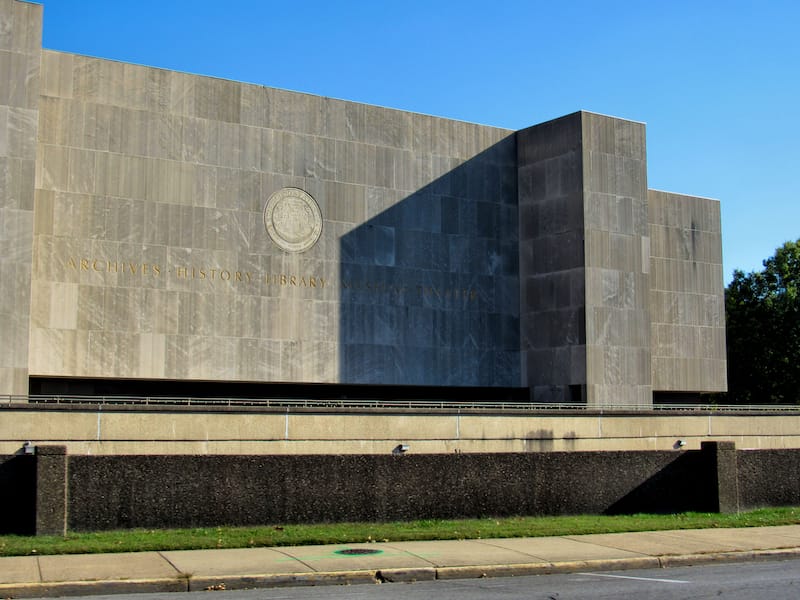 One of the exhibits that is currently showcased is the Almost Heaven Governor's Art Exhibition. Make sure to check it out if you visit!
The Center is open Monday to Saturday from 9am to 5pm.
Come on down to the heart of the Mountain State and visit the West Virginia State Museum!
Address: 1900 Kanawha Blvd E #435, Charleston, WV 25305
Go Shopping at the Charleston Town Center
Do you like shopping and spending your time surrounded by clothes, shoes, and accessories?
If yes, then head on down to the Charleston Town Center when in Charleston.
They've even been featured in Fashion Insider!
You can receive fashion tips, style ideas, and gift guides from the numerous realtors ready to help you find the perfect items.
By shopping at the Charleston Town Center, you can support local businesses and also buy from brand names we all know and love.
Whatever your style may be, the Charleston Town Center most likely has got what you need.
They are open Mondays to Saturdays from 10am to 9pm and Sundays from 12:30pm to 6pm.
So when in Charleston, make sure to check the place out for a day filled with fun and fashion!
Address: 3000 Charleston Town Center, Charleston, WV 25389
Discover the Diverse Capitol Market
Down by the Capitol Market, you can enjoy various goods whether that be handmade gifts, meats, or locally grown fruits and vegetables.
They have made it their mission to provide all their customers with the best care and satisfy all of their needs.
The indoor-outdoor market offers a variety of different products and vibes!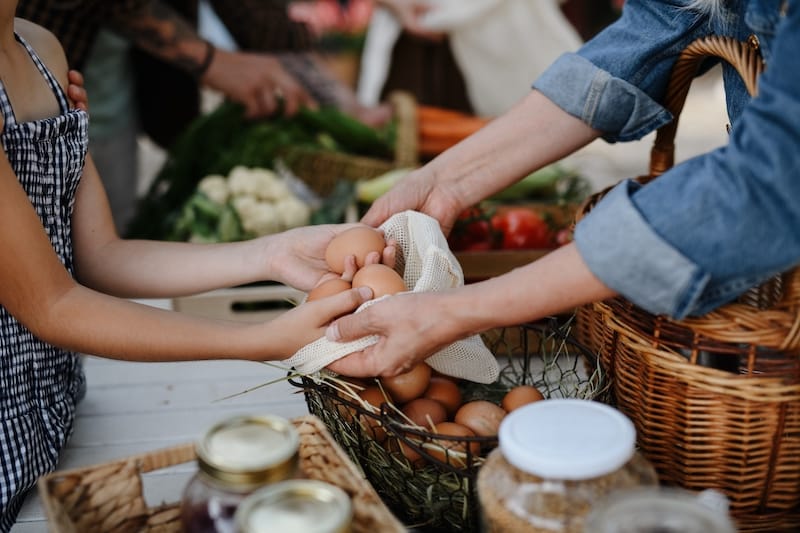 With its mix of specialty shops and farm greatness, you can choose from the many different items available.
You would be helping out the community and your body as well, as their products are all locally grown and are much better for your health.
When in Charleston, make sure to check this place out and interact with the locals as you can truly never understand a place you're visiting unless you interact with the people who live there.
Have Dinner at Dem 2 Brothers & A Grill
If you're looking for some real Charleston soul food, make sure to visit Dem 2 Brothers & A Grill!
With their unique name, they have managed to gravitate the audience of not only the people of Charleston but also those visiting from all over!
They opened several years ago and are a local business started by two friends who decided to bring a different perspective on barbecue.
Food should be enjoyed and should be something amazing that brings people together, and that's exactly the kind of feeling that they try to create a Dem 2 Brothers & A Grill.
They have created a place where people can have some great food and enjoy the company of their loved ones while also being in a very chilled environment.
If you want to try some of their amazing food, you can either order online or make a reservation.
Address: 423 Virginia St W, Charleston, WV 25302
Get Lost in the Kanawha State Forest
Kanawha State Forest is definitely one of the more popular destinations for both locals and visitors who happen to be outdoor enthusiasts.
In the forest, you can enjoy over 25 miles of hiking and biking trails.
There are also a number of interesting wildlife there including different kinds of birds that are specific to the region, so if you're into birdwatching, definitely check this place out when in Charleston.
Some of the local amenities include picnic areas, campsites, and playgrounds.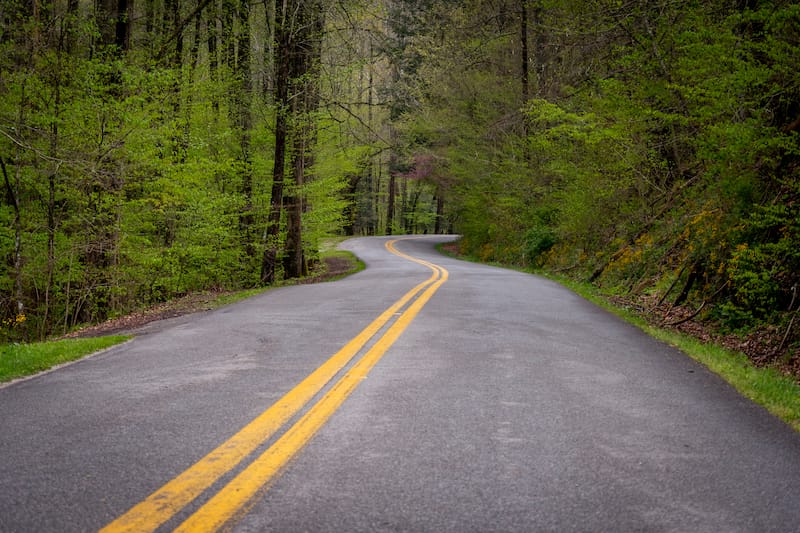 This is the perfect place to visit if you are going with family or you happen to be alone and in need of being surrounded by the wonderful gift that is nature.
You can also go fishing if you so please and hunting is also permitted if you have the necessary documentation and license.
Hunting is only during hunting season, so please make sure you follow up on the rules and guidelines before proceeding to make plans.
Discover the Heritage Towers Museum & Culture Center
The Heritage Towers Museum and Culture Center was established in 2005 after the "A Slave Ship" exhibition.
The museum has made its goal to understand, educate, and portray African-American history in the United States as well and as thoroughly as possible.
The museum and the exhibit it holds are vital components of Black history in West Virginia.
It is a community-based museum and is open to all as it provides visitors with all the necessary information.
If you are one of those people who have an interest in history or you simply want to become more educated on African-Americans and their impact in not only West Virginia but also in America as a whole, make sure to visit the Heritage Towers & Culture Center.
To be more informed about the events that take place or if you have any questions or concerns, you can visit their page or give them a call at (304) 343-3250.
Address: 612 Virginia St E, Charleston, WV 25301
Pay Respects at the West Virginia Veterans Memorial
When in Charleston, remember to acknowledge the veterans who served this country and pay your respects at the West Virginia Veterans Memorial.
Many West Virginians have sacrificed their lives in numerous wars serving their country.
The Memorial honors all, but it mainly focuses on those who fought the four major wars which are: World War I, World War II, the Korean War, and the Vietnam War.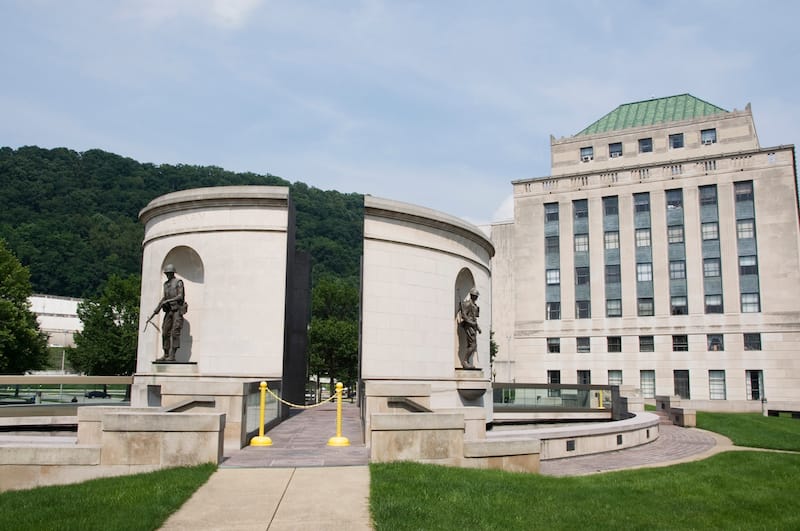 The Veterans Memorial continues to be a place where events and ceremonies are held in honor of veterans today.
For tours and additional information on hours and pricing, visit their website.
It's important to remember the wars that have made this country what it is today and those who have sacrificed their lives to create a country worth living in and worth being proud of – a country truly made for the home of the brave and land of the free.
The memorial is located at the State Capitol Complex.
Explore the East End Historic District
The East End Historic District has earned its name through the many years of trials and tribulations into forming the county into what it is today.
Various historical sites are located at the East End and events are held to celebrate the heritage that the city holds.
At the East End, the formation of the first Kanawha County government was formed and the first settlement in this area in the eighteenth century was in that very district.
After the settlement, parts of the land became privately owned by the Ruffner family and remained plantation grounds and cornfields for over 100 years.
Over time, most of what the Ruffner family created, along with some other historical buildings, was preserved and is now open to the public.
Address: 1501 Postoffice St, Galveston, TX 77550
Where to Stay in Charleston, WV
If you're looking for the best places to stay in Charleston, below are some great choices.
Did we miss any of the best things to do in Charleston WV?
Let us know your favorite Charleston WV attractions below! Thanks!
More West Virginia Travel Guides
Pin this Charleston WV Things to Do Guide