West Virginia truly is wild, living up to its state motto. These are some of the best waterfalls in West Virginia (and some details about each).
I constantly rave about how underrated the state of West Virginia is on this site and it truly has some of the most magical nature east of the Mississippi.
These West Virginia waterfalls are proof of that! There are many we missed on the list- so let us know your favorites and where to find them! Thanks!
Waterfalls in West Virginia Map
To add this map to your Google Maps account, click the 'Star' icon next to the map name. You can then view it on your cell phone or computer by heading to your Google Maps account, click the menu and add it to 'Your Places'.
Best West Virginia Waterfalls
Blackwater Falls
Location: Blackwater Falls State Park
Blackwater Falls is a waterfall located in Davis, West Virginia. With its captivating vista and scenery surrounding it, the falls is are one of the most famous reasons to visit Blackwater Falls State Park.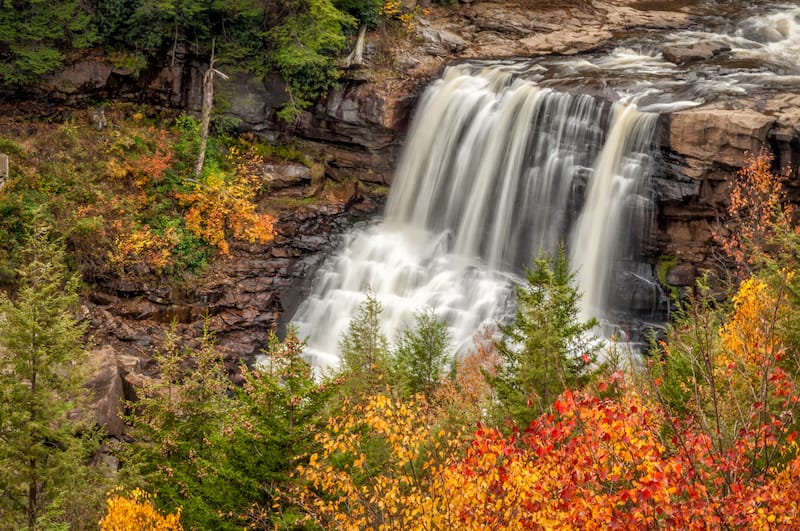 Depending on the season, the waterfall can, of course, vary in power depending on melting snowfall and the dry season.
However, it usually is not one of the heavier flowing waterfalls in WV. Most of the time, it is segmented and the rocks in and around it are visible. Nevertheless, it's still considered a treasure of Blackwater Falls State Park.
Indian Branch Falls
Location: Pipestem Resort State Park
Located in Pipestem Resort State Park, Indian Branch Falls is a 45 feet high waterfall. The steam is known to have some other drops, one of which is over 60 feet going down to Bluestone River.
Unfortunately, there is only one vantage point for viewing the falls, which is above it and on the side of it. Visitors should be cautious there as the gorge's walls are extremely narrow there, and attempting to descend into the gorge is extremely dangerous.
You drive your car to the sight, but If you are a fan of waterfall hikes in West Virginia, you can reach it either from the County Line Trail starting at the Nature Center in Pipestem Park or from the Canyon Rim Center with the River Trail and the County Line Trail.
Elakala Falls
Location: Blackwater Falls State Park
Located again in Davis, WV in Blackwater Falls State Park, the beautifully named waterfall is created by the waters of Shay Run tumbling down into Blackwater Gorge.
Reaching a long-distance view of Elakala Falls is relatively easy, but be mindful that if you decide to get closer to the falls or down into it, it will be a pretty strenuous trek.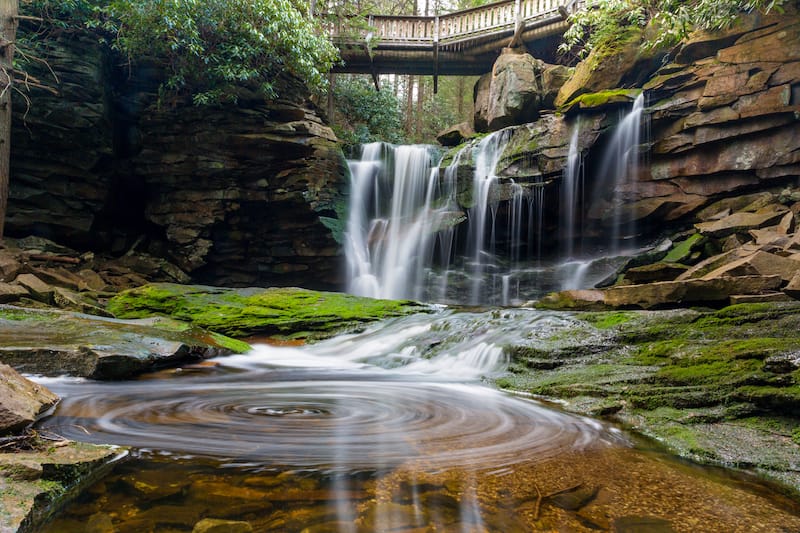 The gorge is around 200 feet deep there. Even though there are no official trails that visit Elakala Falls, you can still descend down into the gorge to get a glance at it.
The trail from the lodge takes visitors to a bridge that crosses over the first drop in the falls, which is some 20 feet high.
Douglas Falls
Location: Blackwater Falls State Park
Douglas Falls is situated outside of the town of Thomas, on the North Fork Blackwater River, close to Blackwater Falls State Park.
Known as one of the beautiful waterfalls in West Virginia, these falls definitely should definitely be included on all West Virginia itineraries!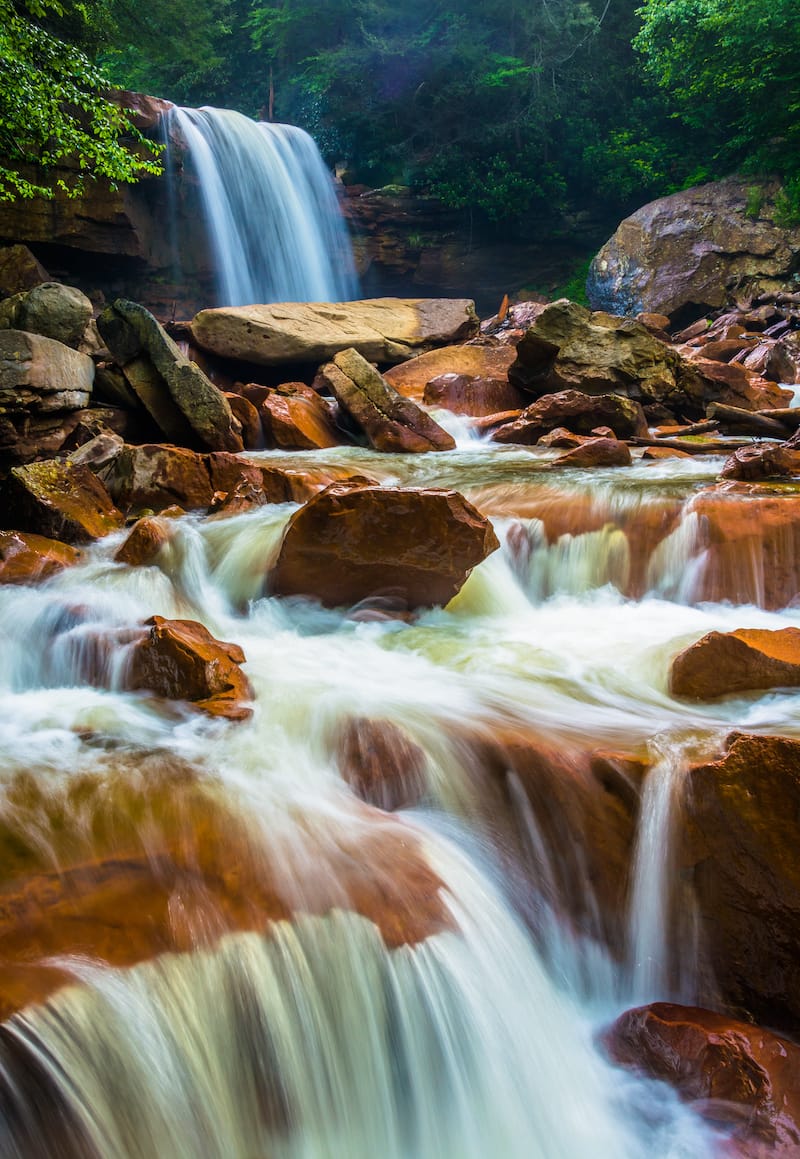 Douglas Falls is spectacular on a sunny day when the rays hit the water and create illusions. Both the waterfall and its surroundings offer unparalleled nature experiences.
Cathedral Falls
Location: Gauley Bridge
The stunning Cathedral Falls is located just 1 mile east of Gauley Bridge and is one of the highest waterfalls in West Virginia.
It's a steep cascade that falls into a natural amphitheater, which is why the falls were named 'Cathedral'. Something interesting that you might notice here is that the gorge wall on the opposite side of the falls has lights on it, which sometimes makes the falls illuminate during nighttime.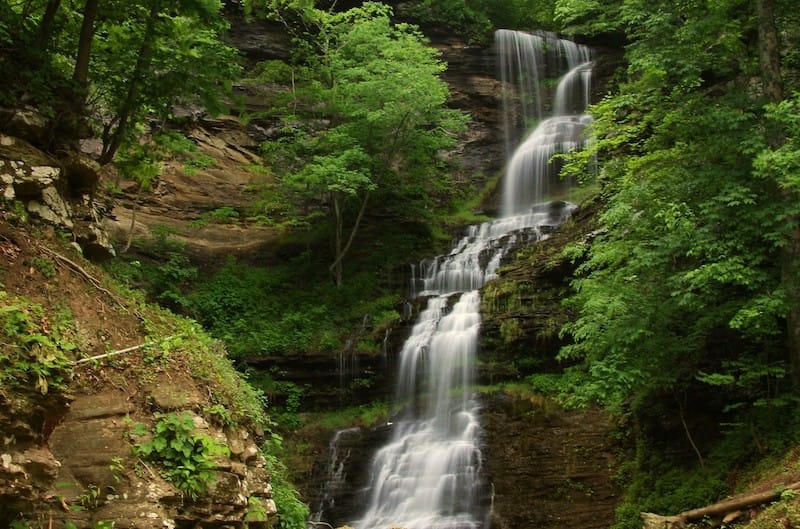 Being situated right alongside US 60, the waterfall has an easily accessible location. It's even visible from the road, but if you want to get a full and a better view of it, you'll need to take an extra short walk. It really is one of the prettiest waterfalls in West Virginia!
Valley Falls
Location: Valley Falls State Park
These falls are located in Valley Falls State Park, nearly 10 miles southeast of Fairmont, West Virginia.
At the time when the water level is high, the falls are quite wide. Because the Tygart River transports a large amount of water, the falls run during all seasons of the year.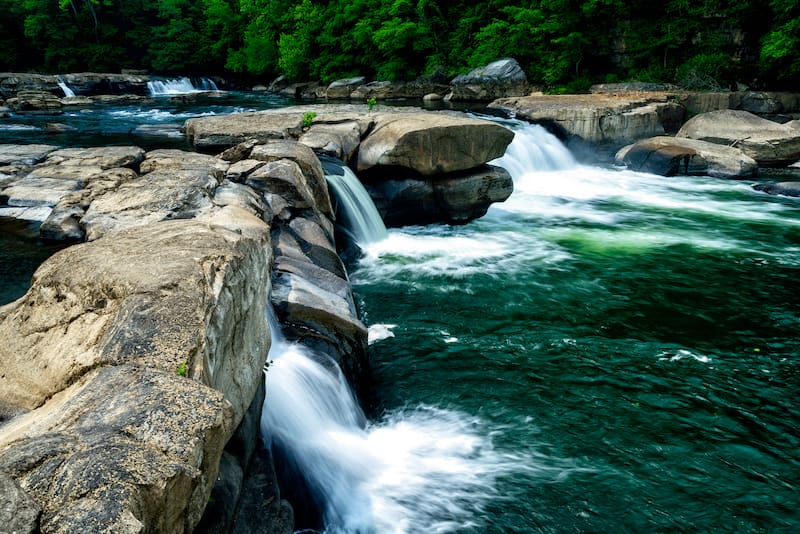 Also, besides just enjoying the views here, a lot of people visit the river and falls to have fun kayaking, so if you love that activity, don't miss your chance when visiting Valley Falls.
To reach the falls, you'll need to go through Route 310, but make sure to do the turn-off on time, as the sign to the park is there, but you might not notice it.
High Falls
Location: Monongahela National Forest
High Falls is one of the most majestic and highest waterfalls in the Monongahela National Forest, with a height of over 2,800 feet. As it runs through the Shavers Mountain saddle, the High Falls Trail passes through old-growth forest and broad hemlock trees, promising some amazing views for visitors.
The falls are not that big, but the trail to it alone is worth seeing if you're visiting West Virginia.
Be mindful that during peak season, High Falls can get very crowded. Also, depending on the season of the year you visit, you may get lucky and see some wild mushrooms on your journey.
Kanawha Falls
Location: Kanawha State Forest
Kanawha Falls belong on the list of West Virginia waterfalls that are known not for their extreme heights but rather for being very wide (while having a height of merely 15 feet).
Unless you have access to a boat, you'll have to enjoy the view remotely. You can get pretty close to the falls' western side, where there's an old power station.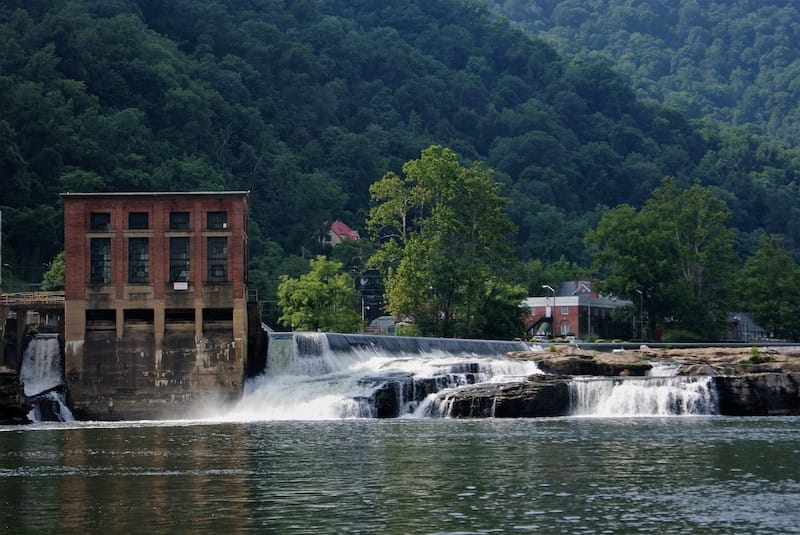 Unlike many of the waterfalls in West Virginia, Kanawha has water year-round. However, the dam does divert water to the power station, so the falls are not that wide during dry periods.
Sadly, as the waterfall is quite wide, it's really hard to capture its full beauty with a camera. Still, it's a really impressive one, so don't miss a chance to visit it if you're in the area!
Sandstone Falls
Location: New River Gorge National Park
Sandstone Falls, the New River's largest waterfall, spans 1500 feet across the river. The New River transitions from a vast river with wide bottomlands to a narrow mountain river roaring through a deep boulder-strewn V-shaped gorge at Sandstone Falls.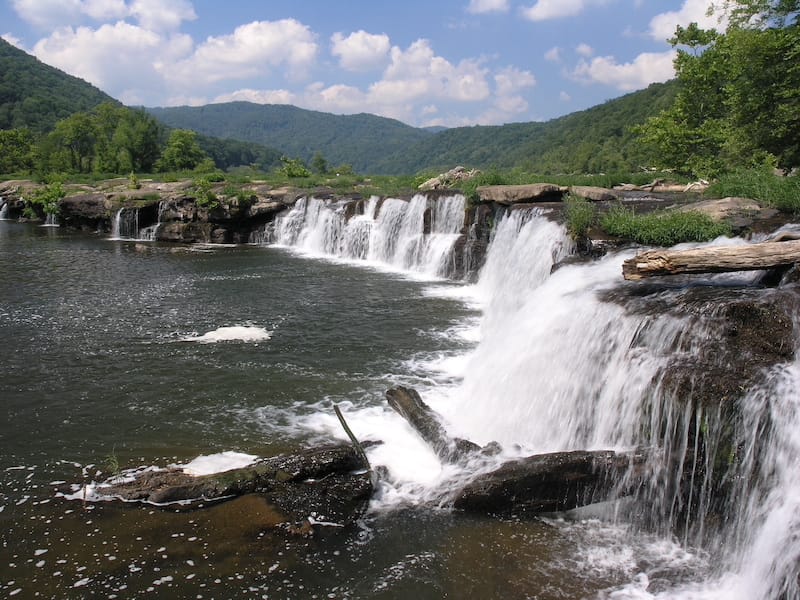 The best place to start your journey to Sandstone Falls is at the Sandstone Visitor Center. It has some excellent exhibits on the New River watershed, water supplies, natural and cultural history of the upper New River Gorge, as well as park maps and records.
The journey to get to these falls would require some driving time, but in the meantime, you'll pass through the New River Gorge park's most scenic roads.
Twin Falls Resort Park
Location: Twin Falls Resort Park
Mullens, about 40 minutes southwest of Beckley, is home to Twin Falls Resort State Park. This massive state park offers activities and services available for an entire family to enjoy.
Some of those activities include exploring the pioneering past of West Virginia when visiting the park's replica farm and homestead, watching barnyard animals, etc.
The hike of reaching the falls goes through the woods, where you can walk, breathe, and relax. This simple 1.25-mile trail is a wonderful way to take in the amazing scenery of the Mountain State.
The first segment of it is paved and well-maintained, but still, you should wear comfortable shoes to avoid the slippery ground around the waterfall.
Falls of Hills Creek
Location: Monongahela National Forest
Three falls of 20, 45, and 65 feet heights, makes the Falls of Hills Creek one of the highest waterfalls in West Virginia. Located in Monongahela National Forest, this 114-acre site is one of the most scenic places in the area.
The 1,700-foot handicap-accessible boardwalk allows all to see the first waterfall with ease.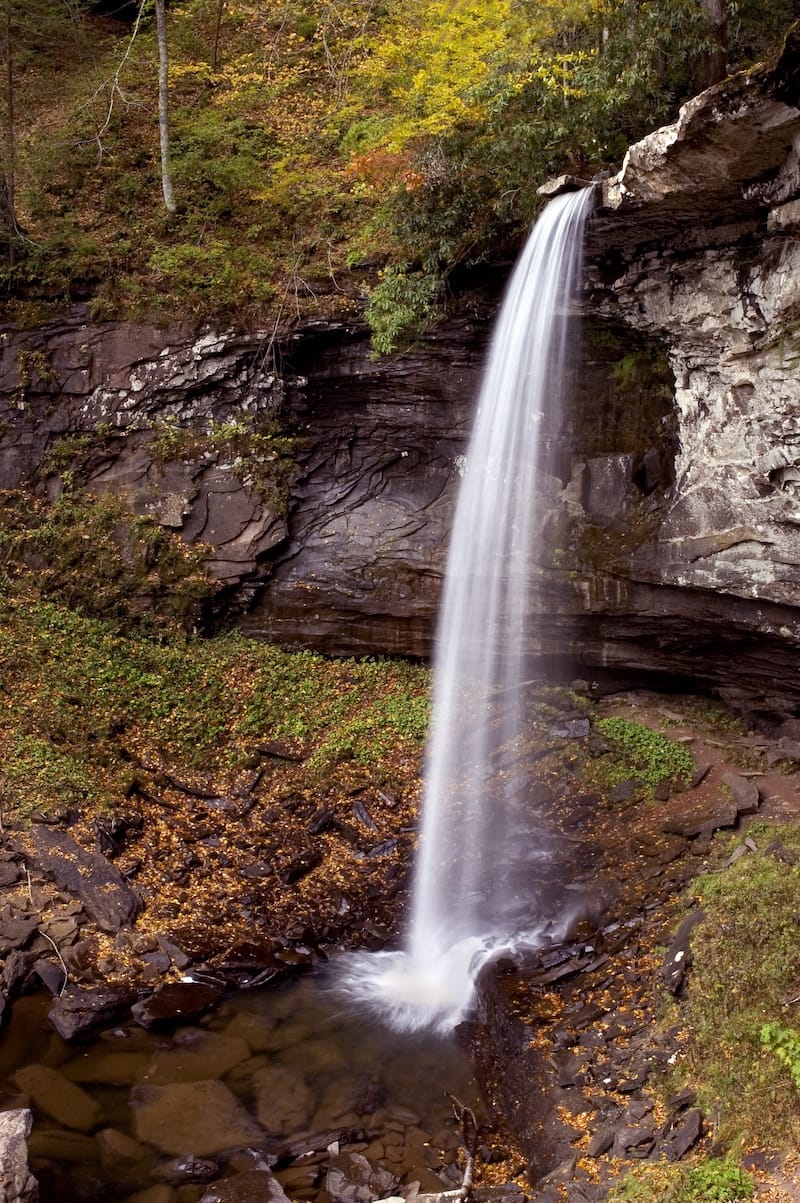 After checking it out, you can continue down a dirt path and a series of wooden steps to reach the second waterfall, which is much wider than the first fall. Wildflower lovers will appreciate this spot a lot as there are over 40 species of blooms, mainly in the spring and early summer.
The dirt path leads also to the third waterfall, which is scattered with rocks and small boulders.
Brush Creek Falls
Location: Brush Creek Nature Preserve
Located in Mercer, this preserve and falls, is a popular spot for photographers and nature lovers. The falls have a height of 25 feet.
Throughout the year, Bush Creek Falls flows at various speeds depending on the season and water levels. Usually, it is steady and heavy during the springtime or after it rains a lot for a few days. However, when the water runs low, you can even see behind the falls.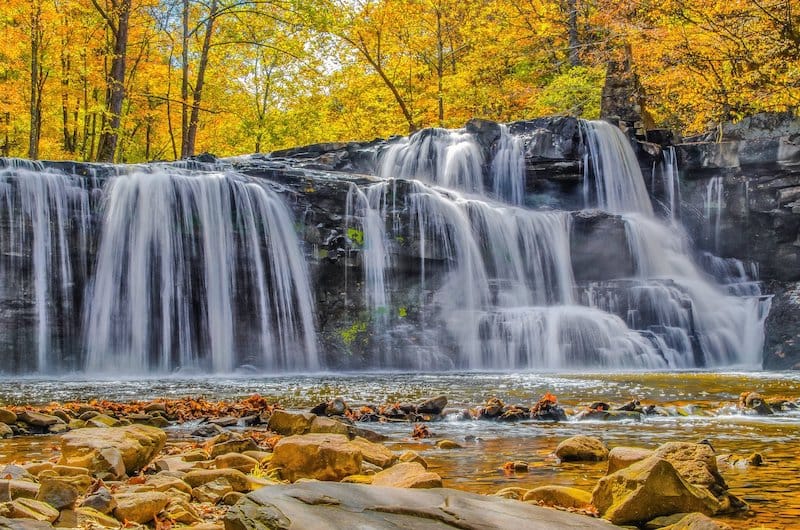 Brush Creek Falls attracts a large number of outside visitors and locals who come to party which often results in garbage in the area. Still, don't let that put you off; it's indeed a very lovely place to visit. But please leave no trace and pick up trash as you see it!
What are your favorite waterfalls in West Virginia? Let us know the most beautiful West Virginia waterfalls that we missed in the comments! Thanks!
More West VA Travel Resources
Best Waterfall Hikes in West Virginia Pin