West Virginia is one of the most underrated states in the US, in my opinion.
And the city of Wheeling was always a place I enjoyed stopping in or passing through over the years.
These are the best things to do in Wheeling WV.
Are you planning your trip to Wheeling at the last minute?
If you're traveling to Wheeling last minute, you want to ensure you have lodging booked ahead of time! Below are some of our top picks to help you plan!
Best hotels in Wheeling:
🚗 Looking for the best way to get around WV? Click here to check rental car rates for West VA!
The list is not conclusive and I am hoping some locals chime in with some new tips or attractions in Wheeling!
My family actually originates from the Ohio Valley and I believe my mom was even born in Wheeling (I was born in Steubenville, Ohio). But, I grew up in Virginia.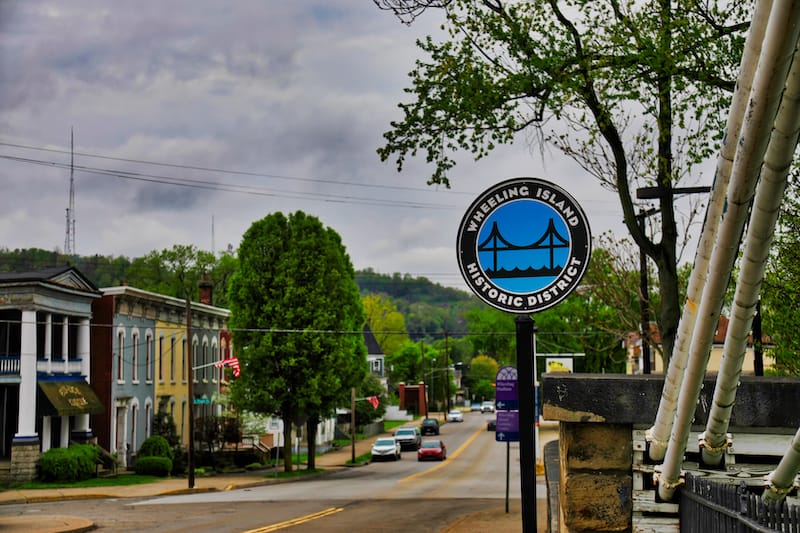 One thing that is very true about the Ohio Valley as a whole is that things open and other things close.
And then those things close and new things open. The economy has never been strong throughout my life despite my parents' stories of the past (they grew up in the region).
So, when places do open there, I love supporting them and hoping that they are able to sustain.
This guide is a mixture of historical places, city attractions, and a few worthy businesses that I hope you, too, will support!
If you're from Wheeling, please give a shout to some of your favorite small businesses and things to do in the comments so other readers can stop by and show their love! Thanks!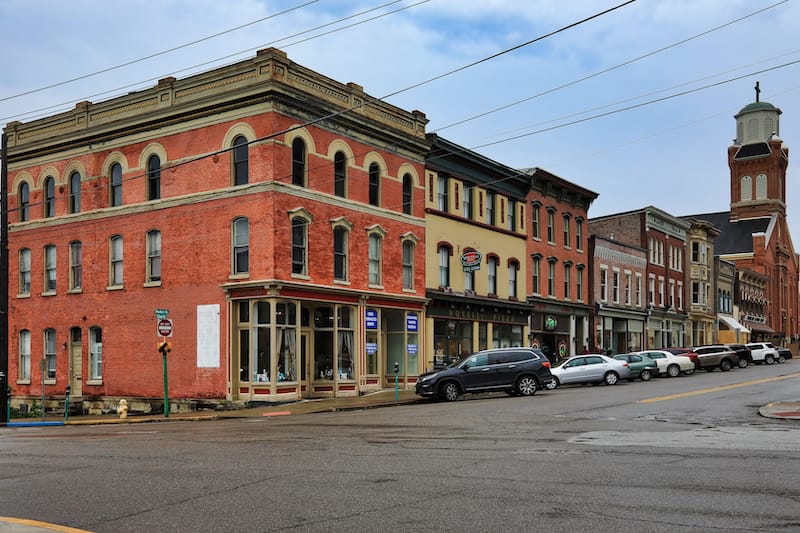 Best Things to Do in Wheeling WV
Go to the Centre Market
Wheeling is also known for its historic Centre Market, a place that has the perfect combination of different shops and quality dining.
One can explore all the food, events, festivals, and art with a visit to the Centre Market.
The best part is that all of the shops are locally-owned. The market offers antique and specialty shops so you can find unique gifts, including jewelry, local foods, wine, cigars, and clothing.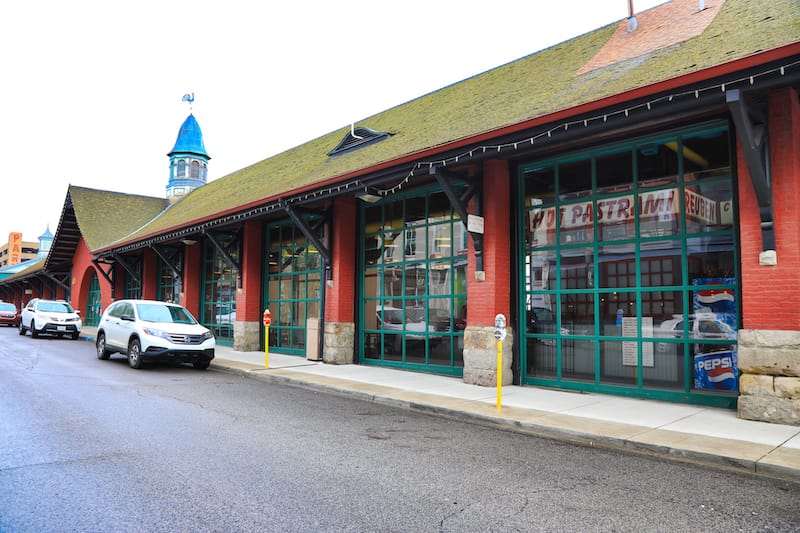 In addition, check out some of the fresh produce at the market, such as ice cream at the Smart Center, fresh seafood, and freshly-brewed coffee.
You can also explore the Artworks Gallery and Art Center, consignment stores, cafes, and antique stores.
You can find the Centre Market at 2245 Market Street in Wheeling. For more information, be sure to check out their website.
Have a Craft Beer in Wheeling
Located inside of the Centre Market is Brew Keepers, a Wheeling craft brewery that opened in 2016 and has been serving thirsty patrons ever since!
View this post on Instagram
They have a taproom that opened in 2019 with 12-16 taps and are a bring-your-own food establishment.
They offer take-away crowlers and growlers. This is definitely the place to score some local craft beer in Wheeling, WV!
Click here to check out their Facebook page.
See a Wheeling Nailers Hockey Game
Love hockey? Good news is that hockey is one of the most beloved sports in Wheeling!
Many people don't know that the town even has a hockey team that the locals love supporting – the Wheeling Nailers.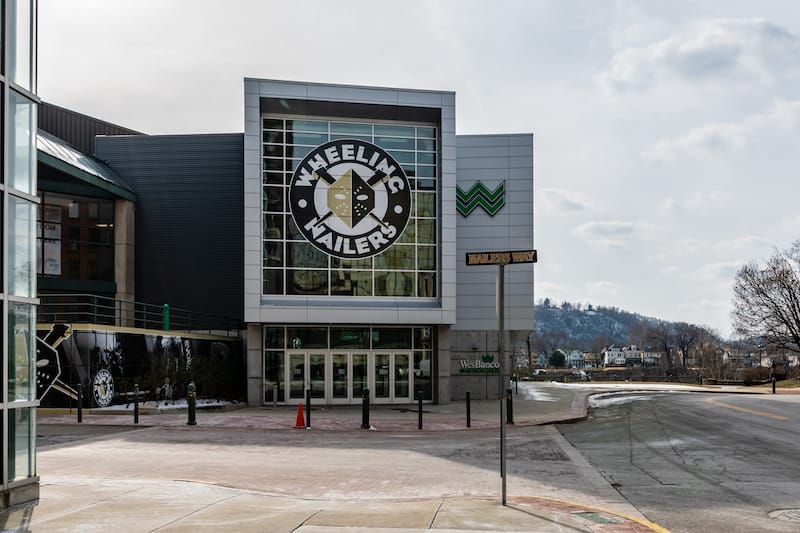 Surprisingly, the Nailers are considered to be the oldest minor league franchise.
The Wheeling team has never even missed a season of play!
Ice hockey season tends to be between January and July of every year, making this the perfect time to visit the city and watch a game if you love the sport and happen to be visiting Wheeling during that time.
Visit West Virginia's Oldest Theater
Having a piece of history in any town is sure to make people feel more appreciative of its past. When visiting West Virginia, you can't miss the oldest operating theater in the state- the Victoria Theater, located right in the heart of Wheeling.
It is in the historic market district of the city on Market Street and has a capacity of 800 seats.
The theater was built in a Victorian-style, as are many of the buildings in Wheeling.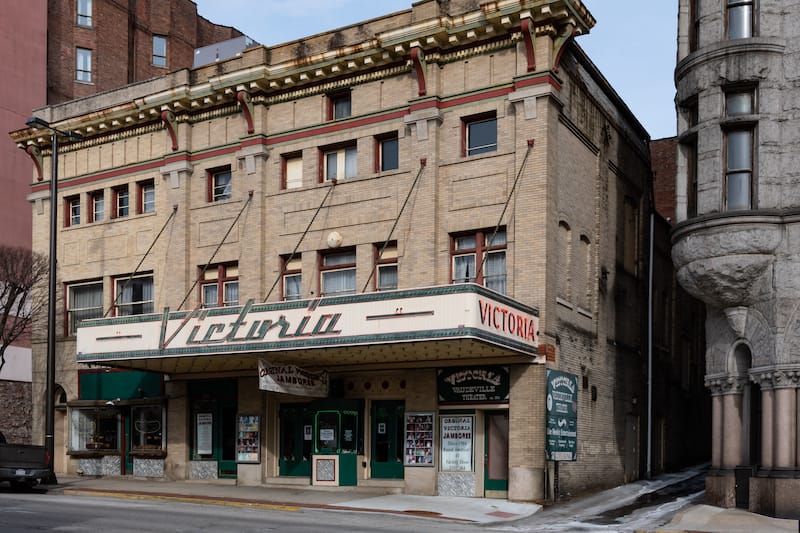 Today, it is possible to see live acts at the theater, some of which include musical performances and there is even an Elvis impersonator. The theater first opened its doors in 1904 and has been welcoming guests ever since.
Go to the Kruger Street Toy and Train Museum
Although some of the locals find this museum to be a little creepy, the Kruger Street Toy and Train Museum can prove to be a fun place to visit when you're with family in Wheeling.
You will be able to see thousands of different toys and vehicles, such as dolls, dollhouses, toy trains, cars, trucks, miniatures, and toy soldiers.
The museum hosts plenty of exhibits, special events, and guided tours, so you're sure to come across something that the whole family will enjoy. In addition, you can visit the gift shop to buy something special for anyone in your life!
Get Caffeinated at Wheeling Coffee & Spice Co.
This establishment has been around since 1886 and they roast beans in-house.
They have been under their current name since 1896 and it is imperative to stop in and check out the history while taking a bag of beans home with you!
View this post on Instagram
The staff is well-educated on the history and they serve an array of gourmet coffee today.
They were the first Burns coffee roaster in the United States.
You can find Wheeling Coffee & Spice Co. at 13 Fourteenth Street in Wheeling. Check out their website for more info.
See a Show at WV's Largest Theater
Located right in the heart of Wheeling, the Capitol Theatre is one of the most popular landmarks in Wheeling!
The theater is located right on the riverfront and close to historical sites.
It opened in 1928 and its doors have been open to lovers of theater and the arts ever since.
Capitol Theatre is open from Monday to Friday from 9 AM to 5 PM, and on Saturdays from noon to 5 PM.
So, you can always spend an afternoon watching a matinee performance of your choice with family or friends at the largest theater in West Virginia!
Bike Along the Wheeling Heritage Trail
The Wheeling Heritage Trail in West Virginia is one of the most popular spots for anyone who wants to get in touch with nature and enjoy a little exercise.
The Heritage Trail features more than 18 miles of walking and biking trails along the Ohio River, making it a gorgeous spot for hiking or biking.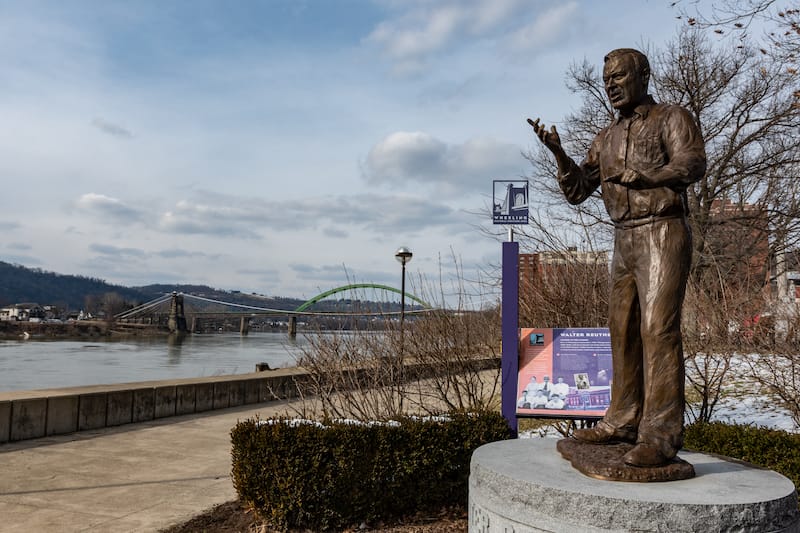 The road is paved, and it features many signs throughout so that visitors can get to know the history of Wheeling as they are getting their workout in!
It is a great place for anyone to relax if they want to get away from the hustle and bustle of city life, offering majestic views of the river and wildlife.
Visit the Bissonette Gardens
A trip to Wheeling, WV would not be complete without a visit to the beautiful Bissonette Gardens.
These gardens are a replica of the gardens at the home of Earl Oglebay.
The best time to visit is between April and May, where you will be able to see stunning displays of tulips, daffodils, hyacinths, and pansies. You can also visit to see unique displays of other flowers between June and October.
During the holidays, the gardens will inspire some holiday cheer with the festive Nativity display and glowing trees.
No matter which season you choose to visit the Bissonette Gardens in, you will be fully captivated by its beautiful displays.
Have Lunch or Dinner at Later Alligator
Okay, so I might be obsessed with the Centre Market but there are some really cool businesses there!
And one of the best places to eat in Wheeling is located there. Later Alligator is an eatery with a cool interior and fantastically diverse menu.
You can find everything from vegan burgers to fish tacos to their Croque Madame sandwich that is French-inspired.
View this post on Instagram
But, you can NOT miss out on their crepes! They are the only restaurant between Columbus and Pittsburgh to specialize in them and they are simply divine!
Check out their website for more information.
Oglebay Institute Glass Museum
The Oglebay Institute Glass Museum is a must-see when visiting Wheeling! It offers some stunning highlights, such as the largest piece of cut lead crystal ever, the Sweeney Punch Bowl.
It is five feet tall and 225 pounds, making it a spectacular display to see.
It will also be possible to see more than 3,000 types of Wheeling glass made from different types of glass between 1829 and 1939.
You can also see live glassworking demonstrations while making your own paperweight. Be sure to check out the affordable ticket prices and the specific times the museum is open per season.
See Victorian Architecture on Wheeling Island
Did you know that Wheeling is home to more Victorian architecture than anywhere else in the country!?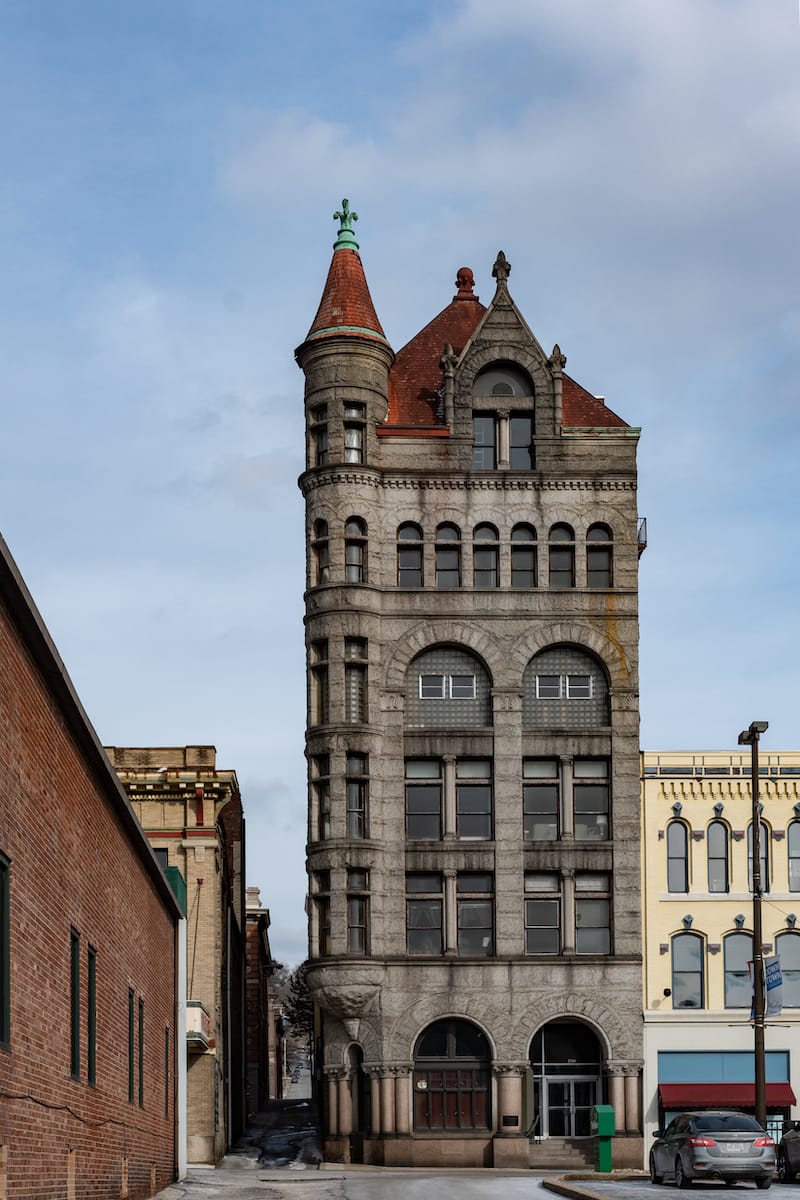 Early American architecture was influenced by Europe, and it is easily possible to see the influence of the old style of architecture that was popular during the reign of Queen Victoria from 1837 to 1901.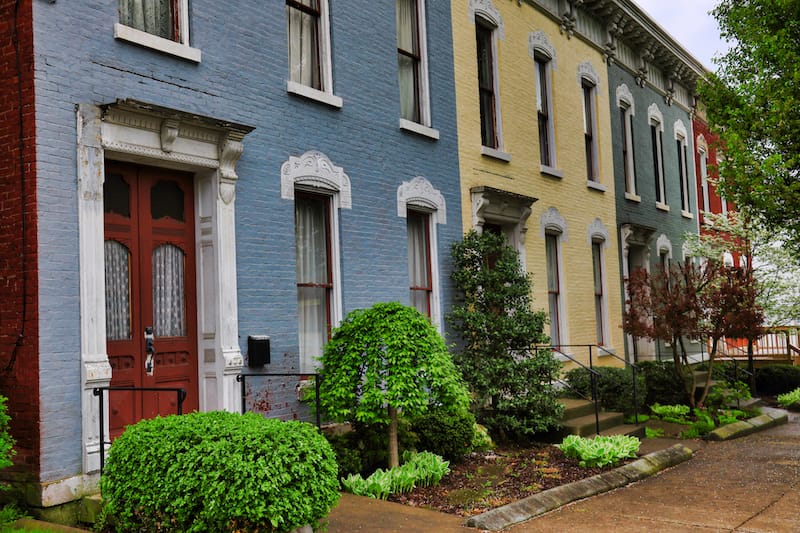 The West Virginia city is home to many homes that were built around that time period and visitors will be able to see a lot of examples of the architecture in the Old Town and on Wheeling Island.
See West Virginia's Independence Hall
Did you know that West Virginia was the only state to secede from the Confederacy?
This declaration of independence took place at the West Virginia Independence Hall, which is located right in Wheeling, WV!
The building initially served as a customs house, post office, and courthouse in the 1800s, but then it became the site of the West Virginia Constitutional Convention in 1863, where the state gained its independence.
Due to its historical significance, Independence Hall is a museum that offers many exhibits on the history of West Virginia and is a great place to visit in Wheeling. It is located on the corner of Market and 16th Streets.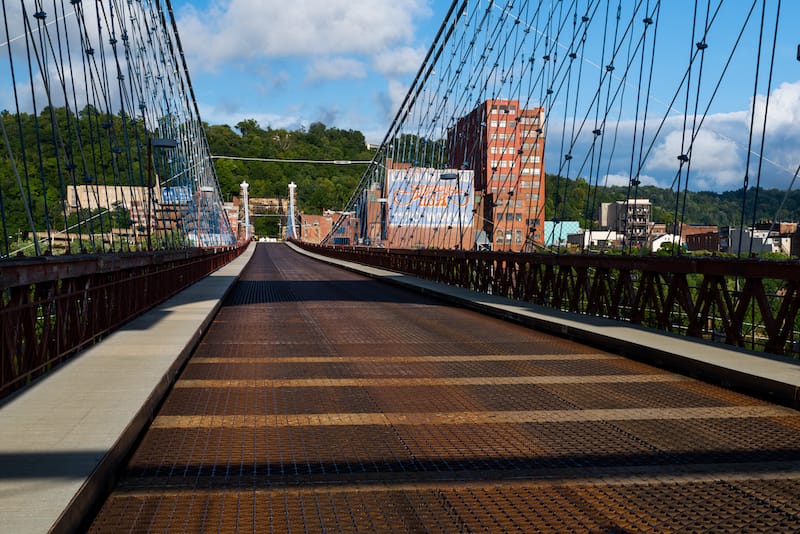 Where to Stay in Wheeling
There are actually not too many places to stay in Wheeling as many people pass through heading to Pittsburgh and other places.
However, here are some top-rated hotels in Wheeling that you can book a room in!
We hope that this guide of the best things to do in Wheeling gave you some encouragement to head to the West Virginia city located right on the grand Ohio River!
Let us know your tips for the best places to visit in Wheeling in the comments. Thanks!
More West Virginia Travel Resources
Pin this Wheeling Attractions Guide
Photo Credits:
Victorian Homes on Wheeling Islands // Editorial credit: aceshot1 / Shutterstock.com
Wheeling Island Historic District // Editorial credit: aceshot1 / Shutterstock.com
Victoria Theatre // Editorial credit: JNix / Shutterstock.com
Centre Market // Editorial credit: aceshot1 / Shutterstock.com
Wheeling Nailers // Editorial credit: JNix / Shutterstock.com
Wheeling City Center // Editorial credit: aceshot1 / Shutterstock.com
Walter Reuther Statue // Editorial credit: JNix / Shutterstock.com
Victorian Building in Wheeling // Editorial credit: JNix / Shutterstock.com