One of Central Virginia's most underrated places is the city of Lynchburg. This guide will discuss the best things to do in Lynchburg VA, especially for first-time visitors!
Are you planning your trip to Lynchburg last minute?
If you're traveling to Lynchburg last minute, you want to ensure you have lodging booked ahead of time! Below are some of our top picks to help you plan!
Where to Stay in Lynchburg:
🚗 Looking for the best way to get around VA? Click here to check rental car rates for Virginia!
In VA, we associate Lynchburg with universities (especially Liberty University), but what people don't realize is that there is so much to do in the city that it makes for one of Virginia's best weekend escapes!
This guide will take you through the best Lynchburg attractions, including historical landmarks, green spaces, and places to get some delicious food and coffee!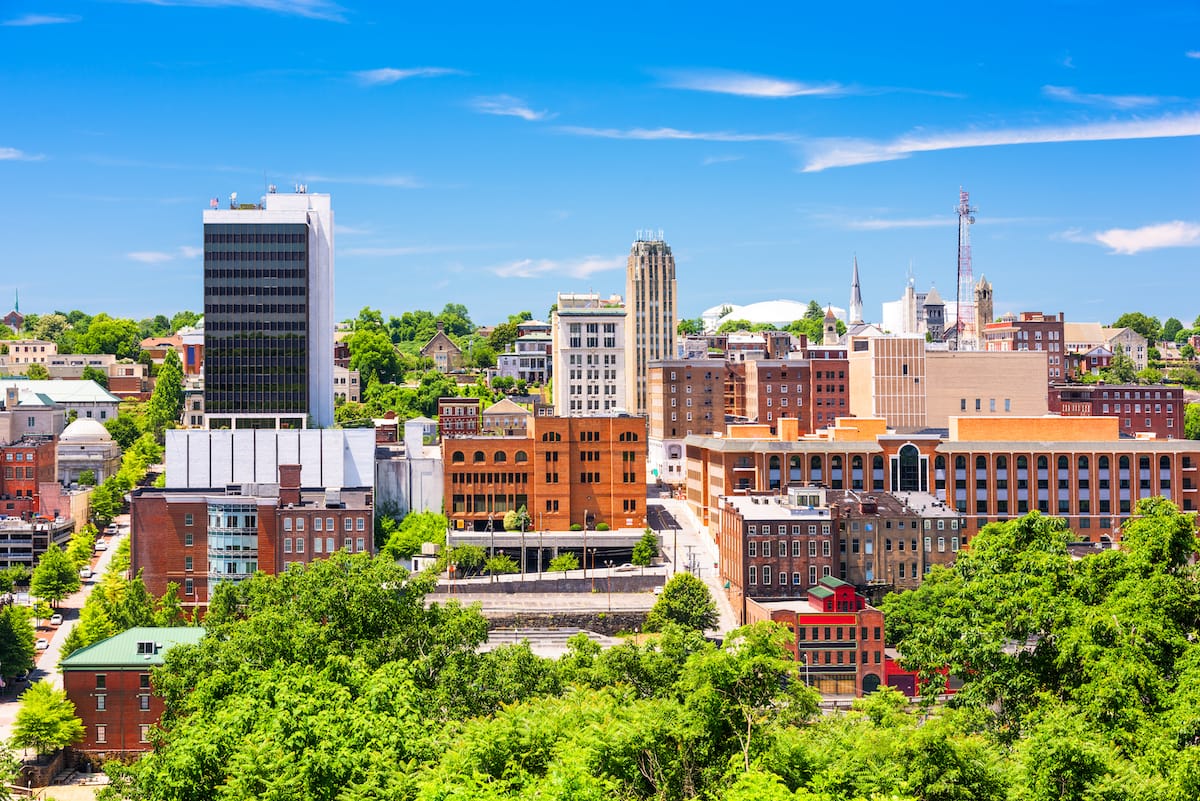 Did we miss any of your favorite landmarks in Lynchburg? Let us know in the comments! Thanks!
Things to Do in Lynchburg
Presbyterian Cemetery Twin Towers Memorial
September 11, 2001, will always remain in the hearts of Americans as the day of national mourning and remembrance for those killed in the Twin Towers.
Adrian Gagesteyn, like many Americans, was deeply touched by the tragedy who called the day "an attempt to take our freedom away."
As a tribute to the buildings and the tragedy, Adrian, with the help of his friends, constructed 8-foot tall tower structures in an area that was just perfect for the memorial.
The Twin Towers memorial complex, completed in 2008, proudly stands in the Cemetery before the exit onto Grace Street. Adrian Gagesteyn passed away in 2016, but his legacy still lives.
Anne Spencer House & Garden Museum
A poet, a civil rights activist, a teacher, a gardener, a loving wife, and a mother, Anne Spencer was one of the influential figures of the 1920s, particularly in the black literary and cultural movement.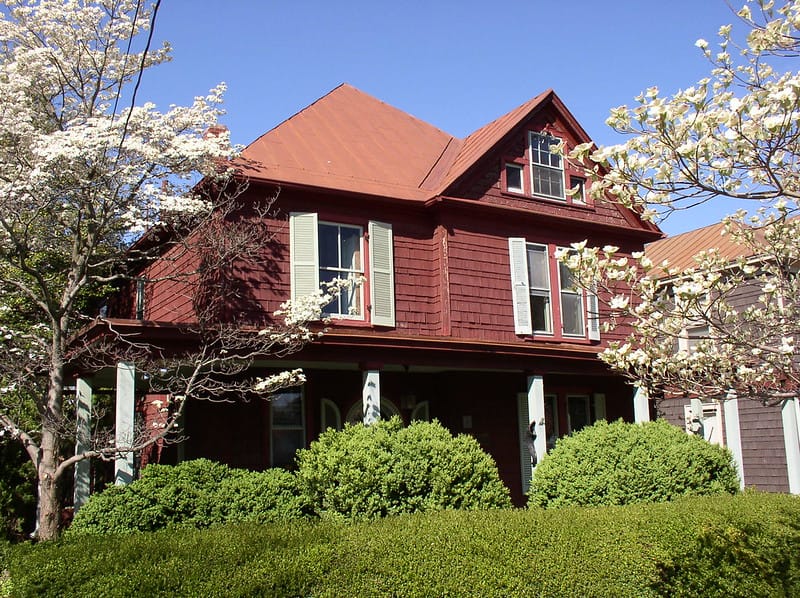 She played a huge role in the foundation of the Lynchburg Chapter of the National Association for the Advancement of Colored People (NAACP).
She devoted her life to struggling for African Americans' legal, social, and economic rights.
In times of trouble, she found tranquility in her secluded house and garden Edankraal (the combination of Edward, her husband, Anne, and kraal for corral) located at 1313 Pierce Street.
After she died in 1975, her house and the garden were registered in the National Register of Historic Places. The house, the furnishing, and the garden were restored but look almost identical to times when Anne Spencer lived there.
Address: 1313 Pierce St, Lynchburg, VA 24501
National D-Day Memorial (in Nearby Bedford)
The National D-Day Memorial was constructed to honor those soldiers who fought in World War II.
George W. Bush dedicated a memorial complex covering over 50 acres at the base of the Blue Ridge Mountains to honor one of the most significant battles in the history of the United States.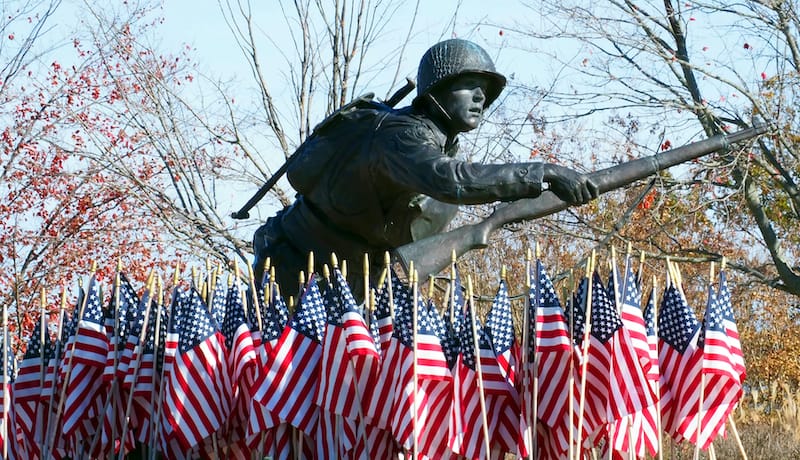 The center of the complex is a forty-four-foot-tall arch bearing the names of soldiers. The pool surrounding the arch symbolizes the long and arduous path of the soldiers to the beaches of Normandy.
Address: 3 Overlord Cir, Bedford, VA 24523
Cheers to the Weekend
After the long pause, Cheers, one of Lynchburg's most prominent traditions, will be back on July 23rd. The new location for the celebration is the heart of Lynchburg; the event promises to be the fascinating Lynchburg Summer tradition.
The lineup of the event presents Tony Camm + The Funk All-Stars (23 July), Out of Spite (30 July), The Dundies (6 August), Eyes of Silver – A Tribute to the Doobie Brothers (13 August), and Hustle Souls + DJ Ed (20 August).
Old City Cemetery Museums & Arboretum
Old City Cemetery in Lynchburg, established in 1806, is the oldest municipal cemetery still in use in Virginia. The entrance to the cemetery is located in downtown Lynchburg, at the corner of Fourth and Taylor Streets.
It is a complex of five small museums that tells a story of centuries and over 20,000 people buried here. It is an atmospheric place with gravestones with heirloom plants and Virginia's most extensive collection of antique roses.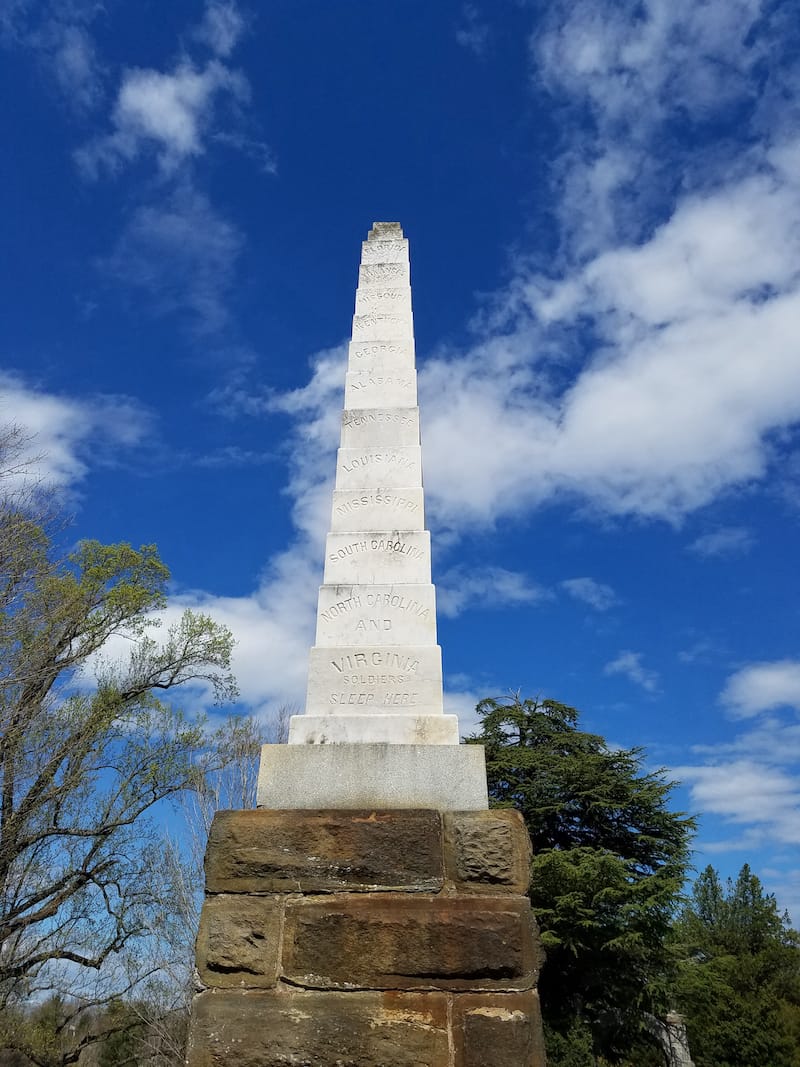 As one of the most popular attractions in Lynchburg, the Old City Cemetery hosts over 33,000 visitors annually.
Address: 401 Taylor St, Lynchburg, VA 24501
Skyline Grill
Downtown Lynchburg's Skyline Restaurant offers a unique rooftop dining experience and opens spectacular views of the city inside and outside the building.
A cozy ambiance, tasty food, and exceptional service make it an ideal happy hour hot spot or date night venue.
View this post on Instagram
The rooftop is a wonderful place to enjoy Happy Hour drinks, whether wine, cocktails, or beer. You can enjoy the outdoors while sipping a cocktail from the signature cocktail list or keep warm around the fire pits on a cool night.
The interior design features sliding glass garage-style doors open to fresh air on warm days. With its modern atmosphere, this rooftop bar is a perfect place to enjoy good food with good friends.
Address: 712 Church St, Lynchburg, VA 24504
Amazement Square Children's Museum
The first multidisciplinary children's museum and amazement square welcome lifelong learners and guests of all ages to fuel up the imagination, curiosity, and creativity.
This award-winning museum is located in Downtown Lynchburg, Virginia, in the J.W Wood Building, a historical place of the Civil War era that for a long time served as the Confederate Army infirmary. The museum is aimed at turning the learning process into a fun game.
Serving more than 90.000 people, the museum offers different entertaining school programs and special activities for the economically disadvantaged, physically, and mentally disabled groups to participate in indoor events.
Address: 27 9th St, Lynchburg, VA 24504
Rise Up Climbing
If you want to get tons of emotions and a high dose of adrenaline, head up straight to the Rise Up Climbing indoor rock climbing club.
Don't shy away if you have never climbed before. The beginners can test their skills on a Belayer, and if you have visited rock climbing alone, you can always enjoy rout climbing with auto belays.
The professional instructors will get you to the climbing wall in less than 30 minutes. For more experienced and skilled climbers, there is a shorter and more dangerous wall for bouldering.
View this post on Instagram

Want something more advanced experience? There is a lead climbing where the climber clips rope into protection points himself.
Choose one of the membership options to enjoy rock climbing: 10 Punch Pass – $140; Annual membership – $660 (for adults), $560 (for children and students).
Working hours:
From Monday to Friday – 7 am–10 pm
Saturday 9 am–10 pm
Sunday 1 pm–7 pm
Address: 1225 Church St, Lynchburg, VA 24504
Thomas Jefferson's Poplar Forest
Thomas Jefferson's Poplar Forest is a plantation house with a plantation in Forest, Bedford Country, Virginia. Inherited in 1773, Jefferson redesigned the property and used it as a private retreat plantation.
The house is considered a Neoclassical architectural masterpiece with a magnificent view and the Blue Ridge Mountains in the background.
The geometrical design was unusual for those times and even impractical, but it was the manifestation of his brilliance as a self-taught architect.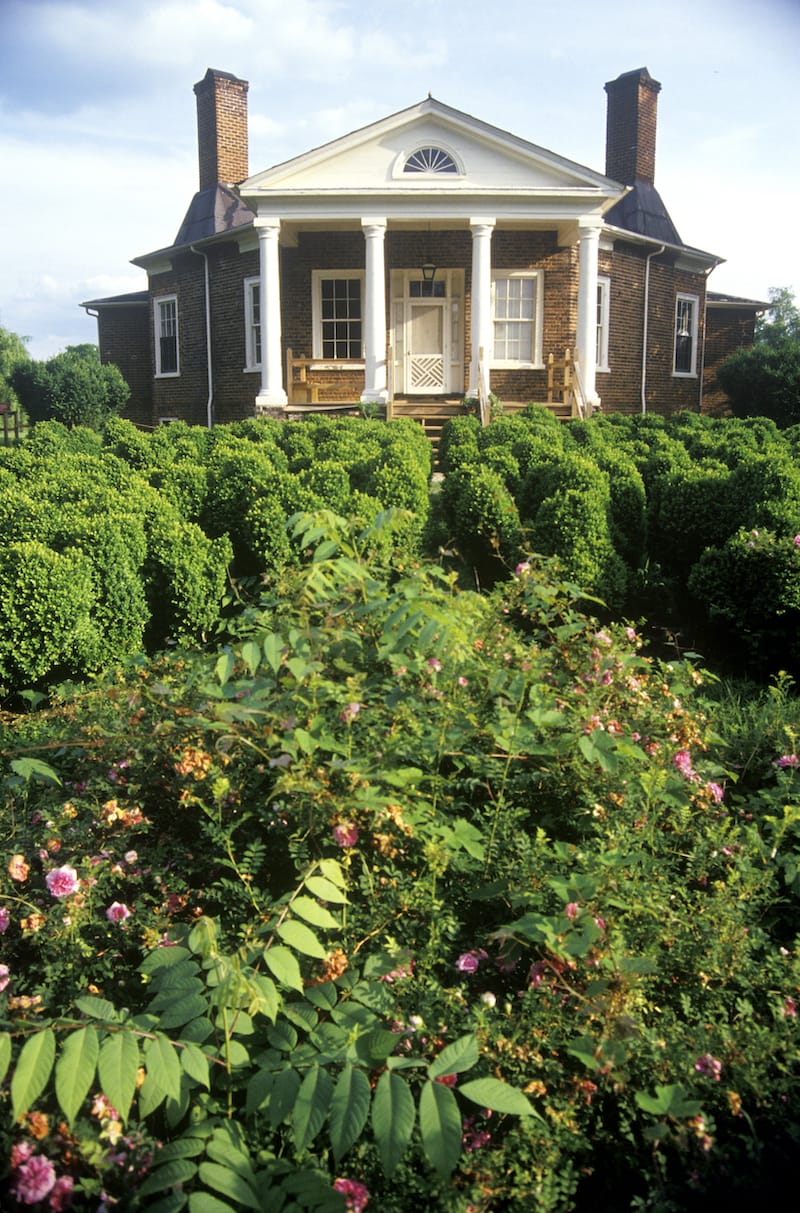 Jefferson visited Poplar Forest three or four times a year, where he found rest and enjoyed private time with his family. In 1854 house was damaged by fire.
More than a century later, in 1984, the Corporation for Jefferson's Poplar Forest restored the house and opened it to the public, designating it into a National Historic Landmark and historic house museum.
Address: 1542 Bateman Bridge Rd, Forest, VA 24551
Liberty Mountain Snowflex Centre
Liberty Mountain Snowflex Center is specialized in all-year-round indoor mountain activities open to the general public, Liberty University staff, and students.
Barrick-Falwell Lodge is located in the center of the Liberty Mountain Snowflex, turning the center into a genuine alpine resort.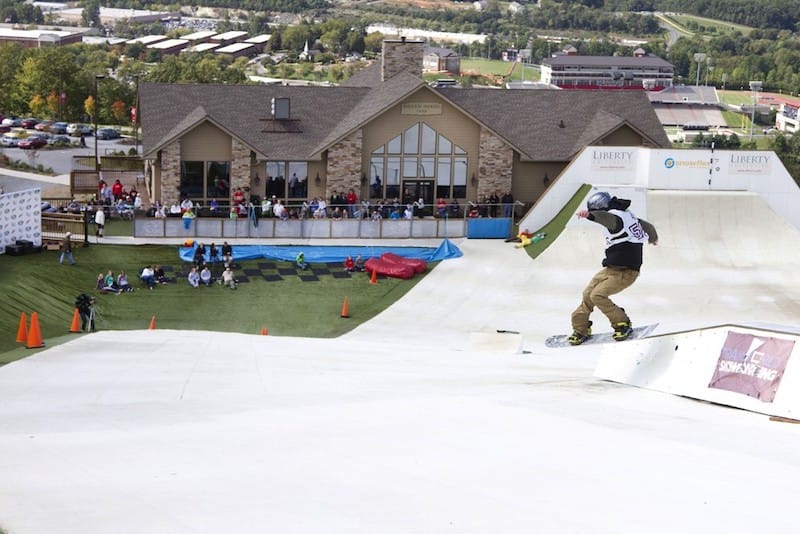 The artificial slopes of Snowflex are suitable for any winter activity; skiing, snowboarding, sledding, tubing, and any fun snow sports.
The center also offers rental services for all equipment. Beginners can practice with instructors and get back to the slopes more skilled and ready for an adrenaline rush.
Address: 4000 Candlers Mountain Rd, Lynchburg, VA 24502
Lynchburg Community Market
Lynchburg Community Market, open since the fall of 1873, is the symbol and the heart of the Downtown. Located on the corner of Main and 12th Streets, the market still plays an essential role in the city's life.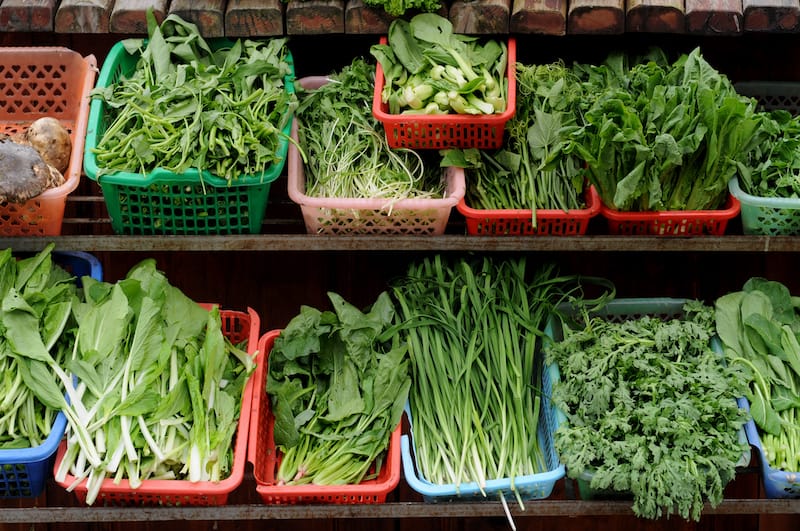 Though supermarkets dominate and the culture of open-air markets has gradually declined, thanks to the architectural renovation, today, Lynchburg Community Market is a historical attraction.
The visitors will enjoy fresh, farm-grown food, support local area agriculture, get acquainted with Lynchburg's history, and celebrate regional food traditions.
Market Hours:
Community Market Tues-Sat, 7 am – 2 pm
Farmers Market Saturday, 7 am – 2 pm
Heritage Crafters Gallery Tues-Fri, 9 am – 2 pm, Sat, 7 am – 2 pm
Address: 1219 Main St, Lynchburg, VA 24504
Old Sandusky and South River Meeting House
Quaker Memorial Presbyterian Church, affiliated with the Quaker movement, is named in honor of the city's founders and those who worshiped on this land.
The first services were held in 1754 in the meeting house. Unfortunately, the first log building was burned in 1768. The second frame building was built on the original site.
Today, the South River Meetinghouse is part of the Quaker Memorial Presbyterian Church and is considered an important historic landmark of Lynchburg.
Another significant house and historic site of Lynchburg is Sandusky House, built-in 1808 that served as the Union Army headquarters during the Battle of Lynchburg (1864).
One of Lynchburg's first houses displays the architectural details and style characteristic of Federal-style mansions. The house is now the Historic Sandusky Museum and Civil War Center.
Address: 5810 Fort Ave, Lynchburg, VA 24502
Batteau Ride with James River Adventures
Located in Amherst County across from historic Downtown Lynchburg, James River Adventures lets you sail along the city's riverfront, enjoying the natural river setting with plenty of fish, birds, and other wildlife.
To experience time travel, James River Adventures tours are organized on batteau boats that resemble the same boats that traveled the James River centuries ago.
View this post on Instagram

Anthony and Benjamin Rucker designed the first batteau boat in 1775 to cross the James River as a cargo boat.
The 9-mile paddle starts at Riveredge Park, immediately taking the guests deep into nature, passing under five bridges where you can spot eagles, deer, beavers, otters, and fish.
Address: 150 Rocky Hill Rd, Madison Heights, VA 24572
Riverviews Artspace
Riverviews, non-profit arts organization, is a unique venue presenting contemporary artists' exhibitions, community events, and multi-disciplinary programs as a noteworthy contribution to cultivating inclusivity through art.
The Artspace gallery studio is located in Downtown Lynchburg actively taking part in the cultural life and revitalization of historic downtown.
The Artspace presents over 220 artists, 90 published writers, and 70 independent and foreign films and has drawn more than 100,000 visitors since its opening.
The Riverviews Museum & Exhibition Center presents outstanding, contemporary exhibits, exciting events, and engaging programs as an economic driver of Downtown.
Address: 901 Jefferson St, Lynchburg, VA 24504
Lynchburg Museum
The historic Lynchburg Museum located at the Old Court House is the inherent part of the history of Lynchburg.
Thousands of stories and destinies of people and events in Central Virginia are shared here, providing a vivid portrait of the region's history.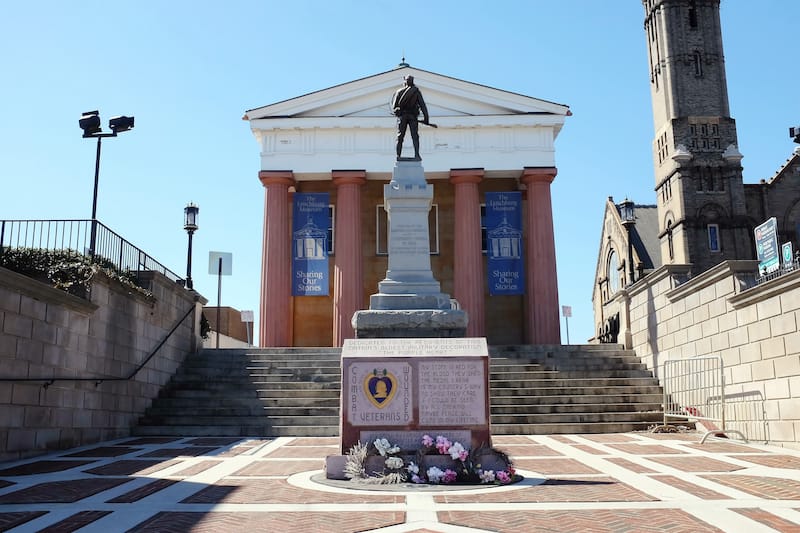 Military items from significant battles and wars are displayed in Piedmont Pride Hall along with fine art, handmade silver, antique toys, photographs, traditional clothing, and more. The Court Room Gallery displays Lynchburg's history from 1607 to 2007.
The Lynchburg Museum working hours:
Thursday 10:00 a.m.–4:00 p.m.
Friday 10:00 a.m.–4:00 p.m.
Saturday 10:00 a.m.–4:00 p.m.
Sunday noon –4:00 p.m.
Monday 10:00 a.m.–4:00 p.m.
You can also book an appointment for meetings and special events. Admission to the museum is free for all visitors.
Address: 901 Court St, Lynchburg, VA 24504
Day Trip to Appomattox Court House
Appomattox Court House, once a courthouse located along the Virginia stage route, is now immortalized as the spot where Confederate General Robert E. Lee surrendered.
The Appomattox Court House National Historical Park occupying over a thousand acres of woodlands and open meadows still preserves the history of the most groundbreaking events.
It is worth spending a day in the national park to witness the history. The tour starts at the visitor center, in the reconstructed courthouse building with Visitor Center Museum, bookstore, and the Junior Ranger Program for kids.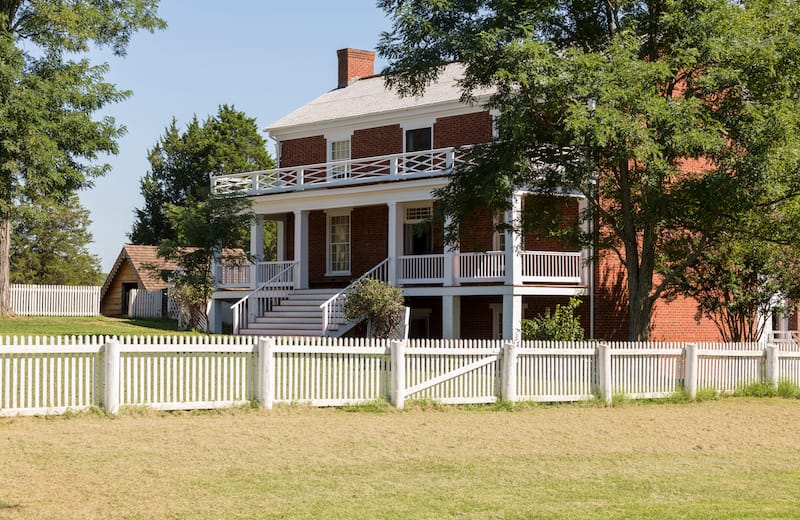 Living History program is presented by actors who recreated the events in people living in 1865.
There are special guided programs for warmer months, taking guests deeper into the park and its history. The national park exhibits unique artifacts saved from the surrender, such as uniforms, military items, documents, and General Lee's pencil.
The Appomattox Court House National Historical Park has 8 miles of trails with long and short roots for more active rest.
Appomattox Court House NHP is open daily from 9 am to 5 pm hosting regular and special events and seasonal bird observations.
Address: 111 National Park Dr, Appomattox, VA 24522
Ivy Creek Park
The Ivy Creek nature park, located in the Lynchpin Industrial Park, is a six-acre beautiful green oasis including Clemmons Lake, hiking trails, picnic zones, and the Nature Zone for naturalists. Ivy Creek Part's trails, picnic, and play zones are ADA compliant.
Among the popular activities of the lake are kayaking, fishing from the pier, picnicking on the shoreline, or simply enjoying the landscapes and wildlife.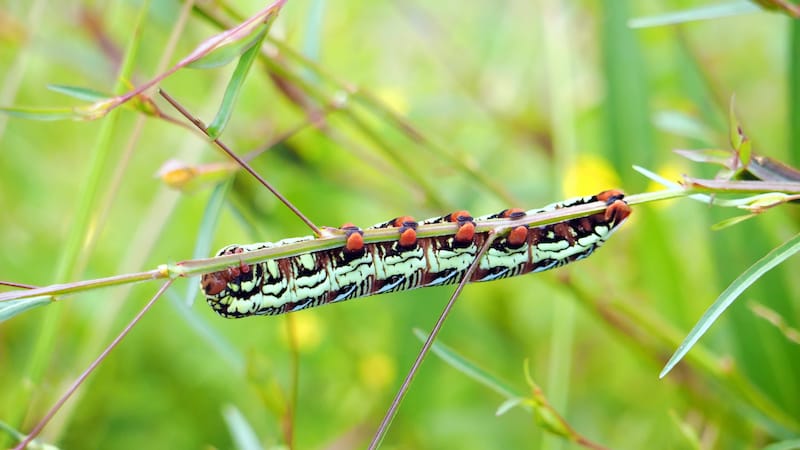 You can rent a canoe or kayak at Ivy Creek Park on Saturdays from 10:30 am – 4:30 pm and Sundays 1:30 pm – 4:30 pm.
Monument Terrace
First developed as a public space in the 1880s, Monument Terrace was an alternative route taking residents from Church to Court Streets.
A series of steps with a semicircular staircase at the Ninth and Church Streets intersection was designed by August Forsberg, whose masterpiece has its important place in the life of Lynchburg.
Having changed through centuries, Monument Terrace now connects two downtown streets, First Unitarian Church, the Lynchburg Circuit Court Clerk's Office, and Mr. Elder's Rose Garden.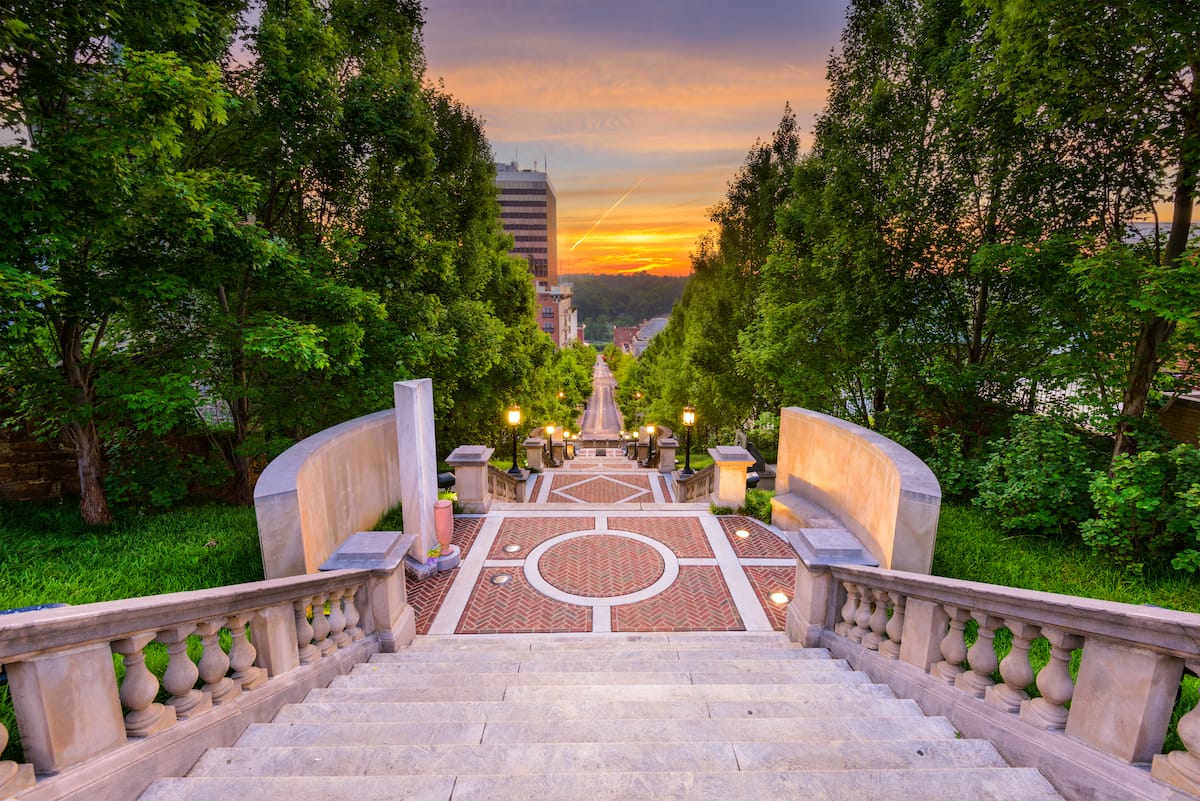 It depicts the ensemble of terraces and 139 steps, monuments to veterans for the Civil War, World War II, the Spanish-American War, and Korea and Vietnam campaigns.
The Monument Terrace is open for 24 hours from Monday to Sunday.
Address: 313 9th St, Lynchburg, VA 24504
The Maier Museum of Art at Randolph College
The Maier Museum of Art at Randolph College hosts exceptional pieces of American art of the 19th, 20th, and 21st centuries. The collection includes mainly paintings, photographs, and works on paper.
Located on the Randolph campus, the museum is open year-round to the academic community and the general public exhibiting changing expositions, the College's permanent collection, and educational programs.
Devoted to American Impressionism and early 20th-century Realism, the Maier Museum of Art is an illustration of American art evolution throughout the centuries.
The museum exhibits the works of Gilbert Stuart, Thomas Cole, Winslow Homer, Mary Cassatt, Georgia O'Keeffe, Andrew Wyeth, Arthur B. Davies, Ben Shahn, and others.
The museum is open from Wednesday to Sunday, 1 pm – 5 pm. Admission is free.
Address: 1 Quinlan St, Lynchburg, VA 24503
Blackwater Creek Natural Area
The Blackwater Creek Natural Area is one of Lynchburg's most beautiful natural attractions, with wooded trails and valleys perfect for hikers, runners, and bikers. BWCNA is home to various animals, plants, and rare tree species.
The most visited Blackwater Creek trail starts at Ed Page entrance stretching 2 miles to the RiverWalk Trail entrance along the winding through the forests and intersecting with other paths and reaches the Point of Honor Trail Section.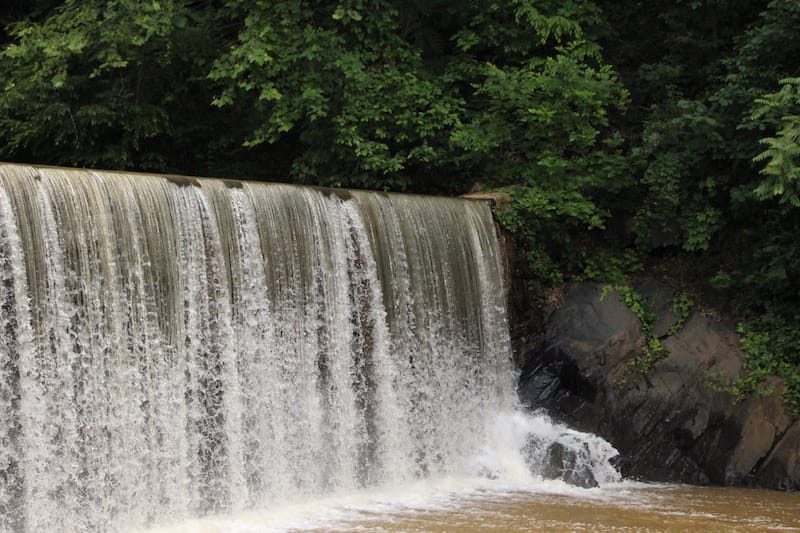 You can find public parking at the Ed Page and East Randolph Place entrances with restrooms at the Ed Page entrance.
Legacy Museum of African American History
Sponsored by the Lynchburg branch of the NAACP, the Legacy Project follows the mission of introducing African Americans' history and culture and appreciating the diversity and lives of the community in Lynchburg.
The museum is located in once a run-down building at 403 Monroe Street. The 100-year-old house was restored with the support of the Capital Fundraising Committee, and today it has a significant role in Lynchburg's cultural life.
With the status of a non-profit organization since 1995, the Legacy project holds regular exhibitions, workshops, programs, and lectures.
Working hours:
Wednesday-Saturday 12-4 pm
Sunday 2 pm -4 pm
Admission: $5.00 for adults; $3.00 for seniors; $2 for students and youth.
Address: 403 Monroe St, Lynchburg, VA 24504
Percival's Island Natural Area
Percival's Island Natural Area is a popular place among residents for hiking and biking. The paved RiverWalk Trail winds about 1,5 miles acres the James Rivers and has two entrances for easy access.
You can spend a lovely day enjoying nature, taking pictures at the LOVEworks sculpture, jogging, or riding a bike.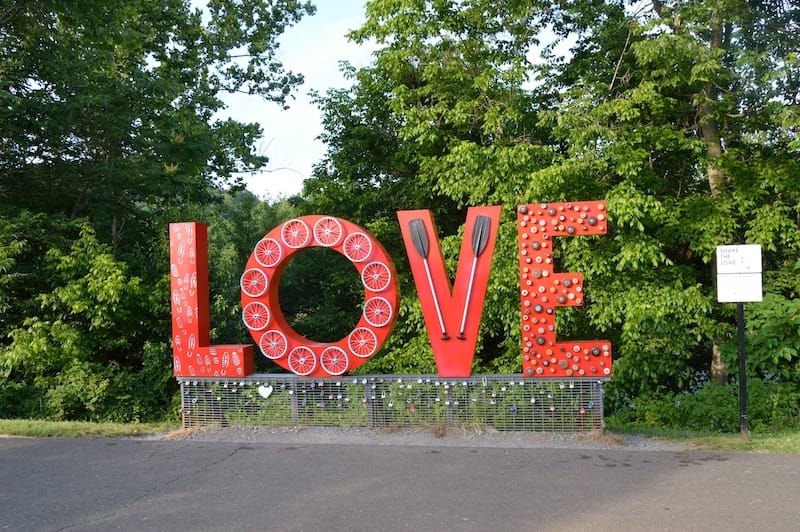 Take a walk to the reconstructed bridge with an observation platform where you can admire the look to nature and the river.
Walk along the wooded trail to the river banks for secluded rest and take some incredible photos on the swing hanging from a tree branch.
Apocalypse Ale Works
Apocalypse Ale Works is a unique venue that bravely maintains the centuries' tradition of brewing in Forest since Thomas Jefferson's times. The state-of-the-art brewery features a taproom with fine Belgian Dubbel and the Lustful Maiden.
View this post on Instagram
Apocalypse Ale Works presenting 40 years of homebrewing traditions, is located in the Forest Volunteer Fire Department. "Drink beer til the end" is the brewery's slogan that stands out not only with its exceptional craft beer but also on event days every week.
The venue has indoor seating for 110 customers and outdoor seating for 500 guests.
Working hours:
Tue 4 pm – 9 pm
Wed 4 pm – 9 pm
Thu 4 pm – 9 pm
Fri 4 pm – 11 pm
Sat 12 noon – 11 pm
Sun 1pm – 6 pm
Address: 1257 Burnbridge Rd, Forest, VA 24551
The White Hart Cafe
White Hart is a warm spot in Downtown Lynchburg that has created stories of residents and guests for over a decade. It is a cozy place to enjoy a good cup of coffee or have a quick snack.
The venue's philosophy is to create an atmosphere where people come together in one place and build a community. That's why the place has earned its name "Lynchburg's Living Room."
View this post on Instagram
The White Hart Cafe. offers a wide choice of coffee, three meals a day, and has a shop where guests can buy signature blend coffee.
Working hours:
Monday: 7 am – 9 pm
Tuesday: 7 am – 9 pm
Wednesday: 7 am – 9 pm
Thursday: 7 am – 9 pm
Friday: 7 am – 9 pm
Saturday: 7 am – 9 pm
Sunday: 9 am – 7 pm
Address: 1208 Main St, Lynchburg, VA 24504
Point of Honor
Point of Honor is a historic house situated in the Daniel's Hill neighborhood, now a city museum of Lynchburg, Virginia, with outstanding views of the city and the James River.
The Federal-style home, dating back to the 1800s, resembles the classic architecture of the century with rich furnishing. The property was home to famous families of Lynchburg: the Daniels, the Langhorne's, and the Owens.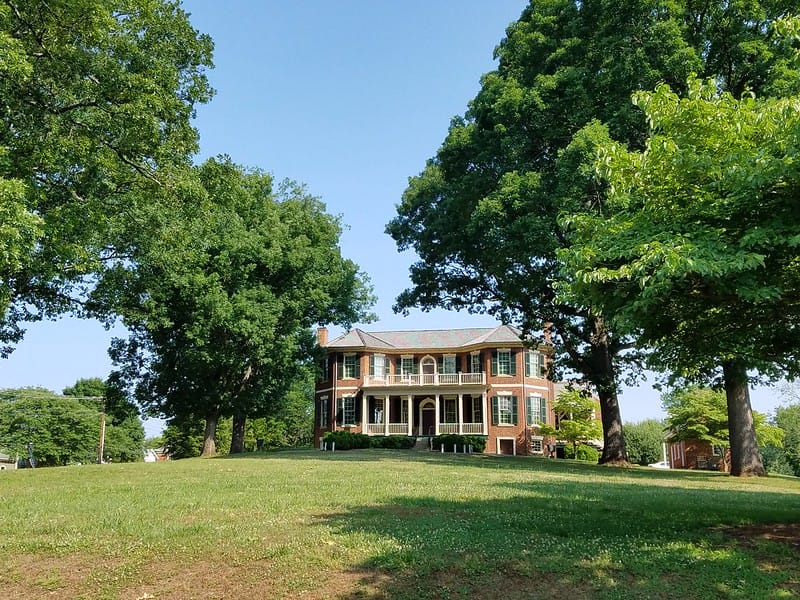 The museum showcases the traditional hearth kitchen, the builder and the house owner, Dr. George Cabell's medical practice, and more. There is a beautiful garden and Carriage House Gift Shop on the territory.
Admission:
Adults – $6
Seniors over 60 – $5
College Students – $4
Children 6-17 – $3
Under 6 – Free
Address: 112 Cabell St, Lynchburg, VA 24504
Where to Stay in Lynchburg VA
If you're looking for a good place to stay in Lynchburg, you will mostly find large chain hotels in the downtown area but there are some nice B&Bs outside of the city.
Here are some top-rated hotels in Lynchburg:
What do you think are the best things to do in Lynchburg VA? Let us know your favorite Lynchburg attractions and landmarks in the comments! Thanks!
More Central Virginia Travel Guides
Pin this Lynchburg VA Things to Do Guide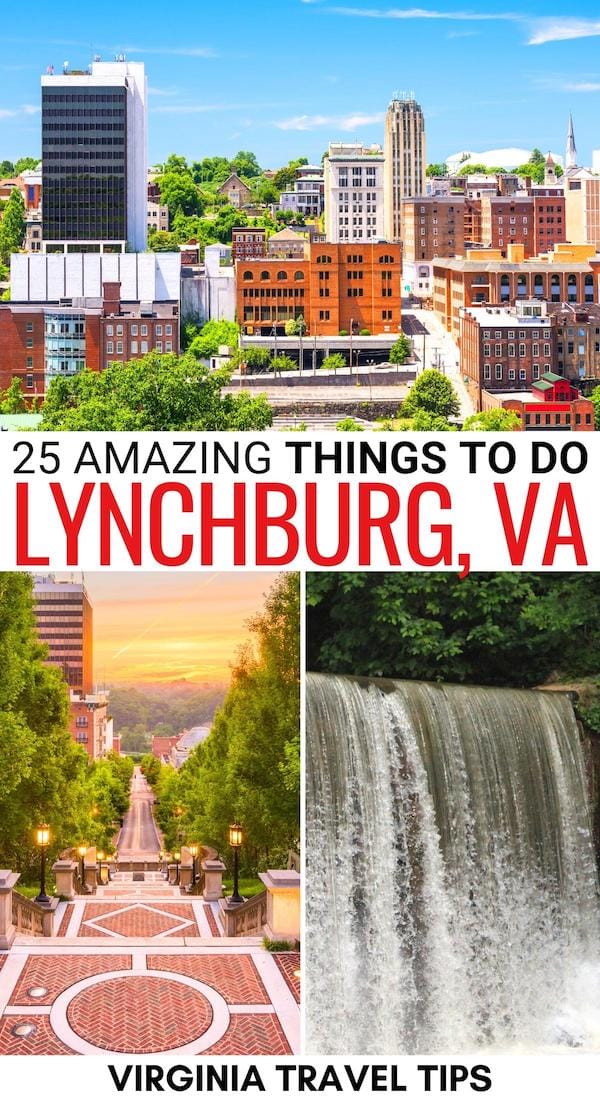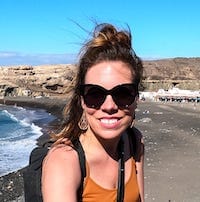 Megan is a travel blogger and writer with a background in digital marketing. Originally from Richmond, VA, she has lived all around the world (including Germany, Finland, Norway, etc) but her heart always finds its way back to Virginia. This blog is to help encourage travelers to explore the great state of VA… and its wonderful neighbors! Megan has written for or been featured by National Geographic, Forbes, Lonely Planet, Fodor's Travel, the New York Times, and more. She has visited 45 US states and 100+ countries… and wholeheartedly believes that Brunswick Stew is probably the greatest food to ever exist.